Battambang Tuk Tuk Tour – A perfect way to explore Battambang
One of the easiest and best ways to see Battambang is to take a Battambang tuk tuk tour. With the right driver, or a plan of what you want to see, you'll have a great day in and around the city.
This article contains affiliate links. For more information, please see our affiliate disclaimer here.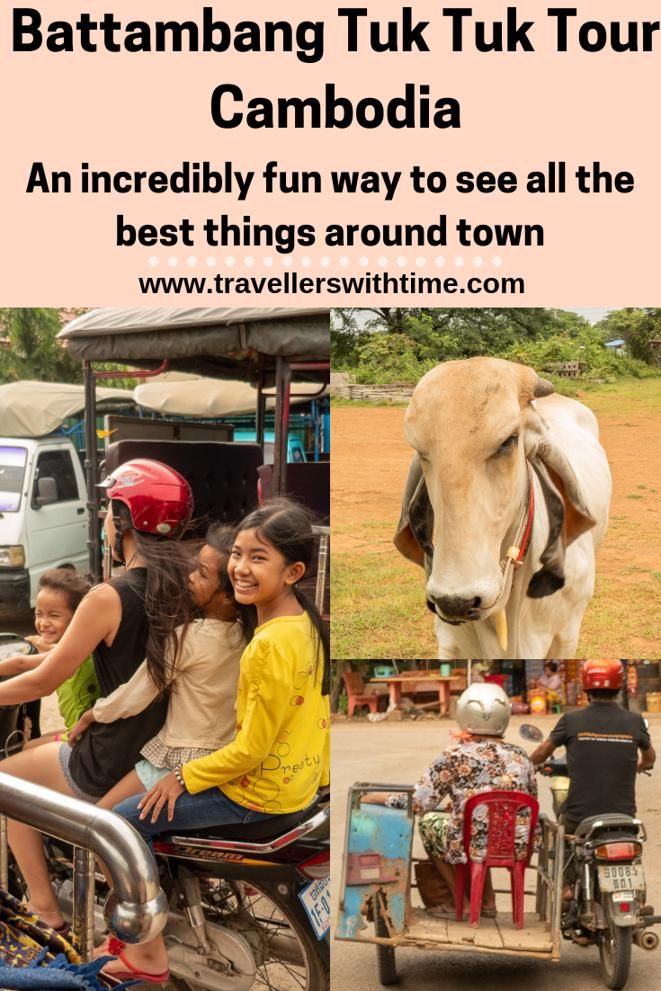 How to find a tuk tuk driver
Finding a tuk tuk driver in Battambang is easy, they're everywhere. If you catch the bus into Battambang, they will find you. Many of the tuk tuk drivers wait for the buses, hoping to pick up travellers who will buy a tour off them.
When we arrived, we were greeted by a tuk tuk driver who seemed to speak quite good English, this is what we wanted if we were going to take a tour. We climbed into his tuk tuk and he drove us out of the bus stop, to the main road where he stopped and started yelling the name of our hotel to a group of drivers who were 'resting' in their tuk tuks.
As we crossed to the other side of the main road a young tuk tuk driver pulled up next to us and we were told to get into his tuk tuk, he'd take us to our hotel. We had only just moved our bags over from the first tuk tuk to the second when a third tuk tuk, driven by an older man, pulled up. He told us to go in his tuk tuk and said that the younger man had already finished for the day and he would take us. The younger man seemed sheepish. There were a few words exchanged in Khmer. I guess he broke some sort of rule. We were a little confused but once again climbed out of a tuk tuk and transferred our bags.
Our final tuk tuk driver, Phi Lay was lovely and spoke good English, so we were happy. Before we left for the hotel he handed us all his tour books and references to read on our trip.
Ben and I decided we would hire him for the day and just let him take us to the places he thought were the best.
It's always good to have a Lonely Planet Cambodia (Country Guide) on hand, it gives you a great idea of whats around so you know what your options are on your tuk tuk tour.
Things to see on a Battambang tuk tuk tour
Explore local markets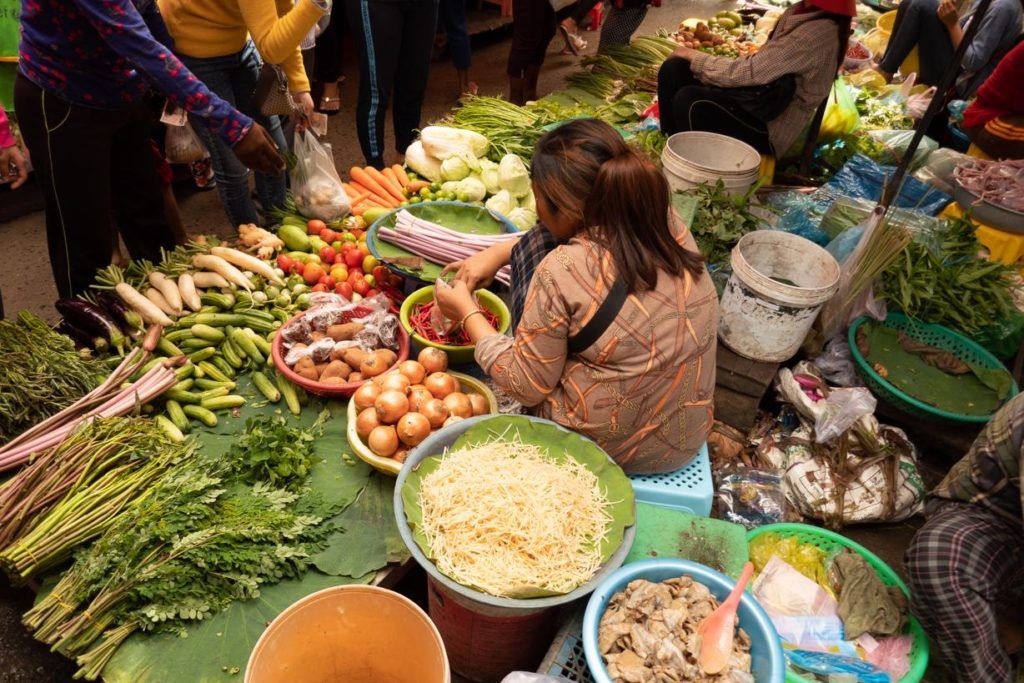 First thing in the morning our friendly tuk tuk driver took us to Psar Boeung Chhouk Market, a huge wholesale market where you can buy just about anything. He was particularly interested in showing us some of the local delicacies. You know, the rats. Crickets, snakes etc.
The market was busy, and Ben and I weaved our way between people, and large tubs of live seafood, it was both fascinating and a little off putting. Eels and fish jumped in the water, splashing our legs, and occasionally one would escape, and make a run for it, wriggling its way along the concrete floor.
Women sit cross legged on the ground artfully descaling fish with enormous meat cleavers. I worried for their fingers.
The colours, smells and sounds of the bustling market attack the senses and its quite warm.
While Phi Lay was quite disappointed there were no rats to show us, we saw snakes and turtles and all kinds of other 'delicacies' for sale
Phnom Banan Temple
One of the few temples you will see on your Battambang tuk tuk tour is the Phnom Banan Temple.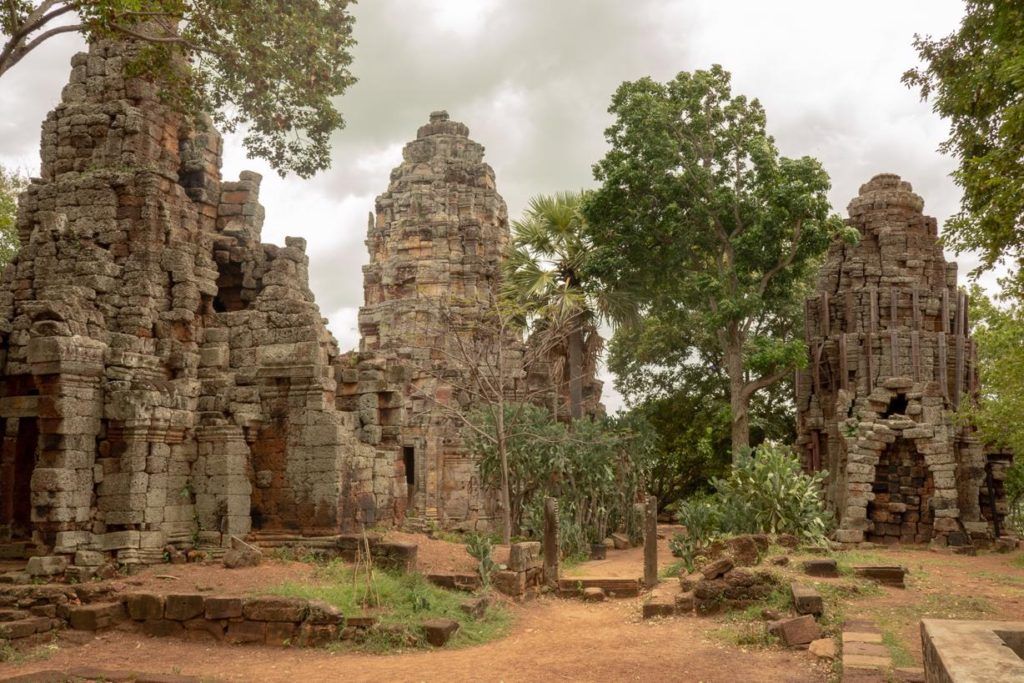 Phnom Banan Temple History
Originally built in the 11th century in a Hindu style, Phnom Banan Temple, also known as Wat Banan was reconstructed in the 12th century by the King in line with Buddhist design. Built a top a mountain, there are 358 stairs, or 105 vertical meters to climb before you reach the top.
There are plenty of children lingering around at the bottom of the stairs waiting to 'escort' you to the top. This is my second trip to Phnom Banan Temple and I remember being horrified the first time when the little girls broke out their fans and started trying to fan me as I walked up the stairs. The reality is that they aren't there to make friends, they expect payment for their services. Paying or giving money to children in Cambodia is never a good thing. Simply saying no is enough to send them away, as heart breaking as the whole thing may be.
Once you reach the top, you'll see the temple is made up of 5 towers, constructed of sandstone and laterite. Unfortunately, much of the beautiful artwork and carvings have been destroyed by looters and you'll notice many of the deities have lost their heads.
The view from the top of Banan mountain is amazing so make sure you take the time to take it all in.
Having been there twice I didn't realise until researching this article that there are apparently caves at the base of the mountain that you can enter. You may want to ask around and see if you can find someone to show you where they are.
Entry fee for Phnom Banan Temple
The entry fee for the temple is $2 USD and is paid before you cross the bridge. You'll see the big ticket area beside the police stall.
Wat Ek Phnom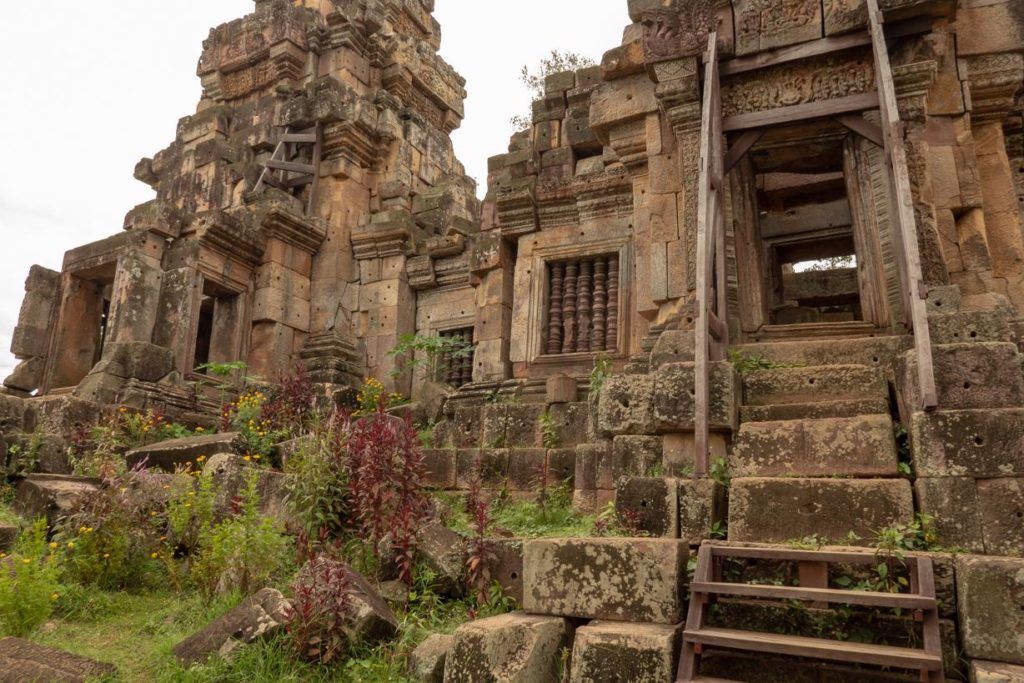 Wat Ek Phnom is a Hindu temple that was originally constructed in the early 11th Century, during the Bayon period and is said to predate Angkor Wat. Its small, measuring about 52m by 49m.
There is also a beautiful flashy newer pagoda that was built right in front of the original, in 2003, and a huge stone Buddha statue to the right.
As you make your way between the newer pagoda and the giant Buddha and walk around the back of the original Wat Ek Phnom, it feels as though you're in the middle of nowhere. The older area really hasn't been kept up and long grass and foot worn paths lead the way to the entrance. You'll have to climb a few unkept stairs to enter the temple.
It would have been quite pretty in its heyday, but time and looting has taken its toll.
Entry fee for Wat Ek Phnom
It costs $2 per person to enter the temple area.
Phnom Sampov (aka Phnom Sampeau)
Phnom Sampov is a large limestone outcrop 12km outside of Battambang. You can climb the mountain either by a rather steep staircase to the top or a longer, windier road. Your tuk tuk won't make it up the ascent, so you'll need to walk or hire a moto driver at the bottom to take you up.
Phnom Sampov Killing Caves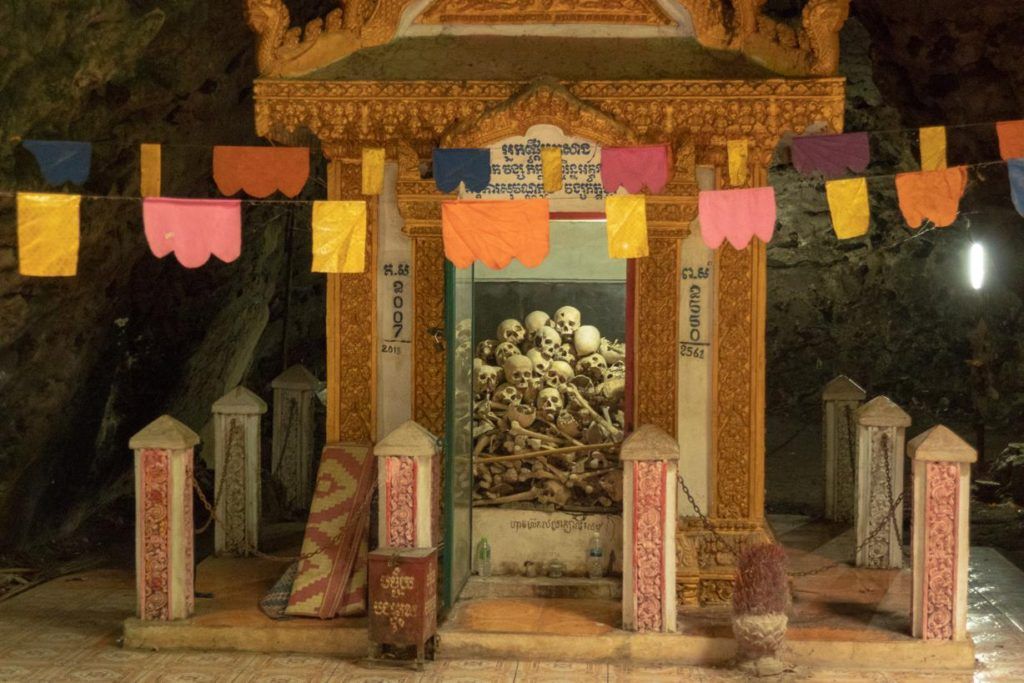 Half way up the mountain is a cave that was used by the Khmer Rouge to discard of the bodies or victims of their genocide. Near the entrance of the cave there is a large reclining buddha as well as a glass walled box containing the bones and skulls of some victims. You can go down into the cave where you'll see yet more bones. When we were there there was no lighting, so it was pitch black. Make sure you have a phone or some sort of torch.
Further up the mountain you'll find temples and spectacular views.
Phnom Sampov Bats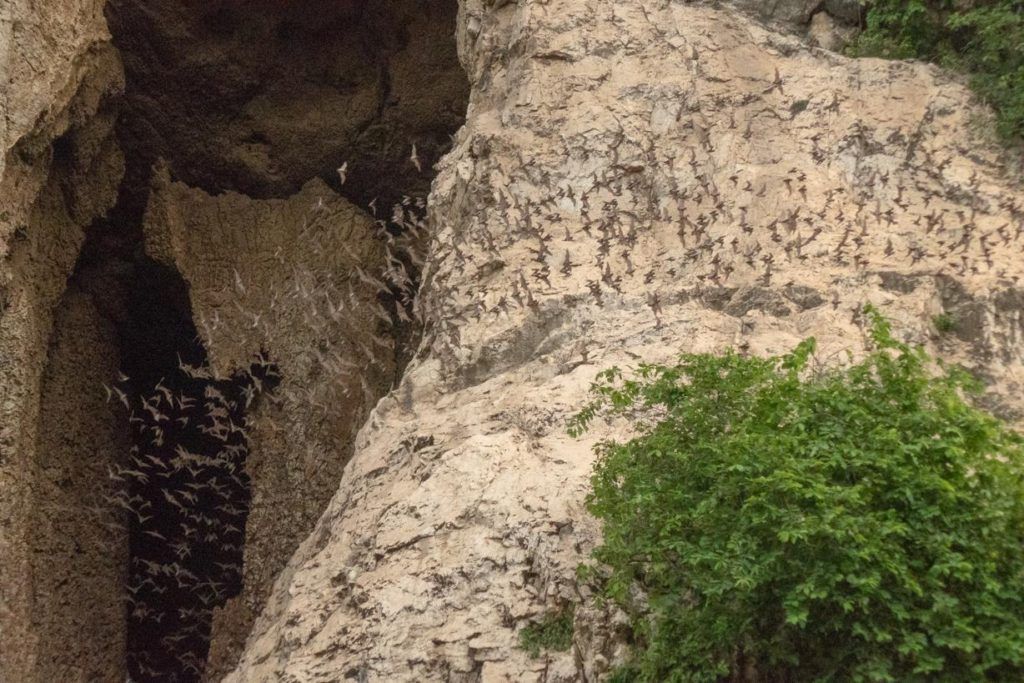 While bats are some people's worst nightmare, watching millions of bats stream out of a cave in a very orderly fashion is quite beautiful. Located right at the base of Sampov mountain, you'll be able to take a seat near the entrance to the cave and watch the bats fly off to feed for the night.
Again, this is the second time that I have seen this. The first time we sat in a different spot, and the bats flew over our heads. Let me tell you, they poop on you. It's like you're being rained on. The tuk tuk drivers all stand around and laugh as the tourists realise what's happening.
This time around, we sat near the entrance of the cave, and really all we saw was them fly out and turn left, presumably flying over whoever was sitting in the place I sat the first time. While being pooped on by bats is not that great, the view from the first place was more spectacular as you can see the bats fly in formation off into the distance. If you have a good tuk tuk driver, let them know which position you'd prefer.
Try locally made rice wine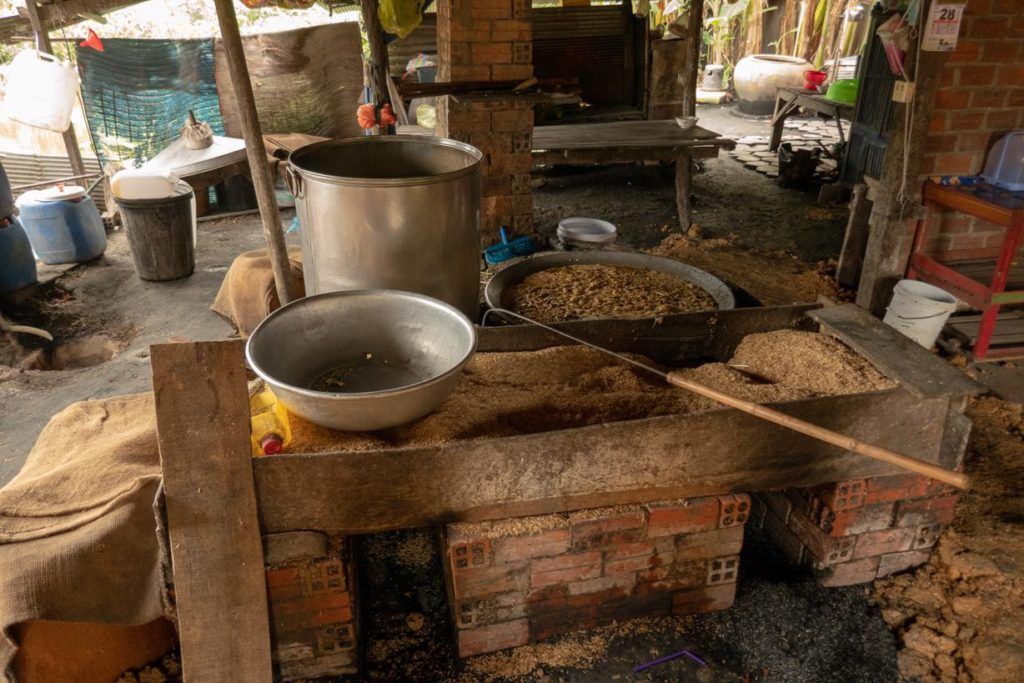 On our Battambang tuk tuk tour, our driver took us to a small house outside the city that made rice wine. We have tried rice wine in a few places now, in both Cambodia and Vietnam, and this family made particularly good rice wine.
It was on the way to the rice wine house that we picked up a very sweet and very loyal dog for some of the journey. It seemed we had passed Phi Lays house on the way to try the rice wine. We aren't sure whether it was his dog, or whether it was a stray he fed, but as soon as the dog saw us he began to run beside the tuk tuk. He followed us from place to place until we passed Phi Lay's house again on the way back, a good couple of hours later!
Learn how rice paper is made
At a local home we got to see how they make rice paper. While it was interesting to learn, it was better to eat some of the delicious spring rolls with peanut sauce that they made using it.
Lotus fruit farm and the long-eared cows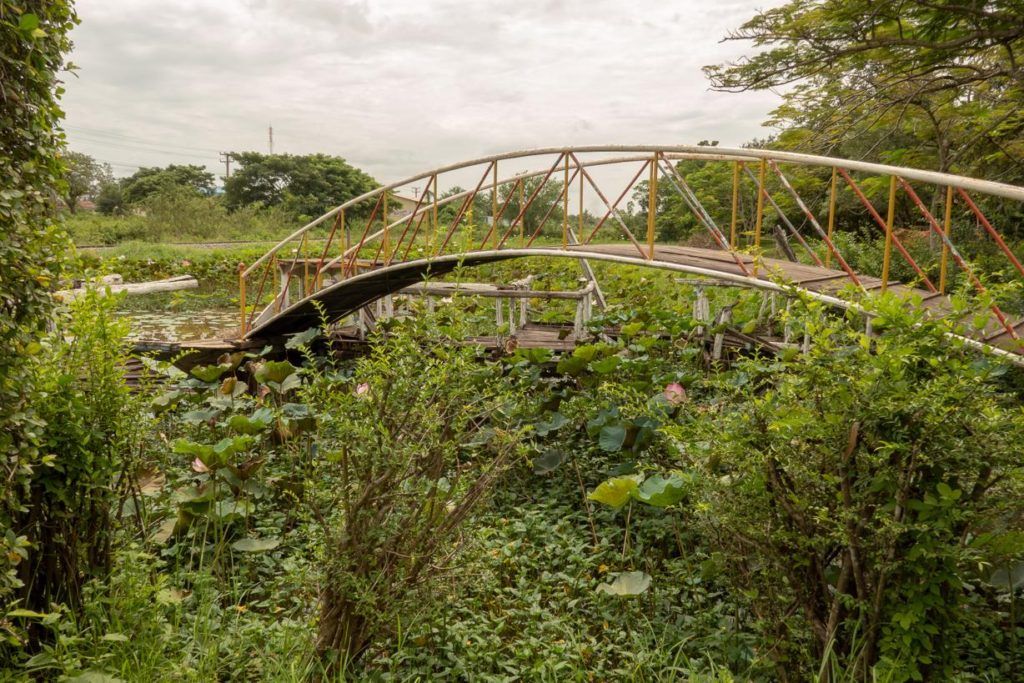 As the tuk tuk pulled up to a beautiful farm surrounded in blossoming lotus flowers, Phi Lay asked if we've ever tried lotus fruit. We had often seen it on our travels but had never tried it. We were going to do a tour of the farm.
There's not that much to it. Once the lotus flowers fall, the bulb left contains the seeds that can be eaten as is or roasted. You peel the thick skin off the seed and eat the nutty part inside.
The more interesting thing for us was seeing the long-eared cows. As we walked through the lotus farm, the cows were wandering through the area. There were a couple of bulls but thankfully they were tethered on a long lead.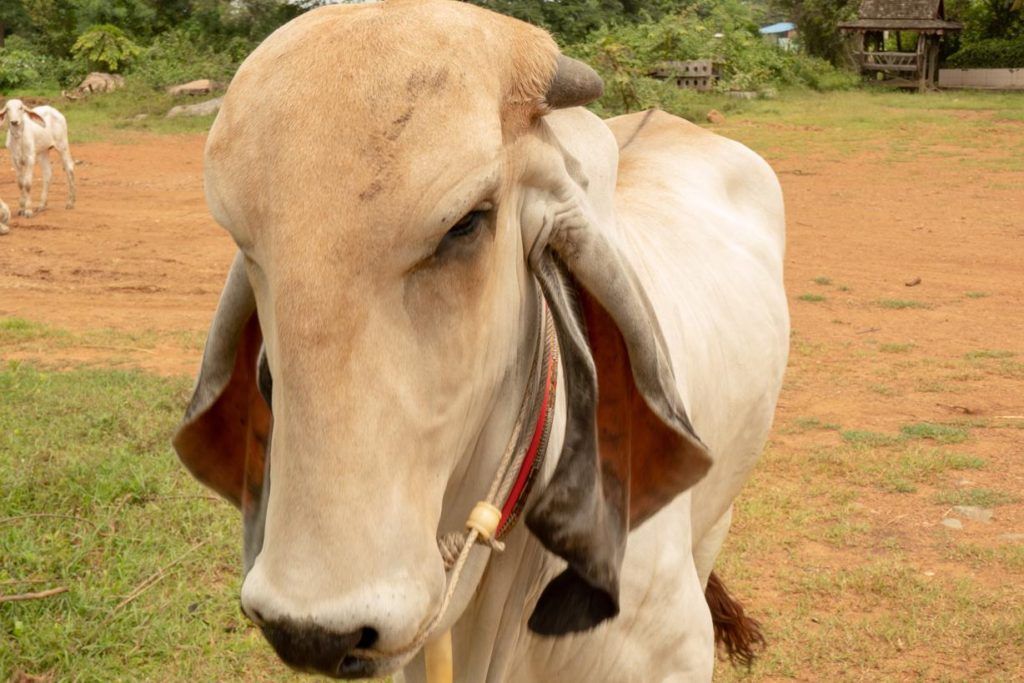 The female cows, with their enormous long ears were friendly and wanted to be scratched. "itchy, itchy" Phi Lay kept saying as he scratched the cow's necks.
Enjoy lunch at a local restaurant
Our tuk tuk driver had asked us what we wanted to do for lunch, whether we wanted to go to a proper restaurant or a local restaurant with hammocks for lunch. We said we were fine with hammocks and a more local place, and when we arrived we were very glad we did!
We arrived at a beautiful restaurant, set beside a huge man-made pond full of gold fish. Lining the pond were wooden platforms with multiple hammocks tied between the posts. A low table sat a top a woven matt in the centre.
The food was delicious, and we paid local prices for the food and drinks.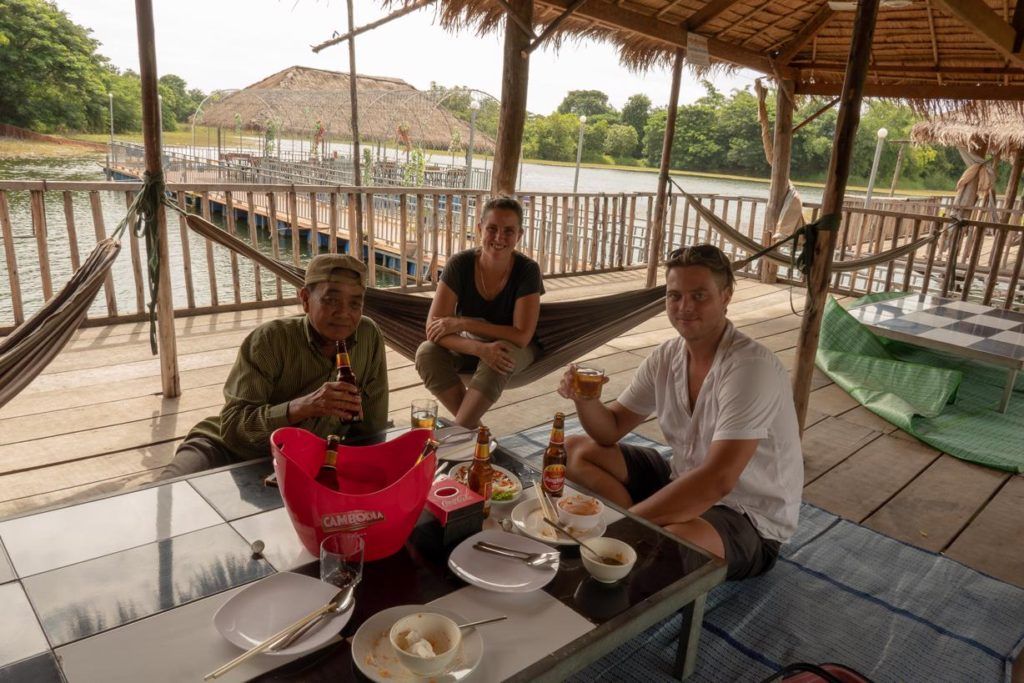 How many hours for a Battambang Tuk Tuk tour?
The length of your tour will really depend on what it is that you want to see. Speak to your driver and organise it in advance. We hired our tuk tuk driver for two days and let him lead the way.
Cost of a Battambang tuk tuk tour
We paid $20 for a fully day because we were very happy with our guide. You may be able to find it a little cheaper if you hunt around or drive a hard bargain. You will also need to pay any additional entrance fees separately.
Where to next?
If you love temples, don't miss the temples of Siem Reap, the UNESCO World Heritage site is a must do in Cambodia.
We also have a great post on things to do in Phnom Penh if you're heading that way!
This article contains affiliate links. For more information, please see our affiliate disclaimer here.
Like it? Pin it