Cambodia travel tips and advice – A complete guide
We've spent over 6 months in Cambodia and we've put that experience into our Cambodia travel tips and advice guide. Cambodia is such a beautiful country to travel, from it's beautiful beaches, temples and largely untouched landscape make it a fascinating country to explore. Despite it's challenging history, the local people are kind and welcoming and it is easy to get lost in the countries natural charm. This travel guide contains all the Cambodia travel tips and advice you need to plan your dream trip and enjoy your Cambodian adventure.
This article may contain affiliate/compensated links. For more information, please see our disclaimer here.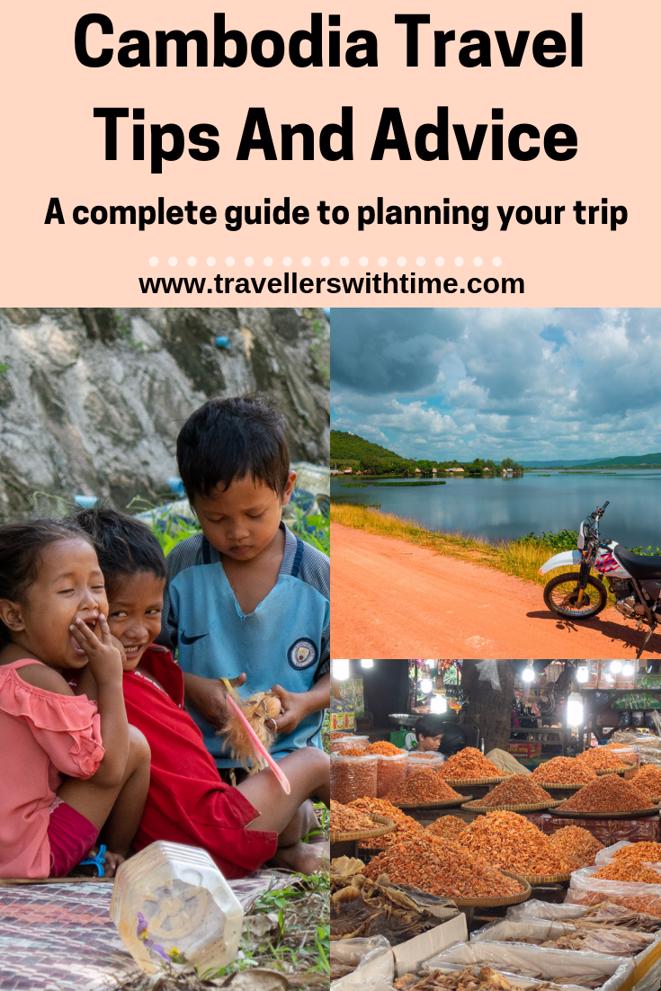 Is Cambodia worth visiting?
Although Cambodia is one one of the poorest countries compared to others in South East Asia, there is nothing like Cambodian hospitality and kindness and fell in love with the country on my first trip here. Cambodia is absolutely worth visiting.
Cambodian currency and money
Local currency – The Cambodian Currency is called the Riel, however most transactions will take place in US Dollars. When you pay in USD, any small change will be given in Riel.
ATMS – ATMS are wide spread in most major cities and urban areas.
Credit and Debit Cards – These are accepted in most tourist areas and by larger businesses and hotels, however have cash just in case. Small businesses will not accept credit cards.
Cambodia travel tips and advice: Be careful when using ATM's as card skimming is quite common in Cambodia, as a result of this it is always use an ATM that is in a busy place or inside a bank.
Sample Costs in Cambodia (USD)
Accommodation
Budget Mid-Range High End
$4-9 USD $10-30 USD $30 USD and up
Food and Drink
Street Food Restaurant or foreign food Beer
$1-$3 USD $4-10 USD $1.00 USD for local beer
General daily budgets
As with most South East Asian countries, Cambodia can be as cheap or as expensive as you want it to be. Your daily budget will be affected by the cities and areas you visit, the types of accommodation you stay in, whether you eat local or foreign food and the activities and tours you do. The following guidelines are per person and in US dollars.
Budget Mid-Range High End
$15-40 $40-70 $70 +

Getting to Cambodia
Arriving by plane
Most international flights will arrive at either Phnom Penh International Airport in the east, or Siem Reap International Airport in the west although you may also be able to fly into Sihanoukville airport, in the South, from a limited number of Asian countries.
Land crossing from Vietnam, Laos or Thailand
There are many land crossings between Cambodia and the surrounding countries of Vietnam, Laos and Thailand. Buses into Cambodia can be booked in advance with 12Go, or from the nearest large city, or from closer border towns.
Travel tips for Cambodia – When crossing on a tourist bus, as opposed to a local bus, you will often find the bus driver and staff have their own efficient way of speeding up the immigration process. On a bus from Vietnam for example, the bus attendant will take your passport once the bus is moving. At this point, you can let them know you need a Visa on arrival, and they will facilitate this for you.
Getting a Cambodia Visa
Cambodian Visa's on arrival are issued at international airports and border crossings. The visa on arrival is a 30 day visa and it is advisable to check your personal visa requirements before attempting to enter Cambodia. If you're catching a bus into the country, also make sure that the border you are crossing can issue your visa on arrival. The bus company should be able to tell you this alternatively the tour bus companies will often help guide you and facilitate your border crossing for an additional fee and it is often useful to use this service.
I was travelling alone my first time in Cambodia and my tuk tuk driver organized by bus ticket to Vietnam. He was lovely and meant well but the bus was full of locals who had all organized their own pick up from the Vietnam bus station prior to boarding the bus. The bus went to a bus station about an hour outside the city and when we arrived I had no way of getting from the bus station to my hostel. Obviously not the end of the world but not ideal after a long day.
Looking for an itinerary if you only have one week in Cambodia ?
Getting around Cambodia
Local travel
Motorbike taxi is great for short trips, be sure to agree on a price before you leave.
Local buses are a fantastic way to interact with locals
Grab/PassApp is readily available in the larger cities of Cambodia. You can choose a motorbike or car.
Metered taxis are a safe and reliable way to go travel short distances, particularly at night.
Remork-moto (known as tuk tuks in Thailand) can often be found throughout the country.
Cyclo or bicycle rickshaw is an inexpensive way to get around in the cities.
Long Distance travel
Buses and mini vans can be booked to take you to your next destination. In larger cities this is easy to do via tour agencies, otherwise your accommodation can often organise this for you.
Plane With 17 airports, domestic flights in Cambodia are a cheap and fast method of getting around the country.
Cambodia Travel Advice
Planning your Cambodia travel itinerary
The main tourist areas in Cambodia tend to be split between the far west (Battambang and Siem Reap) and the east (Phnom Penh, Sihanoukville, Koh Rong, Kratie etc). Below is a list of some of the best places to visit in Cambodia and what to do while you're there to help you plan your itinerary.
Places to go and things to do in Cambodia
If you're still in the planning stages, don't forget to check out our guide on planning a South East Asia trip.
Siem Reap
Located in north western Cambodia, Siem Reap is the town from which you can explore the Temples of Angkor. A bustling hub of tourism, there is plenty to see and do moreover it is possible to find a range of activities to suit all bugets and requirements.
Things to do in Siem Reap
Visit the Ankgor Archaeological Park and explore the ancient temples of Siem Reap
Explore the modern temples located around the city
See performances of traditional dance
An small group tour of Ankgor is a fantastic way to explore the temples
Try eating insects and other local delicacies like snake and scorpion
Phnom Penh
Phnom Penh is Cambodia's busy capital city and economic, industrial and cultural center. Located at the junction of the Mekong and Tonle Sap rivers, its riverfront is lined with bars and restaurants. Phnom Penh is also home to some of Cambodia's most devastating historical museums and monuments.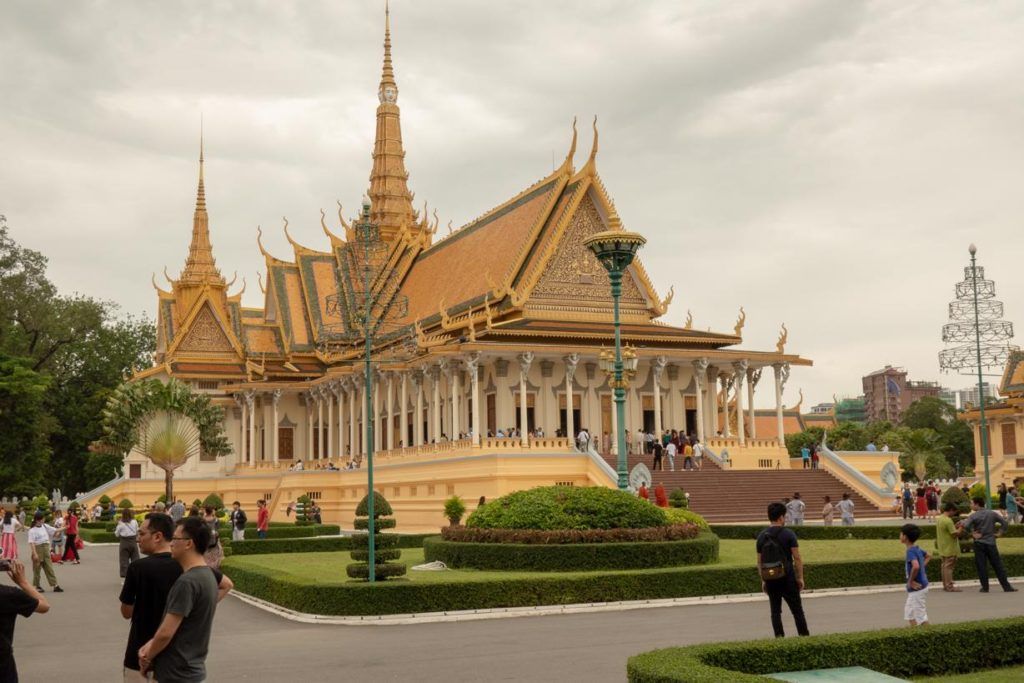 Things to do in Phnom Penh
Visit the National Museum of Cambodia
Wonder through the Tuol Sleng Museum of Genocide Crimes, the S21 prison.
Listen to audio as you walk through the Choeung Ek killing fields.
Visit Wat Phnom
Explore the Phnom Penh Zoo, known as Phnom Tamao Wildlife Rescue Center
See the Independence Monument
Visit he Royal Palace
We've put together a post on the dress code for the Royal Palace and other cultural attractions.
The Islands of Koh Rong and Koh Rong Sanloem
Cambodia is home to some of the most beautiful islands in South East Asia, Koh Rong, Koh Rong Sanloem. Koh Rong, the second largest island of Cambodia, located about 25km south of Sihanoukville, and is known for its beautiful beaches and coral reefs and lush jungle interior. Koh Rong Sanloem can be found 4km south of Koh Rong.
Things to do in Koh Rong and Koh Rong Sanloem
Relax on the beautiful white sand beaches
Explore the depths while diving or snorkeling
Do a day tour to explore the island
Go hiking in the Jungle
Kayak to smaller nearby islands
Experience swimming with bio-luminescent plankton
Battambang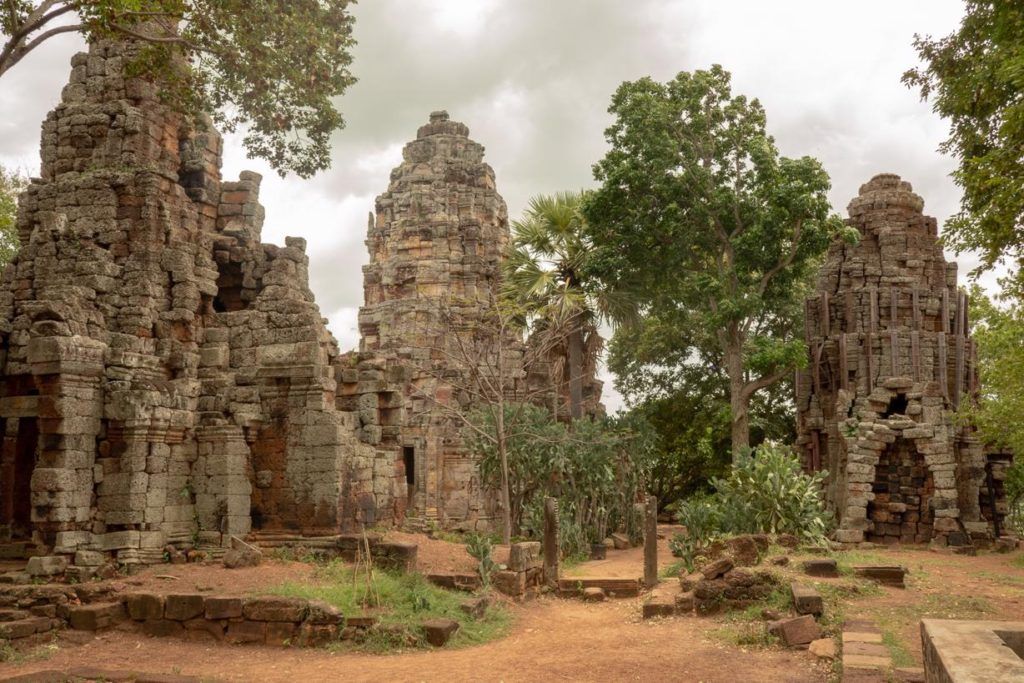 Battambang is home to some of the best preserved early 20th century French architecture in Cambodia. Combine this with all the benefits of a modern city, a small town feel and cafes, coffee and cuisine similar to what you could get at home and you have a wonderfully relaxing place to spend a few days.
Things to do in Battambang
Take a tuk tuk tour of Battambang to explore What Ek Phnom, Phnon Banan Temple and Phnom Sampov
See the Damrey Sor Pagoda
Wander through the Battambang Provincial Museum
See the Phare Ponleu Selpak performing arts show
Mondulkiri
Characterised by rolling grassy hills, pine groves and rainforests, Mondulkiri is home to some great conservation projects, it is the most sparsly populated region in Cambodia. Here you have a higher chance of seeing wildlife than anywhere else in Cambodia.
Things to do in Mondulkiri
Witness the power of the Boo Sra waterfall
Swim in the Monorom Falls waterhole
Visit the Elephant Valley Project where sick and injured elephants find sancturary
Spend time at the Phnom Prich Wildlife sanctuary
Kampot
The relaxing, riverside setting of Kampot is the perfect base to explore the south east of the country. Known for its pepper plantations and salt fields and its old French architecture, most people will come to Kampot to simply relax and take a break from the busyness of the rest of the country
Things to do in Kampot
Explore the Bokor National Park
Visit the Bokor Hill Station
Explore the river by Kayak or paddle board
Visit salt fields and pepper plantations
Wander through the Kampot Caves located just outside of town
Kratie
Located north of Phnom Penh, and situated beside the Mekong River, Kratie is a lively town. The main attraction is the opportunity to see the few remaining Irradwaddy Dolphins in their natural environment.
Things to do in Kratie
Kayak or boat (I've done both and Kayak is definitely better as the dolphins are not running from the boat) to see the Irrawaddy Dolphin
Explore the Mekong Discovery trail with a tour
Visit the Phnom Sambok Pagoda
Things to know before travelling to Cambodia
Cambodia travel tips and advice
There are a few important things to know before travelling to Cambodia. While some of them will help you while you're there, others will give you time to think and prepare yourself mentally.
What is the best time of year to visit Cambodia?
Peak season in Cambodia is between December and February when temperatures are lower and there is minimal rain. The rest of the year, however, has a lot to offer weather wise. Check out our post on dry season in Cambodia, and learn the benefits of travelling in rainy season.
Cambodia travel warnings
Is Cambodia safe?
Generally speaking, Cambodia is a safe country for tourist, however there are a few common issues that can occur. The US Government have Cambodia listed at the lowest risk level, advising people to exercise normal precautions.
Cambodia warnings and dangers
In areas such as Phnom Penh, bag snatching is a real risk. Make sure you keep your valuables secured to you at all times. Be particularly careful in tuk tuks and on motorbikes. It is not uncommon to hear stories of travellers who put their bags at their feet in a tuk tuk, only to have them snatched by someone on the back of a motorbike. It is also advisable not to walk alone late at night, especially if you've been drinking.
There are still land mines and unexploded devices in some distant parts of tourist areas such as Siem Reap, Battambang, Pursat, Banteay Meanchey, Pailin and Kampong Thom provines. All this means for tourists is that you don't go wandering off the beaten track, onto rural land in these areas.
Cambodia has a dark recent history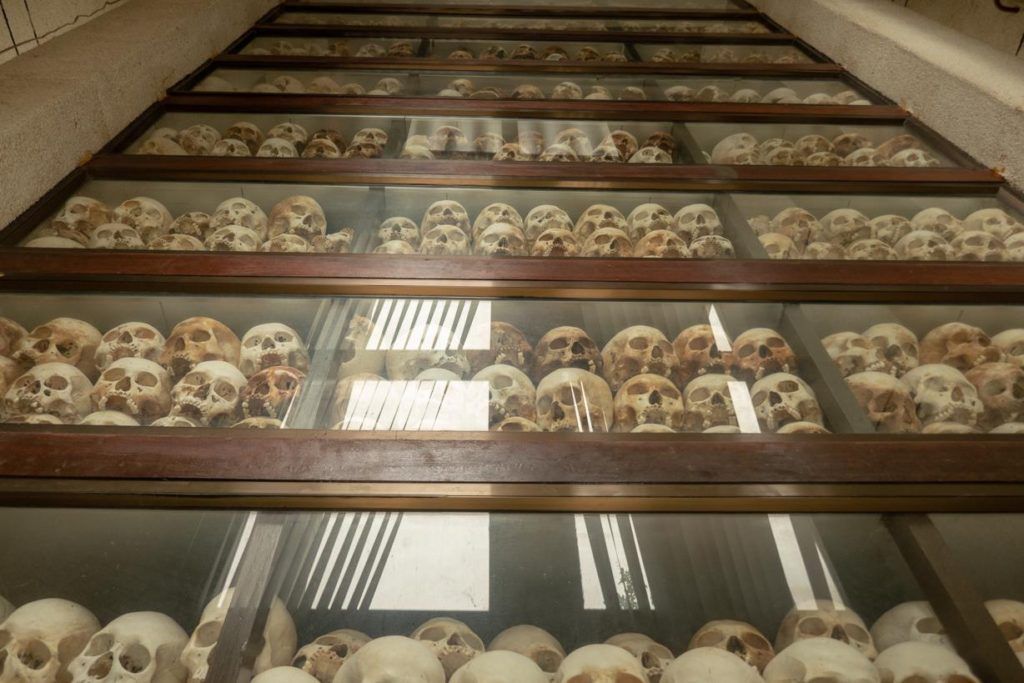 If you've spend any time looking into the country you'll no doubt know about some of the recent difficulties the country has faced. Once in Cambodia you'll have the opportunity to witness what went on there for yourself by visiting places like the Killing Fields and S21 Prison in Phnom Penh. These, and other places like them around the country are difficult to witness.
While they are 'tourist attractions' they are more than that. The mood is solemn and people tend to drift apart from their friends, take their time and process the reality in their own way.
It is considered appropriate to dress respectfully when you visit such sites as they are memorials to the millions of people who were killed. This means knees and shoulders covered. You'll find all but a few people do this. You're definitely the odd one out if you don't.
Poverty and children
It is hard to miss the poverty, the children working, the hungry children. Especially if you venture into the more rural and less touristic areas. It can be heart breaking. We are not experts and so we have no idea whether we do the right thing, but as a general rule I personally choose never to pay children for anything. Yes, that may be the families only source of income, and yes, I may be depriving them of it (argh) but I just can't do it. I will pay the mother for the same service, but not the child. This is a decision you will have to make for yourself.
Cambodia travel tips and advice: A lovely gentleman in Vietnam once told me that if in doubt, buy the child an ice cream. He said all kids like ice cream, they've got some food inside them and it can't be taken away.
Tips for the budget savvy
– Cities are more expensive than less touristy areas so head off the beaten path and explore more of the country
– Foreign meals vary in price but are substantially more expensive than local food so if you're watching your budget, explore local restaurants.
– If you're planning on doing tours try booking them yourself rather than having your hotel or guesthouse book them for you. This can save you a lot of money but may be a little more hassle.
Haggling (bargaining) in Cambodia
As opposed to Vietnam where bargaining is expected, Cambodia is a lot less ruthless about it. You will absolutely have to bargain when you purchase items at markets, but they don't hold out for too long. Taxi's, remork-motos and cyclo's however, require a bit more bargainng skill and effort.
Cambodia travel tips and advice – Make sure you agree on a price for a services such as a transport before you get in otherwise you're in for a long and difficult negotiation at the end.
Etiquette
While Cambodia is developing rapidly it is still quite a conservative country and visitors should try to follow local customs. Don't wear revealing clothing to temples and religious sites.
Cambodian foods to try
Fish Amok
A delicious dish of fish and coconut curry cooked in banana leaves, Fish Amok is an authentic Khmer street food, to enhance the flavour, herbs such as lemongrass, kefir lime and turmeric are added.
Lok Lak
Deliciously juicy beef served with salad of fresh tomato, lettuce, onion and raw cucumber and then seasoned with lime juice and pepper. Lok Lak is delicious.
Exploring a cultures cuisine is a great way to learn about a country. Why not try a Cambodian cooking class where you can learn how to make some of Cambodia's most popular dishes?
Planning a trip to South East Asia? This is how we do it
Disclaimer: This post contains affiliate links. We earn a small commission on items you purchase through these links, at no extra cost to you.
Like it? Pin it!