A Netherlands Travel Guide
The Netherlands is a fascinating country steeped in history and tradition. This Netherlands Travel Guide will help you plan the ultimate holiday. Whether you're looking forward to exploring historic cobblestone streets, centuries-old buildings, the many canals, waterways, windmills, or fields of flowers, there is so much to experience in the Netherlands. History is everywhere in the Netherlands. With hundreds of Museums and historical monuments scattered throughout the country and a mix of bustling cities and small towns, your holiday in the Netherlands can be anything you want. We'll help you ensure that it's an experience you won't forget.
This article contains affiliate links. For more information, please see our affiliate disclaimer here.
The Netherlands, at a glance
Language: Dutch
Currency: Euro
Credit Card and ATMs: Readily available
Electronics: Standard 230 volts. Two rounded pins.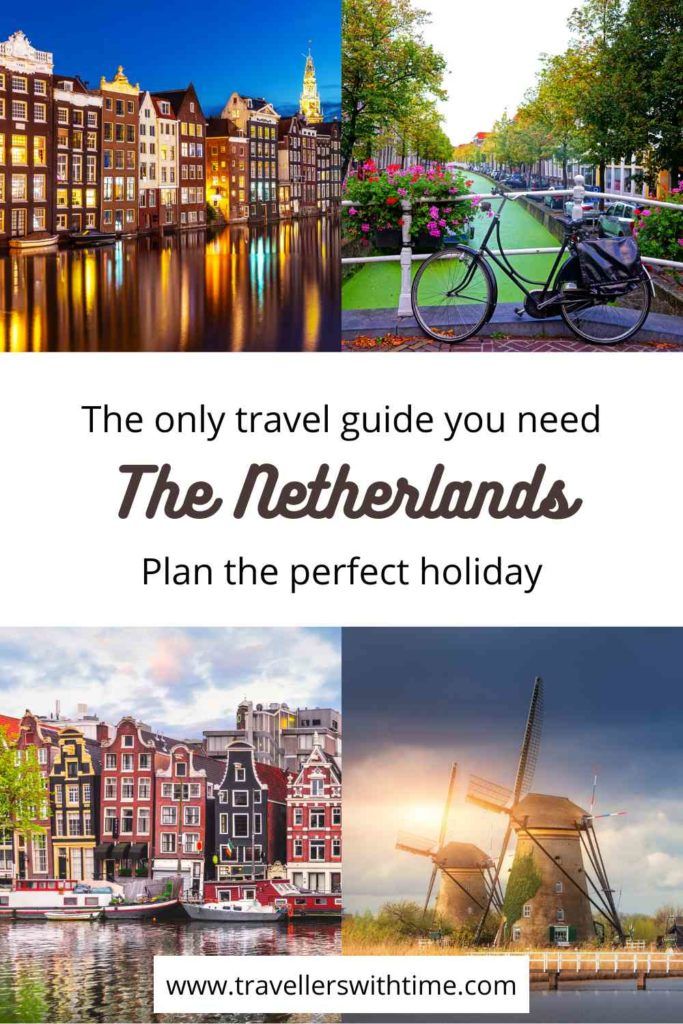 Netherlands Travel Guide: COVID-19
While travelling to the Netherlands during the COVID-19 pandemic is still possible, the situation is continuously changing.
Remember to check your country's travel advice and the latest requirements of the Netherlands before you book your trip. Then, check again in the days before you leave to be sure. You can find the Dutch government's travel recommendations here.
Netherlands trip costs and budgets
Budget
Average daily spend: €50
Average spend per week per person: €350
Average spend per couple per week: €700
Average cost of a 7 day tour €1100
Average daily accommodation is €60
Average daily food expenses: €20
Average cost of a cheap beer is €3
Average cost of a coffee is €3
Mid-range
Average daily spend: €125
Average spend per week per person: €900
Avg spend per couple per week: €1800
Average cost of a 7 day tour €2000
Average daily accommodation €130
Average daily food expenses: €40
Average cost of a beer € 4.5
Average cost of a glass of wine € 6
Average cost of a coffee € 3
High end
Average daily spend: €300
Avg spend per week per person: €2150
Avg spend per couple per week: €4300
Average cost of a 7 day tour €3000
Average daily accommodation €350
Average daily food expenses: €70
Average cost of a beer € 6
Average cost of a glass of wine € 6
Average cost of a coffee € 3.5
Read: Prices in Amsterdam – How to budget your trip to the Netherlands
Travelling in the Netherlands as a couple
Ben and I love exploring the Netherlands together, and we're sure you will too. There is so much romance in and around the beautiful old cities. So many cozy boutique-style hotels. For nature lovers, nothing beats a nice walk in the forest during the Autumn months when the leaves are falling.
Best time to visit the Netherlands
The best time to visit the Netherlands depends largely on what it is that you want to do and see while you're here.
Summer
The most popular time to visit the Netherlands is in July and August. The end of summer provides long warm days, with temperatures between 25 and 30 degrees being the most common.
The potential downside to visiting the Netherlands in summer is that everyone else does too! Cities such as Amsterdam are busy during this time, and there can be long waits for entry into museums and other tourist sites. In addition, due to the number of visitors, accommodation is often booked solid, and last-minute planning is difficult.
If you're happy to brave the crowds, you'll find plenty to do outdoors throughout the whole country. Not to mention any number of festivals and outdoor events.
Spring
We think that spring, and April-May in particular is the best time to visit the Netherlands.
While the temperatures during the day are more relaxed and wetter than in summer, and the nights can be cold, there are far fewer people, and travel is much more relaxed.
If you plan on venturing out of the cities, this is also a great time of year as the Netherlands landscape comes alive with Tulips and cherry blossoms. Keukenhof, the world-renowned Dutch flower festival, is held during this time in Lisse.
It is quieter in the cities, and you won't have to wait so long to enter museums such as the Rijksmuseum or Van Gogh Museum.
Winter
Winter is from December through February. Winters in the Netherlands are cold and wet. Although winters are milder than in other European countries, with temperatures averaging around 3 degrees during the day, the days are short, grey, and bleek.
Global warming is doing its thing here, and the weather is changing yearly, proving to be quite unpredictable. You may see snow. You may not. The lakes and rivers may freeze enough for skating, and they may not. Rain is pretty much the only guaranteed whether element. During COVID, we had one winter where temperatures were between -6 and -14 degrees Celsius for two weeks straight. The following winter, temperatures barely went below zero the entire winter. You never know.
That being said, if you plan to spend a lot of time indoors, visiting museums, cafes, and restaurants, everywhere has central heating, and the outside temperature won't bother you so much.
There are other advantages to visiting the Netherlands in the winter, such as Christmas Markets and festivals or New Year's Eve.
Autumn
Autumn is one of my favourite times in the Netherlands and if I had one Netherlands travel guide tip it would be to visit in Autumn, or spring. Autumn in the Netherlands is a little wetter than spring. The temperatures may be dropping from the summer, but so are the autumn leaves. If you want to get outside, the forests and national parks are beautiful during this time.
The damp keeps a lot of the tourists away, and so it is quieter than the summer. Activities and events start winding down as the nighttime temperature starts to fall.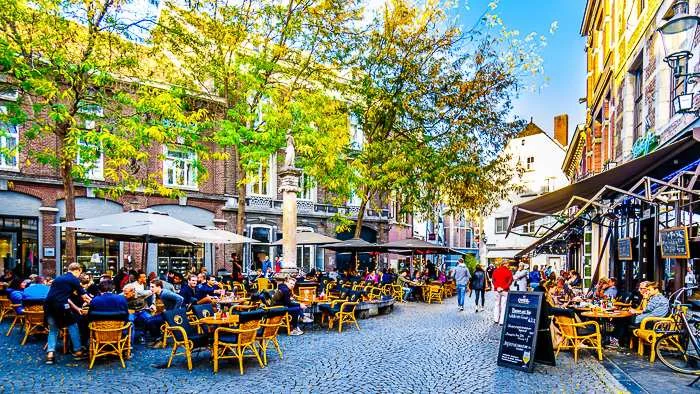 How long should you visit the Netherlands?
How long do you have? For example, if you only want to see Amsterdam and make a couple of day trips from the city centre, then anywhere from 3-4 days would suffice.
If you intend to spend some time travelling in the Netherlands, you'll need extra time. For example, if you plan on visiting multiple cities or venturing away from the west coast to either the Limburg region in the southeast or Groningen in the North. In that case, you'll need at least a week.
Our Netherlands Travel Guide recommendation would be to spend at least one week travelling to the Netherlands to see various places and explore this fascinating country and its unique culture.
Visas for visiting the Netherlands
As with any international travel, the type of visa you will need will depend on your passport. Generally, you will need a Schengen Visa for holidays of up to 90 days.
A Schengen Visa allows free movement throughout the 26 countries that make up the Schengen Area. The Schengen area is different from the European Union.
Citizens of many countries will need to apply for a Schengen Visa; however, citizens of some countries such as Australia, New Zealand, America, and Canada can travel visa-free. Make sure you check out the specific requirements for your citizenship.
How to get to the Netherlands
Flights
Schipol Airport in Amsterdam is the Netherlands' main international airport. Therefore, most international flights will fly into Schiphol, although there are a few other options, such as Rotterdam and Eindhoven.
Bus, trains, and ferries
If the Netherlands is part of a more extensive trip, there are bus and train routes to the Netherlands from the surrounding countries of Germany, Belgium, and the UK. Trains are also available from France.
Ferries are available from the UK and Germany.
Cars
Driving to the Netherlands is easy due to Europe's open borders if you're already in Europe.
Netherlands travel tip: Getting around in the Netherlands
Getting around the Netherlands is easy if you plan to stay within and move between the cities.
Buses, trains, and trams
The Netherlands has an extensive rail and bus network, allowing you to move between the larger towns and cities, with the larger cities also operating tram services internally. However, if you plan on using trains often, be aware that they're relatively expensive. For example, on our most recent trip away, it was cheaper for us to drive to Schipol and leave our car in airport parking for 12 days than for the two of us to take the train to the airport and back.
Bicycle
The bicycle is a great way to get around if you stay in one area. A prevalent mode of transport in the Netherlands, there are hundreds of kilometres of bicycle lanes throughout the country. Bicycle lanes often have their traffic lights and give-way signs in the cities. People here are used to bicycles. Compared to many other countries, bicycling in the Netherlands is reasonably safe.
Car
One of the easiest and most independent options is hiring a car and driving. The Netherlands has excellent roads which are safe and easy to drive, and engaging your vehicle gives you the freedom to move around if you want to travel large parts of the country.
Netherlands travel guide tip- Be aware that traffic in cities like Amsterdam is a problem, so a car may be more hassle than worth it if you're only visiting the city itself. Peak hour traffic is also challenging on main roads between the cities, but I think that's standard no matter which country you're in!
Watch out for cyclists! The Dutch are pretty conscious of them, but if you're not from a country where people cycle a lot, it's a different experience. Bicyclists are everywhere, and although they should be looking, they expect you to know they're there.
Safety when travelling the Netherlands
The Netherlands is a safe country to travel to, and you shouldn't have any problems. That being said, you still need to be careful. One of the most common crimes against tourists is pickpocketing. This is particularly true on busy public transport. So you'll want to ensure that you have a secure bag and nothing valuable in your pockets.
Avoid leaving valuables exposed in hotel rooms, and certainly never in dorms. Walking alone late at night through the cities is also not recommended.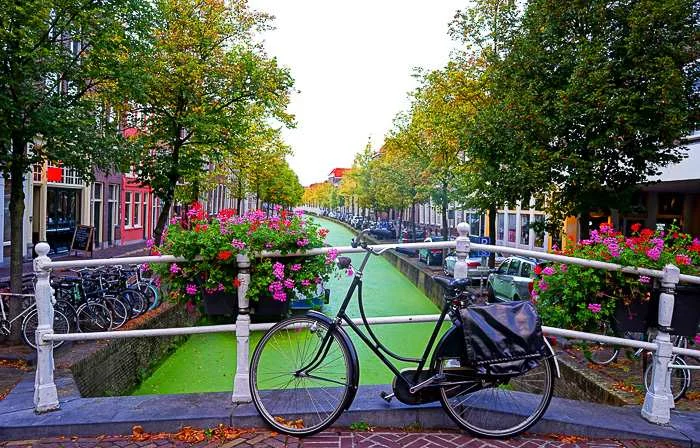 Where to stay in the Netherlands
The Netherlands has many accommodation options throughout the country, from narrow, historic canal houses in Amsterdam and hotels to seaside resorts, chalets in holiday parks, and unique accommodations such as houseboats and converted old windmills.
The Netherlands uses the usual 5-star rating system to rank accommodation, and you'll find everything from the primary and straightforward twin share room to the delightfully bougie luxury apartment.
Best home bases for exploring the Netherlands
While you could certainly move around from city to city, and I would recommend that you do if you have time, it is also entirely possible to base yourself in Amsterdam and see the rest of the country through a series of day trips.
Geography of the Netherlands
The Netherlands is a relatively tiny country in Europe, making it easy to travel across. It is broken up into 12 provinces, each with its capital city. Use the table below as a quick guide when planning your trip.
West Netherlands
Flevoland – Capital of Lelystad, Almere
North-Holland – Capital of Haarlem, Amsterdam, Alkmaar, Voldendam
South Holland – Capital of Den Hague, Rotterdam, Leiden, Dordrecht and Delft
Utrecht – Capital of Utrecht, Armersfoort.
Northern Netherlands
Drenthe – Capital of Assen
Friesland – Capital of Leeuwarden, Dokkum
Groningen – Capital of Groningen
East Netherlands
Gelderland – Capital Arnhem, Nijmegen and Appeldoorn
Overijssel – Capital Zwolle, Enschede and Geithoorn
Southern Netherlands
Limburg – Capital of Maastrict, Valkenburg
North Brabant – Capital S-Hertogenbosch, Eindhoven, Breda
Zeeland – Capital Middelburg, Vlissingen
Best places to visit in the Netherlands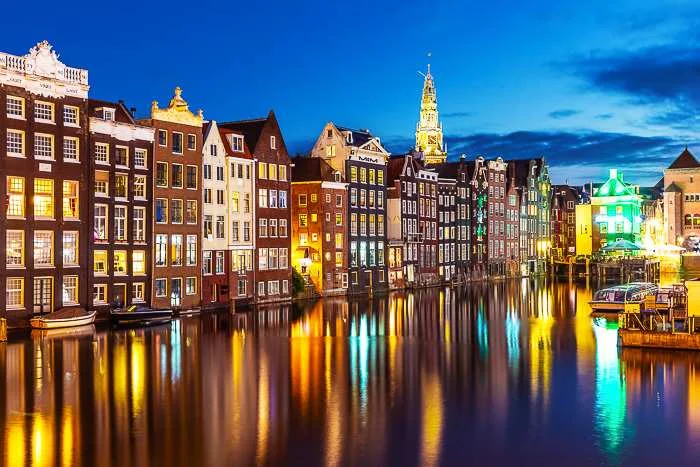 Amsterdam
I thought we'd get the obvious out of the way early because you should see it, but there is also so much more to the Netherlands. With over 50 museums and historical sites like Dam Square and the Old Church, this thousand-year-old city has plenty to offer. The red light district is also a popular attraction in the evenings.
Maastricht
Located way in the southeast region of the Netherlands known as Limburg, bordered by both Germany and Belgium, Maastrict is a great city. Visit the Vrijthof Plein and St Pietersburg hill. There is also plenty to see around the area, such as the village of Thorn and Maastrict caves.
Delft
A beautiful old town, Delft is known for its blue pottery and historic architecture is now a bustling university town with trendy cafes and restaurants lining its ancient streets.
Netherlands travel guide tip: You can see Delft in a day as part of a tour from Amsterdam or Rotterdam. If you have time, spend a couple of days here to really enjoy the atmosphere.
The Hague
The third-largest city in the Netherlands is the home to the Dutch Government and the International Court of Justice. It is also the only Dutch city with a beach. See some significant buildings such as palaces and the parliament or visit Madurodam and see the Netherlands in miniature.
Geithoorn
Geithoorn is a beautiful little village northeast of Amsterdam in Overijssel. It was built as a peat harvesting village, and as the farmers harvested the peat, they built houses on the little islands between the newly formed waterways. Wooden bridges then connected these islands. The environment around Geithoorn is beautiful, and the best way to see it is to take a boat tour.
Utrecht
This historic city is the 4th largest city in the Netherlands. Another bustling university city Utrecht has a relaxed urban vibe. Visit the Domtoren and Domkerk and Kasteel de Haar. The nightlife is also great in Utrecht, with many popular bars and restaurants.
Zaanse Schans
A fascinating historic village, Zaanse Schans is a throwback to life two hundred plus years ago with its wooden houses, windmills, and workshops where you can see how many traditional Dutch items are made. If you can't make it there on your own, day trips run regularly from Amsterdam.
No travel guide of the Netherlands is complete without some recommendations for seeing Windmills! Zaanse Schans is a must see.
Haarlem
Beautiful Haarlem has a little bit of everything. From historic old buildings to canals, waterfront restaurants, and high-end shopping. Haarlem is picturesque, and it's easy to spend time getting lost in its cobblestone streets.
The Hoge Veluwe National Park
Different from the other city-based recommendation and further away in the east, the Hoge Veluwe is the Netherlands' most significant and most popular national park. With spectacular nature easily accessible from hiking trails and cycle paths, the Hoge Veluwe National Park is an excellent getaway from the hustle and bustle of the larger cities.
Groningen
While Groningen city has its history and incredible buildings, such as the Martini Tower and warehouses along the canals of Hoge Der A and Lage Der A, there is plenty to see outside the city in the region of Groningen. You can experience nature like nowhere else in the Netherlands at the Wadden Sea with its low tide and accessible Islands. To the west, there is Bourtange, an old fortress that has never been captured.
Rotterdam
The second-largest city in the Netherlands, Rotterdam hosts all the same attractions as other major cities – incredible architecture and centuries-old buildings. However, one of the things that set Rotterdam apart is the artistic and modern approach to design that is visible in the newer buildings and surroundings. As a result, you'll find plenty of things to do and see here.
Gouda
One of the most popular day trips from Amsterdam is to Gouda, home of the famous cheese. Gouda has a great mix of medieval architecture and markets, allowing you to wander in awe for hours.
Netherlands travel advice: Must see and do experiences in the Netherlands
Visit the Rijks Museum
Take a day trip to Zaanse Schans
Hike a trail in the Hoge Veluwe National Park
Admire the windmills of Kinderdijk
Take a boat trip to Giethoorn
Visit the Efteling amusement park
Get lost at the Keukenhof flower show
See the Netherlands in Minature at Madurodam
Enjoy the Heiniken Experience – a tour of the Heineken factory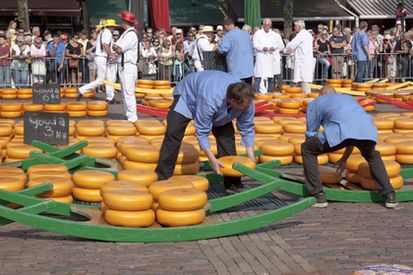 What to eat in the Netherlands
If you're looking for a culinary extravaganza, you probably won't find it in the Netherlands. Some would disagree with me, but traditional Dutch food is mainly simple and 'stodgy.' The Dutch also like to put mayonnaise on everything….
What they do well are a few bar snack-type foods and some pastries and baked goods. These are the foods you'll want to try.
Bitterballen
Bitterballen are deep-fried (like most things Dutch) balls with some meat in the middle. It may be best not to ask what the meat is, but they taste delicious. You'll find them as appetizers and bar snacks.
Olieballen
Olieballen translates to balls of oil, but that's not really what they are. Instead, they're little dumplings of pastry deliciousness sprinkled in icing sugar.
Compose
Compose is a delicious rectangular-shaped pastry. It has two firm pastry biscuits filled with thick custard in the centre and a layer of pink icing.
Stroopwafel
A stroopwafel is an above-average-sized biscuit with a sugar syrup (Stroop) filling. The filling goes hard when it is cold, but sit it on a cup of coffee, making it sticky and delicious.
Drop
The Dutch love their licorice, which is different from everyone else's. The flavour is a lot stronger, and it is very salty.
Cheese
You can taste these in these villages or at a cheese market known for the Edam and Gouda cheeses.
Common FAQs
Are the Netherlands' borders open?
Yes they are! Provided you follow the necessary requirements for entry
What are the Netherlands' travel restrictions?
Travel requirements and restrictions can change but your best bet is to keep up to date with the Dutch travel restrictions and requirements on this government website.
How to travel to the Netherlands from the UK
If you're worried about travelling during COVID, you can visit the Dutch website in the question above for more information or the UK version here for the UK government's latest advice.