Netherlands travel costs
If you're planning a trip to the Netherlands, you're probably wondering how much you need to budget for your trip. In this article, I've used the prices in Amsterdam as a guide to give you all the information you need to establish your budget and prepare for your trip. I'll also give you some practical resources and money-saving tips to ensure you're not spending more than you have to.
This article contains affiliate links. For more information, please see our affiliate disclaimer here.
General average travel budgets for the Netherlands
| | | |
| --- | --- | --- |
| Budget | Mid-range | High End |
| Average daily spend: €50 | Average daily spend: €125 | Average daily spend: €300 |
| Average spend per week per person €350 | Average spend per week per person: €900 | Average spend per week per person: €2150 |
| Average daily accommodation: €60 | Average daily accommodation: €130 | Average daily accommodation: €350+ |
| Average daily food expense: €20 | Average daily food expense: €40 | Average daily food expense: €70 |
| Average cost of a cheap beer: €3 | Average cost of a cheap beer: €4.50 | Average cost of a cheap beer: €6 |
| Average cost of a coffee: €3 | Average cost of a coffee: €3 | Average cost of a coffee: €3.50 |
Of course, the above figures are only guides and largely depend on your tastes and what you want to do while in the Netherlands.
Is the Netherlands expensive to visit?
While certainly not the most expensive country in Europe, the Netherlands is not cheap. If you've been to other European countries, you'll find the Netherlands in the top half of the most expensive European countries to visit.
Two things that make it more expensive are choosing to travel in high season, so June through to the end of August, and spending your whole vacation in Amsterdam, the Netherlands' most expensive city. If you happen to be staying in Amsterdam in the middle of summer, you'll be paying a premium.
It's good to know, however, that if you choose to travel in Autumn or spring and travel around the country, not just in Amsterdam, you'll find the Netherlands a lot cheaper.
Read: Our guide to the best time to visit the Netherlands
How much does it cost to travel to the Netherlands – finding flights
The cost of flights from another country to the Netherlands varies considerably.
A flight from Sydney, Australia, to Schiphol International Airport in Amsterdam costs around $2300 AUD, 1490 € or $1755 USD.
Flying from New York to Schiphol in Amsterdam costs around 480€ or $565 USD
Getting from London to Schiphol will set you back around 150€ or $176 USD.
Some great resources to compare flights are the Skyscanner website or Fare Compare.
Don't forget that if you're coming from a country outside the EU, you'll need a visa for the Netherlands.
Using Amsterdam as a gage to set your Netherlands travel budget
For the remainder of this article, we'll use Amsterdam prices to gauge the funding needed to travel in the Netherlands? Here's why
Amsterdam is the most visited city in the Netherlands. Even if you fly from somewhere in Europe into one of the smaller airports, you'll most likely want to visit Amsterdam!
Amsterdam is the most expensive city in the Netherlands, and in my experience, you're always better to have a bigger budget and spend less than planned or be able to splurge a bit than to have a smaller budget and run out of money.
Amsterdam prices
What currency is used in Amsterdam?
Amsterdam is the capital city of the Netherlands and accepts Euros ( € ) like the rest of the Netherlands. If you wish to pay in foreign currency, you will need to use a credit card or card where the foreign currency can be converted to Euros.
Availability of cash – How much money should I take to Amsterdam?
Automated teller machines or cash machines are readily available in the Netherlands; whether you're in a large city or a small village, you'll be able to access your cash. Most places will also accept debit cards or credit cards. This is called 'pinnen' in Dutch, and you'll probably see signs saying 'pinnen' where you can pay with a card.
Regarding how much money you should take, it's generally advisable to limit the amount of cash you carry due to the risk of theft. In the cities, the pickpocketing of tourists on crowded public transport can be an issue. However, with cash machines and the ease of using cards almost everywhere, there is no need to carry more than a few hundred euros on your person.
Is Amsterdam expensive to visit?
As mentioned, Amsterdam is the most expensive city in the Netherlands to visit, particularly during the spring (from the start of Keukenhof onwards) and through the summer. Depending on which list you're reading, Amsterdam is generally considered to be in the Top 10 most expensive cities in Europe.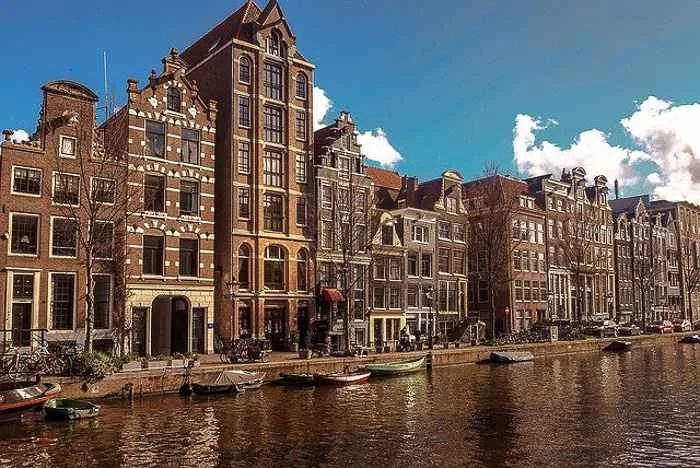 Amsterdam travel costs
We've provided a table above for easy reference, but if you're looking for more of a breakdown of expenses, we've gone into more detail below.
Amsterdam food and drink prices
Food and drink prices in Amsterdam will vary considerably as with anywhere in the world; however, I find restaurants here quite expensive compared to other parts of the world. So if you're on a budget, street food and cooking for yourself will be your cheapest options. However, from that price range onwards, you can spend as much as you're willing on food and drink.
Alcohol prices in Amsterdam
Beer prices in Amsterdam
When it comes to beer, you can find everything from your cheaper tapped beers to your specialty beer and IPAs. You can also find it everywhere, as you'll be able to purchase it in the supermarket, bars, and restaurants.
The cheapest beer is from the supermarket, and you'll be able to find options for around 1.00 euro. But, of course, you won't be able to take that to a restaurant or bar with you! So if you can find cheaper beers at bars and restaurants, you'll probably pay around 3.00 – 4.00 euro.
If you plan on having a drink at a restaurant or bar, you'll pay between 4 and 5 euros for an average-priced beer. This will vary depending on the type of venue.
If you go to a more expensive venue, an upscale restaurant or bar, or simply like the finer things, you can easily pay upwards of 6 euros.
Wine prices in Amsterdam
Bottles of cheap wine start from around 4.00 euros if you buy them in the supermarket. However, you'll probably pay at least 4.00 euros a glass if you're after-budget wine in a restaurant.
Buying a bottle of wine in a restaurant is usually cheaper than buying by the glass, and you can expect to pay around 12.00 to 14.00 euros or more per bottle.
When it comes to high-end wines, well, that's up to you. How much do you have?
Price of coffee in Amsterdam
In general, the prices of coffee in Amsterdam will vary from between 2.50 and 3.50 euros for your basic pot coffee to your cappuccino. The Netherlands has a surprisingly limited offer when it comes to coffee compared to Australia, but it's also cheaper.
Suppose you're paying much more than 3.50 euros. In that case, it's either because you have gone to a specialty coffee place such as Starbucks, whose coffee is about 3.75 euros on average, or because you're buying it from somewhere fancy, that is generally more expensive.
Breakfast prices in Amsterdam
It is easy to find cheap breakfast options in the Netherlands. If you're staying in hostels, you can usually find hostels that offer complimentary breakfast. It's a simple spread of cereal, toast, and coffee, but it helps. Alternatively, if you go to the supermarket, you'll find plenty of pastries and breakfast edibles from 1.00 euro.
If you're staying at hotels, you may also have a 'breakfast included' option. The included breakfast is usually a big buffet. This is included in the price of your room, but seeing as you can eat as much as you want, it can work out quite well.
If you want to go out and find something for breakfast, there are plenty of options, and you'll quickly find something delicious for between 6.00 and 20.00 euros. That includes things from doughnuts, pastries, and pancakes to the more filling traditional and standard breakfast options.
Moods Coffee Corner is a delicious and popular café with reasonable pricing. Here are some examples
Bacon and avocado omelette €13.90
Granola bowl €8.90
Banana bread €3.50
Ham and cheese croissant €1.00
Street food prices in Amsterdam
If you're interested in takeaway foods, food markets or finger foods, you'll have plenty of options.
On the cheaper side, you can easily find ethnic street foods and things like fries for between 5 and 10 euros.
For general takeaway foods, both international and Dutch, you could try either the World of Food or Food Hallen markets which will give you an excellent variety to choose from.
To try traditional Dutch street food, look for the below options
a Broodje Herring – a bread roll with fish €3 +
Frikandel, a type of Dutch sausage that can be served with mayonnaise and onions, goes for 1.00-2.00 euros. The more things you put on top, the more it costs
Kibbeling – a deep-fried fish dish, sells for around €2.00
Olie Bollen – the deep-fried pastry is about 0.08-1.50 euros per piece.
Average dinner prices
The average dinner prices in Amsterdam, as with all other meals, depends on the type of food you want and where you choose to eat.
Looking at your street food options, you could easily find a good meal for under 8.00 euros. Some other popular options include
A 200g Angus Beef burger from the Burger Bar €8.00
Spare Ribs from Restaurant Moeders €17.00
Margharita Pizza from La Perla €10.00
Restaurant De Kas offers a weekly menu based on the freshest, in-season ingredients. 5-course dinner there will cost you about €70.00 per person, not including drinks.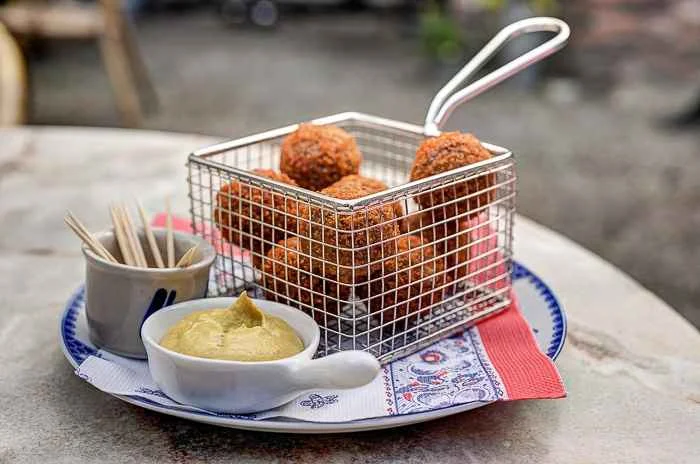 Read: The complete Netherlands Travel Guide
Accommodation prices
The most significant portion of your Netherlands budget will likely be spent on accommodation. Depending on the level of comfort you require, paying a little extra is often worthwhile, although not always necessary. Obviously, the closer you are to the heart of the city, the higher accommodation prices become. So if you're looking to reduce the costs, consider staying a little further out and walking or taking the bus to the city centre.
Hotel prices in Amsterdam
The average hotel price in Amsterdam is around €130.00. However, you'll need to remember that it will be cheaper from the middle of Autumn through winter and the first week or so of spring. After that, the prices will start to go up for peak season.
Some examples of Hotel costs
Hostel prices in Amsterdam
Transport prices in Amsterdam
There are many ways to get around Amsterdam. The bus, train, and tram systems are easy enough, and there is always the option of finding your inner Dutch and riding a bicycle. The below prices will help give you an idea about how much you'll need to budget for public transport.
Bus/metro/tram prices in Amsterdam
€3.20 – A simple bus/metro/tram ticket valid for 1 hour
€8.50 – A bus/metro/tram ticket that is valid for 24 hours
€22.50 – A bus/metro/tram ticket that is valid for four days
There are also longer, more economical tickets if you intend on staying in Amsterdam for a more extended period. You can find more information about public transport on the GVB website
Bike hire prices in Amsterdam
Bike hire prices in Amsterdam will vary greatly, but generally, you'll pay between 3 and 12 euros.
Cab prices in Amsterdam
Taking a taxi in Amsterdam is one of the more expensive ways to get around because you'll often be sitting in traffic. However, if you're in a pinch or it's raining, a taxi, or cab, is a great way to get around.
The basic hire rate of a taxi is €3.19, which will cost you at least €2.35 per kilometre. There are also surcharges and additional charges for waiting that can be added to the final cost, so this is only an estimate, but it will give you an idea.
Car rental prices in Amsterdam
If you're planning on leaving Amsterdam and travelling further around the Netherlands, hiring a car is a fantastic option. It gives you complete control and eliminates the hassle of waiting for buses and trains. You can pick your car up when you arrive at the airport, or wait a few days and pick it up before you leave Amsterdam. There are different sized cars to suit your needs.
An economy car from 116 euro per day
Family Size car from 186 euro
Or a minivan from 860.00 euro is an economical option for a group or large family.
Entertainment prices in Amsterdam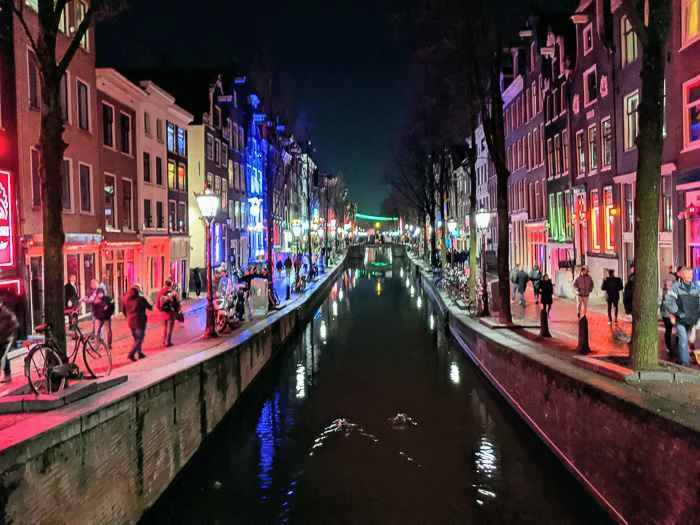 Next to accommodation, the cost of entertainment, visiting tourist sites and attractions or taking tours can add up. I always find choosing a few 'must do' or 'must see' things in advance means that I always have the budget for them when the time comes. If I need to, I'll forgo something else, so I don't miss my non-negotiable things.
Prices of Amsterdam Museums
If you love history, art, or just visiting museums, you can purchase the 'museum jaar kaart' or the yearly museum pass, which gives you access to over 400 museums in the Netherlands for up to 1 year. It costs about 65.00 euros, so if you plan on visiting more than four museums while you're here, it's worth it.
Prices of popular day trips from Amsterdam
If you're planning on staying in Amsterdam and using it as a base to travel out to other nearby areas, you'll probably end up doing some day trips. Your other option here, of course, is to hire a car and drive yourself. However, if you're on your own or enjoy meeting other people, day trips will give you some social interaction with like-minded travellers.
Popular day-trips include
Other popular things to do in Amsterdam
In conclusion
Well, I hope that gives you as much information about the costs and prices in Amsterdam and the Netherlands and helps you budget your trip. Let me know below if you have any questions, and I'll see if I can answer them for you!