Can Tho City: A Travel Guide
Can Tho city is the second biggest city in Southern Vietnam and is still the political, social and economic hub of the Mekong Delta region. The area closest to the Hau river is a hive of activity with a mix of tourists and locals alike. During the day you can cruise the river to visit the floating markets, relax in the smaller back canals or unwind with a drink overlooking the water. The local area is incredibly fertile and local markets are full of exotic fruits and exquisite seafood. By night, the river area comes alive with music and neon lights that rival those of many big cities. Read on to find all the information you need in our Can Tho City Travel Guide.
This article may contain affiliate/compensated links. For more information, please see our disclaimer here.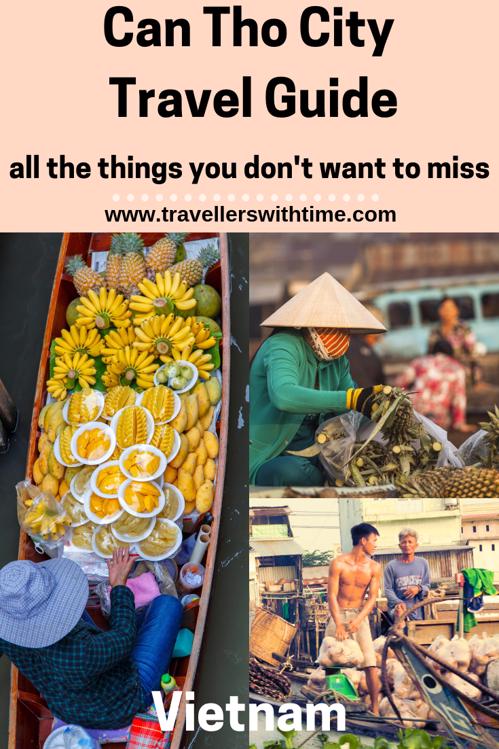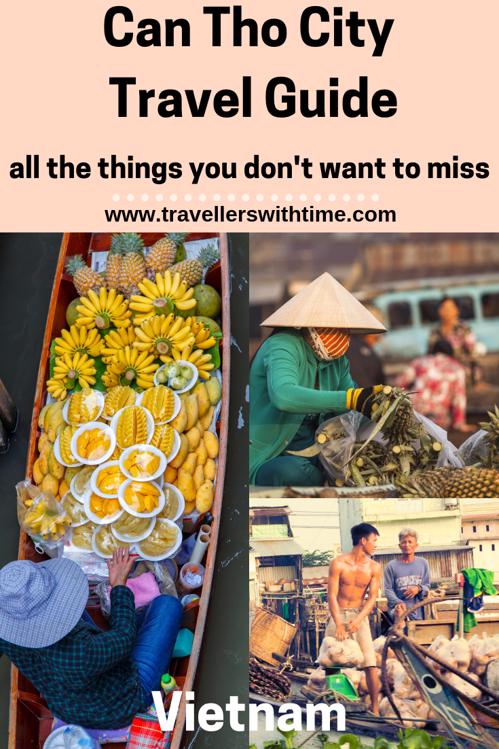 We loved Can Tho. Originally intending stay for 2 or 3 days we were there for 6. If you can get out and around the city there is plenty to see and do. The atmosphere is great. It's a perfect mix of local culture and western comfort with local and western restaurants and bars lining the river. While Can Tho is set up with all the facilities for tourism, it still manages to retain a sense of authenticity.
What to do in Can Tho City
Can Tho Cai Rang Floating Market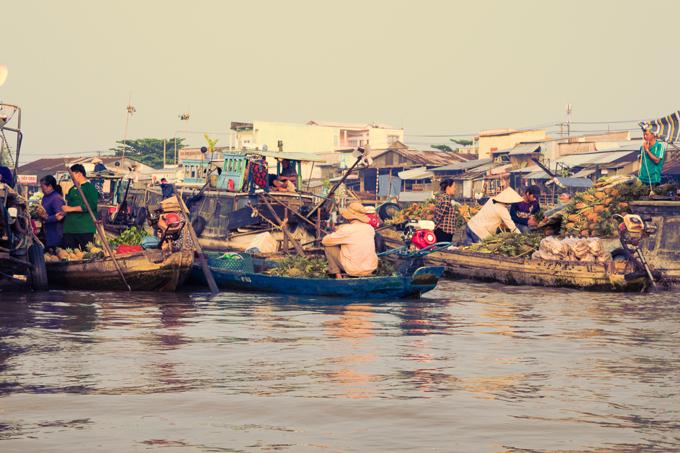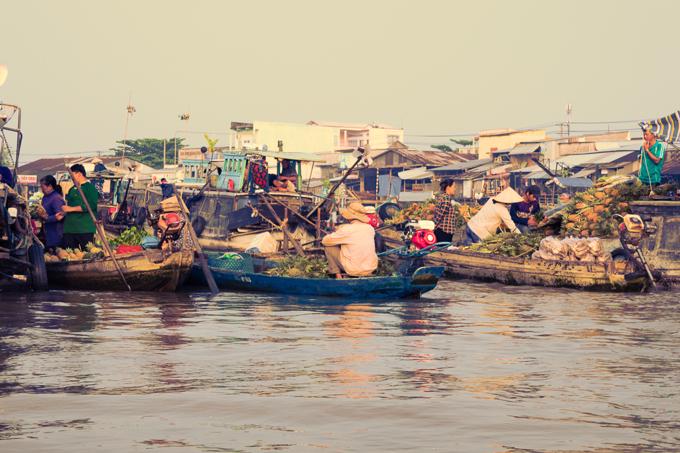 The Can Tho Floating Markets would have to be the number one draw card for foreigners. Located about 45 minutes down river from Can Tho City, the Cai Rang wholesale floating market began as a way for locals from either side of the Hau River to trade. In recent years however, a bridge has been built not far from the market and as a result, there are fewer boats on the water each year.
The best time to visit the market is first thing in the morning before the weather is too hot. Particularly if you're in a Sampan, or small local boat, which has minimal shade.
You will usually board the boat between 4.30am and 5.30 am. From here it will generally depend on what type of tour you've booked. Most tours are either 3-4 or 7 hours long. The first stop for both will Be the Cai Rang Floating Market.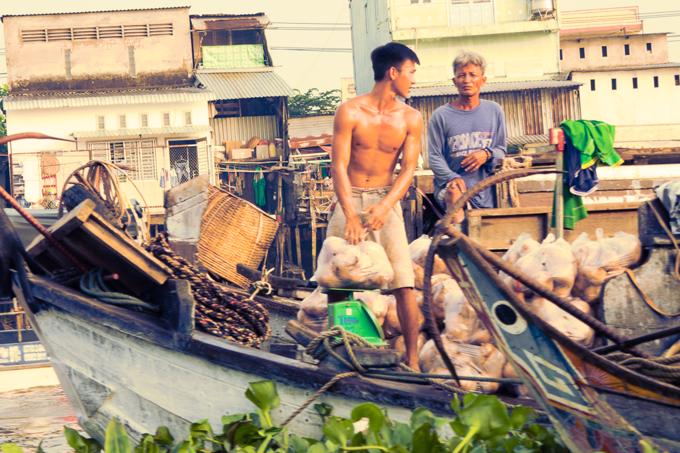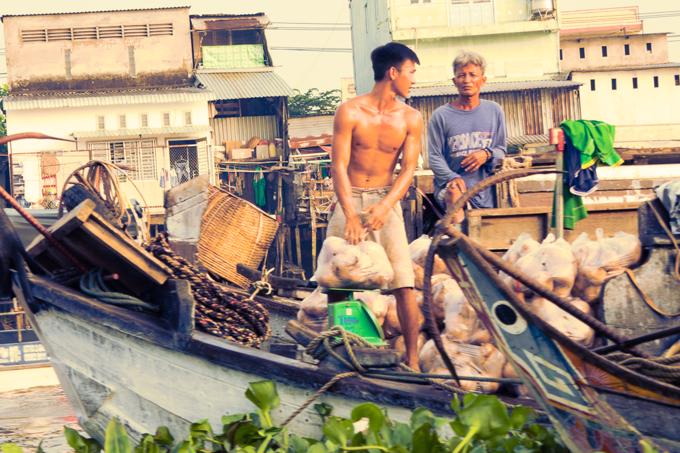 As you float through the market, look for the tall poles at the front of the boat that indicate the items that are for sale. You'll see watermelons, bananas, clothes etc. Coffee vendors will usually hunt the tourist boats out, and you'll probably find your boat driver takes you to a place you can order breakfast, generally Pho. If you want to buy other items while on boat simply instruct the boat driver as to where you want to go.
Cai Rang Floating Market tour from Can Tho City
Tours are easily booked from all travel agencies and hotels. Look into what you'll see on different tours, but we would strongly suggest a longer tour spending more time in the back canals of Can Tho. The longer tours also include things like visiting a rice paper making business, and a local fruit orchard.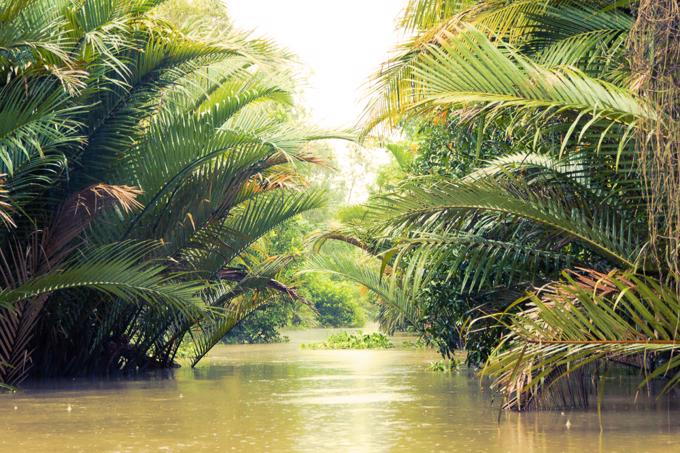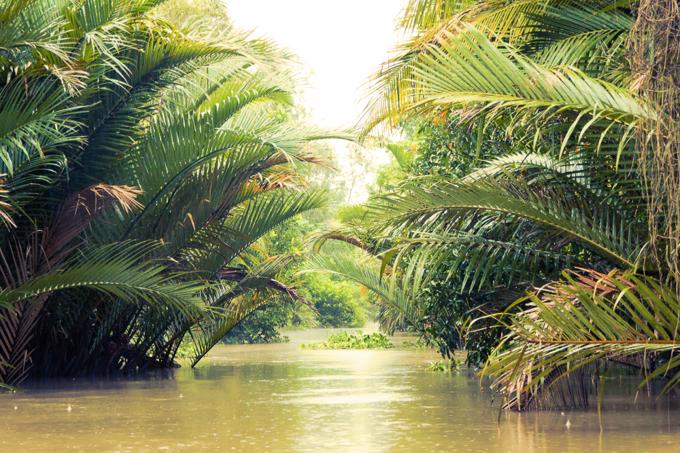 For a 3 to 4-hour tour, prices start from around 350000VDN. If you book with a tour company, you will buy a seat on a larger boat. If you are booking a smaller sampan, you will usually need to 'buy the boat'. Boats range from 400000VDN to 600000VDN. You can fit 4 people in a sampan (plus the boat driver). Booking through your accommodation generally means a higher price as they take a commission. Expect to pay more if you want an English-speaking guide. Our hotel quoted us 300000VDN extra.
Cai Rang Floating Market Tour from Saigon
It is possible to visit the Cai Rang Floating Market as a day trip from Ho Chi Minh City. Prices start around $110 USD for a full day tour.
Read: Things to do in Ho Chi Minh City
Visiting the Floating Market Can Tho City by yourself
If you like to bargain, head down to Ninh Kieu wharf and you will be found by an endless stream of boat owners. You can often negotiate a good price. Again, you'll be hiring the whole boat so it will be cheaper if you fill the sampan, they fit a maximum of 4 people plus the boat driver.
Our Mekong Delta and Cai Rang Floating Market experience
We were lucky enough to meet a wonderful Colombian couple. They had been couch surfing and their host recommended a tour from a local woman he knew. He said she was elderly and physically disabled and he liked sending people to her to help her out. She was offering a 7-hour tour for 400000VDN. Having spoken to the couple for a few minutes we knew we'd have a great day no matter what, so we agreed to join them, making the cost only 100000VDN per person.
We met at a small wharf about 50 meters from the larger Ninh Kieu Wharf at 5.30am. When we saw our elderly boat driver for the first time I think we were all worried she may not be able to get in the boat, let alone drive it. We were wrong. This elderly woman bent at a 90-degree angle and bow legged moved on that boat with more grace and ease than any of us. She spoke no English, but constantly spoke to us in Vietnamese. We constantly spoke back in English. Together we worked everything out.
First stop was the Cai Rang Floating Market. To be honest, we were a little disappointed with the market. It was a very overcast day with rain forecast so there may have been fewer boats than usual. We also weren't wanting to buy anything (other than coffee at 5.30!) so we weren't very 'interactive'. The coffee boat found us, and the coffee was good. Next stop was Pho for breakfast. If you've ever seen 4 land dwellers try to work out how to eat Pho on a tiny sampan, it's a sight to behold. The pho was delicious.
Next, we stopped at a rice paper making workshop. It was interesting to see how they make rice paper. It was here however that we got our first taste of the small canals off the river and we all fell in love.
When we got back in the Sampan our lovely boat driver handed us some pineapple she'd cut. We had seen her buy it at the market earlier. We exchanged a few glances after we saw her washing the knife in the Mekong and continuing to cut the pineapple, but we ate it anyway and it was delicious.
After the rice paper workshop, we headed to Phong Dien, a smaller floating market. There were about 8 boats or so. There were some great photo opportunities here.
We left the smaller market and headed back into the back canals. The canals are beautiful. Honestly, I think we all could have spent all day getting lost in them. It was our favourite part for the 4 of us. The stunning nature. The silence. You could hear the insects. Then there were the locals, just carrying on with their lives.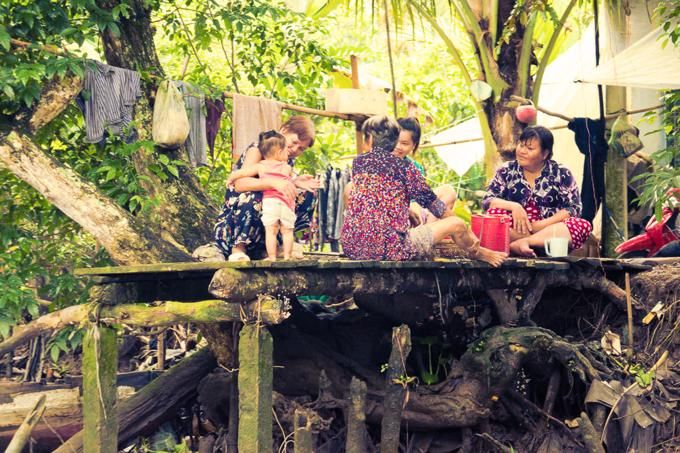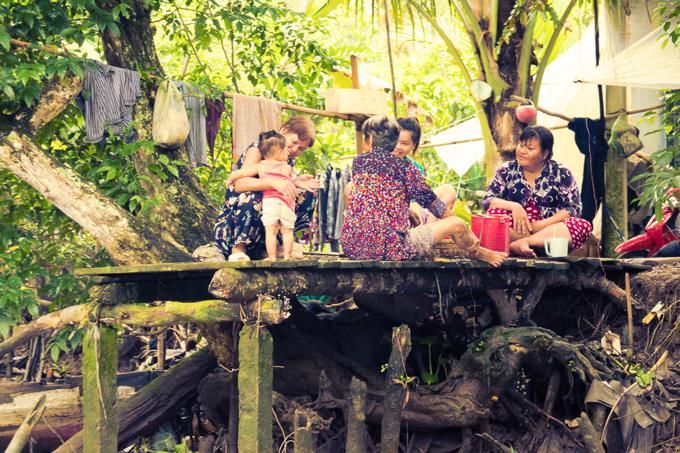 After floating down the canals for a while we went to the Fruit Orchard. This was actually a very beautiful place. You can wander around the orchard. I honestly didn't know how pineapples grew and was incredibly surprised to see them on tiny little trees. We grow a lot of pineapple in Australia, but I'd always envisioned huge pineapple trees. Who knew?
The Orchard has a restaurant and it was lunch time. We were so full of breakfast and the pineapple that we just sat, relaxed and had a drink. It was then that the rain started. It poured down. We went to ask our boat driver what she wanted to do, and she signalled to wait. So, we did. When the rain started to die down we went and asked if she wanted to leave. The poor woman was drenched. She'd been putting up our awning. We felt terrible. With the help of the restaurant staff we asked her if she wanted to wait or go. She said it was up to us. This tiny little 90-degree woman was soaked through, so we said no, it was her choice. She wanted to go.
It was still raining. Ben and I were at the front, so our legs got soaked as we headed down the canals. But honestly, if you do anything, do the canals. Having waited out the rain we were now well over our booked time, but our guide knew a shortcut through the canals to get us back to Can Tho City. We couldn't have been happier at the chance to spend more time meandering through the canals. It was so lush and green. Completely untouched.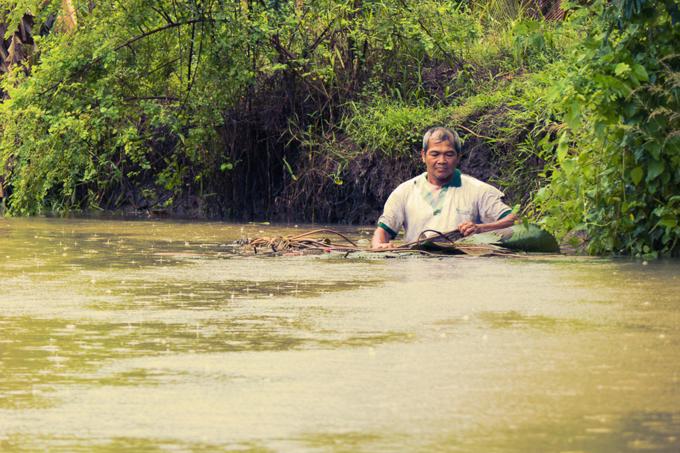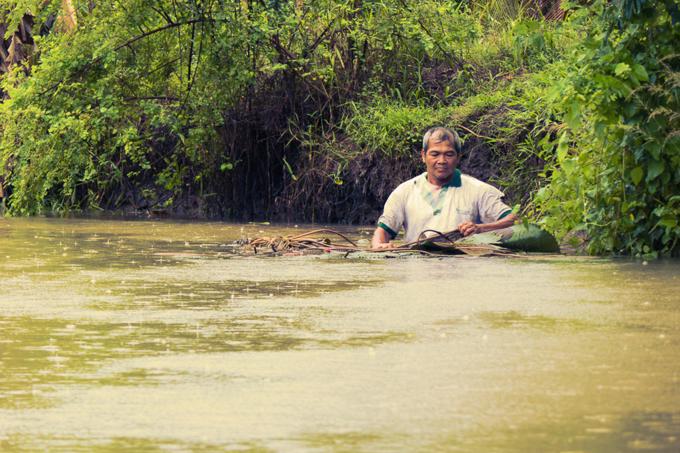 since the last time our driver had taken a shortcut through this part of the canals a foot bridge had collapsed, and someone had built piping across. We couldn't get through, so we had to go about half an hour back and re-join the river. None of us were disappointed.
We headed back to Can Tho City and arrived at the dock about 9 hours after we had left.
Whenever you do something a little different to an organised tour you run the risk of it either being fabulous, or not so great. We had no doubt it would be great given our company, but really, we had a wonderful day. My only complaint is our seat was quite hard, so after 9 hours we were a little uncomfortable. It's probably worth considering that if you have back issues or struggle to sit for extended periods.
We chose to tip our wonderful guide a decent amount, for the time she took with us, her friendliness, and the fact we felt so bad about her being so wet!
Binh Thuy Temple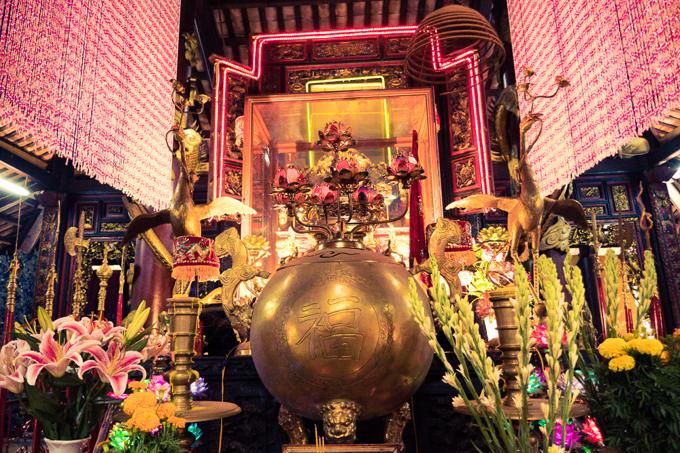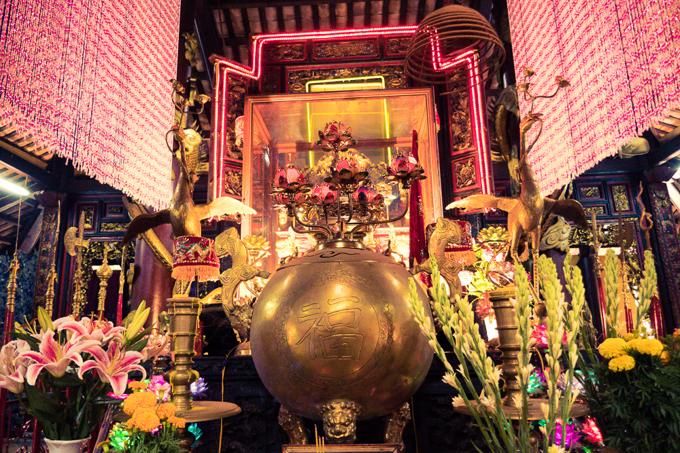 If you're wondering what to do in Can Tho City surrounds, the Binh Thuy temple is located about 5 km from the city center. Surrounded by residential neighbourhoods, the temple is the site of celebrations in January and May. One of the most beautiful temple buildings in the south of Vietnam, this ancient temple is constructed in a different style to temples further north.
Located opposite the Binh Thuy Temple, on the Can Tho City side of the river is the Nam Nha pagoda. At the time of writing this was under reconstruction but if you're at the Binh Thuy temple, check it out as its right there.
Binh Thuy Ancient House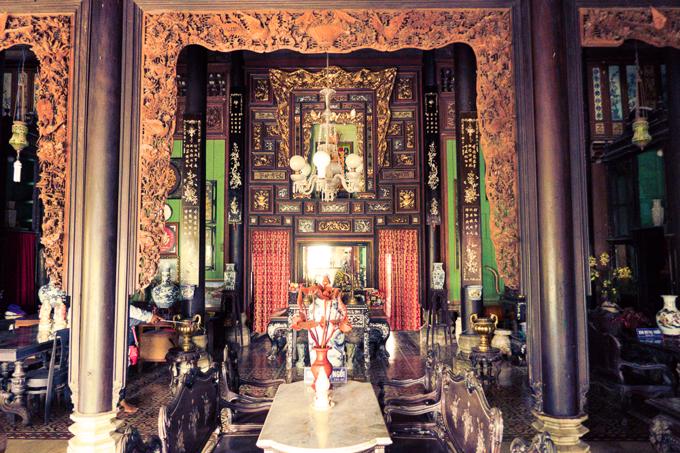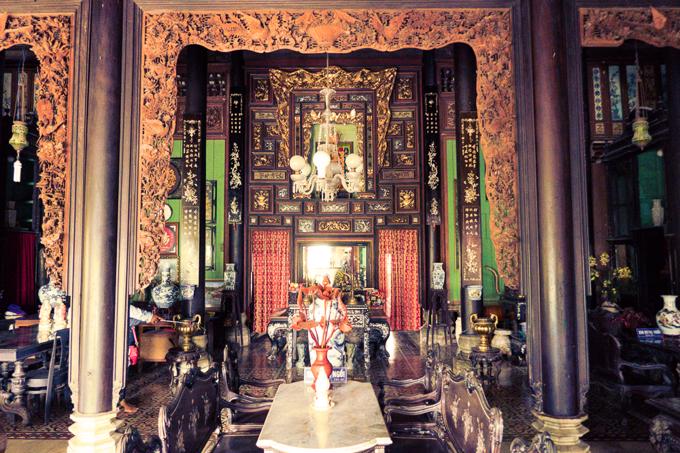 The Binh Thuy Ancient House was a great little find. Located about a kilometre up the road perpendicular to the Binh Thuy Temple, the house, built in 1807 has belonged to the local Duong family for 6 generations.
When we first arrived, the house was locked up, however a lovely woman opened it up. Her English was great, and it turns out she is a retired English teacher. As a member of the Duong family she was able to explain all the treasures inside.
While the outside is built in the French Colonial style, inside is a mixture of furniture, design and antiques incorporating French and Chinese influence, 'and some Chinese characters' as it was put by the woman. The high ceilings are spectacular.
The is some beautiful furniture adorned with mother of pearl, something which apparently found a lot around the Mekong. There is a large wooden dining table and chairs a replica of 16th century French with some beautiful mother of pear floral design.
Outside the house is a beautiful courtyard and garden area.
Location: 144 Bui Huu Nghia, Binh Thuy, Can Tho
Entry fee 20000VDN per person.
Ong Temple
Located directly opposite the Hau river near Ninh Kieu park this Chinese temple is known for the abundance of burning incense coils hanging from the roof. You will have incense ash fall on you as you wander throughout the temple. Although the temple is small the incense coils are a spectacular sight.
While we were there a gentleman walked around with a large pole, burning at the end, lighting the coils. He also carried a long hollow tube used to blow out any excess flames on the lit incense.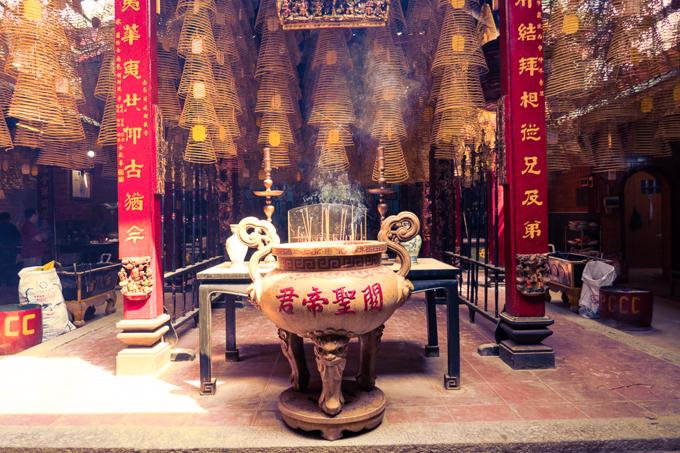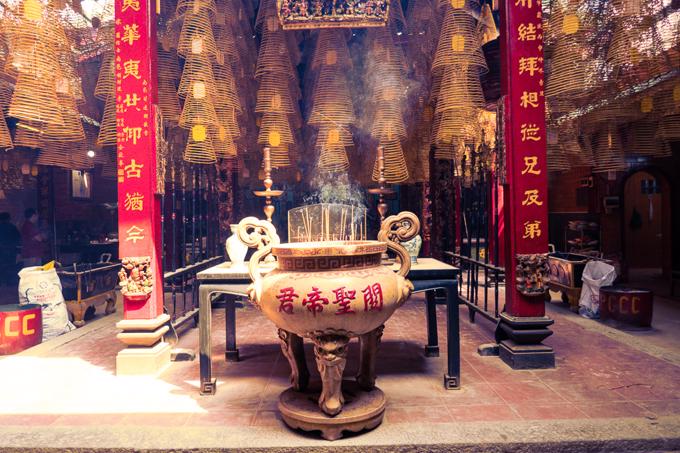 Ong temple was built in the late 19th century in honour of Kuang Kung, a Chinese Buddhist deity who symbolises honour, courage, loyalty, justice, reasons and intelligence. You'll see Kuang Kung located in the centre of the temple with the God of Earth and the God of Finance located on either side.
Location: 32 D Hai Ba Trung, Can Tho
Ninh Kieu park and waterfront – Can Tho City night life
If you're wondering what to do in Can Tho at night, don't stress, there is plenty! Along the foreshore of the Hau river is the Ninh Kieu park and water front. Beautifully kept, green and flowering gardens and stone pathways weave a path along the Mekong. A giant statue of Ho Chi Minh is in the centre.
While this area is pretty during the day, it is spectacular and lively at night. The park itself is lit up by beautiful lights highlighting the path and shining through the gardens. Locals and tourists alike flock to the area for the music, neon lights and harbour cruises. You'll see exquisitely dressed locals boarding large, brightly coloured boats heading out for the night.
You can walk along the esplanade and up over the foot bridge which will take you past some of the luxury resort in Can Tho and eventually end up at a beach, although the locals will tell you not to swim here due to the pollution.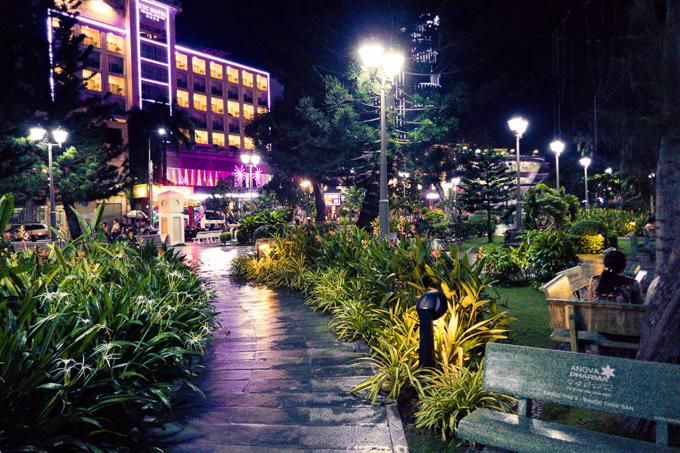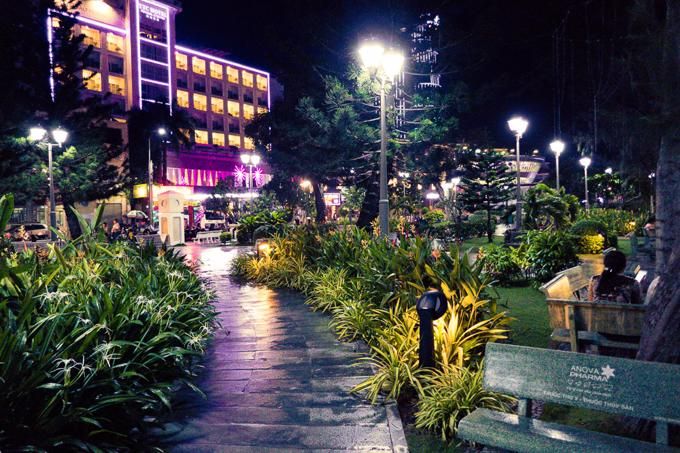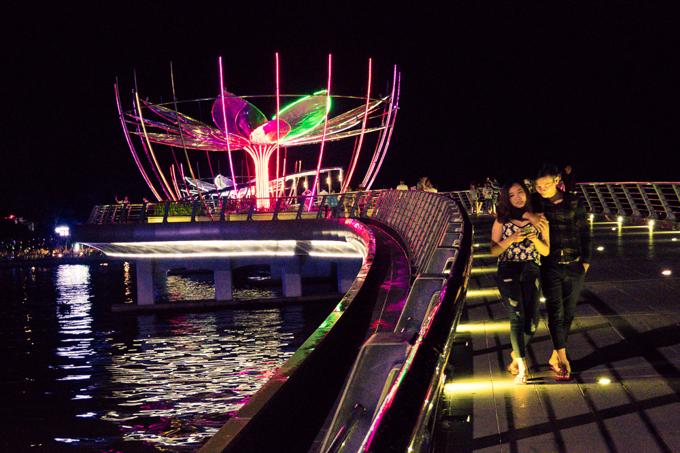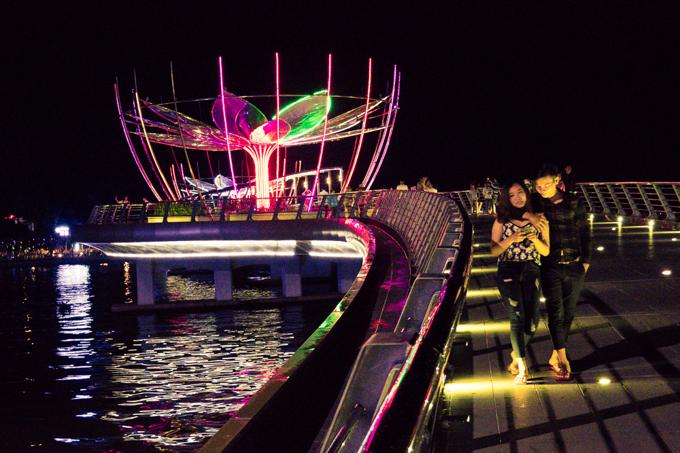 Location: 68 Hai Ba Trung, Tan An, Ninh Kieu, Can Tho
Can Tho Museum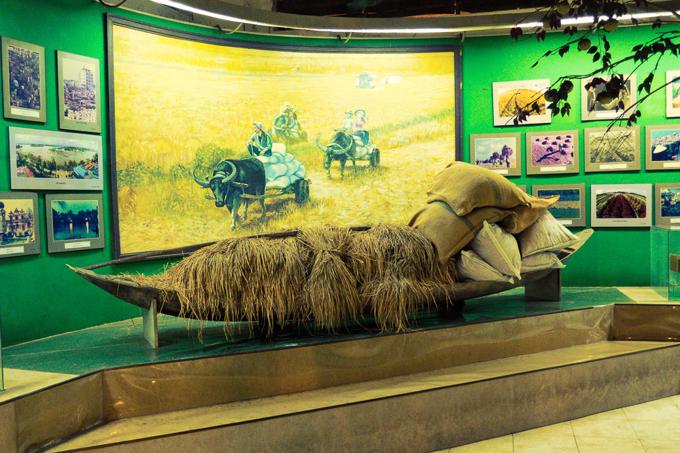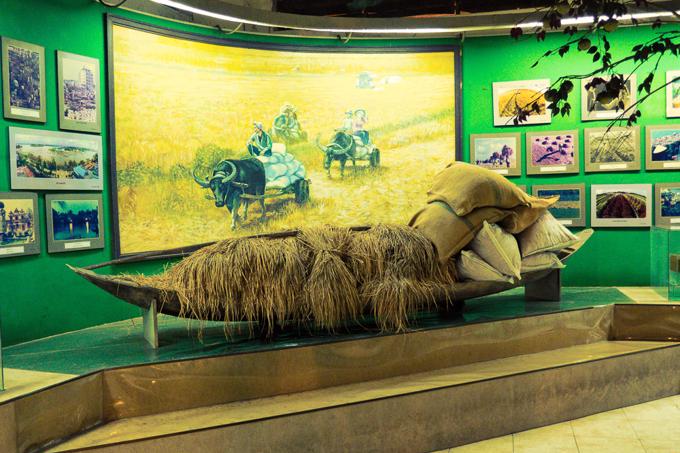 The largest museum in the Mekong Delta, Can Tho Museum be established in 1976. It's the home of more than 5000 objects and historical relics depicting a mixture of life in the Mekong Delta and Can Tho's envoy meet in the Vietnam war.
There are large life size exhibits showing things such as a traditional Vietnamese herbalist tending patients and a large pagoda.
They have not held back when it comes to some of the war photos so be prepared for a few rather gruesome images.
One of the things we love most about Can Tho City is that while it has tourist infrastructure, it isn't 'touristy' and not everything has been built with tourists in mind. This is certainly true of the museum. While the Vietnam signage and explanations are quite lengthy, the English translations are generally brief. For example, it may just say 'axe'. Quite a few things have no explanation at all so a little imagination is required.
The Can Tho Museum is only open in the morning and evening and not on certain days of the week so check the times before you go.
Location: 1 Hoa Binh, Tan An, Ninh Kieu
Cho Can Tho and Cho Tan An – Can Tho City Markets
If you feel like doing some shopping in Can Tho there are plenty of local markets to see.
Cho Can Tho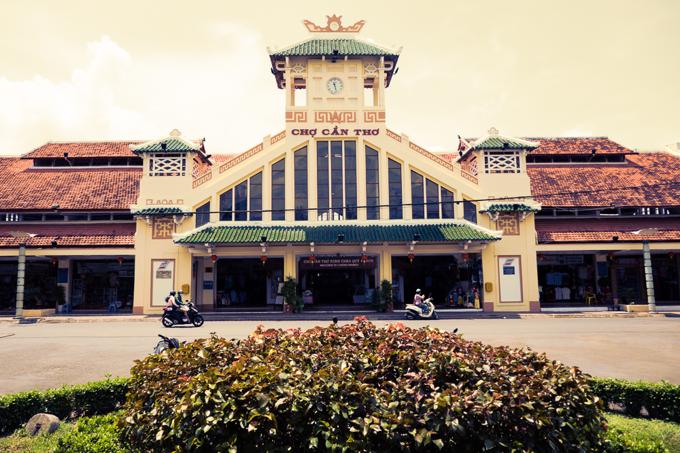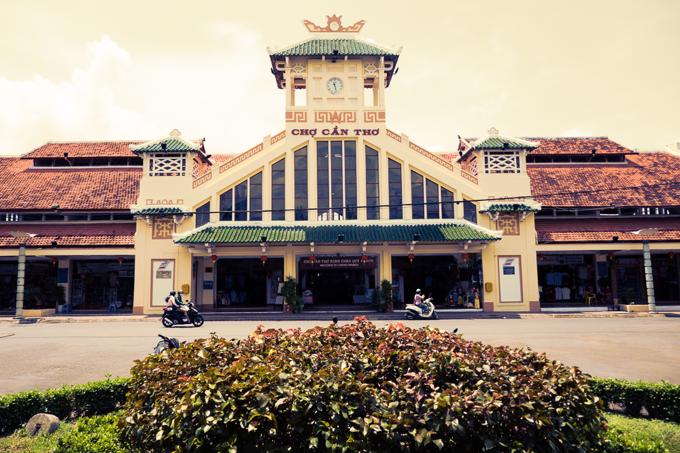 Cho Can Tho is a mid-sized market that caters more to foreigners. Located just past the Ninh Kieu wharf, you will find a mixture of, clothes, trinkets, jewellery and local handicrafts. As with all markets, be prepared to bargain for a good price. If you've experienced the high-pressure environment of Ben Thanh market in Ho Chi Minh City, don't worry, Cho Can Tho is more relaxed and friendly.
Location: can Tho Market, Hai Ba Trung Street, Tan An, Can Tho City
Cho Tan An

Cho Tan An is a local produce and food market located further up Hai Ba Trung street, away from Ninh Kieu park and wharf.
Her you'll find local produce, namely fresh caught seafood and exotic fruits and vegetables. Most of the sellers here are local farmers and fishermen. You can get lunch or dinner here at a reasonable price. We managed to buy half a kilogram of mangosteen at half the price we had paid in Ho Chi Minh City!
Location: 71 Hai Ba Trung, Tan An, Ninh Kieu, Can Tho
Where to eat in Can Tho City
Tan An Market
If you're after fresh, delicious local Vietnamese food then this is the place. The food is well priced and delicious.
Location: 71 Hai Ba Trung, Tan An, Ninh Kieu, Can Tho
Mekong Restaurant
If you're after delicious Vietnamese food but are not comfortable with a Market setting, we found Mekong Restaurant to be both delicious and well priced. They have an extensive menu with both local and western dishes. The local food is reasonably priced, the western food is a bit more expensive, but we didn't come across a dish we didn't like.
Location: 38 Hai Ba Trung, Tan An, Ninh Kieu, Can Tho
Where to stay in Can Tho City
The KP Hotel is a great little hotel located in the heart of Can Tho City, just 400 meters from Ninh Kieu Wharf. It also has an ATM and 24 help desk for your convenience.
The Magnolia's Can Tho is another great option. It offers free wifi and a shared lounge and is less than 600 meters from Ninh Kieu Wharf. 
If you're looking for a homestay that's comfortable and outside of Can Tho City, Farmers Homestay is a beautiful homestay about 5 km from Ninh Kieu Pier. It has lovely lake views and a garden and terrace so you can relax.
How to get to and from Can Tho City
Being a larger city in the middle of the Mekong Delta region you can get to Can Tho from just about anywhere. Buses run from Ho Chi Minh City, Ben Tre, Ha Tien and Chau Doc, near the Cambodian border.
Where to go from Can Tho
If you're travelling around the Mekong, we've put together a guide of things to do in the Mekong Delta region to make it easier for you to plan where you'll head to next. Buses leave Can Tho to other regions of the Mekong Delta frequently.
Can Tho to Ha Tien – 6 hours and around $6 USD. Our Phu Quoc Travel Guide gives you all the information you need to get to the island from Ha Tien
Can Tho to Rach Gia – 3.5 hours and around $5 USD
Can Tho to Chau Doc – 3.5 hours and around $5 USD
Can Tho to Ben Tre – 2 hours and around and around $3 USD
Can Tho to Ho Chi Minh City – 3 or 4 hours and around $6 USD. If you're thinking of heading straight up to the city, here are out top picks for things to do in Ho Chi Minh City
Best time to visit Can Tho City
Can Tho has two seasons, the rainy season is from May to November, and the dry season is from December to April. We were there in May and experienced some afternoon rain most days however there was only one day with a severe storm and heavy rain.
The weather was incredibly humid and a lot of the city sleeps between 1pm and 4pm, when the heat and humidity are at their peak. The main stretch of road along the river becomes silent during this time but very quickly picks up in the evening.
Planning a trip to Vietnam? This is how we do it!
This article may contain affiliate/compensated links. For more information, please see our disclaimer here.
Like it? Pin it for later!