17 Fascinating Things to do in Ho Chi Minh City
There are an endless number of things to do in Ho Chi Minh City. With a population of close to 9 million people and an influx of tourism, Vietnams biggest city by population is a dizzying whirl of culture and modern development. A unique mix of old and new, historical and high end, The fast paced nature of Ho Chi Minh City will certainly keep you on your toes.
This article may contain affiliate/compensated links. For more information, please see our disclaimer here.
If you have a few days, try this 3 day itinerary for Ho Chi Minh to cover all the best sites.
Explore the War Remnants Museum
As the name would suggest, the War Remnants Museum houses a collection of artefacts, displays and photos of war and its affects on both the country and its people. Attracting approximately half a million visitors every year it is one of the most popular museums in Vietnam.
If you research before you go you'll see there is some debate as to how much is factual and how much is Vietnamese propaganda. It is hard however to deny the photo evidence of the heinous nature of war. The museum also speaks to the effects of napalm bombs and Agent Orange. These are clearly visible on the land and its inhabitants, even generations on.
A particularly moving display is a tribute to the photographers who captured the images of the Vietnam War. These photographers in essence, introduced the horror of the Vietnam war to the rest of the world. Many of these photographers died or went missing during the war.
The recreations of the 'tiger cages' and other confinement tactics apparently used by the South Vietnamese government to confine political prisoners is particularly disturbing.
Keep your eye out for a man walking the streets outside the Museum selling coconuts, he'll charge you a lot more than they're worth!
Find the War Remnants Museum at
28 Vo Van Tan, District 3, Ho Chi Minh City,70000, Vietnam
Entry fee 40,000 VDN
Open Daily 7.30am-12pm and 1.30pm-5pm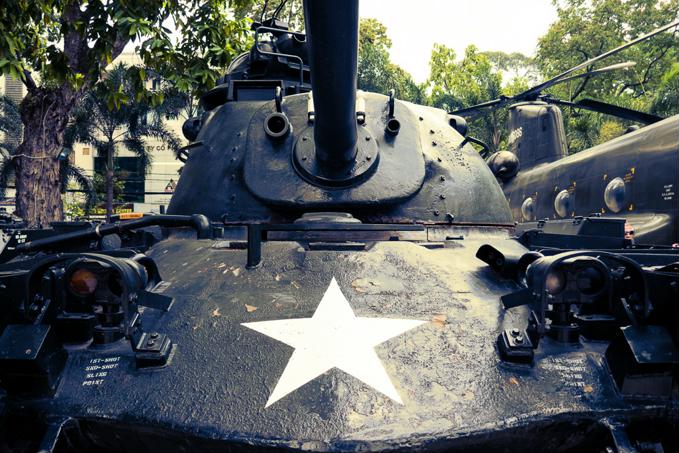 Independence palace
The Independence Palace, also known as Reunification palace, was the home and workplace of the President of South Vietnam during the Vietnam war. It was built on the site of the old wooden Norodom palace that was used by the French Governor of Cochinchina from 1873 onwards.
During the Vietnam war, Ngo Dhinh Diem, the President of Southern Vietnam both lived and ran the war out of the palace. During the war the palace was attacked and bombed by two pilots. This destroyed a large portion of the building. Diem ordered the palace be demolished and reconstructed, , rather than simply rebuilding the damaged section. Construction was completed in October 1966.
You'll find the palace in the middle of beautifully landscaped parkland.
There is a smaller building on the compound that outlines its history for an extra 25000VDN. if you want to learn more about the history of the war.
Find the Independence Palace at
106 Nguyen Du, District 1, District 1, Ho Chi Minh City, 70000, Vietnam
Entry fee is 40,000VDN (25000VDN extra for the tour of the building outlining the history of the palace, be clear about whether you want this or not).
Open Daily 7.30-11am, 1.00-4.00pm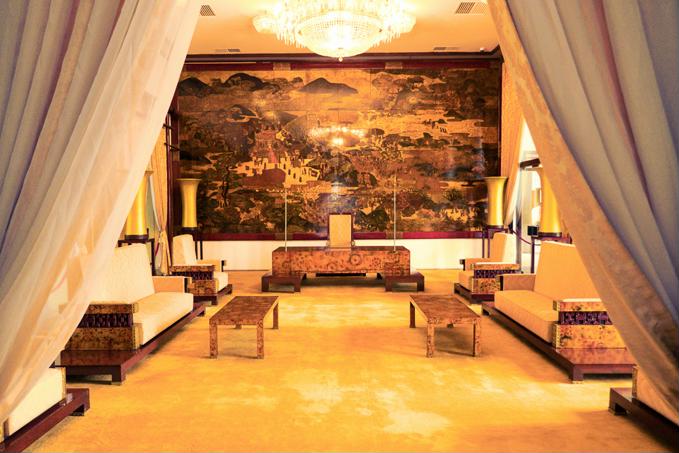 Water Puppet show
Dating back to the 11th century, todays water puppet shows are an interesting insight into Vietnamese traditional culture. Performed in a water pool, up to 8 puppeteers perform behind a screen, holding wooden, lacquered puppets that weigh up to 15kgs each. The puppets dance along the water telling traditional stories. I saw a puppet on my first visit to Vietnam and they are incredibly beautiful to watch with a traditional Vietnamese orchestra providing the background music.
You can see water puppets in Hanoi and Ho Chi Minh
Find a Vietnamese Water Puppet Show at
The Golden Dragon Water Puppet Theatre, 55B Nguyen thi Minh khai Street, Ben Tanh Ward, District 1, Ho Chi Minh City, 70000, Vietnam.
Entry Fee – around 380540VND. I just turned up to buy a ticket at the venue but to avoid missing out you can buy tickets from a tour operator.
Opening Times – Confirm with venue or tour operator for show times
Jade Emperor Pagoda
In honor of the supreme Taoist God, Ngoc Hoang, the Jade Emperor Pagoda was built in 1909 . The fact that this temple is full of Buddhist and Taoist iconography is a draw card but read up on the Jade Emperor pagoda before going so you understand what you're looking at. It is stunning with amazing imagery and an incredibly authentic and exotic feel. The smell of incense and the pure heat inside the pagoda make the whole scenario feel other worldly.
This is an active temple and we did our best to be respectful as people lit incense and bowed to the statues. We were unsure as the whether we should take photos, but when a Buddhist nun pulled out her iPhone and began filming the room, we thought we'd be fine to do so too!
There are around 4 or so little rooms off the side of the main room so make sure you go through the little doors on the left and right. There are no English signs to guide you.
The inside is really the highlight of Jade Emperor Pagoda. The outside is fairly unkept. There is a half-filled pond with some fish and, as this temple is also known as the Turtle Pagoda, there is also a turtle pond.
As with all temples in South East Asia, we choose to dress respectfully. As best we can tell that means covering our knees and shoulders.
Find the Jade Emperor Pagoda at
73 D Mai Thi Luu, Ho Chi Minh City, 70000, Vietnam
Entry Fee – Free
Opening daily 7am-6pm plus 5am-7pm on the 1st and 15th of the lunar month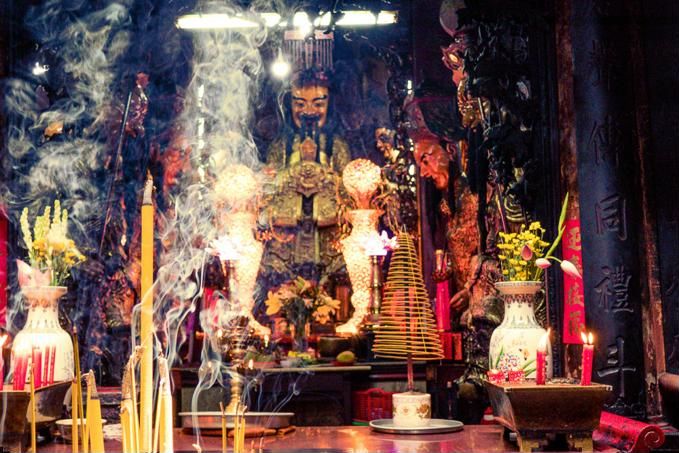 Ben Thanh Market
One of the oldest standing structures in Ho Chi Minh City and located in the tourist area of District 1, Ben Tanh Market is enormous, and you'll find almost anything you want here. The market is divided into sections and you'll find clothing, souvenirs, fresh fruit and produce. You'll also find an area full of delicious smelling small street food stalls.
There are a few things to know about the market. Its best to go early to avoid the heat of the day and the busiest times. Be prepared to bargain for a good price as the shop keepers will always start high. There are however, areas designated to stalls with 'fixed pricing' so look for the little signs hanging from the roof. The fixed price section of the market also has a decidedly different look to it.
Be prepared to be harassed a little. The market is crowded with vendors, many with rather similar wares. They will all try to get your attention. If you linger, you will be targeted! Its all in good fun and that's what you expect at a market like this in South East Asia. Some areas are worse than others so just keep walking and you'll find somewhere to relax for a second.
The Ben Tanh Market is almost impossible to miss if you're in Ho Chi Minh City for long enough. Its at the intersection of 4 main roads, Le Loi, Ham Nghi, Tan Hung and Le Lai. There is a bus stop right beside it and many buses will travel past the market.
Find the Ben Thanh Market at
Le Loi, Phuong Ben Thanh, Quan 1, Ho Chi Minh City, 70000, Vietnam
Entry fee – Free
Opening hours 6am-6pm.
Ben Thanh Street food market
Of all the foodie things to do in Ho Chi Minh City, the Ben Tanh Street Food Market is right up there near the top of the list. This was a find for us as somehow, we nearly missed it. The Ben Thanh Street Food Market, located on Thu Khoa Huan, a street running perpendicular to the Ben Thanh Market, is filled with delicious Asian cuisine. You can choose from Thai, Indian or Korean and more, however as you would expect there are plenty of Vietnamese stalls. There was almost too much to choose from, we wandered around and around before settling on a busy Korean Stall.
is plenty of seating at the front of the market, which was quite a bit cooler than the seating area at the back. We sat at the back however and were perfectly happy. When you've finished eating there are staff waiting to clean up your area and remove your rubbish.
Be prepared for the prices are higher than what you would usually expect to pay for street food. We live on street food and this was our most expensive meal by far, costing us around 230,000VDN for BBQ pork with rice and beef and vegetable skewers and 2 Tiger beers.
If food is your thing, try a private street food walking tour!
Find the Ben Thanh Street Food Market at
26-28-30 Thu Khoa Huan, Phuong Ben Thanh, District 1, Ho Chi Minh City
Entry Fee – Free
Open daily 9am-11pm
Saigon Opera House
If you're looking for cultural things to do in Ho Chi Minh City the Saigon Opera House is a must. Also known as the Municipal Theatre of Ho Chi Minh, the Saigon Opera house is a beautiful example of French Colonial Architecture in the country. The building was built in 1897 and originally used by the local parliament this 800-seat building was only opened as a theatre from 1975.
The Saigon Opera House is generally not open to the public, so the best way to see the inside is by booking a ticket to a live performance. Information and tickets can be found at Ho Chi Minh City Ballet Symphony Orchestra and Opera website or at the box office, open daily from 9am-4.30pm.
Find the Saigon Opera House at
07 Lam Son Square Street, District 1, Ho Chi Minh City
Entry fee – The cost of ticket for a performance range from 200000VDN to 650000VDN, or between $20USD and $70USD
Opening time – Only for a performance however you can wander around the outside of the building at any time.
Saigon Central Post Office
Constructed between 1886 and 1891 when Vietnam was part of French Indochina, the Saigon Central Post office is a beautiful building with gothic renaissance and French influence. I found the inside to be spectacular with its high arched ceilings. We took a liking to two large maps on either wall. We didn't realise at the time, but they were painted in 1892. One is a map of the Vietnam and Cambodia telegraphic lines and the other is a map of Saigon and the surrounding area.
The Saigon Central Post office is still an active post office and was a hive of activity. Clearly catering to tourists there were also many Tour companies operating out of the building, so you can book or organise your needs from there. Just inside the entrance to the right and left there are some tourist Souvenir shops. They look wonderfully vibrant and enticing but they're pricey. You could find similar wares elsewhere for a lot less.
Find the Saigon Central Post office at
2 Cong Xa Paris, District 1, opposite the Notre Dame Cathedral, Ho Chi Minh City
Saigon Central Post Office Entrance fee – It is free to enter the Saigon Central Post Office and have a look around.
Open daily 8am – 6pm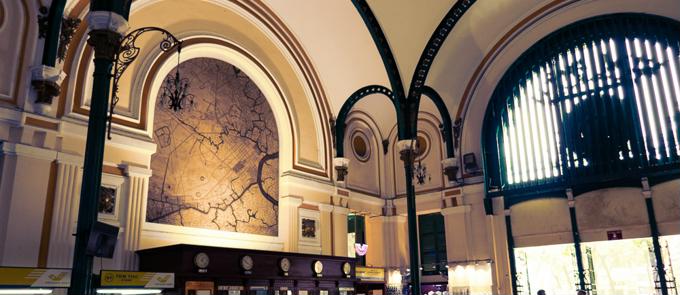 Saigon Notre Dame Cathedral Basilica
Originally constructed between 1863 and 1880 the Saigon Notre Dame Cathedral is enormous, with two bell towers that reach a height of 58 meters. The Cathedral was built after the French took control of Cochinchina and Saigon to cater to the French colonialists.
The Cathedral is undergoing a massive reconstruction so there is no access at present.
We've included it here however as it is right next to the Saigon Central Post office so its easy enough to have a good look at the parts you can see.
Find the Notre Dame Cathedral at
1 Cong Xa Paris, District 1, opposite the Saigon Central Post Office, Ho Chi Minh City
Entry Fee – Free
Opening times – Closed due to reconstruction, only partly visible from the outside. Set to reopen in 2019.
Bitexco Financial Tower
With 68 above ground floors and a height of 262.5 meters, the Bitexco Financial tower was the tallest skyscraper in Ho Chi Minh City until 2011. Housing office space, a retail shopping centre, cinemas and food courts, the building has a bit of everything. On the 49th floor there is an observation deck, called the Saigon Skydeck which is open to the public and gives 365-degree panoramic views of Ho Chi Minh City.
Find the Bitexco Financial Tower at
36 Ho Tung Mau Street, Ben Nghe Ward, District 1, Ho Chi Minh City, 70000, Vietnam
Entry fee – 200000VDN to access the Saigon Skydeck.
Opening hours 9.30am-9.30pm.
Ho Chi Minh City Hall
Ho Chi Minh City Hall was built between 1902 and 1908 in the French colonial style. The City Hall is currently the headquarters of the Peoples Committee and therefore not open to the public. It is however, widely considered one of the most beautiful buildings in Ho Chi Minh City, so the outside alone is worth a visit.
We were there during daylight, however we've heard that at night time the building is lit up and makes for some wonderful photo opportunities.
Out the front of Ho Chi Minh City Hall is the Ho Chi Minh Square which you can wander down and see the large Ho Chi Minh monument.
Find the Ho Chi Minh City Hall at
135 Nam Ky Khoi Nghia or 106 Nguyen Du, District 1, Ho Chi Minh City, 70000, Vietnam
Entry fee and opening hours – It's not open to the public, but pictures of the outside are free!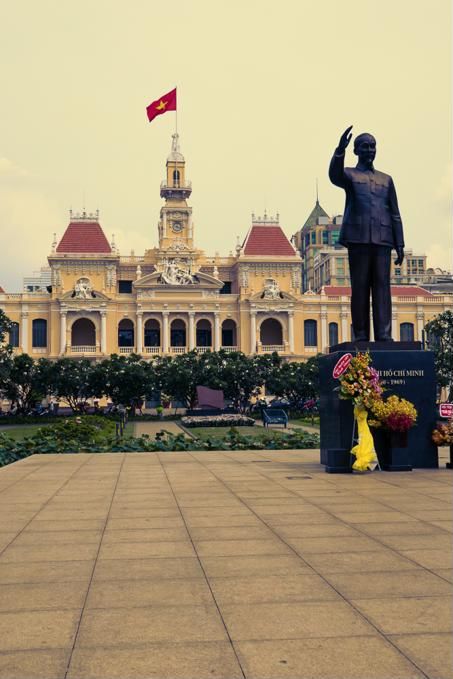 Eat street food
If you are a foodie looking for things to do in Ho Chi Minh City, you will not be disappointed. To go to Vietnam and not sample the street food is sacrilege as far as we're concerned. In tourist cities such as Ho Chi Minh you'll find almost any food you could want as they cater for tourists nicely, however you're missing out if you don't sit on a tiny plastic stool in restaurant full of locals and try local dishes such as Pho, Bun Bo Hue and Bahn Mi.
Pho, pronounced Fa, is a noodle dish in a delicious broth. They'll offer you aside of herbs, bean sprouts, lime and chili and you can create your own spectacular flavour. It comes with beef, but you can also get Pho Ga. Ga means chicken.
Its said that Pho originated in Hanoi, and Bun Bo Hue is Hue's version of the delicious dish. The key difference as far as we can tell is the noodles. Both are tasty, so we'd recommend you try both!
Bahn Mi is essentially a baguette, usually with chicken, some vegetables and a sauce. You can't miss it. You'll see Bahn Mi being sold by little street vendors along popular roads. It's a wonderfully filling start to the day.
When choosing a place to eat street food, we look for somewhere busy with locals. If there are women, children and elderly, that's a bonus. Also check to make sure the broth is hot.
Drink Vietnamese Egg Coffee – Ca Phe Trung
We missed Egg Coffee on our first trip to Vietnam. It was only on researching our second trip that I came across it. Predominantly found in Ho Chi Minh City and Hue, you'll essentially get what looks like a layer of coffee, with a layer of condensed milk, sugar and egg on top. Coming from Australia where we have quite a coffee 'scene', Vietnamese Egg Coffee didn't disappoint. The only problem with it is they are too small!
There are many sites online that have recipes, so you can make your own at home, but if you're in Ho Chi Minh City, we'd recommend buying one and sitting down to people watch. It's a great start to the day.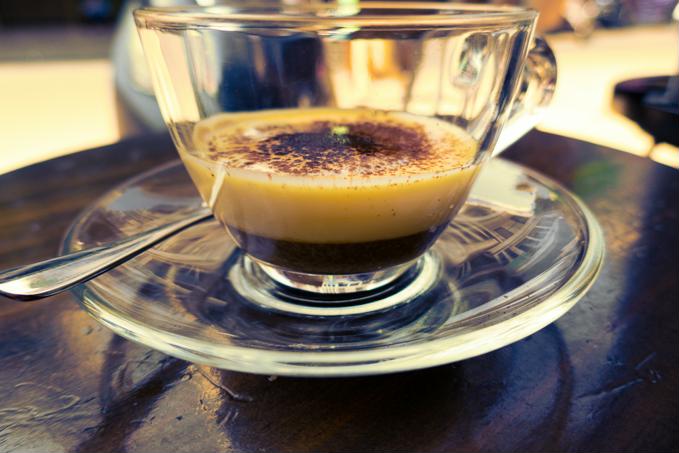 Visit Pham Ngu Lao district
District 1, or the backpacker district as its known, caters to everything you need as a tourist in Vietnam. There are bars with cheap beer and food and tour agents where you can book whatever you want to do. Its also the district with many of the top tourist attractions. Whether you stay here or just spend sometimes wandering around, it's a fascinating place. If you're travelling solo or simply want to be social with other travellers, you'll find the here in the thousands.
Cu Chi Tunnels
The Cu Chi Tunnels in the Cu Chi District of Ho Chi Minh City are a series of underground tunnels that were used by the Viet Cong during the Vietnam war. They served as hiding and safe places, hospitals, weapons and food caches, but also as important supply and communication networks. They are part of an enormous network stretching throughout Vietnam.
When you visit the tunnels you'll see the tiny, narrow, confined spaces the Viet Cong operated within, often in dark, insect infested conditions. You'll also learn a little war history, with a slight prejudice towards the skills and successes of the Viet Cong. You'll get to see what its like to try to fit into the entrance of a tunnel and walk through some of the tunnels open to the public.
A great way to visit the Cu Chi Tunnels is with a half day tour with a round trip to the tunnels by speedboat down the Saigon River. I really loved the tour of the Cu Chi tunnels. It was fascinating.
Where to find Cu Chi Tunnels
Đường tỉnh lộ 15, Phú Mỹ Hưng, Củ Chi, Hồ Chí Minh 733814, Vietnam
Entry Fee Cu Chi tunnel tours range from around 300000VND to 450000VND. Tours of Cu Chi tunnels can be booked through hotels, hostels and tour companies.
Opening hours The tunnels are open from 7am to 5pm.
Getting lost in Ho Chi Minh City alley ways
One of the most interesting things to do in Ho Chi Minh City is to get lost amongst the many winding alley ways between major streets. Down these ally's you'll find everything from street food stalls, laundry services and boutique hotels. There is often an endless number of locals sitting on tiny plastic chairs and going about their daily business. While some are dead ends, you will usually pop out a street or two away from where you started, and you'll have seen something new and interesting along the way.
People watching
We can never get enough of people watching in Ho Chi Minh City. Whether its sitting at a café and watching the insanity of motorbikes, scooters and cars whizzing amongst each other as pedestrians stroll casually into traffic, or peddlers selling their wares, there's always plenty to see.
Visiting the parks
If you are looking for a more relaxing things to do in Ho Chi Minh City then you can't go past relaxing in one of their beautiful parks. Scattered amongst the hustle and bustle of the city many manicured parks and gardens are blocked off to motorbike traffic so its easy to escape the crazyness outside. Locals use the parks for exercise, sports and relaxation and you'll see them performing Thai chi and practicing their martial arts.
In the evening their full of kids and adults alike playing ball games and badminton, exercising on the gym equipment and just generally enjoying the warm weather.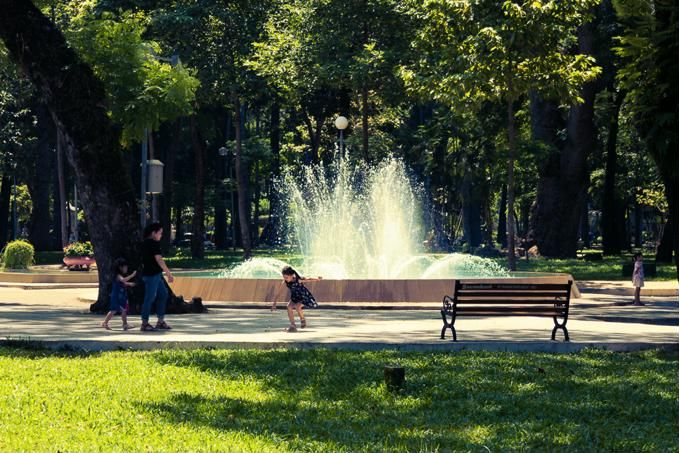 Accomodation in Ho Chi Minh City
For budget accommodation try the Pioneer Hotel in the backpacker area of District 1.
Take a look at the Amanaki Saigon Boutique Hotel for more midrange accommodation with a pool.
For a more upmarket accomodation, Chau Apartments is located in district 4, only a kilometer from the city center and has an infinity pool and gym.
Where to go from Ho Chi Minh City?
From Ho Chi Minh City it is possible to catch a bus either South, towards the Mekong Delta region of Vietnam, or north, towards the centre of the country. For alot of people, the next stops will be Mui Ne, or Dalat. Book your bus tickets from Ho Chi Minh City here
Flights also operate out of Ho Chi Minh City to airports in the south, centre and north of the country.
If you're heading to Cambodia, check out our Cambodia travel tips and advice page.
Planning a trip to Ho Chi Minh City? Here is where we start
This article may contain affiliate/compensated links. For more information, please see our disclaimer here.
Like it? Pin it for later!