Mui Ne Travel Guide – Including things to do and the best time to visit Mui Ne
Mui Ne is a coastal town about 5 hours north of Ho Chi Minh City. Interestingly, what most travellers call Mui Ne is Ham Tien, a town between Mui Ne and Pham Thiet. These days the area is largely a tourist region with resorts and restaurants lining an extremely long section of coast line. Catering to tourists the area has lost its 'Vietnamese feel' but most places also don't cater very well to foreigners so there's a strange vibe around. There's a lot of talk among travellers these days. Is it worth visiting Mui Ne? We think its worth a visit, even if only for a short stay. There's plenty of things to do in Mui Ne Vietnam at night, the red and white sand dunes, the mui ne fishing villiage and of course the beach.
This article may contain affiliate/compensated links. For more information, please see our disclaimer here.
We were in Mui Ne four years ago, at the end of April, and were quite surprised at how quiet it was this time around. It is low season; however, it feels like there's more to it than that. On our first visit, tourists were everywhere and there was a great backpacker culture. Today, it reminds us more of a beach town that's past its prime. Resorts and restaurants are abandoned, kilos and kilos of live seafood sit in tanks outside empty restaurants while staff do their best to persuade you to enter.
As with many of the beachy coastal areas in Vietnam, Mui Ne is primed for Russian tourists. Everything from business street signage to menus is in Vietnamese, English and Russian. Surprisingly, we didn't see that many Russians either. There just weren't many people in general.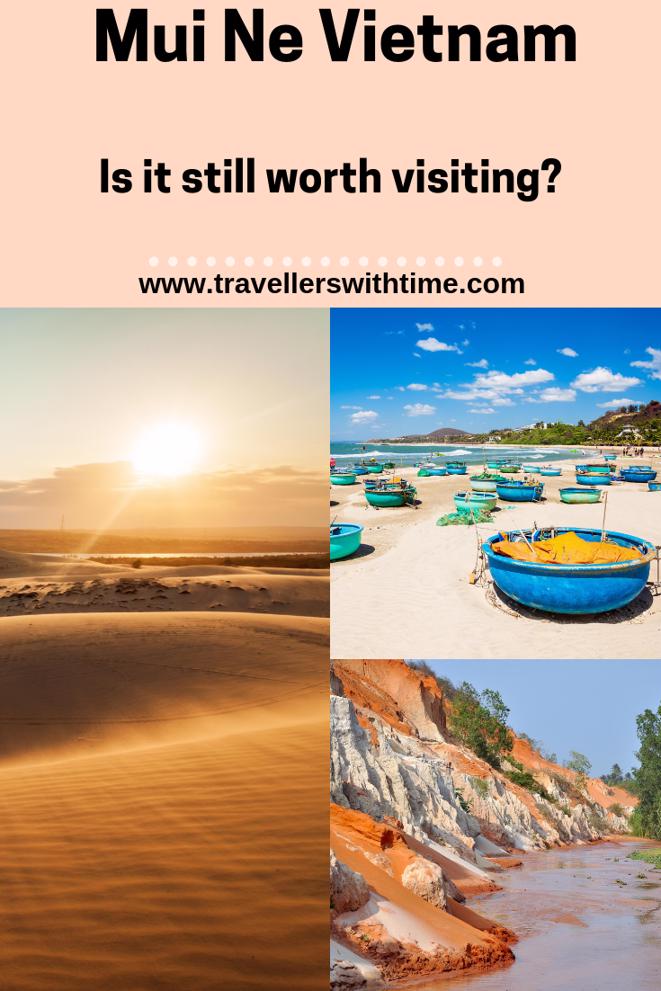 Is it worth visiting Mui Ne?
Despite what I've said above Mui Ne has a lot to offer. The lack of people makes it quite relaxing and peaceful. Accommodation prices are lower. Less people also means less crowded tourist sites. If you're interested in unique natural environments, relaxation and beaches, Mui Ne is for you.
As we were leaving Mui Ne we met some other travellers who enjoyed their time for relaxing after the craziness of Ho Chi Minh City.
Don't miss more Vietnam blog posts!
Things to do in Mui Ne Vietnam
Visit the red and white sand dunes
Most people come to Mui Ne Vietnam to see the spectacular red and white sand dunes. I've never been to Africa, but the red and white sand dunes of Mui Ne look what I envision the African Sahara to be. Rolling mounds of sand that seem to go on forever.
Mui Ne's red sand dunes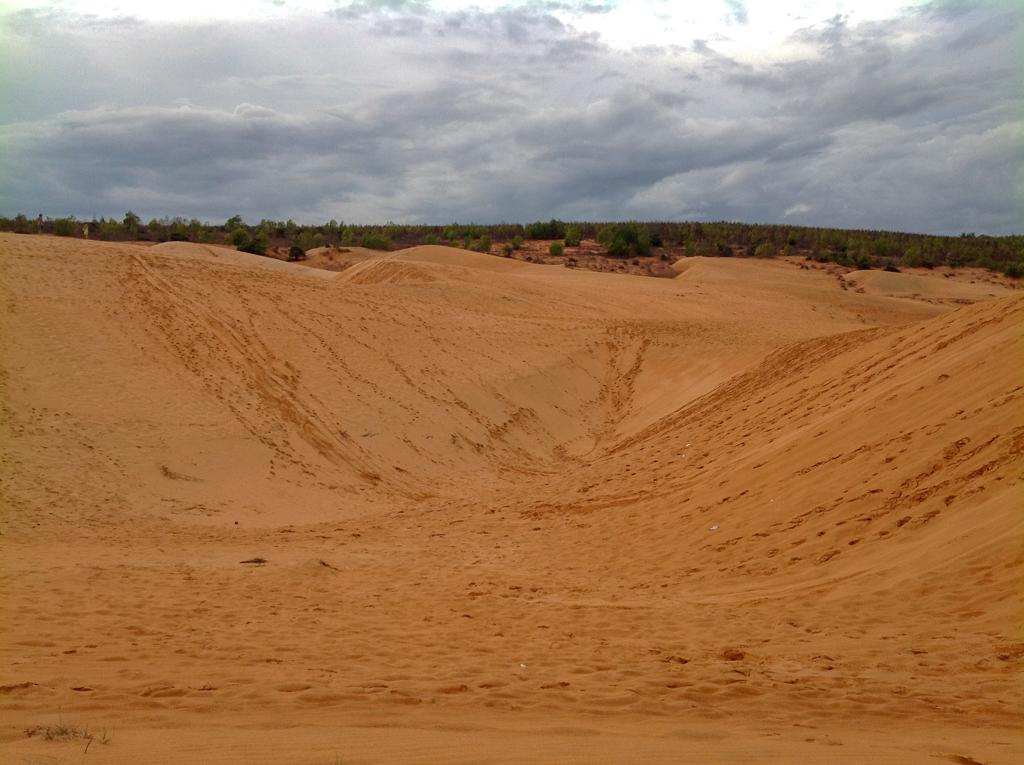 The red sand dunes located just near the main tourist area are the smaller of the two main tourist sights. The beautiful rusty brown dunes are a spectacular sight, particularly at sunset.
While you're at the red sand dunes you'll find a lot of kids offering you plastic boards to ride down the dunes. If you're over 30kgs you probably won't slide very far but you may find it fun either way.
Red Sand Dunes entrance fee and opening times
Red sand dunes are open 24 hours and are free to enter. If you ride there on a motor bike, you'll need to pay parking.
The White sand dunes of Mui Ne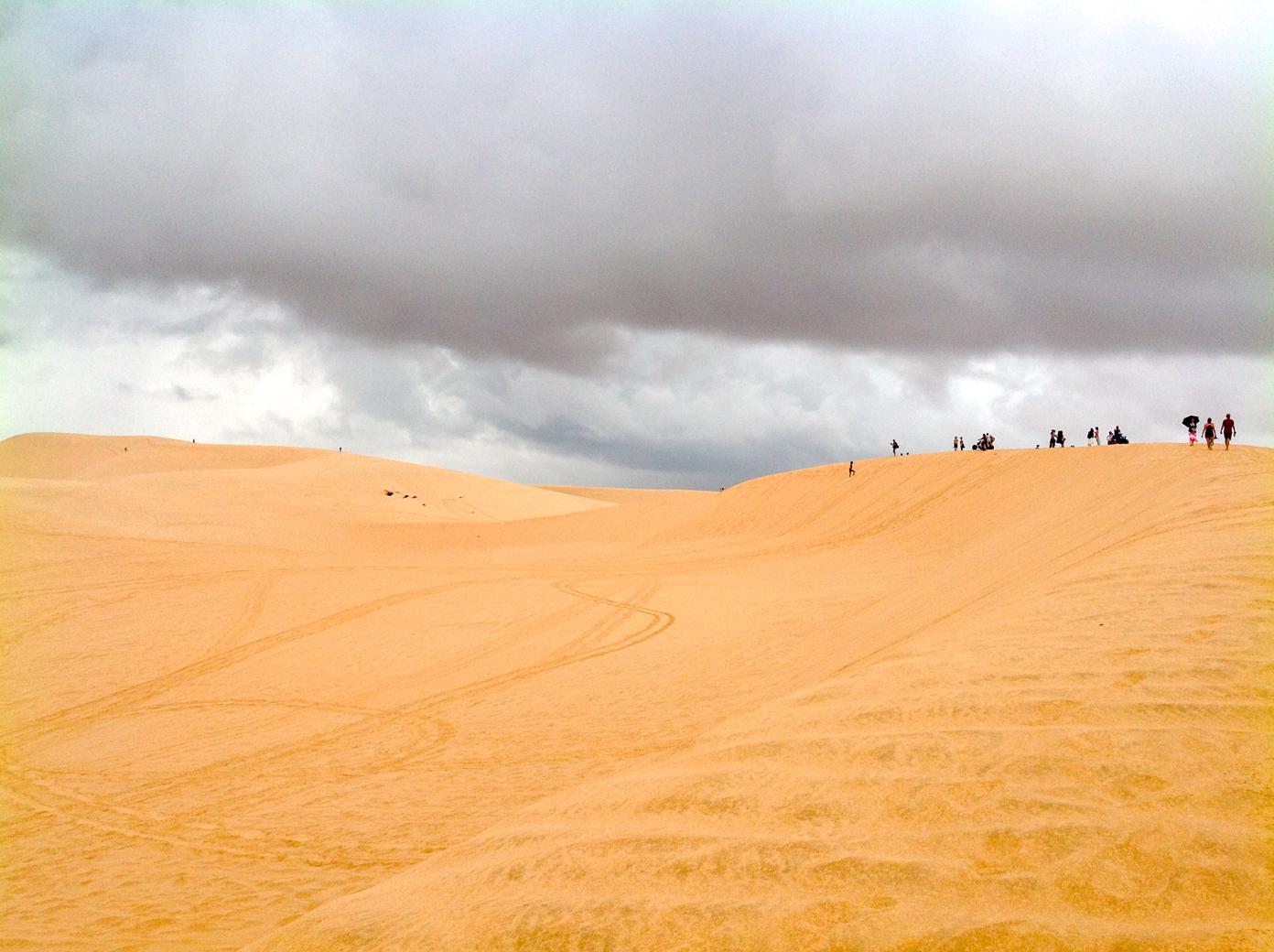 The white sand dunes in Mui Ne are located around 45 minutes away from Mui Ne town. They are larger than the red dunes. It's possible to rent an ATV (quad bike) to ride up and down their slopes. The cost of hiring an ATV is anywhere from 200000VDN ($9 USD) to 400000VDN ($18USD) for half an hour. The price is largely dependent on how busy they are and how good you are at bargaining. Be mindful that the ATVs also damage the natural landscape.
White sand dunes entrance fee and opening times
The White sand dunes are open between 4.15am and 6.15 pm. Unless the entrance fee is covered in your tour there is a small fee attached.
Mui Ne sand dunes: sunrise or sunset?
Most people will go to the White sand dunes for sunrise and the red sand dunes for sunset, however it is possible to do it in reverse. The setting sun highlights the rusty sand colour crating a beautiful atmosphere.
It is also possible to do sunset tours of the sand dunes from Ho Chi Minh City.
Mui Ne sand dunes tour
There are quite a few options for tours to both sand dunes and the fairy stream. You can also book sunrise and sunset tours, so look around and book an itinerary that matches what you're after.
Tour prices will vary depending on the number of people you have and will range between $6USD and $10USD. For a private tour you will hire a jeep, so it will be cheaper if you have 4 people than if you only have 1 person.
A larger group tour of the Mui Ne Vietnam sand dunes will be a little cheaper. The bus will drop you off a little further away from the dunes and you'll have to walk in.
Whatever tour you book, make sure that it says all entrance fees are included and then hold fast, no matter what else they say you need to pay.
During peak season the dunes can get quite busy however you should be able to wander a little further to find a quieter section.
See the fairy stream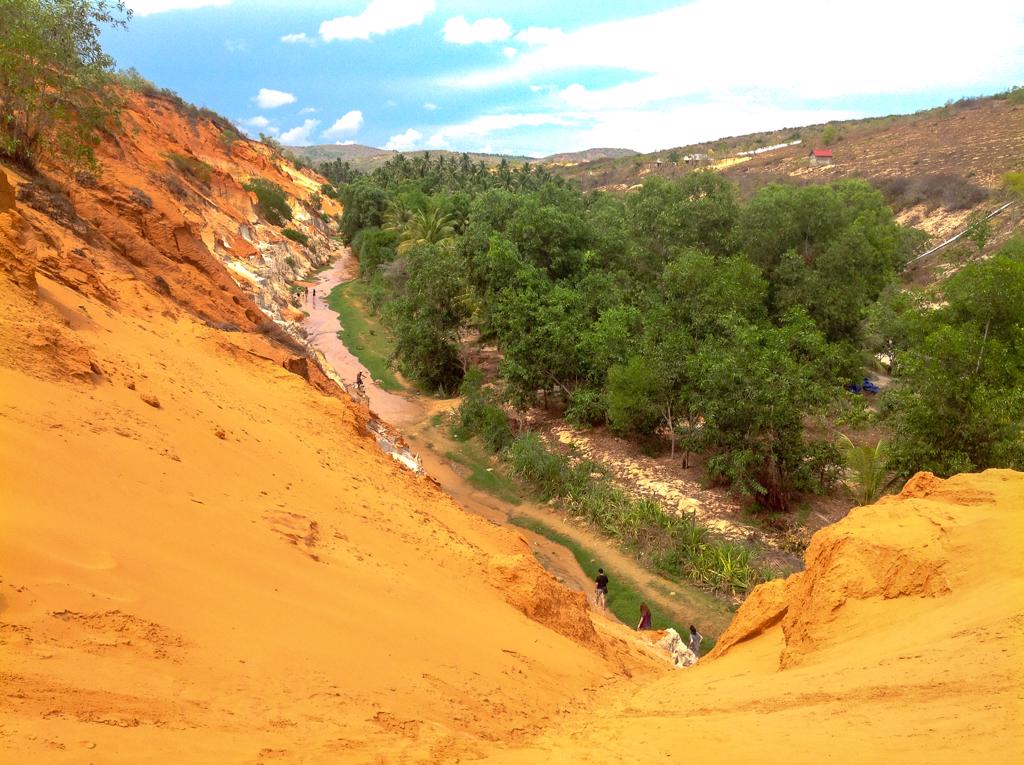 Mui Ne fairy stream is a small stream that runs along behind the sand dunes and between some beautiful rock walls and formations. You can remove your shoes and walk along the creek bed as the cool water remains around ankle deep for most it's length. It's a nice relaxing stroll through a unique environment.
Be aware of people offering to guide you up the stream. You don't need them, nor do you need to pay them. Be quite clear about simply saying 'no' and ignore anything else they say to you. If they continue to follow you and then suddenly tell you to turn back, ignore it. Keep following the fairy stream along. The end is obvious.
There is a place near the fairy stream where you can ride an Ostrich. We are firmly against this. Please do not ride the Ostrich. Enough said.
Relax on the beach
While a lot of the beach front in Mui Ne is being 'claimed' by resorts you can still find little slices of sand to relax on. Some areas of the water are cleaner than others due to run off from local businesses so assess any swimming areas. You could also simply take a relaxing stroll along the water's edge.
It can be difficult to find access to the beach as Mui Ne resorts will restrict access through their property.
If you walk to the south end of Nguyen Dinh Chieu, Joes Cafe and Beachside Boutique Bungalows have a sign that says public beach access. As you walk through the resort, they have signs saying you need to buy something. We didn't stop here so we assume that means if you sit on the beach outside their resort. However, once you're on the beach, you can just keep walking to find a spot.
Unfortunately, Mui Ne is also suffering from severe coastal erosion. Many resorts have lost much of their beach and we even saw a section of one resort that had collapsed after losing its sandy foundation. We witnessed high tide and it's easy to see how this is happening. The waterline is very close to the property lines of many of the businesses lining the beach.
To combat the erosion, enormous sand bags line large sections of beach. At 10-20 meters long and a few meters in circumference, the aim of the sand bags is to reduce the force of the waves as they come ashore.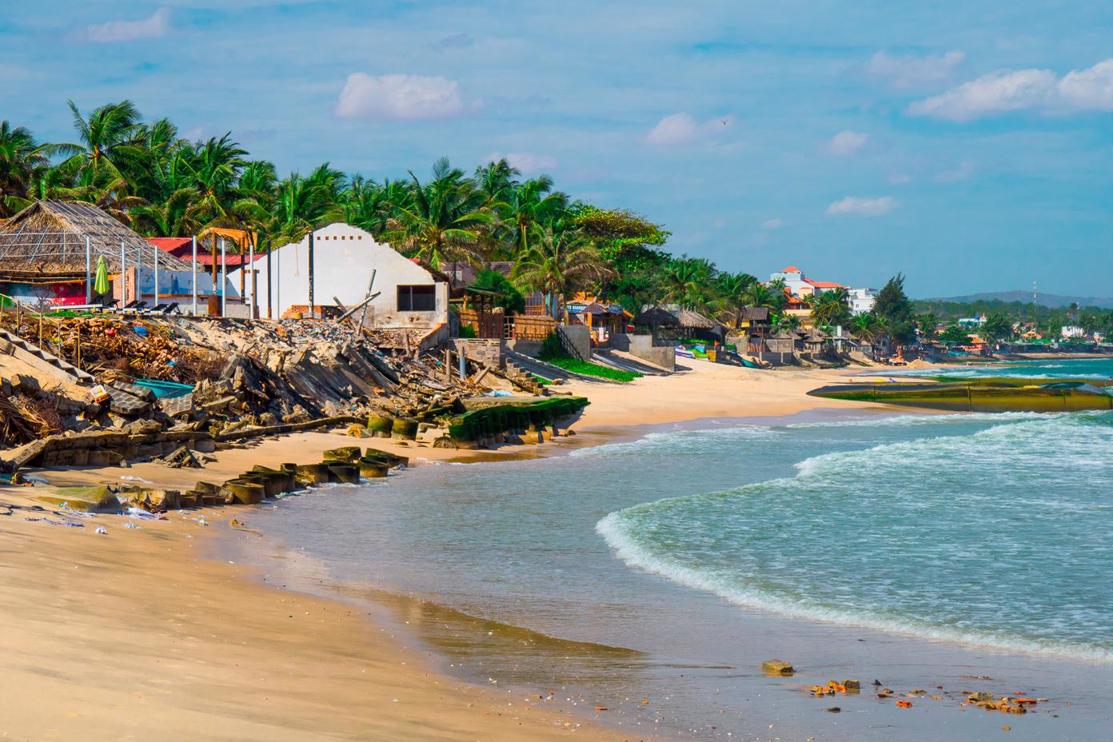 While the sandbags are a little unsightly, there is evidence of other attempts to protect the shoreline such as the planting of rows of trees.
Visit the fishing village Mui Ne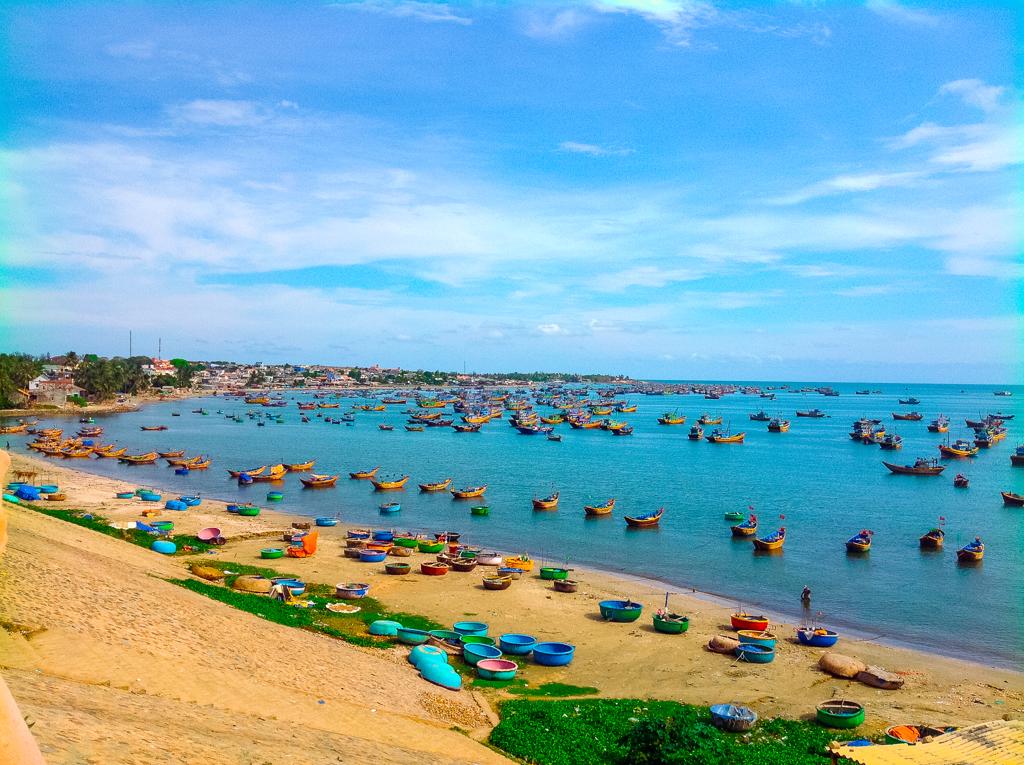 Views over the Mui Ne fishing village are spectacular, with a beautiful stretch of coastline and what appears to be hundreds of brightly coloured fishing boats in the water. Look out for the smaller round 'bowl' boats which are used for fishing closer to shore.
If you arrive early in the morning you can witness the boats coming in and taking their fish to the market.
See the Buddhist temples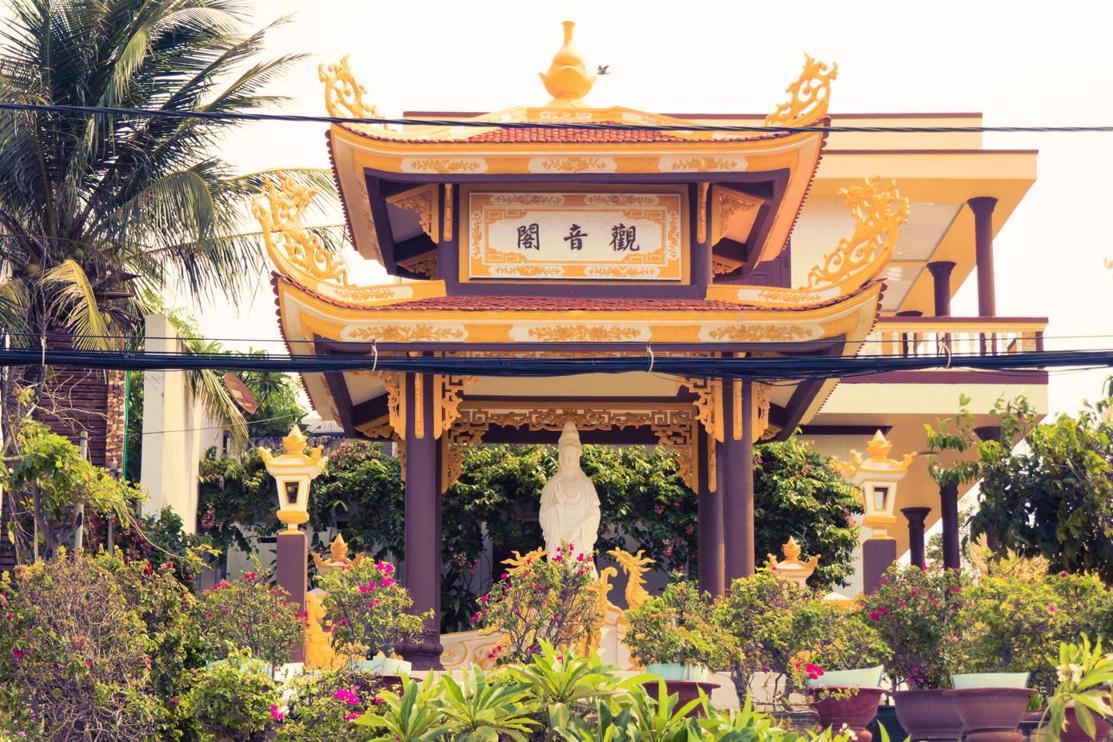 If you enjoy getting lost in the beauty and serenity of Buddhist temples, you'll find plenty to do in Mui Ne.
Spaced out throughout the region are temples such as the Linh Long Tu temple and the Van Thuy Tu temples, which also houses a whale museum.
The Linh Long Tu temple is located about 10kms from Mui Ne in Phan Thiet
Van Thuy Tu temple is located around 15kms from Mui Ne, also in Phan Thiet
They're relatively close to one another so it would be worth visiting each in the same trip.
Go to the Po Shanu Cham Towers
Built in the 9th century these ancient ruins are one of the last remaining symbols of the Champa Kingdom. Measuring over 15 meters high, the towers were built in honour of Hindu gods.
The towers are built on a hill, which offers a beautiful view of the local area.
The Po Shanu Cham Towers are currently under reconstruction and at this stage I'm not sure when you'll be able to see them without scaffolding.
Enjoy fresh seafood as you sit by the ocean
There is an abundance of fresh delicious seafood to be found in Mui Ne. Just walk along the main tourist strip of Nguyen Dinh Chieu street and you'll be spoilt for choice.
Tours of the red and white sand dunes and the fairy stream will usually include a stop off at the fishing village. Just confirm with your tour operator.
Learn to kite surf
Mui Ne is a kite surfers paradise with strong coastal winds for a lot of the year. Whether you're an experienced kite surfer or are simply taking your first lesson, this is a great place to get out on the water.
An hour of kite surfing equipment rental will cost around $30 USD. Beginners courses will set you back a few hundred dollars.
Things to do in Mui Ne at night
Mui Ne nightlife consist of a few bars and live music venues and a night club.
Joe's café
Joe's café have lived music 365 days a year. Playing the great rock classics, Kreed is incredibly entertaining and had all (by all I mean about 8) foreigners in the room singing along while he played old school rock songs on piano. He mentioned he's not usually alone on stage, and at some point, a drummer who I can only describe as the perfect image of an 80's rocker, started drumming out some amazing beats in support.
Dragon beach bar Mui Ne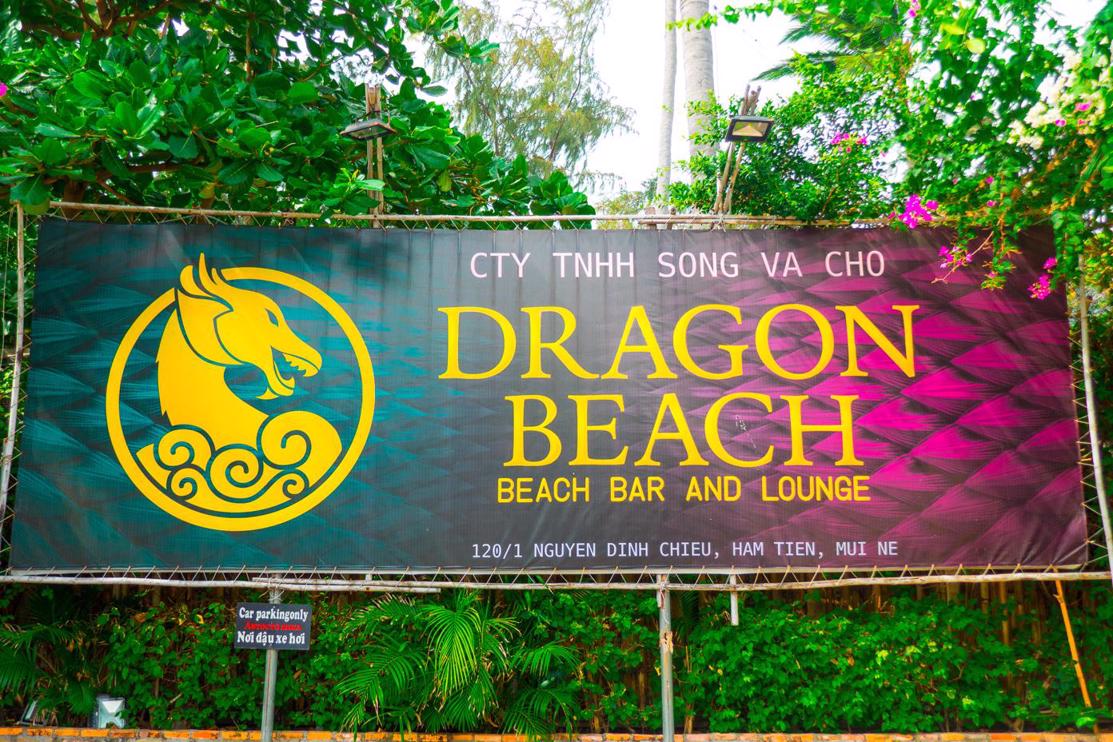 If you're looking for a night club in Mui Ne Dragon beach bar is it. Opening at 12pm the bar has two sections, the outdoor open-air bar beside the beach, and a covered dance floor section.
You can arrive in the afternoon, pull up a lounge and watch the ocean while sipping Mai Tai's. If you arrive later in the night you can hit the dance floor.
Dragon bar is open until late. If you want to be there when it's busier, I'd recommend later in the evening and on a weekend.
Keep in mind that drinks here are also quite expensive.
How to get to Mui Ne
Getting from Ho Chi Minh City to Mui Ne by bus
The 5-hour bus trip from Ho Chi Minh City to Mui Ne is an easy one. Most hotels and tour agencies can book a bus ticket for you with little notice. We paid 130,000VDN or just under $6 USD for a Hanh Café sleeper bus ticket, including transfers to the bus station from our hotel. The bus also dropped us off outside our hotel in Mui Ne as it was on the main Nguyen Dinh Chieu street. Alternatively, you can prebook your bus ticket here.
If you're heading from Mui Ne to Ho Chi Minh City we've put together a comprehensive guide of things to do in Ho Chi Minh City. This trip is the same as the one from Mui Ne to Ho Chi Minh City, just in reverse. It will take around five hours and a bus. Buses can be booked at any of the tour agencies or your accommodation and will leave from the main tourist strip, Nguyen Dinh Chieu street.
Getting from Ho Chi Minh City to Mui Ne by train
You can catch a train from Ho Chi Minh City to Phan Thiet and then either get a taxi or try to jump on a local bus (if you can find one) to Mui Ne.
Getting to Mui Ne from Dalat
The best way to get from Mui Ne to Dalat is by Bus. Buses between Mui Ne and Dalat should take 4-5 hours and cost around $5 USD and are easily booked at ticket agents or through your accommodation or 12Go if yo want to prebook. The road is a little bumpy but the scenery is beautiful through the mountains.
We've put together a motorbike itinerary for visiting Dalats four main waterfalls don't miss it!
Getting from Dalat to Mui Ne again is simply the reverse. Although buses will leave from various parts of Dalat City which is fairly large. Your accommodation or local tour agency will book a bus, which will usually involve a transfer to the specific Dalat bus station.
A fantastic way to see the beautiful scenery between Dalat and Mui Ne is on the back of a motorbike. A 2 day motorcycle tour will take you through the countryside where you can experience local food, and culture before arriving in Mui Ne and unwinding at the beach.
Getting to Mui Ne from Nha Trang
The buses between Mui Ne and Nha Trang start at around $6 USD and should take around 5 hours, depending on the bus company.
You can also take buses further up to Hoi An.
Best time to visit Mui Ne
Mui Ne has a stable climate and minimal rainfall making it suitable for year-round travel. If you're after kite surfing, the best time to visit is between October and the end of March. Low season is from May to October as this is low season across the country.
Mui Ne weather December
December is generally a great month to visit Mui Ne as the weather sits at an average of between 22 and 29 degrees with minimal rainfall. November and January are also good months.
How many days in Mui Ne?
Generally, two days full days in Mui Ne is probably enough if you are just wanting to see the sand dunes and fairy stream. If however you're needing some time out or simply want to relax on the beach you could stay longer.
Where to eat in Mui Ne
Take your pick between the cheaper local restaurants, the fresh seafood extravaganza and the more expensive 'foreign' aimed restaurants.
Foreign food
Joes café
Whoever Joe is, he seems to have an eye for good business in beautiful locations as he has quite a few cafes and boutique hotels in Mui Ne.
Joe's Café at 86 Ngyuen Dinh Chieu, offers a diverse menu of foreign deliciousness. You can get good local food here; however, they also offer sushi, Mexican, burgers and pasta and some delicious meat dishes straight from the barbecue.
While the prices are higher than the local restaurants, they aren't unreasonable. We paid 129000VDN for a delicious burger with fries, and about the same for some BBQ teriyaki pork and vegetable skewers.
Cheap local food
Family restaurant
Located on the water's edge, beside Jibes Beach Club, is the Family Restaurant. I have to say the service here wasn't great. It was the kind of place that made you want to apologise for annoying them by ordering and paying for food and drinks. The food was good, and it was incredibly cheap. We had a meal and a couple of drinks each for a total of 130000VDN. I had a pork clay pot for example, for 39000 VDN. This dish usually costs us between 70000VDN and 100000VDN.
The second time we ate there confirmed two things, the service is average, but for flavour and value, it's worth it.
Fresh seafood
There are numerous fresh seafood restaurants lining the Main Street of Ngyuen Dinh Chieu. Our best advice for eating anything local or fresh is to go where it's busy. We also like to look for places with families, i.e. elderly people and children.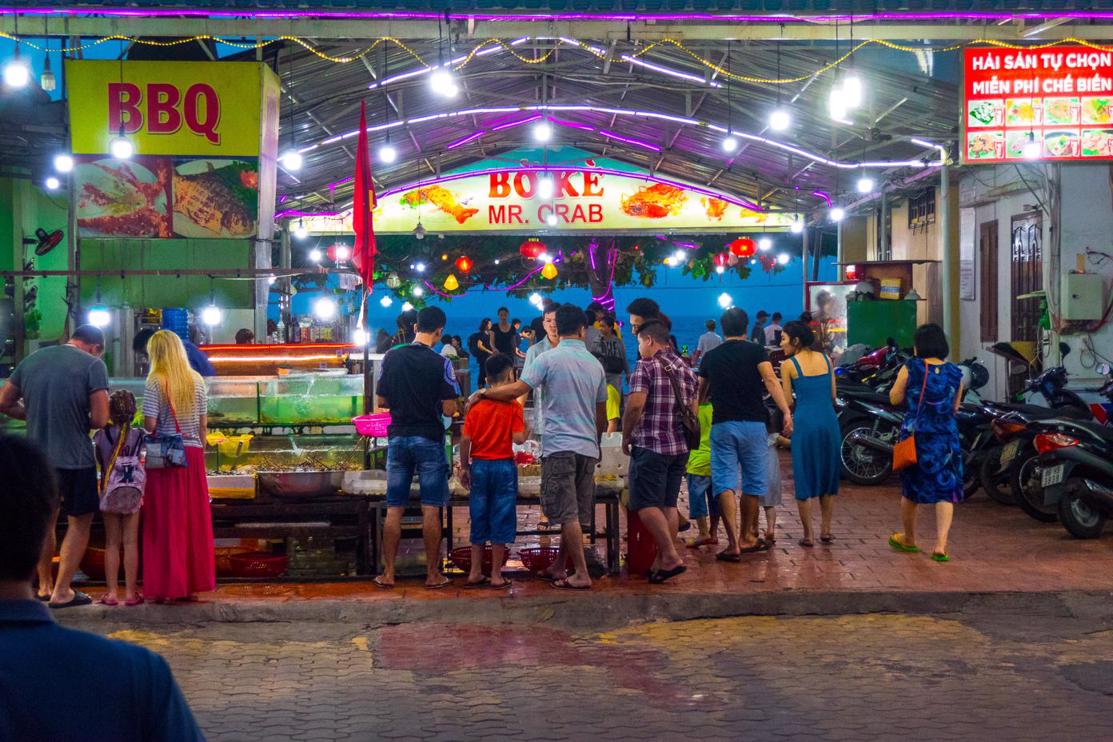 Where to stay in Mui Ne Vietnam
There is plenty of accomodation in every price range in Mui Ne. Whether you're looking for a hostel or a luxury resort, booking.com have some great options.
Cocosand Hotel
We stayed at the Cocosand Hotel. We had our own detached bungalow and it was lovely. The rooms are spacious, the fridge is turned on (who knew?) and stocked with cold drinks. Outside of the rooms is a sand area with tables and hammocks. The shower did get hot although the only negative was the water pressure was low.
If you walk out of the hotel, there is an ice cream shop right next door. Just beside the ice cream shop is a little shop with delicious and very cheap Banh mi and fruit smoothies. The service is wonderful.
Overall, Mui Ne Vietnam is a sweet little beach town. Its neither particularly Vietnamese or Western and that turns some people off. We feel however, that it is worth visiting Mui Ne for a few days.
Don't miss our post on the Phuong Mai Peninsula, where you'll find one of the most beautiful beaches in Vietnam.
You may find these posts useful
Planning a trip to Vietnam? Here's how we start
This article may contain affiliate/compensated links. For more information, please see our disclaimer here.
Like it? Pin it for later!