When looking for things to do in Quy Nhon I came across images of spectacular and secluded beaches in the area. Determined to find them, I managed to find a great tourist map (I've attached it below) which indicated they were all located on the Phuong Mai Peninsula, about 8km north east of Quy Nhon City. We decided to spend the day exploring the Phuong Mai Peninsula Quy Nhon and it was amazing. You won't want to miss it and these other awesome things to do in Quy Nhon.
This article may contain affiliate/compensated links. For more information, please see our disclaimer here.
Sand and sand dunes
Not unlike the sand dunes of Mui Ne, the Phuong Mai Peninsular Quy Nhon is home to rolling sand hills. These beautiful white and brown hills are enormous and can be found over a large portion of the Peninsular.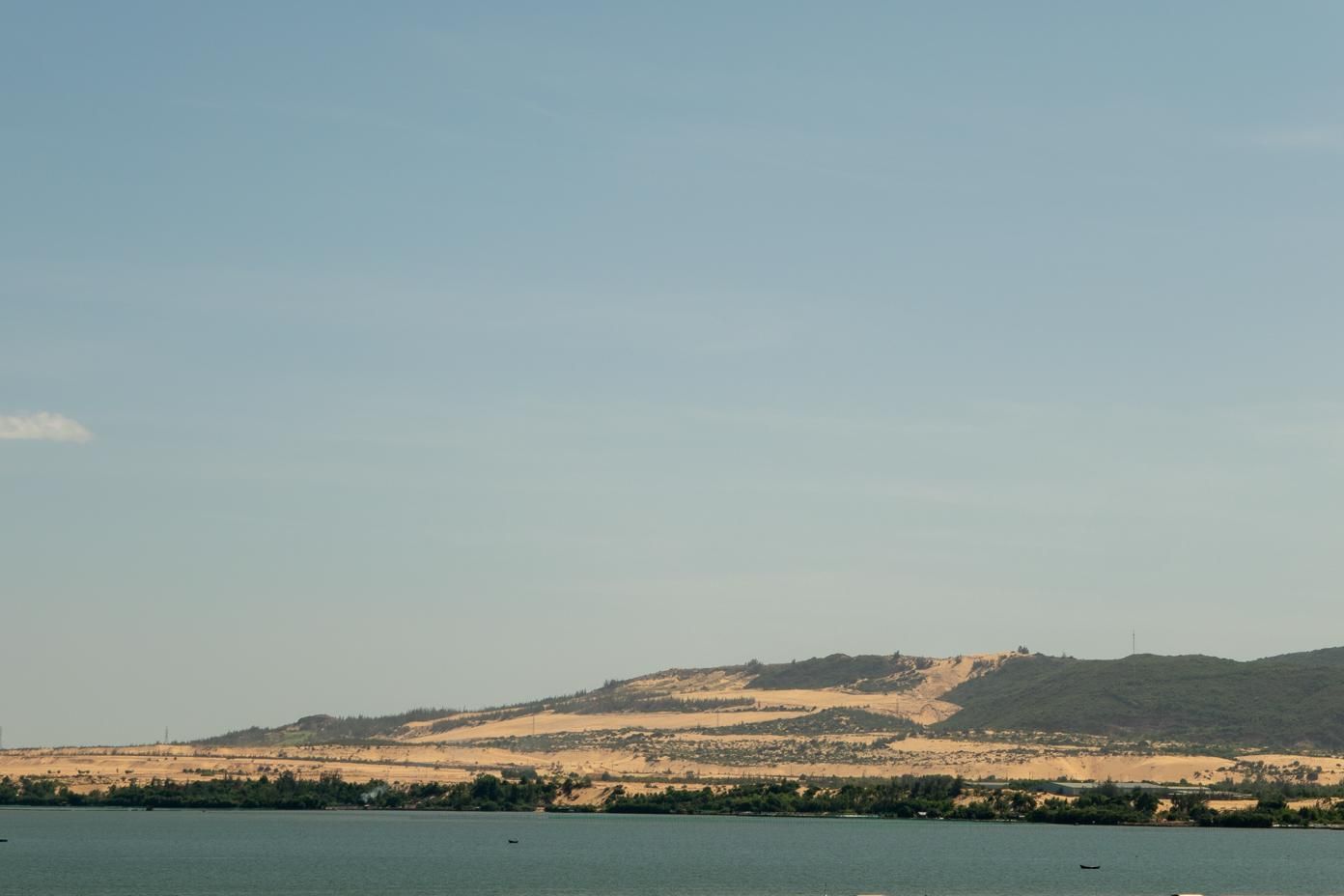 More Vietnam blog posts
Beautiful Ky Co Beach
When we arrived at the entrance 'gate' a security guard with quite good English explained that Ky Co Beach is a privately-owned beach on the Phuong Mai Peninsula Quy Nhon and we would have to pay. At first, Ben was hesitant to pay the 60,000 VDN per person, plus 40000 VDN fee to hire a private car down to the beach itself, but from the photo's I had seen online I felt it would be worth it.
We had the motorbike, and it's a 3km ride from the entrance gate to the car park area. You will ride up some of the longest and steepest hills I have seen, and this is saying a lot from an Australian! The ride alone was worth it with spectacular views over the Peninsula.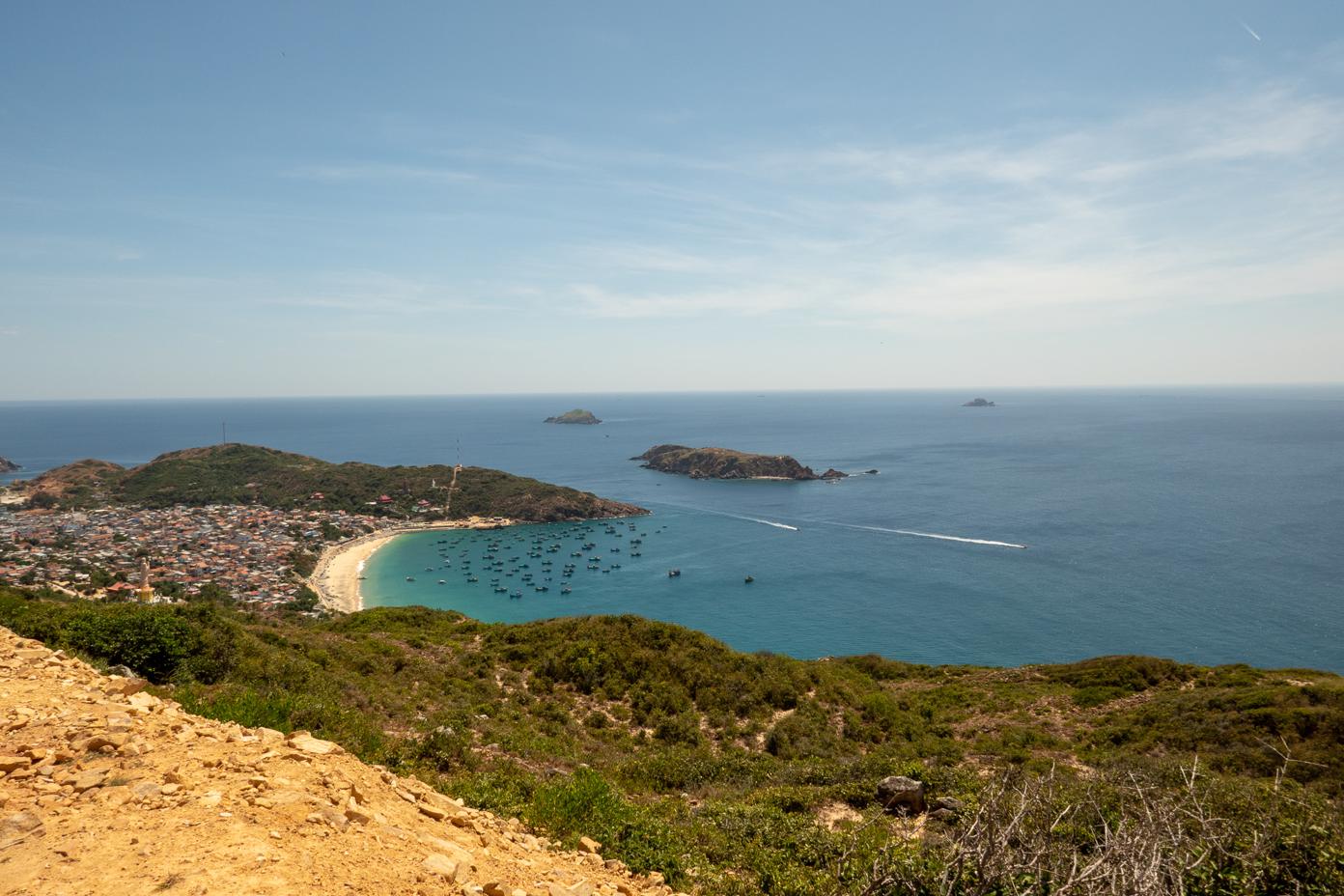 Once you arrive at the parking area we were a little surprised to find we also had to pay 5000 VDN to park the motorbike. Its not that much money, but we figured that parking the bike would be included somewhere within the entrance fee or the car hire. It is not.
As we were parking the motorbike we saw the car leave and head towards the beach, so we had to wait a few minutes for it to return before we climbed in and took an equally steep road towards the beach. Eagerly anticipating the secluded, empty, white sand beach with turquoise water.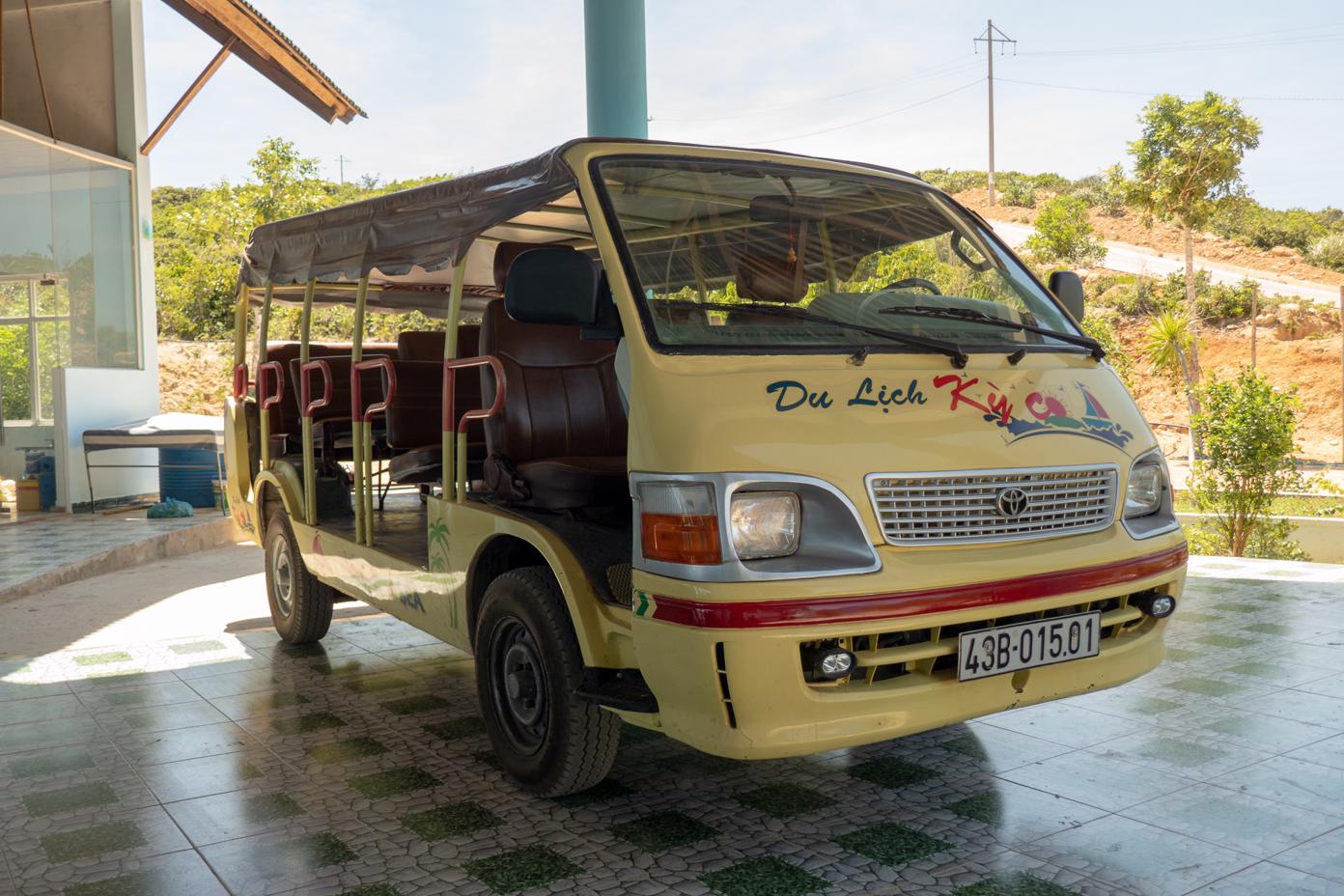 Imagine our surprise when we arrived to find that the beach was full, I mean full, with locals. Hundred and hundreds of people. Boats lining the shore, jet ski's whizzing around. And hundreds of people. At 10.30 on a Thursday morning.
We were disappointed, it did not look like photos I had seen of long stretches of sand without a soul in sight, however we decided to go for a swim. The water was the perfect temperature and it is definitely crystal clear and blue. The beach itself was beautiful, for what we could see of it amongst all the people.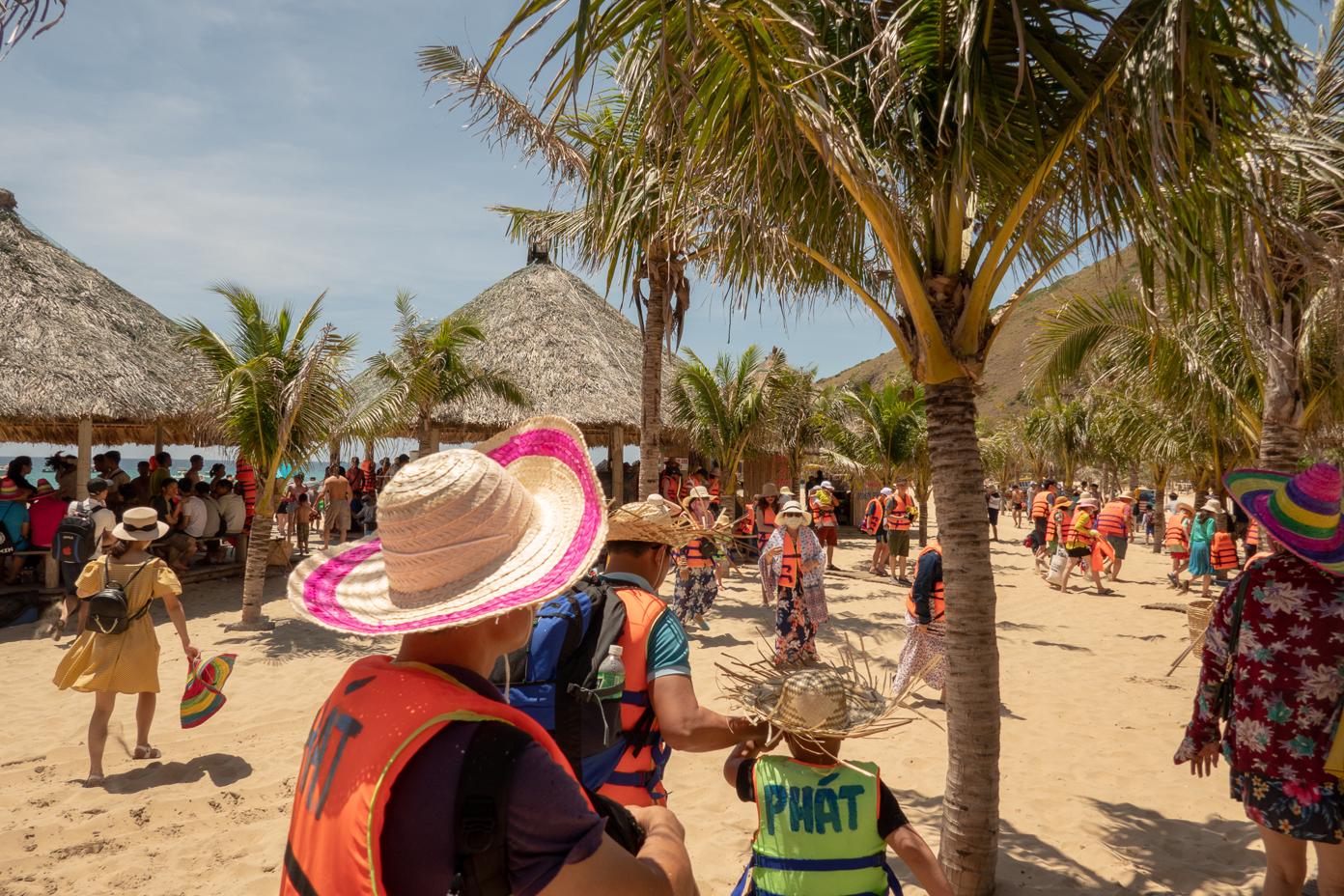 Suddenly, we started to notice the beach was emptying. It seems at 11am the tours to the nearby islands leave and almost everybody was getting into all the boats and heading out to sea. Now we understood why people love Ky Co beach and how they get those photos of empty sand.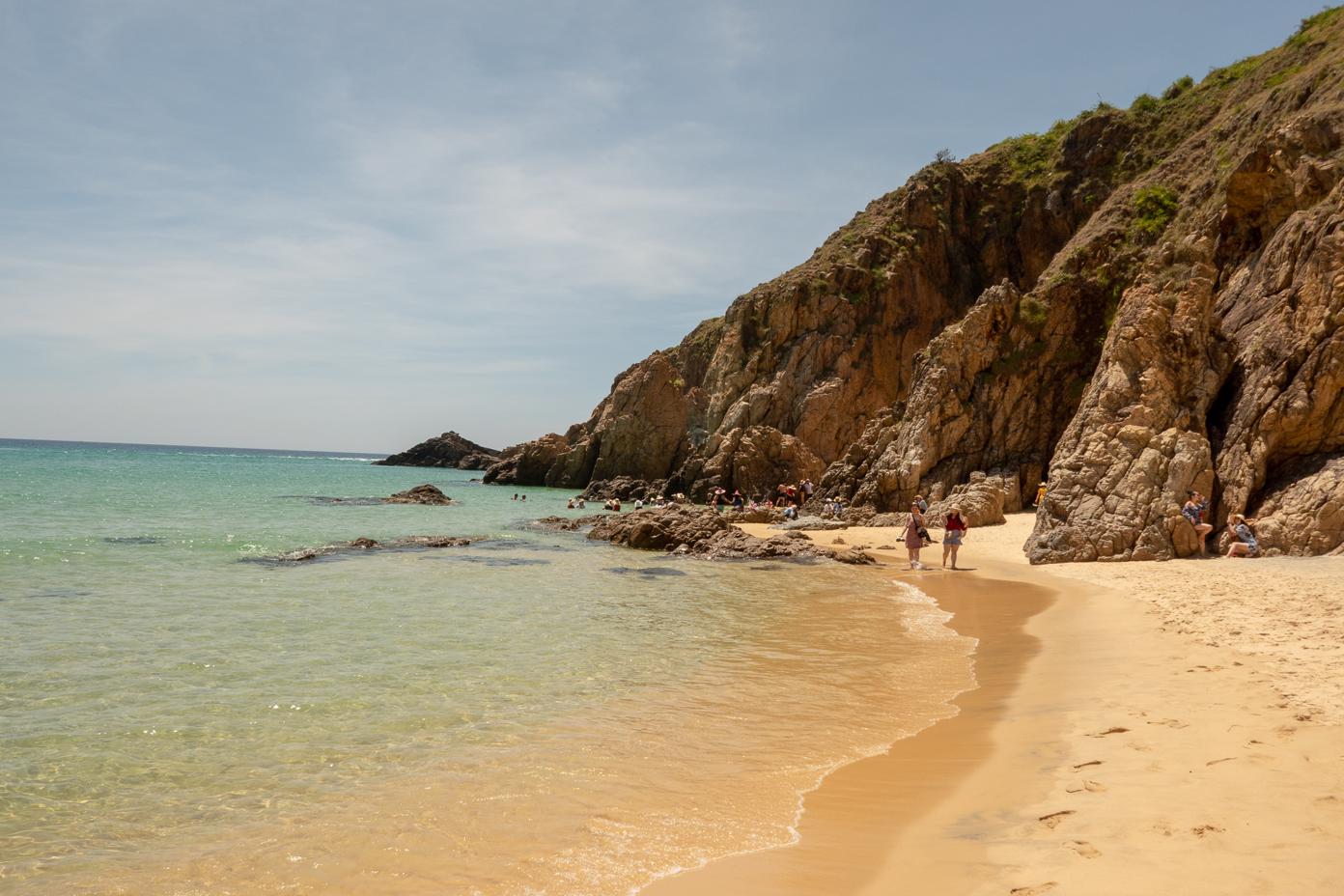 I would say Ky Co beach is worth the money but investigate the tour times and try to avoid the lead up to them leaving. You'll get your secluded peaceful beach.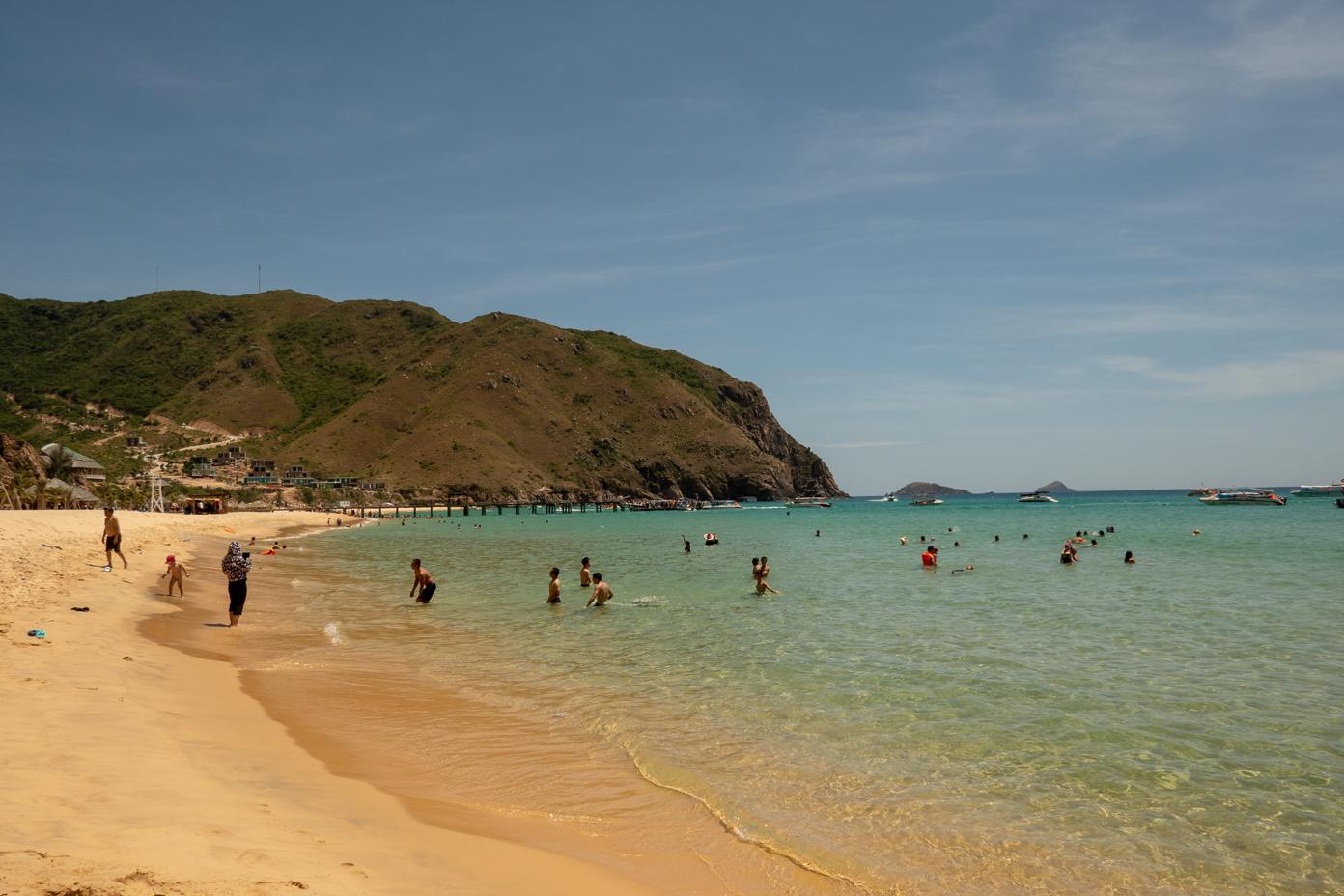 Tours to Ky Co Beach, Phuong Mai Peninsula
If you want to relax on the spectacular Ky Co Beach without the hassle of getting yourself there, you can book this tour. They'll pick you up from your hotel in Quy Nhon and take you to the beach for a day of fun and relaxation.

A chance to have a truly local experience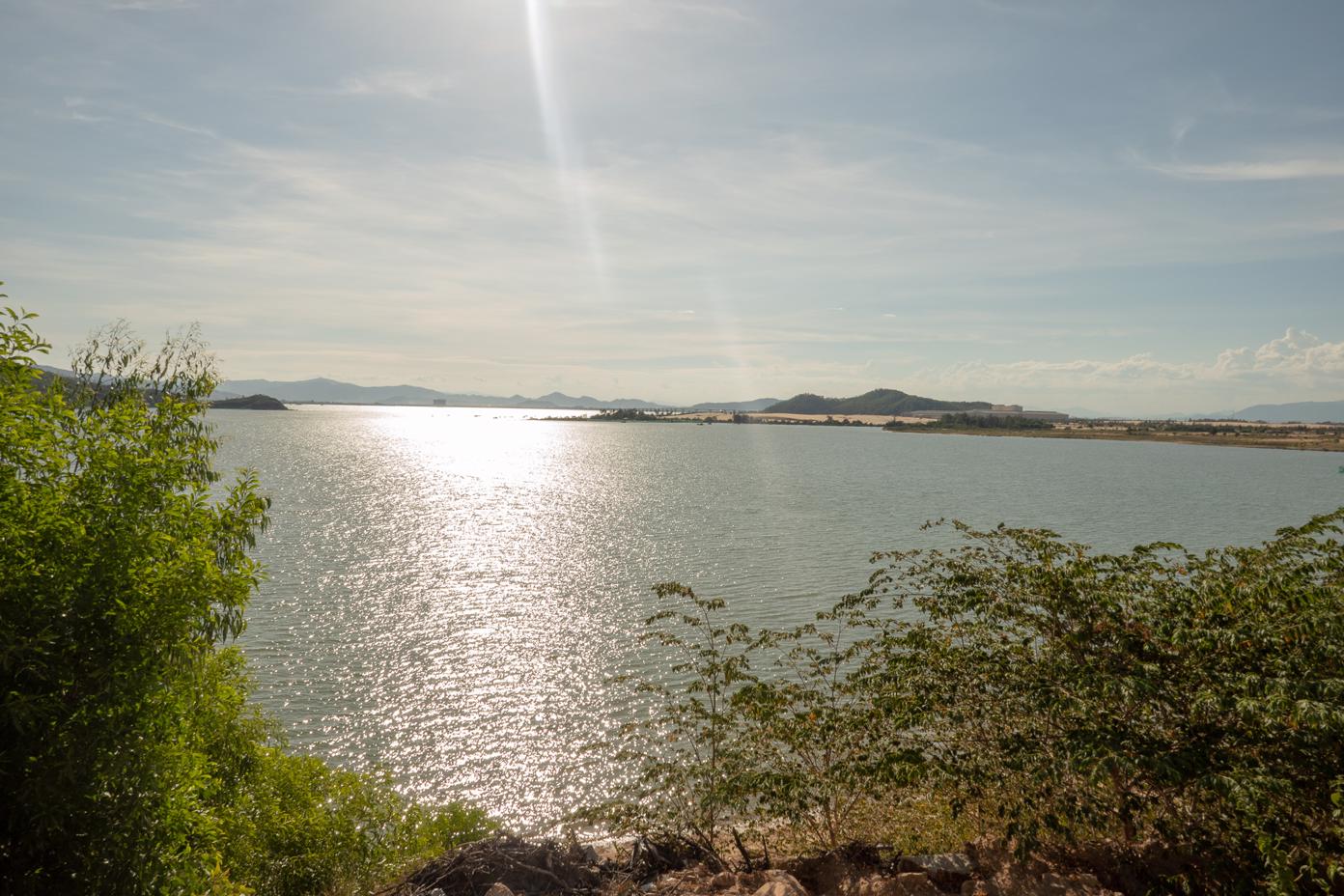 The majority of the Phong Mai Peninsula Quy Nhon is not set up for tourism, yet. I say 'yet' because tourism is clearly in the minds of the powers that be. When you first cross the Thi Nhi bridge, onto the peninsular, you'll be amazed at the large, long empty roads, complete with foot paths, and almost no people or traffic. Empty roads seem to head off into nowhere, although you know, like Phu Quoc Island, they'll eventually lead to a resort.
As you head into the local towns along the Peninsula, you'll be hard pressed to find other foreigners, and that makes for the perfect local experience.
English is usually minimal, but you will pay local prices. We purchased a Quy Nhon beer for 6000 VDN, when we were paying a minimum of 20000 VDN in Quy Nhon City.
You'll find yourself getting lost in tiny little roads that lead to more tiny little roads, passing houses and shops along the way.
Make sure you've downloaded google maps or maps me or you may not find your way back out.
Local fishing villages and fresh seafood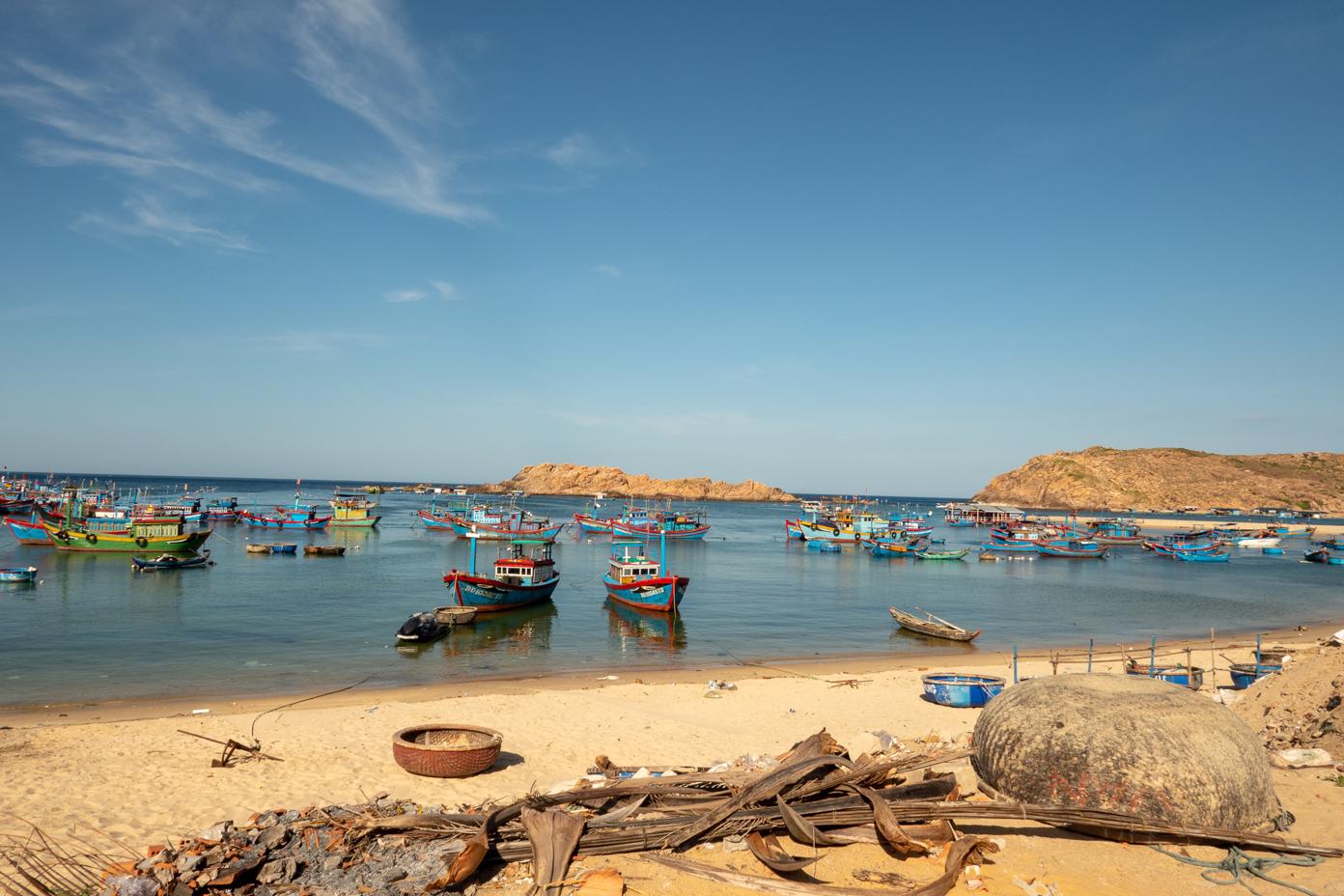 Fishing Villages line the coast and you'll see many little blue boats, big crab cages, spear fisherman and divers.
Seafood is caught fresh daily, and on the Phuong Mai Peninsular Quy Nhon and you'll find it is cheap, and good.
We found a little restaurant near Nhon Hai beach and fishing village. They spoke zero English but were very friendly. Strangely their menu was translated into English which was helpful. They had 'a plate' of fresh oysters with mustard sauce on the menu, for only 100000 VDN, that's about $4.30 USD.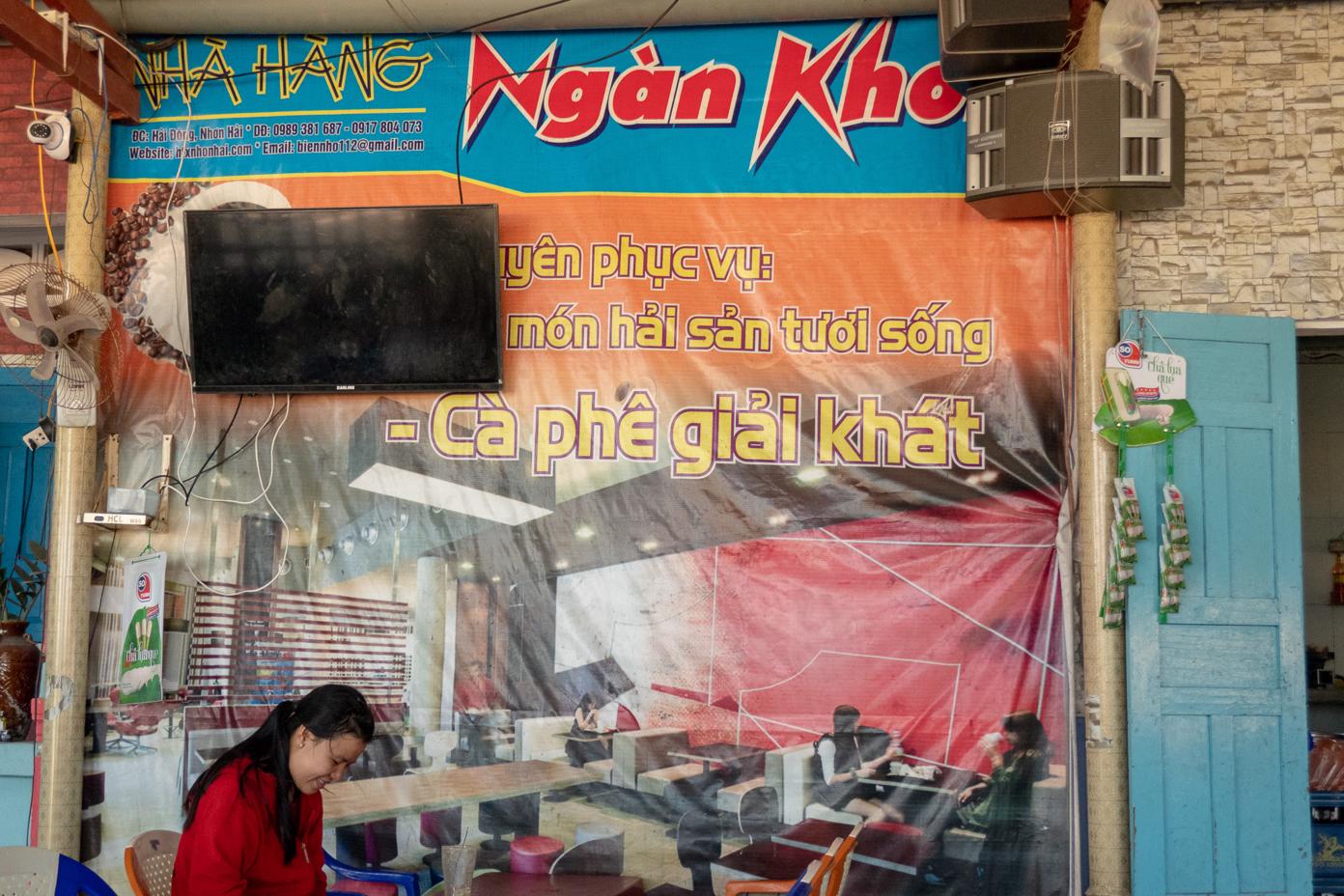 'A plate' turns out to fit 11 large oysters, and 'mustard sauce' means wasabi and soy sauce, but they were delicious. I joked to Ben that these were going to either be the cheapest and most delicious oysters we've ever had, or we would be throwing them back up by morning. We did not vomit, so they were the former.
How to get to the Phuong Mai Peninsula Quy Nhon
We used this map from the Vietnam Chronicle  to find the things we wanted to see. It might help you too.
The Phuong Mai Peninsular Quy Nhon is worth a visit but get in soon before it comes a tourist hot spot and resorts line the shores.
Other great things to do do in Quy Nhon
Explore Quy Nhon's beaches
Besides Ky Co beach on the Phuong Mai Peninsula, there are plenty of other beautiful beaches along the coast. Try Queen's beach, with it's rocky shoreline and gorgeous views of the peninsula. Unlike Ky Co beach, Queen's beach is a public beach, so it's free!
Bien Quy Nhon is the beach located right in front of the main part of Quy Nhon City. It's a nice long stretch of beach and a good place to people watch the locals in the evening.
Visit some local temples
Quy Nhon has a great mix of culture and there are plenty of different styled temples to see. The Banh It Cham Temple, also known as Bac Towers is an ancient temple, built during the time of the Champa Kingdom. You may have seen My Son, near Hoi An? Banh It Cham Temple is about 20km inland, north of Quy Nhon.
There is also the Tuong Phat Chua Ong Nui Temple, a colourful Buddhist temple with a seated buddha that is said to be one of the tallest in South East Asia. The Tuong Phat Chua Ong Nui Temple is at the top of the Phuong Mai Peninsula, and if you visit the peninsula when you're in Quy Nhon, you'll see the Buddha up ahead.
Where to stay in Quy Nhon
There is not much in the way of accommodation for travellers on the Phuong Mai Peninsula as yet, so your best to stay closer to Quy Nhon town and travel to the Peninsula.
The closest and best option right near the Phuong Mai Peninsula is the Nhon Hai Beach Hostel. With great reviews, a good price and great location its the perfect base for exploration.
A little closer to the center of Quy Nhon is the TH Quy Nhon. It's only 4.1 km to the Peninsula and is walking distance to the beach.
The 5 Elements Hostel in the heart of Quy Nhon offers dorms and private rooms. With it's own bar, shared lounge and being only 500 m from Quy Nhon beach, its a great place to unwind after exploring the Peninsula for a day.
Where to next? You may find these articles useful
This is how we start planning our trips
This article may contain affiliate/compensated links. For more information, please see our disclaimer here.
Like it? Pin It!