Hoi An Highlights – The best things to do in Hoi An
The world heritage listed Hoi An Ancient Town is a must see for most travellers in Vietnam. Located near the mouth of the Thu Bon River, Hoi An has managed to maintain the original layout and look of a 15th to 19th century port town. Not an easy feat in Vietnam! After spending two and a half weeks in Hoi An, we've put together a list of Hoi An Highlights as well as some information on the Hoi An Ancient Town ticket, which can be confusing at best!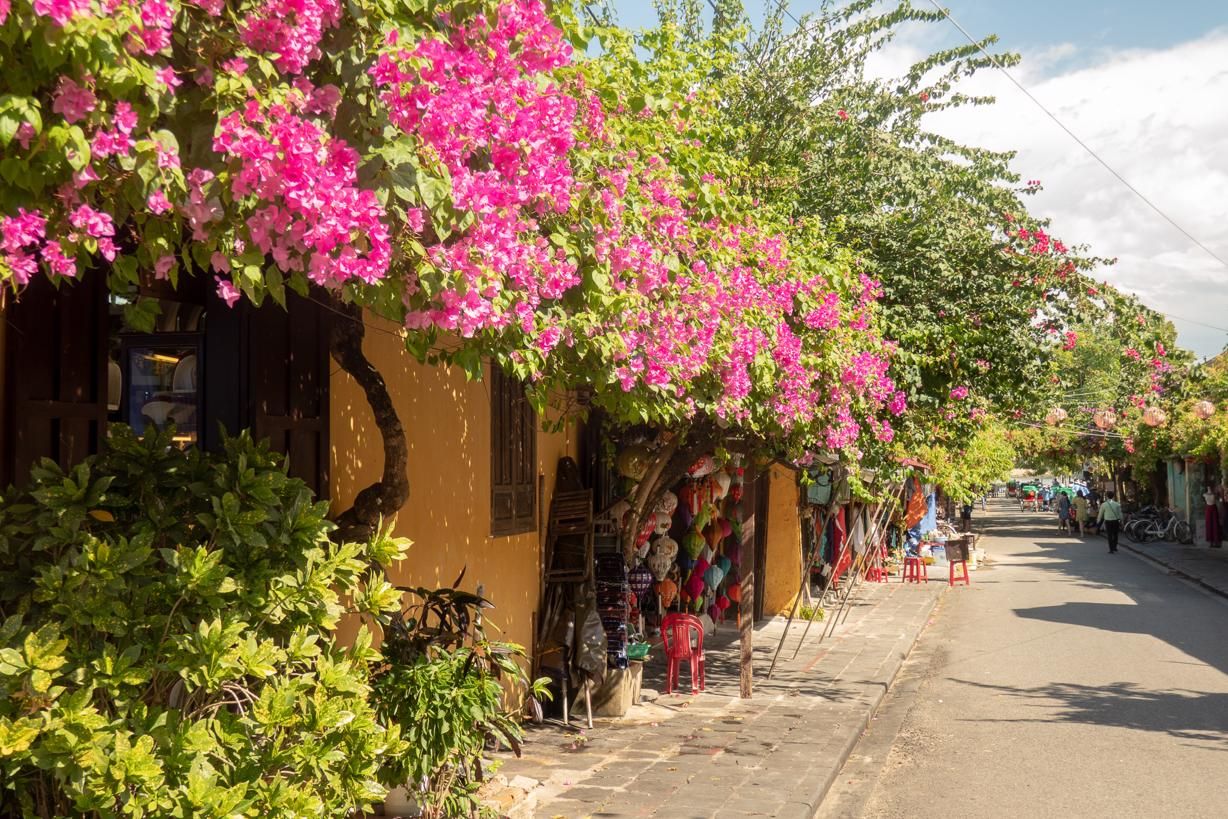 This article may contain affiliate/compensated links. For more information, please see our disclaimer here.
The Hoi An Ancient Town consists of more than 800 traditional wooden buildings, aligned in the original city structure form beautiful streets within which its easy to lose yourself for a day or two. A combination of indigenous, Chinese, Japanese and European influence provide a uniquely exotic feel.
While travellers are everywhere, Hoi An Ancient town manages to maintain a unique sense of peaceful tranquillity by day. Car access is restricted and some streets are pedestrian only. There's a distinct lack of horn honking. By night however, the river front comes alive with glowing lanterns, and a uniquely Vietnamese take on foreign night life.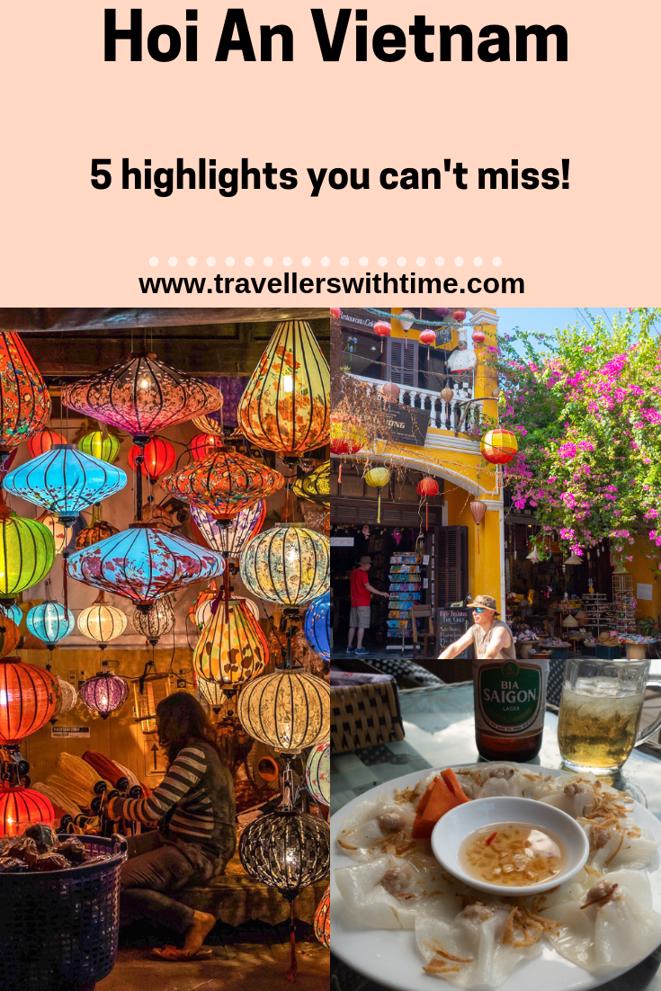 Hoi An Ancient Town ticket
As you wander through any of the main entrance streets, into Hoi An Ancient Town, you'll notice ticket booths. Technically speaking, you need to purchase a ticket to enter the Ancient Town. Is this enforced? No.
If you simply wander the streets of the Hoi An Ancient Town, eat at restaurants or do some shopping, you will not be asked for a ticket. If however, you want to enter the museums, temples or pagodas, or any of the Ancient Houses within the Hoi An Ancient Town, you will definitely need a ticket to do so.
Hoi An Ancient Town Entrance Fee
The price of the Hoi An Ancient Town ticket is 120000 VDN. The ticket gives you entry to 5 Ancient Town attractions of your choice. When you purchase your ticket you'll be handed a map that tells you which attractions require tickets and where to find them. When you arrive there will be a ticket collection point and they will simply cut off one of your ticket stubbs.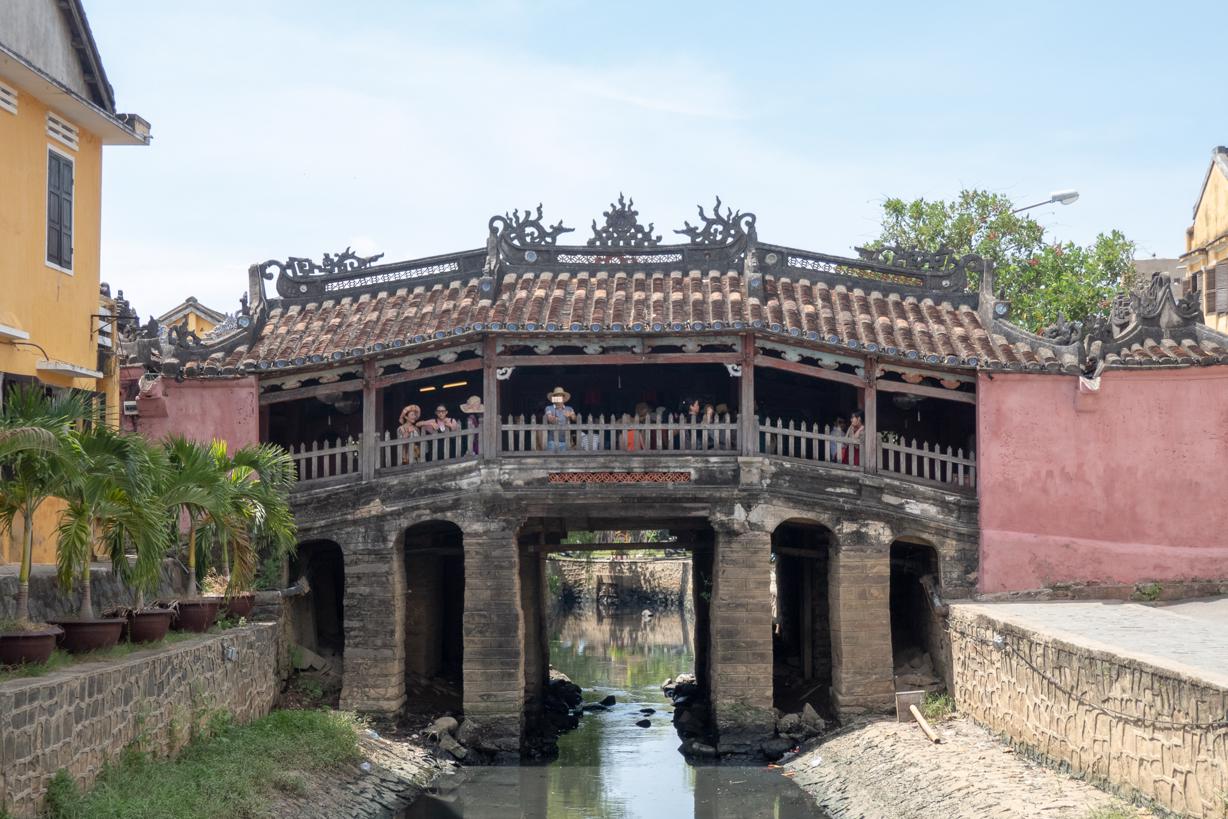 One of the more confusing aspects of the Hoi An Ancient Town ticket will arise if you want to cross the Japanese Bridge. Technically requiring a ticket, there seems to be no rhyme or reason as to when this is enforced. You could cross the bridge multiple times with no ticket and no issue only to be stopped the next time and asked for the ticket. We showed our ticket and very quickly realized we were the only ones who did so.
Is the Hoi An Ancient Town ticket worth it?
We are in two minds about this. The money from the ticket sales apparently goes to the preservation and restoration of the old town. I believe that is a good thing.
However, we felt a little underwhelmed by the 5 attractions we saw. There was very little in the way of descriptions and many of the places are very small. I'm one of those people who looks at absolutely everything, but even so we were in and out of the old houses in 15 minutes.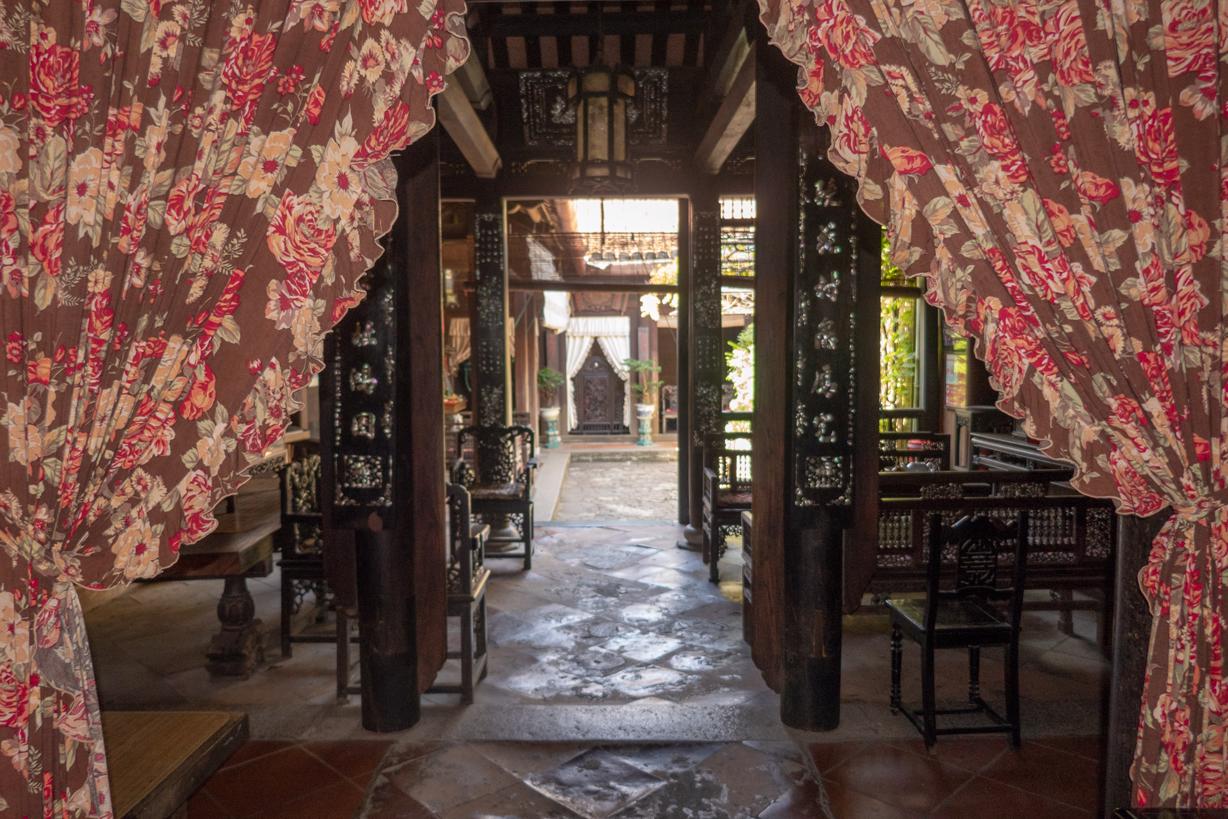 So, is the Hoi An Ancient town ticket worth it? I would say yes, if you are genuinely interested in culture and history. You'll probably still find the sights interesting. If you're very interested in culture and history it may actually be worth getting a guide or doing a tour of some sort for the extra information.
Interestingly, our Hoi An highlights were four things within the Hoi An Ancient town that were free!
Our Hoi An Highlights
Wander the beautiful ancient town streets – In itself one of the top Hoi An highlights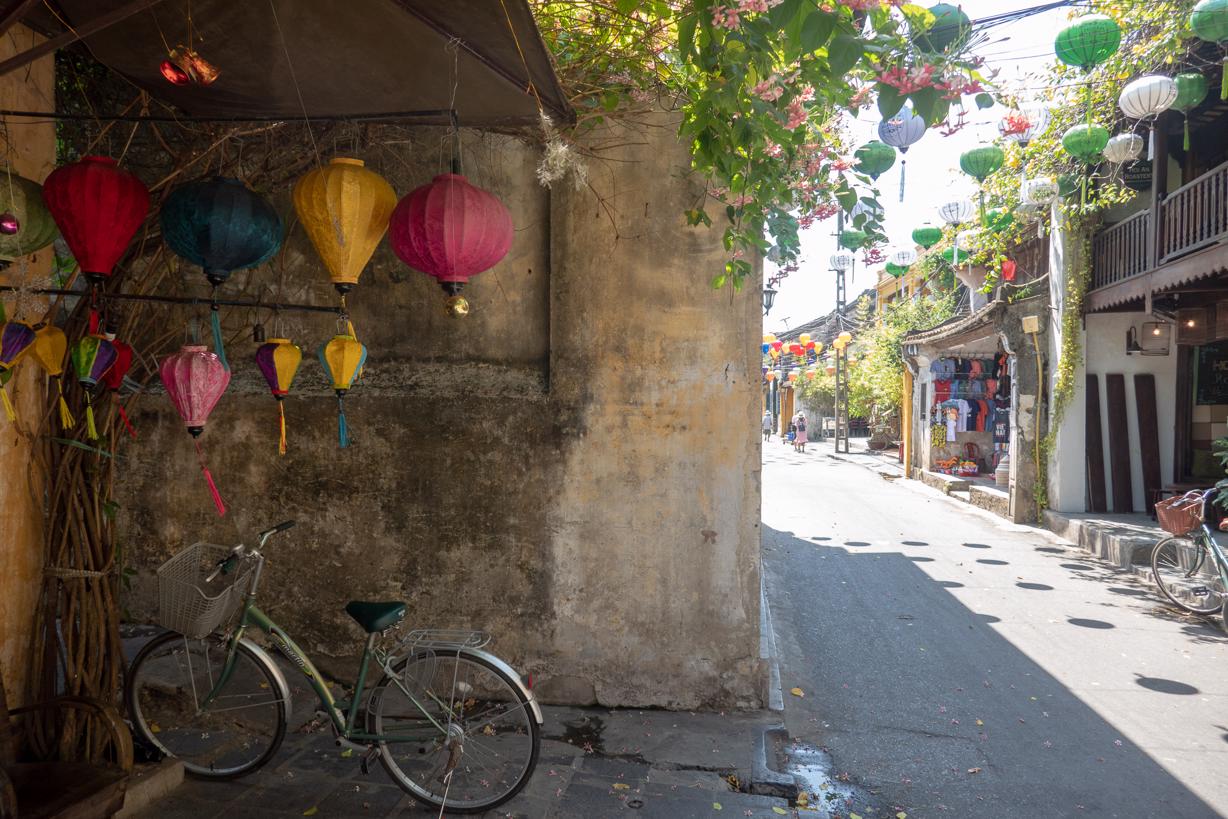 The Ancient Town is the biggest highlight of Hoi An. There is no denying that the Hoi An Ancient town is simply beautiful. Traditional wooden buildings with yellow walls form the structure for quiet, exotic looking streets. Full of beautiful flowers and colourful lanterns, the Ancient town feels a world away from the hustle and bustle of the rest of the country.
As you wander through there are plenty of the usual Vietnam highlights such as temples, pagodas and meeting halls. Old houses give a glimpse of life in days gone by.
If you have purchased the Hoi An Ancient Town ticket, you can wander in for a closer look, otherwise, there's plenty to keep you entertained as you stroll around the town with many of the buildings now home to shops and restaurants.
Experience Hoi An Ancient Town at night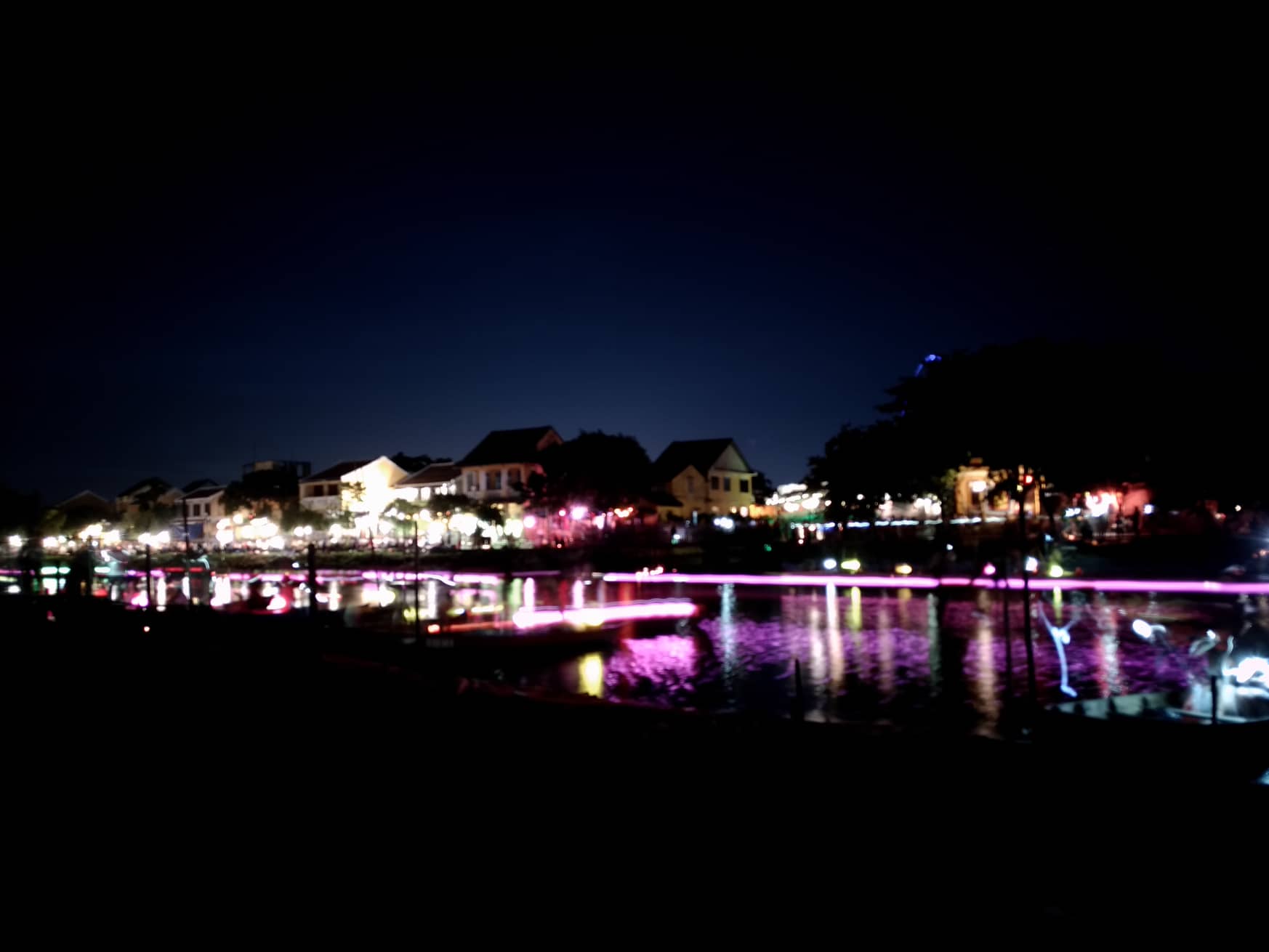 It may seem as though I've covered this already but Hoi An Ancient Town by day and Hoi An Ancient Town by night are two entirely different things.
In the evening the museums, old houses and pagoda's close and the lanterns, music and river boats begin. The quiet peaceful Ancient town turns into a mass of travellers, vibrant colours and a rather, eclectic, mix of music.
You can hire a boat and float into the middle of the Thu Bon River where you can release your own lantern if you wish, or simply sit by the river and enjoy the view.
Hoi An Anient town restaurants cater to every cuisine. We found Mix, a delicious Greek restaurant to be fabulous. We went there with an Australian woman of Greek heritage who warned she was quite particular about her Greek food. She raved about the food at Mix so that's a good indication of how delicious it is.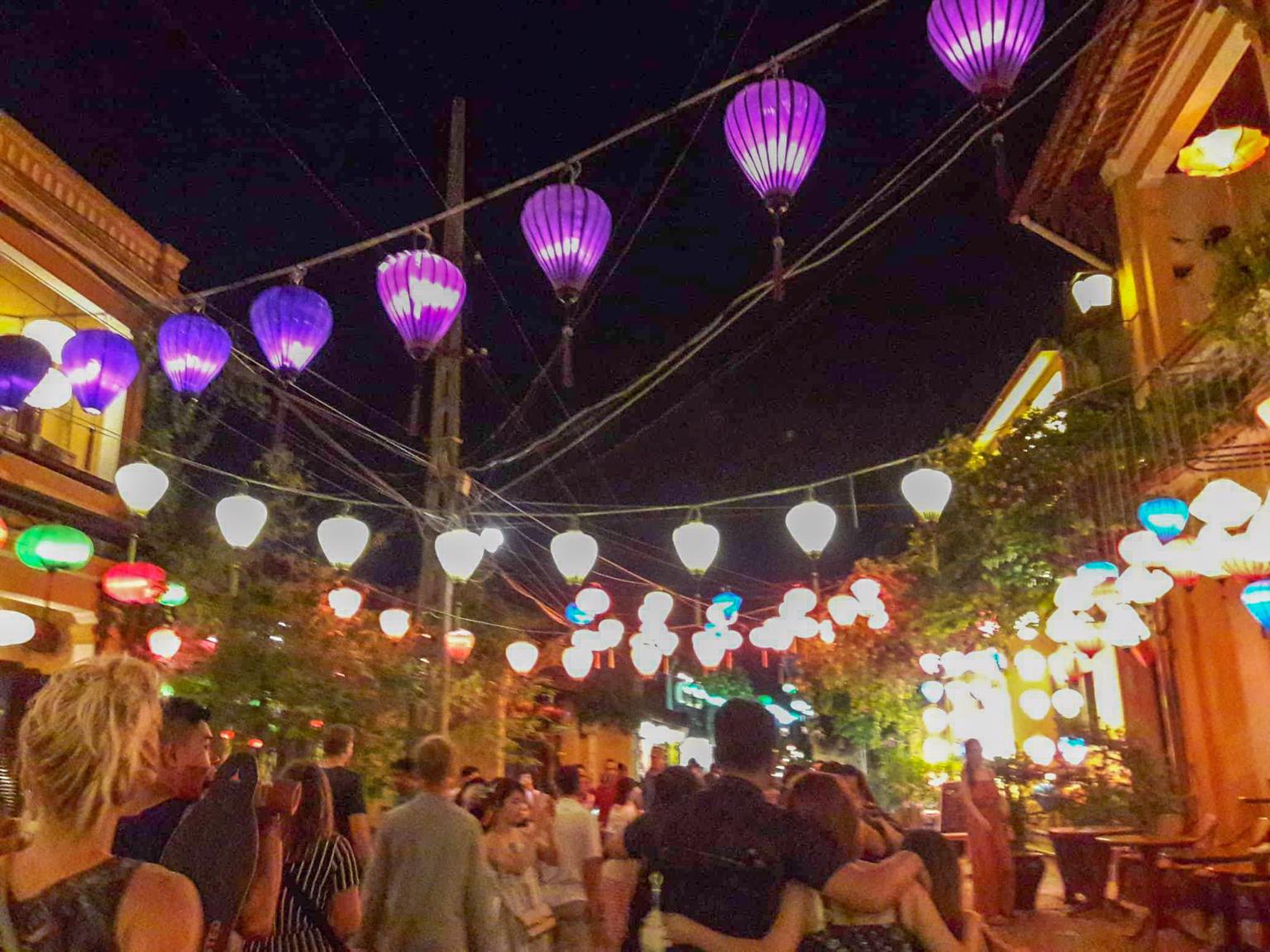 If you're looking for bars, there are many lining the far side of the river. There is a strange music situation where it seems anyone can approach the computer and play a song of their choice off of itunes. I haven't come across anywhere in the world where you can hear a reggae mix of Whitney Houston's 'I will always love you', followed by Britney Spears, a hip hop song, then Billy Joel and some hardcore dance track.
If you're looking for things to do in Hoi An at night and happen to be there for the Lantern Festival make sure you check it out. Its a spectacular sight. Its officially only once a month, although you'll find that it's a bit flexible these days. Here is a great guide on the festival and official dates.
Visit the Precious Heritage Museum
The Precious Heritage Museum is a free museum, and was actually our favorite thing in Hoi An, aside from the Ancient Town itself. Quite frankly, this is an unmissable Hoi An highlights if you love photography, culture or textiles.
French photographer Rehahn has spent 7 years living in Vietnam and travelling to some of the most remote ethnic groups in the country, having met 45 of the 54 Vietnamese ethnic groups and many of the sub groups. His photos have been published in the largest publications around the world, such as Conde Nast Traveller and National Geographic.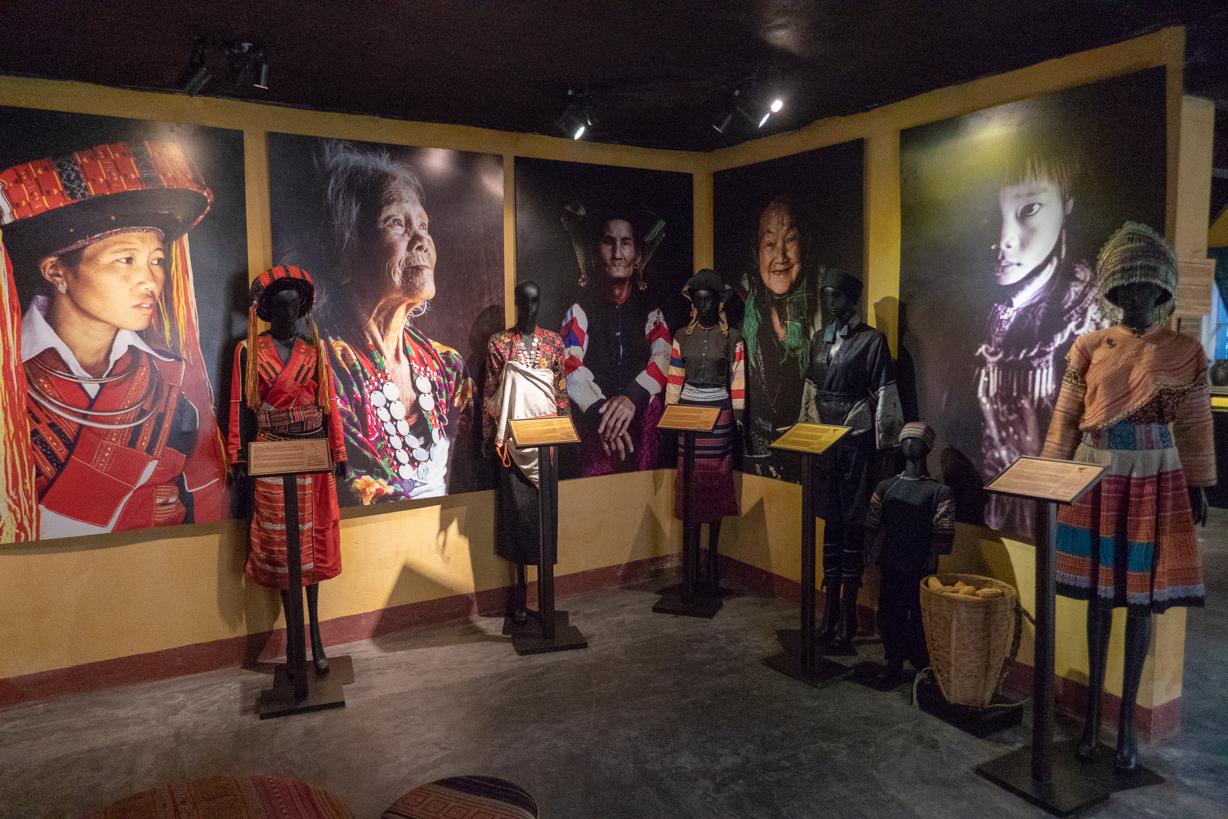 The front room of this stunningly beautiful and surprisingly large museum is dedicated to his photography. His photos are enchanting and you will find yourself smiling or maybe shedding a tear as you read the descriptions.
As you move into the back of the museum you'll find an enormous collection of the traditional outfits for many of the ethnic groups. In some instances these are quite literally the very last complete traditional outfit in existence.
He manages to get a photograph of a villager in each of the outfits and provides a short anecdote of how he came to find the particular ethnic group, some of the challenges they face, or simply of the people he met.
Its absolutely fascinating and a must see as far as we are concerned.
The best Bahn Mi in Vietnam – Bahn Mi Phong
If you've been in Vietnam for any length of time you've most likely tried Banh Mi. I don't think we have ever had a bad Banh Mi, although some stand out as being better. Bahn Mi Phong takes it to a whole new level. As far as Hoi An highlights go, this one is a foodies dream.
You know it must be good when foreigners and locals alike form a que 20 people deep. As you patiently (Ha!) shuffle forward in the line the menu comes into view but it isn't until you're standing in front of 4 or 5 ladies using chopsticks to layer fresh, succulent ingredients into a baguette like its an art form, that you really start to feel excited.
I like to try a lot of different things but I was so enamoured by the Grilled Pork that that was what I ordered, every time. Fresh herbs, delicious pork meat, some other pork trimmings, some crackling, some type of chilli sauce or sambal… all layered like a masterpiece. Delicious and only 20000 VDN!
The line at the front is for takeaway Banh Mi. If you push through the line there is a small restaurant inside where you can sit and eat.
Hoi An Bicycle tour
We did not personally do the bicycle tour because honestly, I am a danger to society on a bicycle. We've met plenty of people who did do the tour however and they have had nothing but great things to say about it.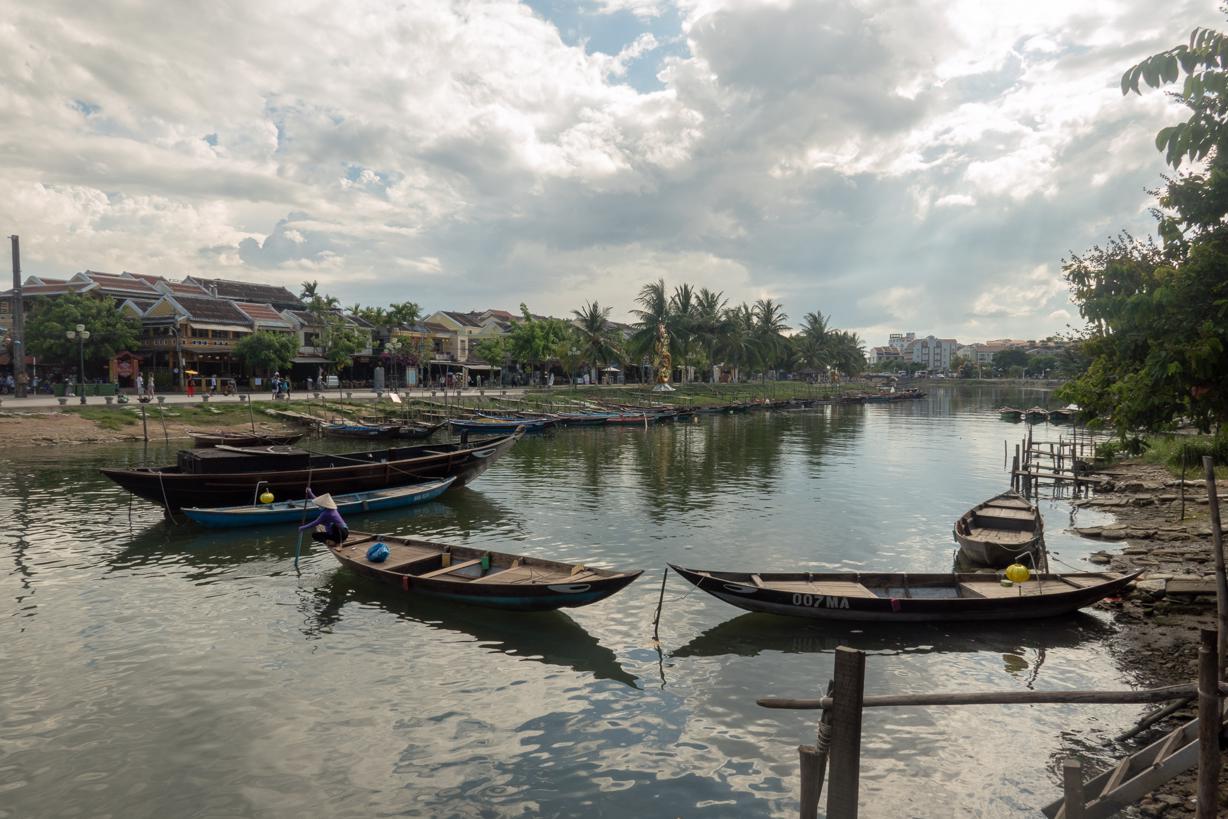 The tour itself is free as it is run by university students who simply want to interact with foreigners and practice their English skills. All you need to pay for are you entry fees and bike rental.
Find out more about the Hoi An free bike tour.
Where to stay in Hoi An?
There are really two options for staying in Hoi An. Option 1 is to stay around An Bang beach, about 10 minutes from the Old Town. The other option is to stay around Hoi An Old Town itself.
Near An Bang beach, the Under The Coconut Tree Home Stay is fabulous, located in beautiful garden area within walking distance from the beach, the kitchen here is also fantastic.
The Vinvi Villa Hoi An, located only a few hundred meters from the center of the Old Town is a beautiful and conveniently located Hotel that is only a few hundred meters walk into the Hoi An Old Town.
How many days in Hoi An?
How many days you spend in Hoi An will really depend on whether or not you do any of the popular day trips to places like the My Son Sanctuary, Cham Islands or the Hai Van Pass.
You can cover much of the Hoi An highlights in a couple of days. I would then add an extra day for each day tour that you are doing. If you're like us and fall in love with the beauty and relaxed vibe of the Ancient Town, its not hard to stay for much longer. We coined a term at our hotel as we watched people continue to extend their stay, we joked that 'another one has been lost to Hoi An'.
Where to go after Hoi An?
If you're heading south towards Ho Chi Minh City, Nha Trang or Dalat are your next options.
We arrived in Hoi An from Dalat. Its a 12 to 15 hour sleeper bus ride. We spent 2 amazing days exploring the waterfalls of Dalat by motorbike. We wrote our DIY motorbike Itinerary for Dalat waterfalls so we've done all the planning for you.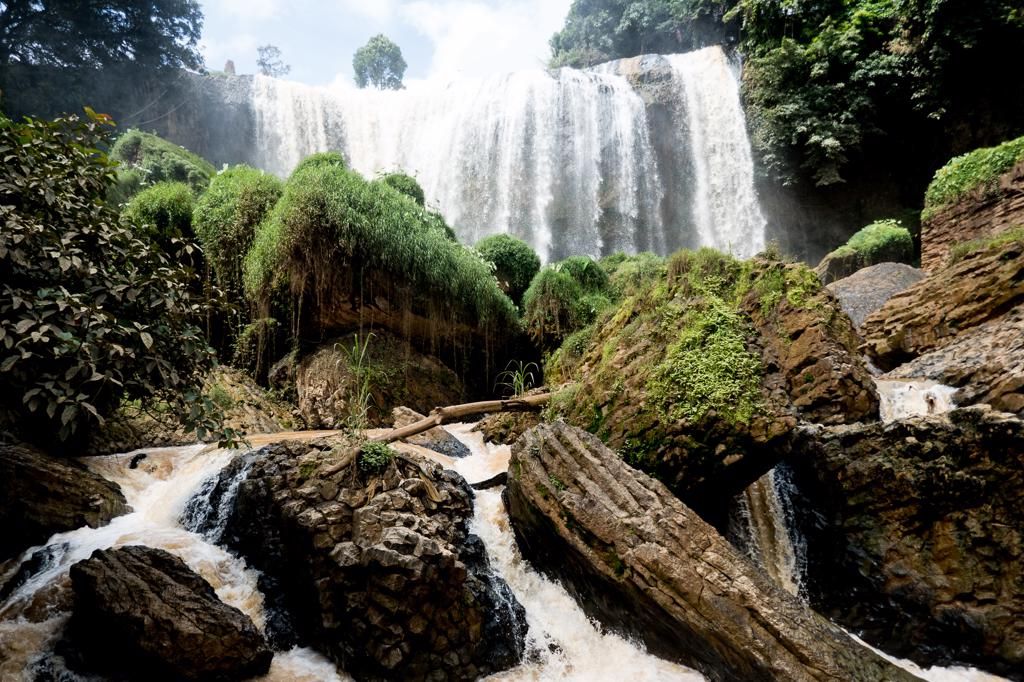 If you're heading north, Hue is the closest city, and its an easy 4 hours from Hoi An to Hue by bus. Here you'll find the Imperial City and Emperors tombs. Not to mention amazing food.
Further north is Phong Nha where you can explore the UNESCO world heritage Phong Nha Ke Bang National Park and cave structures.
Planning a trip to Hoi An? Here is how we start
This article may contain affiliate/compensated links. For more information, please see our disclaimer here.
Like it? Pin it!