When you start planning your trip and look at the images online it can be really difficult to know which of these spectacular waterways, Doubtful Sound vs Milford Sound, you should explore. We couldn't choose and as we had some time, decided to see both. In this article I'll break them down for you and help you decide which sound, Doubtful or Milford, is best for you.
This article contains affiliate links. For more information, please see our affiliate disclaimer here.
Located in the South West corner of New Zealand's South Island is the beautiful, and immense, Fiordland National Park. Fiordland National park is home to mountains, lakes, fiords and dense native rainforest. This spectacular national park is one of the most untouched and fascinating places in New Zealand. It is also New Zealand's largest national park, at a huge 1.2 million hectares.
While there is an endless number of things to see and ways to explore Fiordland National Park, the biggest attractions by far, are Doubtful and Milford sounds. Both of the sounds are actually fjords if we want to get picky.
A fiord is created when a glacier moved and created a u-shaped indent in the rocks and surrounding mountains. As it moves towards the sea it leaves a carved path, and as it bursts out into the sea, sea water rushes in and fills the fiord.
The end result is simply magnificent with tall cliff faces, covered in rainforest lining the edges of a beautiful waterway. It's no wonder that Milford Sound is New Zealand's top tourist attraction, with Doubtful Sound not far behind.
Our opinion: Doubtful Sound vs Milford Sound
If you can see both Milford and Doubtful Sound, do it.
In truth, Ben and I are split! I preferred Milford, while Ben preferred Doubtful Sound.
If you can only see one?
We both agree that if you only have the chance to see one, Milford Sound is it. It is breathtaking.
Read on and we'll outline the reasons why
Exploring Milford Sound
Milford Sound has been called the 8th wonder of the world and I wouldn't argue, it is a stunning, pristine spot.
Milford Sound is the only sound in New Zealand accessible by road. Whether you take a coach tour, or drive yourself it's an incredibly beautiful drive along Milford Road. Milford Road is also known as State Highway 94.
We booked an early tour so we didn't really have time to stop a lot on the way there. We had our campervan and could take as long as we wanted on the way back.
Truth be told it was lucky we didn't stop too much because we hit the Milford Road traffic anyway. The road is notoriously slow as you get closer to Milford Sound and the car parks.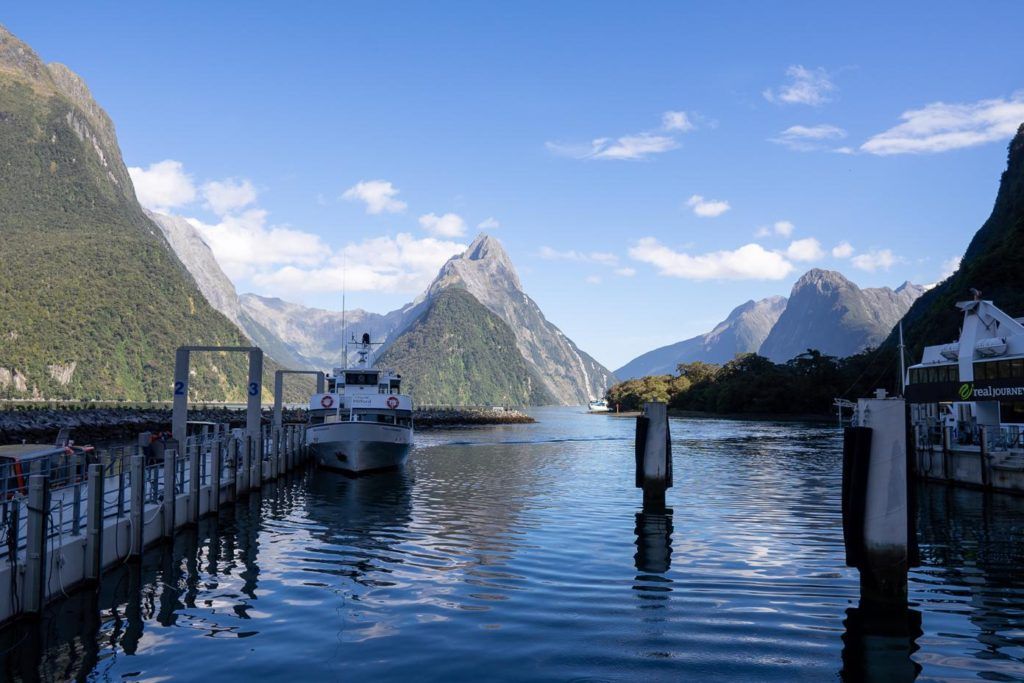 I really dislike running late, so I was getting stressed which wasn't helped by the ticket inspector at the car park entry who told us we were late and directed us to rush to check in.
We were really happy when we'd parked the camper and an employee from one of the tour companies pulled up beside us. He was at the car park entrance and heard we were late. He offered to drive us to the check in point and drop us off. Brilliant!
Once in the car we found out he worked for Cruise Milford. This as it turns out, was the company our tour was with. I have to say, the kind employee was a great introduction to a company that did not disappoint.
A few minutes later we were checked in and waiting to board our Milford Sound cruise boat.
The path carved by the glacier is narrow, and the enormously tall, steep cliff faces lining the sides of the fjord tower over you as cruise between them. It feels grand and dramatic, and yet intimate and close.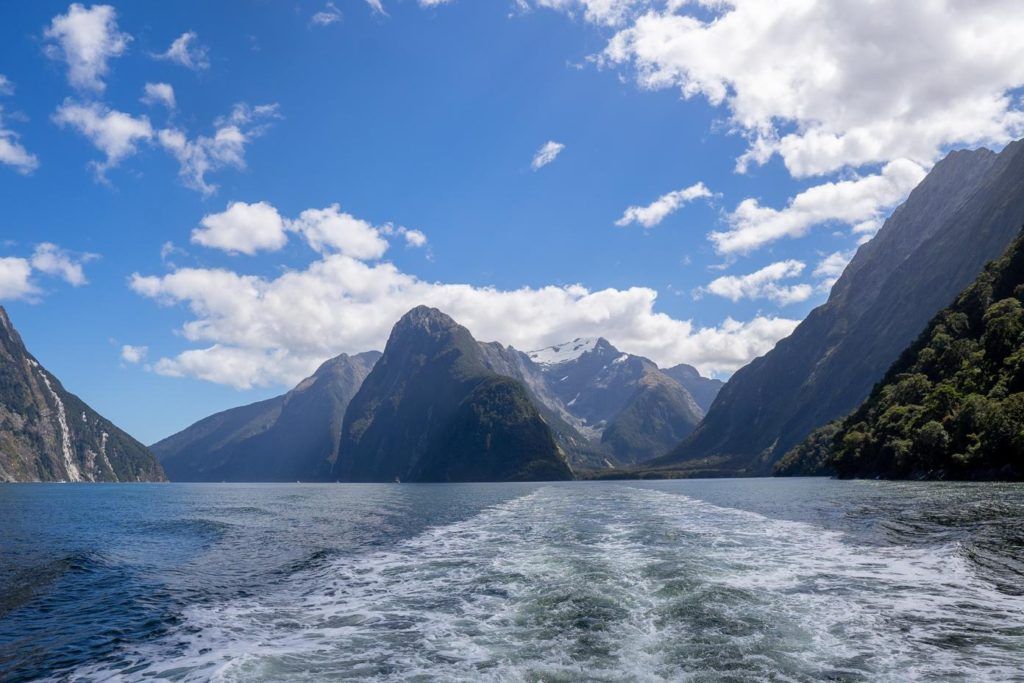 We had a beautifully sunny day for our tour. Milford Sound is actually one of the wettest places in the world so we were lucky. The sun was shining and the intense enormity of the mountains and rain forest covered cliffs was just amazing.
With all the rain, there were a lot of waterfalls. There are two permanent waterfalls in Milford Sound, the Lady Bowen Falls and the Stirling Falls. Many other temporary waterfalls run as the rain forest and cliff moss release all the rain they're holding.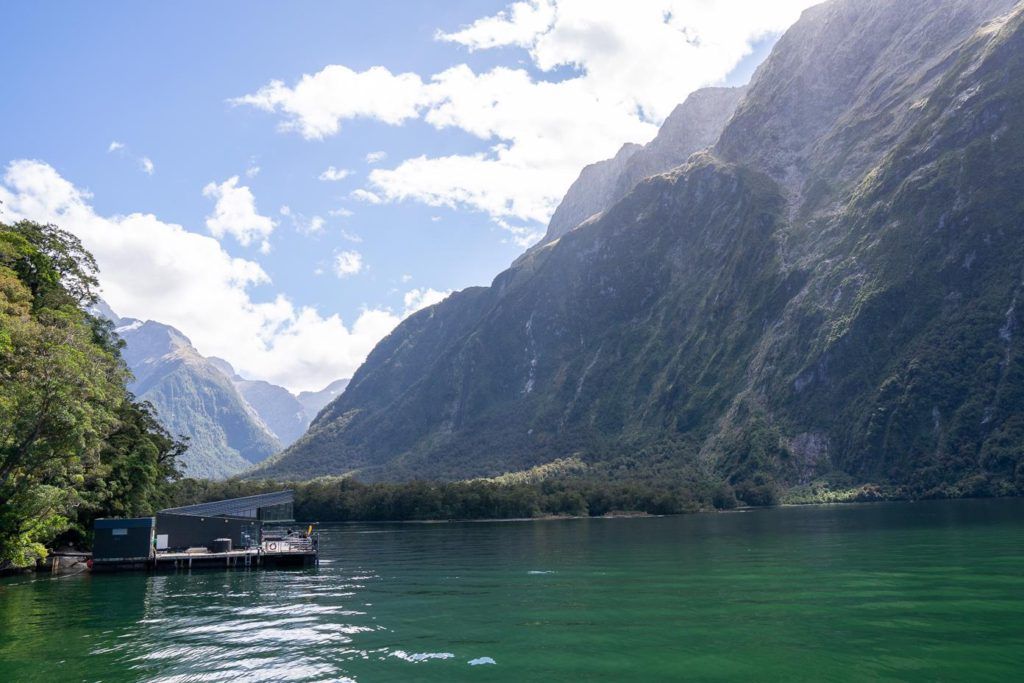 The Captain explains all of the features of the fjord as you cruise along, and it seems all the cruise boats make a quick stop at the Lady Bowen falls for an up close and personal experience.
The dark, inky water mysteriously hides an abundance of marine life with animals such as seals, penguins, bottle nose dolphins and even whales regularly seen at the mouth where Milford Sound meets the sea.
The spot where Milford Sound and the sea meet can get quite rough. As we had great weather we were able to go quite far out before turning around and returning the same way.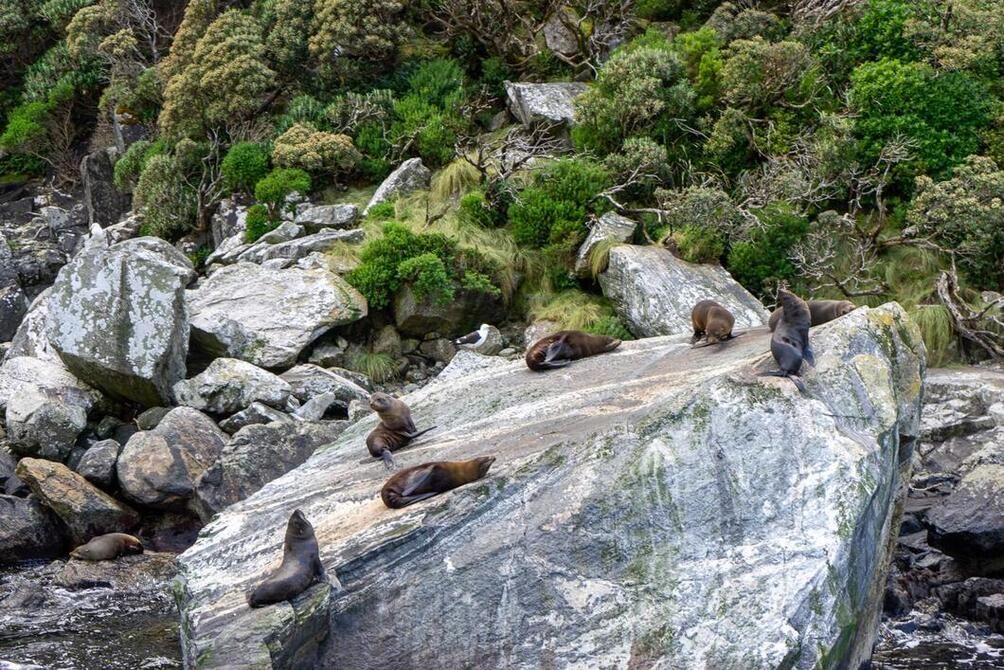 Back on land, we walked some distance back to the camper (thank you again lovely Cruise Milford employee) and began the drive towards Queenstown. Queenstown was our next stop after Fiordland National Park.
Doubtful Sound vs Milford Sound – The pro's and con's for Milford Sound
Milford Sound Pro's
The sheer magnitude of the cliff faces, the waterfalls, the mountain tops is unbeatable. You feel so small floating amongst them.
Milford Sound is the only Sound in New Zealand that is accessible by road. This makes it easy to visit via a tour from Queenstown or Te Anau, or by driving yourself.
Driving Milford Road, also known as State Highway 94 is an experience in itself and you'll find yourself, or the tour bus stopping regularly for photo's. There are beautiful views of the surrounding snow capped southern alps and the beautiful Mirror Lakes to view.
Milford Sound Con's
As New Zealand's number one tourist attraction, don't expect to be the only people there. There will be plenty of other tourists and tour boats on the water.
The other downside of the busyness is that the road in and out often becomes quite congested, particularly during peak season.
The road can suffer damage from landslides, mudslides, avalanches and floods during the winter.
The Serene Doubtful Sound
If you have the time, you will never regret seeing both Doubtful Sound and Milford Sound.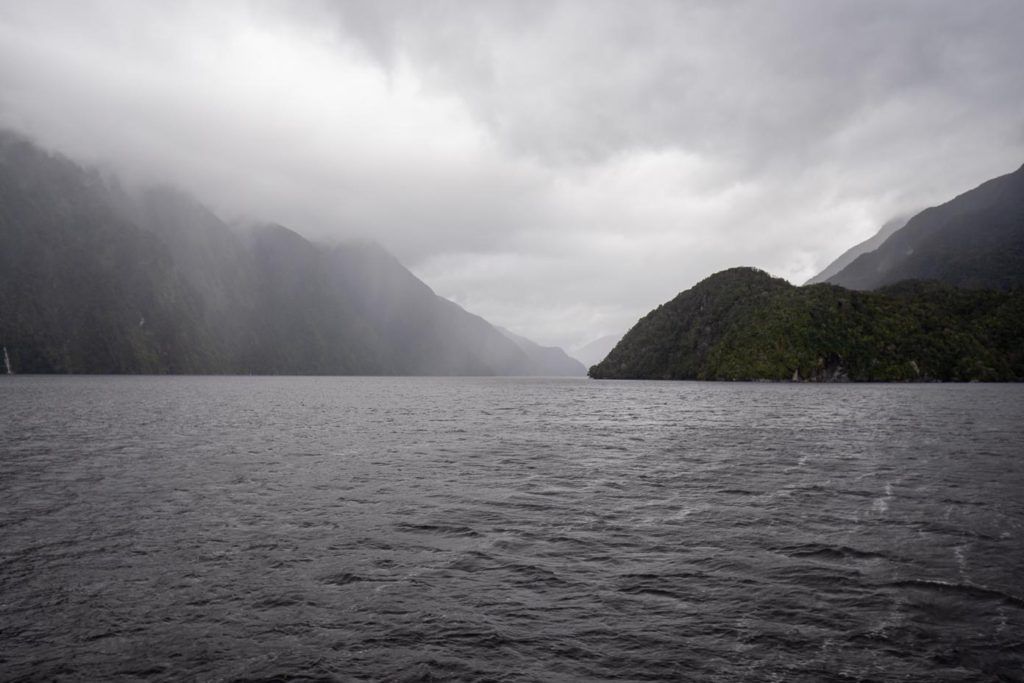 Doubtful Sound is located in the southern portion of Fiordland National Park. It is larger than Milford Sound and at 40km is the second longest of the fjords.
The only way to see Doubtful Sound is by tour, as there is no official road linking with it.
We booked a tour with Real Journeys and it began in their office in Te Anau where we waited for the bus.
Once on the bus, we drove to Manapouri where we boarded a boat that cruised over the beautiful Manapouri Lake.
There is one road, the Wilmot Pass, that accesses Doubtful Sound, and it belongs to the Hydro Electric Plant that operates in the area. After our trip across the Manapouri Lake, we boarded a second bus that heads along this service road to Doubtful Sound.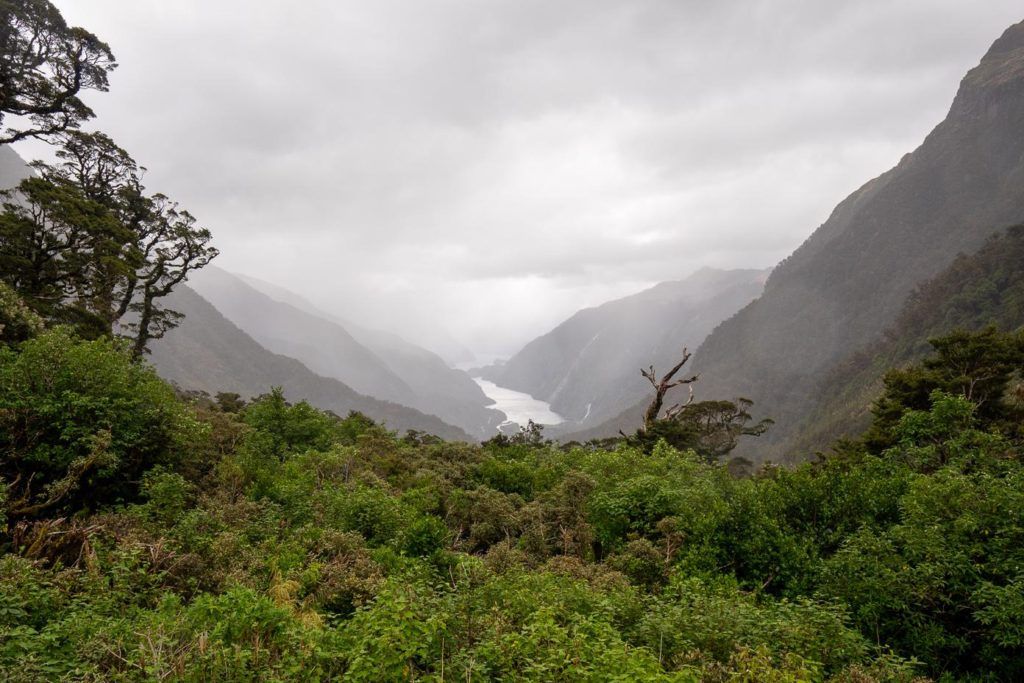 The views on the drive are beautiful as you weave down the mountain, you can see the fjord in the valley below.
Once out of the second bus and on the boat, we began a beautiful cruise into Doubtful Sound and one word comes to mind, serenity. It is incredibly calm and peaceful.
Quite a bit wider than Milford Sound, Doubtful Sound doesn't have the height and vertical cliff faces of Milford, but it has this sense of open solitude.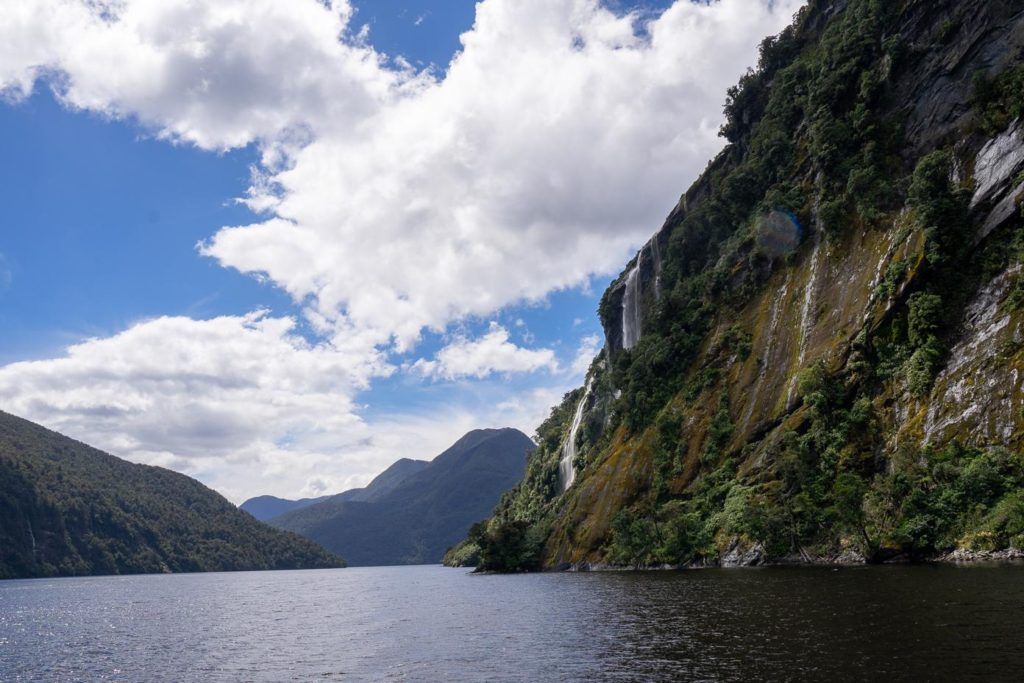 It was a misty, rainy day when we were there and gave Doubtful Sound a magical feel. There were hundreds of waterfalls, gushing down every cliff face.
Like Milford Sound, Doubtful Sound has it's own permanent waterfalls and the Helena Falls and Browne Falls are over 600 meters high.
Unlike Milford Sound which is too narrow, Doubtful Sound has quite a few small islands in it's centre which are home to various species of native flora and fauna.
Wildlife sightings are common in Doubtful Sound which has it's own Dolphin colony. You can also see penguins, seals and often whales such as humpback whales and southern right whales.
There are a lot less people and boats on Doubtful Sound. I'm not sure whether that is the reality or whether it just seems that way because it's a much bigger space but it adds to the calm and quiet.
We sat back in the cabin and simply enjoyed the serene grandeur of this untouched area.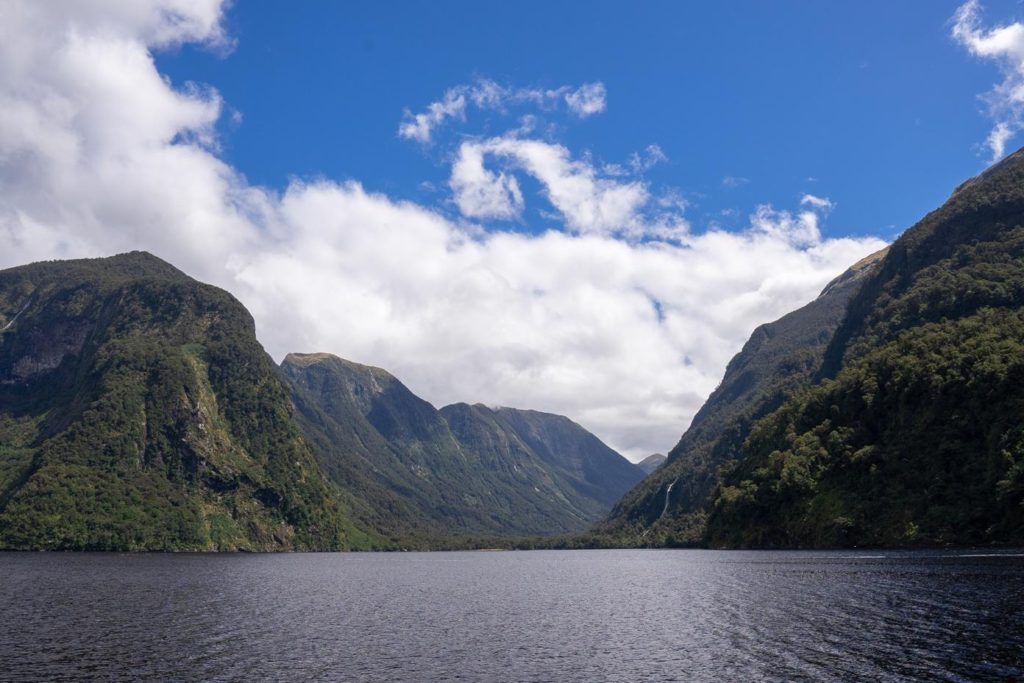 Doubtful Sound vs Milford Sound: Pro's and Con's for Doubtful Sound
Doubtful Sound Pro's
It is so big, as both the second longest fjord, and the deepest at over 420 meters, it's scale is immense.
It is so beautiful and peaceful. The rest of the world just melts away while you get lost in the surrounds.
It is also quieter than Milford Sound with nowhere near as many boats and other people
Doubtful Sound Con's
You have to take a tour, and although all aspects of the tour we took were brilliant, you're looking at a full day, only a small portion of which is actually on Doubtful Sound
The verdict: Doubtful Sound or Milford Sound
I personally couldn't get past the magnitude and grandeur of Milford Sound. The height of the vertical cliff faces, the narrowness and intimacy of the waterway. The mysterious inky black water. It was just spectacular to see, despite being busier than Doubtful Sound.
Ben on the hand, and I don't disagree with him, couldn't get past the serenity and spaciousness of Doubtful Sound. The misty stillness, offset by the hundreds of forceful waterfalls was beautiful.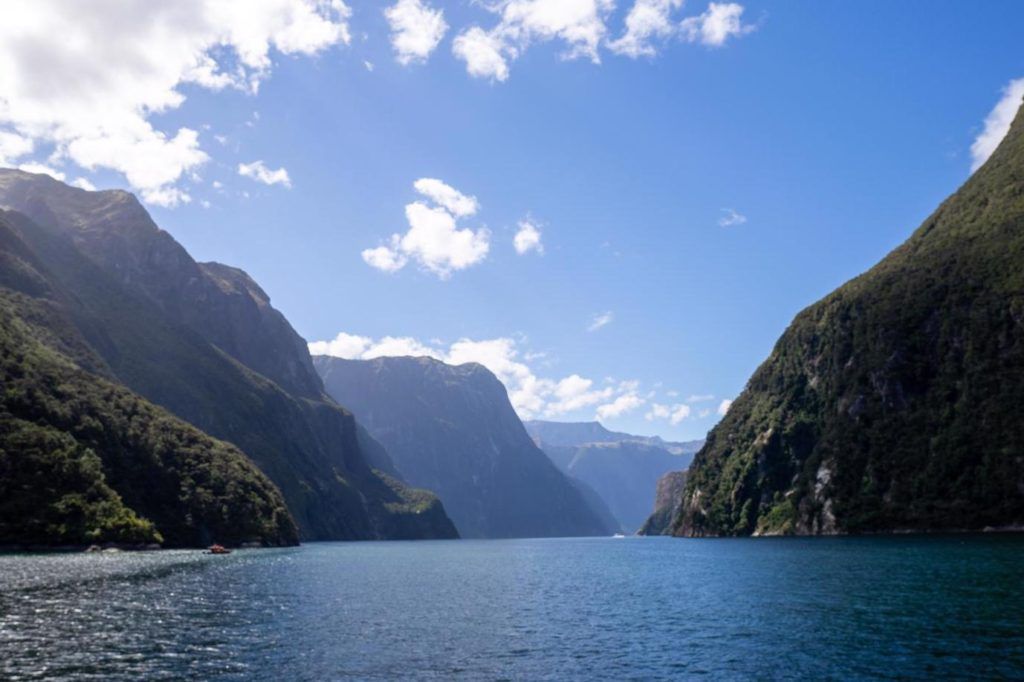 Doubtful Sound vs Milford Sound – Which is better?
If you're only going to see one of the fjords, we both think that Milford Sound is the better choice because you can pack so much experience into a short trip. The drive, the views of the Alps, Mirror Lakes, and of course Milford Sound are all amazing in their own way.
How to see Milford Sound
We booked this tour with Cruise Milford and it was fabulous. From start to finish we were so impressed with the organisation and the quality of the tour. Including the lovely employee who helped us race through the carpark to make it on time for our tour!
We drove ourselves there so we only needed to take the boat, but you can also take some of the best Milford Sound Tours from Queenstown or Te Anau. The buses will stop along Milford Road so you won't miss the opportunity to see the amazing sights.
How to see Doubtful Sound
While you can't drive yourself to Doubtful Sound, you have the option of taking a tour from Te Anau, or meeting the ferry at Manapouri. All this means is that you skip the very first and last bus trip, between Manapouri and Te Anau.
We did this tour of Doubtful Sound from Te Anau where we were picked up and dropped off at the Real Journeys office. Again, we were really happy with how smoothly everything went, despite all the moving parts of the day.
Best time to visit Doubtful Sound and Milford Sound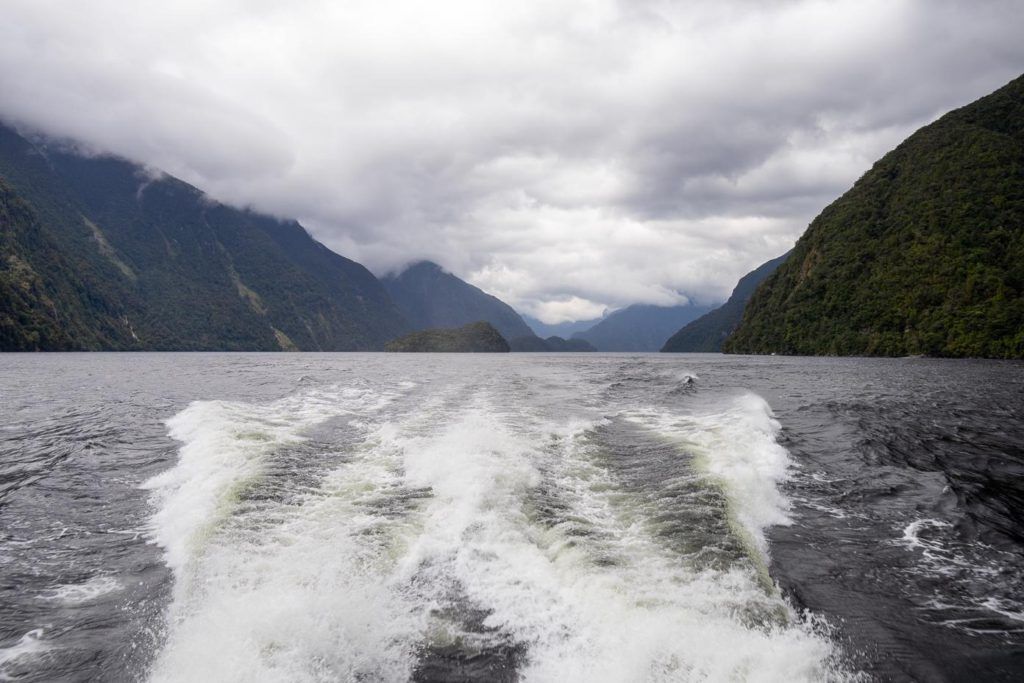 Both Milford and Doubtful Sound are spectacular at any time of year.
Milford Sound is one of the wettest places on earth, and that rainfall is fairly evenly spread so there's a fair chance it will rain whenever you go. That being said, December and January do have slightly, oh so slightly higher rainfall.
This increase in rainfall is not a negative however because rain creates the powerful temporary waterfalls that line the cliff faces.
Peak season for New Zealand and therefore both Doubtful Sound and Milford Sound is November until March, so if you want to avoid the crowds, particularly at Milford Sound, then winter is probably best, although make sure you're wearing thermals and have a wind breaker jacket. It'll be cold!
A quick FAQ
What if I still can't decide between Milford Sound or Doubtful Sound? Is there a Milford Sound and Doubtful Sound package?
Unfortunately not, there are is no Milford Sound and Doubtful Sound package. That's ok though, you wouldn't be able to see them properly in the same day anyway. If you want to see both, I'd recommend basing yourself in Te Anau and booking separate tours that leave from there. You can book a Milford Sound tour coach to take you to Milford Sound and back for one day and then a tour of Doubtful Sound the next day.
Is Milford Sound worth it?
A resounding yes. If you love nature and spectacular natural attractions then a Milford Sound Cruise is absolutely worth it. It's really one of the must have experiences on the South Island
How long is a Milford Sound Cruise?
There are a few different options for the duration of Milford Sound Cruises. Most cruises last 1-2 hours. If you want to include the underwater observatory, which I absolutely wish we did, then you can book combined tours which take about 3 hours. There is also the option of overnight Milford Sound cruises.
What to wear to Milford Sound?
Layers! In New Zealand the answer is always layers! It can get quite cold and windy out on the deck of the boat. A glove and scarf are useful. We had a perfectly sunny day, however Milford Sound is one of the wettest places in the world so it's wise to take a waterproof jacket. Don't let the weather deter you though. You can just as easily sit inside the cabin of the boat and enjoy the view that way.
Where do Milford Sound Cruises leave from?
Milford Sound is it's own destination. There is one road in and out. When you park or get out of the bus you'll see the dock where the cruise boats leave and return.
How far is Milford Sound from Queenstown?
It's about 3.5 hours from Queenstown to Milford Sound. This makes it a whole day trip by the time you go both ways on the coach and spend a couple of hours on the boat.
Planning a trip to New Zealand? Don't forget these things
You may also find these posts useful
This article contains affiliate links. For more information, please see our affiliate disclaimer here.
I would love to hear from you! If you have any comments or questions, just leave a message below!
Don't forget to pin me for later