We could not wait to walk on a glacier in New Zealand! After a bit of research we found our ideal Fox Glacier Heli Hike tour and booked it. The tour, consisting of helicoptering up to the glacier and wandering around its spectacular formations was incredible. In this article I'll give you all the information you need to have your own exciting adventure and tick walking on a glacier off your bucket list!
This article contains affiliate links. For more information, please see our affiliate disclaimer here.
Fox Glacier heli hike New Zealand
As soon as I saw that I could walk on a glacier in New Zealand I was hooked on the idea. I had never been on a glacier and it sounded exciting. I was even more excited when I realised I could combine it with a helicopter ride by doing the Fox Glacier heli hike. We looked it up weeks in advance, as one of our 'must do' experiences, and it did NOT disappoint.
We woke up the morning of our Fox Glacier heli hike just so excited and ready to go. I had read varying reports on what to wear on a glacier, but as I'm always cold I wore thermals under my leggings and took gloves with me. I wore a long sleeve thermal top, but didn't put another layer on top.
When we arrived at the Fox Glacier Guiding office for our tour, we were a bit disappointed to be told that the weather on the glacier was bad, and that we had to wait a few minutes before a decision was made on whether our tour would go ahead.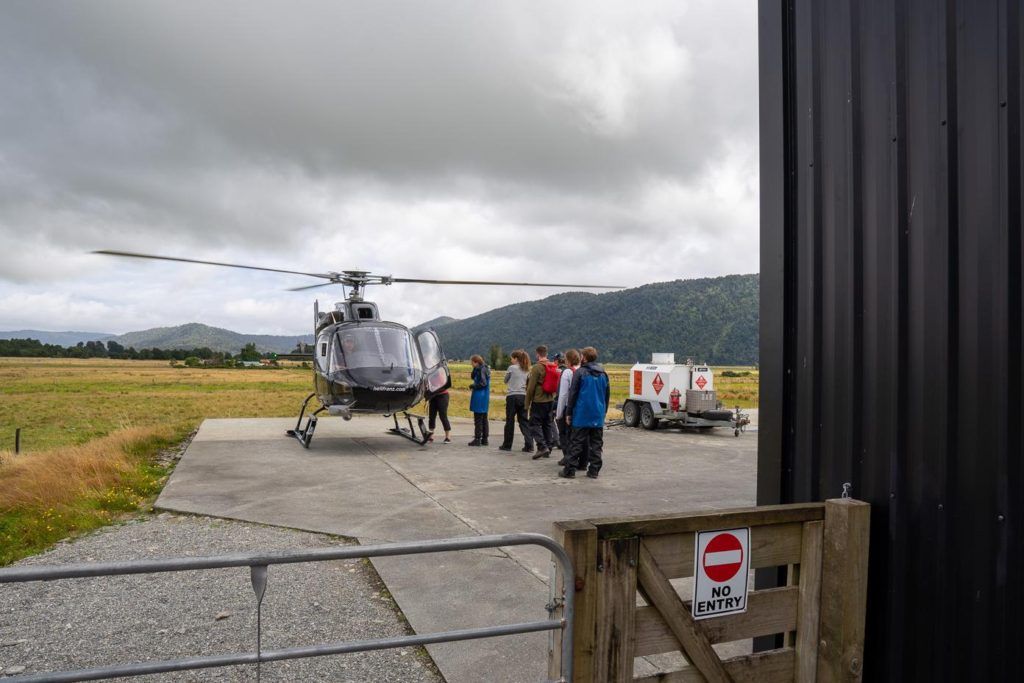 The reality is that weather on the glacier can change quite quickly and the companies are making moment by moment decisions on the viability of a tour. They explained to us that the tour can be cancelled at various stages if the weather changes for the worse. They always er on the side of caution, so you'll vary rarely get up there and have to come back down, but it's possible.
Thankfully our tour was good to go, the weather had cleared up enough and we were checked in and ushered into the back of the building with about 15 others to get dressed.
Everyone gets waterproof pants and a jacket, huge thick socks. There is a strange rule about bags and they'll give you a bag to put your own bag inside.
Once everyone is dressed, there's a bit of a chat and safety briefing before you head to the bus and drive to the helicopter.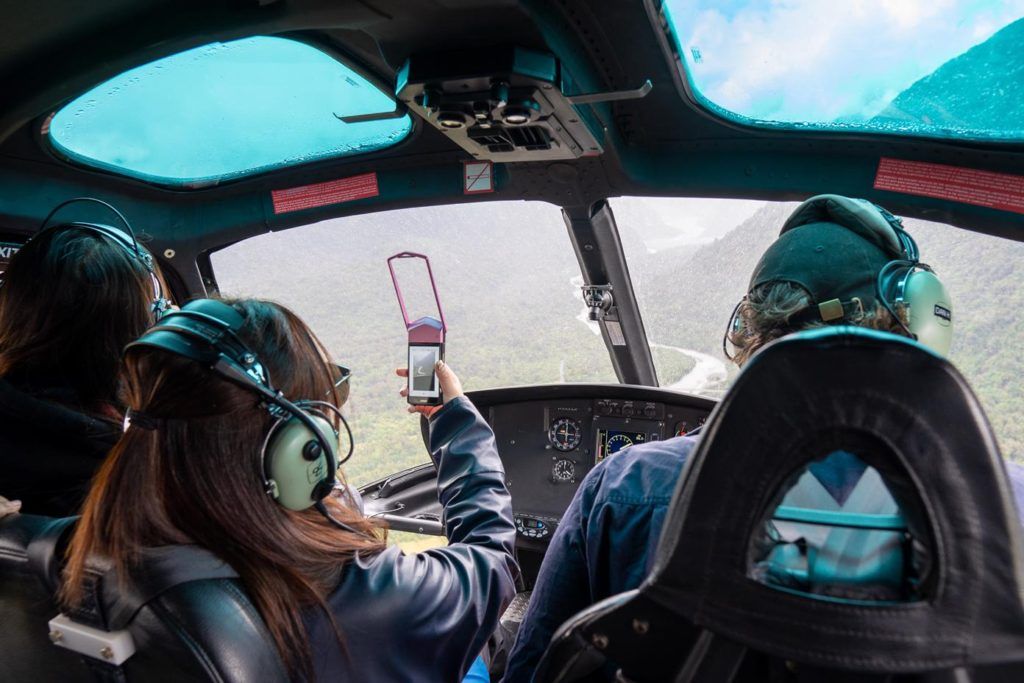 My excited nervousness really started to increase while we were watching helicopters land and leave to take others up to Fox Glacier. Finally it was our turn and although the flight is short, with Fox Glacier being only 5 km from Fox Glacier Village it was pretty cool to be up there. Getting in and out of the helicopter I ducked down really low, because who hasn't seen the movies where the guy forgets about the rotor blades?
Once up on the glacier we got our ice shoes a pole if we wanted it and headed off with our group and guide. Our guide was fabulous, her name was Hannah and from memory she was Canadian. As we walked all over Fox Glacier to see different formations such as caves and little rivers we learned all about Fox Glacier and glaciers in general.
Hannah gave us another little safety talk and explained that in the event that the weather changed and we weren't able to be helicoptered off the glacier, that she was carrying all the supplies we would need to spend the night there if necessary!
This confirmed a crazy story that my hairdresser had told me just before I left for New Zealand. She told me her friend had gone on a heli hike in New Zealand and they got stuck on the glacier for the night! I'm not sure whether I would want to spend the night there, but what a story to tell!
There were a few things that suprised us about being on the Fox Glacier. One was how warm it was! The sun had come out for most of our tour and it was warm. I was actually pretty comfortable with my layers but I was glad that I hadn't worn more.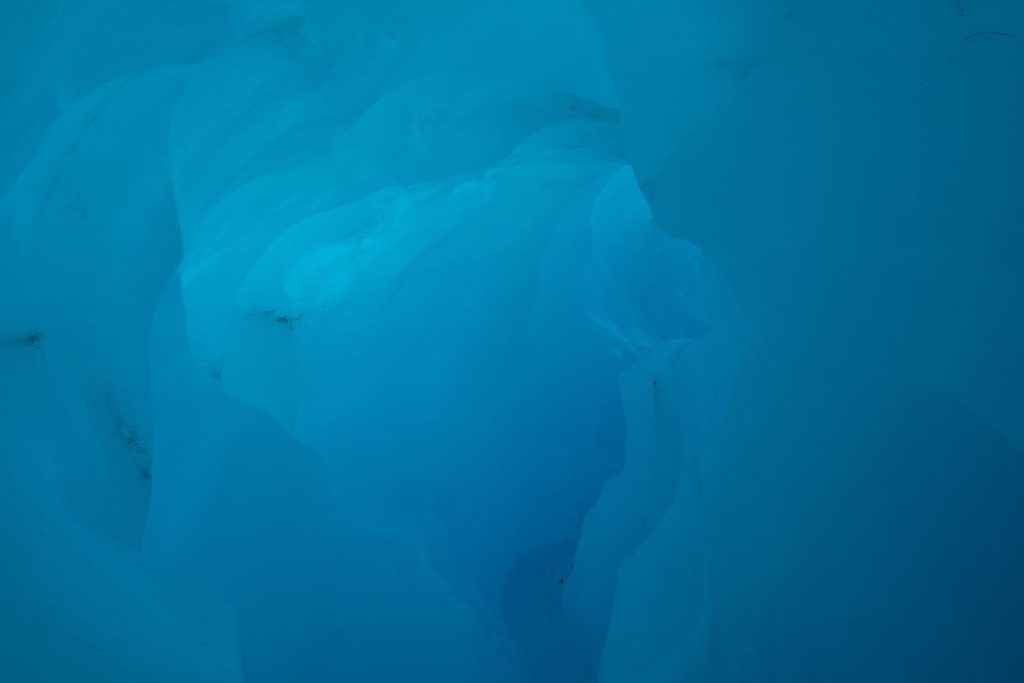 Another suprising thing was just how cool it actually was to see the ice caves, and the deep beautiful clear blue colour of some of the areas of ice. It was genuinely beautiful.
We crawled through arches in the ice, entered ice caves and took the naf but obligatory ice pick photos.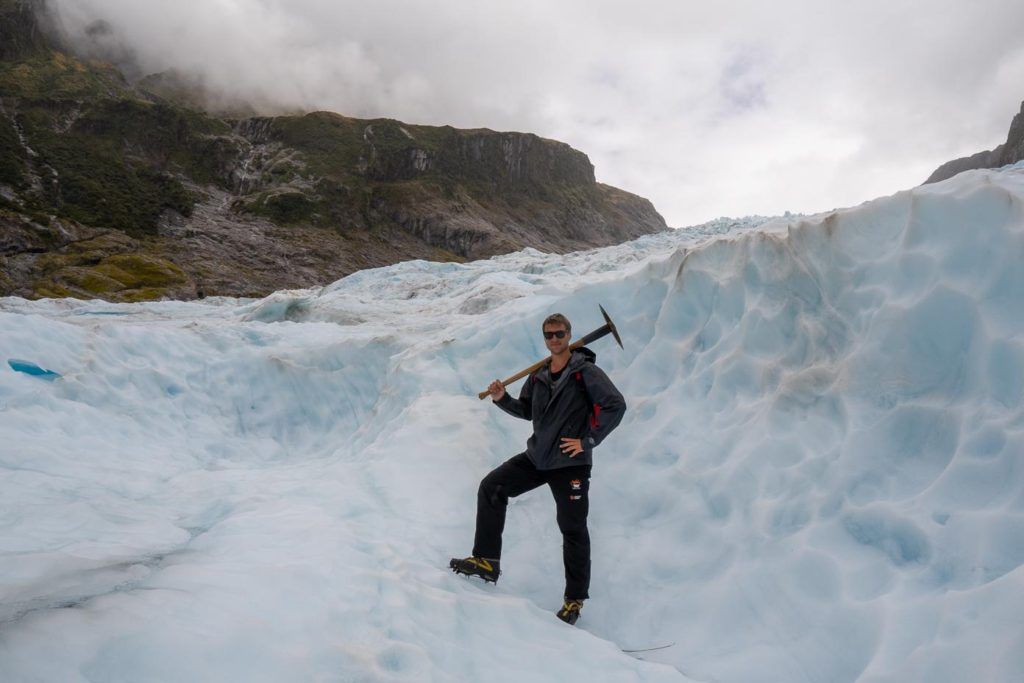 One lovely guy insisted on poking every surface with his ice pole. No matter what we tried to take a photo of, he is in one of the photos poking the structure with the pole.
After a few hours on the ice our tour was coming to an end and we descended the glacier again, back to where the helicopter can land.
The whole tour was incredible. Amazingly well organised, very safety conscious but not in a way that 'controls the fun' and very informative.
What to wear for the Fox Glacier heli hike
With the weather being so variable, and because you have a small bag, I would suggest that more is better. They recommend 3-4 layers of clothing. Bare in mind that you will always have water proof wind breaking pants and a jacket over your own clothes. You can always take something off.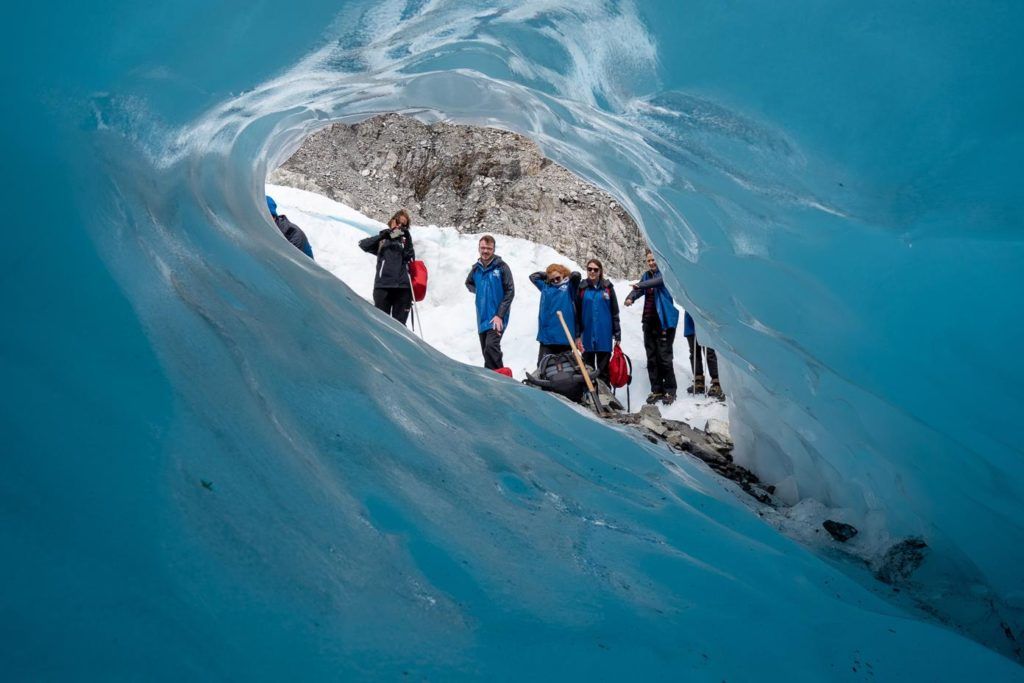 We were there in summer and it was pleasant when the sun was out. It definitely got cooler when the wind picked up.
How does the weather affect the Fox Glacier heli hike
As mentioned, the weather can change quite quickly on the glacier. We learned, and could see, that there is always someone from the company up on the glacier simply watching for the weather.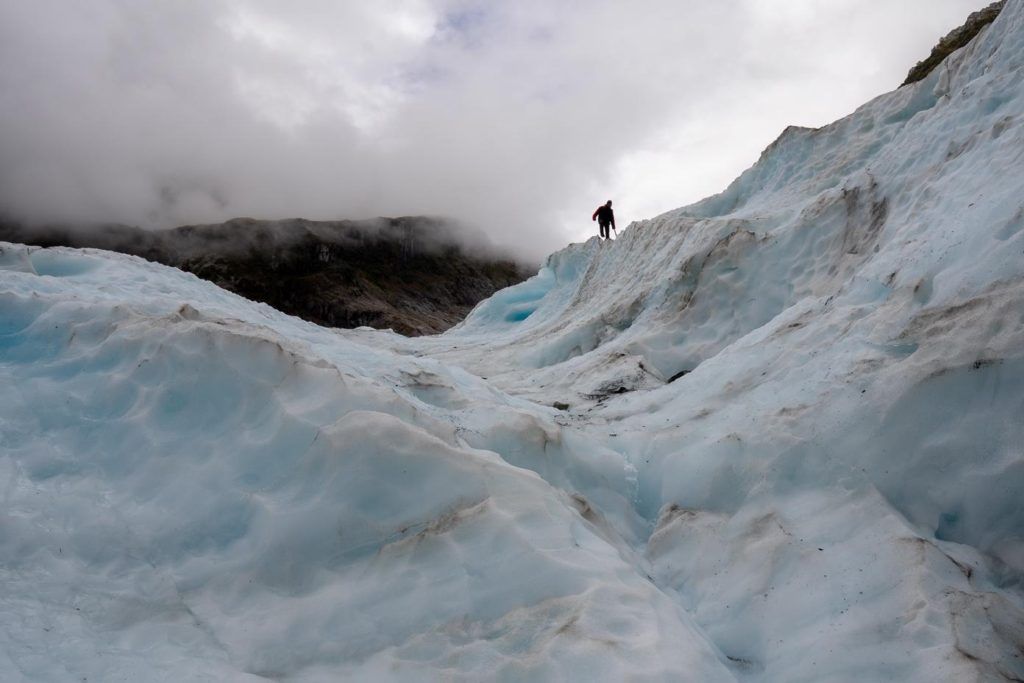 They use their experience and knowledge of the area and relay information on whats coming to the Fox Glacier heli hike tour guides and head office.
Fox Glacier Village
Fox Glacier Village is only 5km from the closer end of Fox Glacier. It's a small little town with around 300 residents but there is plenty to do. With a booming tourism industry, and magnificent local sights and scenery, it's worth spending an additional day or two in Fox Glacier Village.
Other things to do in and around Fox Glacier Village
Explore Lake Matheson
A beautiful lake located only 5km from the heart of Fox Glacier Village, Lake Matheson is famous for its perfect reflection of Aoraki Mount Cook and Mount Tasman, which are New Zealand's two highest peaks. The beautiful snow capped reflections can be seen while doing the Lake Matheson walk along the edge of the lake.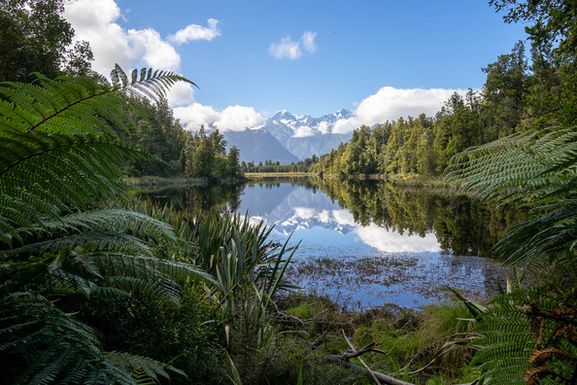 See Glow Worms in Fox Glacier
The Minniehaha Glow Worm walk runs alongside a stream and is a great way to see the luminescent Glow Worms at night.
Starting on State Highway 6, or the main road through the town, you'll find the entrance about 50 meters from the Bella Vista Hotel.
Take a drive to Gillespies Beach
Gillespies beach is about a 20 minute drive from Fox Glacier Village. A popular beach in the area, in winter it is home to a colony of hundreds of fur seals.
No matter the season, any one of the beautiful walks that run around the beach and coast line are worth a try. There are walks of all lengths and difficulties so there is something for everyone.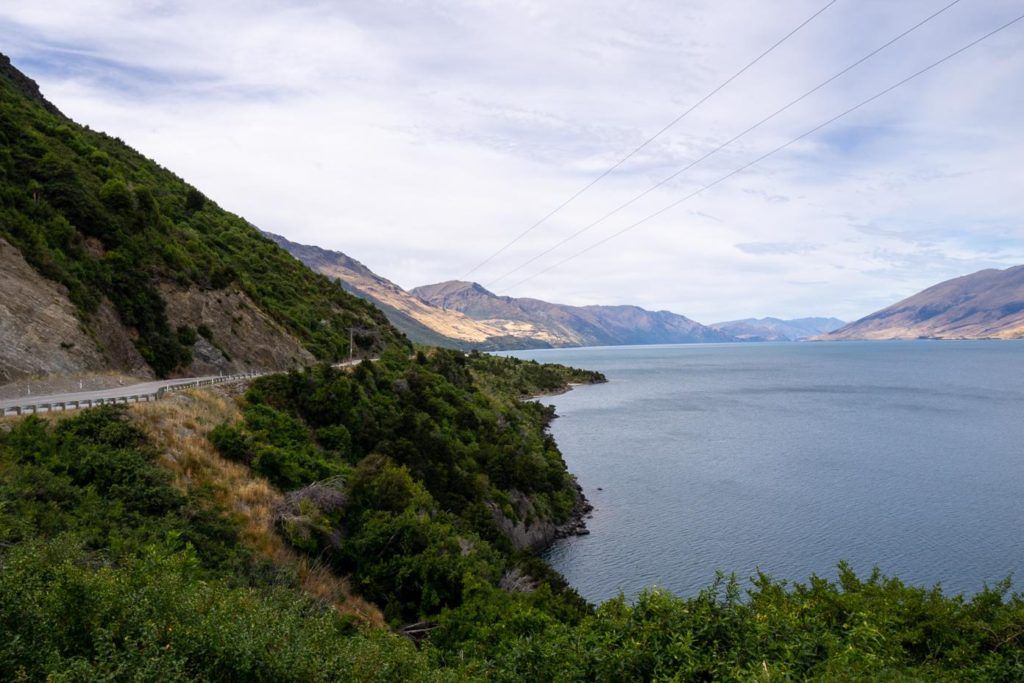 Fox Glacier New Zealand Accommodation
Backpackers in Fox Glacier
The Ivorytowers Backpackers Lodge is only a 4 minute walk from the town and is situated opposite the Westland National Park rainforest and mountains. The great thing about this place is that it has a hot tub, sauna and free wifi.
Hotels at Fox Glacier New Zealand
Bella Vista Accommodation with only a couple of hundred meters from the restaurants and cafe's of the city center. With free wifi and free parking it's a really comfortable stay.
Best time to visit Fox Glacier
The best time to explore Fox Glacier is technically the summer when the weather and temperatures are a little better. Remember this is also peak season so it's a good idea to book your tours in advance!
That being said, it is also possible to explore the glacier in winter. You'll find some of the features last a little longer as it's not as warm, and there'll be a lot less people about. You may want to wear a few extra layers!
If you end up doing a Fox Glacier heli hike, leave a comment below and let us know how you found it. We'd love to hear from you!
This is how we begun when planning our New Zealand trip
You may find these articles useful too
This article contains affiliate links. For more information, please see our affiliate disclaimer here.