Our list of the best things to do in New Zealand
When I first began researching our New Zealand trip, I remember being so overwhelmed with all the options of things to do and places to see. It all looked so amazing. The more New Zealand bucket list articles I read, and 'best things to do in New Zealand' posts I flicked through, the more excited I became, but it got harder and harder to choose. It took me weeks to sort through all the options. I mean, you can't do everything, right? There are time restrictions and costs to consider.
This article contains affiliate links. For more information please see our affiliate disclaimer here.
This article is our honest opinion on the best things to do in New Zealand. This is our completed New Zealand bucket list. It's based on our experience and our five gloriously busy and way too short weeks there.
There are a couple of items on this list that we did not do, but oh boy do we wish we had. We either meant to do them but ran out of time, or budget, or both! We have heard amazing things from others about them so we've decided to include them anyway. I'll make it very clear which ones we didn't do, so don't worry.
Our top picks from our New Zealand Bucket List
Walk the Tongariro Crossing
The Tongariro Crossing was the best walk we did in New Zealand. Hiking through Tongariro National Park across volcanic ground, up and over the spectacular red crater and seeing the gorgeous volcanic lakes was amazing.
We were quite nervous at first because we'd heard such mixed information about how difficult it was and we really didn't know what to expect. While the walk is challenging in parts, its absolutely doable with a average level of fitness.
You'll need to organise a Tongariro Shuttle to get you to the start as you can't park near the beginning of the walk. If you're interested in doing the Tongariro Crossing or exploring Tongariro National Park, we have a full Tongariro National Park travel guide that gives you all the information you need.
New Zealand is perfect for road tripping
If ever there was a country for driving, it is New Zealand. Whether you're in a car or camper van, you will never regret your choice to travel New Zealand in this way.
The roads are great and the drives scenic, the views are incredible. Then of course there is freedom camping. If you haven't considered how you'll get around, we'd recommend a self drive trip!
Enjoy the incredible beaches
New Zealand has an enormous coast line featuring some of the most beautiful beaches you'll see anywhere and no New Zealand bucket list would be complete without them. From pebble beaches, to black or white sand, cliff faces and crystal clear blue water, they are one of New Zealand's best features.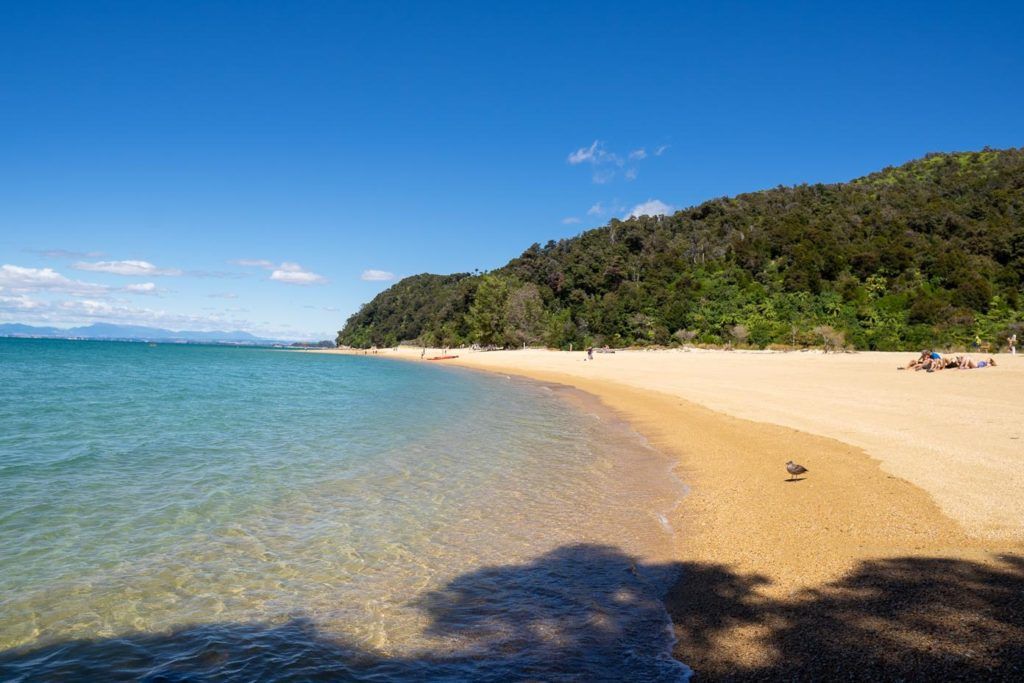 Our favourite beaches
Tapotupotu near Cape Reinga at the top of the North Island
Cathedral Cove on the Coromandel Peninsula can be found at the end of a beautiful 45 minute coastal walk
Hot Water Beach if you want to soak in a hot spring
Kaikoura beach which is also a great place to see seals
Waipati Beach in the Catlins, home to Cathedral Cave
The beaches of Abel Tasman National Park
Walk on a glacier
One of the things that we were most excited about was the opportunity to walk on a glacier. After a bit of research we decided on a Fox Glacier Heli Hike and while it definitely cost a little more than most of our other adventures it was absolutely worth while.
After being helicoptered onto the Fox Glacier, we spent a few hours wandering around with our guide and learning about glacial formations and crawling in and out of glacial caves. It was a lot of fun.
While we did our tour at Fox Glacier, it is also possible to do tours at Franz Joseph Glacier.
We booked this Fox Glacier Heli Hike tour and had a fabulous time.
Soak in the Hot Springs
Hot Water Beach
New Zealand is known for it's many natural hot springs where water that is heated by under ground volcanic activity flows up to the surface. There are many places where you can pay to sit in hot spring 'pools' but two of our favourite experiences were free!
At Hot Water Beach on the Coromandel Peninsula you can dig your own hole in the sand as hot spring water flows in. You'll need to be there up to 2 hours either side of low tide to be in the right spots to dig your hole where the hot water is. It's also helpful to have a bucket or a way you can add some cold water as the spring water can be really hot.
For complete details on Hot Water beach you can see our article on road tripping the Coromandel Peninsula.
Kerosene Creek
Not far from Rotorua and other geothermal attractions such as Waimangu and Wai-o-tapu, is Kerosene Creek, a beautiful flowing creek that moves through the natural landscape and is deliciously warm.
It can get pretty busy so don't expect to be alone but you"ll be able to find somewhere to soak.
Visit the Hobbiton movie set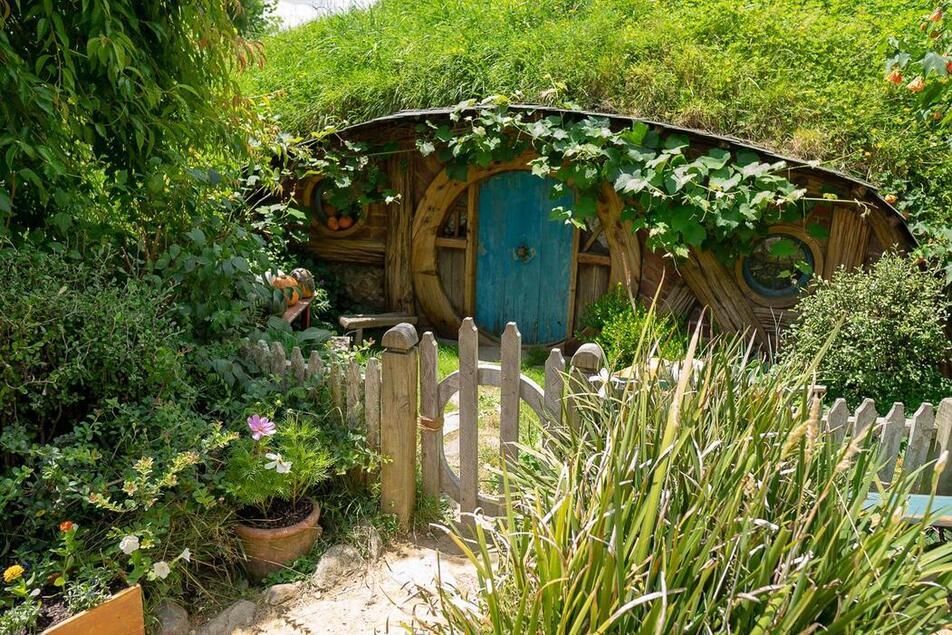 So, full confession, before going to the Hobbiton film set in Matamata I had never seen the movies. I agreed to go to Hobbiton because I thought it would be interesting to see a film set. Let me tell you, Hobbiton is a fantastic tour that you won't want to miss when you're in New Zealand.
The beautiful Hobbiton set is located in the middle of a working farm. Catch a bus from Shires Rest to the set through rolling green mountains before wandering the set.
One of the things that we found interesting was that the gardens and surrounds are all real. There are beautiful flowers and vegetables growing everywhere. It's very pretty.
On your tour you'll learn some tricks of the film trade and different tactics they used to film the movie. It's a great day for everyone, whether you're into the Hobbits or not.
Cathedral Cave and the Catlins
Located in the south east corner of the South Island, the Catlins National Park is a spectacular region with beautiful untouched wilderness and incredible natural attractions. Apart from the Nugget Point Lighthouse which we'll cover separately, Cathedral Cave is a must.
You'll need to arrive at low tide to access the cave. It's about a 45 minute walk from the car park, through natural rainforest, before reaching the beach.
We only had one day to see Cathedral Cave and low tide was at 7am so that's when we arrived. We were the only people on the beach and it was so beautiful. The cave is not huge but very pretty and the views of the surrounding rain forest and beach are spectacular. It should definitely be on your New Zealand bucket list!
Visiting New Zealand's lighthouses
Cape Reinga Lighthouse
Located at the very top of the North Island is Cape Reinga Lighthouse. While the Lighthouse is cool, the real beauty lies in surrounding area. The drive to Cape Reinga is beautiful with spectacular coastal views – sheer cliff faces, white sand beaches and azure coloured sea. It was our first introduction to how beautiful New Zealand was and it did not disappoint.
Nugget Point Lighthouse
Near the bottom of the South Island in the Catlins National Park is Nugget Point Lighthouse. Surrounded by forest and rocky outcrops, and home to seals and bird life, the area surrounding the Nugget Point Light House is dramatic and intense. It is well worth a visit.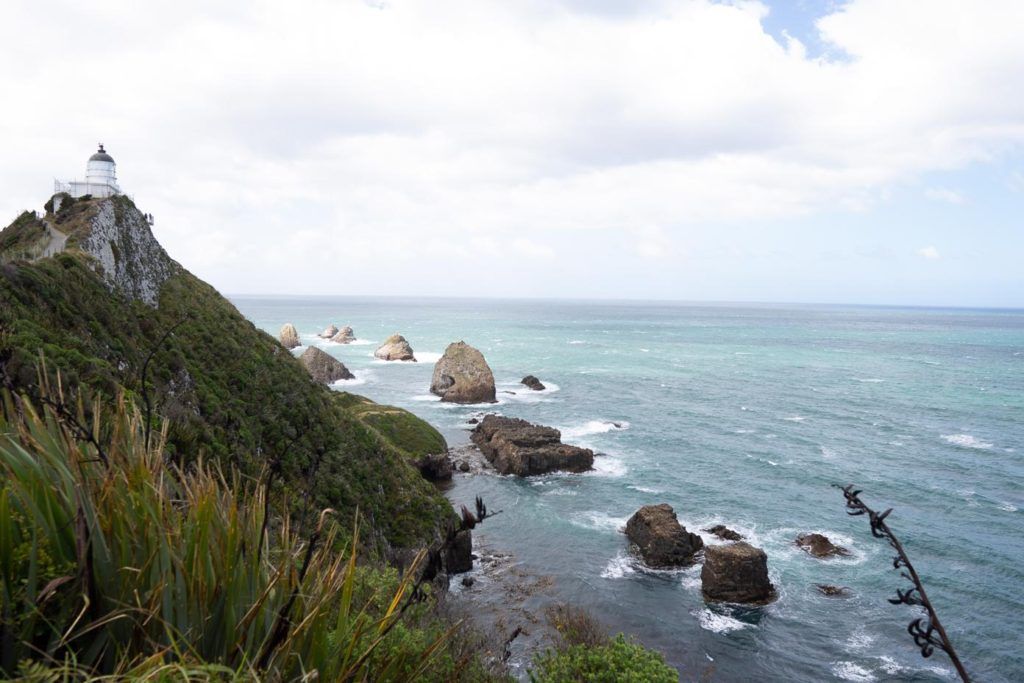 Get up close to birds and marine life
You never really have to go very far in New Zealand to see an array of unique native birds and large numbers of marine life.
Native Birds
New Zealand has no shortage of native and endemic species of birds, most of which are ground dwelling. If you spend some time in the National Parks you'll probably come across Kea, or Weka.
We personally saw Kea on the road to Milford Sound. We were sitting at a look out point, eating lunch and minding our own business after our Milford Sound Cruise, when I realised that all the other tourists in the area were staring at us and starting to encircle our camper van. We had a few awkward moments until we heard the sound on our roof and realised what was happening!
We came across quite a few Weka in Abel Tasman National Park while doing the first few hours of the Abel Tasman Track. On the track itself we saw a mumma Weka and her baby.
One of New Zealand's most well known birds is the Kiwi Bird however as it is nocturnal and endangered, it is the most difficult to see in the wild. We went to Rainbow Springs Nature Park in Rotorua to see Kiwi's and learn more about them.
For an extra $10 NZD you can do a little tour where they take you behind the scenes and teach you about Kiwi's. It was actually pretty interesting.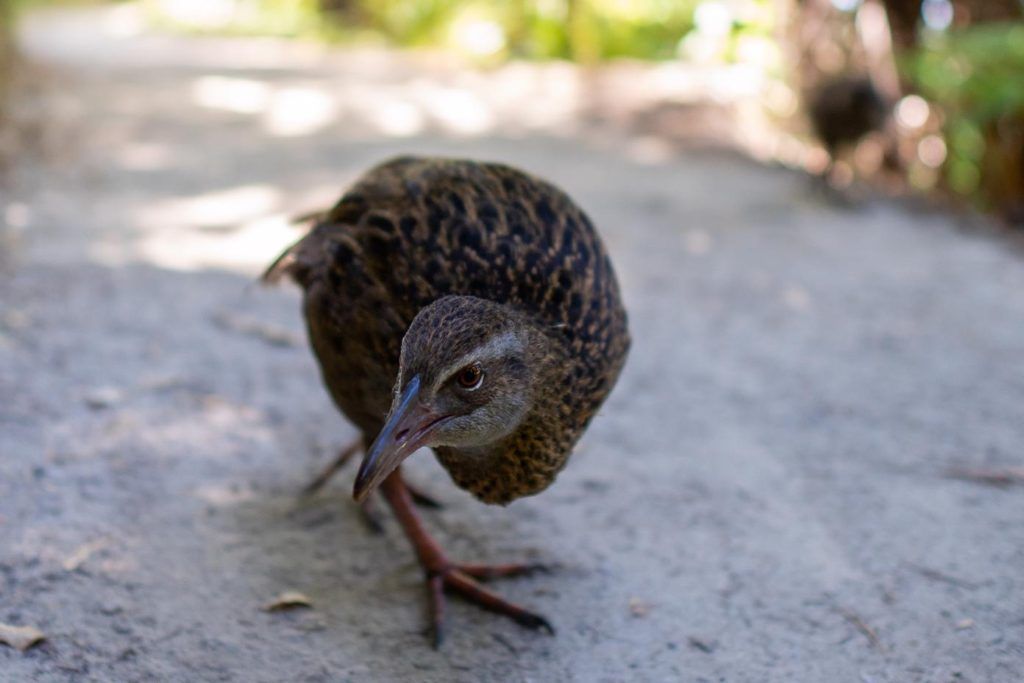 Marine life
One of the greatest things for us was being able to get up close (but not too close!) and personal with marine life such as seals for free. They are almost everywhere along the coast of the South Island.
These are the best places to see seals
The Ohau Point Seal Colony near Kaikoura
Point Keen Seal Colony in Kaikoura
Dunedin
In Milford Sound
It is also possible to see Penguins, although you need to be there are sunrise and sunset, and unfortunately we always missed them.
Some of the best places to see Penguins on the South Island include
Take a boat ride on Milford Sound
After exploring both Milford and Doubtful Sound it is easy to see why this area is New Zealand's top tourist attraction. With it's incredibly steep almost vertical cliff faces and narrow fjord, Milford Sound will not disappoint.
Many people don't realise that there is more than one "sound" in New Zealand. Doubtful Sound, also in Fiordland National Park is different to Milford Sound in that it is larger, more open and less dramatic, although it is also incredibly beautiful.
We'd recommend seeing both, although if you don't have time, we'd suggest this tour of Milford Sound, which is the one we did. We also wrote an article comparing Doubtful Sound vs Milford Sound to help you choose for yourself!
Admire the mountains
I have a confession which some find strange, I adore mountains. I find mountainous areas, whether they be covered in snow or natural forest, simply beautiful. Whether it's looking up at them, or standing on them looking down, I always feel such awe. I always knew I loved them, but I had no idea how much until I lived in the – very very flat – Netherlands.
If you feel the same, you'll love driving around and admiring the views of New Zealand. Whether you're staring up at Aoraki/Mount Cook, or the rolling chocolate hills of Blenheim, you'll fall in love with the Mountainous New Zealand landscape.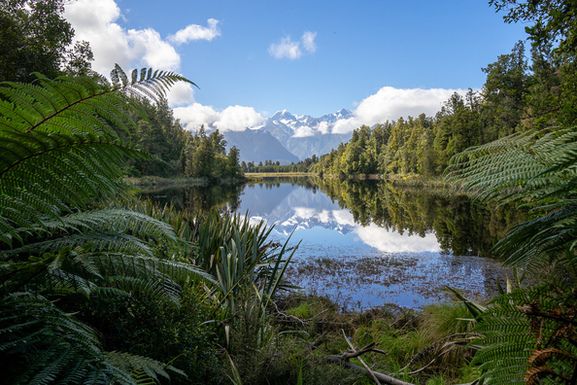 Learn about Maori Culture
I had very little knowledge of Maori culture of history prior to arriving in New Zealand but we really enjoyed learning about this beautiful culture and peoples.
Our favourite experiences were visiting the Waitangi Treaty Grounds in the Bay of Islands and enjoying a traditional Hangi Dinner at Tamaki Maori Village in Rotorua.
At the Waitangi Treaty Grounds you do a guided tour of the grounds and learn where the treaty between the British and Indigenous peoples was signed, paving the way for today's New Zealand. You learn a bit about Maori culture and crafts and things like traditional medicine. Our guide was an hilarious Maori woman who really brought the history to life.
There are quite a few options for Maori experiences in Rotorua and we chose Tamaki Maori Village. If you're confused about the options we've compared them to help you choose which is the best Maori experience in Rotorua.
We had a great night at Tamaki Maori Village, learning a little more about the Maori relationship to the land and some food preparation techniques before enjoying our delicious Hangi dinner.
Freedom Camping
If you're travelling around New Zealand in a camper van than you MUST try freedom camping. While you can't simply pull up your camper van and sleep where ever you want, there are a good number of freedom camping areas across the country and some of them are just incredible.
Our favourite freedom camping places
Cooks Reserve in the Coromandel Peninsula
Lake Opuha reserve in the Makenzie Region, about an hour from Lake Tekapo
Kingston Reserve near Queenstown
Make sure that you follow the rules regarding self containment and where you stop for the night. We've explained everything in our article on freedom camping.
Admire the milky blue water at Hokikita Gorge
Located on the west coast of the South Island, Hokikita Gorge is a beautiful area. A short walk takes you from the car park area, across a small bridge suspended above beautiful milky blue water flowing between limestone mountains.
You'll probably only spend an hour or so at Hokikita Gorge, but it is worth a visit if you're in that part of New Zealand, it is a beautiful area.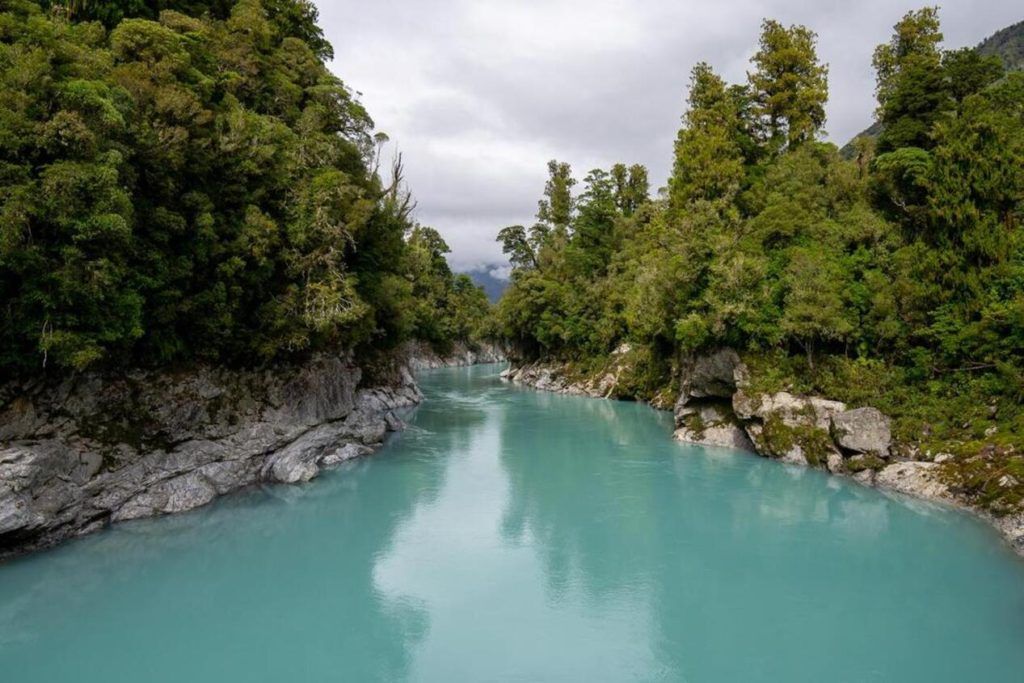 Be amazed by the Geothermal wonders
We've mentioned the Tongariro Crossing which takes you close to a volcano and crater, and the hot springs that form from water heated by volcanic activity, but Rotorua has some additional highlights. Waimangu and Wai-o-Tapu.
Both of these incredible areas offer incredible sights such as brightly coloured pools, steaming lakes and bubbling mud. Waimangu is a bit more of a nature walk and very pretty, while Wai-O-Tapu is more dramatic and colourful.
Take a scenic drive
The drive between point A and point B in New Zealand is often as incredible as the final destination. With great roads and spectacular views everywhere you look, be prepared to stop regularly for photo's.
Some of our favourite drives
The Summit Road near Akaroa on the Banks Peninsula with spectacular views over the region
The drive between Picton and Kaikoura along the east coast of the South Island with its incredible coast line, rolling hills and dramatic cliff faces
The Haast Pass between Wanaka and Fox Glacier Town is beautiful with its'beautiful lake and mountain views
The drive through the center of Northland up towards Cape Reinga has beautiful open green farmland and coastal views
Milford Road on the way to Milford Sound
See glow worms
One of the good things about glow worms in New Zealand is that they're in quite a few places if you're looking for them. The luminescent little bugs lurk around damp places and are fairly common in certain spots in New Zealand.
We chose to see them at Waitomo on the North Island as we got to do a tour of the caves which we enjoy. Our favourite cave was the Ruakuri Cave, which is the third one and the less visited. We'd highly recommend it!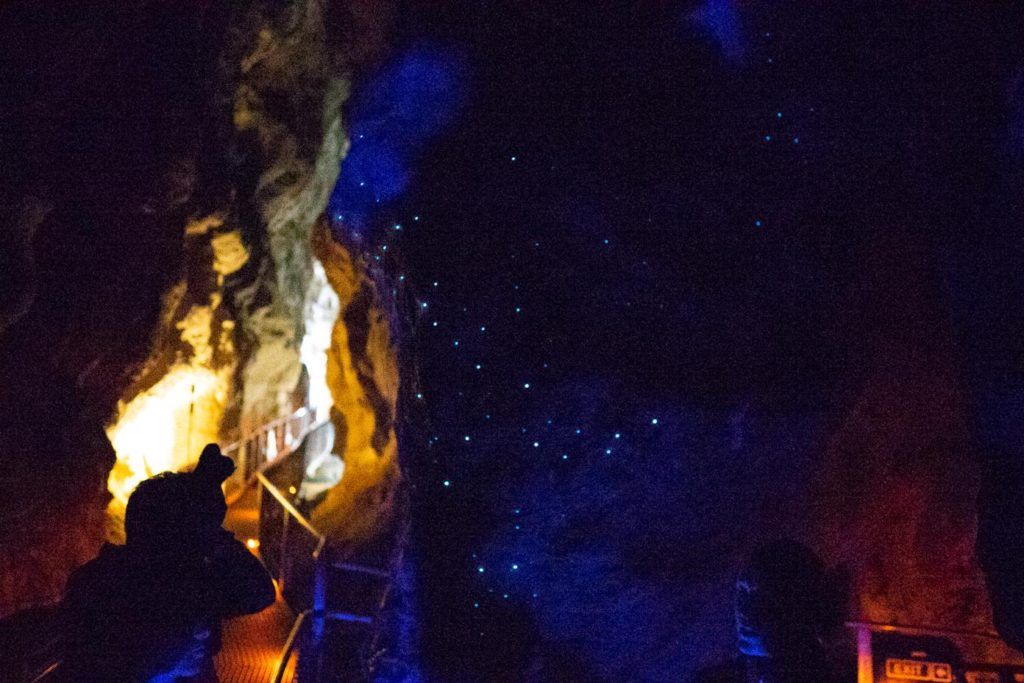 Exploring Abel Tasman National Park
In all honesty you can't really go wrong with any of New Zealand's national parks, however we found Abel Tasman National Park fabulous. Located at the top of the South Island, this beautiful National Park is home to incredible coast line, small islands, a marine reserve and one of New Zealand's great walks.
I would gladly spend more time in Abel Tasman on our next visit to New Zealand.
Take the Inter-Island Ferry
Whether you're in a vehicle or not, the inter island ferry is a great experience in New Zealand. We took the Bluebridge Ferry from Wellington to Picton and while there is a small stretch in the middle with nothing but ocean views, the views as your leave the North Island and as you pass the top of the South Island are absolutely beautiful.
It's a completely different vantage point with which to see the coast line, and you can do it all from a comfortable chair with a drink.
Two experiences we didn't do but we wish we had
Seeing whales in Kaikoura
If there is one thing that I kick myself or missing it is doing a whale watching tour in Kaikoura. We have heard what an amazing experience this is and the reviews on it are fabulous.
Next time we're definitely doing it!
Star gazing at Lake Tekapo
Lake Tekapo is part of the Mackenzie Dark Sky Reserve, where light pollution is restricted allowing incredible views of the sky. While we definitely spend some time gazing upwards, I think it would have been great to experience the incredible clear and visible stars from the St Johns Observatory on a star gazing tour. We're adding this to our must do list for next time too!
Here is how we begin to plan our trips
You may also find these articles helpful
This article contains affiliate links. For more information please see our affiliate disclaimer here.