62 incredible things to do in New Zealand
New Zealand is one of the most exciting and stunningly beautiful countries to visit for nature lovers and adventurers alike. Its wild and diverse landscape provides an unlimited number of New Zealand bucket list items. We've put together a complete list of the best things to do in New Zealand to help get you started planning our trip. But, of course, you won't want to miss these things. The trick will be trying to fit everything in!
This article contains affiliate links. For more information, please see our affiliate disclaimer here.
Related useful travel guides
New Zealand North Island Bucket List
Walk the Tongariro Crossing
Located in the centre of the North Island, The Tongariro Crossing was the best walk we did in New Zealand. Hiking through Tongariro National Park across the volcanic ground, up and over the spectacular red crater and seeing the gorgeous colourful volcanic lakes was terrific.
We were initially nervous because we'd heard such mixed information about how difficult it was, and we didn't know what to expect. However, while the walk is challenging in parts, it's doable with an average fitness level.
We nearly skipped this 6-hour hike but were so glad we met some locals who insisted we do it. It feels like you're on a different planet as you hike through and around volcanic craters and see stunningly coloured volcanic lakes. It's not the most straightforward hike, with a good 2 hours or so uphill climbs required; some of it is pretty steep but well worth it if you're able. You'll need to book your transport to the start of the hike in advance. The Tongariro Crossing is one of our North Island New Zealand Highlights.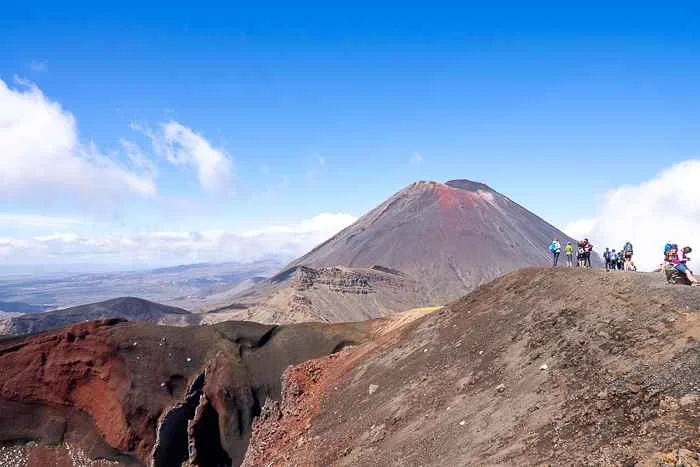 New Zealand is perfect for road tripping.
If ever there was a country for driving, it is New Zealand. Whether in a car or camper van, you will never regret your choice to travel New Zealand in this way. The roads are excellent, the drives are scenic, and the views are incredible. But then, of course, there is freedom camping. So, if you haven't considered how you'll get around, we'd recommend a self-drive trip!
You can hire a car or a campervan near the airport. While some companies will let you return the vehicle at a different office, generally, you'll need to return it to the office from which you picked it up, so be prepared for a round trip.
Read Road trips and Itineraries for the North and South Islands of New Zealand.
Hot Water Beach
New Zealand is known for its many natural hot springs where water is heated by underground volcanic activity and then flows to the surface. There are many places where you can pay to sit in hot spring 'pools', but there are also a few fantastic free options.
At Hot Water Beach on the Coromandel Peninsula, you can dig your own hole in the sand as hot spring water flows in. You'll need to arrive up to 2 hours on either side of low tide to be in the right spots to dig your hole where the hot water is. It's helpful to have a bucket or a way you can add some cold water to your hole as the spring water can be hot.
Known for its nature, beaches and forests, the Coromandel Peninsula is a must if you're visiting the North Island of New Zealand. Nature buffs and beach lovers could spend weeks here; there are many beautiful things to see.
For complete details on Hot Water Beach, you can see our article on road tripping the Coromandel Peninsula.
Visit the Hobbiton movie set.
So, full confession, before going to the Hobbiton film set in Matamata, I had never seen the movies. But, I agreed to go to Hobbiton because I thought it would be interesting to see a film set. So, let me tell you, Hobbiton is an item that should be on your New Zealand bucket list, whether you're a fan of the movies or not.
The beautiful Hobbiton set is located in the middle of a working farm. Catch a bus from Shires Rest to the set through rolling green mountains before wandering between the little Hobbit homes and gardens.
One of the things that we found interesting was that the gardens and surroundings are all-natural. Beautiful flowers and vegetables are growing everywhere. It's charming.
On your tour, you'll learn some tricks of the film trade and the different tactics they used to film the movie. It's a great day for everyone, whether you're into the Hobbits or not.
Book: Tour of Hobbiton from Shires Rest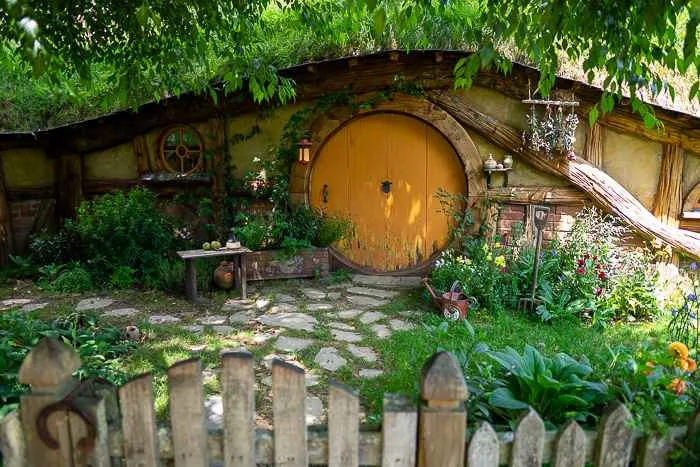 Cape Reinga Lighthouse – The Northernmost point of New Zealand
Located at the very top of the North Island is Cape Reinga Lighthouse. While the Lighthouse is fantastic, the natural beauty lies in the surrounding area. The drive to Cape Reinga is beautiful with spectacular coastal views – sheer cliff faces, white sand beaches and azure coloured sea. It was our first introduction to how beautiful New Zealand was and did not disappoint.
Cape Reinga Lighthouse is about 1.5 hours north of the nearest town, so make so you take everything you need with you.
Be amazed by the Geothermal wonders.
We've mentioned the Tongariro Crossing, which takes you close to a volcano and crater, and the hot springs that form from water heated by volcanic activity, but Rotorua has some additional highlights. Waimangu and Wai-o-Tapu.
These incredible areas offer incredible sights such as brightly coloured pools, steaming lakes and bubbling mud. Waimangu is a bit more of a nature walk and very pretty, while Wai-O-Tapu is more dramatic and colourful.
Knowing which of the Geothermal Parks near Rotorua is best to visit can be challenging, so we've made a complete comparison to help you choose.
Witness glow worms in the dark
Seeing glow worms is one of the must-see things to do in New Zealand. The good thing about glow worms is that they're in quite a few places to find them if you're looking. The luminescent little bugs lurk around damp areas and are relatively common. However, the most popular place to see them is in the Waitomo Caves.
There are three different caves that you can choose to tour at Waitomo, and you'll either go by boat or walk through. Our favourite cave was the Ruakuri Cave, the third one and the less visited one. We'd highly recommend it! It has an incredible spiral entry down into the protected cave, which was fascinating.
Book: Eco-friendly Waitomo Cave tour
Jetboat down Haka Falls
Something that should be on everyone's New Zealand North Islands bucket list is taking a jet boat ride on Haka Falls.
About 1.5km north of Taupo, Haka Falls is a powerful sight. Over 220,000 litres of water per second are squeezed through a narrow ravine before barrelling down an 11m waterfall. You can walk along the banks of the Waikato River to see the falls from up high or get amongst it with a jet boat ride.
Book: Haka Falls Jet Boat Ride with pick up from Taupo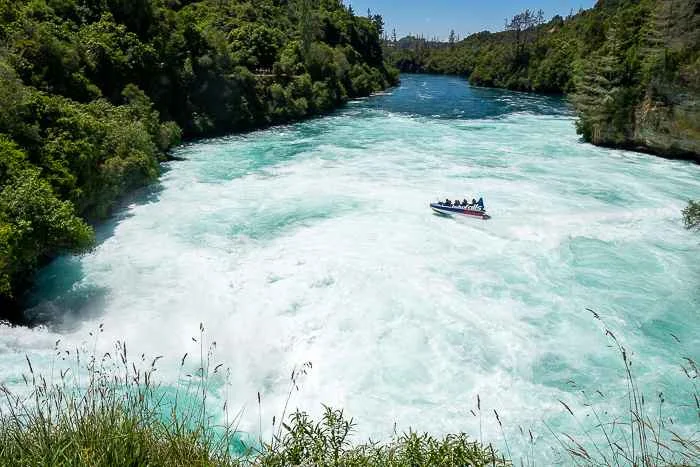 Zorbing in Rotorua
If you want to laugh so hard your face hurts, Zorbing is for you. Never heard of it before? Once you've tried it, you won't be able to forget! Nestled inside a giant inflatable ball, you're rolled down one of four different 'courses' designed for speed and excitement. There's no tumbling involved as you're in a sort of inner ball, with some water that is temperature appropriate. That is, warm in the winter and cool in the summer. So it's more like a slip and slide.
A 4WD will collect you from the bottom of the hill and take you back to the top of Zorb again. And trust us, you'll want to! When you're done, you can enjoy the hot springs on the property.
Book: Zorb Rides just outside Rotorua
Wander the Hamilton Gardens
A little-known gem in the city of Hamilton is the Hamilton Gardens. These gorgeous themed gardens contain a series of different styled gardens, including Indian, Japanese, Egyptian and English flower gardens, edible gardens such as herb gardens and a series of fantasy gardens.
Close to the centre of Hamilton central city, the Hamilton Gardens are easily accessible. Entry is free, although you can choose to take a guided tour for $20 NZD.
Take time out at Orchid Valley Glamping.
The Otorohanga Valley, 50km south of Hamilton, Orchid Valley Glamping, is the perfect getaway. Away from the hustle and bustle, this boutique glamping site offers the best of both worlds, proximity to the outdoors and luxurious comfort.
The bespoke 50m2 safari tents look out over the expansive countryside and orchid and offer beautiful sunrise views. The tents have a fireplace, hot tub and kitchen, while the bathrooms contain rain showers. Outdoors there's a fire pit for roasting marshmallows.
Book: Orchard Valley Glamping
Walk along unique black sand beaches.
The West Coast of New Zealand North Island is famous for its beautiful black sand beaches. This includes Piha, KareKare and Bethells beach in Auckland.
Surrounded by a rugged coastline, black sand beaches are a sight to behold. The black colour is created due to past volcanic activity in the area.
Drink wine on Waiheke Island
Waiheke Island is the ultimate New Zealand bucket list place for wine lovers. Only a 40-minute ferry ride from Auckland, Waiheke Island is known for its vineyards and has become known as New Zealand's 'Wine Island'. There are over 30 boutique vineyards. A wine tasting tour is a fantastic way to try some of New Zealand's world-class wines.
With spectacular beaches covered with walking trails and dazzling views, there are plenty of things to do on Waiheke.
Book: Waiheke Island wine and food tour
Sandboard down Te Paki dunes
Next to 90 Mile Beach, the Te Paki dunes are enormous. Covering an area of approximately 10km by 1km, some dunes are up to 150 meters high. The most popular activity at Te Paki is sandboarding. You can hire a sleigh and slide down them or wander around and have a look.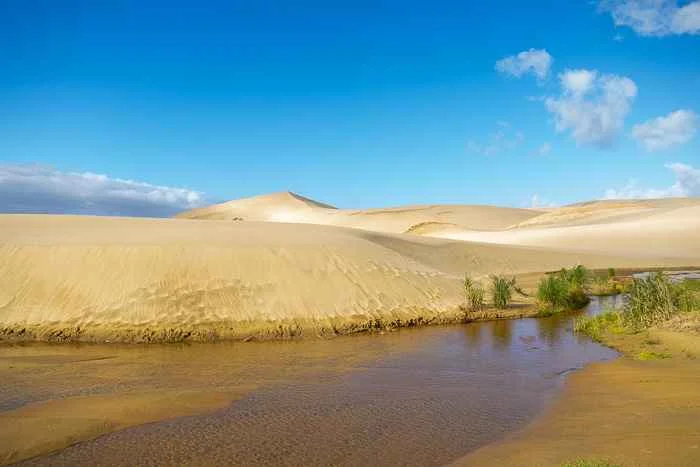 Climb the Auckland harbour bridge
Climbing the Harbour Bridge is one of the most popular things in Auckland. With its custom-built walkways, this safe bridge climb offers 360-degree panoramic views of Auckland. Learn about Auckland's history from your guides as you enjoy the view.
Mine Bay rock carvings of Lake Taupo
The Mine Bay rock carvings have become an iconic cultural attraction at Lake Taupo. The carvings were competed in the 1970s by master Maori carver Matahi Whakataka-Brightwell. The largest, a likeness of Ngatoroirangi, a Maori navigator from over 1000 years ago, is around 10 meters tall and took four summers to complete.
The best view is from a kayak so you can get up close to the carvings, but boat tours of Lake Taupo will also give you a good idea of the Mine Bay rock carvings.
Book: Mine Bay Maori Rock Carving Cruise
Enjoy a traditional Maori meal.
While there are plenty of things to do in Rotorua, the Tamaki Maori Village is a fantastic way to experience and learn about Maori culture and food, with a tour and traditional Hangi Dinner. The demonstrations of various Maori dancing and crafts are fun, and the meal is delicious.
There are a few options for Maori experiences in Rotorua, and we chose Tamaki Maori Village. If you're confused about the choices, we've compared them to help you decide which is the best Maori experience in Rotorua.
We had a great night at Tamaki Maori Village, learning a little more about the Maori relationship to the land and some food preparation techniques before enjoying our delicious Hangi dinner.
Book: Traditional Hangi Dinner and cultural show
Wellington cable car
There are not a lot of famous attractions in Wellington itself, but the Wellington Cable Car is a must-see in New Zealand's capital city.
The bright red cable car offers a short 5-minute ride to the top through hillside terraced houses. Once at the top, you have panoramic views of the city and Wellington Harbour; these are the best views in Wellington.
Bungee jump from Sky Tower in Auckland
The Sky Tower, New Zealand's tallest man-made structure, stands out in Auckland's skyline, 328m high. Head up the observation deck for 360-degree views of the entire area, including ancient volcanoes and the city's harbour. On a clear day, you can see up to 80km.
An adventurous and fun thing to do in Auckland is the Sky Jump. Bungy jumped off the sky tower for a heart-racing 192m fall.
Walks around Rotorua
Rotorua has many beautiful lakes, such as Lake Tikitapu the Blue Lake. If you love getting out in nature, the lakes around Rotorua are for you. There is also Whakarewarewa or the Redwoods Forest. A beautiful, peaceful forest with enormous Californian Redwoods and many walking tracks keep you busy.
Visit Mount Maunganui
Mount Maunganui is located about 3 hours from Auckland. The small town is famous for its large lava dome formed over 3 million years ago. The dome, called Mauao, in Maori, is 230 meters above sea level. You can walk to the top along the Summit walk, which takes roughly an hour.
Mount Maunganui's main street is lined with shops, restaurants and eateries. This small beachside town is also known for its beautiful street art, which is worth a look.
You can also walk to Moturiki Island, a small island connected to Mount Maunganui by a walkway. On a windy day, there is an active blow hole on the island.
Visit Mount Taranaki
The most prominent mountain in the Egmont National Park is the 120,000-year-old Mount Taranaki Volcano. The volcano last erupted in 1775 and is considered dormant rather than extinct.
Mount Taranaki is known as New Zealand's most climbed mountain. The actual Summit track is a day trek, around 5 hours up and 3-4 hours to return down. The Egmont National Park is also beautiful. You can drive up to the Dawson Falls and park and walk around exploring trails. Egmont National Park is full of lust waterfalls, rainforests and mossy swamps.
Visit Cathedral Cove
A lovely 1.5-hour return walks along the Coromandel coast from Hahei beach. The undulating path passes hidden beaches and beautiful forests, leading you to a gorgeous rocky cove. Take your swimmers and cool off in the ocean. We found a few smaller beaches, such as Stingray beach, along the walk, which were even more beautiful than Cathedral Cove and nowhere near as busy!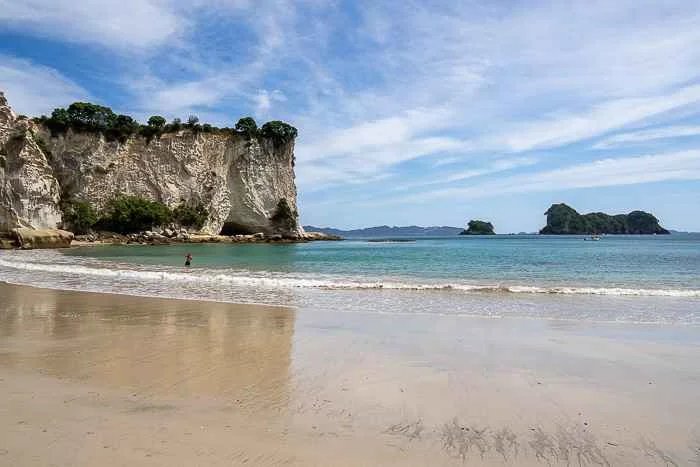 Explore Auckland
This vibrant and buzzing city is a hive of exciting activities itself, not to mention that it is ideally situated to act as a base for exploring many nearby towns. Visit the Botanical Gardens, the Auckland Domain and the Sky Tower or summit Mount Victoria for views around the city.
A guided sightseeing tour of the city will show you all the best areas of the city as well as give a complete history of Auckland.
Book: An Auckland sightseeing tour
Dive the Poor Knights Islands
In line with world heritage status, the Poor Knights Islands underwater world is some of the best subtropical diving in the world. New Zealand's volcanic activity has created drop-offs, walls, arches, tunnels and caves, ready to be explored. It is also home to Rikoriko Cave, one of the world's largest sea caves.
Located off the east coast of the Northland region, above Auckland, the Poor Knights Islands are accessible by charter from Auckland, Whangarei, Tutukaka and the Bay of Islands.
Book: Poor Knights full-day Dive Charter
Explore the waters and coastal towns in the Bay of Islands
The beautiful area of the Bay of Islands offers plenty of NZ bucket list activities for the coast and water lovers. The most popular boutique towns on the bay are the towns of Opua, Paihia, Russel and Kerikeri. Ferries run between the towns.
On land, the beautiful subtropical rainforest is home to New Zealand's native Kauri tree. In addition, sea-side walking trails are abundant throughout the area.
One of the best ways to experience the Bay of Islands is from the water. Boat trips or kayaking are popular. The famous 'hole in the rock is a sight on Piercy Island. To see marine life, sail or kayak out past Tapeka point for penguins, dolphins, whales and marlin. Sailing Yachts are prevalent on the Bay of Islands.
Book: A boat tour of the Bay of Islands, the Hole in the Rock and Dolphin spotting
Hike the Rangitoto Volcanic crater
Rangitoto is the youngest and largest of the 50-something volcanoes near Auckland. Separated from the mainland by a channel, the island is 5.5km wide, with the crater rising 260 meters above sea level.
Head along the summit track, which takes you through the lava fields before reaching the summit in about an hour. Allow time on the way back to stop and explore the lava caves.
Visit Matakana
Only 40 minutes from Auckland, the picturesque town of Matakana has plenty to see and do. Its Farmers Market is a huge drawcard known for its galleries, wineries and beaches. Held every Saturday morning, it offers a large variety of organic produce and fresh seafood.
Just outside the outskirts of the town are award-winning wineries, while just off the nearby coast is the Goat Island Marine Reserve.
Drive 90-mile beach
While it may look like a lovely beach, 90 Mile Beach is a national highway. There are a few requirements for driving 90 Mile Beach; for example, the tide has to be correct, and you need to have a 4WD. If you cannot drive along the beach, you can always park and admire this lovely stretch of coastline. Tours leave Pihia on the east coast and drive 90 Mile Beach, so don't worry if you can't go it yourself.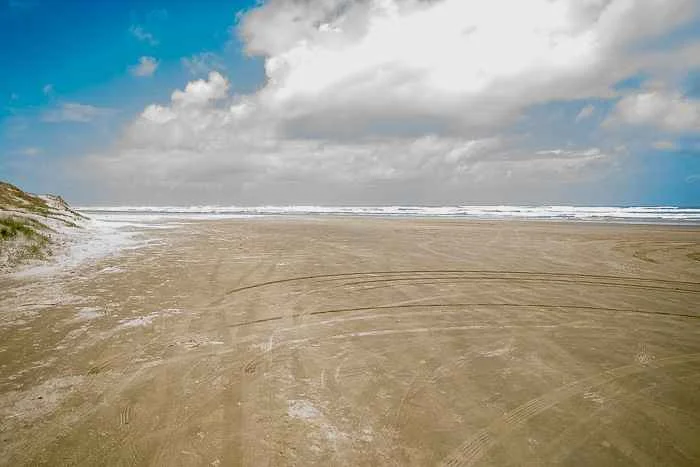 Visit the Te Papa Museum in Wellington
Rated as one of Trip Advisors' top 25 museums worldwide, the Te Papa Museum in Wellington is a bucket list item for New Zealand. With six floors of interactive exhibits celebrating New Zealand's rich history, culture and wildlife, you could easily spend hours upon hours here.
The Te Papa has some exciting things like the largest giant squid in the world and houses a lot of Maori Culture.
Black water rafting at Waitomo
For those looking to add adventure to their to-do list, try black water rafting in Waitomo. Up to 80 meters below ground, you can raft in tubes through underground rapids, jump off waterfalls and float through deep dark water under the beautiful glow worms of Waitomo.
Book: Black water rafting in Waitomo Caves
Soak in the natural hot springs at Kerosene Creek
Not far from Rotorua and other geothermal attractions such as Waimangu and Wai-o-tapu is Kerosene Creek, a beautiful flowing creek that moves through the natural landscape and is deliciously warm.
It's free to enter, but it can get pretty busy, so don't expect to be alone, but you'll be able to find somewhere to soak.
Learn New Zealand's history at the Waitangi Treaty Grounds
Located in the Bay of Islands, the Waitangi Treaty Grounds is one of New Zealand's cultural highlights. At the sight of the signing of the Treaty between the Indigenous Maori and the British, you can learn a little about how New Zealand came to be what it is today.
At the Waitangi Treaty Grounds, you tour the grounds and learn where the treaty between the British and Indigenous peoples was signed, paving the way for today's New Zealand. Then, you know a bit about Maori culture, crafts, and traditional medicine. Our guide was a hilarious Maori woman who brought history to life.
Watch an All Blacks game.
If you'ré a sports fan, the All Blacks are the New Zealand national rugby union team. Their home ground is Eden Park in the centre of Auckland, where they play their international competitions when they're held in New Zealand. So naturally, there's nothing better than attending a big sporting event, and it's a great way to get amongst the locals.
New Zealand travel bucket list items; South Island
Bungy Jumping or canyon swinging in Queenstown
The Nevis Bungy Jump is the highest and downright scariest Bungy jump in New Zealand. The experience is terrifying with the 40-minute road drive down a steep track before you need to take a little tiny cable car to the middle of the gorge to jump. At 134 meters high, the Nevis Bungy jump has a gut-wrenching 8.5-second free fall.
There is also the Nevis swing. Swing alone or tandem in a 300-meter pendular arch over the canyon. One of the more fun things to do in Queenstown.
Take a boat ride on Milford Sound.
After exploring Milford and Doubtful Sound, it is easy to see why this area is New Zealand's top tourist attraction. With its incredibly steep, almost vertical cliff faces and narrow fjord, Milford Sound will not disappoint.
Many people don't realise that there is more than one "sound" in New Zealand. So, for example, doubtful Sound, also in Fiordland National Park, is different from Milford Sound in that it is larger, more open and less dramatic, although gorgeous.
We'd recommend seeing both, although if you don't have time, we suggest this Milford Sound tour, which is the one we did. We also wrote an article comparing Doubtful Sound vs Milford Sound to help you choose for yourself!
Book: Milford Sound Boat Cruise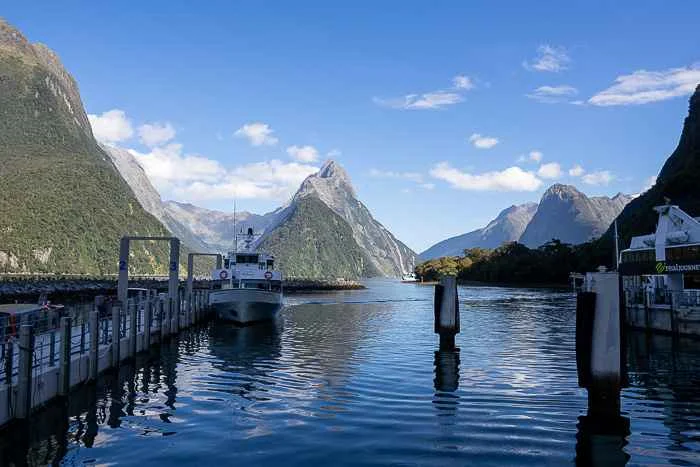 See the Southern Lights
You may be familiar with the Northern Lights, but did you know there are also Southern Lights, the Aurora Australis. Solar winds react with the atmospheric gases, creating a beautiful interplay of green and pink coloured skies. There are a few great places to see the Southern Lights. You need to go as far South as possible and away from the cities.
Stewart Island is the southernmost populated Island of New Zealand and the best place to see the lights. If the Southern Lights are on your New Zealand bucket list, it's worth heading there between March and September. Invercargill is the Southern city of the South Island and a great place to see the Southern Lights, but you'll need to get away from the city centre. The Catlins, the southernmost point of the Island, is a fantastic place because there aren't any city lights to contend with.
Visit Lake Wanaka
I didn't expect to enjoy Wanaka as much as I did, but this quaint little town is one of the most excellent places to see in New Zealand. On the edge of Mt Aspiring National Park, with two ski fields nearby, Wanaka is a delight for hikers, adrenalin junkies, and nature lovers. In addition, Wanaka is home to the famous Wanaka Tree and Lake, a gorgeous lavender farm, and Rippon Winery.
The extreme surrounding landscape offers adventure activities such as canyoning and rock climbing. If you're there in winter, the ski fields are some of the best in New Zealand.
Ride the scenic rail
While New Zealand doesn't have a commuter rail system, they have three scenic train routes, two of which are on the South Island. First, the Coastal Pacific Scenic Route runs from Christchurch to Picton, North of the South Island. This beautiful coastal route highlights both land and sea.
The second and most famous route is the TransAlpine Scenic Route. Starting at Christchurch, it runs through the centre of the South Island, through the Alps to Greymouth on the west coast.
The trains are designed for maximum visibility with large windows and large, comfortable seating that is spaced out to improve viewing range. There is also an open-air carriage where you can sit and feel closer to the passing scenery.
Walk on a glacier
The opportunity to walk on a glacier is one of the unique things to do in New Zealand. There are two options for glacier walks, Fox Glacier and Frans Joseph. We did the Fox Glacier Heli Hike, and while it cost a little more than most of our other adventures, it was worthwhile.
After being helicoptered onto the Fox Glacier, we spent a few hours wandering around with our guide, learning about glacial formations and crawling in and out of glacial caves. It was a lot of fun.
Book: this Fox Glacier Heli Hike tour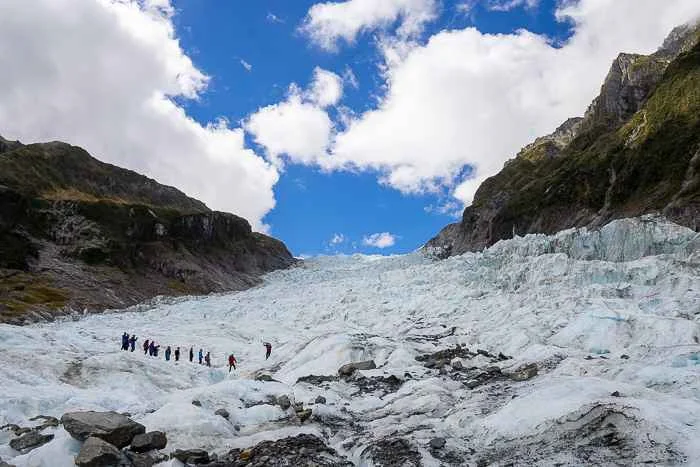 Skydive over Aoraki/Mount Cook
The golden landscape of the Mackenzie region couldn't look any better than it does from the air. Skydiving over Mount Cook gives you incredible views of Aoraki/Mount Cook and the Tekapo, Pukaki and Ohau lakes. You can enjoy the view on the way up on the scenic flight as well as on the exhilarating way down.
Book: Mount Cook Tandem Skydive Experience
Explore Fiordland National Park
Fiordland National Park is New Zealand's largest national park and home to some of the country's unmissable NZ bucket list ideas. Both Milford Sound and Doubtful Sound are located within Fiordland. The Routeburn Track and Kepler Track are two of New Zealand's famous 'Great Walks' found in Fiordland National Park. You can do the Key Summit track if you don't have a few days to do a great walk. It's a short section of the Routeburn Track and takes about 3 hours to return.
There are many lakes and rivers in Fiordland where you'll find plenty of water-sports opportunities. You can also take a boat on Lake Te Anau to see the Te Anau Glow Worms. There's also a fantastic Bird Sanctuary.
Book: Te Anau Lake cruise and glow worm tour
Soak in the Onsen hot pools in Queenstown
The traditional Japanese tradition of Onsen is given a New Zealand twist in Queenstown. Soak the stress away in cedar lined tub with 38.3 degrees Celsius water. The wooded walls of the room have a retractable roof, so you can feel one with nature as you look at the panoramic views across the Shotover River and canyon. If you're there in the evening, you can watch the stars. You don't have to go by yourself; you can fit up to four people per tub.
Wine tasting in Marlborough
Marlborough is one of the most famous wine-making regions on the South Island. Renowned for its Sauvignon Blanc, Marlborough has more than 30 cellars offering tastings.
The Marlborough region produces 25 varieties, the most popular being the Sav Blanc, Pinot Noir, Pinot Gris, Chardonnay and RieslingHowever, there's something for almost every taste. Many of the cellars also have exclusive wines, only sold through the cellar itself.
Located at the top of the South Island, there are plenty of other things to do around the region; for example, you could also explore Marlborough Sounds.
Book: Full-day guided wine tour.
Exploring Abel Tasman National Park
In all honesty, you can't go wrong with any of New Zealand's national parks; however, we found Abel Tasman National Park fabulous. Located at the top of the South Island, this beautiful National Park is home to an incredible coastline, small islands, a marine reserve and one of New Zealand's great walks. Follow part or all of the Abel Tasman Coast Track, or just do a short portion. You'll discover endless white-sand beaches and local wildlife.
One of the best ways to experience the area is by kayak or sailboat. Not only do you get to see the coastline, but you can also explore some of the smaller islands resting in the azure waters.
Book: Abel Tasman sailing tour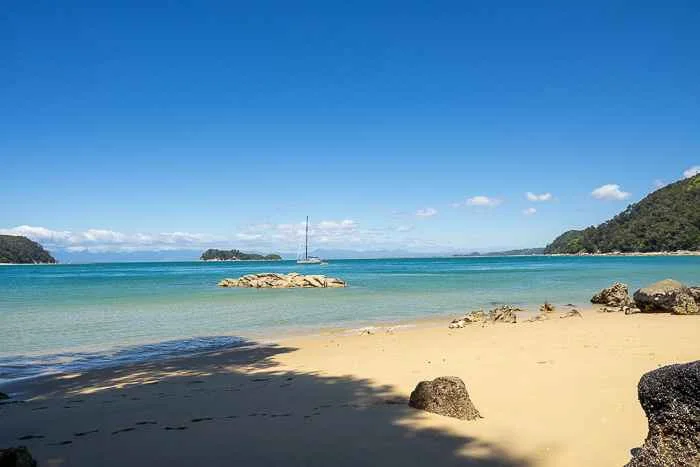 Cathedral Cave and the Catlins
Located in the southeast corner of the South Island, the Catlins National Park is a spectacular region with beautiful untouched wilderness and incredible natural attractions. Apart from the Nugget Point Lighthouse, which we'll cover separately, Cathedral Cave is a must.
You'll need to arrive at low tide to access the cave. It's about a 45-minute walk from the car park, through the natural rainforest, before reaching the beach. The cave is not huge but very pretty, and the surrounding rainforest and beach views are spectacular. It should be on your New Zealand bucket list if you manage to get that far south.
Visit Dunedin
Dunedin offers a slice of New Zealand's history known for its Scottish and Maori heritage and Victorian and Edwardian architecture. Visit Larnach Castle, built-in 1871, for its historic architecture and beautiful grounds.
Dunedin has plenty of walking and cycling trails throughout the area and its beaches. You'll also find plenty of wildlife such as Albatros, penguins and sea lions in Dunedin.
In the city, don't miss the street art. If you're a beer lover, try the Emersons brewery for a local beer tasting.
Hike one of the Great Walks – Milford or Routeburn Tracks
The four-day Milford Track hike is arguably the most popular of New Zealand's Great Walks. Located in the Fiordland National Park and passing through the Arthur Valley, the Milford Track passes the Sutherland Falls, New Zealand's tallest waterfall. It's also a great way to see the glacier-carved fjords up close.
The walk is 53km of suspension bridges, boardwalks, and mountain pass crossing through untouched wilderness. Stay at the local huts set up for hikers.
The Routeburn track is a slightly shorter 'Great Walk'at 3 days. This trek takes you through rolling meadows and alpine gardens, with spectacular views of mountain ranges and valleys from November until April. The Routeburn Track is a one-way walk, so you'll need to be prepared only to go one way.
You'll need to book the huts in advance or do a tour where everything is organised for you. You can find more information about New Zealand's Great Walks on the Department of Conservation website.
Nugget Point Lighthouse
Nugget Point Lighthouse is near the bottom of the South Island in the Catlins National Park. The area surrounding the Nugget Point Light House is dramatic and intense, surrounded by forest and rocky outcrops, and home to seals and bird life. It is well worth a visit.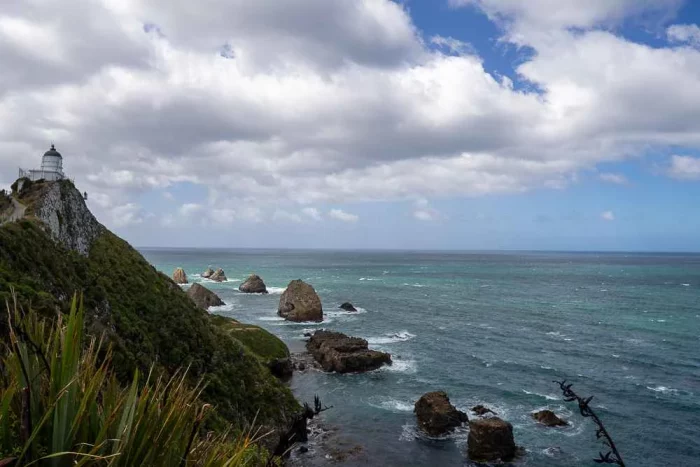 Drive Queenstown to Glenorchy
Arguably one of the most spectacular drives in New Zealand, the drive from Queenstown to Glenorchy, about 46 kilometres away, is a fantastic day out. While the town of Glenorchy is small, the scenery of the snow-capped alps along the way is well worth the trip.
Go underwater at the Milford Sound Observatory.
For a different take on Milford Sound, you can visit the Underwater Observatory as part of your Milford Sound Cruise. The inky black water of Milford Sound reduces sunlight beneath the surface. This allows seaweeds and corals typically found hundreds of meters below sea level to be visible only a few meters below the surface. As a result, there are vast fields of black coral and an abundance of sea life. An unforgettable New Zealand bucket list item.
Book: A Milford Sound Cruise with Observatory entrance
Visit Mount Cook/Aoraki
Aoraki/Mount Cook is the highest mountain in New Zealand at 3724 meters and sits amongst the southern alps. Mount Cook Village and visitor centre rest at the bottom of the mountain, but the nearest larger towns are Tekapo and Twizel. People generally visit Aoraki/Mount Cook for the views. It is one of the most beautiful places to see in New Zealand.
The Hooker Valley track and Tasman Glacier lookout are worth exploring. You can also see Aoraki/Mount Cook from the sky. Take a helicopter ride over the alps or Skydive from Mount Cook.
Book: Mount Cook Helicopter ride with Alpine Landing
Visit Arrowtown
A short and easy drive from Queenstown, Arrowtown is a quaint gold mining town known for its old architecture and historical standing. Take a walk around the city, visit the old post office with its historical architecture, or explore the ancient Chinese Settlement.
Arrowtown is also a fantastic place to eat and drink locally grown and produced food and alcohol.
Visit Akaroa and swim with the Dolphins.
About an hour from Christchurch, the small town of Akaroa is on the Banks Peninsula. Apart from being a lovely little town, the waters off Akaroa are home to the largest population of Hectors Dolphins, making it the perfect place to go dolphin spotting,
Book: Swim with wild dolphins tour
Climb Roys Peak
If you've ever seen the photos of someone sitting on 'the peak' of Roys Peak, you'll know climbing Roys Peak is a bucket list item for many New Zealand tourists. The hike to the top and back is a 5-6 hour round trip. The walk is busy, and waiting to get that photo at the peak can be up to an hour. For the best shots, try leaving early to arrive at sunrise.
Admire Moeraki Boulders
I was hesitant to put the Moeraki Boulders on a New Zealand travel bucket list article because, to be honest, we were a little underwhelmed. However, whenever I've discussed that with anyone, I've been met with an emphatic defence of the marvel of the Moeraki Boulders, so here they are, on the list.
The Moeraki Boulders are a group of large spheres on the Koekohe Beach near Moeraki. They were formed more than 60 million years ago. I recommend going at low tide on a nice day or sunset. When we were there, the tide was up, and it was horrible weather; maybe that is why we were less than impressed. Anyway, you decide.
See Albatros and Penguins in Dunedin
One of the best things about New Zealand is the ability to see a lot of birds, animals and marine life in the wild. Royal Albatros has a mainland breeding ground in Dunedin, making it the perfect place to do some Albatros watching. Dunedin is also home to the Little Blue Penguin, the smallest penguin in the world.
Book: An Albatros and Otago sightseeing tour
Admire the milky blue water at Hokikita Gorge
Located on the west coast of the South Island, Hokikita Gorge is a beautiful area. A short walk takes you from the car park area across a small bridge suspended above beautiful milky blue water flowing between limestone mountains.
You'll probably only spend an hour or so at Hokikita Gorge, but it is worth visiting if you're in that part of New Zealand; it is a beautiful area.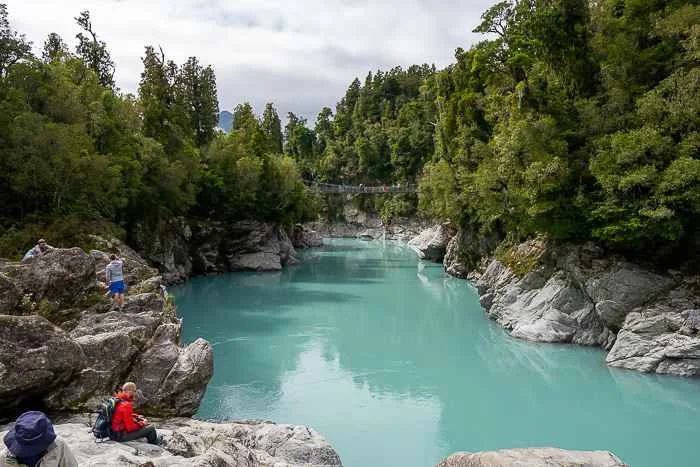 Star gazing at Lake Tekapo
Lake Tekapo is part of the Mackenzie Dark Sky Reserve, where light pollution is restricted, allowing incredible sky views. Visit the Mount John Observatory is a fantastic way to get a clear look at the sky.
Book: A Mount John Observatory Star Gazing Tour
Native Birds
New Zealand has no shortage of native and endemic species of birds, most of which are ground-dwelling. If you spend some time in the National Parks, you'll probably come across Kea or Weka.
We came across quite a few Weka in Abel Tasman National Park while doing the first few hours of the Abel Tasman Track. On the track itself, we saw a Mumma Weka and her baby.
One of New Zealand's most well-known birds is the Kiwi Bird; however, as it is nocturnal and endangered, it is the most difficult to see in the wild. So we went to Rainbow Springs Nature Park in Rotorua to see Kiwis and learn more about them.
For an extra $10 NZD, you can do a little tour where they take you behind the scenes and teach you about Kiwis. It was pretty interesting.
Freedom Camping
If you're travelling around New Zealand in a camper van, you MUST try freedom camping. While you can't simply pull up your camper van and sleep wherever you want, there are many freedom camping areas across the country, some of which are just incredible.
Our favourite freedom camping places
Cooks Reserve in the Coromandel Peninsula
Lake Opuha reserve in the Makenzie Region, about an hour from Lake Tekapo
Kingston Reserve near Queenstown
Make sure you follow the rules regarding self-containment and where you stop for the night. We've explained everything in our article on freedom camping.
Take the Inter-Island Ferry
Whether in a vehicle or not, the interisland ferry is a great experience in New Zealand. We took the Bluebridge Ferry from Wellington to Picton, and while there is a slight stretch in the middle with nothing but ocean views, the views as your leave the North Island and as you pass the top of the South Island are magnificent.
It's an entirely different vantage point to see the coastline, and you can do it all from a comfortable chair with a drink.
Here is how we begin to plan our trips
This article contains affiliate links. For more information, please see our affiliate disclaimer here.