With its seemingly endless number of incredible experiences and wild and varied landscapes, New Zealand never fails to wow its visitors. Our New Zealand travel guide will help you plan and organise your dream vacation from start to finish. Whether you want to hike up volcanos and glaciers, lay on a beautiful black sand beach or enjoy a delicious traditional Maori dinner, New Zealand has something for you. I know you'll love it as much as we do! You can scroll to the bottom if you want to see all the posts we have for New Zealand. There's a lot.
This article contains affiliate links. For more information, please see our affiliate disclaimer here.
Quick Facts about New Zealand
Currency – NZD
ATM and cards – Automatic Teller Machines (ATMs) are widely available, and cards will be accepted in most places, so there is no need to carry large amounts of cash on you.
Internet and wifi – As you'd expect, internet and wifi are readily available in the cities. However, if you are travelling between cities, there is often no wifi signal.
Plugs and electricity – New Zealand have 230/240 volt 50-hertz electrical sockets. The plugs have three angled pins, the same as in Australia.
Languages, religion and culture. The official languages of New Zealand are English and Maori. Maori is the language spoken by the indigenous Maori people. However, new Zealand is a multicultural country, and you'll find people of all religions speaking many languages other than the official two.
Safety – If you're wondering how to stay safe in New Zealand, the good news is you can relax. New Zealand is known to be a remarkably safe country. Exercise usual caution when walking alone late and night, and don't leave your belongings unattended.
Before we get to all the practical information, let's look at the exciting things.
Top things to do in New Zealand
For a comprehensive list, read our ultimate tourist guide to NZ – the New Zealand travel bucket list.
The best experiences in New Zealand
There really is no limit to what you can do in New Zealand. These are some of our New Zealand travel recommendations for New Zealand's most popular activities.
Cruise Milford Sound
Milford Sound is New Zealand's number one tourist attraction and is an awe-inspiring sight. Take a boat trip or, better still, a kayak, and cruise the beautiful black waters of Milford Sound, admiring the sheer vertical cliff faces and waterfalls lining its edges. Doubtful Sound is another very popular option.
Explore New Zealand in a campervan
Travelling New Zealand by campervan is one of the most popular ways to explore the country. The beautiful, ever-changing landscape never gets boring. We have a few travel guides to campervanning New Zealand you might find helpful. There are more articles at the bottom of this page too.
See glow worms
You can see glow worms in many places in New Zealand, but one of the most popular is in the Waitomo Caves, a couple of hours south of Auckland. Take a small boat tour through the caves and look for the twinkle of thousands of glow worms.
Experience New Zealand's Geothermal landscape
A hive of volcanic activity, there are plenty of opportunities to see and experience the geothermic side of New Zealand. Visit Waimangu Valley or Wai-O-Tapu Geothermal Park to see multicoloured volcanic hot springs and bubbling mud. There are also several hot springs where you can swim or soak in the warm water.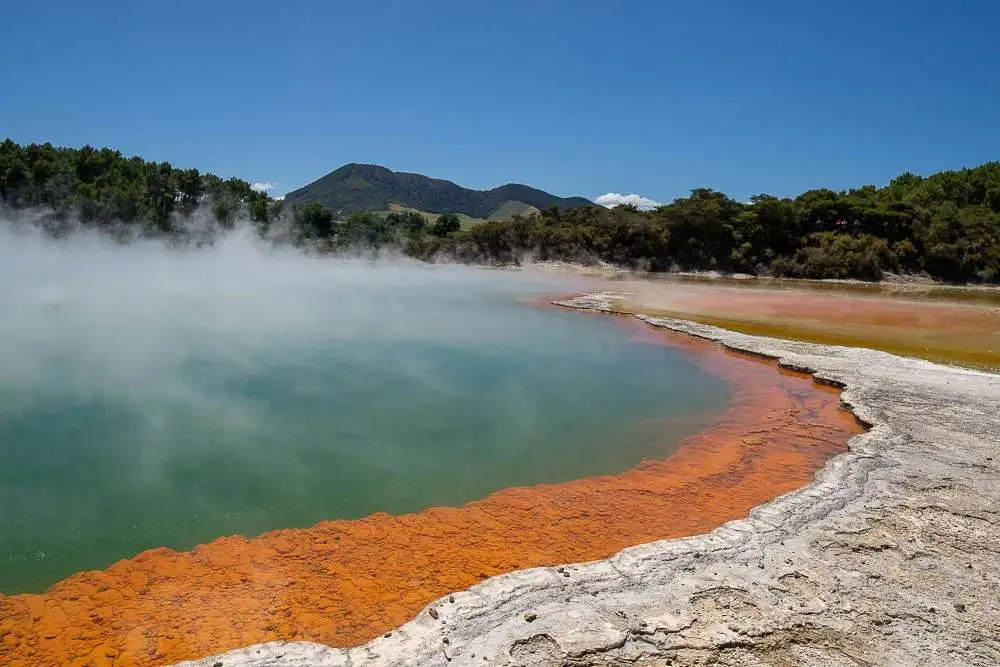 Climb a glacier
Head to Fox Glacier or Frans Joseph Glacier and walk on the ice. With the way the world is heating up, who knows how much longer you'll be able to do this!
Hike some of New Zealand's most beautiful Landscapes
New Zealand is known for its spectacular walks and hiking trails; from the Tongariro Crossing to multi-day 'Great Walks', you won't find better scenery than in New Zealand.
Whale watch in Kaikoura
Famous for its wildlife, the South Island of New Zealand is a great place to see all kinds of marine life. Seals, penguins, dolphins and whales can be easily spotted along the coast. A whale-watching tour in Kaikoura is an unmissable experience.
Visit Hobbiton and other Lord of the rings sites.
Many famous scenes and landscapes from the LOTR movies were filmed throughout New Zealand. The most popular place to visit is Hobbiton. Walk amongst the little Hobbit Houses and visit Shires Rest. You can visit Hobbiton from Auckland, Rotorua or Tauranga.
Enjoy a delicious traditional Maori dinner.
Known as a Hangi, a traditional Maori dinner is cooked in an underground oven. The best place to enjoy a Maori Dinner is in Rotorua on the North Island. But, it's more than just a meal. It's a cultural experience worth having.
Explore the Bay of Islands
The beautiful Bay of Islands, with its white-sand beaches and deep blue water, is perfect for relaxing in the sun. Base yourself in Paihia and explore the local area north of Auckland.
Sample some of New Zealand's locally produced wine
New Zealand is known for its fertile wine regions on the North and South Islands. Take a local winery tour and sample some of their delicious produce.
Most popular places to visit in New Zealand
Auckland
One of New Zealand's most popular cities, Auckland, is located in the north of the North Island. Situated around two harbours, this beautiful city has plenty of things to do and is also an excellent base for exploring further afield.
Rotorua
You could spend weeks exploring Rotorua city and its surrounds. There are so many things to do in Rotorua itself, including many beautiful walking trails. Day trips from Rotorua include trips to Hobbiton and the geothermal parks.
Christchurch
Christchurch is known for its beautifully landscaped parks and gardens, English heritage, and abundant coastal wild and marine life on the South Islands' east coast. Repeatedly damaged by earthquakes, this lovely city keeps on repairing and rising.
Queenstown
No New Zealand travel guide would be complete without a reference to Queenstown, the adventure capital of New Zealand. Located on the South Island, Queenstown provides access to all kinds of adventure and water sports. It's also an excellent base for exploring nearby attractions such as Milford Sound.
Best small towns to visit
If you're campervanning or just have some spare time, we have some great articles on the best towns to visit on the North Island and South Island of New Zealand. You'll be amazed at the variety of landscapes New Zealand has once you're out of the cities. Visiting small towns is also a great way to learn a little more about the local culture and history of New Zealand.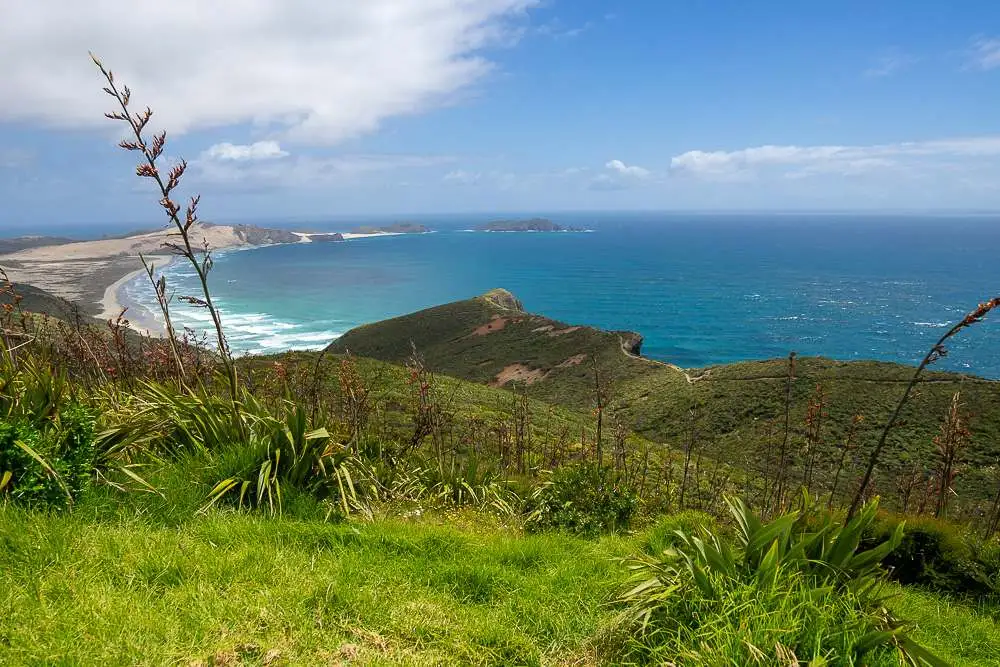 New Zealand travel budget and costs
What is a typical budget for New Zealand?
In reality, there is no one typical New Zealand travel budget. It depends on how you like to travel. Do you take local transport everywhere or do you take a taxi? Would you prefer the train? Or to fly when you travel between cities? Do you stay in hotels or hostels?
Below is a table with an average amount spent per category to give you a general idea.
All prices are in New Zealand Dollars (NZD)
Budget
Per person, per day
Mid Range
Per person, per day
High End
Per person, per day
Average daily spend per person
$68
$185
$539
Accommodation
Hostels
$34
$96
$296
Double room in hotel
$69
$192
$591
Local transport
$11
$27
$67
Intercity transport
$44
$121
$367
Food, average per day, per person
$16
$41
$105
coffee
$5
$5
$5
Breakfast
$8
$8+
$8+
Dinner
$15
$15+
$15+
Alcohol
Wine, glass
$8
$8+
$8+
Wine, bottle
$20
$20+
$20+
Average daily budgets for New Zealand in different price categories
Tipping in New Zealand
Tipping is not common practice in New Zealand. But, of course, if you receive excellent service, it's always a nice thing to do. If you do tip, 5-15% is considered a reasonable amount.
How to travel New Zealand – New Zealand travel planning
When will New Zealand travel restrictions be lifted?
The New Zealand Government have announced that the border will be open to everybody from July 31st 2022.
New Zealand travel requirements
Please check the various New Zealand websites, such as the Customs website and the Governments Covid Advisory site, before making any plans,
Visas for New Zealand
Always check your visa requirements before travelling. Currently however
citizens and permanent residents of New Zealand and Australia
citizens of the UK
and citizens of countries that have visa waiver agreements with New Zealand
do not require visas to travel to New Zealand. However, you must apply for an Electronic Travel Authority or ETA before arriving in New Zealand. You can find all the information you need at the New Zealand Immigration website.
The length of time citizens from different countries can stay in NZ varies, so make sure you check before booking your trip.
Citizens from other countries are required to pre-organise a visa for New Zealand.
Travel insurance for New Zealand
Travel Insurance is a must, especially if you're planning on doing any adventure activities while you're in New Zealand. Our New Zealand travel guide tip would be to use World Nomads Travel Insurance. We have always used World Nomads and highly recommend them. We once had to make an ongoing, quite difficult claim, and they were fabulous, even though we were very slow in giving them all the information.
Unfortunately, it's easy to think that you don't need travel insurance until you need it, and then it's too late.
Getting to New Zealand
Flights operate from around the world in New Zealand's international airports. For most countries, flights will land in Auckland or Christchurch. Travellers from Australia and Fiji can fly into Auckland and Christchurch, as well as Queenstown, Dunedin and Wellington airports.
Make sure you book your flights to the right Island for the start of your itinerary!
New Zealand Geography – Where is everything?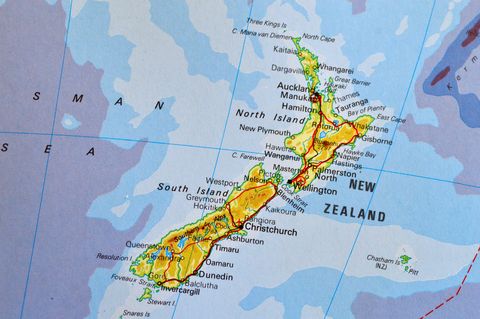 Should you visit the North or South Island?
New Zealand is divided into two main larger islands and a few smaller ones.
The main cities on the North Island are Auckland and Wellington. Highlights of the North Island include
the Bay of Islands and the Northland region above Auckland. Try this road trip itinerary for Northland if you want to experience the best of the area.
The Coromandel Peninsula is a beautiful area and home to Cathedral Cove and Hot water Beach.
Rotorua
Hobbiton
Waitomo Caves and glow worms
Lake Taupo
The Tongariro Crossing
The biggest cities on the South Island are Christchurch, Queenstown, Dunedin and Invercargill. The South Island and Queenstown, in particular, are world-renowned for their adventure activities. On the South Island, you'll find
Glaciers such as those at Fox Glacier and Frans Joseph
Glenorchy and other beautiful small towns
Kaikoura and the opportunity for whale watching
Milford and Doubtful Sound
Lake Tekapo and the Dark Sky Reserve
Wanaka
Both Islands are worth visiting; however, if you only have a short period, our travel guide recommends choosing just one and exploring it more thoroughly. The South Island is generally more popular with tourists than the North Island.
Getting around in New Zealand
Although technically 'small', New Zealand is a surprisingly large country to travel around as it is sparsely populated. There is quite a distance between many of the larger cities and towns. Nevertheless, there are plenty of ways to get around.
Flying
Domestic flights operate between all New Zealand airports moving the cities and islands much more manageable. If you have limited time, flying is the fastest way to cover large distances. But, of course, it's also the most expensive option.
Driving
As mentioned, travel by campervan is prevalent in New Zealand. Hiring a campervan or a car and road-tripping around the country allows you the time to experience the beauty and diversity of New Zealand. You'll find these posts helpful if you're considering hiring a campervan to travel to New Zealand.
We've also put together the perfect five-week South Island Itinerary!
Buses
Buses are a great way to get around most cities and towns. Intercity buses are also available. You can check the Intercity website for timetables and ticket information.
Trains
Unfortunately, New Zealand has no intercity trains for general transport purposes, although they have some incredible scenic journey trains, The Coastal Pacific, the Northern Explorer and the Tranzalpine. These are an attractive option if you have a few days and want to relax.
Inter-Island Ferries
Inter-Island Ferries run regularly between Wellington in the South of the North Island and Picton on the South Island. The ferries are comfortable, and there are drinks and food on board. The ferry will also carry your car or motorhome if you have one. Tickets start at about $55 NZD for a person.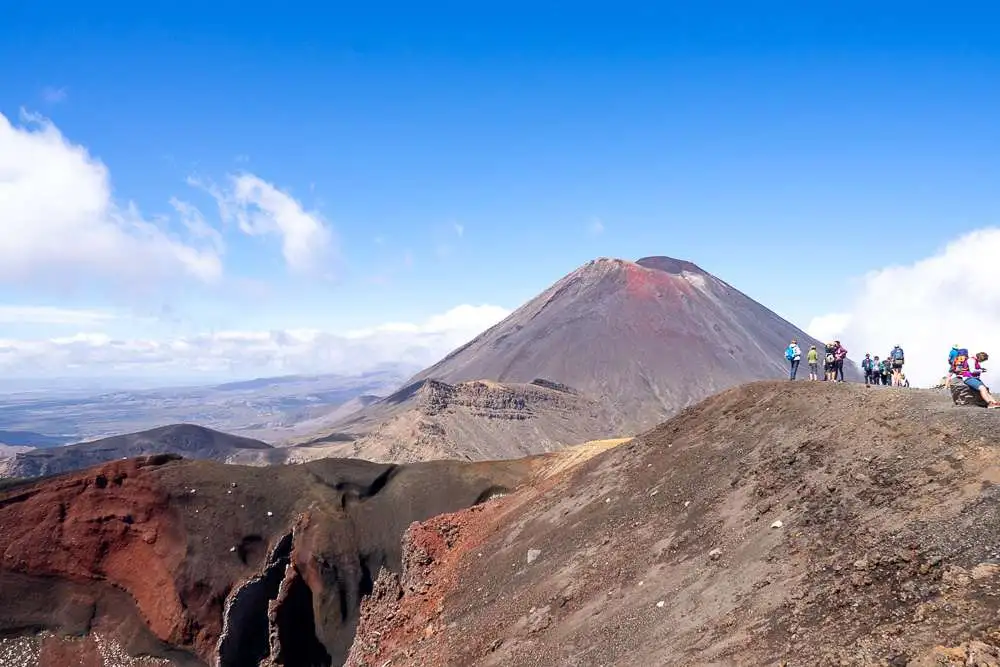 Where to stay in New Zealand
New Zealand has an unlimited number of boutique hotels, hotels and motels, bed and breakfasts, holiday parks and campgrounds. There is something for every budget and every taste.
We always use Booking.com when we book accommodation because I like how I can sort by price and review score, so I get the best-reviewed room at a great price. In addition, I've just found it to be the easiest to navigate.
Best foods to eat in New Zealand
A trip to any country is impossible without trying some local delicacies. So make sure you try these local treats.
Traditional Maori Hangi dinner – cooked below ground in a dug-out oven. read this New Zealand travel guide to choosing the best Maori experience for our recommendations
Seafood – Surrounded by coastline New Zealand has beautiful fresh seafood
Lamb – New Zealand produces some incredible lamb
Pavlova – Now, as an Australian, I always thought we owned 'The Pav' like many other things we claim; I think it's from New Zealand. But, if you haven't tried it, you really should!
Weather and climate in New Zealand
Generally, the North Island is warmer than the South Island no matter what time of year.
Summer
Summer is great for spending time on the beach or enjoying one of New Zealand's great hikes. The New Zealand summer is from December until the end of February. The North Island is warmer than the South, with an average temperature of between 20 and 30 degrees Celsius.
Autumn
Autumn, from March through until the end of May, is a mix of cooler temperatures and changing colours. Trees will begin to turn auburn, and whole areas look spectacular. Nevertheless, the weather can be pretty good, and if you travel in the early months, many summer activities such as swimming are still possible. Rainfall increases, however, so be prepared for wetter weather.
Winter
Winter in New Zealand is an excellent time for skiing and other cold-weather activities, with an average temperature of 12-16 degrees Celsius.
Spring
The whole country comes alive with colour in the spring as the plants and flowers flourish. Waterfalls are at their peak after the winter rains, and temperatures begin to increase to around 15 to 25 degrees Celsius.
The best time to travel to New Zealand
When is the best time to visit New Zealand? Of course, that depends on what you want! While summer is the most popular time, there are advantages to travelling to New Zealand at other times of the year.
The summers in New Zealand are often busy with lots of tourists. One disadvantage of this is that the prices for everything are also higher. Campervan fees are at a premium in the lead-up to summer, and many companies will be booked out. The same can be said for tour companies. It's a good idea to book well in advance if you intend to travel in the summer.
Spring and Autumn, however, are a little quieter. There are fewer tourists, and prices are generally lower. The temperatures are not as warm, and it may be a little wetter, but this shouldn't deter you. Spring and Autumn are great seasons to travel to New Zealand.
The winter can also be an excellent time to travel if you're after winter activities. Prices during winter are at their lowest, and plenty of good deals can be had. However, some tours will not operate during the winter, and roads can be more challenging to drive on, especially around the mountains. If you're campervanning during the winter, we have a guide to help prepare you.
Our advice would be to travel near the end of summer, or in spring or Autumn for the best all-around experience.
How long to spend in New Zealand?
I would recommend at least one week in New Zealand. That would include visiting one or two areas on one Island. Our travel guide to New Zealand recommendation would be that if you plan on travelling around and visiting both Islands, 2-3 weeks would be a minimum. Of course, the more time you have, the more you can explore.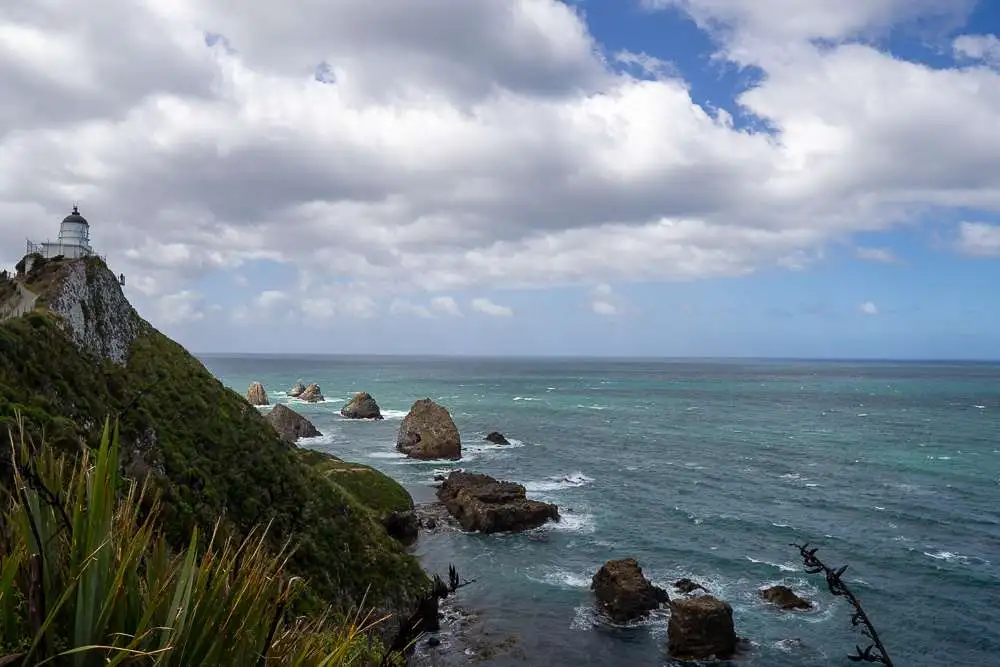 What to pack for New Zealand
You can subscribe to our mailing list for a free New Zealand packing list that will cover all seasons. Aside from clothes, the most important things to take are
Insect repellent – those bugs can get quite annoying
Sunscreen – for when you're exploring the outdoors,
a wind and waterproof jacket – New Zealand is famous for having all seasons in one day. You'll b glad you have this with you.
Good walking shoes – You'll thank us for this one!
A refillable water bottle – New Zealand's water is safe to drink. You can just refill your bottle from a tap rather than buy plastic.
Responsible travel tips in New Zealand
Use a refillable water bottle as mentioned above – it helps reduce waste
Make sure you take your rubbish with you. The New Zealand government and Department of Conservation make a considerable effort to keep their pristine environment, well, just that. Pristine. Don't little or leave your plastic products lying around.
FAQ's
Are there any travel restrictions to New Zealand?
As of July 31st 2022, the borders will be completely open. Check the latest information from the New Zealand government for up-to-date information.
How much does a New Zealand trip cost?
A New Zealand trip can cost anywhere from $1000 NZD and up, depending on the length of stay and the activities you do while you're there.
Useful new Zealand posts
Things to do in New Zealand
How to Campervan around New Zealand
General New Zealand articles