Kep National Park – Hiking mountains in Cambodia
Located in the south east of Cambodia, Kep National Park offers one of the only hiking and national park experiences in the country that doesn't require a guide. The lush mountain ranges offer spectacular scenery and views of Vietnam's Phu Quoc Island and Cambodia's own Bokor Ranges.
This article contains affiliate/compensated links. For more information please read our affiliate policy here.
How to get to Kep National Park
Kep National Park entrance
The main Kep National Park entrance is located behind the Veranda Resort, which you can access off of the main road NR33A. To get to Kep National Park simply follow the dirt roads up closer to the base of the mountains and you'll find yourself on the Mountain Trail.
Kep National Park Map
Kep National Park trail map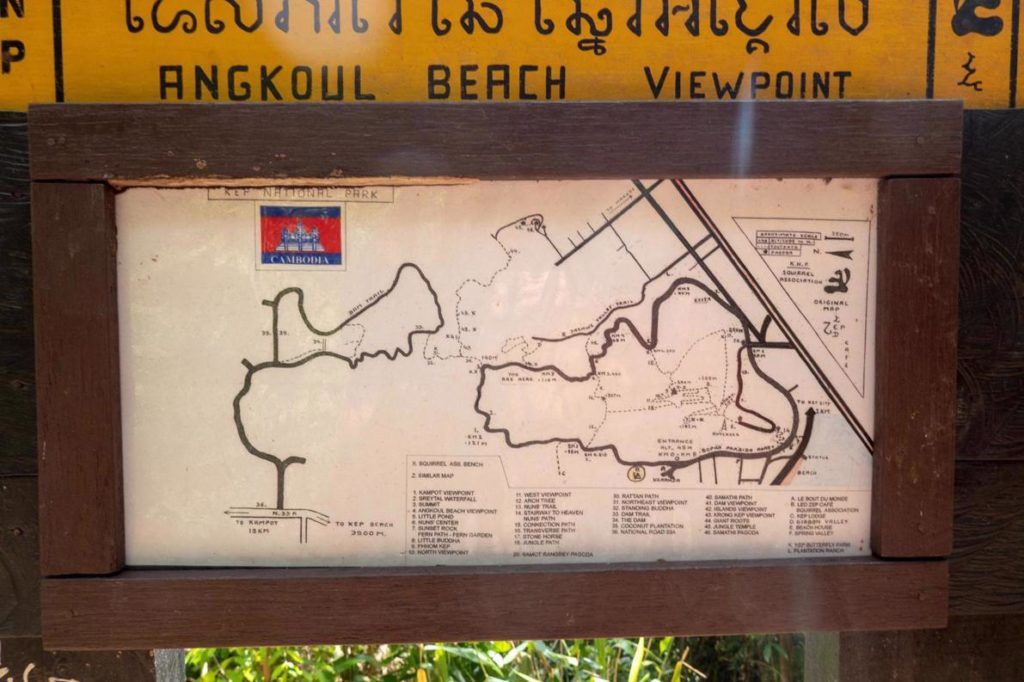 Kep National Park hiking trails
The 8km mountain trail circuit is a fairly easy stroll around the outside of one of the mountains. This is a great track if you're looking for a leisurely stroll or you're out on a morning run. It's a fairly flat, wide track. You can even take a motorbike along it. It offers some beautiful viewpoints. At some point it will spit you back out onto what looks like a main road but if you continue to follow it around to the right you'll complete the circuit and end up where you started.
The real beauty are the inner trails that take you deeper into the jungle. The trails are well marked with yellow sign posts at their start, and yellow markings on trees and rocks as you follow along, although the paths are quite well maintained so you'll have no problem discerning them.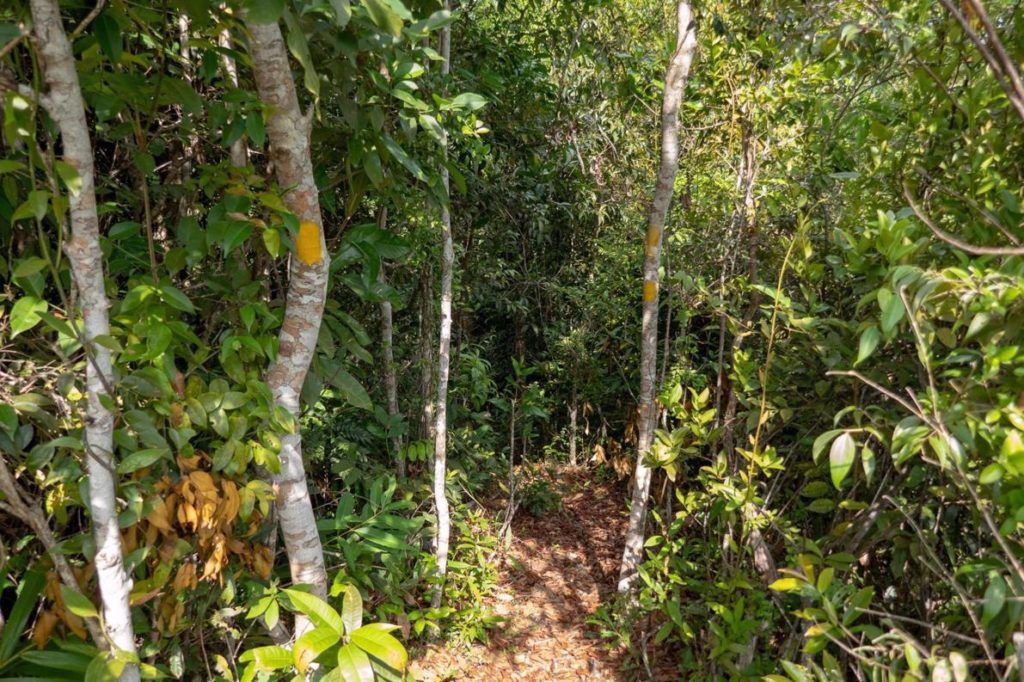 Signposts give you an idea of the distance, how long you can expect a hike to take and what you can see on the way. Inside the Kep National Park there is everything from temples and butterfly farms to waterfalls and spectacular views.
One thing that isn't indicated is the difficulty. We did a hike to an abandoned temple and 'jungle temple' (number 45 and 46 on the map). The hike was fantastic and we thoroughly enjoyed it, but some bits were really steep, both going up and going down. We literally climbed one side of a mountain and then went straight down the other side. One twenty meter section had a rope securely fastened and we were required to essentially walk our way down the mountainside backwards, while supporting ourselves with the rope. It was awesome! But, not for the frail. Mind you, you probably wouldn't have gotten that far if you weren't physically capable.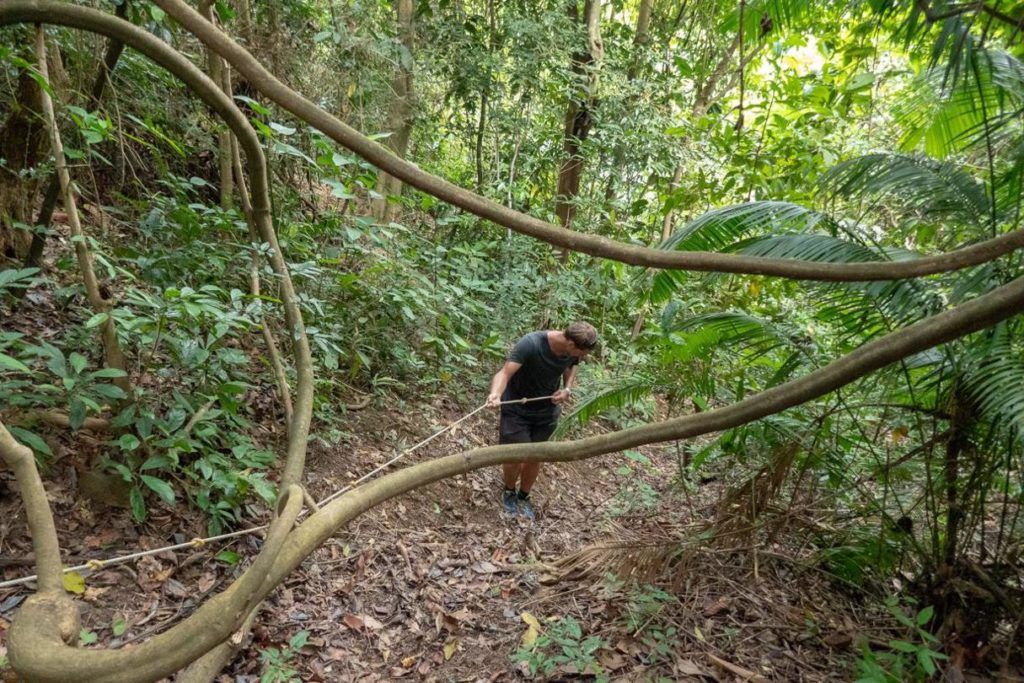 The transverse path, which is essentially a shortcut between two sides of the Mountain trail circuit is apparently also particularly challenging and steep in places.
We didn't have time to hike it but the Stairway to heaven path is meant to be spectacular!
Wildlife in Kep National Park
There are plenty of animals in Kep National Park although you may not see that many in person. We saw plenty of butterflies, birds, macaques (monkeys) and insects like giant centipedes, spiders and ants. One animal we were really excited to hear, but not see were two wild gibbons.
Gibbons have a hard time in South East Asia, being caught for the illegal wildlife trade, or used in countries like Thailand, for tourists to take photo's with. Many tourists don't know that when a gibbon reaches maturity, they become quite aggressive. That cute little gibbon you had your photo taken with is no longer cuddly and will either be killed or simply be released to fend for itself after being raised in captivity.
Hearing two gibbons calling to each other in the wild was a fantastic experience.
We also met an American couple at the jungle temple, and they had come face to face with what they think was a cobra.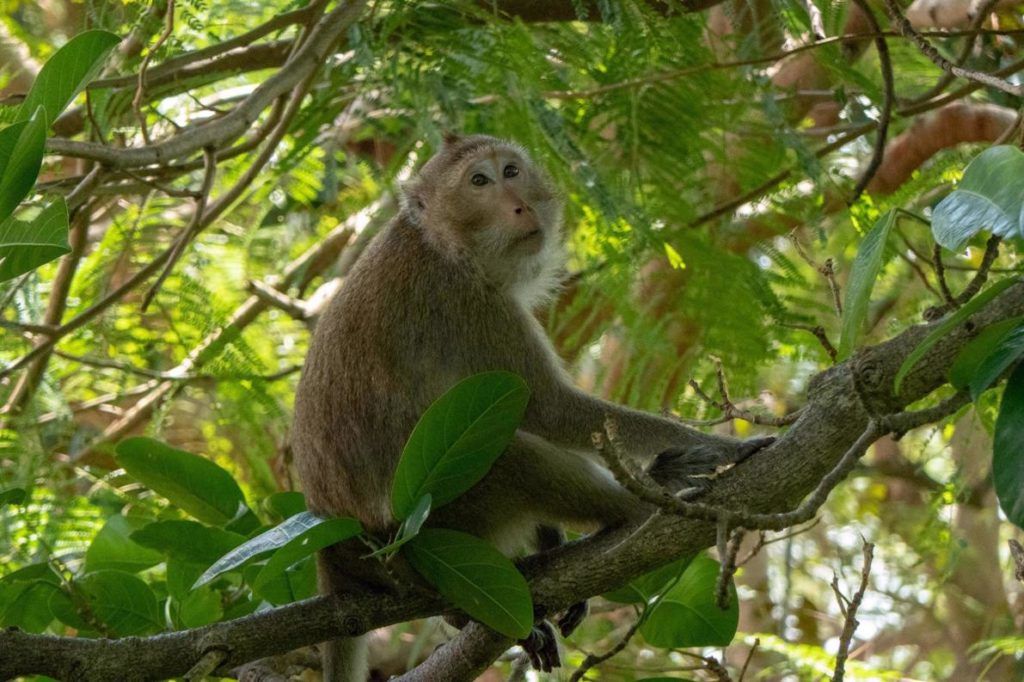 Led Zep Cafe Kep National Park
About 300 meters inside the Kep National Park, after you pass the main ticket booth is the Led Zep Cafe. We tried to go to the cafe on three separate occasions but it was closed each time. There was no sign up so I have no idea why. If it's open however, the food is supposedly good and if you buy something they have free maps of the park and it's trails.
There are also some resorts that line the Mountain Trail road, and a few of those have restaurants you can access from the Trail.
As the Led Zep Cafe was closed, we had lunch at Le Bout Du Monde and it was delicious. Their restaurant is perched high on the mountainside and we had stunning views as we ate. You can buy bottled water there too.
Kep National Park opening times
There's little information on the opening times, however I'd only enter the park during daylight hours as there are no lights within the park.
Kep National Park entrance fee
There is an entrance fee of $1 USD per person to enter the National Park. You'll also be required to sign in.
Tips for hiking in Kep National Park
As mentioned, if you're after a leisurely stroll, take the Mountain trail circuit around the outside. If however you're after nature and adventure, choose one of the inner trails.
Good shoes are a must. There are plenty of places you need good grip, but not only that, you'll be happy to have some protection from the insects hiding in the leaf little you're traipsing through. Here is a great article on what to wear hiking in different conditions
We'd strongly recommend insect repellent. There are plenty of mosquito's inside the jungle. I had read that there were leeches, although I'm glad to say that we didn't find any.
Lastly, water is absolutely necessary. It is incredibly hot and humid and given the challenging nature of parts of the path, we were drenched with sweat for the entire day. If you run out of water, the resorts along the Mountain Trail, or Led Zep Cafe will sell you some.
Other Things to do in Kep
Relax and people watch on Kep Beach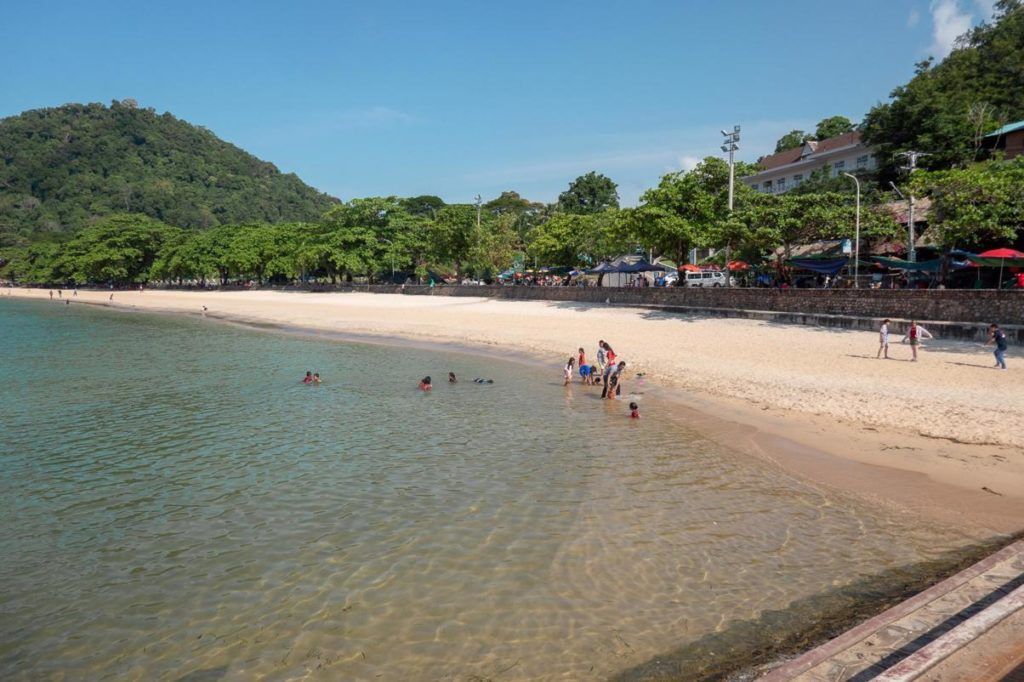 While it may not be the most spectacular beach in the world, Kep beach is worth a visit if you want to laze around by the ocean. A man made beach, it looks like they're currently in the process of extending it. It's a great place to people watch as it is popular with the locals.
Visit the Kep Crab Market
Kep is famous for their crab and at the crab market you can get it fresh for around $8 USD a kilo. They'll even cook it up for you and you can sit down by the water and enjoy.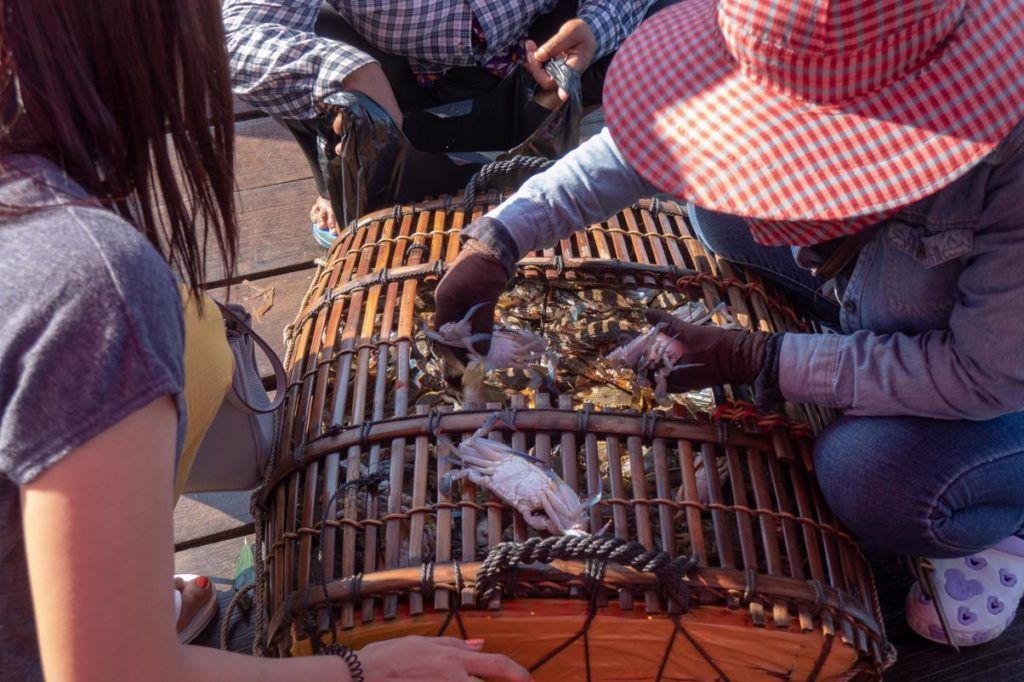 Explore Kep butterfly farm
While you probably won't spend long there, Kep Butterfly garden is a nice stop in Kep. You can learn how the butterflies are bred and see them as egg and pupae and see them in all their glory. You can also access the Butterfly Garden on one of the hiking trails through Kep National Park.
Where to stay in Kep
The Kep Bungalows, also known as Le Kep Bungalows is a fantastic place to stay while you're in Kep. Located at the base of the National Park Mountains, it's a short walk from the entrance to Kep National Park, and only a 5 minute walk to the Crab market and restaurants.
Featuring cute little bungalows, the cheap ones are basic but spacious and lovely. The highlight however is the huge clean pool located in the middle of the gardens. It's paradise and the perfect way to relax after hiking in the National Park.
Where to eat in Kep
La Baraka Lounge Bar is a nice place to find a good selection of more western foods. The meals are a decent size and they are delicious. They even have a fairly large selection of delicious cheeses and wines from France. They also have some English speaking Staff.
Kimly Restaurant has a great reputation for its seafood and Cambodian cuisine. Their pepper crab is fabulous.
There are many resorts and guesthouses that also have their own restaurants. As mentioned above, we found Le Bout du Monde, near the entrance of Kep National Park to be really nice with beautiful views.
Getting to and from Kep
Getting from Kampot to Kep
Kep is only around 25 kilometers from Kampot and can be reached easily by tuk tuk or rickshaw. From Kampot to Kep will take around 45 minutes. If you're taking a tuk tuk, you can possibly bargain the price down to around $12, although most drivers will start negotiations at around $25.
If you have a Cambodian sim card, and download PassApp, the Cambodian version of Uber, you'll pay around $7, depending on how busy they are.
Buses from Kampot to Kep can be booked here.
If you're heading to Kampot from Kep and you love national parks, don't miss Bokor National Park and Bokor Mountain.
Getting from Kep to Sihanoukville
With a distance of around 85km's from Kep to Sihanoukville, a tuk tuk or rickshaw ends up being a lot more expensive and a bus, or mini van is by far the better option. Buses start from $7 and will take around 3 hours to reach Sihanoukville.
Heading to Vietnam?
Kep is close to the Vietnamese Border and it is possible to cross over to the port town of Ha Tien. From here you'll be able to visit Phu Quoc Island or travel further into the Mekong Delta Region of Vietnam.
Planning a trip to Cambodia? Here is how we did it
This article contains affiliate/compensated links. For more information please read our affiliate policy here.
Love it? Pin it!