Choosing a campervan for New Zealand is the important first step in planning your dream trip. Heading out on the open road to explore a new place in a campervan is an exciting prospect. The thought of it brings to mind nights spent gazing at the stars and sitting in silence watching the ocean before climbing into bed for the night and listening to the waves as you fall asleep. Your campervan will be your home for the duration of your trip, so it must meet your needs. If you're unsure which camper is right for you, we have all the information you need to make the best choice.
This article may contain affiliate/compensated links. For more information, please see our disclaimer here.
Is a campervan the right choice for you?
Before we even start getting into the nitty gritty of camper vans, it's important to be sure that a campervan is the right choice. There are many other ways to travel that give you the freedom of a camper; for example, you could take a four-wheel drive and a tent. Many people take a camper car for shorter trips around New Zealand. Maybe you'd prefer something bigger, like a motorhome? Here are some things to consider to help you choose the right campervan for New Zealand.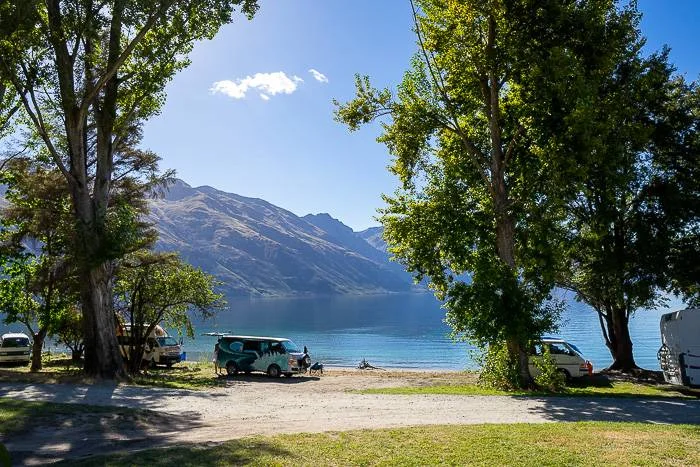 What are the different types of campervans available in New Zealand?
Camper cars – small and easy to get around in
A camper car is just a car that converts into a bed at night. They are lightweight, fuel-efficient and make it easy to park in the cities of New Zealand's North and South Islands.
When is a camper car suitable for a New Zealand road trip?
Camper cars usually come with minimal facilities and certainly with limited space. However, they can be suitable for shorter trips or when you want to save some money. They're also good if you intend to stay in a hotel or at a holiday park for a few nights here and there as you'll want access to a shower, toilet, and proper cooking facilities.
Some camper cars are self-contained (if you're not familiar with that term, we'll explain it soon, so don't worry). Self-containment means it has a toilet. You'll want to be very comfortable with your travel buddy as you'll be using it right before them.
When is a camper car not suitable?
They are not great if you want to cook a lot of your food or need some space to move around. A camper car is not an option if you have more than two people. Although it will probably seat more than two people, there is not enough space for everyone to sleep and there would never be any privacy.
You'll need a self-contained camper car if you want to spend most of your time freedom camping or staying in free Department of Conservation campgrounds in National Parks. I would say that is a minimum requirement; in actuality, I'd recommend upsizing to a campervan if that's your intention.
An example of a camper car in New Zealand is the Spaceship NZ Dream Sleeper.
Campervans – a wide-ranging term
A campervan is a larger vehicle that usually has more space in the back. It will often have more kitchen facilities and the option of a toilet. Campervans can be self-contained or non-self-contained. Campervans come in different sizes, so keep reading if you want to think it through further. There are many more things to consider when choosing a campervan for New Zealand.
When is a campervan a good option to travel New Zealand?
A campervan is a good option if you're travelling for more than a week or so. As there is more space for facilities, you'll usually have more kitchen equipment. For example, a larger campervan means a potentially larger refrigerator. It will be easier to cook your own meals.
With more space for water storage, wastewater and cooking equipment, a campervan is a good option if you want to go off-grid and freedom camp. Self-contained campervans will have enough water storage for two people for 3 days, so technically you could stay at free campsites for three days before you'll need to refill.
An example of a campervan is the Chubby Campervan from Travellers Autobarn NZ
When shouldn't you choose a campervan
There really aren't a lot of negatives to a campervan besides the increased size and price. They are larger and more expensive than a camper car. The only time a campervan wouldn't be suitable is if you're only travelling in the city.
Motorhomes – a little more luxe
A motorhome is a larger campervan. It will have good kitchen facilities, a toilet, and often a shower. You will be able to stand up and walk around in the back. Motorhomes are the most expensive option for campervanning around New Zealand.
When is a motorhome a good option for New Zealand?
Motorhomes have many benefits in terms of style and comfort. They're a great option for families or larger groups of people. For example, many motorhomes will comfortably sleep four to six people, although larger ones can sleep more. A motorhome will have more kitchen space and they will often have a built-in, enclosed toilet so you can pee in private!
A motorhome is a good choice if you have more than two people, are travelling for an extended period of time or if you really want to stay off the grid, at freedom camping, DoC free campsites and national parks.
When is a motorhome the wrong choice?
While it's never a wrong choice to travel in a motorhome you'll have a more challenging time parking it in the cities. Not to mention driving it through the busy streets. If you're going to spend the majority of your time in the cities, consider a smaller option.
An example of a small motorhome is the Jucy Condo from Jucy Campervan Rentals NZ
Self-containment
Self-containment, or a self-contained vehicle, is a requirement for many freedom camping grounds and DoC campsites. To be self-contained a vehicle must
The campervan can contain water for up to 3 days and have at least 12L fresh water tank
Gray waste water tank that holds 12L per person for 3 days
An evacuation hose
A rubbish bin with a lid
A toilet
This basically means that you're self-sufficient and can carry and take your own waste products with you. These regulations are designed to prevent littering and damage to the environment by dumping of rubbish and wastewater.
Read: Do I need a self-contained van or not?
Where do you want to stay in your campervan?
The campervan you'll need depends on how you envision yourself spending your nights. Where do you want to sleep? Do you intend to stay at paid holiday parks? Do you want to stay 'off the grid'? Your preference for overnight parking will play a significant role in choosing a campervan for New Zealand.
Staying off the grid – Freedom camping and DoC camping
Freedom camping
Pulling your campervan over and sleeping beside the ocean in New Zealand is called freedom camping. It's known as wild camping or boondocking in other countries. Depending on what country you're originally from, freedom camping in New Zealand may be VERY different to what you're used to. Freedom camping in New Zealand is highly regulated; you can't just pull up anywhere and spend the night.
In order to freedom camp in New Zealand, you need to
Stay in approved freedom camping places
Have a self-contained campervan – having your own toilet and grey water tank.
There are usually limited facilities at freedom camping sites, so you'll need water, to be able to prepare your food and take your rubbish with you.
You'll find freedom camping sites all over both the North and South Islands.
Department of Conservation campsites
DoC or Department of Conservation campsites are managed sites. These sites vary from very basic, which may only have a drop toilet, to a little fancier, which may have cold showers, or a BBQ and tables and chairs. You will need to pay for DoC campgrounds, and the cost varies from about $5 per adult at the basic sites to $23 per adult for the all-inclusive sites. DoC campgrounds are great options on your New Zealand road trip.
Campgrounds and holiday parks
Campgrounds and holiday parks are a little fancier. You'll have access to toilets and hot showers, BBQ areas, laundry facilities and kitchen and washing-up rooms. There are often also things like swimming pools. You can plug your campervan in at these sites and use their electricity to power your electronics.
If you're in a non-self contained camper, you'll probably end up at holiday parks more often because you'll need to use the showers and cooking facilities.
What amenities do you need in a campervan?
Think about where you want to stay each night and decide which of the below amenities you want or need in your campervan
Toilet – a small cassette toilet that you will need to empty each day, or a fixed toilet in a motorhome
Shower – only in larger campervans or motorhomes. If you're staying in Holiday Parks, you can use theirs
Kitchen – do you want to cook all your meals or eat out? If you want to cook, you'll need kitchen facilities and a fridge
Bed – How big a bed do you need? If you're tall or broad-shouldered, you may want to focus on bed size. Ben is tall and wide and this is always something we think about. We had to sleep in separate beds in our first motorhome because we didn't have enough space!
Interior height? – Do you want to stand up inside?
How much space do you need?
Does your home on wheels need to be able to sleep one person, or do you have a family of 5 you need to house? Remember that a camper is your home, transport and often your restaurant. You will be getting up close and personal with everyone in it. If it's a camper for two people, don't try to squeeze three! It's a recipe for disaster.
If your budget allows, when choosing a New Zealand campervan, I'd recommend going one size up to what you think you'll need. So if you have two people, find a camper for 3.
After you've thought about whether a camper meets all your needs, the next decision is whether to rent or buy. Of course, there are pros and cons to both.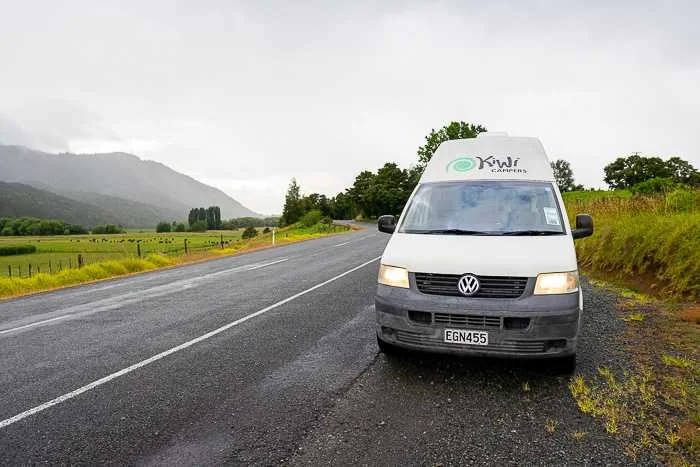 Where do you plan on going?
Do you want to be able to park your transport in the city (in which case smaller is better) or would you prefer a big spacious motorhome that allows you to stay comfortably at freedom camping locations?
What are you going to do on your trip?
This may seem an obvious suggestion, but if you intend to go off-roading or four-wheel driving, you'll probably find that a camper isn't the right choice. Think about what kind of activities you intend to do. Your camper is your transport and home; when choosing a campervan, remember that it will need to go where you want to go.
Choosing to hire a camper van
When we hire a campervan, we use Motorhome Republic to compare prices and read reviews of the hire companies
For trips that are shorter than a couple of months, hiring a campervan is the best way to see New Zealand. New Zealand has no shortage of different camper vans and motorhomes; you simply need to know what you're after and compare prices.
Pro's of hiring a campervan
Hiring a campervan is faster and easier than buying one for short-term travel.
If it brakes down, you can usually just call the rental company to organise help for you
You don't have to worry about selling it afterwards; you simply return it.
Con's of hiring campervans
There are some restrictions on where you can take the camper van.
Generally, taking the camper van one way will be more expensive, so you either have to return to the original location or pay an extra one-way fee.
Hiring a camper van longer term can be quite a bit more expensive than buying one.
You're unable to make personal adjustments
Some things to consider when hiring a camper van
When you hire a camper van, it will come with a standard level of insurance covering the vehicle. However, in an accident, you will be required to cover the damage done up to the excess amount in your policy.
You can opt to purchase an additional excess coverage through the hiring company. However, we've found this to end up being relatively expensive. It can easily add a few thousand dollars to your trip. Alternatively, make sure that you have a travel insurance policy that covers you for any excess. Note: I'm not an insurance expert, so double-check and do what's right for you!
You will need to pay a bond for the camper van when you hire it. Different companies have different requirements here, so shop around as the value can be pretty substantial. You'll need to have the total sum on a credit card for them to hold.
Choosing to buy a campervan for your road trip
Pros of buying a campervan
Total freedom to do what you want, when you want.
Great for long-term use
Cheaper because you can buy and sell, assuming you have time as it can take quite a while to sell for a reasonable price). Even so, what you lose on selling it for a lower price might be less than what you would have paid to rent it all the time you used it.
Con's of buying a campervan
Campers can take a little while to sell, which means you need time to move them if you want a decent return.
You are responsible for all the running and maintenance costs of the van from the time you purchase it.
New or used campervans?
While there are different factors to consider, the decision about whether to buy a new or used camper will depend on your budget, as a new camper can be pretty expensive.
As a rule of thumb, whichever you choose, don't put all of your budget into buying the campervan. You'll need to keep some for the following expenses
comprehensive insurance
future add-ons or things that you want to purchase or add for your comfort or to make it feel more homely
upcoming repairs and maintenance,
running costs such as fuel (efficiency can vary massively depending on fuel type, size of the van and weight)
What to look out for when buying a used camper van
vehicle maintenance history and km
fuel type and consumption – the size of your fuel tank, the fuel type and the average consumption will determine how often you have to fill up. Campers are heavier and therefore burn more fuel. A petrol engine will always burn more fuel than diesel, especially when the vehicle is heavy or heavily loaded.
Battery set up and power. Ideally, your new camper would have two batteries to start the car and keep it going. And one for the camper power. Solar panels will give you extra juice and keep you going when you are in the same spot for several days.
water tanks and storage are essential if you're going off the grid for days at a time
comfort – make sure the bed is the right size and you can move around inside well enough
Personal storage space is important so that you can hide your belongings and you're not constantly manoeuvring everything around the camper.
Ventilation is crucial if you plan on cooking inside the van. It also helps if you can open windows at night for air. Fly screens are great.
Make sure you check the automatic gearbox seat belts, brakes, suspension, and clutch/functioning; all should work well.
Inspect any rust and any accident damage. Many countries will allow you to get a history report of a car for a small price.
Check that the oil isn't burnt and there are no contaminants in the coolant.
Make sure there is no visible (white) smoke from the exhaust or strange sounds.
There should be no windscreen cracks or chips.
Make sure it has a current roadworthy certificate (if applicable), and we'd recommend having it looked at by a mechanic.
If you're buying a converted van, it also helps to consider who has done the conversion and if they know what they're doing. For example, Ben's cousin and girlfriend bought a van in Australia. One night, smoke started pouring out behind the inner wall beside their bed. The fire brigade was called, and it looked like the van was going to burn at one point. It turns out the person who had done the electrical's in the back of the van hadn't installed any fuses, and the wiring was on fire.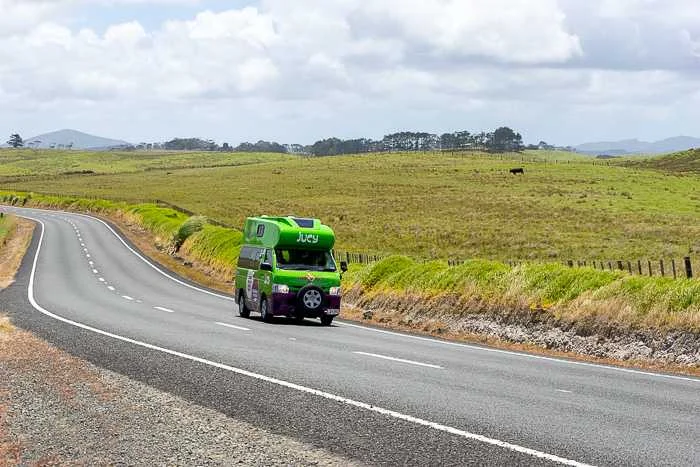 Licences and permits
You will need to be able to present an English version of your driver's licence when you arrive to collect your vehicle. If your driver's licence is not written in English, you will need an International driving permit. These are arranged in advance.
It's also important to know that huge motorhomes can sometimes require a light truck license, so make sure you have the necessary ability and license if you intend to hire one. Don't give your insurance a reason not to pay if something may happen, as you are practically always not insured if you drive without the appropriate license.
Well, they are the basics of deciding on buying and hiring a camper. I hope that helps. If you have any questions or want to tell me your thoughts, comment below.
You may find these articles helpful.
Planning a campervan trip soon? Here's how we go about it
This article may contain affiliate/compensated links. For more information, please see our disclaimer here.
Don't forget to pin it for later.