If you're planning a road trip through Europe as a non resident you will need an International Drivers Permit, or IDP. There are different types of International Drivers Permits, and different European countries have different requirements. I'm going to tell you what countries require what type, and how you can get an IDP at home, before you leave for your trip.
This article contains affiliate links. For more information, please see our affiliate disclaimer here.
There's that dreaded moment in any persons life when something happens with your car and the police are involved. Maybe you've had an accident, that alone is horrible. Maybe you're driving and you hear sirens telling you to pull over. It's never a great moment for anyone, even when you know you've done nothing wrong, but it's always a little more awkward when you're travelling and you don't share a common language.
The international drivers permit is the interface between you and the local police. It's a fast and simple way of proving your identity and that you're driving legally in a foreign country. If you've been doing something really silly, having an international permit won't help you get out of trouble, but it'll help the police write your fine more easily.
Accepted in over 150 countries world wide, the international drivers license is a helpful little booklet to have when ever you're driving in a foreign country.
What is an international driving permit?
An international driving permit is a translation of your drivers license. It translates your drivers license into 9 languages and confirms the validity of your drivers license in your own country. An international drivers permit is NOT a replacement for your drivers license. You will need to carry both your official drivers license and your international drivers permit when you're travelling in a foreign country. It's simply a way for authorities in a foreign country to easily recognize the validity of your license and to understand what it says!
Is an international driving permit necessary in Europe?
In short, yes, although it could also be said that this is true in theory, more than in practice. There are absolutely some countries in Europe that require non Europeans (or those licensed outside Europe) to have an IDP and we'll cover those below. Having an international drivers permit can also be a condition of hiring a motorhome or campervan. This is most likely true if you're hiring in one of the countries where you are legally required to have an IDP.
In reality, many people travel with one and no one ever asks to see it. However where you'll hit a problem is if you're pulled over by the police. If you're pulled over in a country that has an IDP requirement, and you don't have one, you face a potential fine.
Is an international driver's permit an acceptable form of ID?
Generally speaking an international drivers permit is not an acceptable form of ID, although it does give you another piece of documentation with your photo on it should you need one. As you'll need to carry your actual drivers license, you'll have 2 ID sources anyway, between that and your passport.
Which European countries require an international driving permit
You will need a international drivers permit to drive in any of these European countries
Austria
Bosnia Herzegovina
Croatia
Czech Republic
Germany
Greece
Hungary
Italy
Poland
Romania
Slovenia
Slovakia
Spain
Which international driving permit do I need?
There are actually 3 different kinds of international driving permits, if you can believe it. The 3 year IDP from the 1968 convention, and the 1 year IDP from the 1949 convention. To make it more fun, a couple of countries require that you have a specific one. You may need to consider applying for both options. Here are the European countries that require a specific IDP
Countries that require a 3 year international drivers permit
Bosnia Herzegovina
Germany
Countries that accept both 1 year and 3 year international driving permits
Austria
Croatia
Czech Republic
Greece
Hungary
Italy
Poland
Romania
Slovenia
Slovakia
Spain
As you can see, no matter whether you have the 3 year IDP or the 1 year IDP, you'll be able to drive in the countries above.
International driving permit requirements
The only real requirements for anyone, anywhere to get an international driving permit is that you are over 18 and have a valid drivers license. You must pay the small fee and you attach 2 passport sized photos to your application.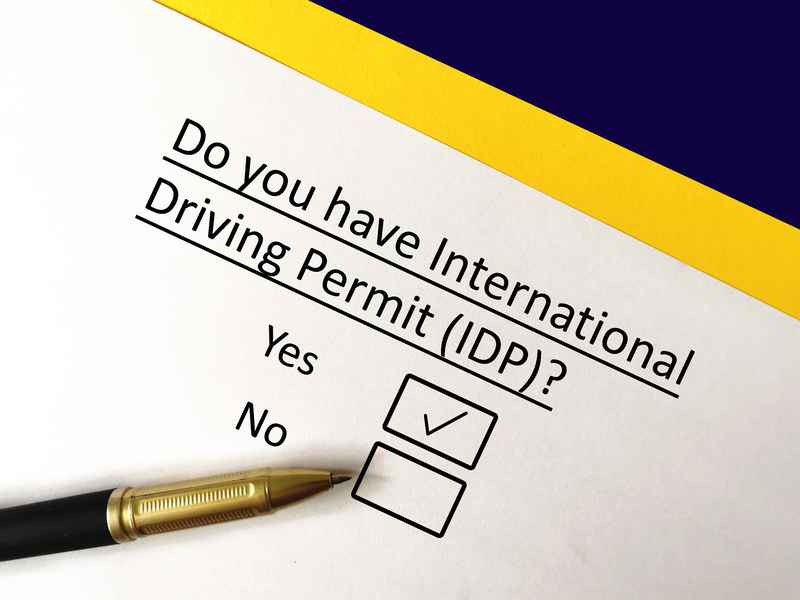 How to apply for an international drivers permit
International driving permit for US citizens
Where to apply? The best way for US citizens to get an IDP is to apply through the American Automobile Association.
Cost: US $20
How long does it take? Your IDP can take up to two weeks to arrive
Applying for IDP as Australian citizen
Where to apply? Australians can apply for the International drivers permit from the Australian Automobile Association, or in their state, through bodies such as NRMA or RACV
Cost: $42 AUD plus postage
How long does it take? 3-8 business days
Note: Australia only issues 1 year International Driving Permits which may not be suitable for Germany and Bosnia Herzegovina
International driving permits for New Zealanders
Where to apply? You can apply for an international driving permit from the NZ Automobile Association, or AA.
Cost: $28-38 NZD depending on if you pick it up or have it posted.
How long does it take? 3-5 working days
Applying for IDP as a resident of Canada
Where to apply? You can apply for your permit from the Canadian Automobile Association
Cost: $25 CND plus tax
How long does it take? 2 working days
International driving permit for UK citizens
Will I need international driving permit after Brexit?
According to the UK government website, you don't need an international driving permit to drive in the EU and a few other countries, post Brexit. You will need it if you want to travel in non EU countries within Europe however.
Applying for an international driving permit in the UK
Where to apply? You can apply for the IDP over the counter at any post office in the UK.
Cost: £5.50 ! Bargain.
How long does it take? It can literally take 5 minutes to get your IDP from a UK post office.
Note: You're able to buy both the 1 year and 3 year IDP's
Do international driving permits expire?
International driving permits are valid for either 1 year or 3 years from the date of issue. As they are proof of the validity of your actual drivers license, they'll also expire if your license does. If you're drivers license is out dated, or suspended, your IDP will not be able to help you.
What happens if you don't have an international driving permit
The consequences of not having an international driving permit when police ask you to present it, really depend on the country you're in. Technically speaking, if it's a legal requirement that you have one, you're breaking the law by not being able to show it. This could result in a simple fine, but could also mean something more serious.
International driving permit scams
One thing to watch out for is online scams for international driving permits. These permits are not actually legally valid documents and you won't have much luck showing them to a police officer if you're asked. In fact, you could even get in trouble for showing fraudulent documents.
Look out for companies that say that they can get you an IDP 'even if you don't have a valid drivers license'.
To be sure, you're best to just use the automobile associations or government options listed above.
Should I get an international driving permit?
If you're planning to drive around Europe and explore multiple countries, I'd really recommend that you get the permit. In the scheme of your expenses, it's really not that much money. It may be a legal requirement depending on what country you want to visit, and if not, there's no harm in having it anyway.
Other articles you may find helpful