Challenges of travelling in Vietnam – How to avoid them and get the most out of your trip
What's it like to travel in Vietnam? Is it safe? Will you be scammed? How touristic is it?
Over the last few years in particular we've heard a lot of people talk about the challenges of travelling in Vietnam. In fact, there are some people who don't want to go there because of a previous bad experience or after having heard of the experiences of others. Over two trips, we've now spent over 4 months in Vietnam and so I feel we're fairly qualified to put our two cents in. `
This article contains affiliate links. For more information, please see our affiliate disclaimer here.
We love Vietnam. The 3 month Visa we've had on this trip really wasn't enough. We've enjoyed so many places and so many experiences that we've spent large chunks of time in multiple places.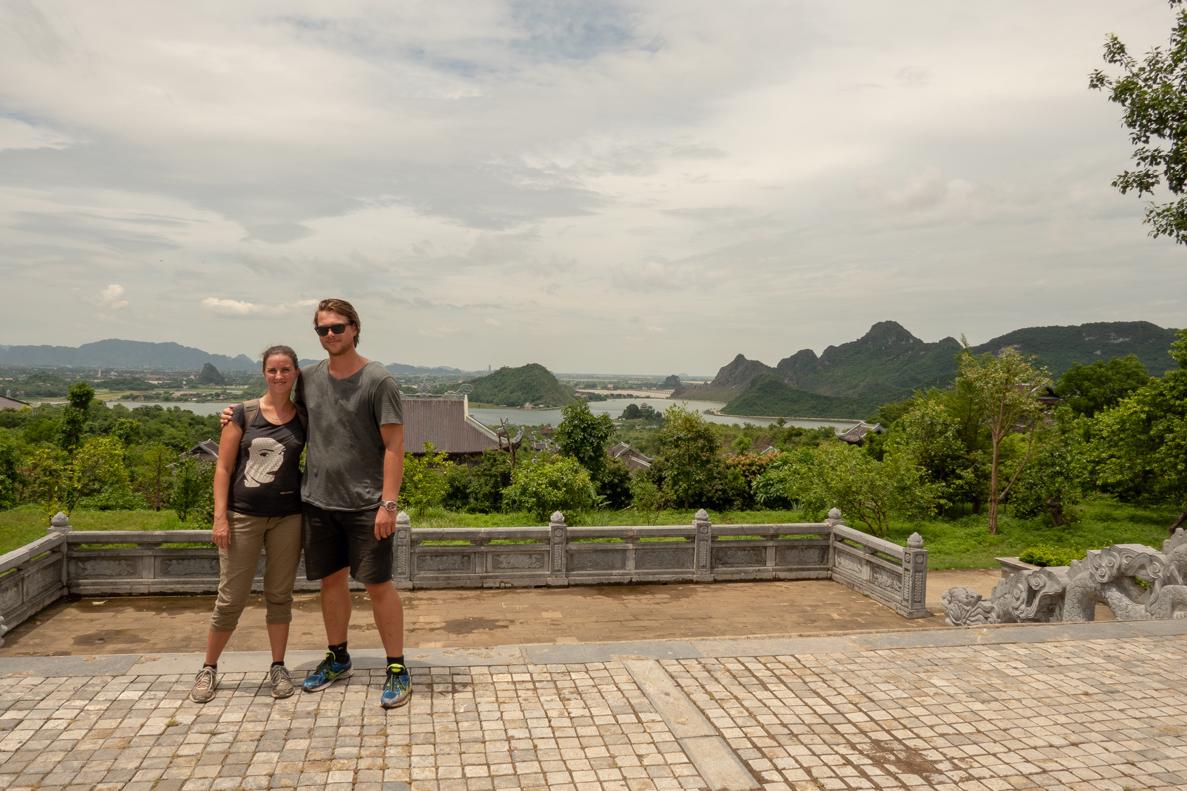 There are a lot of opinions going around about Vietnam, and the truth is, a lot of them are valid. We believe however that it is a matter of perspective. None of the 'negatives' of Vietnam are unique to Vietnam alone. They are common challenges all over South East Asia. Vietnam however, seems to have taken the brunt of the criticism in the last few years and some of the really beautiful aspects of the country, people and culture have been forgotten
The problem with this, is my humble opinion is that if you go to Vietnam with a negative view, anything negative that happens simply reinforces it. Once this happens it's hard to create a different view.
We have tried to address some of the biggest concerns and challenges of travelling in Vietnam. Hopefully our experiences can help you to get the best out of your time there.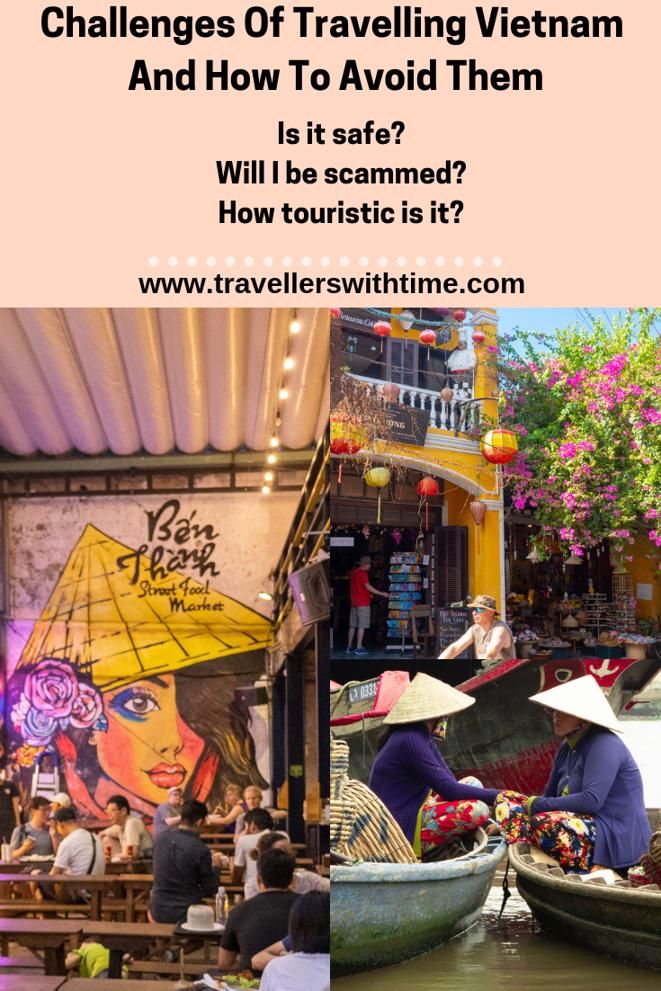 Being prepared and Organised will save you a lot of hassle
There are two extremes of travel. At one end you have the people who put no effort into their planning and with a tiny backpack head off into the unknown, winging it, playing it by ear and just seeing where the wind takes them.
At the other extreme are the people who join complete tours where everything is planned for you, your itinerary is outlined and the company will have a good working relationship everywhere you go so the wheels are greased. This sort of travel is smooth and easy.
To be honest, we're somewhere in the middle. I do pre plan, I research and I read so we don't generally have a lot of problems, but it does happen occasionally that we make a mistake or someone else is just "better" than us and we come out worse off. We dust ourselves off, learn from it and add it to our survival toolbox.
If this sounds like you and you want to maintain flexible travel while having some sort of organisation and control of your planning, here are some resources for you.
Travel resources we recommend
You can never go past a good Lonely Planet Vietnam (Country Guide)
. With some great recommendations and general tips and advice it's always good to have on hand. I often use it in the early stages of planning and then throw it in the backpack in case I need it while we're on the road.
One thing we always do is book our hotel before arriving in a new place. We normally buy a sim card, and so while we're on the bus on our way there, I'll start searching for somewhere to stay.
Why? Because it's a lot easier to negotiate a price or find a taxi to take you somewhere when you know where you're going! Being vague or unsure leaves you open to being ripped off, and after a potentially long bus ride, I'm never interested in that.
We always use Booking.com. I like the way their website works and you can search filtering by both price and reviews so you can clearly see the quality and price side by side.
To get between cities, we use 12Go Asia. It's a great resource that allows you to quickly and easily compare bus timetables and book your seats online.
Scams
Theres no way around this one so I'll deal with it first. Simply put, yes, you will be scammed in Vietnam. It is a given. The main ways you will find yourself being scammed are by being ripped off and paying way more for an item then you should. The only real other way is by not getting exactly what you paid for.
Some examples
On our second day of this trip in Vietnam we paid 300000 VDN ($13 USD, $17.65 AUD) for two tiny coconuts on the street. Generally, you should normally pay between 20000 and 40000 VDN.
Why did we pay so much extra? We were on our way to a tourist attraction and the guy clearly saw us coming. He had a well rehearsed routine which Ben and I picked. We knew we were going to end up buying coconuts. The problem however was that we were tired and didn't think through the conversion. We knew they were over priced, we just didn't calculate how over priced they were. It wasn't until a few hours later that I did the math. That gentleman is a scammer. However I consider this incident to be our fault. We knew better.
The same thing happened to me on my first day in Indonesia five years ago when I paid $10 AUD for a 600ml bottle of water. Being scammed into overpaying – Annoying? Yes. Unique to Vietnam? No.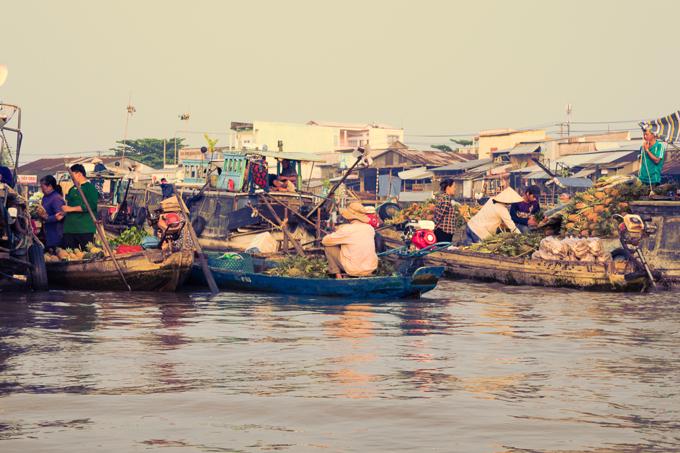 On our first trip to Vietnam we booked a Halong bay cruise via our hotel. As the cruises aren't cheap we did our homework and googled the different components of our trip including our hotel on Cat Ba island. We were supposed to be staying at the 3 star Sunflower Hotel. Breakfast was included. The hotel looked lovely online, as did the breakfast. Imagine our surprise when we checked in and realised we were staying at the 'Sunflower 2', the budget version. One star at best. Breakfast was fairly ordinary bread and jam.
How do you protect yourself from being scammed?
If I'm honest, it can and does happen to the best of us, no matter how experienced we are as travellers, no matter how careful. That being said, there are a few things you can do to reduce the likelihood of being scammed in Vietnam.
Understand your exchange rate
Know exactly what 100000 VDN equates to in your currency so you can quickly and easily do the math. The faster and more easily you can work out your conversion the better.
Do your research
Ask the staff at your hotel, locals you meet, other vendors etc exactly what something should cost. If you're booking a tour or something expensive, ask other travellers for recommendations.
Always agree on a price before accepting a service
When you catch a motorbike taxi (xe om), confirm the price before you get on.
If you order food at a market stall with no written menus, confirm the price before you order. We've heard a story of two women who went to a night market stall in the town of Ha Tien. It's a fishing and port town so the seafood is one of the main attractions. They ordered and ate 2kg of freshly cooked crab without once asking what it would cost. When they went to pay they were told to pay $40 USD. This turned out to be double what the locals pay. It took the help of an English speaking local tour guide to sort the situation out but it was not a pleasant experience for the women.
Always use metered taxi's or use Grab
In Vietnam, just like other countries, taxi's don't always have a great reputation. Taking metered taxi's is your best bet. Again, this is fairly common in south east Asia.
I've had a pretty big disagreement with a taxi from Bangkok airport who refused to use the meter, even though I got in at the metered taxi stand. I won the war of the meter but he won the night, dropping me about a kilometre from my hostel, at 1am in what felt like 50 degree heat, and leaving me to lug my backpack through a packed night market.
There was also the taxi in Cambodia from Siem Reap airport to the city, who despite having the name and address of the hostel I had already booked, drove me to his friends guesthouse. Despite my protests that this was not where I had asked to go, he continued to insist that seeing as he had brought me there, that's where I would stay. Ah, no. I won that one.
A great way to get around in bigger cities of Vietnam is Grab, the Vietnamese version of Uber. They are prompt, efficient, and you always know what you will pay up front. You can choose a motorbike or car. You will need a Vietnamese mobile (cell) number.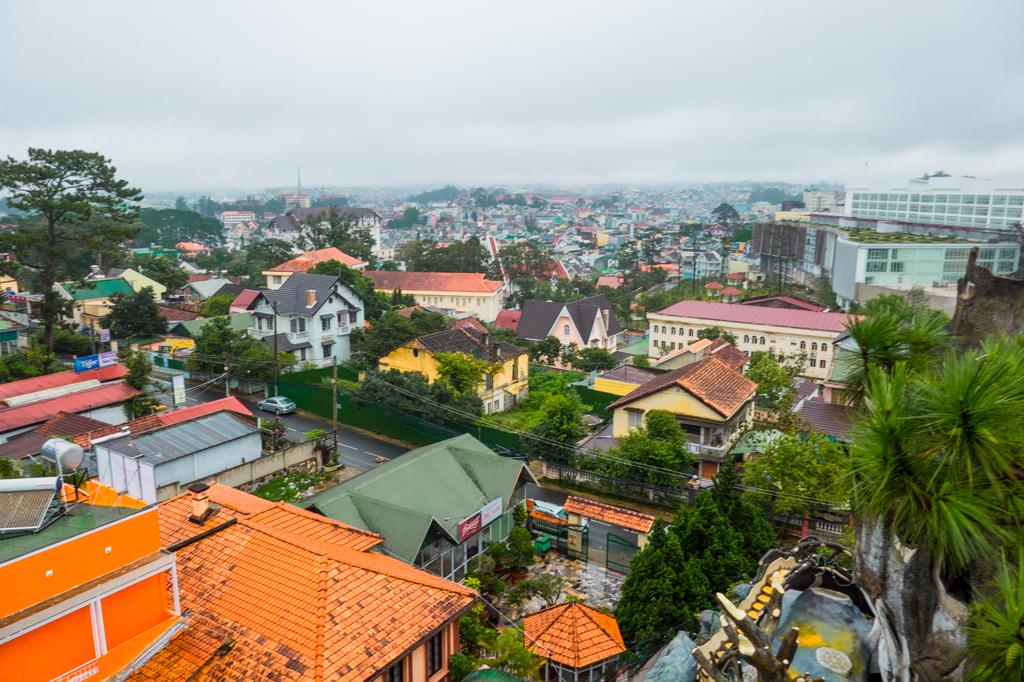 Paying more than the locals
One of the biggest differentiation's we make in Vietnam is the difference between a scammer and someone who is just trying to get by. The average monthly income in Vietnam is between 3000000 and 4000000 VDN, or between $131.00 and $175.00 USD. The average work week is 6 days or 48 hours.
Vietnam is a day to day economy. Many people are simply trying to earn a living to support their families.
On that basis, we personally do not mind paying a little more than the locals. The biggest problem here of course is knowing what the locals pay. The longer you spend in a country the more you come to understand the general price points. When someone charges us slightly higher than this, we're ok. When its clear they're charging us substantially more, we won't buy it. Simple.
To make matters more confusing, the general price will also vary depending on the town you're in. How touristic a place is will also impact the price.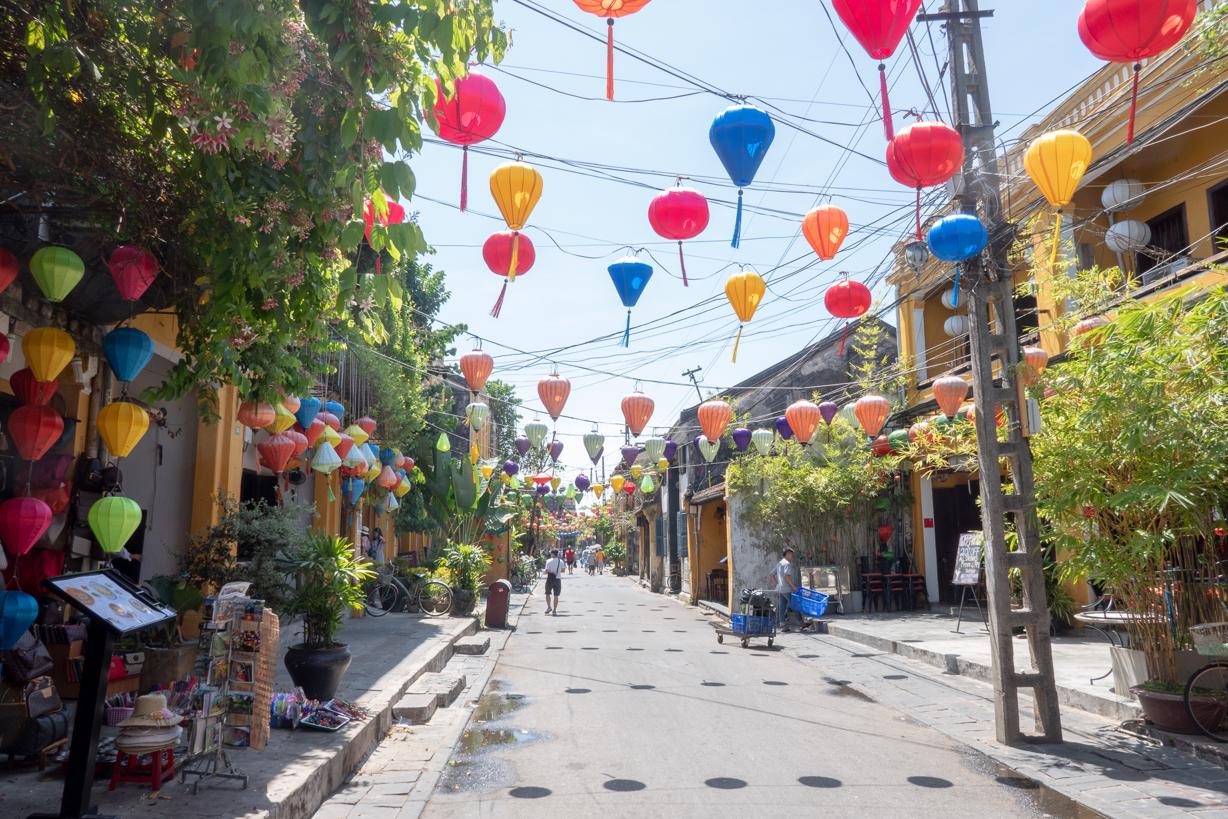 Difference between Vietnam's tourist areas and rural areas
Generally speaking, tourist areas are more expensive than rural areas. I don't believe this is any different to the rest of the world. You can still find super cheap options in tourist areas but you'll have to look harder for them.
Capitalism is also in full swing in cities and tourist areas as the local people have worked out that travellers are a good source of income. In our experience, you're more likely to find scams and be ripped off in tourist hot spots than you are in rural less visited places.
We believe this is why people on shorter holidays, who move between the biggest attractions and tourist destinations, seem to have the most trouble. If you travel a little longer and move off the beaten path, you'll see the other side, the non-touristic Vietnam.
In smaller towns and villages the prices are usually cheaper as they are set for locals. There also seems to be a different attitude towards tourists. Maybe they haven't learnt to see us as income yet. We're seen just like everyone else and they are generally very happy to have the business. Buy multiples of anything and the price often comes down further all by itself.
Risks and dangers in Vietnam
Generally speaking Vietnam is a safe country to travel. Of course its possible that things go wrong but you rarely see or hear about it. There are however some issues related to certain areas.
Bag and phone snatching in Ho Chi Minh
With millions of motorbikes flooding the streets of Ho Chi Minh, motorbike snatchings are a problem. If you stand on the side of the road, facing into the street with your phone in your hand, or a backpack just sitting at your feet, chances are you will lose it. We met two germans who had been riding a motorbike and were stopped when another motorbike zipped past and stole both phones out of their hands. It happens.
We really recommend being careful with your bag and phone. It's a great idea to have an Travelon Anti-Theft Cross-Body Bucket Bag, Black, One Size
to keep your items secure, but of course that only helps if you don't wave it around!
Muggings in Nha Trang and Hoi An
Four years ago when we were in Nha Trang I remember hearing of problems late at night when travellers were walking alone. A group of men on motorbikes would pull up and rob them. Im not sure if this is still an issue in Nha Trang, but apparently a similar thing is happening now in Hoi An.
Motorbike taxi drivers are becoming notorious for scamming and mugging solo, drunk customers they pick up late at night. Word has it, they'll drive you around to some back alley where a couple of other men jump out and they'll demand all your cash.
Vietnam and women
Vietnam is quite a safe place for women. There is very little in the way of sexual assault or harassment, if any, by locals. I travelled part of Vietnam solo and never had any concerns. That being said, unfortunately the general guidelines for protecting yourself as a woman should always apply. We shouldn't have to think about it, but we do.
How do you keep yourself and your belongings safe in Vietnam?
Keep your valuables secure. Do not leave them laying around, anywhere.
Always use a quality backpack, money belt or other way of securing your property and actually secure it to you.
If you are using your mobile phone, do so discretely and away from motorbike traffic.
If possible, split your money up in multiple places so if you do lose any, you have another stash.
Avoid being drunk and walking alone at night
Try to travel in groups or pairs late at night
As a solo female traveller these tips are even more important.
The language barrier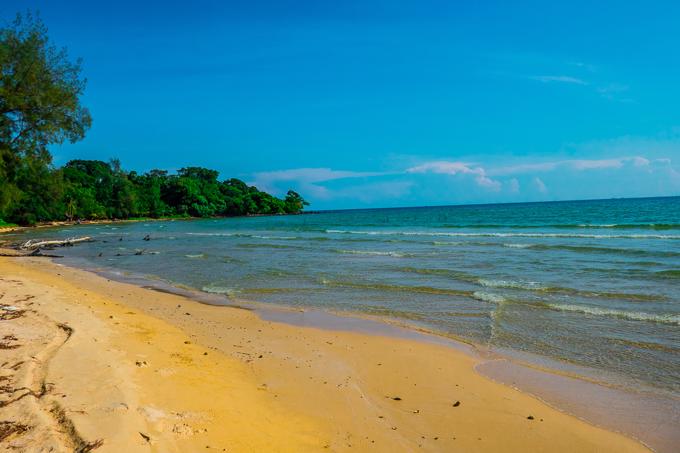 One of the things we see people struggle with occasionally is the language barrier. In cities and tourist areas you'll find most people speak quite good English. In rural towns and villages this will not be the case.
We've seen people get quite worked up because they're speaking English for example, and the Vietnamese staff member is not understanding. This tends to be more of an issue if there is a problem that needs to be resolved. The foreigner gets annoyed, the local people then get flustered or annoyed and the whole situation goes nowhere.
As the local language is Vietnamese, and I do not speak Vietnamese, I personally don't feel it makes sense for us to get annoyed when we're not being understood in English. That's not to say its not frustrating when you have an issue, it can be, but expressing that frustration will not help.
We have found the best way to deal with the language barrier to take your time and put a huge smile on your face.
The majority of people want to help, they just don't know what you want. When they understand, the problem will be solved.
We use google translate for small things. This has always worked well for us. Just make sure you use small, correct English sentences so it has a good basis from which to translate.
We were in Chau Doc, near the Cambodian border when we found a very local small shop with a sign out front saying Ca Phe, or coffee. They had tables and chairs, like a regular coffee shop, so we went and sat down. There was a very elderly lady in the back staring at us, when we looked at her she smiled but that was as far as we got. After about 10 minutes she brought us a pot of tea and left. Ben was google translating our coffee order as a large family walked in and sat down.
The elderly lady was talking to the family who were by now also looking at us and smiling, presumably wondering what we were doing. When Ben went over with his Iphone the elderly woman clearly had no idea what to do with it and made the hand signal for 'we don't have'. That's when the father of the family came over and took a look at the phone. He took Ben's phone and showed the lady, explaining to her what we were after.
A few minutes later we had our coffee. 20000 VDN for both (really cheap), and 2000 VDN for the tea (which is standard price). It was actually one of the nicest coffees we have had up to that point. If we got annoyed about the wait we would have walked a lot further for more expensive coffee that wasn't as nice!
Sometimes you just need to use whatever you have available whether it's mime, google translate, other people or a huge 'please understand what I want' smile.
Survival tips for the tougher times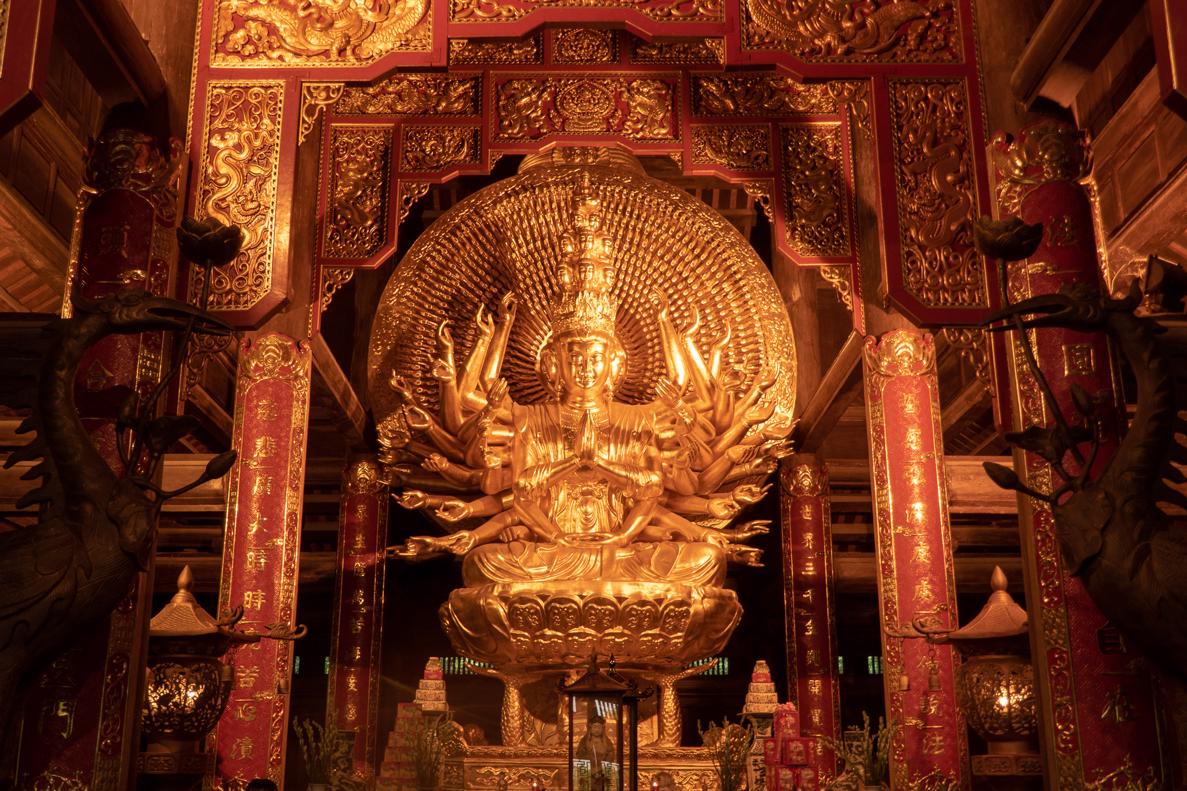 Try not to take it personally. Its not about you at all, its about their personal situation.
Recognise that not everyone who charges you a tiny bit extra is a scammer. If you choose to feel scammed every time you pay 10000 VDN more than a local you are going to have a very difficult time. Obviously the amount extra should be relative to the actual cost!
Learn the lesson when you are legitimately scammed and do not make the same mistake again.
Understand that sometimes, you can do all the right things but still end up on the wrong end of the deal. Unless you have a means of recourse your best bet is to let it go. Chalk it up to experience. If you carry your frustration forward you'll only impact your own experience.
Touristic Vietnam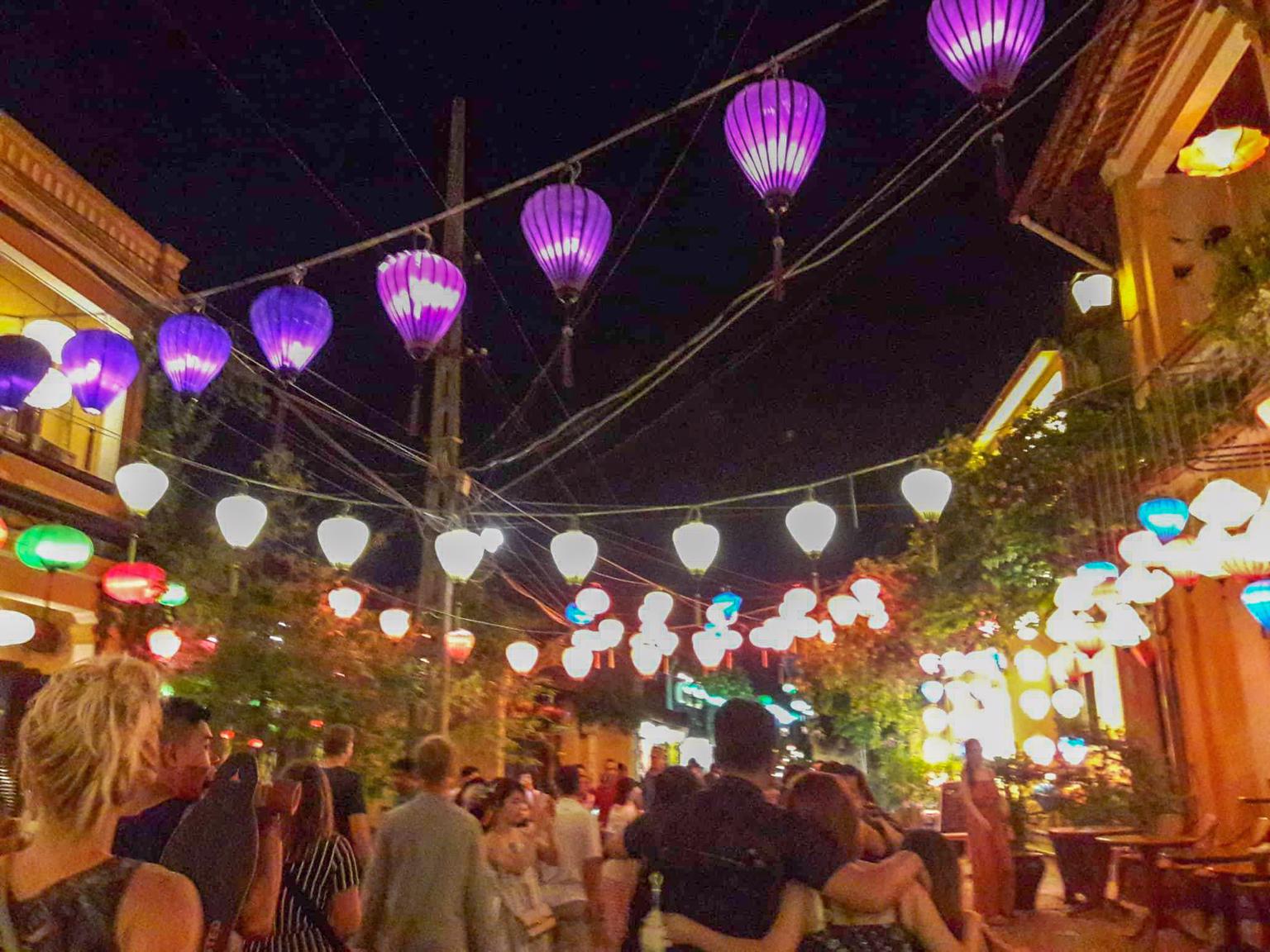 A rather odd complaint we've heard from a few travellers in Vietnam is that certain areas, like Halong Bay, are too touristic. Yep. Some people seem to take issue with the fact that a lot of travellers come to these beautiful, amazing parts of Vietnam to see the spectacular sites. And then the Vietnamese have the gall to cater to them.
It's one thing to observe that there are more tourists than you'd like (we're not always fond of it either) its another to let that tarnish your overall opinion of the country. We've heard some pretty harsh opinions on this, and on Vietnam, generally from people who are only here for a short time and are hopping from tourist hot spot to tourist hot spot. Ironic, no?
The problem of course is that if you want to see Halong Bay, Sapa or other must-see locations, you have to go to those places. As everyone wants to see them, you can bet everyone will be there. As everyone is there, the Vietnamese have provided services to capitalise on tourists presence. Realistically, we often need these services. How exactly would you get around the rock formations of Halong Bay otherwise?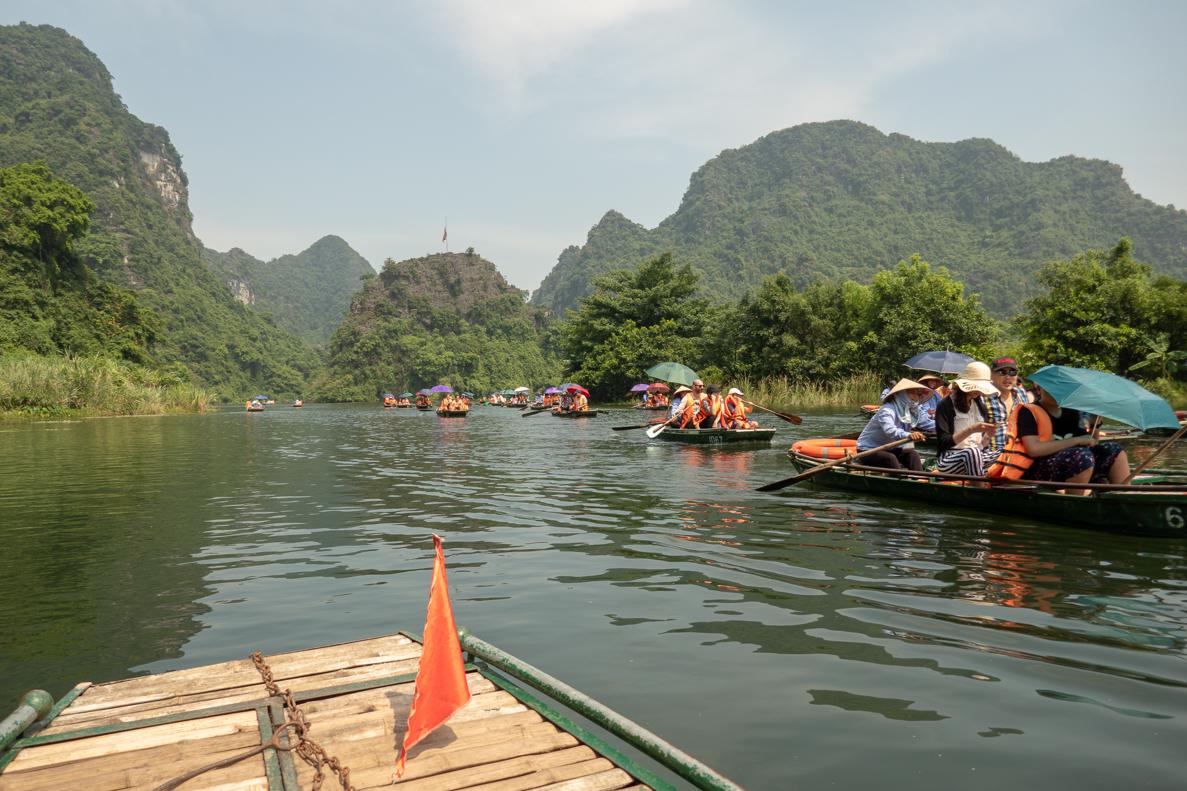 Basic supply and demand also impacts price. Expect to pay more for sought after activities. Halong bay tours for example, are expensive compared to a lot of things in Vietnam. I don't believe there's a country in the world where this is not the case.
The solution here is simple, if you do not want to be surrounded by tourists and touristic activities, or if you do not want to pay the higher prices, do not go to touristic places. Vietnam has so much to offer, there are plenty of ways to get off the beaten track. Ben and I have been the only foreigners in the lovely village on many an occasion.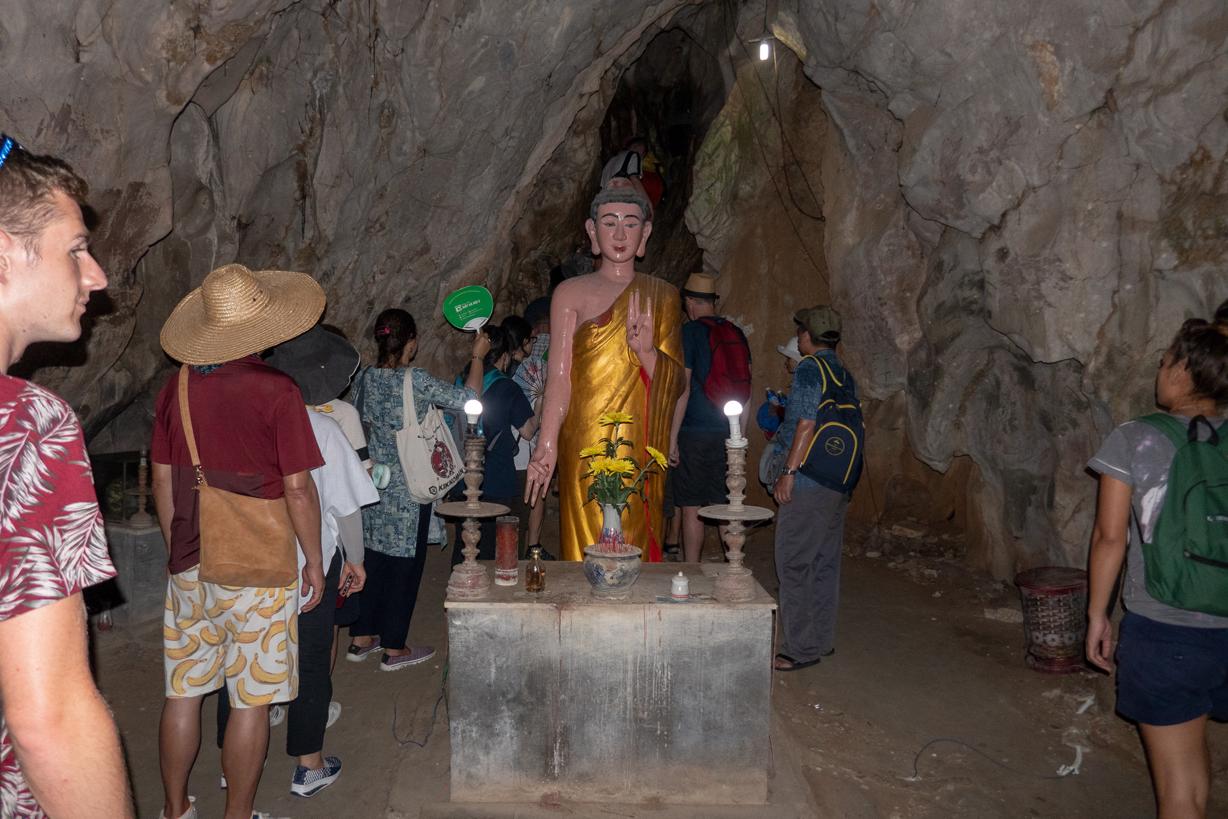 If you can take these places for what they are, spectacular attractions that all travellers want to experience, you'll enjoy them far more. If you really don't want to be surrounded by tourism, do some research and look for alternative options that will satisfy what you are looking for.
Vietnamese people
Aside from the amazing natural wonders and world heritage sites, one of the highlights of Vietnam, if you let yourself experience them, are the people.
In our experience the vast majority of Vietnamese people are warm, kind and welcoming. They are more than willing to help you if you are in need and are actually very generous.
The hardest part as a foreigner is relaxing enough to let your guard down and enjoy the experience. If you're always thinking you're going to be scammed, its easy to get into the mindset that everyone who talks to you is a scammer. Naturally your walls go up and you're closed off to deeper interactions.
As a general rule, if a local ' invites' you, you will not pay. If they invite you to share rice wine, if they invite you to eat food they already have prepared, or if they invite you to sit with them, it will generally be free for you. Ben and I generally try to give something, anything back, but more often than not this results in us getting more from them. It always feels like an unfair (but welcome) trade for us, but we've learned to accept it for what it is, generosity at its finest.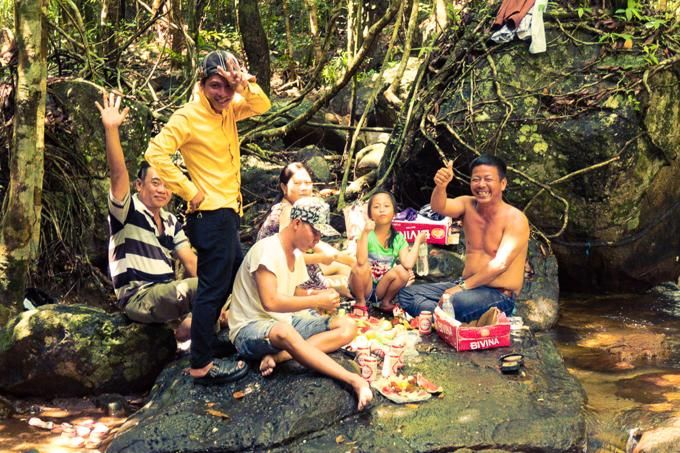 If you're ever in doubt, make sure that you're not getting in over your head, for example if they want to order something expensive, and you cannot pay, make it clear you don't want it and don't partake if they get it anyway. This can be tricky as it goes against their attempt to be generous, but it'll save you dealing with the ramifications later. This works more for your peace of mind, as to be honest, I doubt you will ever be asked for a cent.
A little disclaimer here is with people like tour guides and motorbike taxis. They will often offer to help you and be very generous with that help however they are usually hoping you will purchase their services. Some have learned you can catch more flies with honey. A few are very relaxed about it, others will be a little harder to shake once you have opened the door.
We choose to walk into all situations with both our eyes and our hearts open. As a result we've had some amazing experiences with locals. We can confidently say that this is also true for other travellers we've met who choose to travel the same way.
We've been invited to a family picnic on a waterfall where we were fed beer and fruit until we couldn't eat anymore. Thankfully the hand gestures for driving are universal so they understood we couldn't drink more as we had the motorbike.
We had a lovely local man pull his car over to the side of the road when he saw us trying to communicate with another man who didn't speak English. We then followed his car on our motorbike as he led us a couple of kilometres to the supermarket. Ben was quite sick and we were looking for something to help him so this was a huge help for us.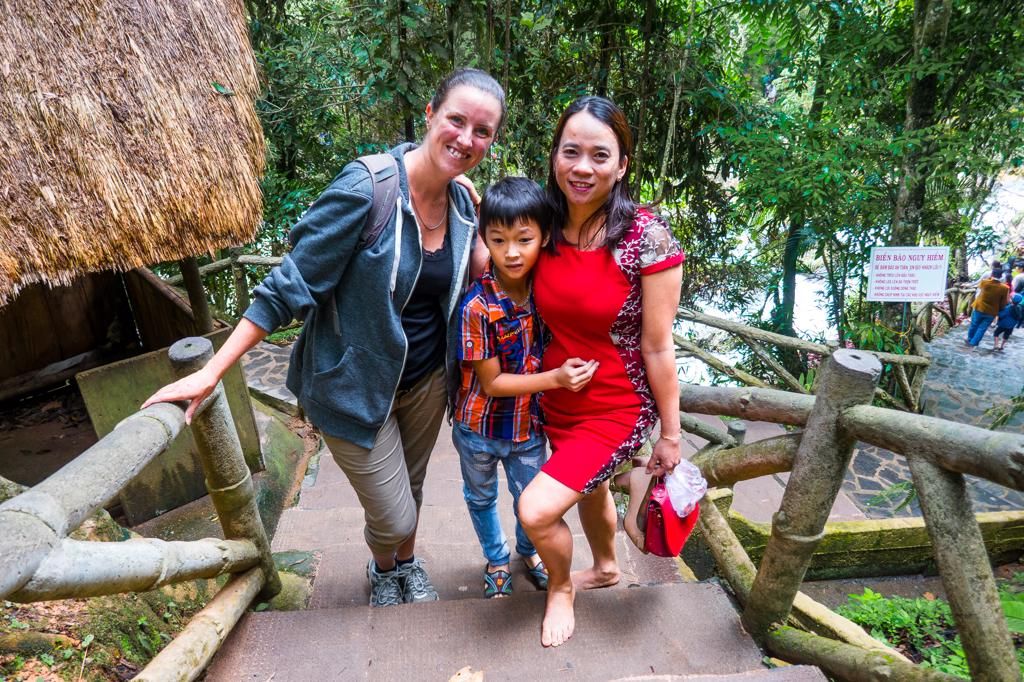 We've played the card game 'Uno' with our hotel owners 7 year old son, and been beaten every time. Go figure.
We've met solo females who started a conversation with a local woman and were invited to their house to dinner. Or others that have been invited to local weddings.
These are just some of the countless kind hearted gestures you may experience if you allow your guard down. Its not always easy once you've been burned, but its worth it. After all, if you take away the tourism aspect, these experiences are the real Vietnam and your travels will be so much richer for it.
Should you go to Vietnam?
Yes! Absolutely.
Vietnam is such a diverse place, with everything from spectacular beaches like those on Phu Quoc Island, beautiful karst limestone mountains such as those in Tam Coc, Ancient world heritage towns such as Hoi An, desert like sand dunes in Mui Ne and spectacular caves in Phong Nha, theres something for everyone.
If you're planning a trip to Vietnam I hope this post helps prepare you and quash any concerns you might have. We've also put together a complete guide of Vietnam travel tips with everything you need to know before you go.
Feel free to ask any questions if you have any concerns we haven't addressed here.
This article contains affiliate links. For more information, please see our affiliate disclaimer here.
Like it? Pin It!