Motorbike Itinerary for a one day trip to Marble Mountains, Hai Van Pass and Elephant springs
Known to have one of the most spectacular coastal views in Vietnam, the Hai Van Pass is a mountainous road on most motorbike riders to do list. Starting out of Hoi An, we decided to make a day of it and visit Danang's Marble Mountains and Elephants springs, located between the Hai Van pass and Hue. A doable day trip, we've put together an awesome motorbike itinerary: Marble Mountains, Hai Van Pass and Elephant Springs.
If you don't want to undertake a full day round trip, the other option is to hire a motorbike for a one-way trip and head to Hue. When you do this the motorbike company will transport your luggage for you so all you must do is ride the motorbike.
To have time to relax and enjoy the day I would suggest leaving Hoi An no later than 8am. Realistically the earlier you leave the better. This will also ensure that you're exploring Marble Mountain before the heat kicks in. There are a lot of stairs!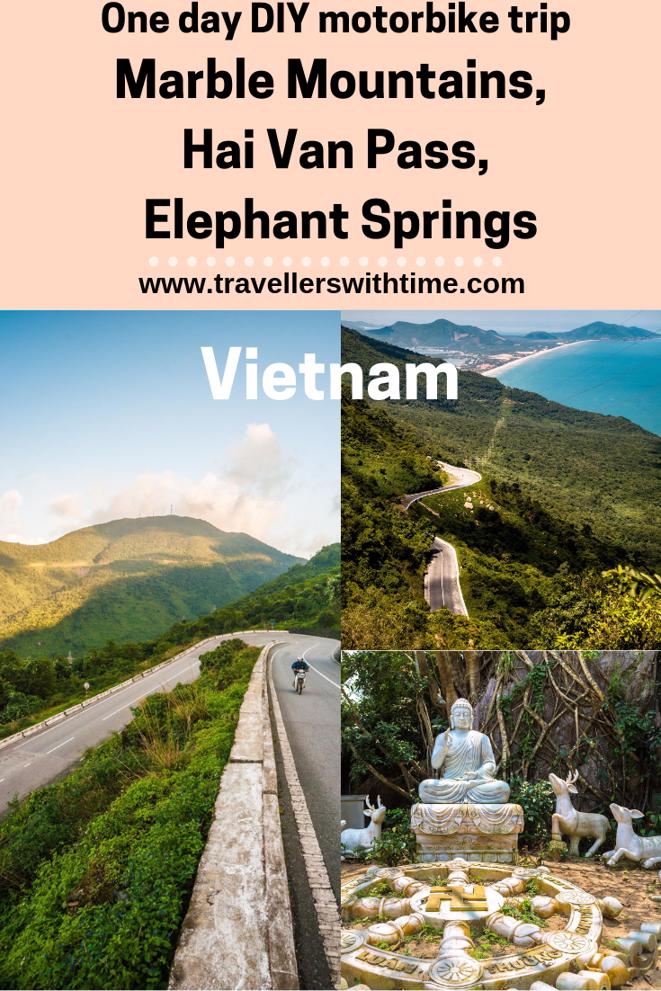 Marble Mountains
Marble Mountains in Danang is a set of 5 limestone and marble hills, each accessible by tourists. According to folklore, a dragon arose from the sea and laid an egg. After 1000 days and nights the egg hatched. The 5 pieces of the egg shell were left in place and over time grew into the Marble Mountains.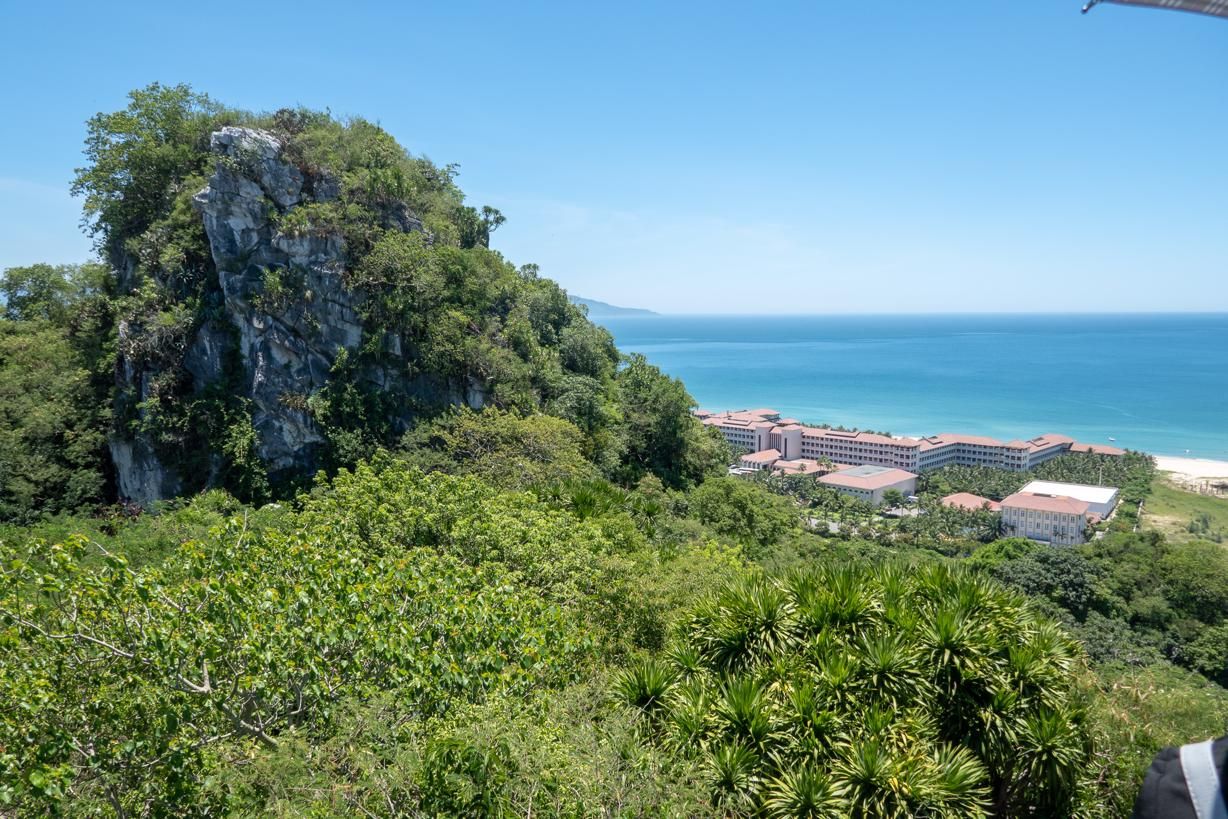 Named after the 5 elements of water (Thuy), metal (Kim), wood (moc), fire (Hoa) and earth (tho), the Water marble mountain is the most popular with tourists. It is the only mountain we visited on this trip. It is home to beautiful landscaped gardens, caves and pagodas, including the Tam Thai Pagoda which was first constructed in the 17th century.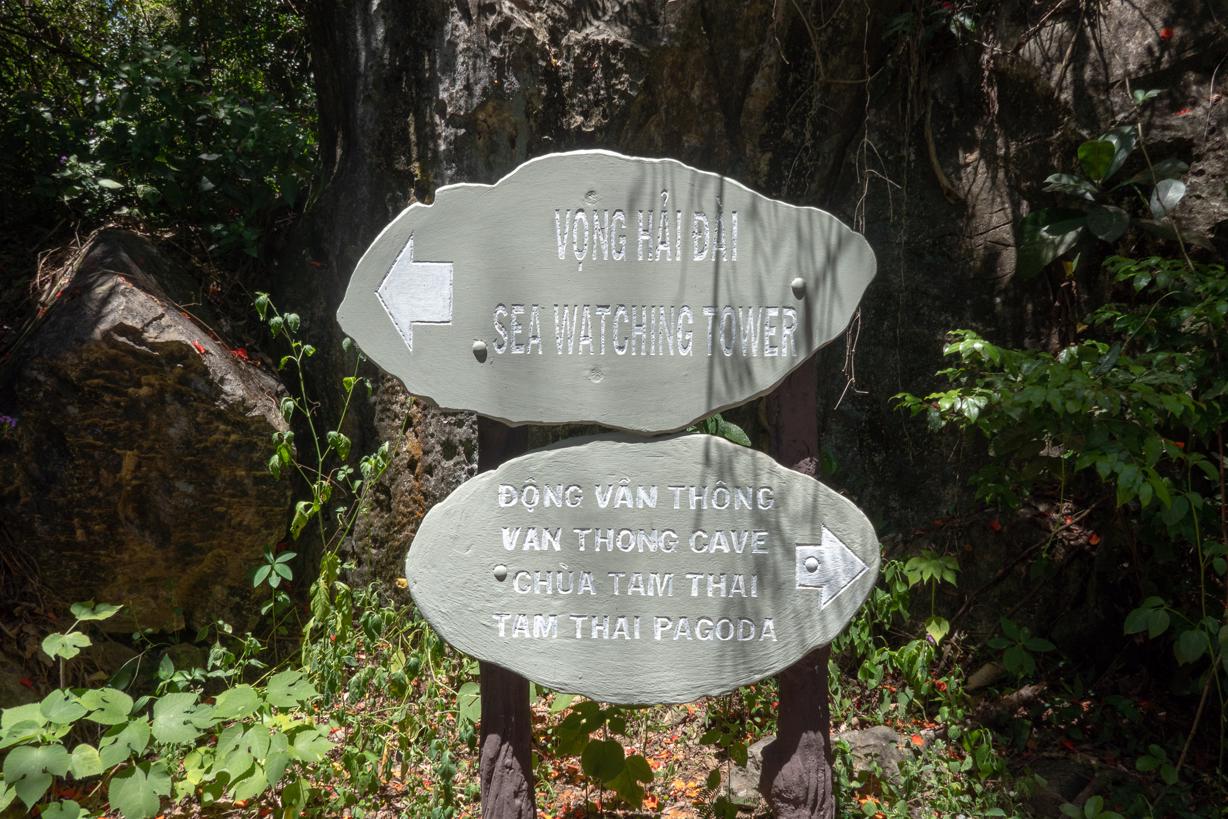 Getting from Hoi An to Marble Mountain
To get to Marble Mountains from Hoi An you'll find the roads to be quite good. The traffic in Danang is less than say Saigon or Hanoi, however it can get quite intense, particularly if you're travelling in peak hour.
Entry fee for Thuy Marble Mountain – 40000 VDN
Elevator half way up – 15000 VDN each way
Marble Mountains opening hours – 7am – 5.30pm.
Tips for visiting Marble Mountain
Allow yourself two to three hours to really experience all the water marble mountain has to offer. It is incredibly large with a lot to see.
Make sure you take some water with you. There are a lot of stairs and it is rather hot. For this reason, the earlier you arrive the better. The elevator only takes you about half way up so there are still plenty of stairs.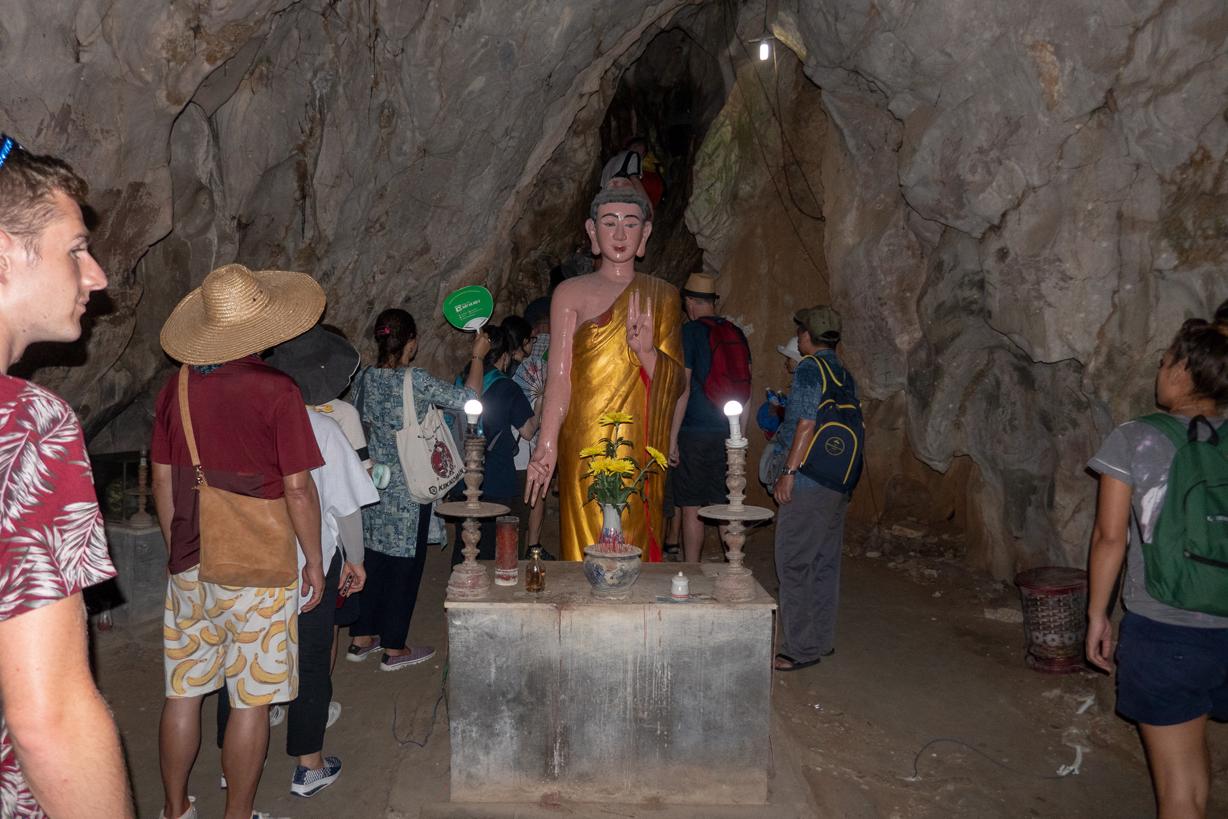 Be careful with Parking. We couldn't find an 'official' parking area however there are plenty of marble stores that operate as motorbike parking spaces. The catch is that you 'must' buy something marble.
Being one of two females in a group of 8, the woman at the store singled me out. I told her straight out that we weren't going to buy marble and she told me we could also buy food or drinks from the store next to her. When we returned to the motorbikes however she insisted we could only buy marble and the food and drink deal was off the table. We were annoyed, but she was even more so. Not pleasant.
Hai Van Pass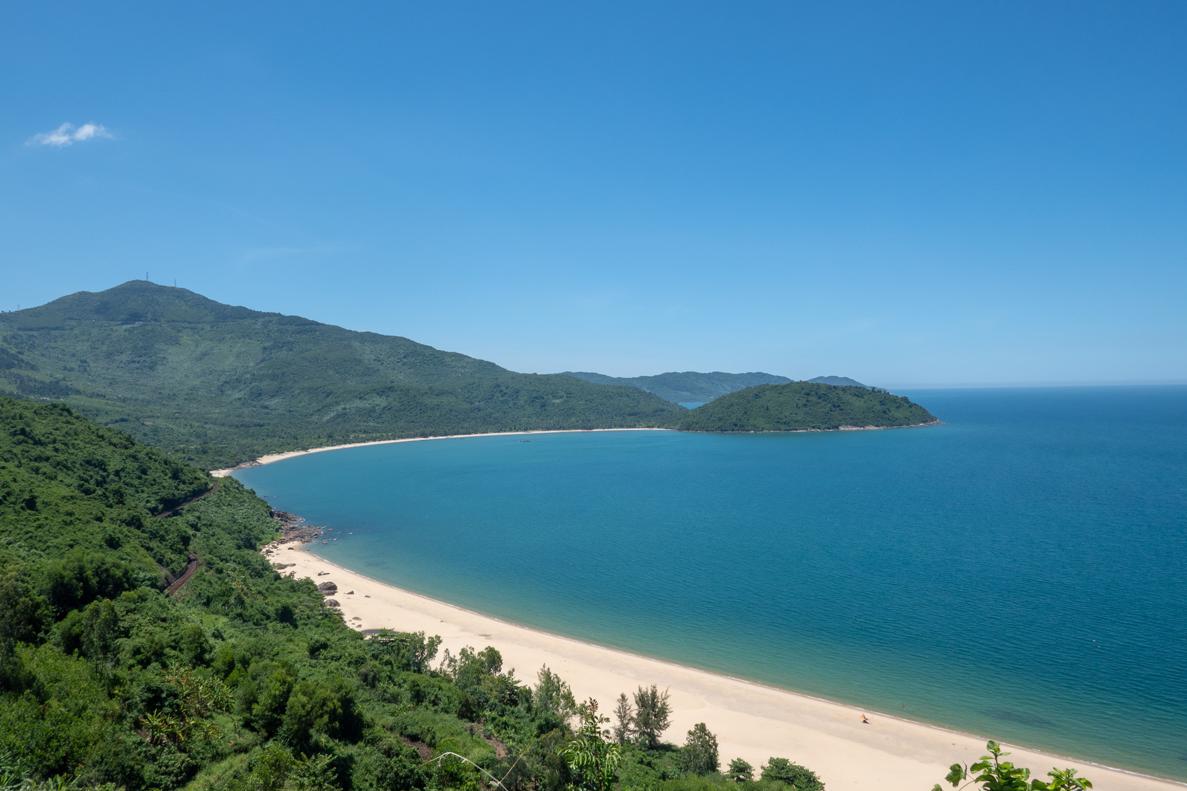 The Hai Van Pass is a 21km stretch of road along National Road A1 that runs between Hoi An and Hue. Known for it's windy mountainous road with spectacular coastal views it's a must for motorbike riders in Vietnam.
Getting from Marble Mountains Da Nang and riding over the Hai Van Pass
The above map shows the complete route to Elephant Springs as you'll just continue on from the bottom of the Hai Van Pass.
Road conditions are good on the Hai Van pass and many novice riders take it on. The main thing to watch out for are trucks and buses that go up and down the mountain.
Tips for enjoying the Hai Van Pass
About half way up the mountain there are roadside bamboo stalls where you can sit and purchase a cool drink as you admire the view.
When you reach the top of the Hai Van Pass you'll see some shops, restaurants and tour buses. From here there are paths you can follow further up the mountain for a spectacular view over the Vietnam coast.
Elephant springs Vietnam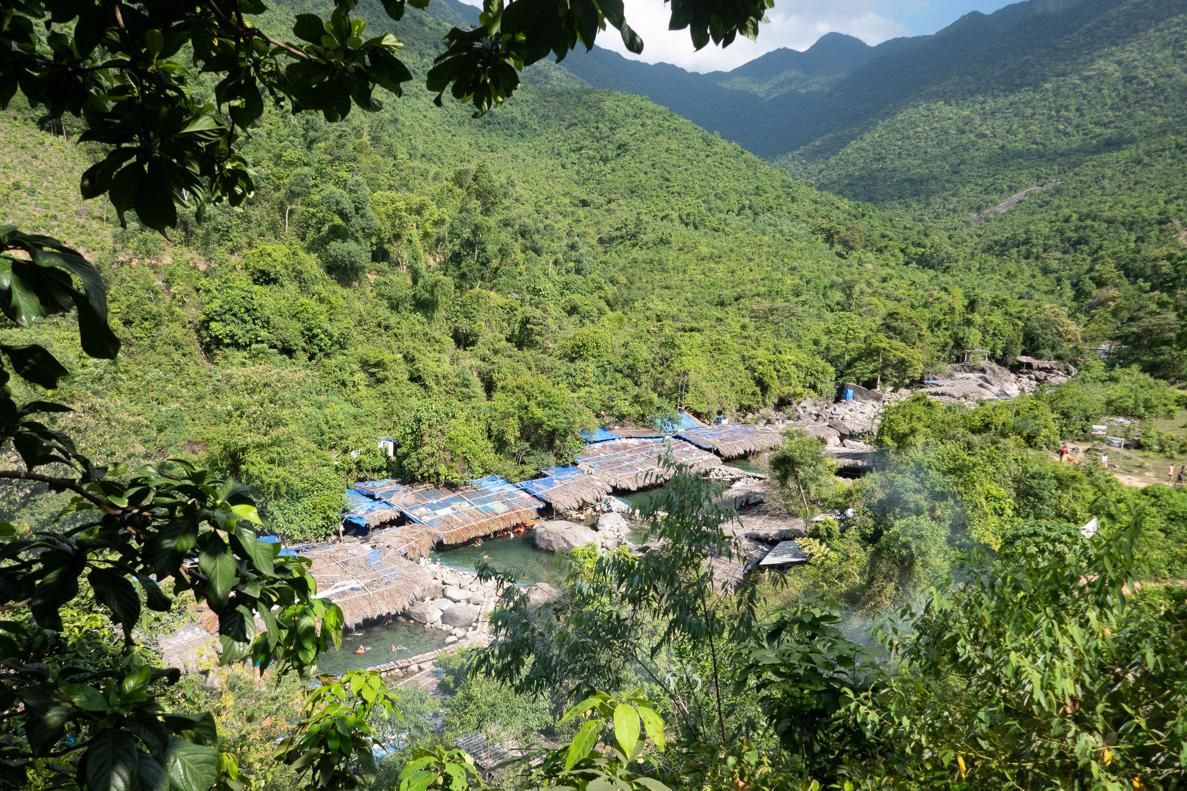 Elephant Springs is a beautiful area of natural springs and swimming holes that cascade down the side of a hill with the water pooling in a large area at the bottom. Restaurants and bamboo huts where you can sit and relax also line the water.
Getting from the base of the Hai Van Pass to Elephant springs
The dirt road between the main road and Elephant Springs is not an easy one. It's a dirt track that is full of pot holes. It is also quite narrow with a lot of cars and tourist buses travelling along it. We had some relatively inexperienced riders with us however and they were fine, you just may want to take it slow if you're not used to riding in trickier conditions.
Entry fee into Elephant springs 17000 VDN per person.
Tips for enjoying Elephant Springs
If you google Elephant Springs, you'll notice the reviews are atrocious. Essentially locals have claimed certain pools as 'theirs' and charge anywhere from 50000 VDN to 200000 VDN for tourists to swim.
I had read online that some people avoid the hassle by taking the path up to the right and going further up the hill towards the end.
As soon as we parked the motorbikes in the parking spot we were targeted. A woman automatically started to shuffle us up the path to the right, not realising that that is where we were heading anyway. She was on her phone calling someone and we knew she was preparing someone for our arrival. After 100 meters she disappeared.
We continued to walk on determined to get to the end when suddenly a man appeared yelling that we were going the wrong way. We ignored him and kept going.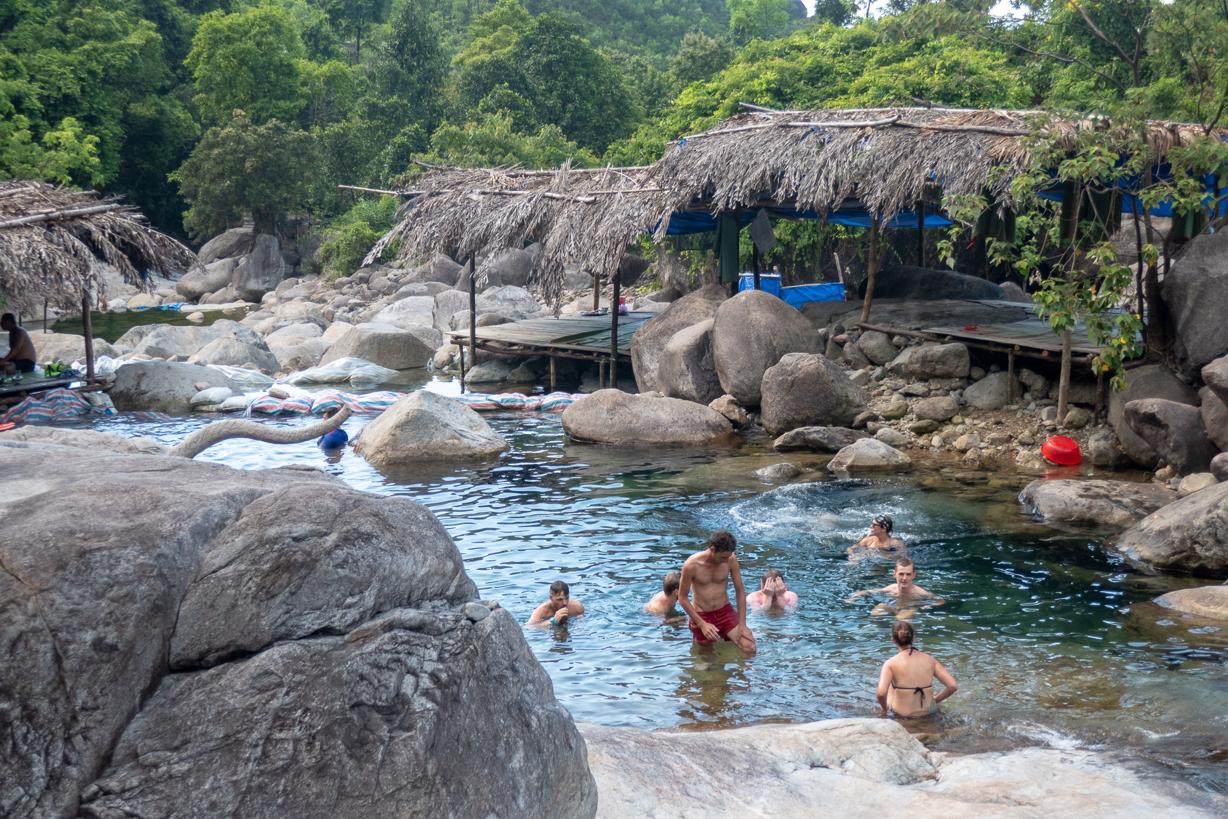 We passed quite a few bamboo huts and found a big vacant rock at the end. A gentleman soon approached us and with almost no English told us it was 10000 VDN each to swim. Now 10000 VDN is nothing compared to what I'd heard others say they were asked to pay, but given we had paid the entry and there is no signage or information anywhere on additional costs, we said no. He tried again a bit later, but we said no again and that was all. He was very tame compared to the Marble store lady at Marble Mountains.
If you're worried about being ripped off, we have a post outlining some of the challenges of travelling in Vietnam and how to avoid them.
Despite a little hassle Elephant Springs was beautiful and the water was cool and refreshing.
Getting from Elephant springs back to Hoi An
The worst part of the day for the four of us returning to Hoi An (the 4 others went on the Hue) was the peak hour traffic coming through Da Nang. If possible, try to leave Elephant springs with time to avoid it.
Suggested itinerary
7.30 Leave Hoi An for Marble Mountains
8.00- 11 Water Marble Mountain
11-1 Hai Van Pass and Lunch
1-1.30 Ride to Elephant Springs
1.30-3.30 Swim at Elephant Springs
3.30-5.30 Ride back to Hoi An
If you're heading to Hue, it'll only take you another hour or so to get there from Elephant Springs. Don't miss the best tombs in Hue when you're there!
If you're heading back to Hoi An, we've written about our Hoi An Highlights – The five things you don't want to miss!
Leaving Hoi An and heading south? We've put together a great two day motorbike itinerary of Dalat waterfalls you may like.
Like it? Pin It!