Best beaches in Phu Quoc Island, Vietnam
Want to know what the best beaches on Phu Quoc Island are? We spent 12 days hunting them out for you! The most southern point of Vietnam located near Cambodia, this beautiful paradise is surrounded by stunning coastline. Keep reading to see how to find Starfish beach Phu Quoc, and which Phu Quoc beach is our favorite.
This article may contain affiliate/compensated links. For more information, please see our disclaimer here.
We were shocked to hear quite a few travellers we met in the Mekong Delta region say that they didn't like Phu Quoc much. There was a general sense of disappointment. Where were the pristine beaches they'd read about online as they researched their trip? Most people we met said a couple of days on the island was enough.
Here is where they got caught out – they didn't venture far enough. After spending 12 days exploring the island by motorbike, 2 things are clear. Resorts are taking over the island and tourism is having an impact on the natural landscape.
Along most beaches, resorts are flourishing, and construction of new ones is rampant. Some of the resorts lay claim to their stretch of beach. Nearby, 'public beaches' are suffering from an abundance of litter. It's certainly disappointing, if not heartbreaking.
Having visited the best beaches here is our recommendations for the best beaches in Phu Quoc, why we loved them and how you can find them. We've also put together a Phu Quoc Travel Guide for anything else you want to know.
Phu Quoc Beach Map
We used this Phu Quoc Beach Map to help us find all the beaches! Its a great resource.
Our picks for the 4 best Beaches in Phu Quoc Island
These are in no serious order… although just a hint, Cua Can was our absolute favourite.
Cua Can Beach Phu Quoc
Why we loved it – We loved Cua Can beach for it's untouched natural environment. It was litter free, secluded and private.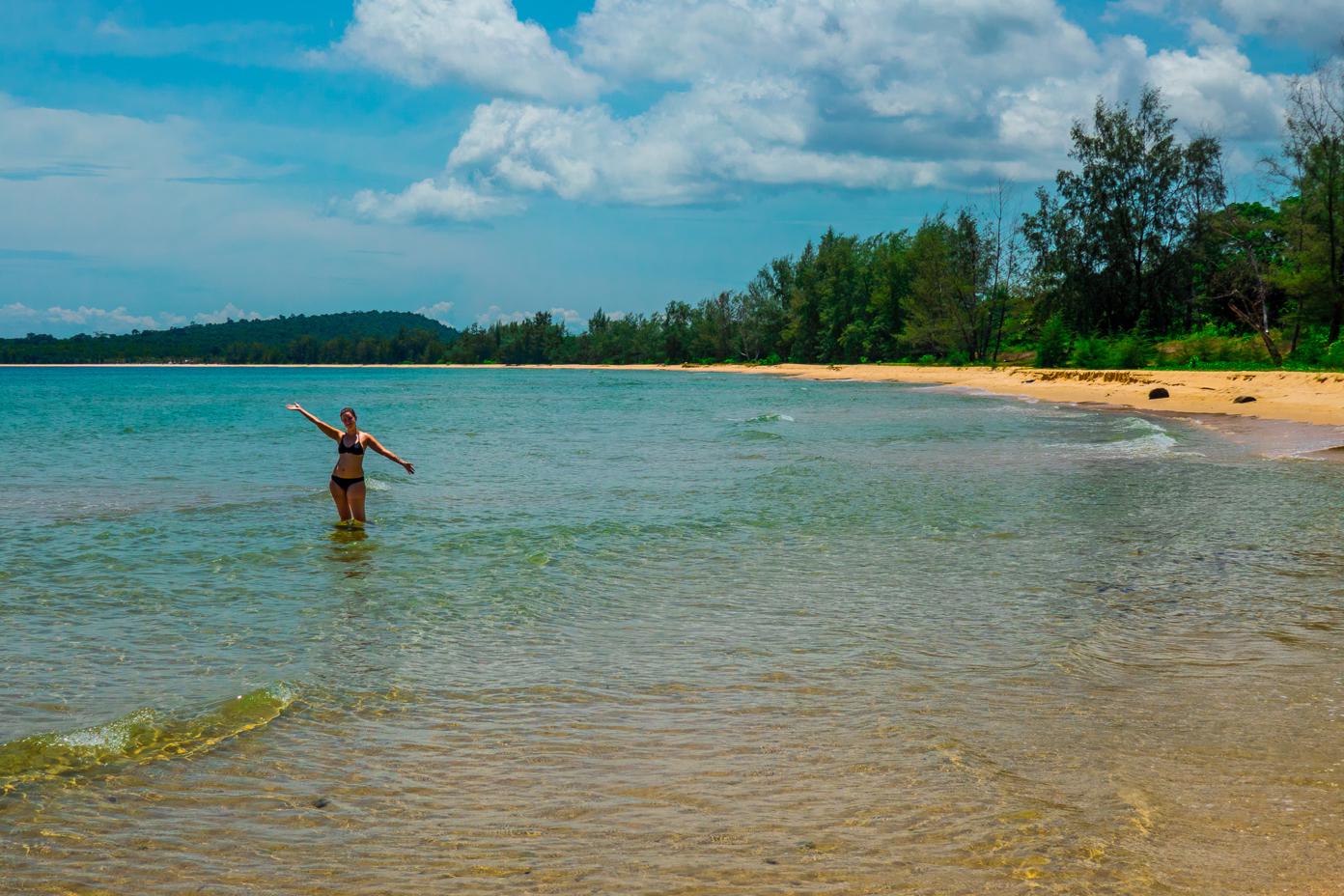 Thankfully Cua Can beach was the very first beach we found, and it gave us hope. We think its one of the best beaches in Phu Quoc. Located about half an hour north of Duong Dong city centre, this stunning beach is pristine. A long stretch of litter free sand, exquisitely warm, shallow water and a lack of, well, anybody, makes it our favourite beach hands down.
To get to Cua Can you'll need a motorbike or a 4wd. If you follow the main roads on google maps. Turn left at a sign that says Cua Can Tourist Area and continue to follow the road along until you hit a 'Y' junction. There'll be a sign for the Green Bay Resort. Go left here. Once you pass the resort, the road will turn to dirt. This road is poor so be prepared. Continue along the dirt road and eventually you'll hit a dead end with a security guard and a big metal fence. If you make the universal swimming signal he'll open the gate and let you through.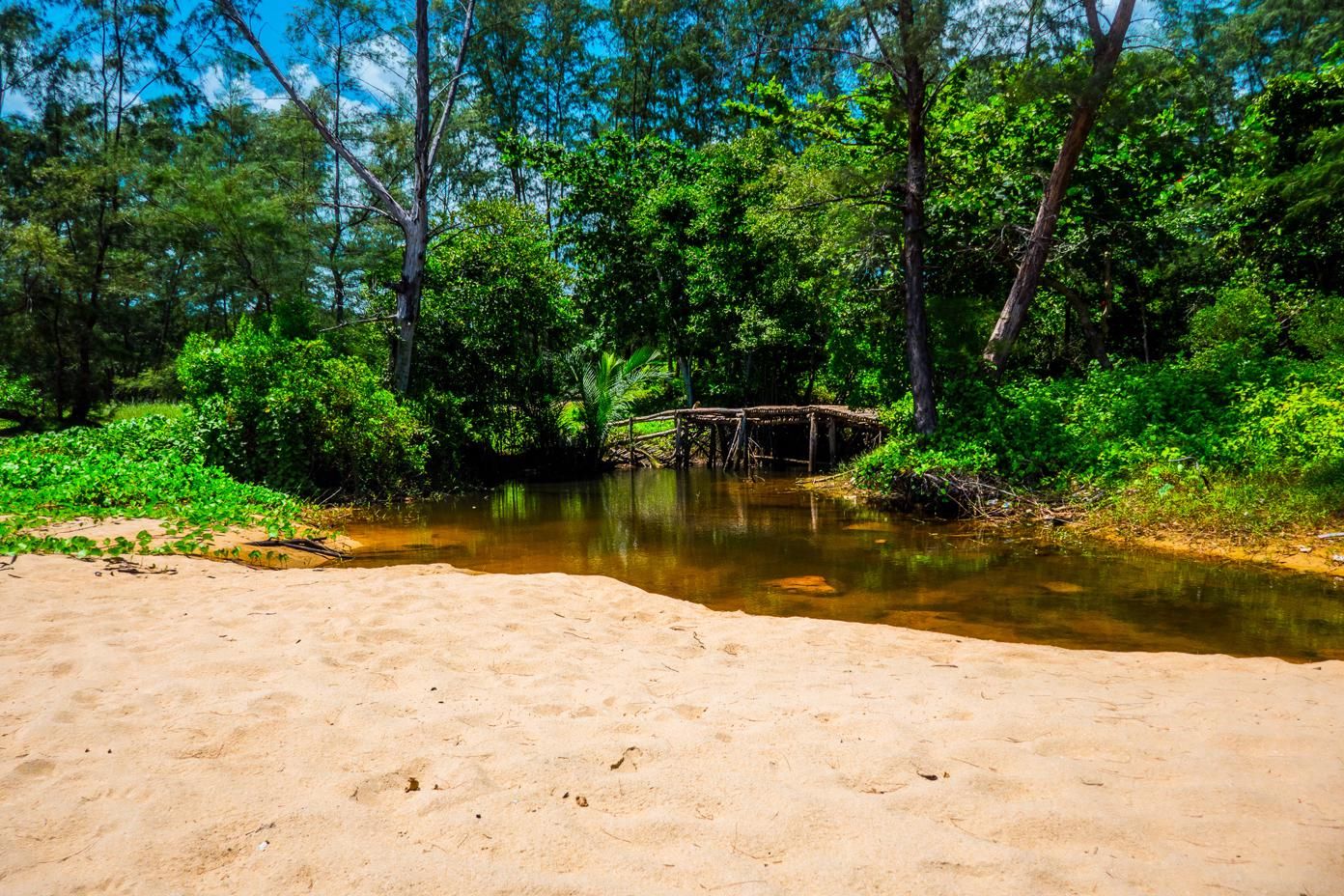 Driving through that gate feels like entering paradise. We found the best place to park was close to the gate. The beach here is the prettiest. If you continue further down the dirt track, the beach isn't as nice (although still spectacular) and the dirt track becomes quite difficult. It's very soft, covered in potholes, giant puddles and gravel.
Accommodation near Cua Can beach
The Ecolodge Phu Quoc Resort is located just 300 meters from Cua Can Beach. Offering beach front accommodation, a garden, bar and it's own private beach area, you've got access to the very best Phu Quoc Beach.
Vung Bau Beach Phu Quoc
Why we loved it – clean beautiful beach, although close to a resort it is quiet and the view from the water looking back over the land is gorgeous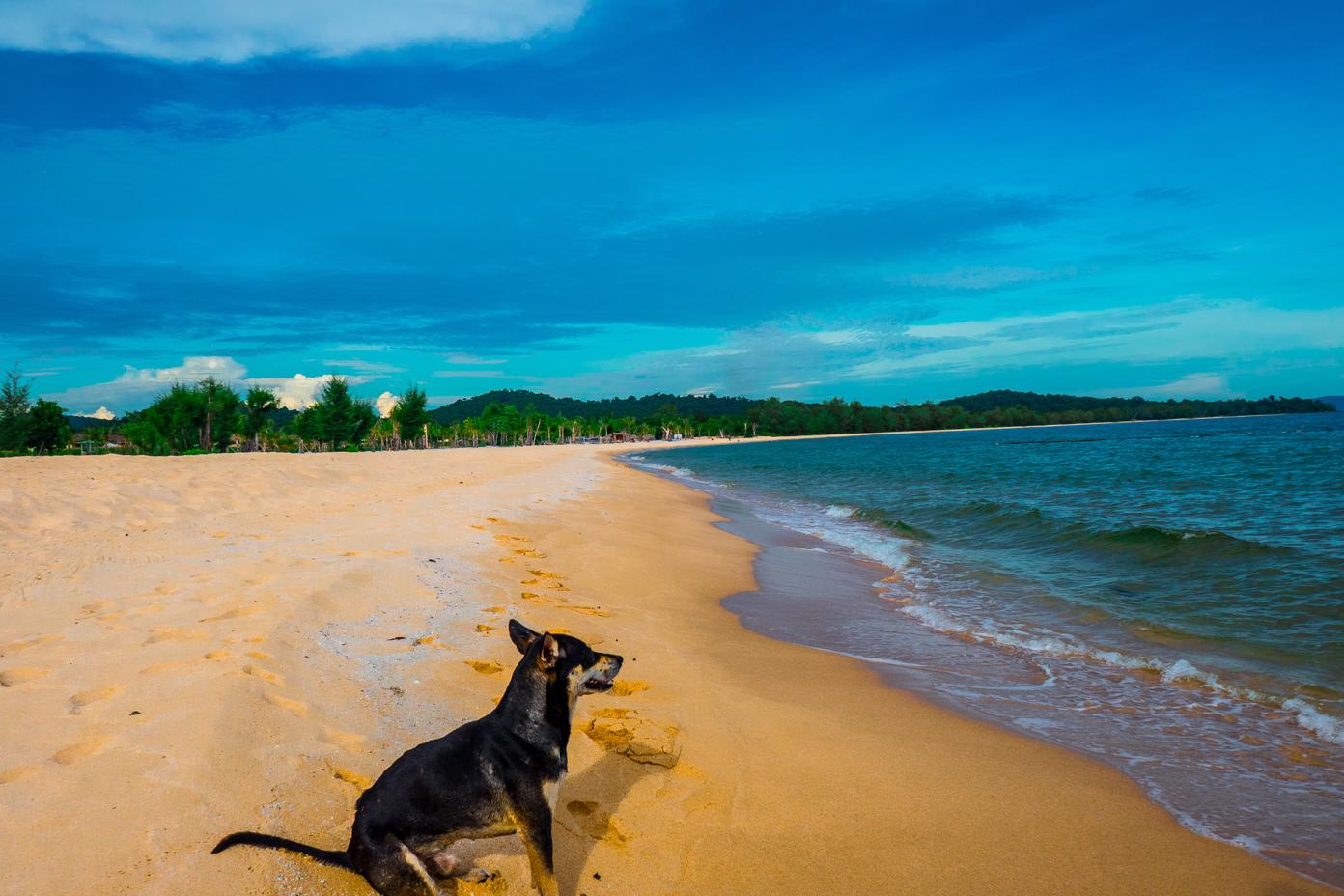 Vung Bau is located about 15 minutes north of Cua Can. As you head down the main road, you'll run head on into Vung Bau resort. Turn left down a little dirt track and the clearance for the beach is about 20 meters along. If you go to far, you'll go over a metal bridge and be stopped at a blocked off access point for another resort. Simply turn back and find the clearing for the beach.
There is a river outlet between where you'll park and the beach. We found it to be very shallow and just walked across it. Lay in the water and look back inland. We had a storm coming over and the whole sight was simply spectacular.
Accommodation near Vung Bau beach
Vung Bau Resort is just a few minutes walk from Vung Bau beach. You have your choice of a room with a sea or garden view.
Dai Beach Phu Quoc
Why we loved it – we found this beach to be beautiful, with only a narrow but long stretch of sand and again, untouched surrounds.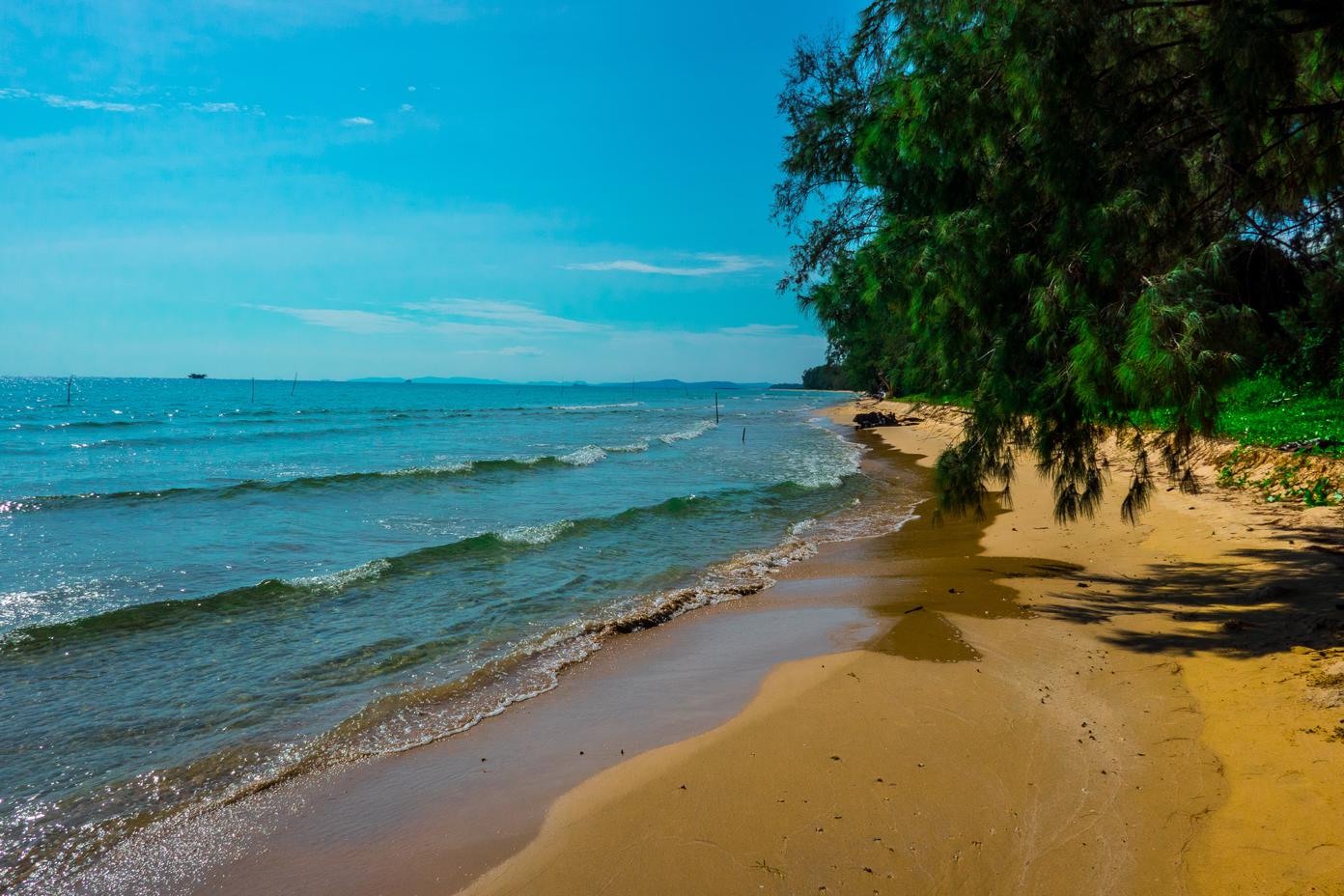 Slightly north of Vung Bau, access to Dai beach is via the same main road as Vung Bau. As you head down the main road, you'll come to a T intersection, Vung Bau is to the left, Dai beach is to the right. If you continue down the dirt road, you will find yourself at the entrance of the Mai Phuong Resort. Security will stop you. If you tell them you want to swim, they'll direct you through the Mai Phuong car park towards the path to Dai Beach. Follow this path until you can't go any further.
Accommodation near Dai beach Phu Quoc
To stay near beautiful Dai beach, we'd recommend the Vinoasis Phu Quoc Hotel, complete with its own water park and fitness center, this beautiful hotel has everything you could want, and proximity to Dai beach to boot!
Starfish beach Phu Quoc (Rach Vem)
Why we loved it – A long stretch of relatively shallow water allows you to see dozens of bright red starfish as you relax.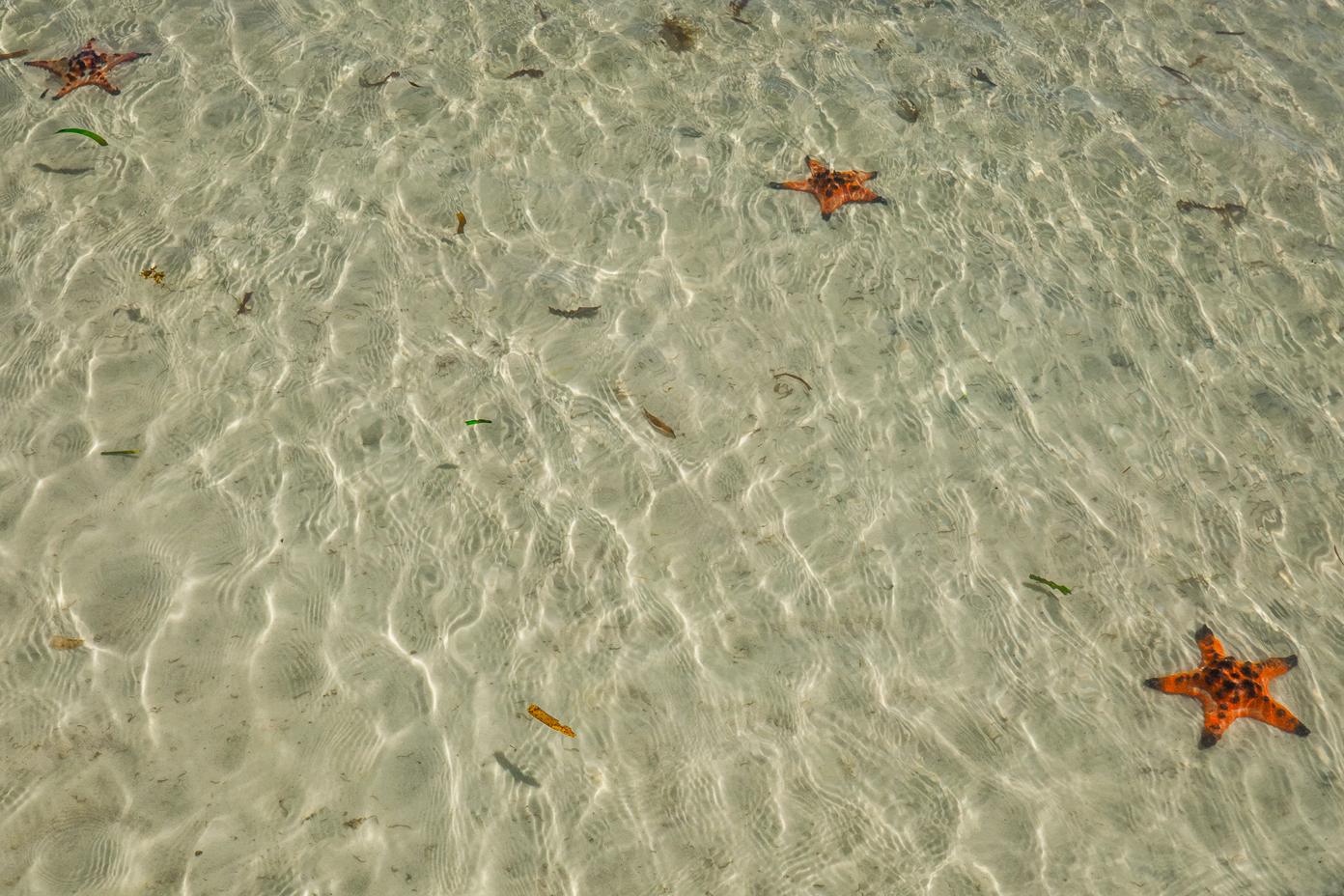 A little more touristic than the above three, this beach is a highlight for many coming to see the starfish in their natural environment. While the beach is relatively clean and the surrounding environment untouched, there are a quite a few more people at this beach. There is a boardwalk with a couple of restaurants at the end where you can buy food and drinks.
Starfish beach is a beautiful beach, but the star fish are the main attraction. Just make sure you go when its low tide on Phu Quoc to see the starfish and get the full experience.
How to get to Starfish Beach Phu Quoc
To get to Starfish beach follow google maps. Starfish beach is at the eastern end of Rach Vem beach. As you drive along the very bumpy main road, if you hit the Vem village on the water then you've gone too far and need to turn left about 200 meters after you leave the village. You'll follow the dirt track for a while and you'll see the tourist vans and taxis waiting.
Accommodation near Starfish beach Phu Quoc
There is no accommodation available close to Starfish beach Phu Quoc. The best option is to stay at something like the the Gold Coast Resort or the Pepper Farm Phu Quoc Hotel.
Other beaches of note
Long Beach Phu Quoc
Just outside Duong Dong city is long beach. A popular tourist beach, it is lined almost completely with resorts and restaurants. We had heard some negative things about this beach, but we were pleasantly surprised, as the section we were on was clean.
It was a lovely beach and for the convenience was worth a visit. In our humble opinions it just wasn't as beautiful as the best beaches in Phu Quoc we've listed above.
As a lot of the beach is lined with resorts, simply look for little roads heading towards the beach and follow those down.
Long beach Phu Quoc Nightlife
There are many bars and restaurants that line long beach so its a great place to go to find nightlife. Try Rory's beach bar for some great cocktails with a view.
Sao Beach Phu Quoc
A popular tourist destination Sao beach wasn't quite what we were looking for in our hunt for paradise, but it may be just what you're after.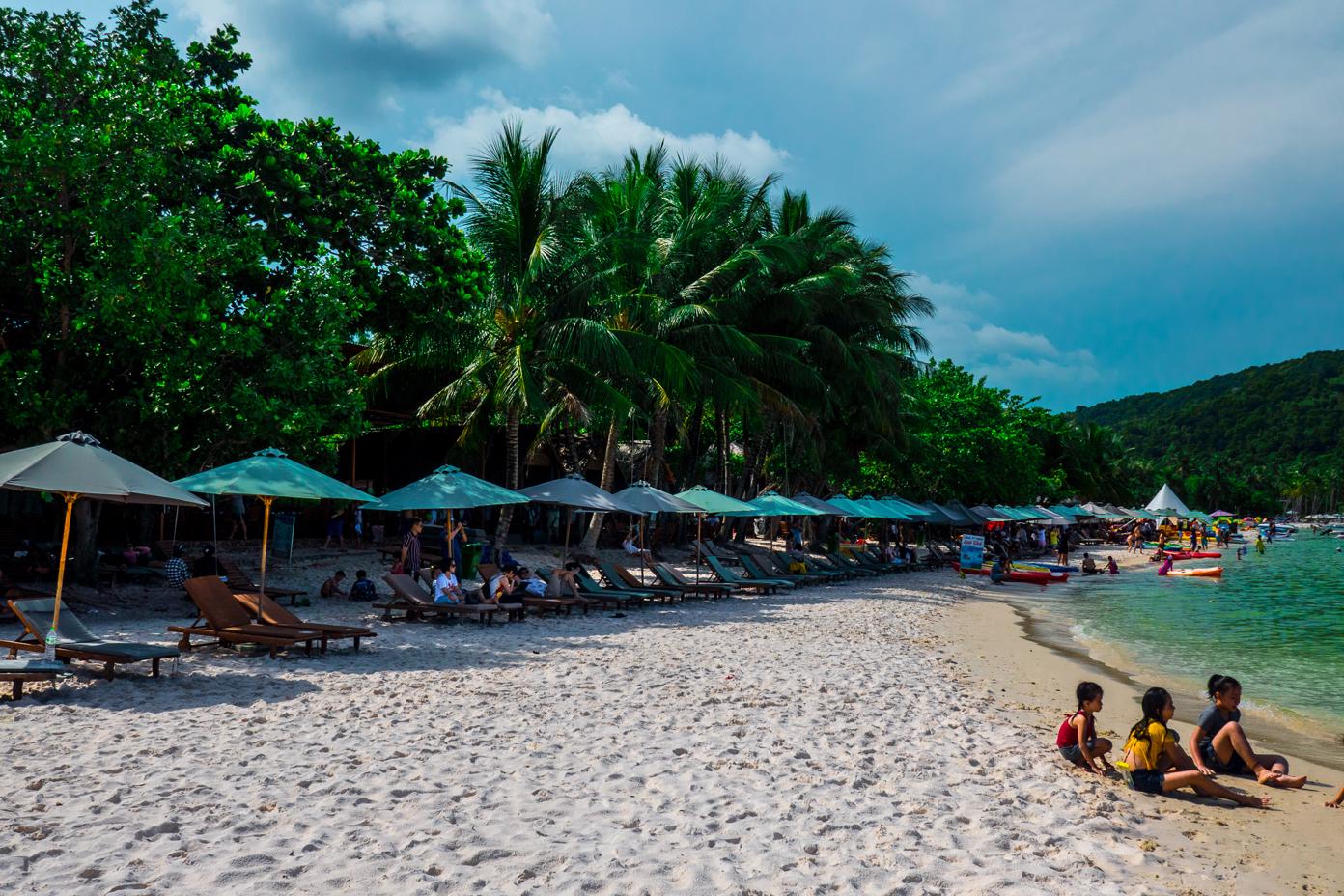 Sao beach is the ultimate tourist beach and a great day out if you have children. Restaurants and bars line the beach. You can jet ski, go parasailing, slide down inflatable slippery dips or simply enjoy the water. Be aware that you'll pay for almost anything you touch or do, so if you want photos on the swing or to lay on one of their sun beds, it'll cost you, but it's inexpensive.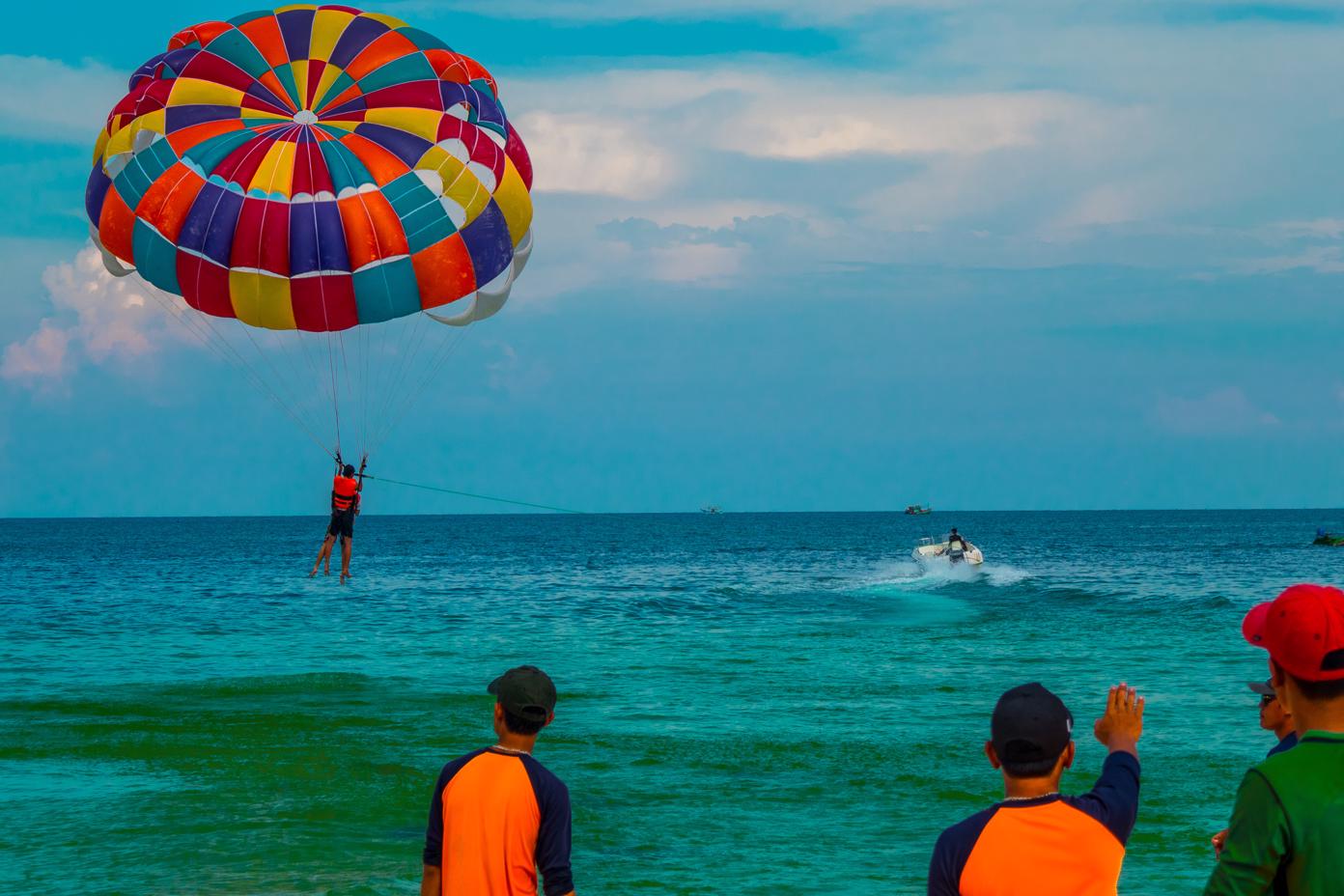 Sao beach is easy to find as a main tourist attraction. The signage on the way is quite good. If you're unsure, follow the tourist buses!
Ganh Dau beach Phu Quoc
We found this beach to be the most disappointing. Located in the far north west, we headed there after a morning at Starfish beach. The ride on the motorbike between the two beaches Is difficult and took about an hour. It's primarily a poorly maintained dirt track of potholes, sand and gravel.
Arriving at Ganh Dau we were shocked to see how dirty it was. Rubbish was everywhere and with resorts all around the environment has been fairly altered. It was a pretty view out to the water but nothing spectacular.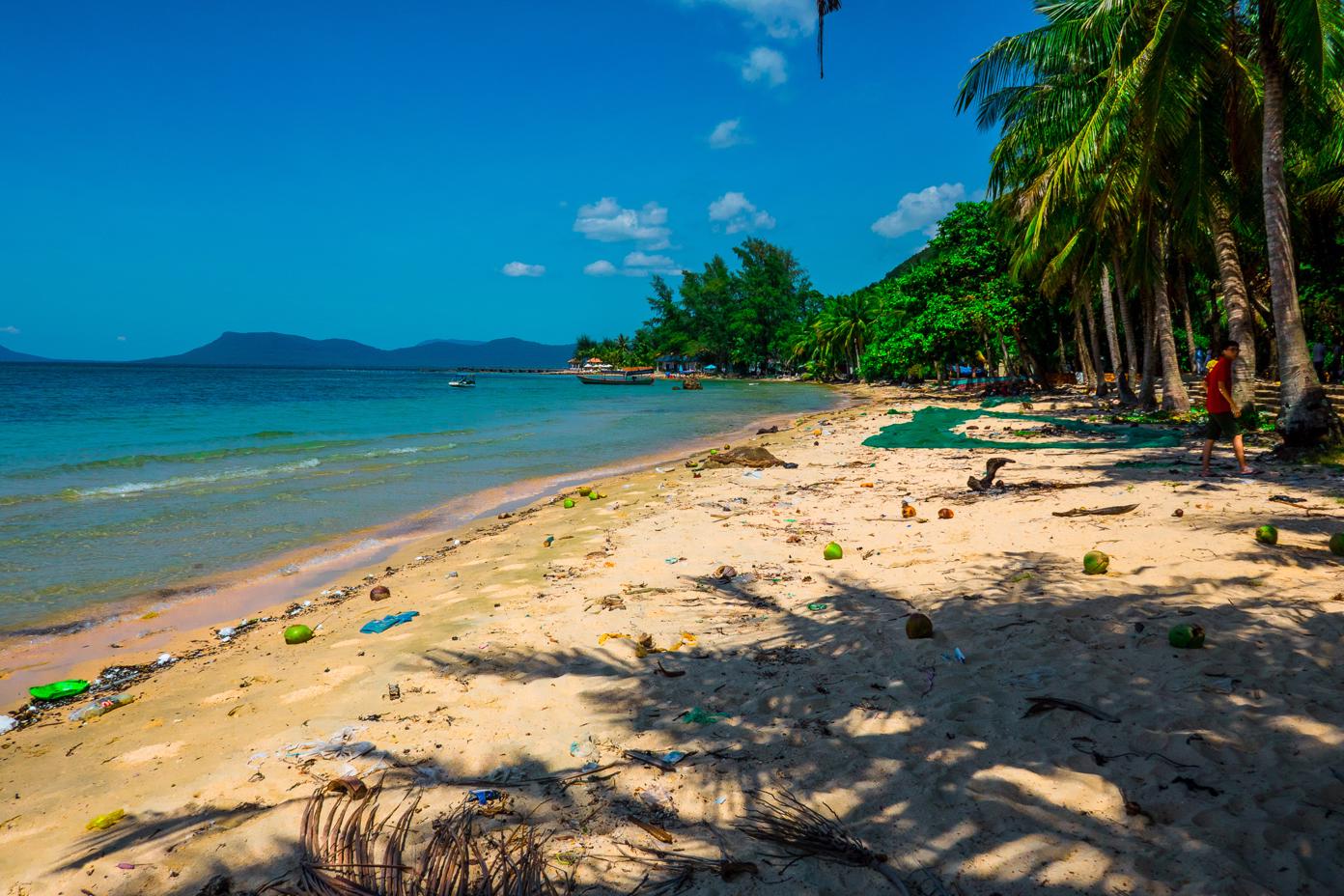 The highlight of Ganh Dau for us, was finding s delicious restaurant in the town. A couple of kilometres up the main road on the left is the Lang Nuong 2. It was busy with locals which is always a good sign. They spoke limited English, so we asked for Pho. When they pointed to the meat we thought they were asking what meat, so we also ordered two of that. We were then worried we'd end up with 4 dishes.
What we got was one interesting fish head soup, which I loved. It had a citrusy, tomatoes flavour. Ben hates tomatoes so he didn't like that. But as we'd chosen the beef, we also got a delicious beef dish. Their service was spectacular, and the food was good.
Khem beach
We couldn't find Khmer beach, although we've since two German girls who did. Located further south, not far from Sao beach, it was meant to be lovely. When you follow Google maps, you'll end up entering a large gateway for the Marriott on Emerald Bay. After trying every road imaginable and doing swimming motions at every security guard we saw we found ourselves being funnelled right into the Marriott on Emerald Bay reception.
The inside of the Marriott was stunning but when they told us we would have to pay 500000 VDN each, EACH, to use their beach as a non-guest we gave up our search. It was 4pm at this point and not quite worthwhile.
If you can find Khem beach, let us know what you think.
They are our recommendations for the best beaches on Phu Quoc island. What did you think? Anything to add?
If beautiful beaches are your thing, don't miss Ky Co Beach on the Phuong Mai Peninsula, Quy Nhon.
Planning a trip to Vietnam? Here is how we plan
This article may contain affiliate/compensated links. For more information, please see our disclaimer here.
You may find these posts useful
Like it? Pin it for later!