Phong Nha Ke Bang national park without a tour or guide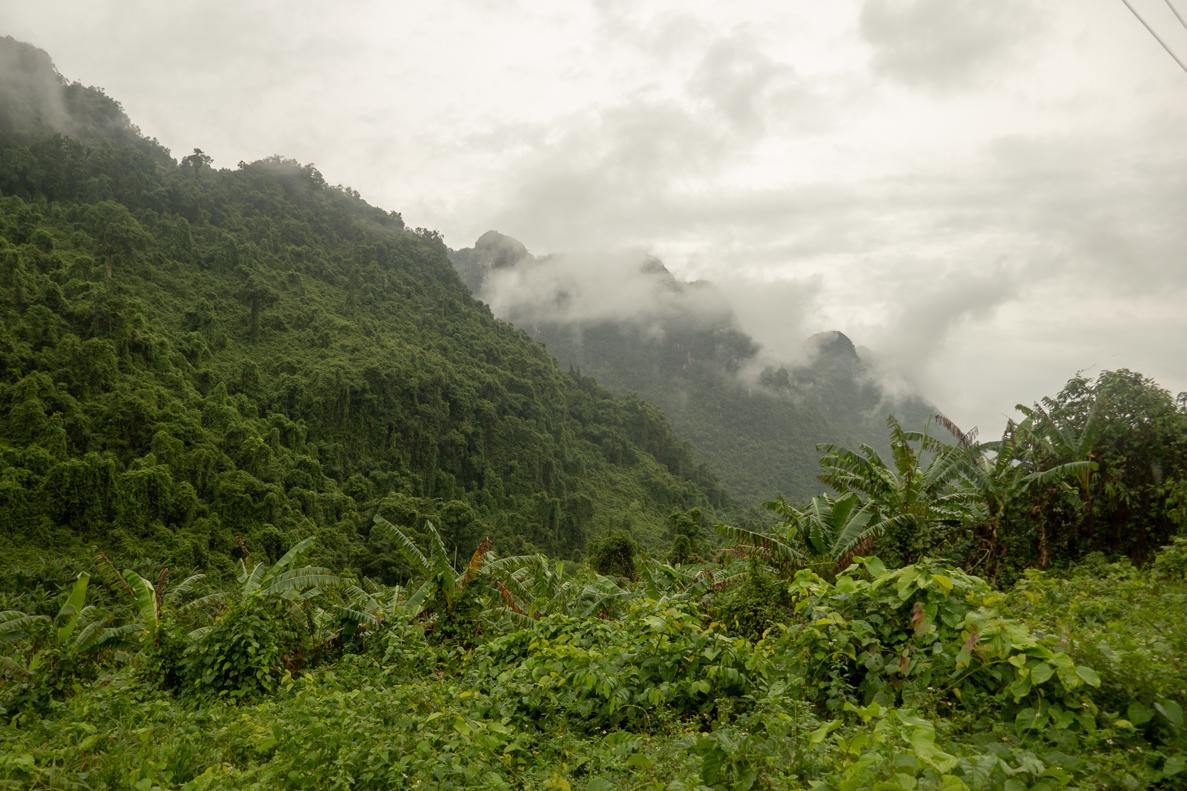 Phong Nha Ke Bang National Park is one of our favourite places in Vietnam. A stunningly beautiful national park with limestone karst mountains covered in forest, tropical landscapes, underground caves and rivers and the Phong Nha Botanical Garden, you could, and we did, spend days wandering through the region. The good news is, you do not need a guide if you're able to ride a bicycle or motorbike and access the National Park on your own.
Located in North Central Vietnam, in Quang Binh Provence, the Phong Nha Ke Bang National Park was listed as a UNESCO World Heritage Site in 2003. It is home to the 400-million-year-old limestone karst mountains, the oldest in Asia.
This article may contain affiliate/compensated links. For more information, please see our disclaimer here.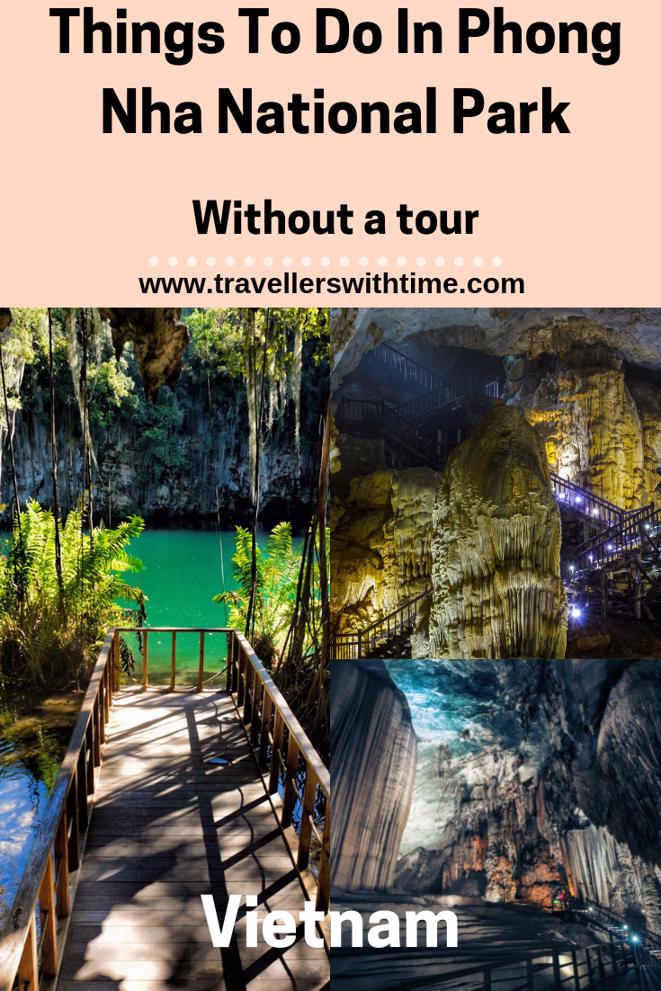 Phong Nha Ke Bang National Park
Phong Nha Ke Bang National Park is like nothing we had ever seen before. While you can see limestone karst mountains in other places such as Tam Coc, the mountains of Phong Nha are covered in lush forests, with barely a limestone face in sight. Its easy to see why many of the caves here have only recently been discovered, and why, it's not beyond reason to believe there are many still to be found.
The classification of 'world heritage site' helps to protect the 300+ caves and grottoes, and the ecosystems they support, of the limestone forest, which is part of the Annamite Range Region.
The minerals dissolving into the water from the limestone mountains are an amazing sight. We were there just after heavy storms in the rainy season, so while some of the waterways had been churned up into a brown mess, there were still small areas that were blue and vibrant.
The Phong Nha Ke Bang National Park is easy to get around however if you want to do so without a tour or guide you will need a motorbike or bicycle.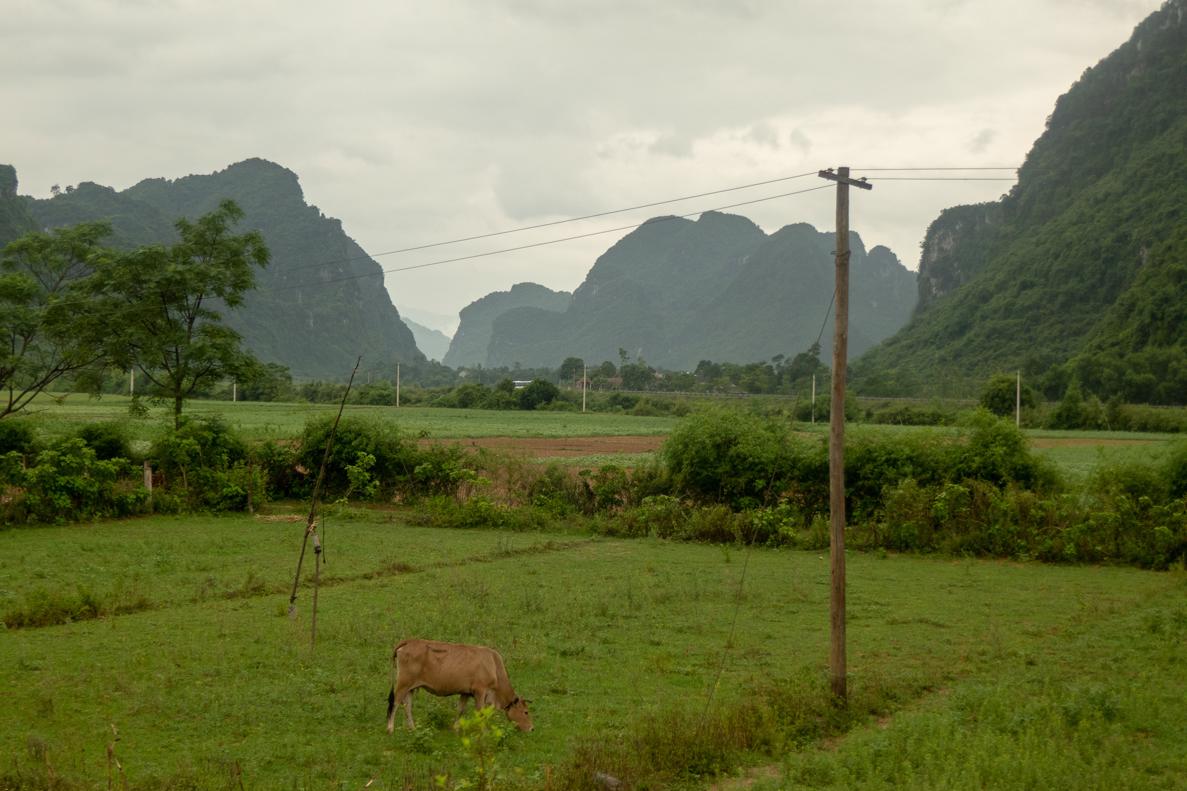 Entrance to Phong Nha Ke Bang National Park
It is free to enter the national park; however, you pay for each activity you do separately.
Riding a motorbike through the Phong Nha National Park
We had read quite a bit about the poor roads and difficulty riding a motorbike through the park. While Ben is an experienced rider, we were being joined by some friends who were not as experienced and nervous about the roads.
Our first day of exploration told us there was nothing to worry about. The roads in Phong Nha are quite good. Every now and then the concrete will become a little bumpy, but if you take it slow there should be no issues.
There are two cautions to that statement.
One is the way you enter the park. From Son Trach town (Known to foreigners as Phong Nha town) when you're at the large intersection, if you turn right, you'll have to follow a small dirt road that is poorly maintained, to get to the park gates. This road is not for beginners.
If, however you turn left from the intersection and follow Google maps into the park from here, the roads are fine.

The other condition is that we do not recommend riding in the National Park, or anywhere in Vietnam for that matter, after dark. It is not uncommon for locals to ride on the wrong side of the road (you know it's true, you've seen it!) and without their lights on. As there are no lights along the streets in the national park, the risk of running head on into an invisible local is high.
Hiring a Bicycle and riding through the National Park
If you don't feel comfortable riding a motorbike, you can hire a bicycle. It's important to know that the caves and Phong Nha Botanical Gardens are located well inside the park area, so its a fairly long ride. Be prepared for a few hours each way, and lots of hills.
Phong Nha Botanic Gardens
The Phong Nha Botanic Gardens are simply beautiful and a great way to spend an afternoon. We were a little blindsided as we entered by the name, Botanic Gardens. In Australia a Botanic Garden is a beautifully landscaped area displaying luscious plants and flowers. They are generally fairy easy to walk around and make for a relaxing afternoon.
This is not the case with Phong Nha Botanic Gardens. I equate it more to a challenging bush walk.
When you arrive at the Botanic Gardens you'll have to register, and the staff will give you a map. From here you can choose the length of walk that you want to do, and if you want to go and see the Gio Waterfall.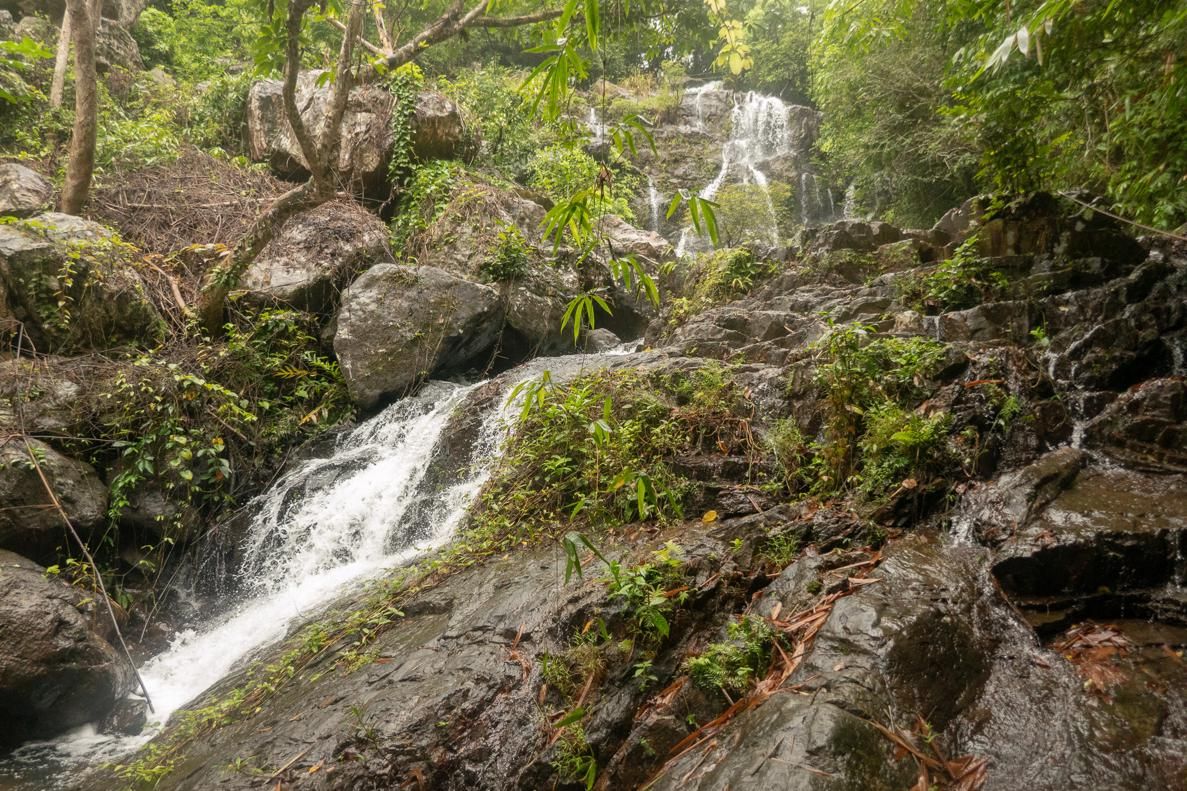 Depending on how much time you have, we strongly suggest going to Mooc Spring a water hole where you can swim, and to Thac Gio, the waterfall.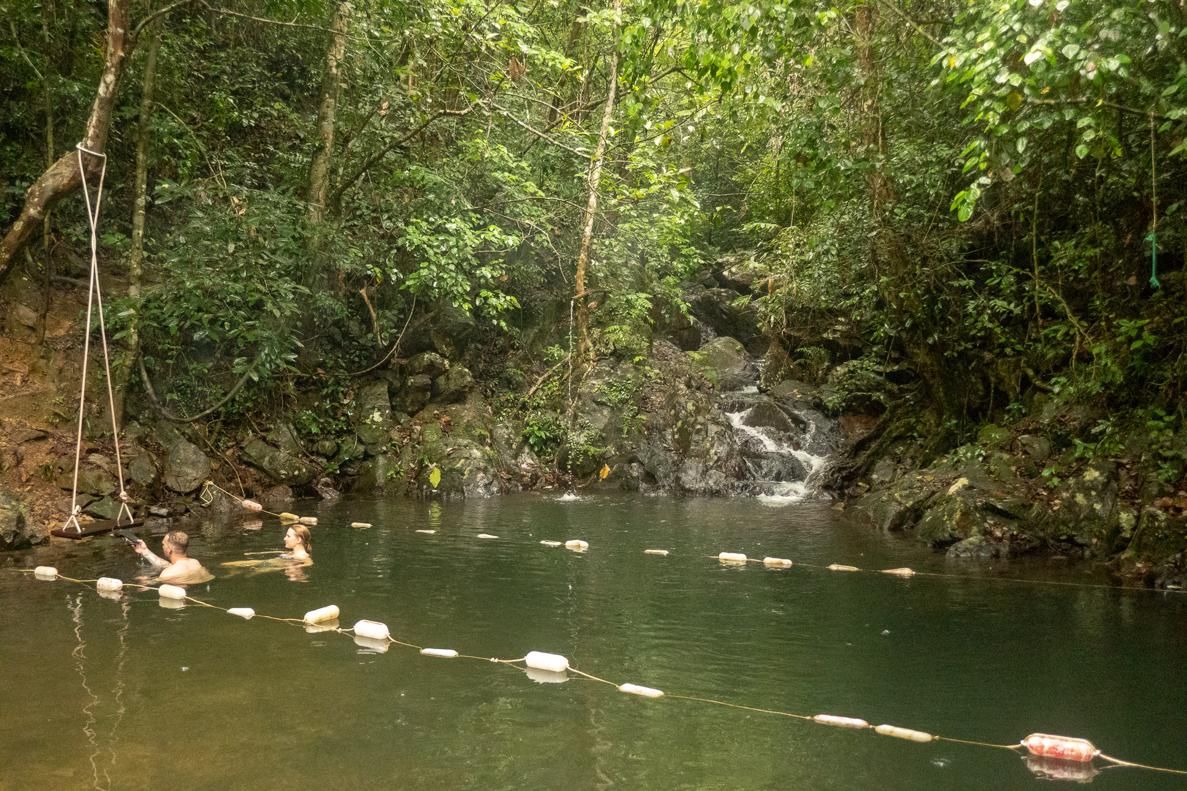 When we first left our hotel, it was raining lightly so we were in our lovely local raincoats, however by the time we arrived the rain had stopped. We decided to take the short cut to the swimming hole and begin with a swim. The water was beautiful, cool and clear. After getting out we dried ourselves off, got dressed and headed for the waterfall. It only took a minute or two for it to start raining. Hard.
We were saturated. Worse, the path to the waterfall was saturated. The longer walk down to the waterfall is not hard, but it is not easy either, and soaking wet slippery mud really did not help! There is a rope for guidance in the trickier places but take it slow and wear good shoes.
While I often joke that I'm 'as steady as a mountain goat', I am not. Ben constantly has to support me so I don't fall over. As we were moving down a particularly muddy portion of the path he reminded me, again, to be careful and not slip. About two seconds later he was on his backside sliding a little down the hill. When he stood up he had a thick layer of mud covering his shorts that would not budge. The mud stuck with him until we reached the waterfall and he had to take a little swim to get clean!
Getting up the other side, the shorter route to the waterfall wasn't that easy either as there's a decent amount of climbing up and over boulders that is involved.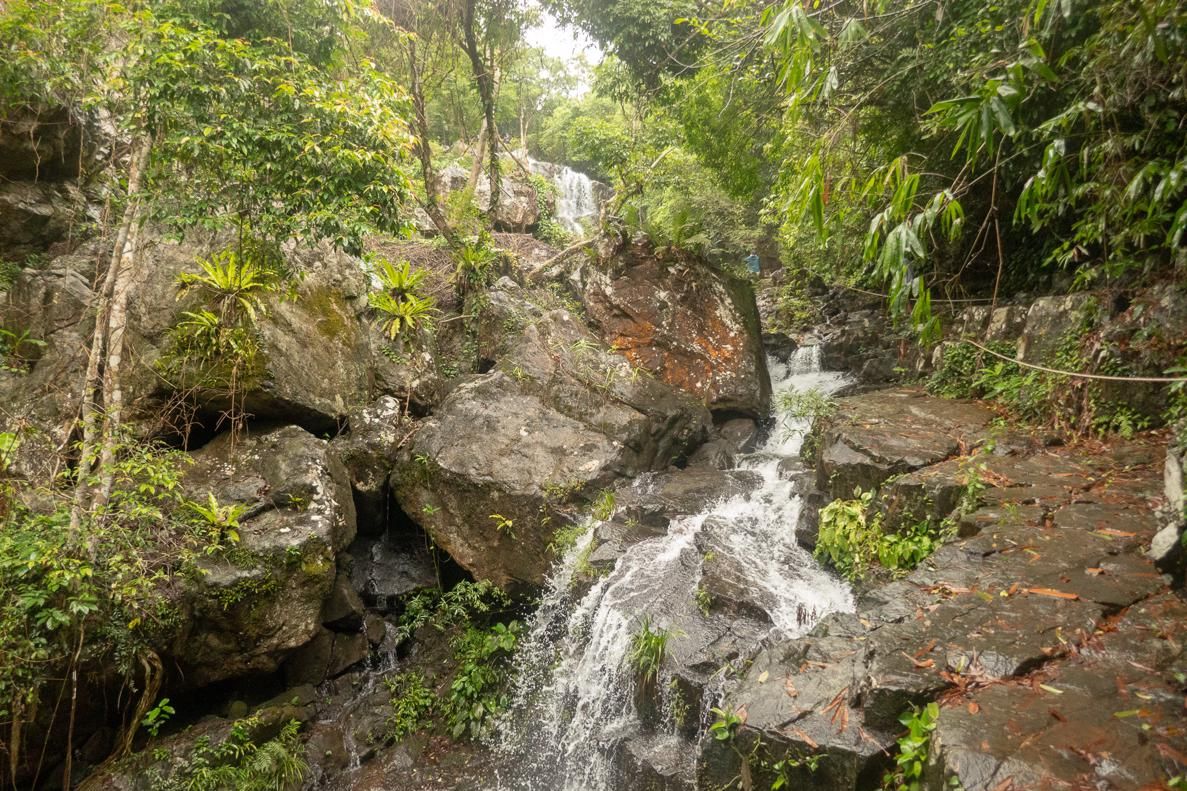 It was beautiful and well worth it but be prepared!
Entrance fee to Phong Nha Botanic Gardens
The cost of entering the Botanic Gardens in Phone Nha Ke Bang National Park was 40000 VDN per person.
Motorbike parking was 10000 VDN.
Caves in Phong Nha without a guide or tour
There are 4 caves in Phong Nha Ke Bang National Park that you can access without a guide. The rights to the other caves are owned by tour companies and therefore you require a tour to enter. The four caves you can access on your own are below.
Phong Nha Cave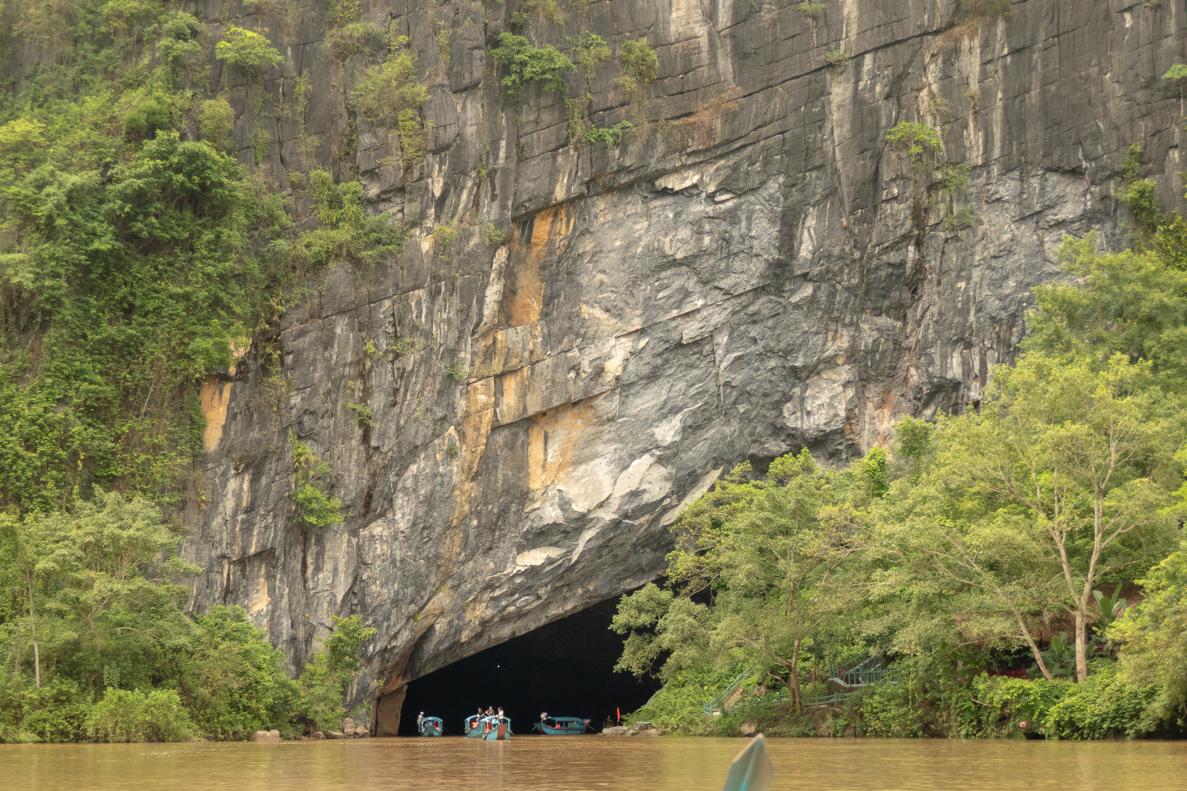 Phong Nha Cave holds the record for the longest underground river, at 14km's long, with 45kms of Grottoes, or small natural caverns or tunnels. It is an enormous cave, with the roof reaching 25-40 meters above water level.
The main part of the cave consists of 14 chambers broken up into three distinct areas, depending on the amount of light and therefore life forms that can be found in them.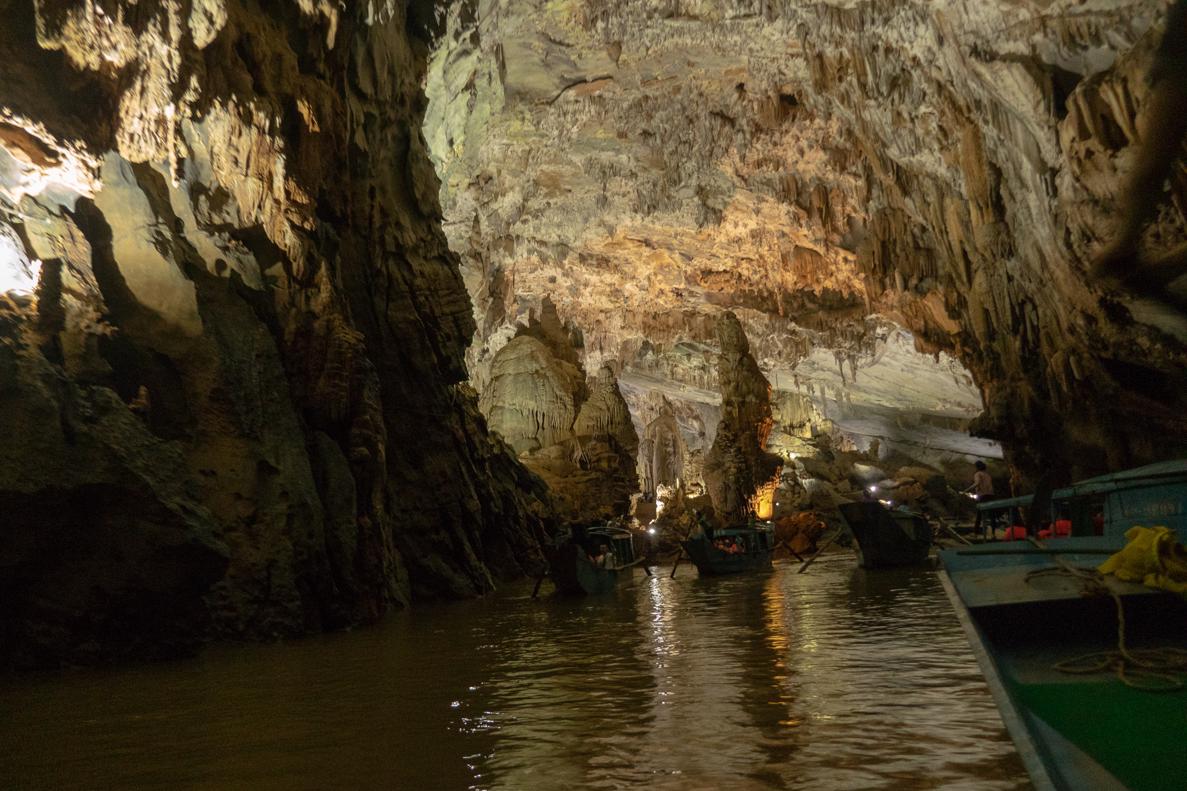 To access Phong Nha cave, you'll need to hire a boat for 360000 VDN. The boat tours leave from just outside Son Trach or Phong Nha town. Each boat can hold up to 12 people, so the larger the group, the cheaper it is per person. We had a group of 4, however when we arrived at the ticket window for Phong Nha cave, a tour guide, who was leading a tour with 3 locals, asked the 4 of us if we wanted to join them in their boat. This split the 360,000 for the boat ticket 8 ways.
The boat ride to Phong Nha Cave takes around half an hour. The boat will enter the mouth of the cave and go about 1.5km inside. Near the end of the 'accessible' portion of the cave, the boat will turn around and move back through the cave. We loved this as it means you get to experience it all again.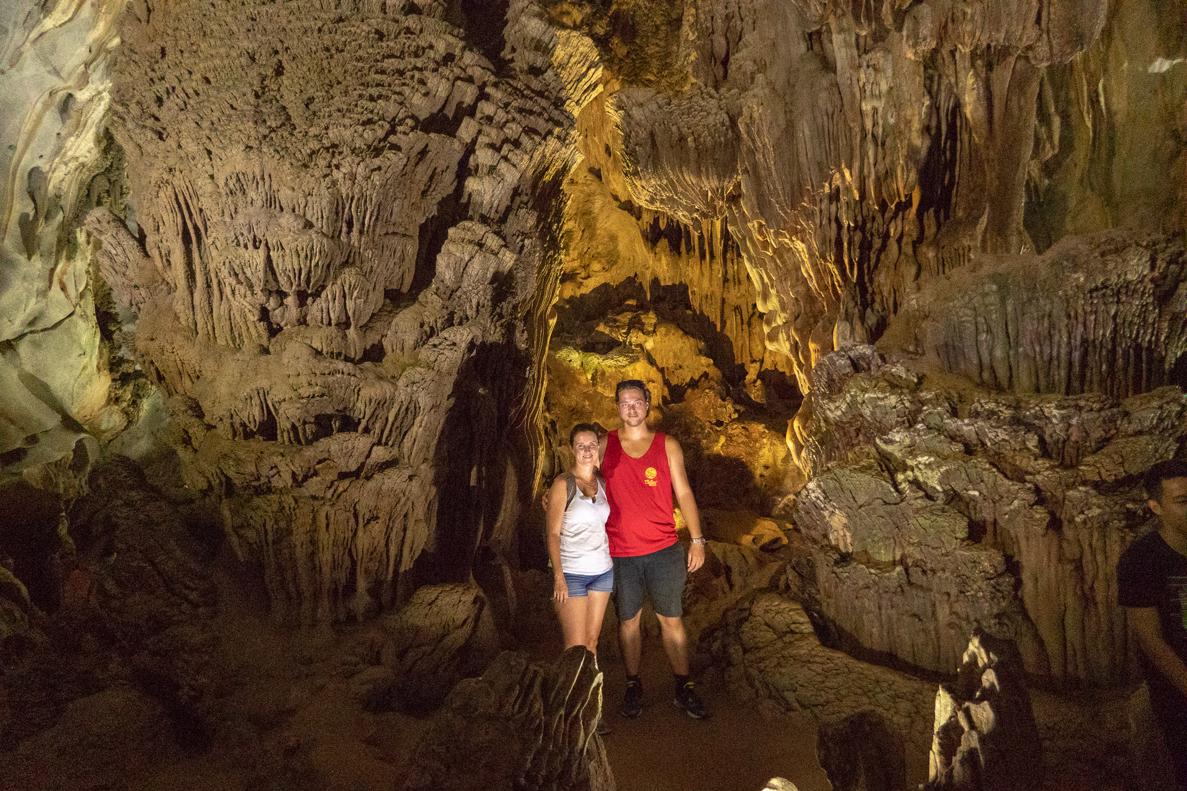 Not far from the entrance of the cave the boat will pull up and you'll be able to get out and walk through the dry portion of the cave to the exit. This it is beautiful and not dissimilar to Paradise Cave. While we were a little disappointed that you can walk all over the cave itself, it was a wonderful experience.
Once you're out of the cave you'll meet up with your boat again. We had to wait a little while for the tour guide and his local tourists but there's places to sit and eat or have a cool drink.
The funny (and bad for the three locals) was the tour guide spent most of his time speaking English to us during our time on the boat. Ben is Dutch, and our two friends are Colombian, so as the only Native English speaker he took a liking to me, and my ability to teach him how to explain things about the cave, in English.
At one point inside the cave, he was trying to explain to me how he believes the rock formations within the cave are formed. He then asked me how I would say it in English. It took me a while to understand his explanation of the caves development, but once I understood how he thought the cave formed, I did my best to put together a good 'English' description.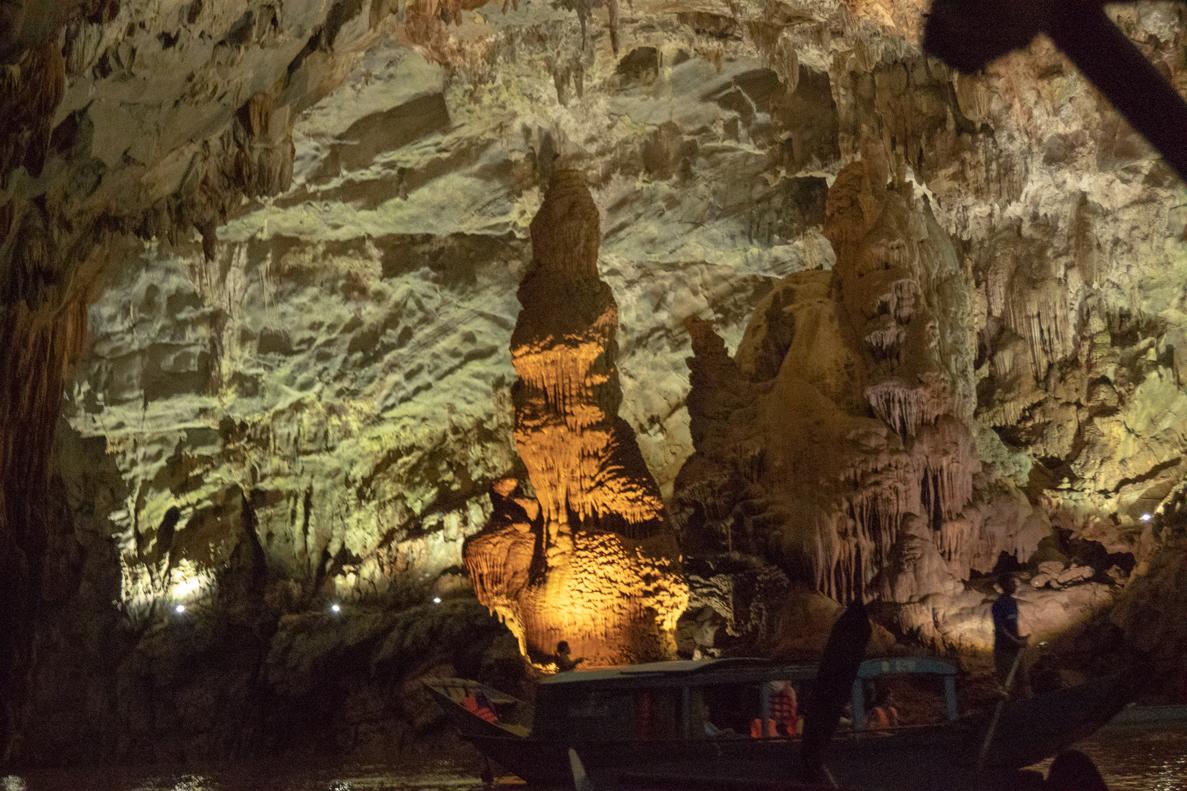 The hilarious thing is that he did not seem so sure on how the layers of rock in the caves were formed, and I have no idea whether he is right or wrong, but I'm certain there will be many a tour group who get my English version going forward. Sorry guys!
Tien Son Cave
Located 100 meters above the entrance of Phong Nha Cave, Tien Son cave is accessible by climbing over 300 stairs, just after the exit of Phong Nha cave. You can therefore do the two caves using the same boat trip.
Tien Son was discovered in 1935, however it is believed to be over 35 million years old!
Unfortunately, we were not able to visit Tien Son Cave as it was closed due to a portion of the roof collapsing.
Cost of Visiting Phong Nha Cave and Tien Son Cave
Phong Nha Cave entrance fee is 150000 VDN
Tien Son Cave entrance fee is 80000 VDN
Boat to the caves is 360000 VDN (which can be split between up to 12 people)
Paradise Cave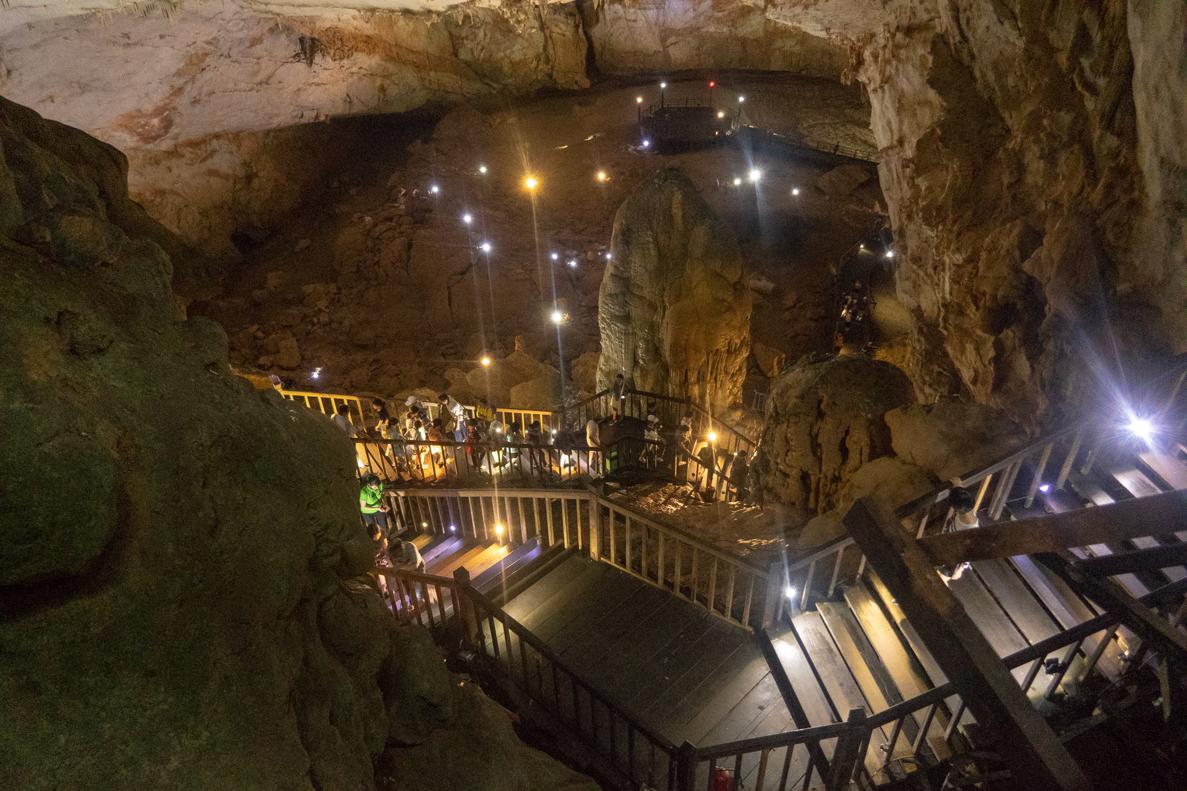 Discovered in 2005, Paradise Cave is 31kms long and reaches a height of 72meters and width of 150 meters at its widest points. The size of the cave is awe inspiring.
When you arrive at the entrance you can pay for an electric car to take you the kilometre to the base of the mountain. The electric car is 100000 VDN per person.
Located 200 meters above sea level, expect to spend a lot of time walking up ramps and stairs to get to the entrance of the cave.
Paradise Cave was our favourite cave in terms of its natural beauty. This was the very first cave that we visited, and we really didn't know what to expect. Having spent a decent amount of time in Vietnam I was concerned about what would have been done to the inside in the name of tourism. Thankfully there was absolutely no need.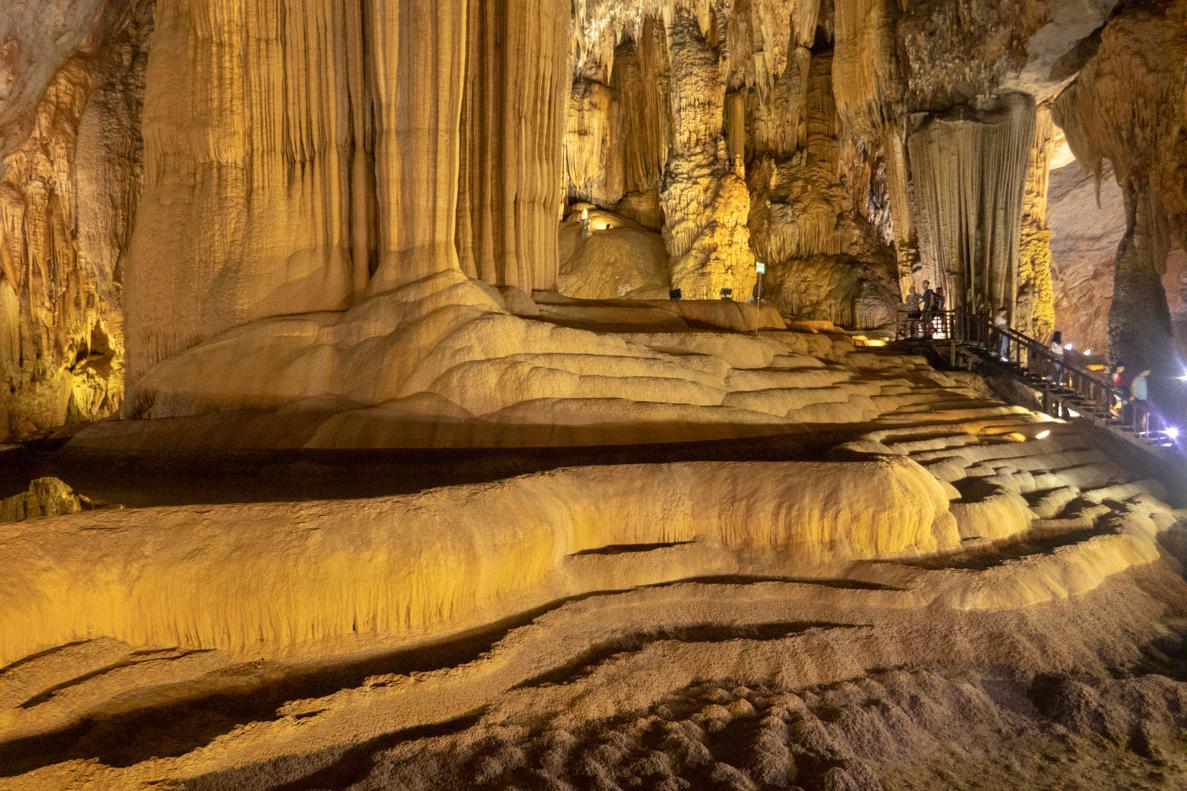 The people who manage the cave have managed to keep their impact on it minimal. A wooden walkway moves through the length of the cave and is mostly centred. The cave is so large there is no way of touching it or impacting on it in any way.
We had also read about horrendous coloured lighting throughout and this wasn't the case either. They use natural lighting and I thought it was the perfect choice.
At times you feel like you're on a whole other planet. It was simply spectacular. You could park a large aircraft in its caverns. There are areas of tightly packed stalactites and stalagmites , and then areas of vast open expanse.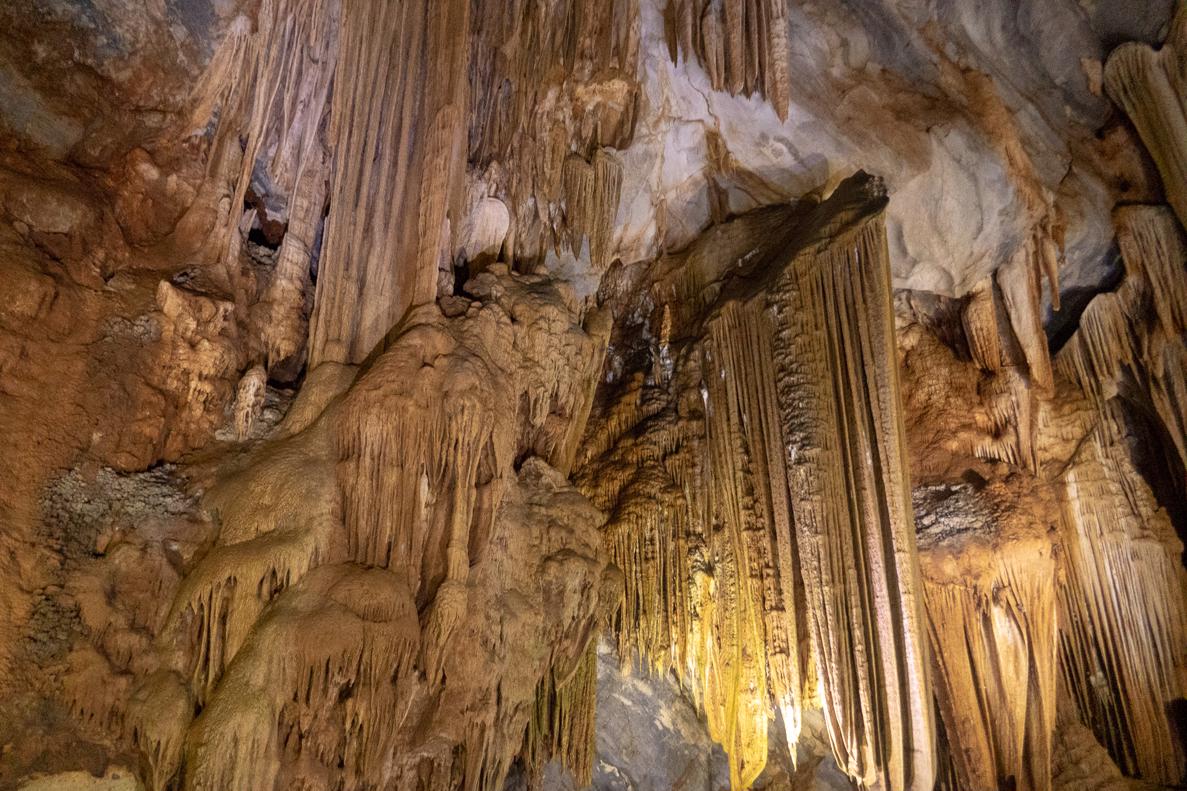 As we were there in wet season, and water seeps down through the limestone, there were small pools where water built up, and all I wanted to do was just climb over the railing and sit in one.
Entrance fee for Paradise Cave
The entrance fee to Paradise Cave is 250000 VDN and it is worth every cent.
Dark Cave
First discovered in 1990, the Dark Cave is named because unlike the other caves, there is no artificial light placed within its 6km cavern.
The Dark Cave is known as the adventure cave, for this reason it is also the most expensive at 450,000 VDN.
When you first arrive, you'll be asked if you can swim. You'll need to fill out some personal details and pay. Your payment also covers your insurance to the value of 20000000 VDN, should you need it.
You'll then be given a locker key and told to strip down to your swimmers, and nothing else. Girls, take note, wear board shorts over your bikini or bathers bottoms! I'll explain why in a bit.
Once you've paid and have your tickets you speak to a guide who will give you a life jacket. And then you're ready to glide on a flying fox from the road, to near the entrance of the Dark Cave. Unfortunately, the flying fox has a weight limit of 90kg which meant that Ben is about 20kg's over the weight limit. Hey, he's 192cm's tall with an enormous build! He hasn't been under 90kg's since his teens! So, if for some reason you cannot do the flying fox, you can get a little lift to the cave entrance by boat.
Once you're safely off the flying fox, you get a helmet, complete with head lamp that you'll need for the cave. From here it's a short swim to the wooden walkway that leads you inside the cave where you'll probably tag on to the end of a group who are also waiting there for a guide.
The blue water of the Chay river is meant to be a spectacular sight, however as we were there just after heavy rain, the water was rather brown.
Once you're inside the cave, the walk way ends, and you ease yourself into the water. As you wonder through the cave, the only things you can see are the formations lit up by people's headlamps. While the cave itself is no where near as spectacular as the Phong Nha or Paradise Caves, its sheer size and the adventure of it all make it exciting.
The water gets quite deep, I'm 165cm and there were a couple of places where I couldn't touch the bottom, but being rainy season, the water levels in the area were also up in general.
The fun part comes when you scamper out of the water and head up the slippery clay, heading towards the mud pools.
Girls, this is where the board shorts come in. There are two 'mud' slides that you will need to slide down on your backside. The first is before you enter the area of the mud pools. When I came down the first slide, it was dry, so I was able to scoot my way down using my hands and feet. A few of the other girls however slid down and the friction of the dry mud gave them a nice grazed butt, like carpet burn. None of the boys in shorts had an issue.
Once you're down the slide you'll head into the mud pools. It is the weirdest feeling as the thick clay suspended in the water wraps around your legs. I thought something was crawling on my foot at first. As you walk in, the mud will suspend your weight and I sat there, as though I was sitting in a chair. I honestly could have stayed there all day.
Eventually your guide will tell you its time to go and you'll leave the mud pool area via a different path. Here you'll have to go down your second mud slide. I tried to edge my way down using my hands and feet as I had on the first, only half way down this mud slide was soaking wet. Once I lost traction there was nothing I could do, and I slid down on my butt with zero control.
Now I had butt burn too. Girls wear board shorts! Not only did I have butt burn, but to prevent myself from uncontrollably sliding down on my side, I also had elbow burn. Ouch! It stung, but it was worth it.
Once you're all down the slide you simply leave the cave the same way you came in. Make sure you wash all the mud off.
At the entrance of the cave you jump in a kayak with other members of your group and kayak back to the entrance.
Unfortunately, we don't have any photos of the Dark Cave as we forgot to take our waterproof camera!
I cannot stress it enough, girls wear shorts!
Phong Nha National Park Tour
If you're unable to tackle Phong Nha Ke Bang National Park on your own, you can do a Phong Nha National Park tour, which will largely focus on the caves. All you need to do is decide which caves you'd like to explore. You can do a Paradise and Phong Nha Cave tour or get adventurous and do the Phong Nha and Dark Cave tour. Both of these tours will leave from Phong Nha town.
Son Trach also Known as Phong Nha town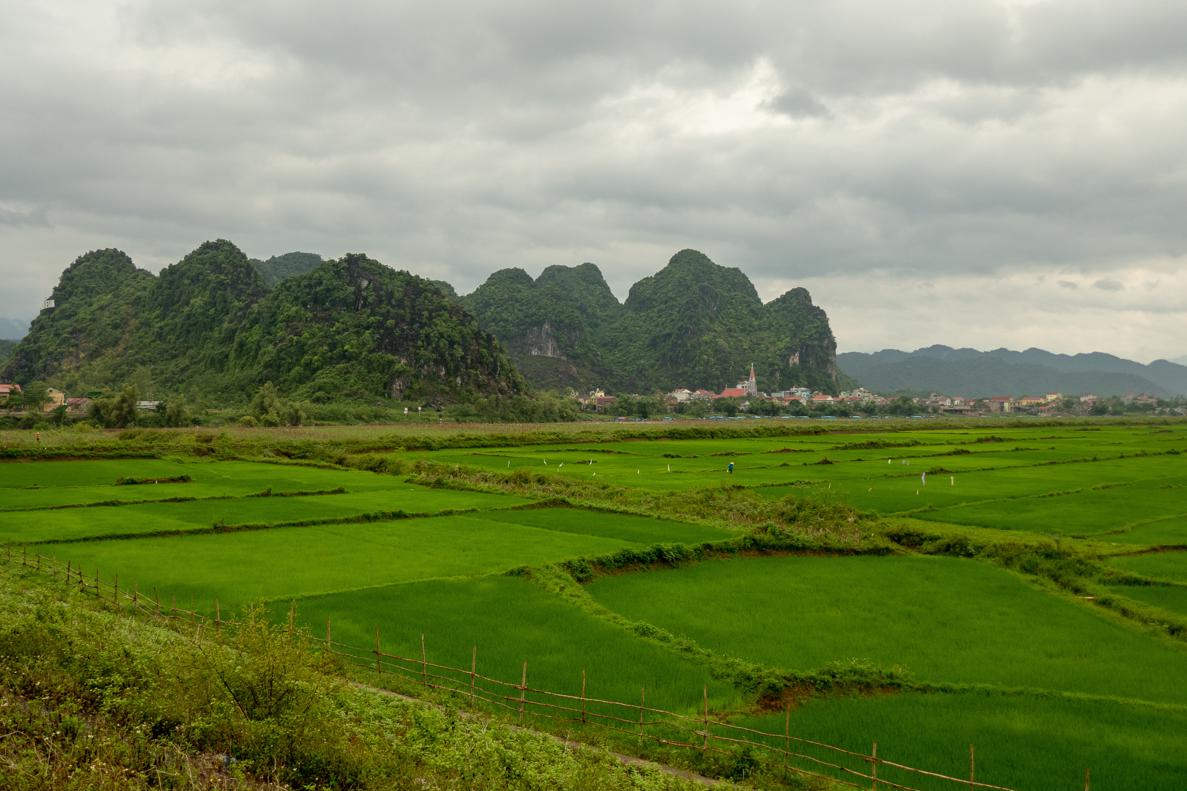 If you've been reading about Son Trach town online, most of what you have read is out of date.
While the town is small, essentially one street, it is no longer a tiny local village. It is a street set up for tourists, but it's lovely. The entire street is lined with guesthouses and hostels and you get the feeling virtually no locals live there anymore. There are restaurants with both local and 'western' food, all options are delicious and well priced.
There are multiple tour and travel agencies, and all the guest houses and hostels can book tours for you if you choose to do them.
It is also worth noting that we saw 3 ATM's in Son Trach, where as some of the older articles will tell you there is only one. Times have changed in Son Trach.
Phong Nha Accommodation
As with a lot of the beautiful country towns in Vietnam, you have the option of staying near the center or town, or further out in the natural surrounds.
If you have access to a motorbike or bicycle and are able to travel into the main part of town on your own, staying further out is the perfect option.
The Hung Phat Bungalow is a beautiful hotel that's only 3.1 km from the main part of town. It has a pool, terrace and garden so you can enjoy the view in between your caving adventures.
For a little more luxury outside the town, try the Phong Nha Farmstay. 9 km outside town, with an outdoor pool, sun terrace, garden and bar this beautiful hotel has amazing views of the river.
If you'd prefer to stay closer to the center of Phong Nha town, the Carambola Bungalows are located just behind the main road, near the river. WIth Garden views and serving and a la carte breakfast, the Carambola is a great place to spend a few nights.
cheaper but no less quality option is the Sky Hotel, centrally located near the main street it's close to everything including bus stops, tour agencies and restaurants.
Getting to Phong Nha National Park
Getting to Phong Nha from Hoi An
Buses from Hoi An to Phong Nha leave regularly and can be booked at the link provided, or through tour agencies, hotels and hostels.
You can also catch a train from Danang, which is half an hour from Hoi An, to Dong Hoi, about 40 minutes' drive to Phong Nha town.
If you're heading to Hoi An, don't miss our Hoi An Highlights!
Getting to Phong Nha From Hue
Phong Nha is an easy 5-hour bus ride from Hue. They will tell you its four hours, but that doesn't factor in stopping to pick up people and product on the side of the road. You can book your bus ticket online here.
There are quite a few people who do day trips from Hue to Phong Nha, so the morning buses are usually quite full. If you catch a bus later in the day, you have a better chance of having a little space to stretch out.
If you're heading from Phong Nha to Hue, make sure you see the best tombs of the Emperors of Hue!
Getting to Phong Nha from Ninh Binh
The buses going between Ninh Binh, or Tam Coc, and Phong Nha leave nightly at 9pm and the trip takes around 7 hours. It should cost around 220000 VDN. You can book your bus between Phong Nha and Ninh Binh here.
We booked a bus through our accommodation. The bus from Phong Nha to Ninh Binh and were told it was a slightly longer trip and we would arrive at 5am. Our driver was a lunatic, the worst I've seen in Vietnam (and that's saying something). We were all asleep, on our sleeper bus, and he'd slam the breaks sending everyone flying and waking us all up. We arrived at 3.30am. Factor this in when you're booking accommodation. Nothing is open at 3.30am. Nothing.
You may find some of our other articles useful
Planning a trip to Vietnam? Here's how we start
This article may contain affiliate/compensated links. For more information, please see our disclaimer here.
Like it? Pin It!