My Son Sanctuary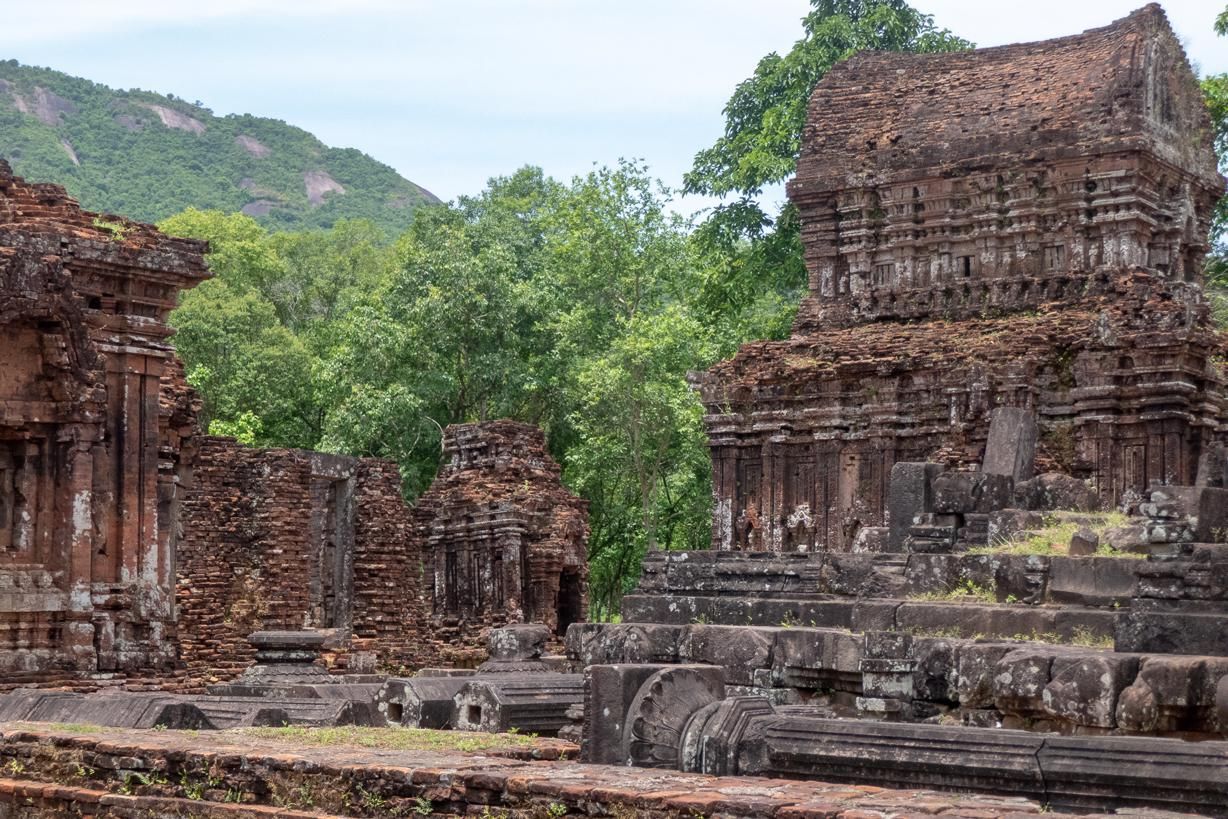 The UNESCO World Heritage site of My Son is one of the largest Hindu temple complexes in South East Asia. Once the political and cultural epicentre of the Champa Kingdom, what remains is a beautiful complex of ruins, laid out amongst the mountains.
This article may contain affiliate/compensated links. For more information, please see our disclaimer here.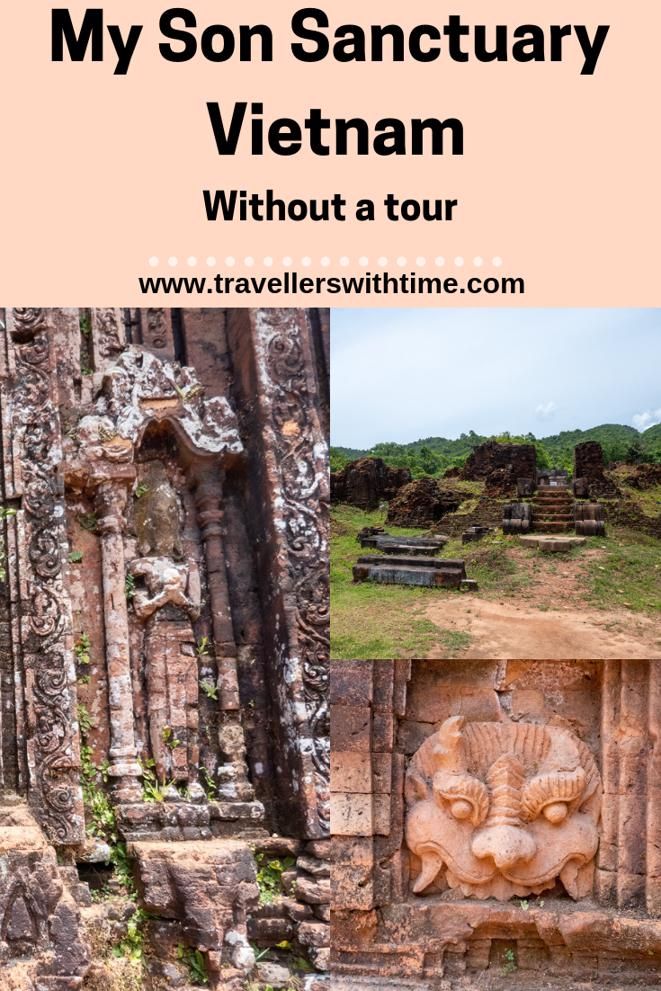 A brief history of the My Son Sanctuary
My Son is situated in a geographical basin surrounded by mountain ranges in Quang Nam Province, with the Thu Bon river running through the complex before entering the sea near the Hoi An Ancient Town.
The Champa Kingdom existed between the 4th and 14th centuries and continued to develop and rebuild the complex of My Son over these 10 centuries.
Constructed of fired brick, stone pillars and sandstone carvings and sculptures, the temples were built to honour Hindu Deities including Krishna and Vishnu. The primary Deity worshipped however was Shiva, who was the protector of Kings.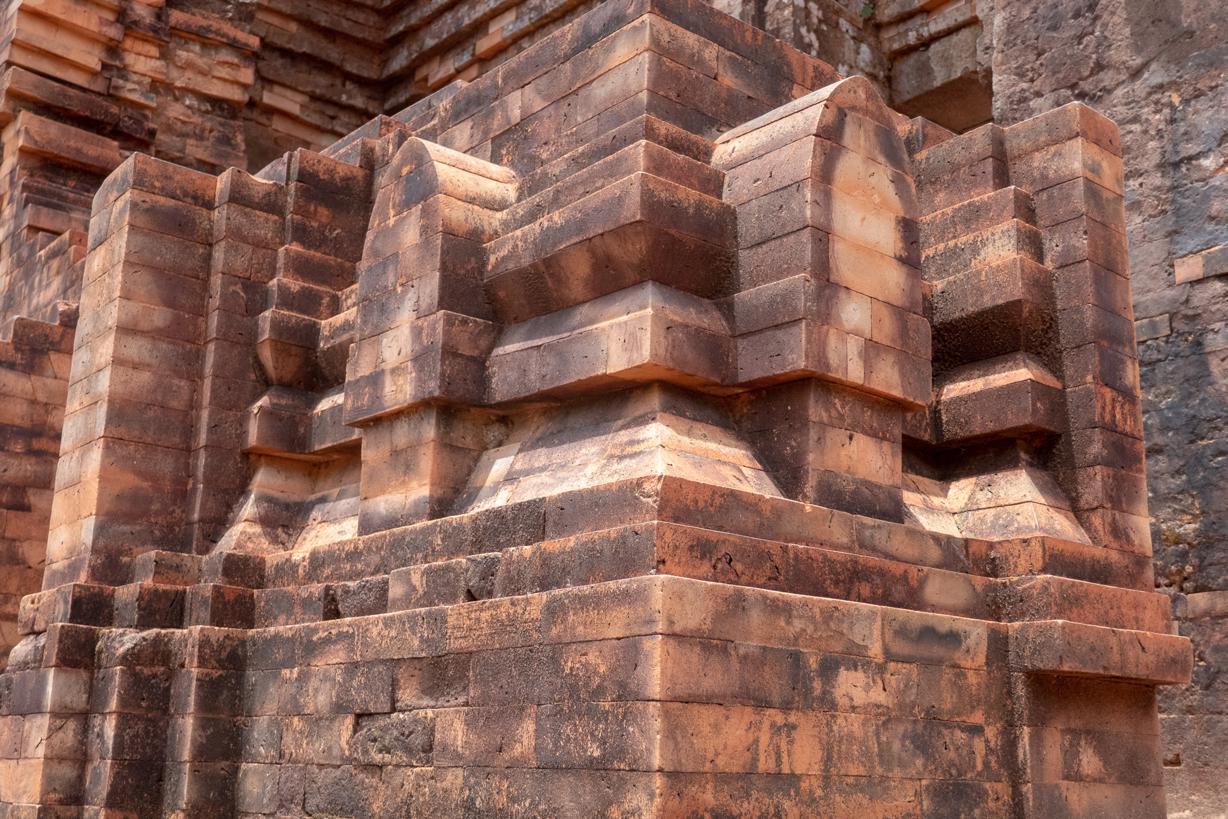 Throughout the My Son Sanctuary there are still visible inscriptions in both Sanskrit and the Cham language.
From the 4th to 14th centuries, the basin of My Son was a site for religious ceremonies for the Kings of the Champa. It was also a burial place for Cham Royalty. Evidence found within the Sanctuary goes back as far as the era of King Fanhuda, who ruled from 380 – 413.
Unfortunately, in recent centuries the area of My Son was all but forgotten and it was only rediscovered in 1898 by the French. Despite attempts to preserve the site it was severely damaged, particularly during the Vietnam War. As a result, only 17 of the original 71 structures remain.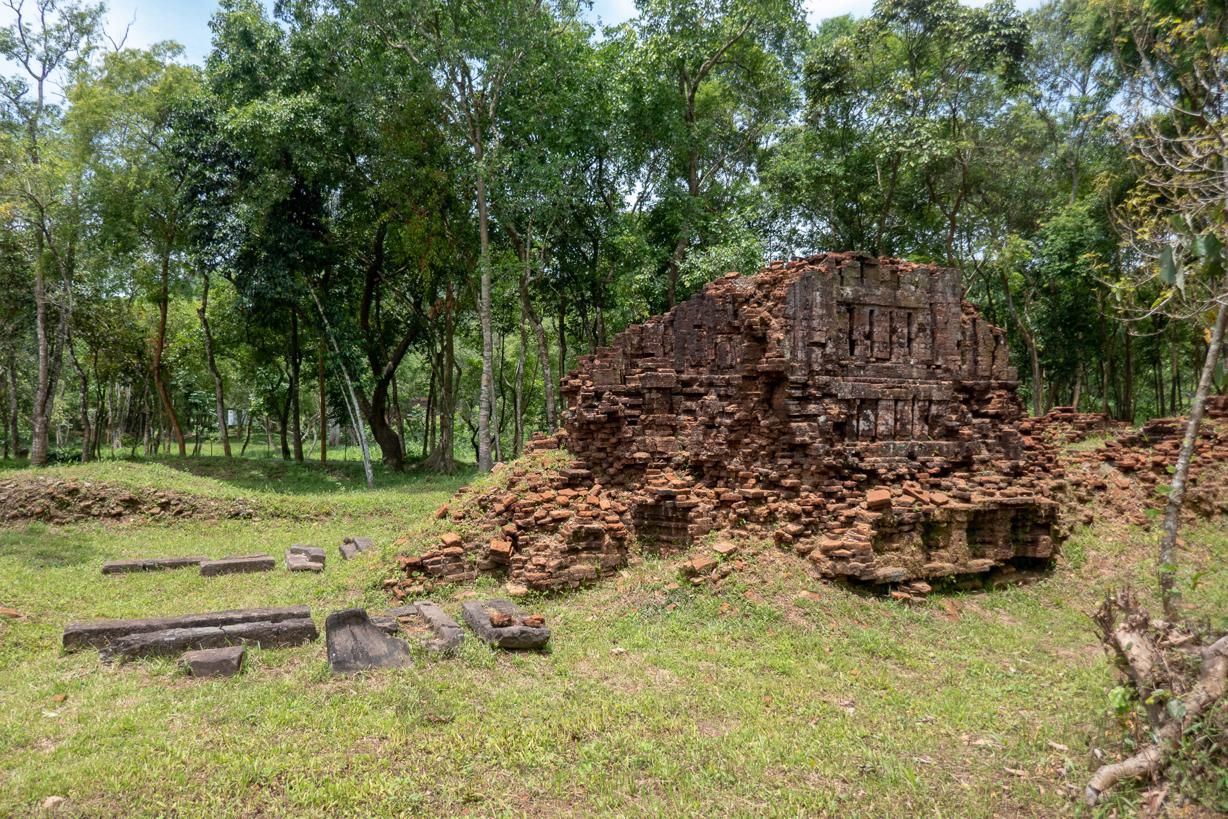 Getting from Hoi An to My Son
Located about 40kms from Hoi An, there are many tourist companies offering half day tours to My Son. To be honest, with the right tour guide, I think a tour might be useful as the guide can point out different elements of the structures and explain some of the iconography as you go along.
We chose to take the motorbike to get to My Son. It was an easy ride with good roads. It took about an hour.
We had previously met an Israeli solo female backpacker at our hotel. She was lovely but quite introverted, preferring short chats but keep mainly to herself. Not long after we arrived at our first ruin, we bumped in to her. She was hiding from her tour group. All she kept saying was how annoying her guide was.
As Ben and I walked past her tour group, and the annoying guide we couldn't help but laugh. The guide spoke like he was MC'íng a WWE prime time event, over dramatizing everything with huge arms flailing everywhere. He would have driven us crazy too!
It is also possible to do My Son by private tour.
If you're heading back to Hoi An after visiting My Son, don't miss these Hoi An Highlights!
Arriving at My Son Sanctuary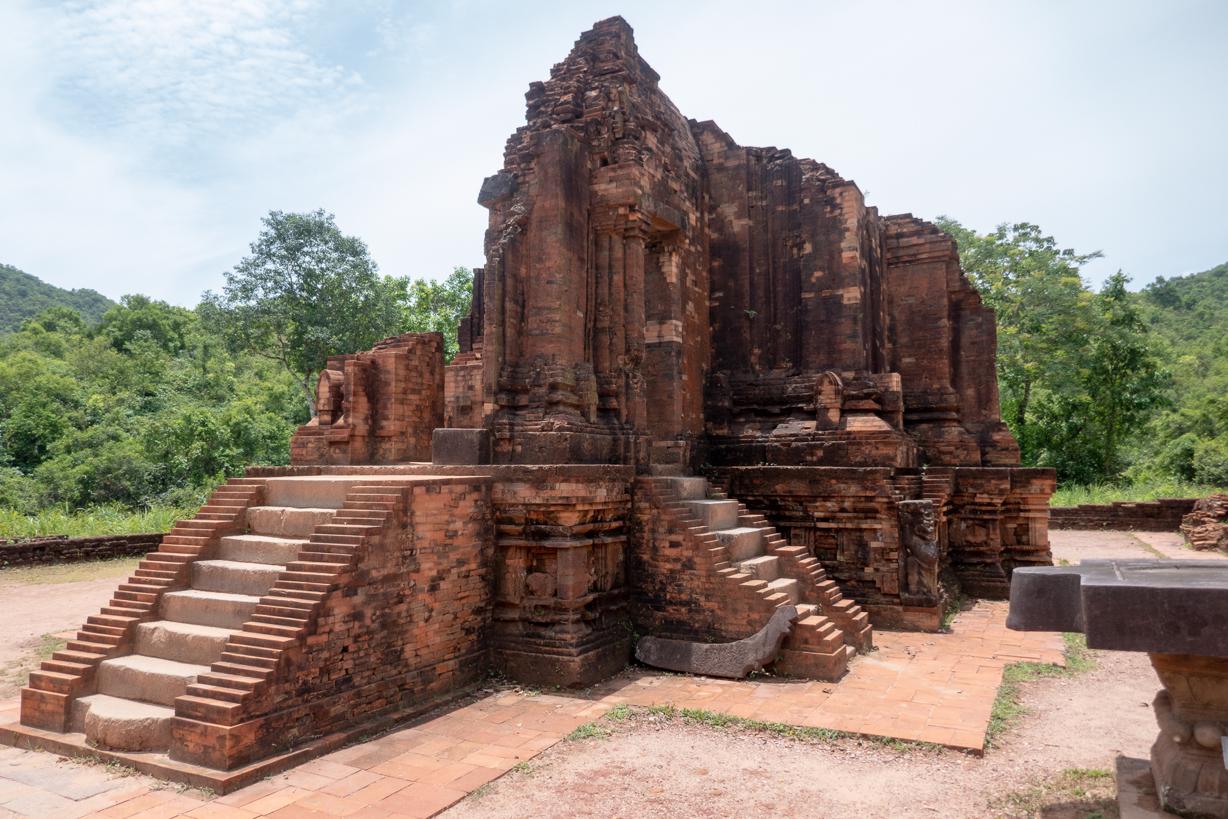 When you arrive to the Sanctuary you'll see the ticket office. Like Angkor Wat, there is a sign suggesting you need to have a photo taken, turns out, you don't. Just buy your ticket and walk in.
Entry fee to My Son Sanctuary
The entrance fee for My Son is 150000 VDN per person.
My Son Sanctuary Museum
The museum is a little further up from the entrance gate. I would suggest going here first, particularly if you don't have a guide, as you may find some useful information prior to seeing the temples. We went to the museum at the end. It was still useful but in hindsight I'd do it differently.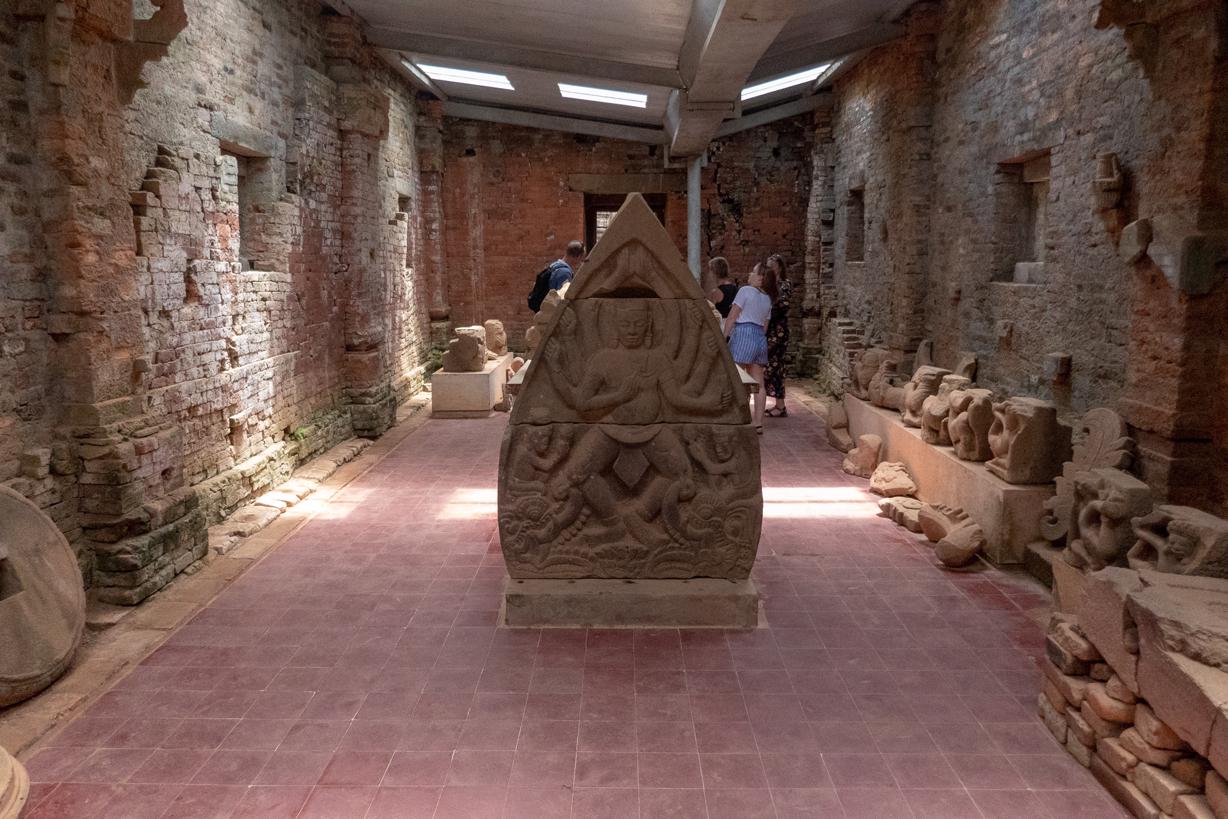 When you come out of the museum, walk the hundred or so meters towards to Sanctuary and you'll see free Electric cars waiting to take you to the ruins.
I would strongly suggest taking the electric cars. It is hot, and the walk is quite far, although it is very beautiful as the road runs through the forest. The electric cars are free and will run no matter how many people you have in your group.
Exploring the Temples of My Son
The signage indicating which direction to travel seems a little oddly placed. From where you exit the electric car, its quite easy to find the huge exit sign but the entry point is not as obvious.
The truth is you can walk either way, it's a circuit. When we worked out the tiny path to the left was the entrance we went that way. If you go this way, clock wise, you'll come across the most damaged ruins first, and finish up with the more spectacular, and still standing, ones.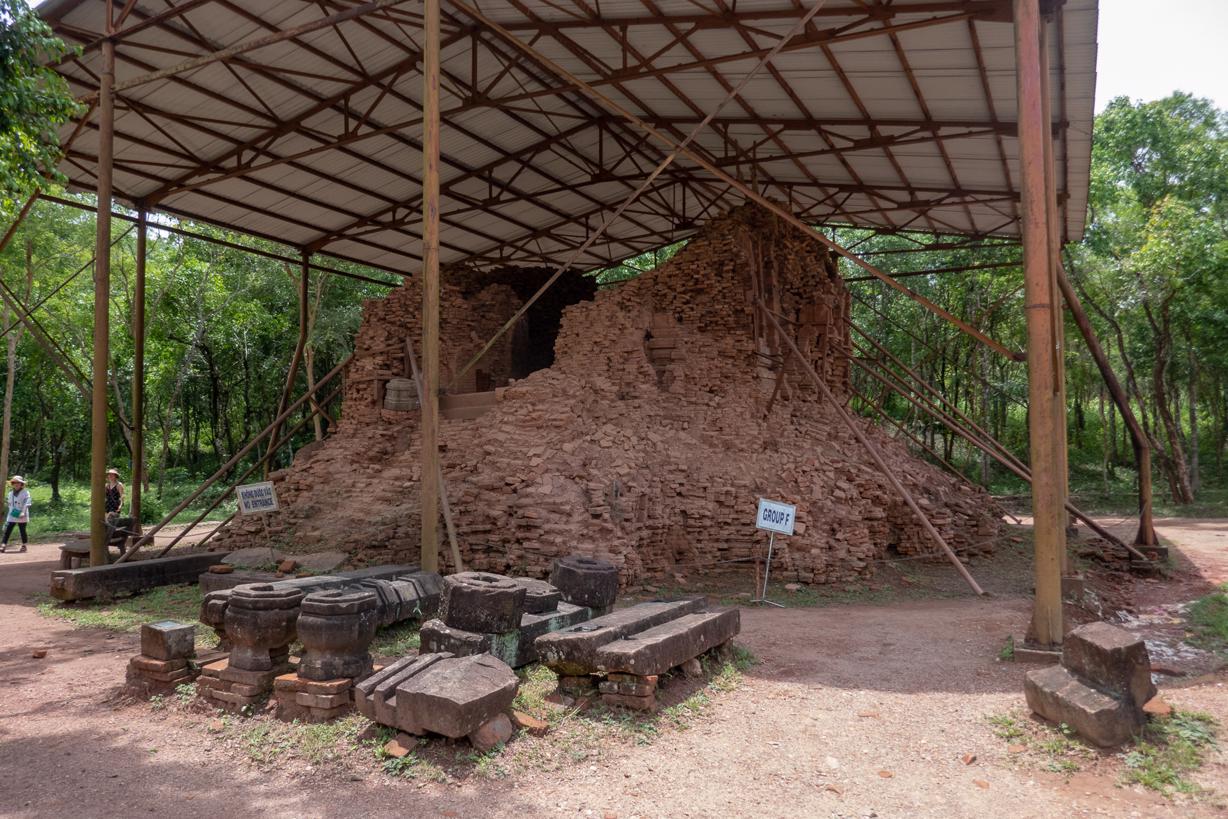 If you go down the main 'exit' road, or clock wise, you'll uncover the best temples first and finish up with the rock piles.
Tips for enjoying a tour of My Son Sanctuary
Most tours appear to arrive at My Son mid-morning. Pick up from your hotel will usually be between 8 and 9, but by the time they collect a giant tour bus full of people from varying hotels and drive the hour to the Sanctuary, tours will arrive between 10 and 11 am.
To avoid the tour buses and crowds either get there early or go later in the afternoon.
That being said, it is incredibly hot. We were there in the middle of the day in June and most people we met who did the tour around the same time said the same thing; that it was almost too hot to enjoy anything.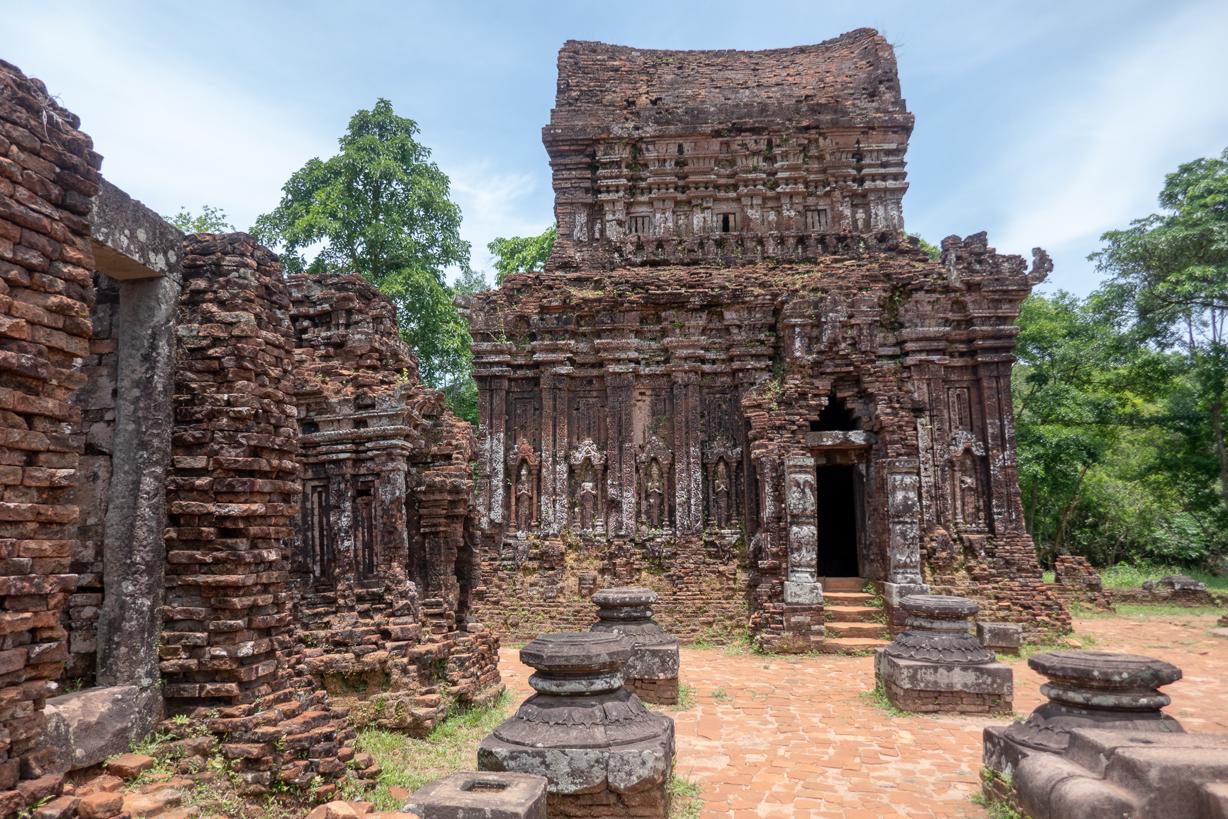 There are some restaurants near the start and finish of the temple circuit. If you go to the restaurant on the left as you walk out the 'exit' road, do not order fries. We wanted a small snack until we had lunch back in Hoi An. We literally got a plate of oil with 12 or so barely cooked pieces of potato. Trust us on this one.
Is it worth visiting My Son Sanctuary?
The general comparison for My Son is with two other UNESCO World Heritage Sites, Ayutthaya in Thailand and the Temples of Angkor, Cambodia.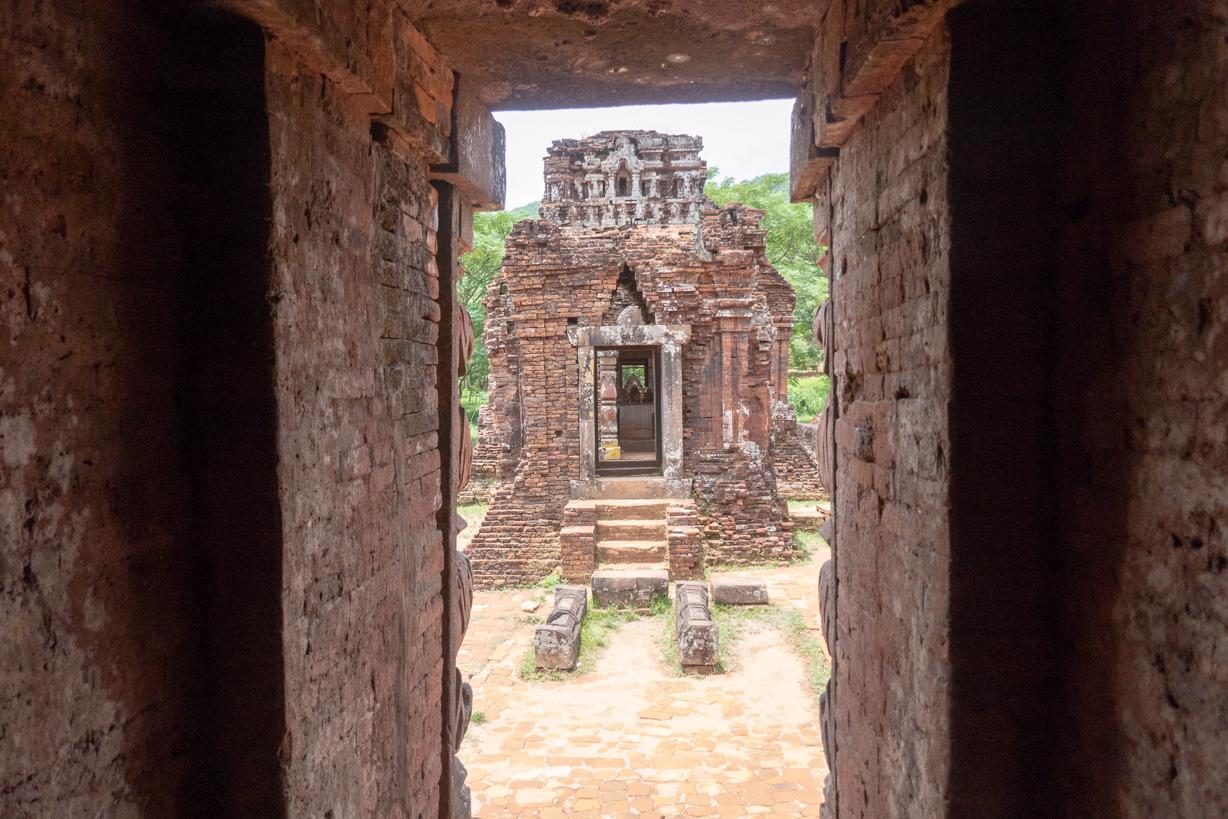 Having been to both Ayutthaya and Angkor, I'm not entirely sure there is a comparison to be made. Certainly not with Angkor at least.
The My Son Sanctuary is substantially smaller and the number of still standing buildings is substantially less. You will not see temples of the same calibre in terms of size and artistic design.
There are some unique differences between Ayutthaya, Angkor and My Son.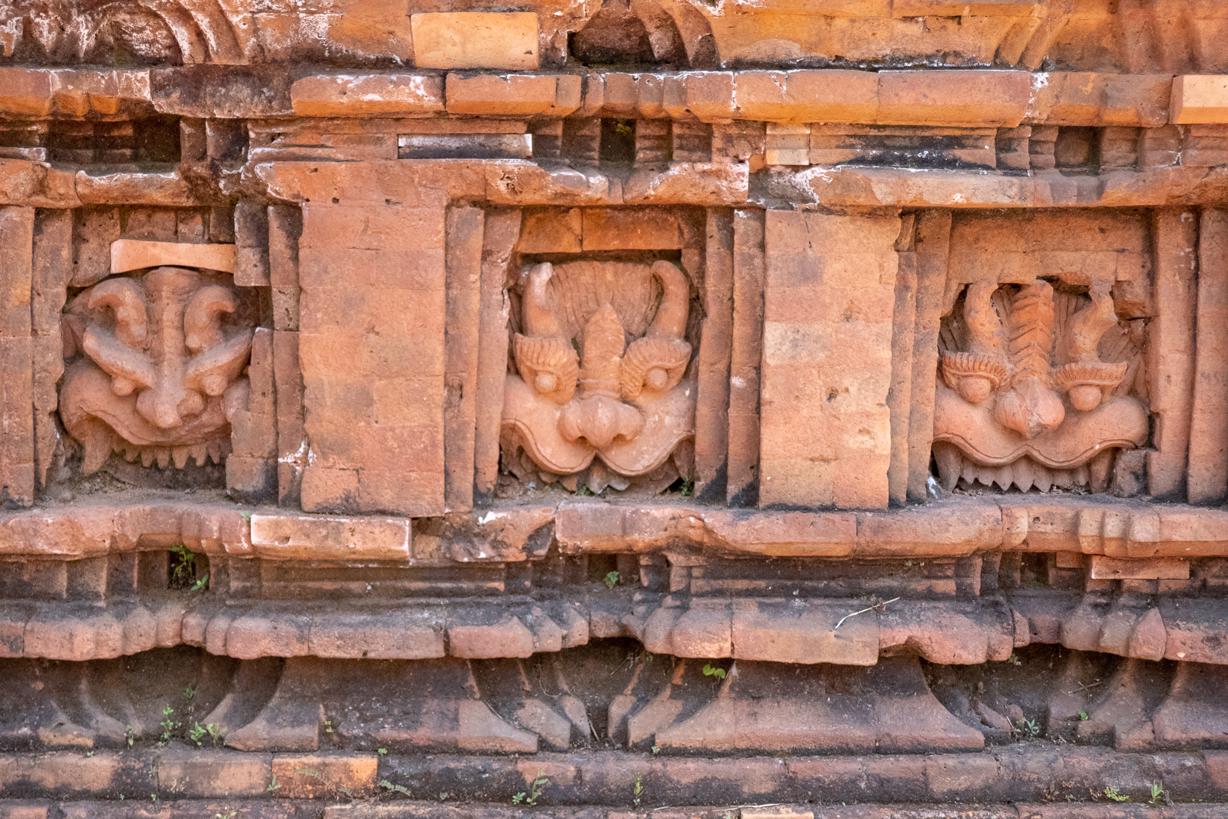 For example, unlike My Son, the King who constructed Angkor Wat for example broke with Hindu tradition and originally dedicated it to Vishnu, whereas My Son is dedicated to Shiva. Over the years, as the Khmer transitioned from Hinduism to Buddhism, the temples were update and altered to reflect this. The site of Angkor today therefore reflects Buddhist Khmer architecture and iconography, compared to the Cham architects of My Son whose architecture and design reflect their devotion to Hinduism and Shiva.
Ayutthaya, the capital of he Kingdom of Siam, is also vastly different in architectural design from My Son. You'll notice the shapes and layout of the overall historical areas to be quite different as each was influenced more heavily by different cultures.
My Son however is still worth a visit. You will probably have to take the time to look more closely for the imagery and iconography to identify its characteristics. There are some large stone tablets for example, that appear to be out of place black rocks. If you look closely however you'll notice the inscriptions written in Cham or Sanskrit.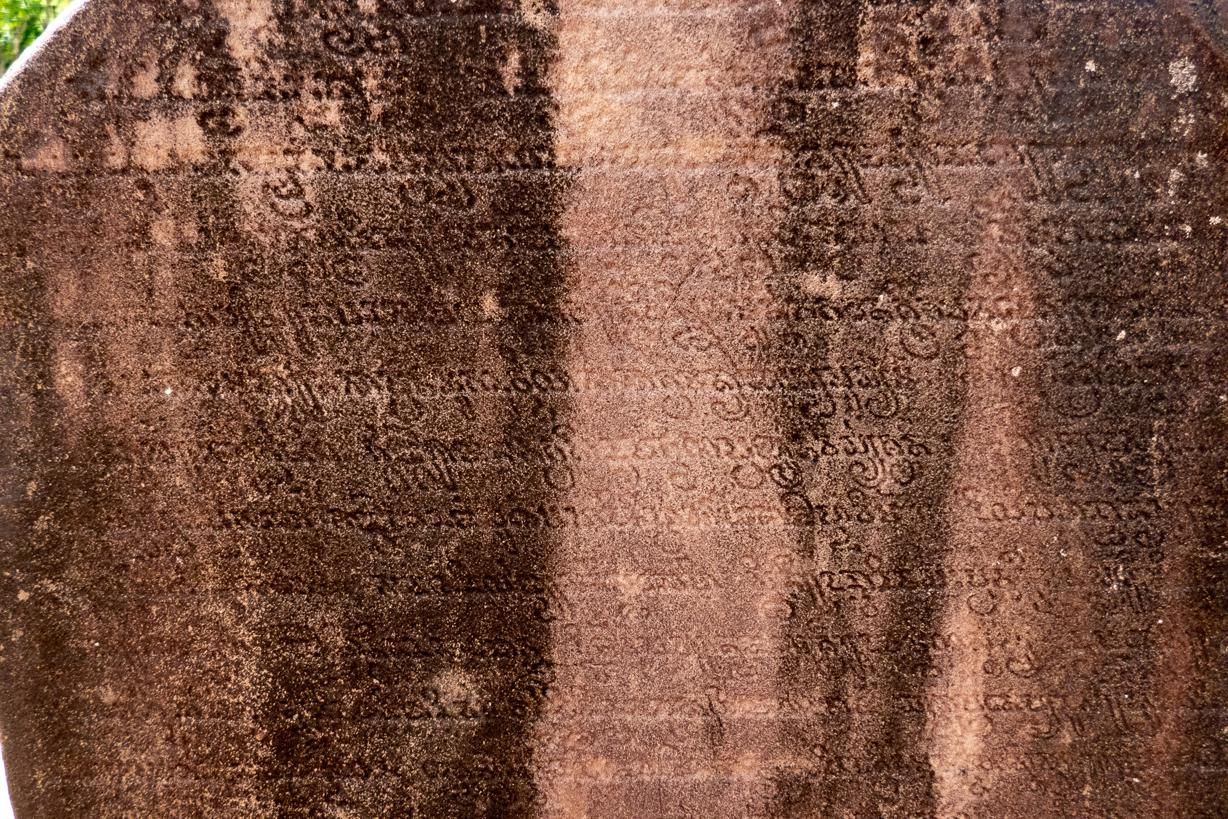 It will probably take you around two to three hours to walk around and look closely at each of the temples in the My Son Sanctuary.
If you're interested in day trips from Hoi An, don't miss our post on visiting the Marble Mountains, Riding the Hai Van Pass and swimming at Elephant Springs.
We've also put together a list of our Hoi An Highlights, 4 free things you'll love!
Planning a trip to Vietnam? Here's how we do it
This article may contain affiliate/compensated links. For more information, please see our disclaimer here.
Like it? Pin It!