Vietnam Travel Tips – A comprehensive guide to planning your dream trip!
Planning a trip to Vietnam?
Vietnam is a fascinating country with stunning mix of natural wonder and culture and if you're excitedly planning your trip, our Vietnam travel tips will make it easy! Travellers to the country won't be disappointed by the mix of intoxicating busyness of the cities, contrasted against the beauty and laid back nature of the more rural regions. Boasting 8 world heritage sites including the worlds largest cave, the Imperial City of Hue and the ancient port town of Hoi An, there is something of interest for everyone. Use these Vietnam travel tips as a basis for your Vietnamese adventure.
This article may contain affiliate/compensated links. For more information, please see our disclaimer here.
Vietnamese currency and money
Local currency – Vietnamese Dong (d) however most places will accept USD too.
ATMS – ATMS are wide spread and you shouldn't have an issue finding one.
Credit and Debit Cards – In most tourist areas you'll be able to pay by credit card however thats not possible if you get off the beaten path. It always pays to carry some cash.
Vietnam travel tip: The amount of Dong you can withdraw from an ATM is relatively small. ATM and conversion fees can add up quite quickly so it may be worth getting hold of a travel money card or credit card with minimal fees to avoid unnecessary costs.
Sample Costs in Vietnam (USD)
Accommodation
Budget                                        Mid-Range                                     High End
Dorm $5-8                                  Dorm 9-$18                                   $50+
Private Double $16-30             Private $30-45
Food and Drink
Street Food                              Restaurant or foreign food           Beer
$1-$3                                        $4-$8                                                 $0.50c – $2.80
General daily budgets
As with most South East Asian countries, you can make Vietnam as cheap or as expensive as you choose. Your daily budget will be affected by where you go, stay and eat, and the activities and tours you do. The following guidelines are per person and in US dollars.
Budget Mid-Range High End
$25-40 $40-$100 $100+
Vietnams two largest cities Ho Chi Minh City and Hanoi are fantastic places to settle down and are full of expats making their Vietnam their home. If you're staying longer in Vietnam you'll find the cost of living in Ho Chi Minh City or Hanoi to be incredibly reasonable.
Getting to Vietnam
Arriving by plane
Most travellers will arrive at either Tan Son Nhat international airport in Ho Chi Minh City, or Noi Bai Airport in Hanoi however it is also possible to fly to Da Nang Airport from certain international locations. It is from these locations that you'll most likely move north or south.
Land crossing from Cambodia, Laos or China
There are many land crossings available between Vietnam and Cambodia, Laos and China. You can book buses that will take you from your starting point to a city in Vietnam. It is often easiest to book a bus that goes all the way to Ho Chi Minh, Hanoi or a large town.
Vietnam travel tip: Buses may drop you outside the city. Book a transfer into the city at the same time you book your bus ticket to prevent any hassle on arrival.
Vietnamese Visas
The visa situation in Vietnam changes regularly so please check what is required for your nationality.
Visas can be organised through Visa agents who send you an arrival approval letter that you are required to show at any major airport. You will not be able to use arrival approval letters at border crossings however. To cross a land border into Vietnam you must apply for a visa in advance from an embassy or consulate. For most countries visas are issued for 30 or 90 days.
Vietnam travel tip: Make sure you apply for a multiple entry visa if you intend to leave Vietnam to visit Laos or Cambodia, before reentering Vietnam. If you have a single entry visa and wish to reenter, you'll need to apply for a new visa.
Getting around Vietnam
Local travel
Xe-om or motorbike taxi is great for short trips, just be sure to negotiate price before you get on
Local buses are a fantastic way to interact with locals. Be aware they can become quite full. Do your best to get your luggage stored underneath the bus. If the bus is particularly full you may find it on your lap
Grab Uber was purchased by Grab a couple of years ago. They are a cheap and reliable way to get around, either by moto or car. The benefit of grab is you will always know the price beforehand. To use Grab you will need a Vietnamese sim card
Metered taxis are a safe and reliable way to go travel short distances, particularly at night. Make sure to use a reputable company such as Mai Linh and Vinasun.
Cyclo or bicycle rickshaws are becoming a thing of the past, but you can often find them around hotels and markets in the big cities. Make sure to bargain for a good price and be aware of scammers.
Boat is a common way to get between the mainland and islands such as Phu Quoc and the Cham Islands. A boat tours to the UNESCO world heritage site of Halong Bay is a must on any Vietnam itinerary!
Long Distance travel
Sleeper buses operate between most tourist areas. Important Vietnam travel tip: Watch your belongings closely on sleeper buses and secure all valuables. Be aware that these buses are made for small people so may not be comfortable for the larger bodied (take note tall people!). Buses will also likely be jam packed. Many bus trips can be pre-booked using 12Go. 
The train runs from Ho Chi Minh City to Hanoi and then from Hanoi to various regions in the north. The train system in Vietnam is more expensive than local buses however it is more comfortable. You can book a soft or hard sleeper for long overnight trips. A soft sleeper has a thicker more comfortable mattress. They come in 4 of 6 births.
Plane travel is simple and inexpensive in Vietnam with many of the larger tourist areas serviced by Compare prices on flights with Skyscanner offering domestic flights but book early for the best prices. Flying is a great way to get between towns if you're short on time.
Travel Insurance
As with any country, travel insurance is a must to protect yourself in case of any unwanted surprises. I got quite sick in Vietnam (nothing related to the country itself!) and I was so glad I had World Nomads travel insurance.
Places to go and things to do in Vietnam
If you're still in the planning stage, check out our guide to planning a South East Asia trip. Its the exact process we use to plan an itinerary and budget and it works like magic!
Vietnam has some incredible sights, from fascinating towns to natural wonders. Whether you want to stay on the tourist path or veer off and look for some of Vietnams hidden gems, there is something to amaze everyone.
For the best experiences, we recommend at least two to three weeks in Vietnam which is the perfect amount of time to travel the length of the country without feeling too rushed.
Ho Chi Minh City
Located in the South of Vietnam, Ho Chi Minh city is one of two major entry points for those entering Vietnam by plane. A dizzying mix of history, modernity and intense hustle and bustle it's a great place to explore if you can work out how to get across the street!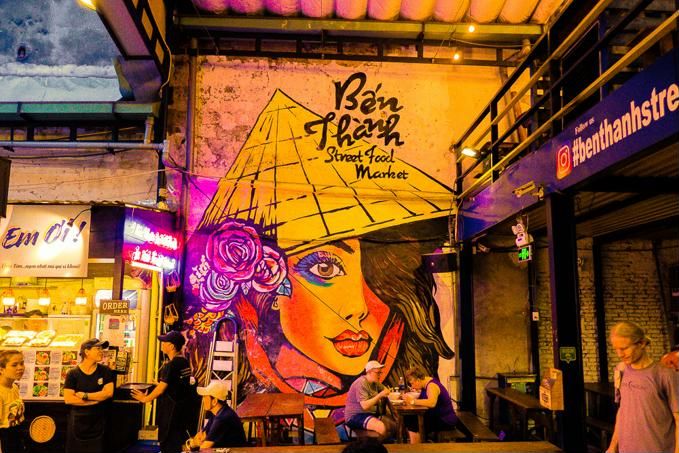 Visit the War Remnants Museum and experience the Cu Chi tunnels for some Vietnam war history
Explore local markets for delicious fresh produce and local treats
Take a tour south to the Mekong region
Sign up for a Vietnamese cooking class
Venture out on a free walking tour and see the city
Ho Chi Minh has many different districts, here is a guide for the best areas to stay in Ho Chi Minh City.
Mui Ne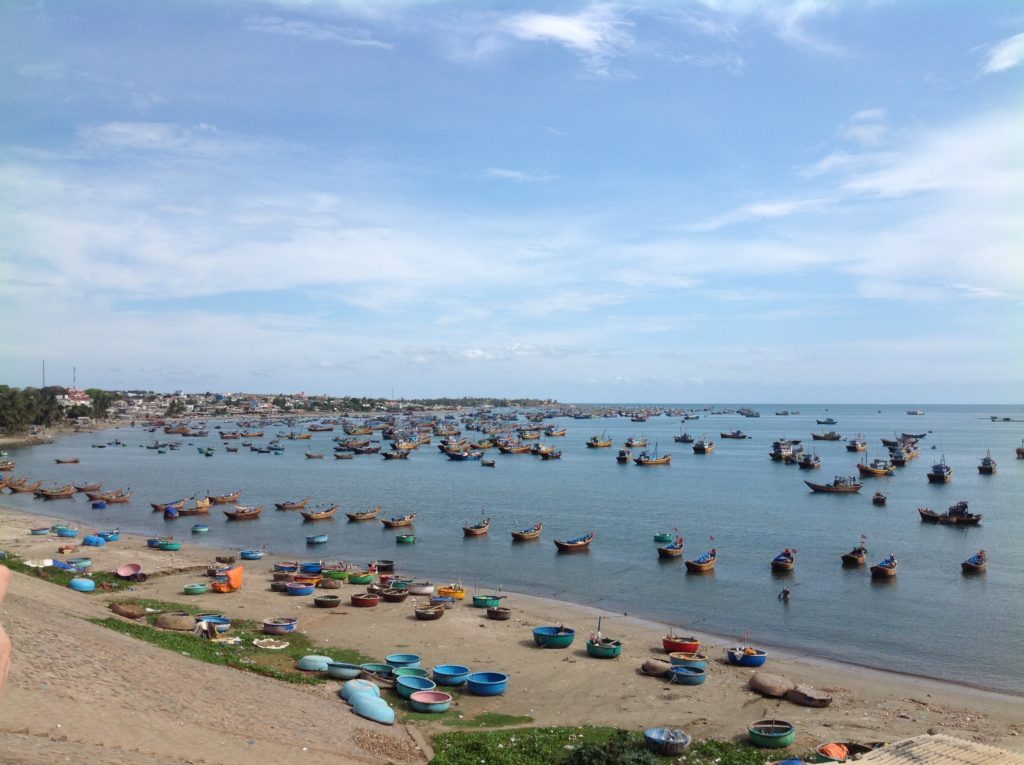 Mui Ne is a small fishing town about 5 hours north of Ho Chi Minh. A noted stop on the main tourist trail its beach is lined with resorts and guesthouses furthermore, spectacular red and white sand dunes surround the town. If you're a seafood fan Mui Ne's seafood is impressive. Being on the coast and quite exposed it's the perfect place to engage in water activities such as sailing and kite surfing.
Vietnam travel tips: Mui Ne has changed a lot over the last few years and it has become a place you either love, or you don't. We've outlined the reasons why we think it is worth visiting mui ne.
Things to do in Mui Ne
Climb the red and white sand dunes and visit the fairy stream canyon
Visit the Pho Shanu Cham towers
Experience the local fishing village
Dalat
Located in the central highlands, Dalat, with its French colonial influence and cooler temperatures seems a world away from the hustle and bustle of Ho Chi Minh. Surrounded by forested hills, Dalat is tourist hotspot for both locals and foreigners alike.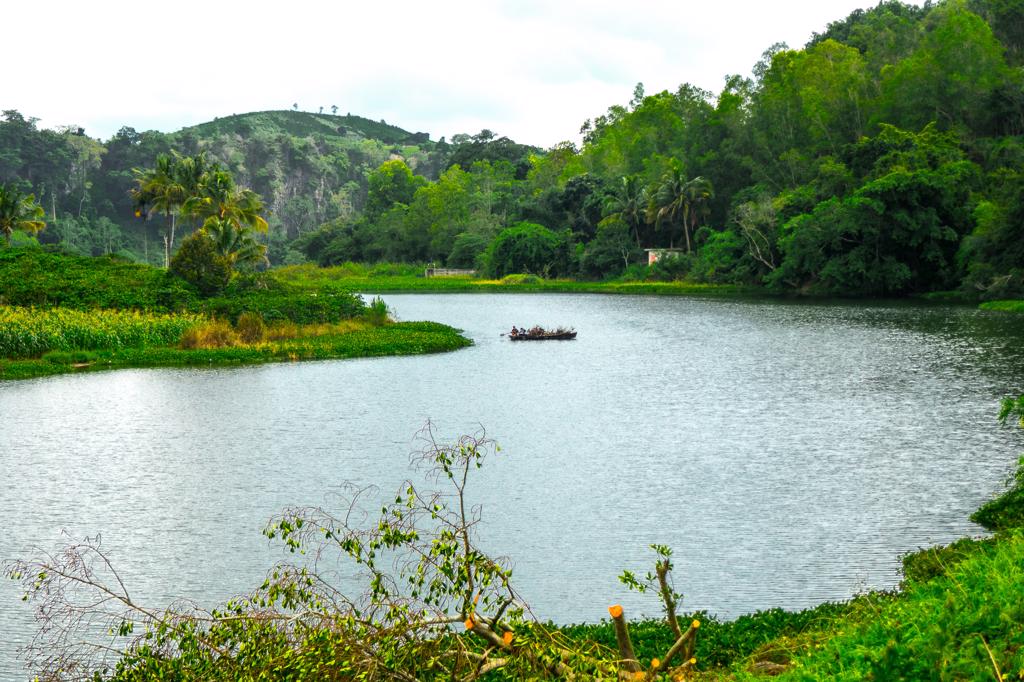 Things to do in Dalat
Experience the thrill of canyoning on a day tour
Visit the Tien Vien Truc Lam Monastery outside Dalat
Take a motor cycle tour through the mountains
Visit the Elephant falls. We've put together a DIY motorbike itinerary of the falls if you're interested.
Hoi An
A picturesque town of ancient architecture and colour, Hoi An is a UNESCO world heritage site. After spending around four centuries as a port town, these days its streets are relaxed, with a romantic feel. The old town caters for everybody so its not to be missed for further information, here are our Hoi An Highlights 

Things to do in Hoi An
Cross over the Japanese bridge
Get lost wandering around the ancient town
Visit the river bank at night
Take a day trip to the My Son sanctuary
Have an outfit tailored
Hue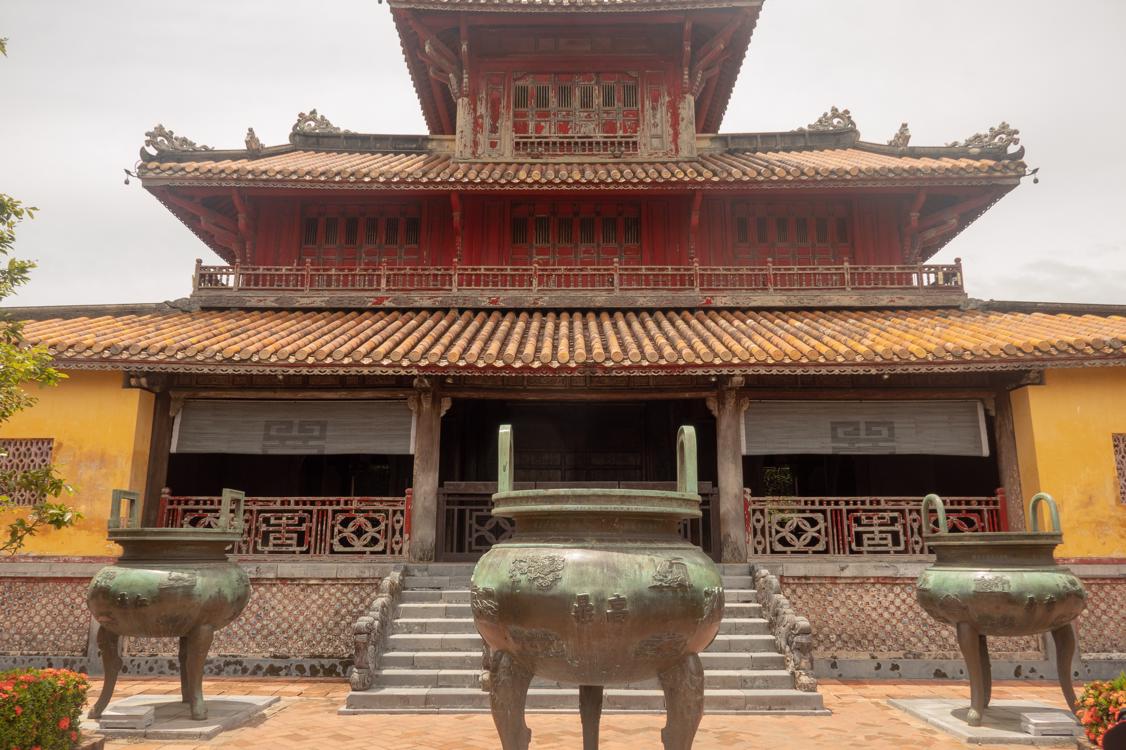 Located in central Vietnam, Hue was the capital of the Nguyen Dynasty for 143 years. Featuring imperial architecture, many of Hue's sights pay homage to both the Nguyen Dynasty and its links to Chinese heritage. You'll find an array of cultural highlights to keep you busy,
Things to do in Hue
Wander around inside the UNESCO world heritage Citadel and see the imperial enclosure and forbidden purple city
Take a day tour to the demilitarized zone, the divider between the north and south during the Vietnam war.
Phong-Nha Ka Bang National Park
The Phong-Nha Ka Bang National park, located north of Hue is a UNESCO world heritage site. It is home to the oldest Karst mountains in Asia and hundreds of caves, both river and dry. The largest of the caves is the Son Doong Cave, which is touted as the largest cave system in the world.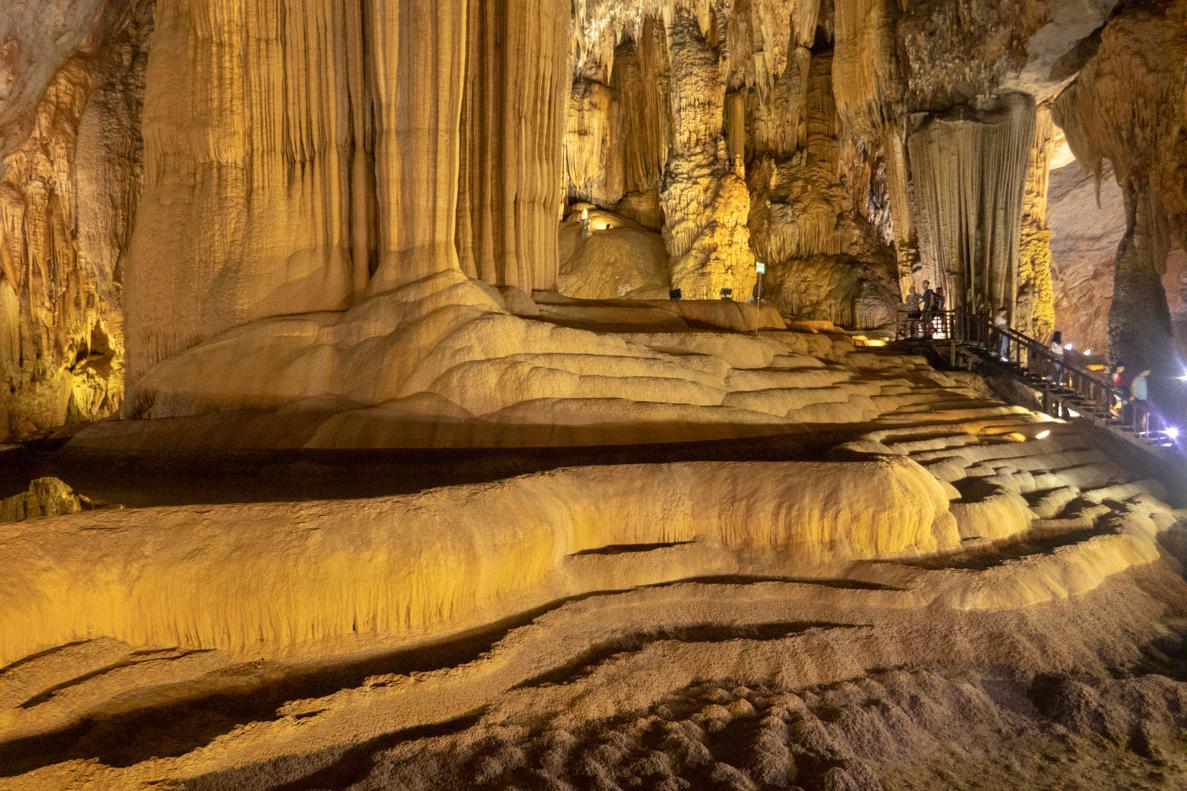 Explore the caves of Phong-Nha – Vietnam travel tip: many caves require a guided tour to be booked with a tour company however check out our post linked above for the Phong Nha Caves you can visit without a tour
Hike the parks Eco Trail
Visit the Botanical Gardens
Explore the local town
Halong Bay
Located in the north east of Vietnam, Halong bay is the home of thousands of limestone islands surrounded by beautiful emerald coloured water. Since being listed as a UNESCO world heritage site tourism has flourished and there are plenty of services and activities available
Things to do in Halong Bay
Check out these great options for Halong Bay boat cruises to suit every budget.
Hanoi
Hanoi hasn't lost any of its old-world charm, particularly around the aptly named óld quarter'. Narrow streets, ample street stalls and a lot of motorbikes are mixed in with natural beautiful and peaceful surrounds.
Things to do in Hanoi
Visit train street (watch out!)
See the body of Ho Chi Minh
Relax by the Hoan Kiem Lake, the lake of Restored Swords
Organise tours to the rest of Vietnam
Sapa
In the North West of Vietnam, you'll find Sapa. Mountainous terrain laced with rice paddies forming mesmerising patterns and local ethnic minorities make Sapa a fascinating place to visit. You'll have the opportunity to go trekking and learn a little about local culture.
This is a fantastic article on ethical tourism in Sapa.
Things to do in Sapa
Trek through the rice paddies
Learn about cultural activities such as indigo dying
Stay in a local villager's home
Phu Quoc Island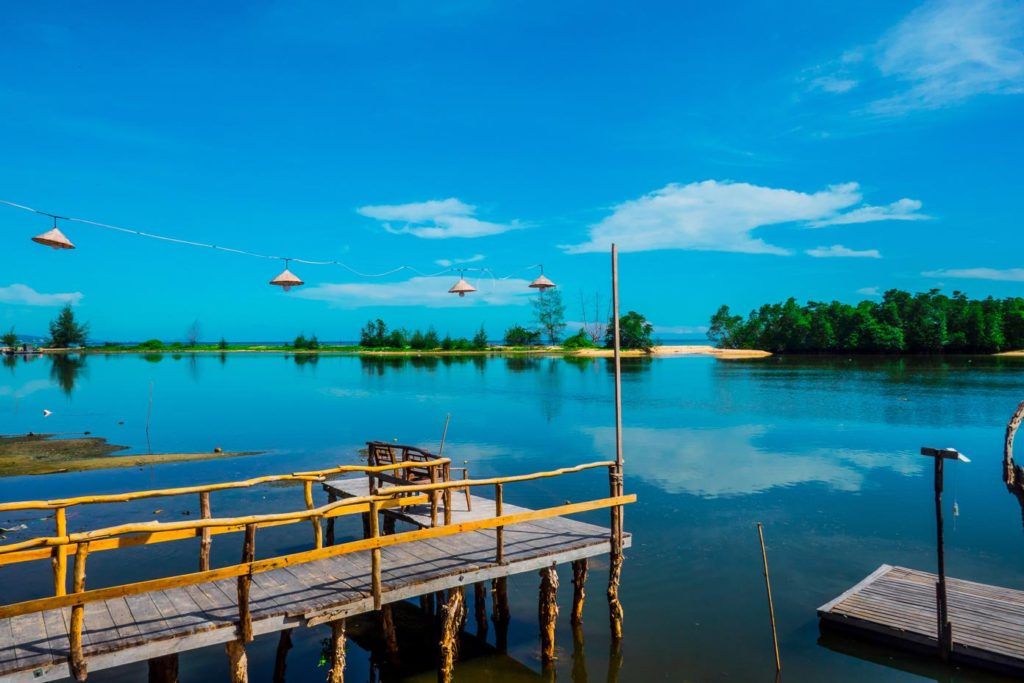 Located at the southern tip of Vietnam, Phu Quoc island is a fast changing island Paradise. With tourism flourishing it is a resort paradise. However you can still find untouched stunning beaches if you look for them. Phu Quoc also has some of the best seafood in Vietnam.
Things to do on Phu Quoc Island
Visit the Best Beaches on Phu Quoc Island and relax in the sun
Enjoy a delicious seafood meal at the Phu Quoc Night Market in Duong Dong town
Go SCUBA diving or snorkling off the coast of the island.
What's the best time to visit Vietnam?
Generally, the best time to visit Vietnam is between November and April, where you'll get fairly steady weather across the country. For more detailed information on high season in Vietnam, make sure you read our post, we'll outline the best time to visit each region and how the weather may impact your trip.
General Vietnam travel tips
We've put together a detailed post on how to avoid some of the most common challenges of travelling in Vietnam, however below is a quick summary.
Haggling (bargaining) in Vietnam
Haggling is part and parcel of Vietnam and most Vietnamese business people expect you to do it. It's common for their prices to be higher for foreigners, so don't be afraid to ask them to be lowered. You'll often get them down to something more reasonable, although understand they'll probably never be as low as a locals price. Try to consider who you're haggling with. A large tour operator may not need the extra 20 cents but if you're trying to get a local minority woman to give it up, maybe its best to let her have it? Stay calm, smile and haggle with a good attitude.
Travel tips for the budget savvy
– Cities are more expensive than less touristy areas so head off the beaten path and explore more of the country
– Foreign meals vary in price but are substantially more expensive than street food so if you're watching your budget, explore the culinary delights Vietnam streets have to offer
– If you're planning on doing tours and going trekking, try booking them yourself rather than having your hotel or guesthouse book them for you. This can save you a lot of money but may be a little more hassle.
– Bargain, bargain, bargain
Scams
People WILL try to scam and even the most experienced travellers will fall pray to a scam at one point or another. Make sure you're clear on prices at restaurants and those stated for services. Do your best to research things yourself and understand what you should be paying so you know when you're being asked to pay too much.
Etiquette
While Vietnam is developing rapidly it is still a relatively conservative country and visitors should try to follow local customs. Don't wear revealing clothing to temples and religious sites. Also make sure you remove your shoes before entering religious sites and people's homes.
Helpful Vietnamese words and phrases
General
Yes – vang (North), Da, (South)
No – Khong
Hello – Xin Chao ( sin chow)
Goodbye – Tam biet (Tarm byeet)
Thank you – Cam on (Kahm uhn)
Useful when shopping
How much? Bao nhieu? (Baow nyew)
Too expensive –Dat qua! (daht kwahh)
Can you reduce the price? – Giam gia duoc khong? (zam za duoc khom)
Language for restaurants
What is it? – Cai gi vay? (kai zi vai)
The bill please – Tinh Tien (din ting)
Can I have the menu? – cho toi cai menu duoc khong? (cho toy khai menu duuc khom)
I am vegetarian – Toi an chay (toi an chayh)
What food is it?
Beer – Bia
Chicken = Ga (gar)
Pork = Heo (Heyoh)
Beef = Bo (boh)
No ice = Khong da (Khom dar)
No sugar = Khong duong (khom dueng)
Not too spicy – Khong rat cay (khong zet kai)
Iced coffee with condensed milk = Caphe sua da
Black coffee – Caphe den
Coffee topped with beaten egg white = Caphe trung da
Vietnamese street foods to try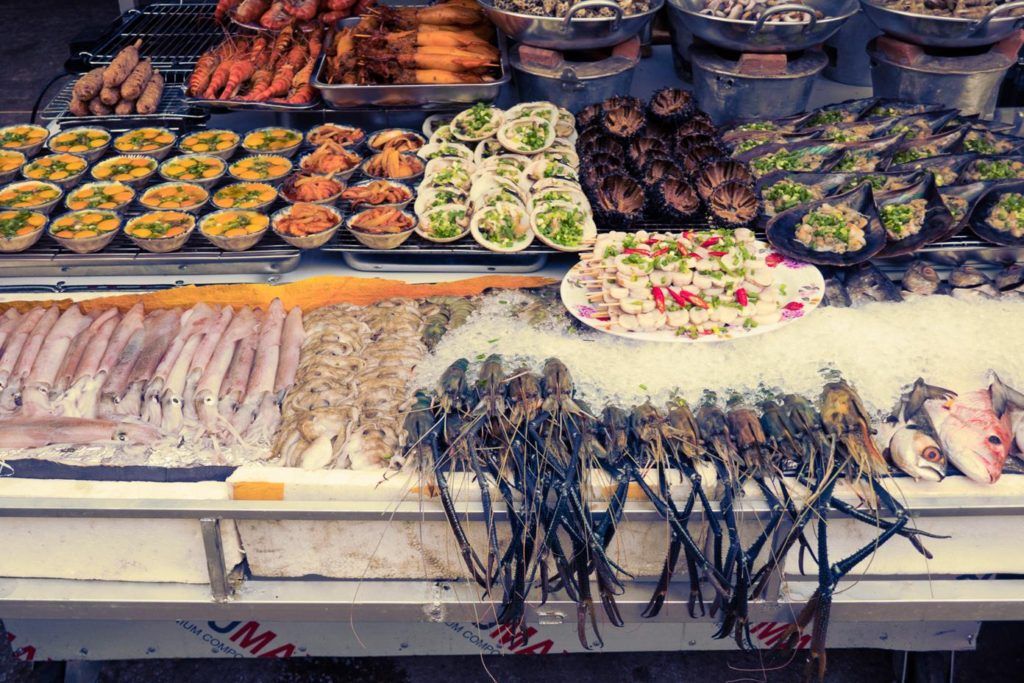 Pho Bo (Beef and noodle soup) and Pho Ga (Chicken and noodle soup)
Pho is almost the national food of Vietnam. A brothy noodle soup with chicken or beef, it can be eaten for breakfast, lunch and dinner. As a Hanoi creation its often said that Hanoi is the best place to get your Pho fix, although you'll see it everywhere. It's cheap and delicious.
Bun Cha (Grilled pork and noodles) in Hanoi
Grilled fatty pork and rice noodles are mixed with a dressing of fresh herbs, chilli and garlic to create this delicious dish.
Bahn Mi (Baguette sandwich)
A thin crusted baguette served with mix of meat and local vegetables such as coriander and pickled daikon. You'll usually find this for breakfast and as a snack throughout the day.
Bun Bo Hue
Similar to Pho, Bun Bo Hue is a beef soup with noodles. It has a delicious balance of spicy, sour, salty and sweet flavours with a citrus note. As the name suggests you'll find this around Hue central north Vietnam
This article may contain affiliate/compensated links. For more information, please see our disclaimer here.
Like it? Pin It!