Best things to do in the Mekong Delta Region of Vietnam
We spent about 3.5 weeks exploring and discovering things to do in the Mekong Delta region. The south of Vietnam is a fascinating place full of culture and history and not overtly affected by tourism. The land here is fertile and people have learnt to use the Mekong Delta to their advantage.
Here is our list of the best things to do in the Mekong Delta region of Vietnam.
This article may contain affiliate/compensated links. For more information, please see our disclaimer here.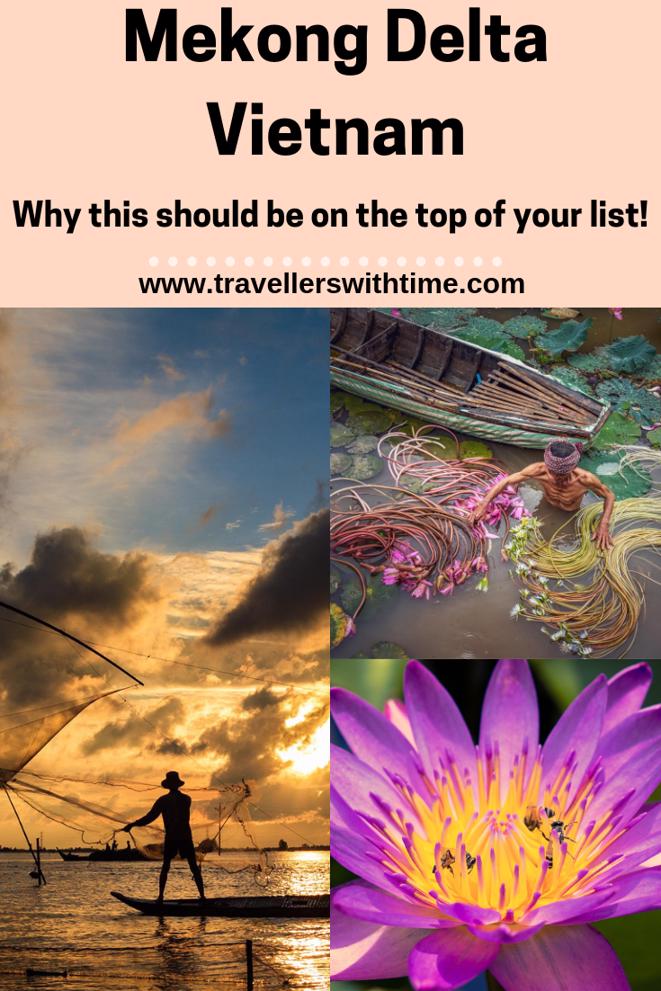 Vinh Trang Pagoda My Tho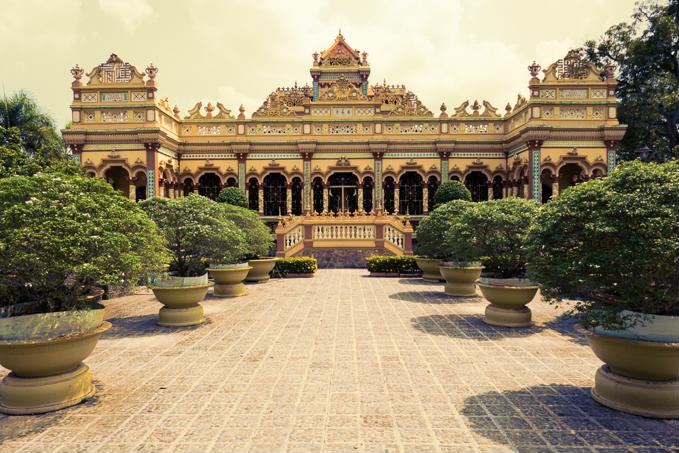 Constructed in the mid 1800's the Vinh Trang Pagoda is one of the most well known temples in the south of Vietnam and the most interesting of the things to do in My Tho Situated on a 5 acre property, the Pagoda is surrounded by manicured gardens and pot plants creating a serene environment only 1km from My Tho city centre. The building itself is a mixture of Chinese, Vietnamese and Cambodian architectural styles with both French and Japanese adornments.
The inside of the Pagoda is simply beautiful. There are a variety of representations of Buddha and elaborate carvings all around.
Surrounding the Vinh Trang Pagoda are three enormous Buddha statues. There is a statue of the Happy Buddha, Standing Buddha and the Reclining Buddha which can all be seen from a distance.
Entrance fees and Vinh Trang Pagoda tours
If you are in My Tho you can visit the Vinh Trang Pagoda on your own. Entrance is free although donations help with the work that the Monks do within the community. There are also day tours that leave from Ho Chi Minh. The Vinh Trang Pagoda is usually part of a larger tour of the Mekong Delta region so ask around the find the best option for you.
Dress code for Vinh Trang Pagoda My Tho
Be aware that there is a dress code for entering the Pagoda itself. They do have a sign in English asking people to dress neatly and not to wear shorts or show a lot of cleavage. They also request that you refrain from excessive talking. For the inner sanctum of the Pagoda you'll need to take off your shoes.
Home stay or farm Stay Ben Tre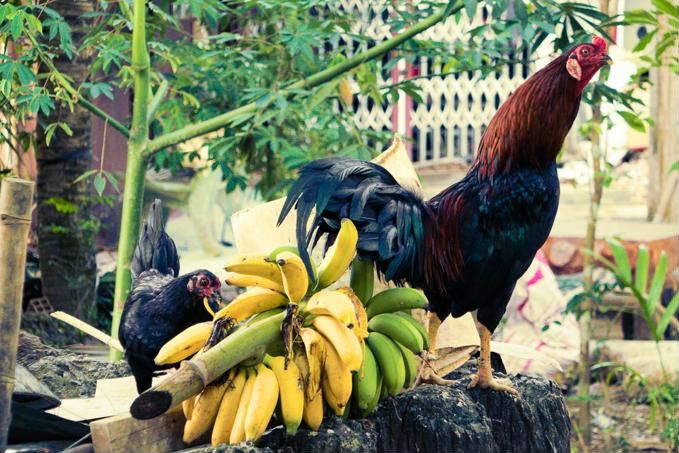 Around 3.5 hours from Ho Chi Minh City or under an hour from My Tho, Ben Tre is a beautiful area located between the two branches of the Tien Giang river, an extension of the Mekong. It is the perfect place to settle for a few days and relax, surrounding by calming river ways and unadultered nature.
While the city itself is similar to many towns in the south of Vietnam, if you're after an authentic local experience, there are many home stays laid out across the town. You can find a lot of these online, or chances are, if you come in by bus, they will find you at the bus station.
Relatively cheap, with a bit of investigating you can find the type of experience you're after. You just need to decide, do you want to stay in a house with a local family? Eat your meals with them? Or would you prefer your own little lodge by the river in this quiet little piece of heaven?
A couple of great accommodation options are Quoc Phuong Riverside Homestay and Ben Tre Garden Farmstay. Both offer a fantastic location by the river with gardens and delicious food.
Mekong River Cruise Ben Tre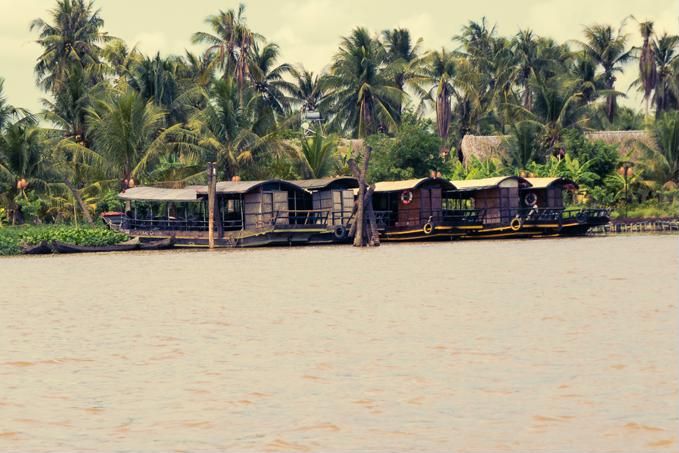 Most travellers looking for things to do in the Mekong Delta region come to Ben Tre for the boat tours. It is relatively inexpensive to book a tour and spend a few hours slowly making your away along the main river and many of its offshoots.
Depending on the type of tour that you book you can see anything from working brick factories, cacao plantations and coconut candy workshops.
Ben Tre Boat tour
You can usually book a boat tour through your accommodation or via a tour agency. It is also possible to book a day on the Mekong from Ho Chi Minh City. The benefit of booking it through your accommodation in Ben Tre is that the tour groups are often smaller. Unless you book a private tour, when you book through tour agencies or in Ho Chi Minh City, you'll usually be added on to a larger group. If however you book local, or through a home stay, it will just be you on the boat. This makes for a great experience but also means its more expensive. If you're budget conscious, we found joining up with other travellers and taking the tour together will reduce your cost.
Mekong Delta tour and Cai Rang Floating Markets in Can Tho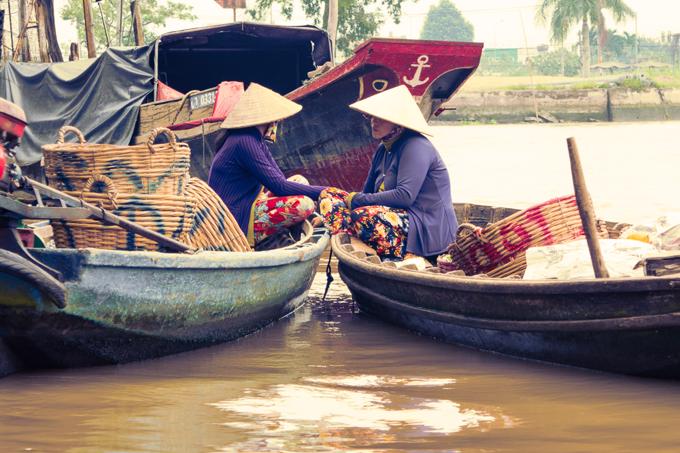 Probably the most popular thing to do in the Mekong Delta region is to visit the Cai Rang floating markets. With the wide span of the Hau River running between villages, the locals would meet in the middle of the river to trade. Recently however, a bridge has been built not far from the markets. This means there are a lower number of boats out trading on the water.
Hundreds of boats float around the middle of the river. Sellers will attach a sample of the items they sell to a tall pole at the front of the boat so it can be seen from a distance.
We personally found the market itself a bit of a disappointment. It was a fairly overcast day with a prediction of rain so there weren't a lot of boats out. We also didn't need to buy anything so we simply cruised through. We stopped only for coffee and delicious Pho for breakfast. What we loved about the day was the actual boat tour of the Mekong Delta and canals around Can Tho. We've written a full Can Tho City travel guide including our boat tour experience.
How can you organise a boat tour to Cai Rang Floating Market?
You can organise boats tours through your accommodation and tour agencies. Alternatively, simply walk anywhere near the Ninh Kieu wharf and the boat owners will find you! The best time to see the market is early in the morning before it gets too hot, so tours usually leave between 4.30am and 5.30am and begin the 45 minute cruise from Can Tho wharf to the market. Shorter 3-4 hour tours usually cover the Cai Rang market and sometimes a smaller near by market. Longer tours for 7 hours or so will take you to see rice paper manufacturing, a fruit orchard and a lovely tour down the back canals of the Mekong Delta region.
A half day (3-4 hour) tour will cost anywhere from 350000VDN up, depending on the type of boat and tour you do. A larger tour will usually have a fixed price per seat whereas if you go with a local boat owner, you'll usually 'buy' the boat, or Sampan. As the smaller sampans only fit 4 people and the boat owner you'll split the cost 4 ways. Sampans are generally cheaper and you can bargain down the price. We had a 7 hour tour for 400000VDN and it was worth every cent. If you want an English speaking guide I would book through a tour agency or pay the additional charge. Many of the boat owners on the wharf have minimal English beyond letting you know that they have a boat.
Relax on Phu Quoc Island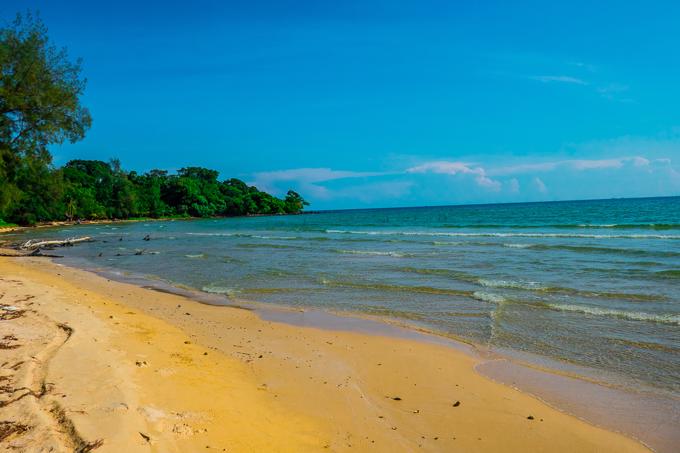 Located at the southern tip of Vietnam is the stunningly beautiful Phu Quoc Island. A bizarre mixture of untouched nature, local communities, heavenly isolated beaches and intense tourism, resorts and littered and polluted waterways.
Before our arrival we were surprised to hear some travellers saying that they weren't very impressed with Phu Quoc. What they described was not the idyllic island paradise I had read about. The reality is that certain areas have been heavily developed to cater for tourism. Island resorts line the beaches, each claiming their own peace of sand and sea. There is a lot of litter.
However, if you move away from these areas you will discover the true Phu Quoc. Beautifully green landscapes and clean, secluded beaches with crystal clear, deliciously warm water. We went on a hunt for the best Phu Quoc beaches and we weren't disappointed.
Aside from the beaches there are also some beautiful temples and the Phu Quoc Night Market.
Take the bus from Ha Tien to Chau Doc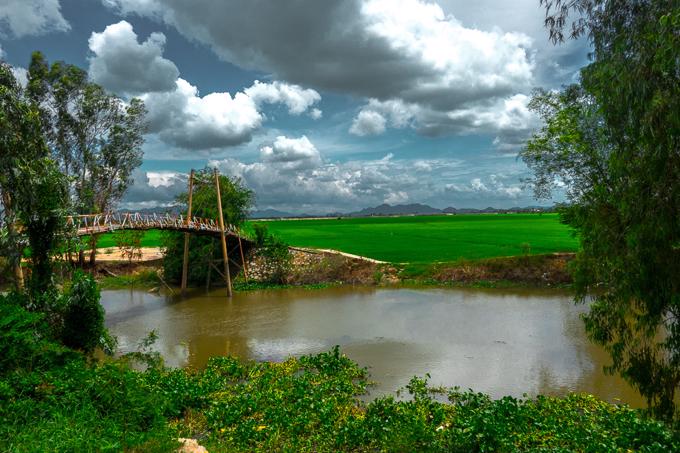 Getting from Ha Tien to Chau Doc by bus would have to be one of my favourite bus trips to date. I spent the entire trip staring out the window mesmerised by local life on the Mekong.
The first two hours are spent driving the length of a Mekong tributary. On the edge of the water people are going about their business. This is a fertile agricultural area and you'll see plenty of livestock including cows, buffalo, goats, geese, chickens and ducks.
On the water there is a mixture of small sampans, and larger boats. You can see how individuals function and interact with those on the other side of the river. It's amazing what they transport on water. We saw a man moving a tractor on a sampan! We also saw people bathing in the river, and kids playing, jumping off a bridge into the water.
The waterway is beautiful, lush and green. Water lillies were blossoming along parts of its length. At certain points the houses and trees lining the river part and you can see across the river to the vibrant green fields and mountains of Cambodia.
The bus itself was a typical local bus… Quite small. At 6'2 and with a big frame Ben struggles to fit on them, so it wasn't the most comfortable ride. Some locals made sure Ben had some room in the ailse to put his legs as they literally didn't fit between the seats. He sat at a weird angle for the trip, however its only 3 hours so it was doable. Everything else about the bus trip was perfectly fine as the road is quite good and the sights are spectacular.
Book your bus from Ha Tien to Chau Doc here
Visit Sam Mountain in Chau Doc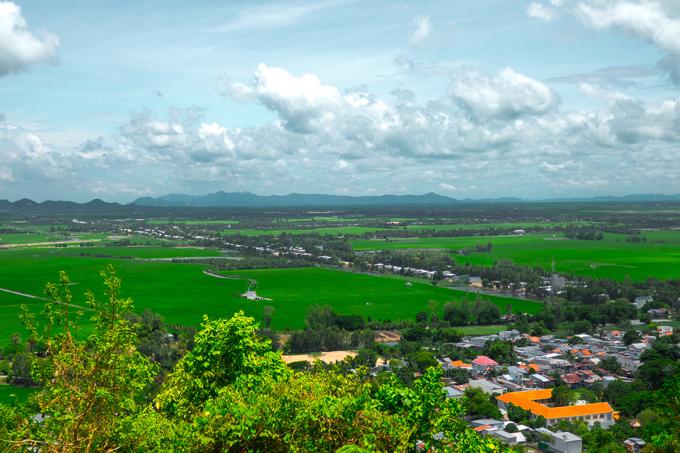 While there are plenty of places to visit around Chau Doc, Sam Mountain offers one of the best views. Standing about 230meters high Sam Mountain provides beautiful views of the Vietnamese Mekong Delta Region as well as overlooking rice fields and Cambodian landscape. A particularly important religious site, there are also quite a few temples and pagodas both around the base of the mountain and at the top.
We were lucky enough to have been in Chau Doc for what we believe was the Festival of the Mountain Princess. We asked a local via google translate and that's what was translated from the locals Vietnamese description. Throughout the city of Chau Doc there were parades with music and costumes. We saw lots of dragon heads and long dragon costumes.
This was the day we planned to visit Sam Mountain and the mountain was packed with locals making the Pilgrimage up to the summit. At the summit, aside from the views were large vases and statues that were being washed as locals bowed in worship.
About half way up the mountain is Chua Hang, a beautiful temple surrounded by luscious gardens and marble Buddha statues.
How do you get up Sam Mountain?
You can walk up Sam Mountain, although know it's a fairly steep hill. Many of the locals we passed were walking up the main road, or it seems there are also steeper short cuts up the other sides, as people seemed to emerge from all sides to the summit. You can also book a moto tour that includes Sam Mountain and they''ll take you up and down.
We hired a motorbike to go up the mountain. Its not an easy ride with lots of gravel and pot holes. Its also quite steep in places which our very old motorbike didn't quite enjoy. In the steepest parts we weren't sure it would make it. Thankfully we did. We had a rather challenging ride down the maintain though. Take gravel, dirt and pot holes, a steep descent, ascending locals and motorbikes, and add everyone who participated in the parade in Chau Doc city, complete with oversized costumes and you have one incredibly busy, very bumpy road.
Where are you heading next? You may find these articles useful
Planning your dream trip in Vietnam? Here's how we do it
This article may contain affiliate/compensated links. For more information, please see our disclaimer here.
Like It? Pin it!