Phu Quoc travel guide
Located in the Gulf of Thailand, Phu Quoc is Vietnams largest island and part of the Kien Giang province. A fishing and agricultural hub, tourism is fast becoming a major contributor to the economy. This tropical paradise is spectacular with its pristine beaches and mix of authentic culture, local cuisine and development. Get in quick though, the development will eventually consume the island. Our Phu Quoc travel guide will help to prepare you.
This article may contain affiliate/compensated links. For more information, please see our disclaimer here.
Best time to visit Phu Quoc
Phu Quoc maintains a tropical climate year-round, however slight variations in temperature and humidity can make the island more, or less, comfortable.
High season is between November and March, when temperatures sit around 28 degrees and the humidity is lower. At this time, prices are usually higher, and accommodation and flights fill up quite quickly.
During The shoulder seasons of April through June, and late October you'll see temperatures reach around 35 degrees and the humidity spike to over 80 percent. There are less foreigners at this time, so prices are lower. You'll experience occasional rain and storms. We were here in May and loved it.
Low season, or monsoon season is best to be avoided as it gets very wet and muddy. The monsoon season is from July to September.
For more information don't miss our post on high season in Vietnam, where we'll help you pick the best time to visit the Vietnam so you can enjoy the beautiful  Vietnam beaches, mountains and UNESCO sites of the country
How to get to Phu Quoc Island
Bus and ferry to Phu Quoc from Vietnam Mainland
Buses leave Ho Chi Minh City and most of the larger towns in the Mekong Delta region of mainland Vietnam, and head for the ports of Rach Gia and Ha Tien.
Multiple ferries run from both Ha Tien to Rach Gia daily. The journey from Ha Tien takes about 1.5 hours on a fast boat. There is also a slower ferry that takes around 3.5 hours and is a little cheaper. You can book your ferry in advance here. From Rach Gia it'll take you about 2.5 hours and tickets can be purcahsed here.
Phu Quoc has three ports. The fast ferries will pull into Bai Vong Port. The car ferries from Ha Tien will arrive at either Vinh Dam port, or Da Chong Port.
No matter which port you arrive at, you'll need to get to your accommodation. There are usually plenty of taxi's and moto taxis waiting to take you. Many of the resorts on the island also offer transfers from the ports. From Bai Vong port, it will take around 20 minutes to Duong Dong, the main tourist area of Phu Quoc.
Flying to Phu Quoc
From within Vietnam, airlines operate from Ho Chi Minh City, Hanoi, Can Tho and from international airports such as in China, Singapore, and Bangkok Thailand.
The airport is roughly 25 minutes from Duong Dong city.
Phu Quoc Travel Guide – Getting around Phu Quoc Island
Phu Quoc is a decent sized island and the main city of Duong Dong is the main tourist area. You will find a lot of accommodation, suitable for all budgets around this area. If, however, you choose to stay outside this area, you will need transport to travel to Duong Dong if you'd like to see the city.
Taxis are readily available to transport you around the island.
Motorbikes are a great way to see the island. With a motorbike you can access some of the most secluded beaches. Bear in mind however that it is illegal to ride a motorbike in Vietnam without a valid Vietnamese motorbike license. While it is easy to hire a motorbike, and many people do do it, if you get stopped by the police you will pay a fine.
Things to do in Phu Quoc
Visit the beautiful beaches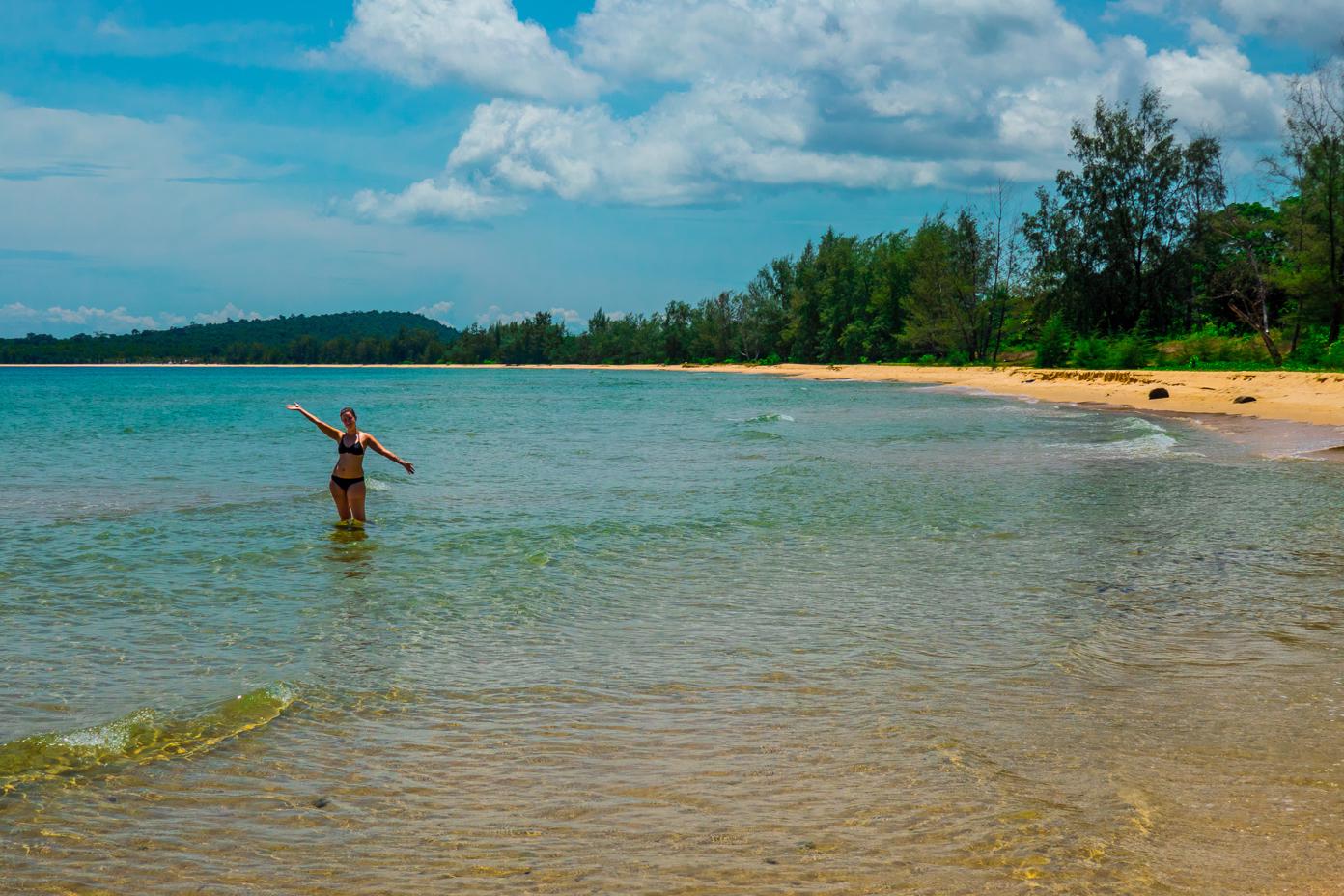 One of the best things to do in Phu Quoc is to relax on one of the idyllic beaches. As the island is undergoing intense resort development to cater for the ever-growing number of tourists, finding an untouched paradise is getting harder but is still doable.
Shop at Duong Dong Night Market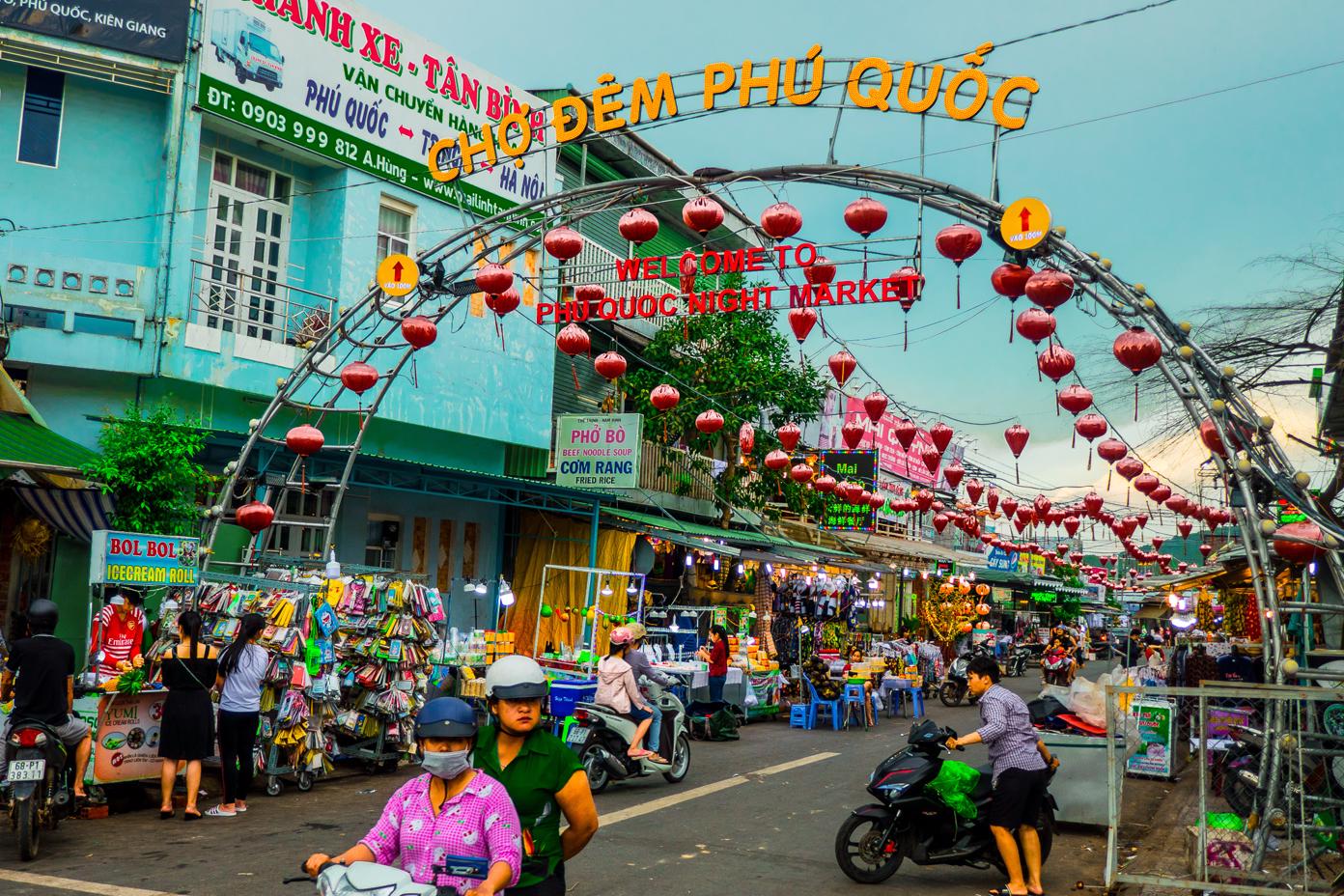 Located beside a small river in Duong Dong city this lovely little night market is full of a mixture of clothes, trinkets and handicrafts. There are also quite a few stalls selling local candies and coated peanuts.
The highlight of the Duong Dong Night Market are the many seafood restaurants lining the water. If you're into seafood, Phu Quoc has some of the best in Vietnam. There is a huge variety, from lobster and octopus to some of the more unusual clams and shelled marine life, even sea urchin.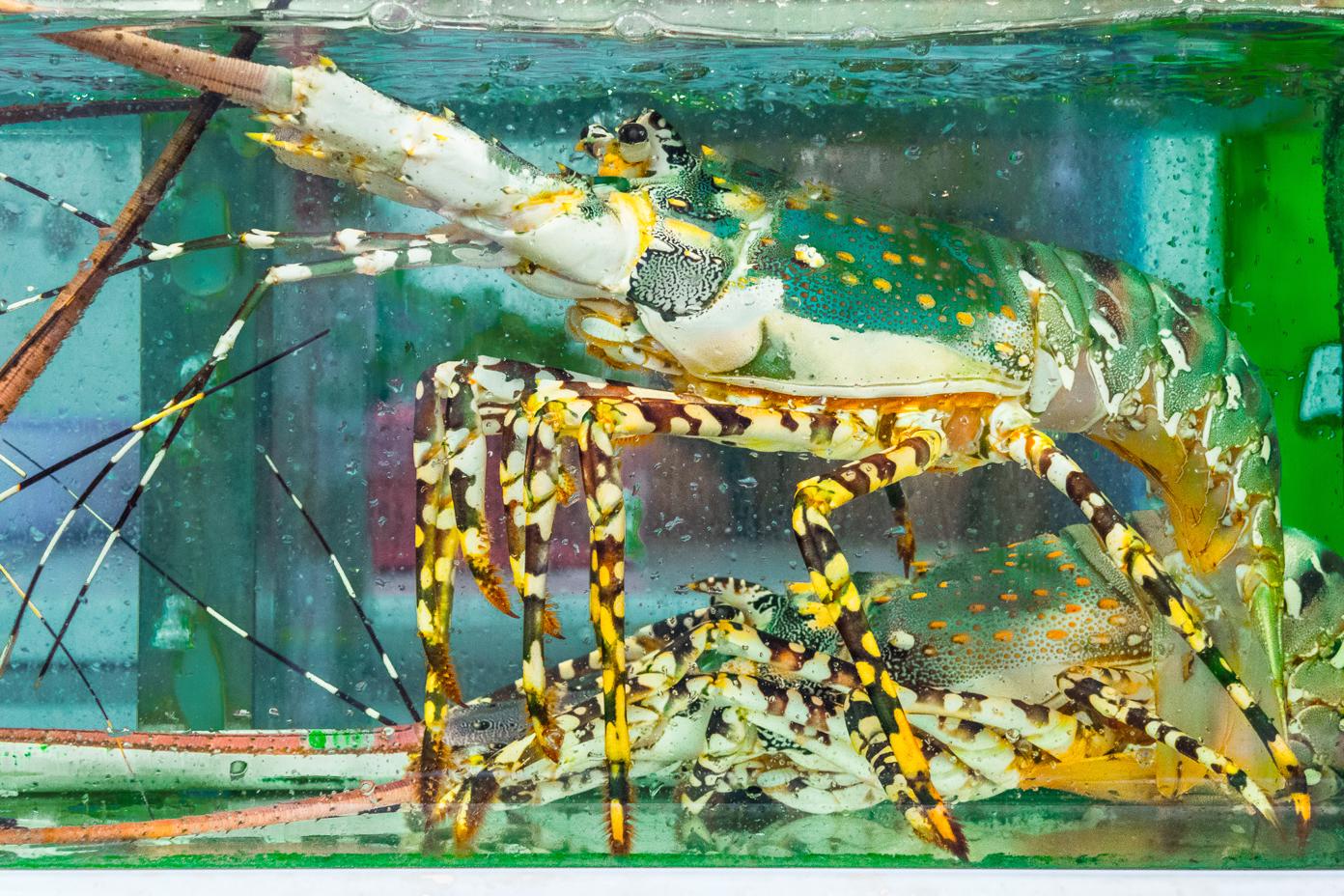 Sit and eat your freshly caught meal as you overlook the fishing boats that brought them in.
Walk up to the Suoi Tranh Waterfall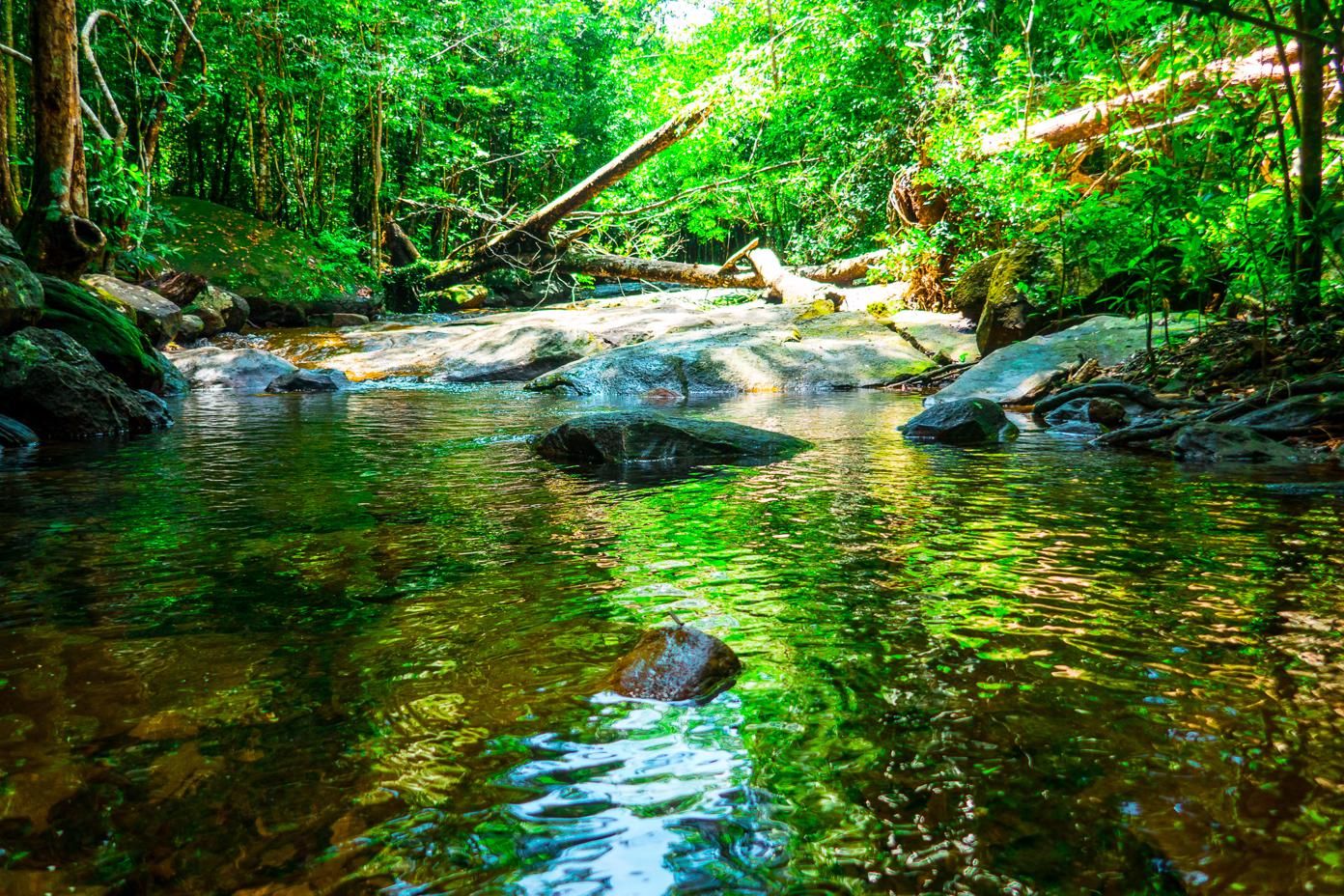 Located about 15 minutes from Duong Dong town, this 4-meter-high waterfall is located a little distance inside the park.
As soon as you enter there are some very pretty gardens and real sized replicas of animals such as bears, crocodiles and Lions. There are plenty of kids running around. If you go on weekends or holidays, you'll see plenty of locals picnicking in the park and along the stream.
We were called over by some locals to share a beer and some fruit. It was a lovely experience. They spoke very little English, but one thing was certain, they wanted us to know Vietnam is good!
To get to the waterfall walk past the restaurant and follow the path. The path is made of rocks so good shoes might be useful. You'll also have to pay entry and parking. We paid 22000VDN total ($1 USD)
Do a SCUBA or snorkel trip
The majority of SCUBA diving trips will explore areas in the Gulf of Thailand, off the northwest coast of Phu Quoc. It's unlikely you will see many larger fish here. Depending on the time of year and water clarity, visibility can be poor. However, if the conditions are right you'll see coral, sea urchins and butterfly fish.
Snorkelling trips off Phu Quoc are done in the south, in the An Thoi archipelago. Unfortunately, the coral here is not thriving and you may find some rubbish. You will see some sea grass ecosystems. There are multiple companies offering snorkelling trips in the south from as little as $17 USD or you can book a tour to suit your needs here.
Ride the longest cable car between Islands
The recently opened cable car between Phu Quoc Island and nearby Thom island is the longest in the world, at 8km! Ride between the islands looking down at the An Thoi archipelago with it's beautiful turquoise water, full of colourful fishing boats. You'll finish up in Hon Tom Nature park. The whole ride is about half hour round trip. When you're done at one end you just jump back on and get to see the view all over again.
Make a day of it by joining a cable car and island tour and spend some time relaxing out in nature.
Walk through Phu Quoc Prison
For War history buffs, Phu Quoc prison may be of interest.
Located in the south of Phu Quoc island, the prison was once used to house political prisoners. Similar to the War Remnants museum in Ho Chi Minh City, the Phu Quoc prison displays the brutal history of war in Vietnam and treatment barbaric treatment of political prisoners. Now a museum, the prison houses many images, relics and life sized displays of life in the prison.
Phu Quoc travel guide – Where to stay in Phu Quoc
With something to cater to everyone's needs and budget you'll find somewhere you'll love to stay on Phu Quoc.
For something a little cheaper, try the Tai Tri Guesthouse. The beach is just nearby and the city center of Duong Dong is only 2.6 kilometers up the road.
If you're looking to be closer to the city, but still near the beach, OYO 164 Mely Wow hotel is 750 meters from the center of the city. It features a beautiful garden, outdoor pool and restaurant, for those days where you don't feel like going out.
For a little more luxury, the Coco Palm Beach Resort and Spa offers sea views from all the rooms. You'll have easy access to Ong Lang beach.
Where are you heading next? You may find these useful
This is how we plan our trips