This Auckland to Cape Reinga road trip itinerary covers the best of Northland. Northland is the stunningly beautiful stretch of New Zealand's North Island above Auckland and is sometimes overlooked by travellers touring New Zealand an unfortunate consequence of New Zealand having so much to do and travellers having so little time. Trust us when we say you don't want to miss this beautiful part of the country. A road trip from Auckland to Cape Reinga and back is the perfect way to experience the Northland Region. Below is the perfect Northland New Zealand Itinerary.
This article may contain affiliate/compensated links. For more information, please see our disclaimer here.
The Twin Coast Highway makes road tripping from Auckland to Cape Reinga a breeze, with the easy to drive roads taking you past small towns, sheltered sandy beaches and unforgettable coast line. Driving up one coast of Northland and down the other, you'll have plenty of time to experience all this region has to offer. You won't be disappointed if you have a few days or weeks to explore the Northland region.
Auckland to Cape Reinga road trip FAQs
Can you drive to Cape Reinga?
Absolutely. In fact, the Twin Coast Highway runs along the east and west coasts of the Northland region, leading towards Cape Reinga and it is one of the most beautiful drives on the North Island.
What is the distance from Auckland to Cape Reinga?
Following State Highway 1, along the east coast of Northland, the distance from Auckland to Cape Reinga is about 425km.
How long does it take to drive from Auckland to Cape Reinga?
Following the east coast, it'll take about 6 hours to drive from Auckland to Cape Reinga. That is, of course, if you drive directly there with no detours.
How many days are needed to do a road trip from Auckland to Cape Reinga?
You'll need at least three days to road trip through Northland, although three days involves a lot of driving and less sightseeing. The more time you have the better as you'll be able to spend more time in each place. Anywhere from 4-7 days is ideal.
How to use this Auckland to Cape Reinga road trip itinerary
Ok, for easy use, I've broken this itinerary up into three separate sections
Auckland to Paihia and Bay of Islands
Road trip Paihia to Cape Reinga
Cape Reinga to Auckland – otherwise known as the West Coast
If you cannot drive around the entire Northland region, you can always base yourself in Paihia on the east coast and take day trips to the different areas of Northland.
Auckland to Paihia road trip
Starting your Auckland to Cape Reinga road trip – A Northland New Zealand Itinerary
Auckland is a great jumping-off point for a Northland adventure. You can fly to Auckland's International Airport. Many car and camper van rental facilities are available around the airport. Make sure you book your car or campervan in advance, particularly during the summer months when it's busy, so you don't miss out.
Driving Highway 1 from Auckland to Paihia
Drive Time: 3.5 hours Distance: 246 km North of Auckland
The drive along the east coast of Northland takes you through Whangarei, the home of Whangarei falls. Whangarei Falls is a spectacular 26m high waterfall surrounded by native forest and walkways, and the ideal way to stretch your legs as your Auckland to Cape Reinga road trip comes to a close.
Paihia is an excellent base for exploring some of the most beautiful parts of Northland. It is the biggest and main tourist town in the area known as the Bay of Islands. A dream for marine life lovers, the Bay of Islands comprises around 144 islands, amongst which swim dolphins and whales.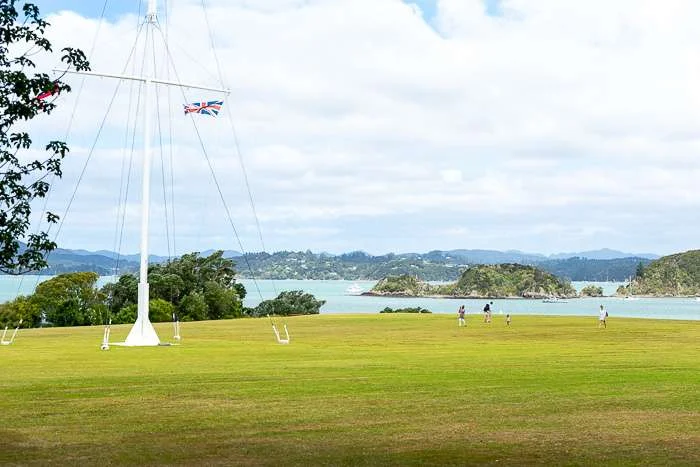 Things to do in Paihia
Waitangi Treaty Grounds
Explore the Waitangi Treaty Grounds. The site of the signing of the first accord between the British crown and the Maori People is a fascinating place. Here you'll see an enormous Waka, or Maori War Canoe, learn about the history of the agreement between the Maori and British settlers and experience traditional Maori customs and dance. All this to the backdrop of the beautiful Bay of Islands. The cost of entry to the Waitangi Treaty Grounds includes a guided tour, access to the museums and a show. The guided tour is fantastic and you'll learn a little about Maori natural medicine, rituals and exploration. Our guide was a descendant of Maori in the area and was a tremendous wealth of information.
If you cannot do the complete Auckland to Cape Reinga road trip, don't panic. You can organise day trips from Paihia to places like Cape Reinga and 90 Mile Beach.
The Waitangi Treaty Grounds were a highlight for us and we'd recommend not missing it if you're interested in cultural history.
Where to stay in Paihia and the Bay of Islands
Hotels in Paihia: Kingsgate Hotel Autolodge Paihia and the Bay Cabinz Motel are located near Paihia's beach and centre.
Camping grounds Northland and holiday parks in Bay of Islands: The Bay of Islands holiday park is located just 5 minutes outside Paihia. Cabins and units are available, as well as powered and unpowered sites for campers. Paihia also has a Top 10 Holiday Park.
Department of Conservation campsites and freedom camping: There are no DOC or freedom campsites around Paihia; however, if you have time, you can move further around the Bay of Islands towards Russell, and there are some located in that area.
Driving Paihia to Cape Reinga
Drive Time: 2.5 hours Distance: 197 km
There are plenty of beautiful places to explore on your road trip from Paihia to Cape Reinga, including Mangonui, Doubtless Bay and the KariKari Peninsula. If you have the time to explore this area, we'd recommend using Mangonui as your base and exploring from there.
Mangonui and Doubtless Bay
Overlooking Doubtless Bay, Mangonui is a small historical town. Take in some of Mangonui's heritage buildings, an ancient Maori fort, or take a snorkelling or diving trip from Mangonui Harbour.
Things to do around Mangonui and Doubtless Bay
Visit the historical 1840s Butler Point Whaling Museum.
Take any one of the beautiful walks, including the Mangonui Heritage trail, or the Taumarumaru Scenic Reserve walk
Doubtless Bay has plenty to offer beach lovers, including snorkelling, sailing and dolphin watching.
Visit the Carrington Estate Winery
90-mile beach
While it is not technically 90 miles, the 90-mile beach is still a ridiculously long stretch of beautiful New Zealand coastline running from Ahipara to Cape Reinga, the northernmost tip of New Zealand. It's not a great beach for swimming due to rough conditions and traffic. Yes, traffic; 90-mile beach is a registered state highway, and the novelty of driving the length of the beach is a draw card for many.
Driving 90-Mile Beach
Although buses and locals drive 90 Mile Beach regularly, risks are involved, so you should be prepared. First of all, if you're in a hire car or camper, check your insurance policy. You'll likely find that you're not covered to drive on the sand. This is a problem if you happen to get stuck! It's essential to make sure you stay on hard sand and never go onto the soft. The best option is to follow the tracks of those that have driven before you. Needless to say, a 4WD is always handy to have.
Ensure you also check the tides and never drive onto the sand during or near high tide. The safest and easiest time to drive on 90-Mile Beach is during low tide.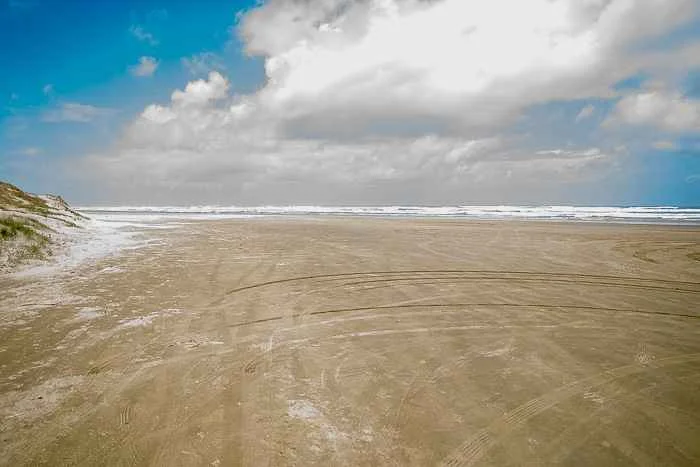 There are around five entrances to 90 Mile Beach, the safest and most reliable being the Waipapakauri Ramp which you can access about 20km from Kaitaia. The Northernmost entrance is at the Te Paki Stream, near the Te Paki Sand dunes. This entrance can be treacherous with the changing conditions of the stream, so be sure to know what you're doing here before you drive in.
The Te Paki Sand Dunes are the largest of their kind in the southern hemisphere. If you feel like a challenge you can walk to the top for the spectacular views. Another great option is to ride a sled down them!
Cape Reinga
The stunning second northernmost point of New Zealand is not to be missed. Cape Reinga Lighthouse sits high above and looks out over beautiful beaches and rocky coastline. The views on the drive alone are worth the distance, so make sure you stop for photo's along the way.
You'll see plenty of spectacular coastal views to the west as you drive through rolling hills and mountainous farming areas.
Once you arrive at Cape Reinga, it's about a 1km downhill walk to the lighthouse with incredible views. The open sea area in front of the lighthouse is generally considered to be where two 'seas' meet, the Tasman Sea and the Pacific ocean. The two seas are pushing towards each other, resulting in some pretty rough-looking ocean.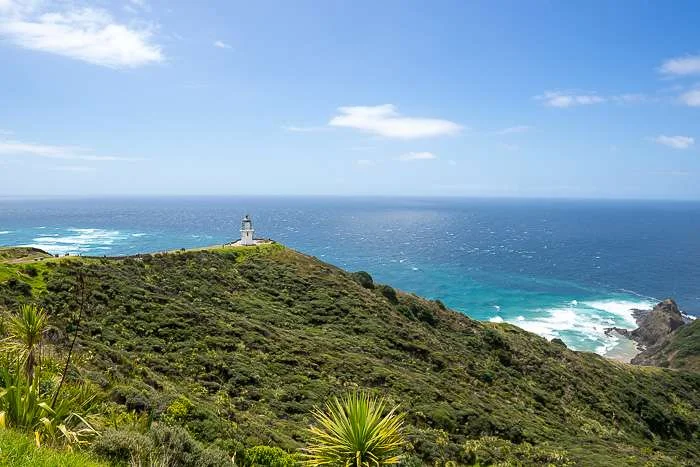 The Maori name for Cape Reinga is Te Rerenga Wairua, which is reflective of the Maori belief that Cape Reinga is where the spirits of the dead enter the underworld.
Remember, the closest town to Cape Reinga is over 100km south, at Kaitaia, so make sure you pack some lunch and anything else you'll need for the day.
Things to do in Cape Reinga
See the Cape Reinga Lighthouse! I mean, this goes without saying, but I've said it.
Visit Toputaputu Bay – this is a beautiful beach area off Highway 1. There is a DoC campsite there if you have a campervan.
Sandboard down the Te Paki Sand Dunes
Visit Spirits Bay
Accommodation and Campgrounds near Cape Reinga
Hotels: There are no hotels on the Cape, the closest are located at Kaitaia, some 100km south, including The Gateway to the North, and the Loredo Motel.
Holiday Parks and Camping grounds Northland (Far North): There are no caravan and holiday parks on the Cape. However, the Narrabrai Motel, Caravan park, Norfolk Motel, and Campervan Park are located in Awanui and are the closest to Cape Reinga.
Department of Conservation campsite Northland (Far North): We stayed at the Tapotupotu Campsite, located alongside a beautiful estuary beside a secluded beach not far from Cape Reinga.
Freedom camping grounds Northland (Far North): There are no designated freedom camping locations around Cape Reinga.
Road trip the west coast – Cape Reinga back to Auckland
Cape Reinga to Opononi
Drive Time: 3.5 hours Distance: 180 km
There are multiple ways to get from Cape Reinga to Opononi or Hokianga Harbour.
You can take the Hokianga vehicle ferry from Kohukohu. It will drop you at Rawene, 20km from Opononi. The ferry takes around 15 minutes to travel across the harbour and shouldn't cost more than $30, depending on your vehicle size and the number of people.
Continuing along the highway, heading towards Opononi, you'll drive through the forest and be treated to the beautiful Kauri canopy. As you turn inland and head towards Hokianga Harbour, you'll see where the Maori's first arrived in New Zealand sometime between 1250 and 1300.
Things to do around Opononi and Hokianga
Waipoua Kauri Forest
You'll pass the Waipoua Kauri Forest, famous for Tane Mahuta, the largest of New Zealand's native Kauri trees are between 2500-3000 years old, with a base of 4.4m in diameter. It's worth stopping off here to explore the forest. Wonder through the forest alone do a tour such as an evening tour of Waipoua to see the forest at twilight!
Visit the Hokianga rock pools at Waimamaku beach
Jet ski in Hokianga Harbour
See the boulders of Koutu beach – these are similar to the boulders on the South Island at Moeraki.
Do the Waiotemarama waterfall walk and see some of the region's most beautiful waterfalls.
Accommodation around Opononi and Hokianga Harbour
Hotels – popular hotels in the area include the Opononi Lighthouse Motel in Opononi.
Holiday parks and camping grounds Northland (Hokianga Harbour): Try the Opononi Beach Holiday Park or the Rawene Holiday Park if in the area.
Freedom camping Northland: Northland has restricted freedom camping; however, there are locations throughout Northland where freedom camping is available. Check here for the Far North Council's list of freedom camping places. In addition, there is a low-cost campground at Koutu Mangaroa Picnic Area, which is for self-contained vehicles. Details can be found on the campermate app.
Department of Conservation campsites Northland (Hokianga Harbour) – There are no DOC campsites around Hokianga Harbour. However, for all campsites in Northland, you can check the DOC map here.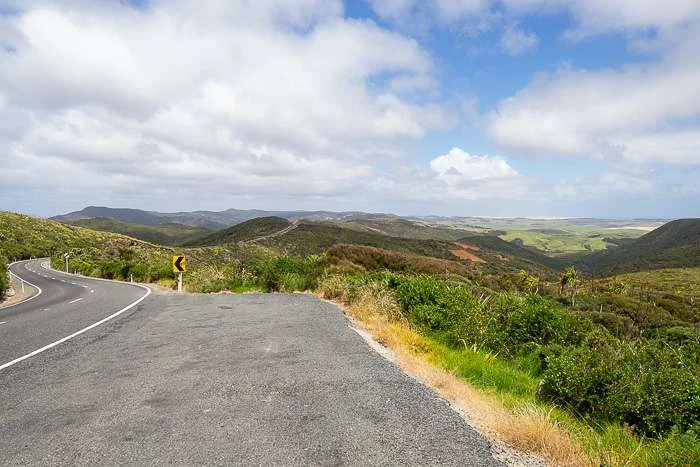 Winding up your Auckland to Cape Reinga road trip – Opononi to Auckland
Drive Time: 4 hours Distance: 286 km
Things to do on the West Coast of Northland
There is plenty to see on the drive between Opononi and Auckland.
Visit the town of Dargaville
See Kiwi birds at the Trounsen Kauri Park
Explore the Kauri Museum at Matakohe
Soak in the hot springs at Parakai
If you like bird watching, visit the Muriwai Gannet Colony outside Auckland at Kumeu.
Returning to Auckland
After your epic road trip of Northland and the far North of New Zealand, take some time to see the sights of Auckland. If you don't have long, we have a great article on what to do in Auckland in just one day. Otherwise, here are some more ideas.
Auckland to Cape Reinga Road trip facts
Total driving time: Minimum 13 hours (highways only)
Total Kilometers: Minimum 950km (highways only)
Minimum days recommended: To do the entire Auckland to Cape Reinga road trip itinerary a minimum of 4 days is required for your own comfort. Of course, if you have more time that would be strongly recommended.
If you have less time in your Northland New Zealand Itinerary and are looking for the highlights, I'd be sure not to miss Cape Reinga, the Bay of Islands and the Waitangi Treaty Grounds.
Where to next? You might like these articles
Planning a road trip in New Zealand? Here is what we did
This article may contain affiliate/compensated links. For more information, please see our disclaimer here.
Like this article? Pin it for later!