One of the most confusing aspects of planning a New Zealand road trip is wrapping your head around freedom camping. Some people sugarcoat it and make it seem like the easiest and most doable thing in the world, and others will tell you it's impossible and not even to bother trying. So what is the current situation with freedom camping in New Zealand? After spending five weeks there, we'll tell you below! Here's a hint, you can do it, and it's fabulous!
This article may contain affiliate/compensated links. For more information, please see our disclaimer here.
Is it possible to Freedom Camp in New Zealand?
Yes, you can freedom camp in New Zealand, but there are some strings.
Below we'll discuss a variety of things like how you find freedom camping sites, whether you need a self-contained camper and if it's worth trying to freedom camp.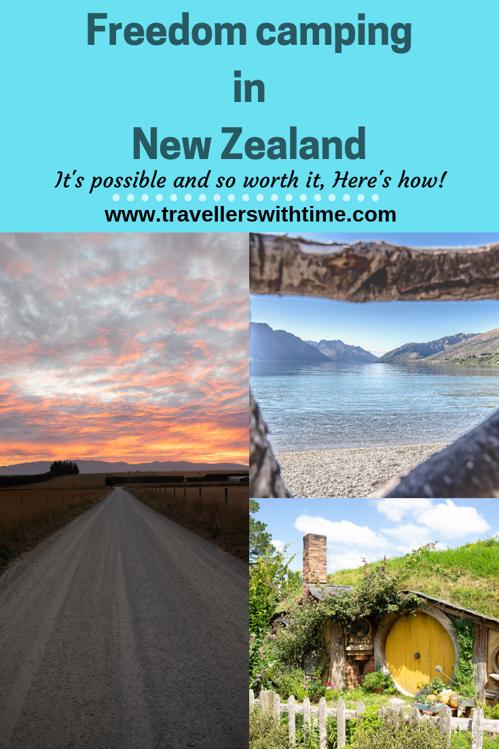 Do you need a self-contained camper?
Self-containment means you have enough water and a toilet to use for three days before needing access to sanitary facilities.
There are more 'self-contained only' freedom camping sites than non self-contained ones. It is possible to freedom camp in New Zealand without being self-contained; however, it is more complicated simply due to availability. Our article on whether or not to get a self-contained van NZ outlines all the factors to consider before hiring or buying your camper.
Browse a variety of self contained and non self contained campers here.
How to find freedom camping places
The easiest way to find freedom camping places is to use the free Camper Mate app. You can select whether you're looking for self-contained or non self-contained, free, paid or Department of conservation sites. It's also a great app when looking for things such as public toilets, dump stations and fuel.
The other, more challenging way to find places to freedom camp in New Zealand is to work it out yourself. This involves looking at local council and region government websites and establishing which land is owned by whom. Sound fun?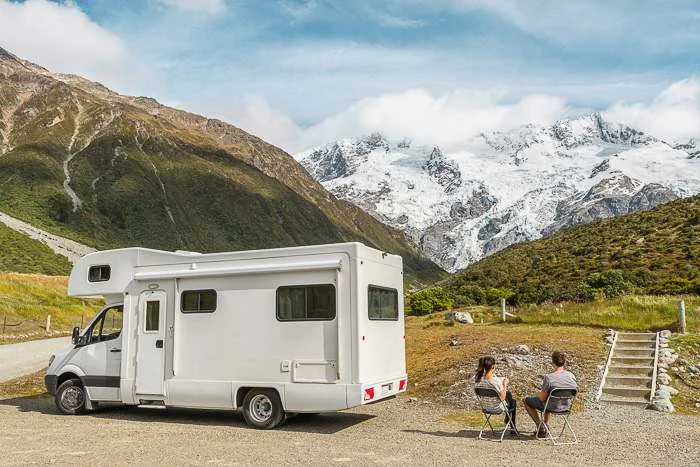 Freedom camping government by-laws
You cannot just camp wherever you feel like it. New Zealand is divided into larger regional areas, which are then divided into local council areas. A region may have specific freedom camping regulations. However, the local council's by-laws can override the general laws, limiting freedom camping further. As a result, some areas will have almost no freedom camping areas, whereas others will have more flexibility.
If you are adventurous or organised and want to work it out for yourself, you can visit the websites of each local council and familiarise yourself with their freedom camping by-laws. I tried this way, and it's not easy, but the best resource for information in this website, which has a breakdown of the regional and local council areas.
The fine for freedom camping in a restricted area is $200 NZD, so you want to ensure you're not breaking the rules.
Tips and tricks for freedom camping in New Zealand
If you intend to freedom camp, a few tips and tricks will save you plenty of time and effort.
Avoid missing out in peak season.
Free campsites in and around popular tourist areas will fill up quickly during peak season. As space is limited and there are thousands of campers on the road, ideally, you want to arrive early if you intend to stay in prime locations. What is early? I would say before 3 pm. If you arrive later than this, you risk it being full.
Generally speaking, as we were there at the height of summer, we booked a paid site for the night to avoid the trouble if we weren't arriving in a popular area until after 5 pm.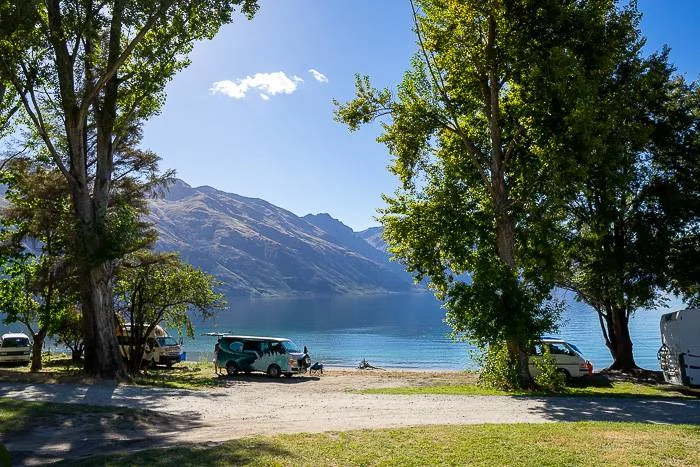 Sometimes, however, it was just the luck of the draw. For example, at one site near Rotorua, five marked freedom camping spaces exist. One day, we arrived at about 3.30 pm and were disappointed to find them all full. The next day, however, we drove past them at 5 pm on the way to see a waterfall, and there were two spaces free.
Distance from tourist areas gives you more space.
To avoid the crowds, move out of tourist areas. The further away from 'touristic' areas and attractions, the more likely the freedom camping site will have space. We often turned up to these more out-of-the-way sites at any time of the day/evening with no problems.
Do use the camper mate app to find everything you need
Use the CamperMate app to choose your freedom camping sites; it's full of information and reviews, which will allow you to make informed decisions. It will, for example, tell you problems with some freedom camping sites that aren't ideal, whether it be due to noise, safety or sand flies! It will also tell you if a campsite is closed, which is not uncommon!
We found it to be a lot more reliable than, say, Rankers.
Generally speaking, it's considered polite to give other campers some space and privacy; however, if you ask, you'll find most people are willing to let you squeeze in near their camper.
Just a reminder that the fine for parking in the wrong place or being a non self-contained camper in a self-contained camping ground is $200. Some spots are much more strict, and we did see the odd inspectors around.
Pack in, pack out, and leave no trace.
I think the main thing to remember when you're freedom camping is that you should pack in and pack out, leaving no trace of you being there. Make sure you put your rubbish in the bin and don't leave disgusting things where they shouldn't be.
Part of the problem is that people are trashing freedom camping spaces, leaving rubbish, or simply doing stupid things like pooping in bushes, which annoys the locals and councils. If we all acted responsibly, then the restrictions on freedom camping wouldn't be a problem.
Freedom camping in Winter
We were in New Zealand in summer, but we've been told that winter is an excellent time to freedom camp, and many of the spaces, even the busier ones, will be free.
Worthwhile items to have with you
We were surprised at how bad the internet is in New Zealand. The towns are very spread out, and you'll often lose WiFi between them. If you're freedom camping in the middle of nowhere, you'll have to expect no internet, so we recommend that you download offline Google Maps. It gives you a quick reference no matter where you are so you can plan your next steps.
Another good option is to get a Tep Wireless which picks up on any nearby WiFi signal and allows you one GB of WiFi a day. It's enough to plan and organise a hike or to download a map to your next destination. It also means that if one freedom camping space is full, you have the internet to hunt down the next one.
Is it worth trying to freedom camp in New Zealand?
In short, absolutely. New Zealand is incredible, and the freedom camping places we stayed at were excellent. Of course, if you choose you can park in designated freedom camping car parks, but drive a little bit longer out of the cities and find the spaces by the rivers. It's so worthwhile.
You may also find these articles helpful.
Planning a trip to New Zealand? Here is how we got started
This article may contain affiliate/compensated links. For more information, please see our disclaimer here.
Don't forget to pin it!