The Coromandel Peninsula of New Zealands North Island is known for its pristine beaches, spectacular forests and relaxed, laid back atmosphere. If you're unsure how to plan your itinerary, we'll take all the hard work out of it for you. Road trip Coromandel with our itinerary and allow yourself to get lost in nature.
This article may contain affiliate/compensated links. For more information, please see our disclaimer here.
Starting your road trip of the Coromandel
The Coromandel Peninsular is located around 1.5 hours drive from Auckland, making Auckland a fantastic starting point.
Pick up your car or camper van from near the Auckland International Airport and you're ready to head south and begin your trip.
If you're starting in the south, the Coromandel is only 1.5 hours from Tauranga and Hamilton or 2 hours from Rotorua.
Driving around the Coromandel Peninsula
There are two main routes you can drive around the Coromandel. The first is to take State Highway 25 which runs around the outside of the Coromandel forest park. A slight detour up to HaHei to see Cathedral Cove and Hot Water Beach is a must. By driving this circuit you'll see the best of what the Coromandel has to offer.
Alternatively, for the more adventurous, one of New Zealand's most famous roads is the 309 road, which connects the east and west State Highway 25 roads. Connecting on the west coast of the Coromandel near Preece Point, and attaching on the east coast at Kiamarama. This road requires some driving skills with its twists and turns but is a fun road to drive with plenty of highlights along the way.
How long should you take to road trip Coromandel Peninsula?
The actual drive time, if you stick to State Highway 25 and head up to Hahei is under 4 hours, and around 216km so it's possible to do it in a day. We would recommend at least 2 days though so that you can spend some time taking in the sights and enjoying the wonders the Coromandel has to offer.
Things to see and do when you road trip Coromandel
Exploring the Coromandel's west coast
Thames
Heading up the west coast, you'll come to the town of Thames. Steeped in gold mining history, this rural region of the Coromandel now offers cafes and boutique stores to keep you meandering for hours. A great starting off point for the outdoors adventure lover, there are plenty of walks to do, including the incredible Pinnacles walk through the Kaeuranga Valley.
Accommodation in Thames
Hotels in Thames: Check out the Lady Bowen Bed and Breakfast only a few hundred meters from the centre of town
Campgrounds in Thames: The Dickson Holiday Park is located just outside the town and offers a range of activities and a pool.
Freedom Camping around Thames: Check the Camper Mate app for latest information. The Danby Field carpark has great reviews.
Read: Freedom Camping in New Zealand
Coromandel Town
Further along the west coast is Coromandel town. Known for it's beaches, forest and colonial architecture, the town itself has a calm, historical feel. A thriving art and craft culture gives it a little soul. Coromandel is the perfect place to unwind – Get lost in nature along the Coastal Walkway, or relaxe on New Chum beach.
Accommodation in Coromandel Town
Hotels in Coromandel: The Hush Boutique Accommodation offers beautiful accommodation only a short drive from town and some of the most beautiful beaches in the area.
Campgrounds in Coromandel town: The Top 10 Holiday Park is convienently located only a few hundred meters from the center of town.
Freedom camping around Coromandel town: There are two freedom camping places in Coromandel, the Kapanga Road Carpark and the Woollams Avenue Carpark. Check Camper Mate for latest information.
Whitianga
As you road trip Coromandel's east coast, you'll enjoy the spectacular views of beautiful Mercury Bay from Whitianga town. Mercury Bay is home to Cathedral Cove and Hot water beach, however unless you visit them by boat, you'll access them from Hahei.
From Whitianga you can either take the ferry over to Shakespeares lookout and Cook's beach, or drive further around to reach them yourself.
Accommodation in Whitianga
Hotels in Whitianga: Albert Mews B and B in Whitianga is right near the beach and city centre.
Campgrounds and Holidays parks in Whitianga: The Harbourside Holiday Park is a popular choice.
Freedom camping in Whitianga: There are three designated freedom camping locations in Whitianga. Check the Camper Mate app for latest information.
Shakespeare Cliff
Before you reach Hahei, Cathedral cove and Hot Water Beach, take some time to admire Shakespeare Cliff and lookout, with a beautiful view out over Mercury's Bay and Cook's beach.
A 3km walking track begins near Flaxmill Bay, or you can drive up towards the lookout and park your car at various points along the way. From the top car park its really only a 5 minute walk to Shakespeare Cliff lookout and some of the most incredible views in the Coromandel.
Cooks Beach
A beautiful series of white sand beaches stretching 3 km along, Cooks beach is a beautiful spot to spend the day relaxing.
One of the great things about Cooks beach, is that there is a freedom camping area right near the boat ramp. We'd recommend getting there early as space is limited. The area where you're allowed to park is clearly sign posted.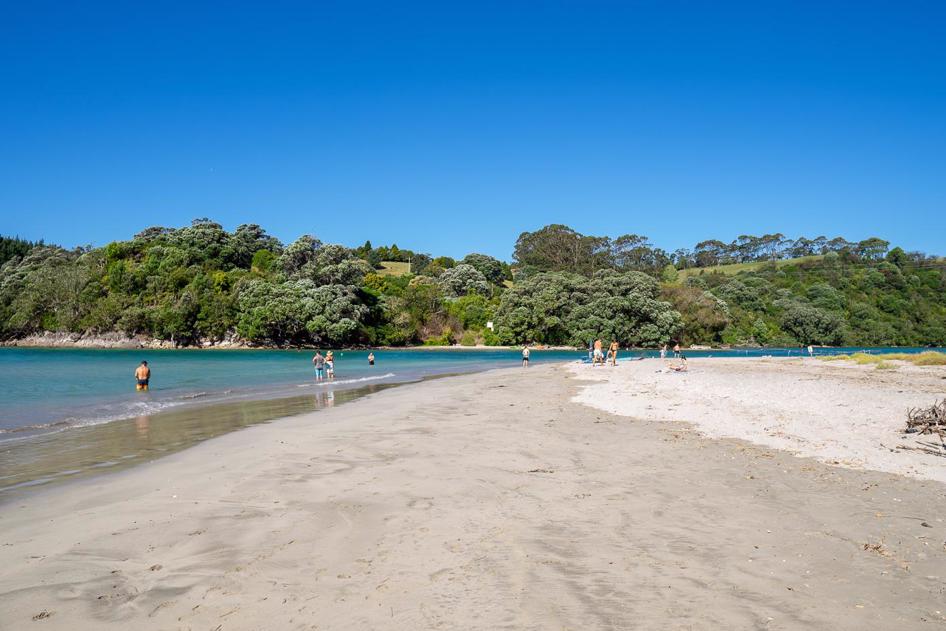 Freedom Camping at Cook's beach: There is a beautiful freedom camping spot at Cooks Beach Reserve (Purangi). It's on a grassy area behind the river. From here it's easy to access both Cooks beach and Cathedral Cove.
Hahei
A slight detour off State Highway 25, is the town of Hahei, the gateway to Cathedral Cove and a must do when you road trip Coromandel. One of New Zealand's most popular tourist destinations, Cathedral Cove is a spectacular sight, no matter when you arrive.
Cathedral Cove
Visited by thousands of travellers a year, Cathedral Cove is an enormous naturally formed rock archway, arching over a beautiful shady beach
Walking to Cathedral Cove
The walk to Cathedral Cove begins in the small town of Hahei. Here you'll find the main car park which has plenty of room for cars and campers large and small. From the car park its about a 10 minute walk to Hahei beach, and, walking along the beach it will take around 15 minutes until you reach the start of the Cathedral Cove track. Alternatively you can catch the shuttle bus directly from the car park to the start of the track. The park and ride shuttle costs $5 per adult (return), $3 per child and $10 for a family of 4. It runs through peak season, so from the 30th of April and throughout the winter months, you can just drive straight up the hill to the start of the Cathedral Cove Walk.
As a side note to parking, there are some illustrious locals living closer to the start of the walk who hire out part of their drive ways to desperate tourists, so if you really don't want to walk the extra half hour or so, try driving closer to the start of the track. You won't miss the signs, but be aware that parking in someones driveway will be a lot more expensive.
The track takes about an hour as you wander along cliff tops, through forest and past secluded beaches. Make sure you take the time to stop off and explore them, and if you've got snorkle gear, we'd highly recommend it. Our favourite beach on the way to Cathedral Cove, by far, was Stingray Bay.
The walk may not be very long, but it is hilly. Once you descend onto Cathedral Cove beach and take in the towering arch, relax in the shade or take a swim in the cool water.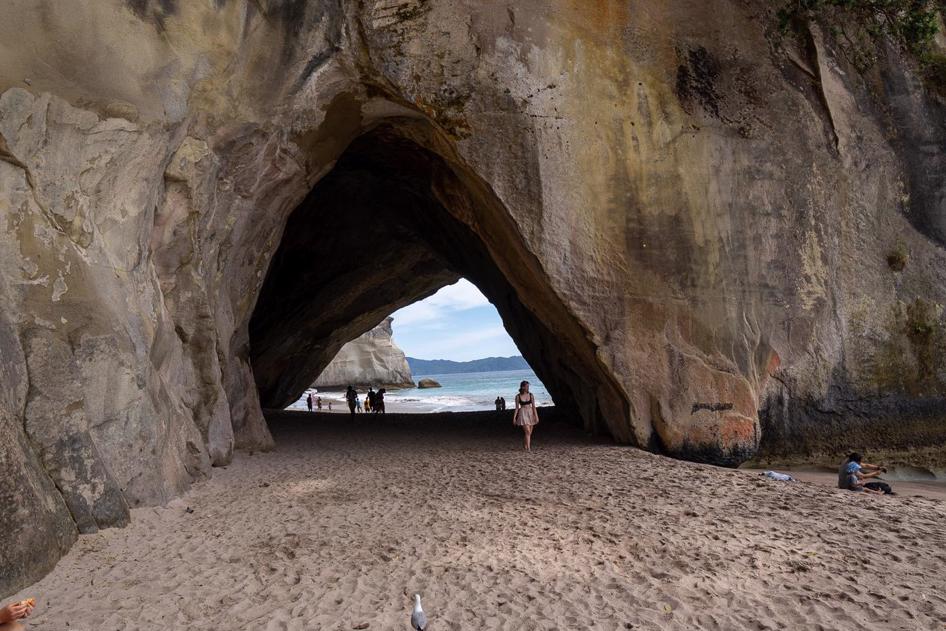 Returning to the carpark, its easier to follow the main road from the start of the Cathedral Cove walk, into the town. There are plenty of signs guiding the way.
If you're interested in exploring Cathedral Cove but don't have time to explore the Coromandel in full, a day tour from Auckland is also a great option.
As you leave Hahei and Cathedral Cove behind, head towards Hot Water beach to enjoy the comfort of this natural hot spring.
Hot water beach
A serious of gloriously warm veins of water running from an underground volcanic thermal spring run along the beach, entering the ocean. While this normally occurs underneath the sand, at low tide, it is possible to dig yourself a pool and soak in a mix of hot spring water mixed with the cool ocean.
The key to hot water beach is to be there an hour or two before low tide. When we first arrived at the beach mid afternoon, low tide was hours away and a few poor travellers, desperate to see a hot spring were standing shoulder deep in giant holes half way up the beach. There was no hot water in sight.
Low tide was at 11pm, and so despite my aversion to the cold, and yes nights in New Zealand are still cold, we donned our swim wear and went to dig ourselves a hole. We arrived an hour before low tide to discover a suprising number of people already sitting in large holes.
The next thing you want to know is that the hot water veins are not everywhere, they run together, so you'll see almost vertical lines of holes from the land to the sea. Don't do what we started doing and digging a hole a little away from the crowd because that's not where the hot water is. Try and dig as close as you can either above or below the others, with reference to the land and sea.
One great thing is that people were pretty generous with their hot water baths and as they were leaving would offer them to those who were still on the hunt for a stream of hot water, so if you can't find a vein, be patient and someone will offer you theirs.
The water can get incredibly hot, to the point of being unbearable, so you will need to cool it down with a supply of sea water. Its an incredible feeling to be laying in a warm pool in the sand, feeling both hot and cold water flow while you're staring at the stars.
Accommodation in Hahei
Hotels in Hahei: The Tatahi Lodge Beach Resort is centrally located in Hahei, both near the town center and the beach. Set amongst beautiful gardens its only a short distance from the Cathedral Cove walk, and a few kilometers from Hot Water Beach
Campgrounds around Hahei: The Hahei Holiday Resort is located right next to the beach. The Hot Water Beach Top 10 Holiday Park is located opposite Hot Water Beach. We stayed here as we wanted to go soak at Hot Water Beach at 11pm before coming back to the camp ground to shower and rinse the sand off.
Freedom camping in Hahei: There is no specific freedom camping places in Hahei itself, the closest being the Cooks Reserve (Purangi) location near Cooks beach, or the Paku Drive Carpark freedom camping place, further south, near Tairua. Check Camper Mate app for up to date information.
Finishing up your tour of the Coromandel
From Hot Water beach, jump back onto State Highway 25. From here, you can head in any direction, either south west towards Rotorua, or back up towards Auckland.
Where to next?
Planning to road trip Coromandel? Heres how we do it
This article may contain affiliate/compensated links. For more information, please see our disclaimer here.