The Coromandel Peninsula of New Zealands North Island is known for its pristine beaches, spectacular forests and relaxed, laid back atmosphere. If you're unsure how to plan your itinerary, we'll take all the hard work out of it for you. Road trip Coromandel with our itinerary and allow yourself to get lost in nature.
This article may contain affiliate/compensated links. For more information, please see our disclaimer here.
Is it worth visiting the Coromandel?
Let's not beat around the bush, yes. It is absolutely worth visiting the Coromandel Peninsula. It is one of New Zealand's most popular summer tourist destinations for a reason. There is plenty to see and do in the Coromandel, and a road trip is a fantastic opportunity to take your time and enjoy the local sites.
When is the best time to visit the Coromandel Peninsula?
There is no denying that summer is an ideal time to road trip the Coromandel Peninsula. The sun is shining, the days are warm, the ocean is calling, and thousands of people are everywhere. The summer (December – January) is the busiest time in the Coromandel. That doesn't mean you shouldn't go in the summer. It just means you won't be the only people on those beautiful beaches. You'll also want to book your preferred hotels or campgrounds well in advance as they are likely to fill up.
The shoulder seasons, Autumn and Spring, on the other hand, are the perfect blend of good weather and solitude. While it won't be as hot, the weather is still quite lovely, and you'll certainly still have good beach days. So if you'd like those picturesque beaches to yourself or to be the only people soaking in a hot spring, Autumn or Spring are ideal seasons for a Coromandel trip.
Getting to the Coromandel Peninsula
The Coromandel Peninsular is located around 1.5 hours drive from Auckland, making Auckland a fantastic starting point. So pick up your car or camper van from near the Auckland International Airport and you're ready to head south and begin your trip.
If you're starting in the south, the Coromandel is only 1.5 hours from Tauranga and Hamilton or 2 hours from Rotorua.
How long does it take to drive from Auckland to…
Depending on how much time you have for your Coromandel road trip, you may want to add some extra stops, or skip some places all together. Here are some drive times to the main towns in the Coromandel if you start in Auckland.
Auckland to Whitianga: 2.5 hours or 190 km
Auckland to Coromandel Town: 2 hr 20 minutes or 169 km
Auckland to Hahei: 2 hr 20 minutes or 176 km
Driving around the Coromandel Peninsula
There are two main routes you can drive around the Coromandel. The first is to take State Highway 25 which runs around the outside of the Coromandel forest park. A slight detour up to Hahei to see Cathedral Cove and Hot Water Beach is a must. By driving this circuit you'll see the best of what the Coromandel has to offer.
Alternatively, one of New Zealand's most famous roads for the more adventurous is the 309 road. It connects the east and west State Highway 25 roads. Connecting on the west coast of the Coromandel near Preece Point, and attaching on the east coast at Kiamarama. This road requires some driving skills with its twists and turns but is a fun road to drive with plenty of highlights along the way.
How long should you take to road trip Coromandel Peninsula?
If you stick to State Highway 25 and head up to Hahei, the actual drive time is under 4 hours. At around 216km, so it's possible to do it in a day. We would recommend at least 3 days. That way you can spend some time taking in the sights and enjoying the wonders the Coromandel has to offer.
Things to see and do when you road trip Coromandel
Thames
Heading up the west coast, you'll come to the town of Thames. Steeped in gold mining history, this rural region of the Coromandel now offers cafes and boutique stores to keep you meandering for hours. Thames is a great starting off point for the outdoor adventure lover. There are plenty of walks to do, including the incredible Pinnacles walk through the Kaeuranga Valley.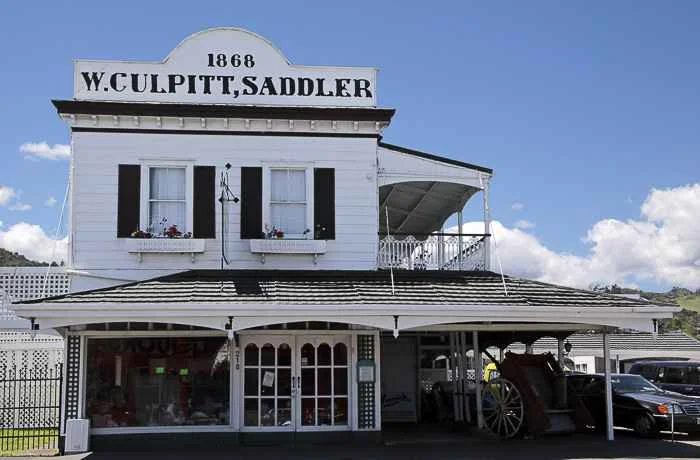 Things to do in Thames
Hike the Kauaeranga Kauri Trail, also known as the Pinnacles Walk. This is a 6 km one way track through the Coromandel Forest Park and Kauaeranga Valley. The track starts about half an hour outside of Thames, 9 km past the Kauaeranga Visitors Center.
Cycle the Hauraki Trail – The Hauraki trail is almost 200 km long. However, it is broken up into five sections that can each be ridden in a day. Two of the sections are located near Thames, making it an ideal place to begin.
Explore the heritage buildings in town – With its colonial and gold rush history, Thames's charm lies in it's old buildings found scattered throughout the town. Take a walking tour and learn about Thames's history.
Visit the Thames School of Mines and Mineralogical Museum
Visit the Rapaura Watergardens: This beautiful water garden is situated on 64 acres of private property within the Coromandel Peninsula National Park. It's home to incredible plants and bird life and is a great way to spend a few hours.
Where to stay in Thames
Top-rated hotel in Thames The Lady Bowen Bed and Breakfast only a few hundred meters from the centre of town. The B&B is in a heritage-listed house and run by a lovely couple. A delicious breakfast is served every morning
Spectacular views and secluded getaway The Grafton Cottage and Chalets has rooms offering views of the sea, city or gardens. Situated in a secluded, tree-lined setting, there is also a swimming pool and hot tub
Affordable Quality The Sunset Motel is located about 3km outside of Thames. This budget hotel offers great value with seating and BBQ areas for guests. It has a fabulous review score with guests being incredibly happy with their stay.
Campgrounds and freedom camping around Thames
Campgrounds in Thames: The Dickson Holiday Park is located just outside the town. It offers a range of activities and a pool.
Freedom Camping around Thames: Check the Camper Mate app for latest information. The Danby Field carpark has great reviews.
Coromandel Town
Further along, the west coast is Coromandel town. The town is known for its beaches, forest, and colonial architecture and has a calm, historic feel. A thriving art and craft culture give it a little soul. Coromandel is the perfect place to unwind – Get lost in nature along the Coastal Walkway, or relax on New Chum beach.
Things to do around Coromandel Town
Visit Waiau Falls and take the Waiau Kauri Grove walking track – Just 7 km from the start of the 309 Road are the Waiau Falls, which are visible from the road. This picturesque waterfall is a popular swimming spot so take your bathers! A kilometre, further along, the short, 30-minute Waiau Kauri Grove walking track will take you to the middle of a beautiful Kauri forest.
Relax at Long Bay – this serene, pebbly beach is the closest beach to Coromandel town. It's the ideal place to relax and your Coromandel road trip.
Explore some local art galleries – with a thriving art culture there are plenty of places to see beautiful art in Coromandel Town. To see the works of local artists, visit the Hauraki House Gallery
Ride the Driving Creek Railway – This 1-hour scenic train ride will take you through the rugged and regenerating native Kauri forest, recovering from the gold rush of the 1800s. You'll have spectacular views of the whole region from the top of the hill.
Accommodation in Coromandel Town
Nature and tranquillity The Hush Boutique Accommodation offers beautiful accommodation only a short drive from town and some of the most beautiful beaches in the area. The cabins are nestled amongst the native forest and most have a private balcony.
Panoramic harbour views The Harbour View Motel offers beautiful views from your private courtyard. The comfortable and spacious rooms include a kitchenette and microwave. There is also free on-site parking.
Budget accommodation in the town centre The Anchor Lodge Motel is only a 5-minute walk from the centre of Coromandel Town. The motel has a heated outdoor pool and spa, as well as BBQ facilities for the guests.
Campgrounds and freedom camping around Coromandel Town
Campgrounds in Coromandel town: The Top 10 Holiday Park is conveniently located only a few hundred meters from the centre of town.
Freedom camping around Coromandel town: There are two freedom camping places in Coromandel, the Kapanga Road Carpark and the Woollams Avenue Carpark. Check Camper Mate for the latest information.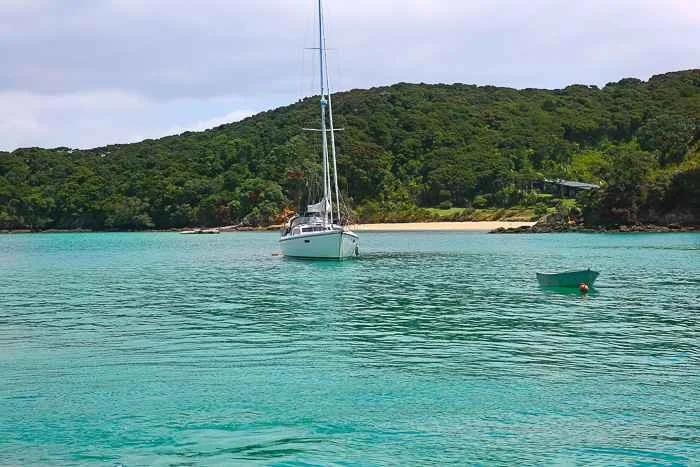 Whitianga
As you road trip Coromandel's east coast, you'll enjoy the spectacular views of beautiful Mercury Bay from Whitianga town. Mercury Bay is home to Cathedral Cove and Hot water beach. You can visit them by boat from Whitianga, or access them from Hahei.
From Whitianga, you can take the ferry over to Shakespeares lookout and Cook's beach or drive to reach them yourself.
Coromandel road trip: Things to do in Whitianga
Take a boat trip to Mercury Bay and Cathedral Cove – If you'd prefer to discover the Coromandel Peninsula's coastline by sea, a boat tour is a perfect day out.
Visit the Mercury Bay Estate winery for a relaxing tipple – Visit the cellar for a wine tasting or enjoy a bottle with a lunch made with locally sourced ingredients. All while enjoying the magnificent view.
Soak the stress away at The Lost Spring – This little retreat with geothermal mineral hot pools, spa services and a restaurant is the perfect place to pamper yourself. Soak in the warm spring water which ranges from 32 to 41 degrees Celcius while sipping a poolside cocktail. I bet you didn't think a Coromandel road trip could be so luxe!
Accommodation in Whitianga
Beach front with Harbour views The Oceans 88 Whitianga Coastal Suites are located on the harbour. A short 5-minute walk into Whitianga for bars and restaurants. Oceans 88 has it's own pool and a jetty from which you can kayak and explore the harbour.
Close to the water and town centre, The Blue Marlin Apartments are close to everything, Only 200 meters from the centre of town and across the road from Buffalo Beach. These apartments have great reviews, with the location being a drawcard.
Budget Cottage in Whitianga Andrea's Bed and Breakfast offers spacious cottages amongst the garden. Enjoy the sun-drenched terrace or explore the area. It's only a short walk to Buffalo Beach and less than 1.5km to bars and restaurants.
Campgrounds around Whitianga
Campgrounds and Holidays parks in Whitianga: The Harbourside Holiday Park is a popular choice.
Freedom camping in Whitianga: There are three designated freedom camping locations in Whitianga. Check the Camper Mate app for the latest information.
Shakespeare Cliff
Before you reach Hahei, Cathedral Cove and Hot Water Beach, take some time to admire Shakespeare Cliff and lookout. The lookout has a beautiful view out over Mercury's Bay and Cook's beach.
A 3 km walking track begins near Flaxmill Bay. Alternatively you can drive up towards the lookout and park your car at various points along the way. From the top car park, it's only a 5-minute walk to Shakespeare Cliff lookout and some of the most incredible views in the Coromandel.
Cooks Beach
A beautiful series of white sand beaches stretching 3 km along, Cooks beach is a beautiful spot to spend the day relaxing.
One of the great things about Cooks beach is that there is a freedom camping area right near the boat ramp. We'd recommend getting there early as space is limited. The area where you're allowed to park is clearly signposted.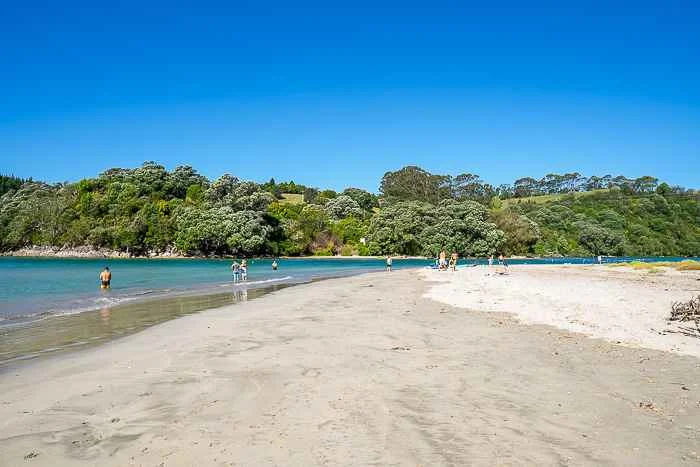 Freedom Camping at Cook's beach: There is a beautiful freedom camping spot at Cooks Beach Reserve (Purangi). It's on a grassy area behind the river. From here it's easy to access both Cooks Beach and Cathedral Cove.
Hahei
A slight detour off State Highway 25, is the town of Hahei. Hahei is the gateway to Cathedral Cove and a must-do when you road trip Coromandel. One of New Zealand's most popular tourist destinations, Cathedral Cove is a spectacular sight, no matter when you arrive.
Must-do things in Hahei
Cathedral Cove
Visited by thousands of travellers a year, Cathedral Cove is an enormous naturally formed rock archway, arching over a beautiful shady beach
Walking to Cathedral Cove
The walk to Cathedral Cove begins in the small town of Hahei. Here you'll find the main car park which has plenty of room for cars and campers large and small. From the car park, it's about a 10-minute walk to Hahei beach. From there, walking along the beach, it will take around 15 minutes until you reach the start of the Cathedral Cove track. Alternatively, you can catch the shuttle bus directly from the car park to the start of the track. The park and ride shuttle costs $5 per adult (return), $3 per child and $10 for a family of 4. The shuttle runs through peak season, so from the 30th of April. Throughout the winter months, you can just drive straight up the hill to the start of the Cathedral Cove Walk.
How to find a close parking space
As a side note to parking, there are some illustrious locals living closer to the start of the walk who hire out part of their driveways to desperate tourists. If you really don't want to walk the extra half hour or so, try driving closer to the start of the track. You won't miss the signs, but be aware that parking in someone's driveway will be a lot more expensive.
The track takes about an hour as you wander along cliff tops, through forests and past secluded beaches. Make sure you take the time to stop off and explore them, and if you've got snorkel gear, we'd highly recommend it. Our favourite beach on the way to Cathedral Cove, by far, was Stingray Bay.
The walk may not be very long, but it is hilly. Once you descend onto Cathedral Cove beach and take in the towering arch, relax in the shade or take a swim in the cool water.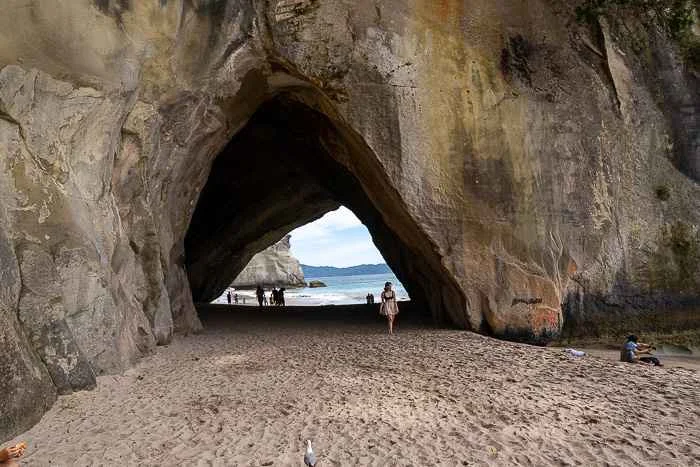 Returning to the car park
Returning to the car park, it's easier to follow the main road from the start of the Cathedral Cove walk, into the town. There are plenty of signs guiding the way.
A day tour from Auckland is also a great option if you're interested in exploring Cathedral Cove but don't have time to explore the Coromandel fully.
As you leave Hahei and Cathedral Cove behind, head towards Hot Water beach to enjoy the comfort of this natural hot spring.
Hot water beach
A series of gloriously warm veins of water running from an underground volcanic thermal spring run along the beach, entering the ocean. While this normally occurs underneath the sand, it is possible to dig yourself a pool and soak in a mix of hot spring water mixed with the cool ocean at low tide.
The key to Hot Water Beach is to be there an hour or two before low tide. When we first arrived at the beach in mid-afternoon, low tide was hours away. A few poor travellers, desperate to see a hot spring were standing shoulder deep in giant holes halfway up the beach. There was no hot water in sight.
Arrive before low tide
Low tide was at 11 pm, so despite my aversion to the cold, and yes nights in New Zealand are still cold, we donned our swimwear and dug ourselves a hole. We arrived an hour before low tide to discover a surprising number of people already sitting in large holes.
The next thing you want to know is that the hot water veins are not everywhere. They run together, so you'll see almost vertical lines of holes from the land to the sea. So please don't do what we started doing and dig a hole a little away from the crowd. That's not where the hot water is. Try and dig as close as you can either above or below the others, with reference to the land and sea.
Give your holes to others when you're finished
One great thing is that people were pretty generous with their hot water baths. As they were leaving people would offer their holes to those who were still on the hunt for a stream of hot water. If you can't find a vein, be patient and someone will offer you theirs.
Take a bucket with you
The water can get incredibly hot, to the point of being unbearable. You will need to cool it down with a supply of seawater. On the other hand, it's an incredible feeling to be laying in a warm pool in the sand, feeling both hot and cold water flow while you're staring at the stars.
Other things to do around Hahei
Visit the Cathedral Cove Macadamia orchard – Wander around this organic Macadamia orchard for free. Visit the shop for some samples, and of course stock up on delicious macadamia nuts.
Snorkel in Gemstone Bay – located at the bottom of the cliffs under the Cathedral Cove track, Gemstone Bay has its own Snorkelling trail. Follow the Buoys with panels describing the local marine life and habitat.
Accommodation in Hahei
Top rated resort The Tatahi Lodge Beach Resort is centrally located in Hahei, both near the town centre and the beach. Set amongst beautiful gardens it's only a short distance from the Cathedral Cove walk and a few kilometres from Hot Water Beach
Tropical garden beach resort The Tatahi Lodge Beach Resort is on a 1.5-acre garden property. Close to Hahei Beach, this tropical oasis is surrounded by nature
Great value for money The Hahei Pavillion Guest House is run by lovely owners and is a favourite amongst road trippers for its location. Each room has a garden view and is within walking distance of everything you need.
Campgrounds around Hahei
Campgrounds around Hahei: The Hahei Holiday Resort is next to the beach. The Hot Water Beach Top 10 Holiday Park is located opposite Hot Water Beach. We stayed there as we wanted to soak at Hot Water Beach at 11 pm before coming back to the campground to shower and rinse the sand off. The good thing is you'll have a vehicle for your Coromandel road trip, so it won't matter too much if you stay a little further away.
Freedom camping in Hahei: There are no specific freedom camping places in Hahei itself. The closest is the Cooks Reserve (Purangi) location near Cooks beach or the Paku Drive Carpark freedom camping area, further south, near Tairua. Check the Camper Mate app for up-to-date information.
Finishing up your tour of the Coromandel
From Hot Water beach, jump back onto State Highway 25. From here, you can head in any direction, either southwest towards Rotorua or back up towards Auckland.
Additional information for your road trip
Driving tips for the Coromandel
Many of the roads in the Coromandel Peninsula are long and winding. Make sure you're always paying attention and are comfortable on these types of roads.
As with most of New Zealand, you may not always have WIFI signal. Download offline Google Maps, so you can always find your way around.
If you're heading into a National Park or to a Department of Conservation campground. Make sure you check for road closures or that your vehicle is allowed down those roads. Some roads are not suitable for heavy campervans.
Freedom camping in the Coromandel
If you have a campervan, freedom camping or camping at Department of Conservation campgrounds is a wonderful experience. That being said, it's also a highly competitive sport; during the summer months, you'll need to be prepared. Many freedom camping grounds on the Coromandel Peninsula limit the number of vehicles allowed to stay, and you'll find they fill up quite quickly.
You'll need to arrive and park early. People often overfill the areas, and you may get away with that; however, many sites are monitored, and you could be asked to move. We always tried to arrive at a freedom campground before 5 pm, although this is often too late in summer. Have a backup plan in place, just in case you can't find anywhere to stay.
Where to next?
Planning to road trip Coromandel? Heres how we do it
This article may contain affiliate/compensated links. For more information, please see our disclaimer here.