The heartland of New Zealand's Maori culture, it's easy to see why millions of people flock to Rotorua each year to enjoy a traditional show or feast on Hangi. Do you want to make the most of your Maori experience but are unsure which option to choose? We'll help you choose the best Maori experience Rotorua for your interests.
This article contains affiliate links. For more information, please see our affiliate disclaimer here.
Comparison of the three best Maori experiences in Rotorua
| | Whakarewarewa | Tamaki | Mitai |
| --- | --- | --- | --- |
| Cost | This tour is currently unavailable. I'll update as I can | From $100.57 USD | From $91.63 USD |
| Day or evening | Day | Evening | Evening |
| Length of visit | 3+ hours | 3.5 hours | 3 hours |
| Highlights | Pohutu Geyser, guided tour | Hangi dinner, interactive lessons, live entertainment | Glow worms, Seeing a Waka, Hangi dinner |
| Transport to/from Rotorua | No | Yes | Yes |
Notes
Unfortunately as of May 2021 Maori Experience tours of Whakarewarewa are on hold and the prices of the Mitai and Tamaki Hangi dinners have increased due to the lack of tourists.
As for COVID… it goes without saying that hygiene measures are in place. There are also additional measures including things such as the staff not being able to have any direct physical contact i.e. hand shaking or holding/carrying of guest belongings.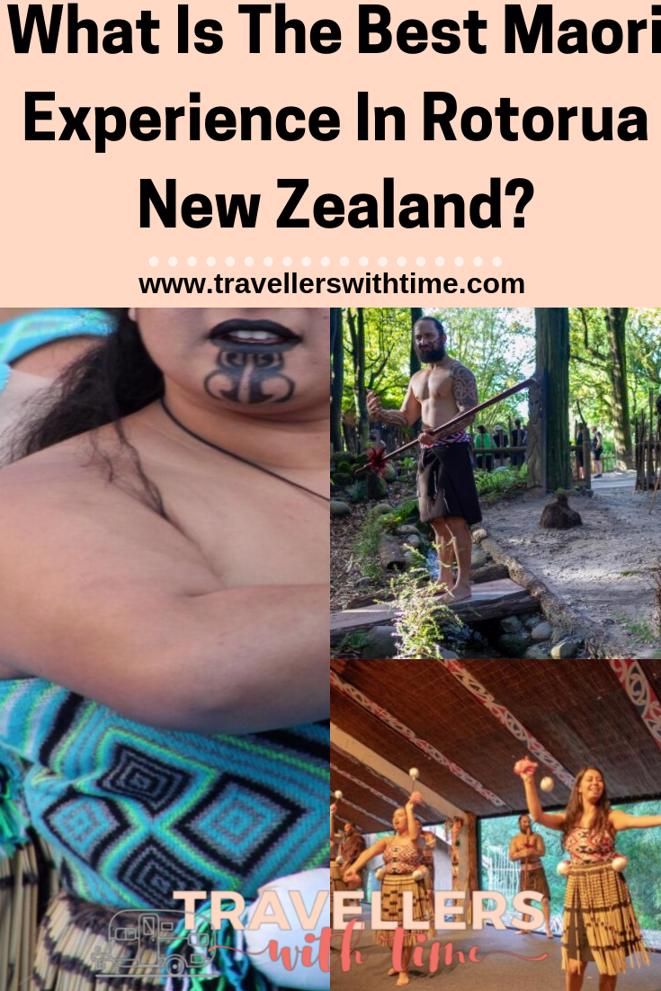 Experience Maori Culture during the day
Whakarewarewa Living Villiage
For a Maori cultural experience that's a bit different to Tamaki or Mitai Maori Villages you have the Whakarewarewa Living Village.
You'll need to make your own way to Whakarewarewa, which is located only 4 km from the centre of Rotorua.
Once there, your ticket includes a 1 hour guided tour and cultural show. You'll visit an ancestral meeting house, learn about traditional crafts such as carving and weaving and gain an understanding of the geothermal activity in Rotorua.
One of the benefits of doing visiting the Whakarewarewa Living Maori Village is that it is also home to two geysers, Pohutu, which can reach heights of 30 meters, and the Prince of Wales geyser.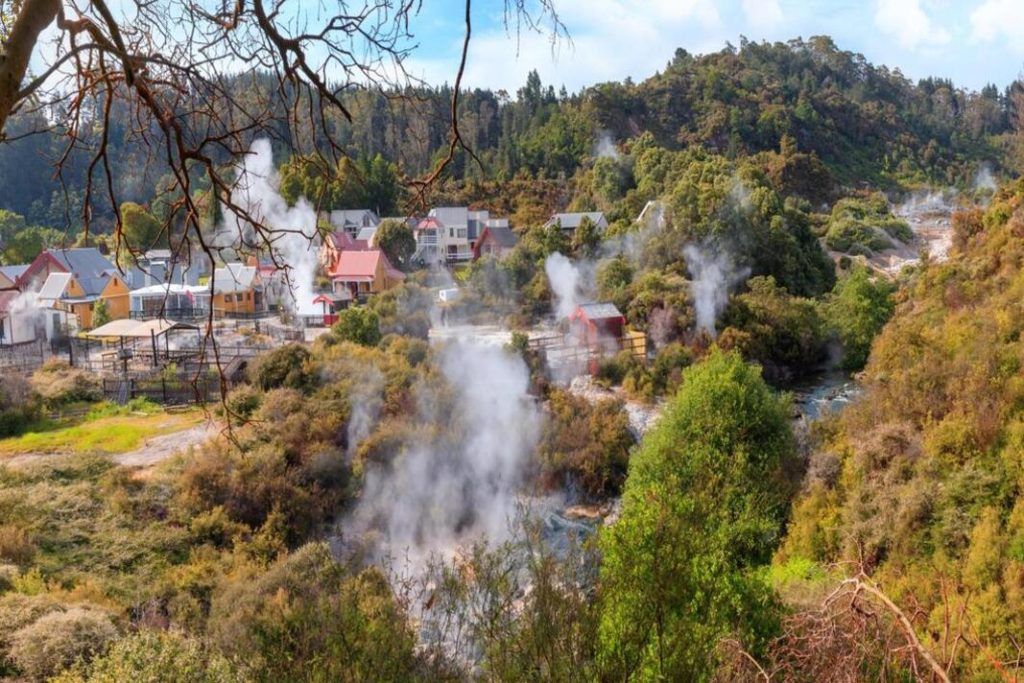 You can also choose whether or not you want to enjoy a delicious hangi meal, cooked to local custom, using the steam from natural vents and boiling hot springs.
Once your guided tour of Whakarewarewa is finished, you're free to wander around the grounds, exploring the many artisan workshops, communal gardens and craft centres.
Highlights
Unlike the other two tours, you'll get to see Pohutu, the largest geyser in the southern hemisphere. You'll also have plenty of time to look around so you won't feel rushed.
There aren't really any negatives, as a fairly unstructured day you can enjoy the Living Maori Village as you please.
Evening Maori Experience Rotorua
Tamaki Maori Villiage
The Tamaki Moari Village is the premier Maori cultural experience in Rotorua and the most award winning cultural attraction in New Zealand. The Maori Village offers an entertaining and hands on evening of tradition, music, craft, entertainment and of course, Hangi,
You can either drive to the Tamaki Maori Village and meet up with the group or book an evening experience which includes pick up from your accommodation in Rotorua.
Everything about the Tamaki Village Maori experience Rotorua is designed to educate you about Maori culture from the natural surrounds to traditional clothes. The fun begins the moment you're picked up in the bus where you begin learning about Maori traditions and customs.
Experience a traditional Maori welcoming ceremony before exploring the village on a guided tour. You'll move from station to station, passing lit fire places and weaving between the forest trees, you'll see whare, or traditional houses, hear classic instruments, learn poi and witness the preparation of your Hangi feast. See a waka, or traditional canoe paddle downstream.
The evening includes an entertaining show by the Rangiatea cultural group who perform the Haka song and dance before you head into the dining area.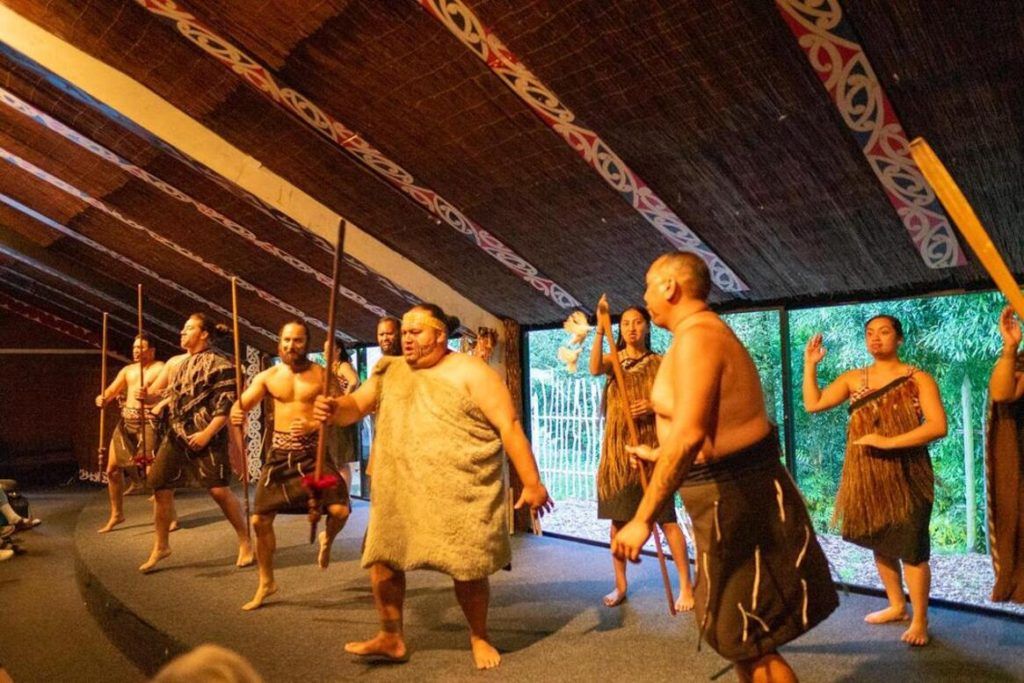 The Hangi is superb. Slow cooked meat and roasted vegetables that have been cooked in a traditional underground oven are served buffet style.
Tamaki Maori Village will also cater to specific dietary requirements if you let them know in advance.
After you've eaten all you can fit, and you WILL eat all you can fit!, you simply get back on the bus and you'll be returned to your accommodation.
What to wear to Tamaki Maori Village?
The Tamaki Village is not a fancy evening out, wear comfortable clothes and footwear as you'll be walking through the forest and participating in the experience. Also take a jacket as it can get cold in the evening, even in summer!
Highlights
Everything from the start to finish is fantastic. You really walk away with a deeper understanding of the richness of Maori culture and the connection the Maori have to the land. The evening is highly entertaining and the food is delicious.
Negatives
Alcoholic drinks are not included however there is an bar available. You're also no quite a strict time schedule so you move on from activity to activity quite quickly although the staff deal with this quite well.
Even though we had the camper van, we chose to do the tour so Ben could relax and have a few drinks with dinner, and we would highly recommend it!
Mitai Maori Village
Similar to the Tamaki Maori Village, you can book a tour of Mitai Maori Village that includes pick up and drop off from your accommodation in Rotorua, and your evening will start with you learning a little about Maori history in the area.
When you first arrive at Mitai Maori Village you'll have some photo opportunities with a Maori maiden dressed in traditional attire. The evenings entertainment begins after the customary welcome ceremony.
Be amazed by the skills and use of traditional weaponry, the elegant and graceful poi dancers and the fierce Haka performers.
Explore the local forest on a guided bush walk where you'll learn about local flora and fauna and the use of plants in traditional medicine. Be on the lookout for trout and fresh water eels in the stream.
One of the highlights of the evening is seeing glow worms, they really are worth seeing in numbers.
You'll also have the pleasure of watching a traditional Waka, a war canoe, row gracefully and powerfully down the stream.
And of course, you'll feast on a traditional Hangi dinner of slow cooked meat, poultry and vegetables roasted in an underground oven.
What to wear to Mitai Maori Village
As with Tamaki Maori Village, the dress code is fairly casual at Mitai. Just make sure you wear good walking shoes for your forest walk. Don't forget to take a jacket.
Highlights
The highlights of the Mitai Maori experience Rotorua are the glow worms and watching the large Waka row down stream.
Negatives
Like Tamaki, alcohol must be purchased separately.
You can find plenty of reviews of both Mitai and Tamaki Maori village here.
Mitai vs Tamaki
These are two similar but different experiences.
At Tamaki the focus is on hands on interaction, giving you the opportunity to learn different traditional skills and customs. It's a fun and educational evening of participation, laughter and beauty.
Mitai focuses more on teaching you the history and introducing you to the land, which Maori value greatly. You'll explore and learn more about the local nature and Maori interaction with it. The glow worms are a big highlight.
Which would we recommend? Tamaki vs Mitai?
Tamaki Village has a reputation as the best Maori experience Rotorua and for good reason. Overall if you're looking for a great night out, a delicious meal and a greater familiarity with Maori culture, we'd recommend Tamaki Maori Village for an evening.
Rotorua has so much to offer when it comes to learning about and understanding Maori culture. With such a rich cultural heritage you're bound to find the best Maori experience Rotorua that is right for you.
I hope this helped you choose!
Spending time in Rotorua? You may find these articles useful
Planning your trip? Here's how we do it