Exploring Tongariro National park and walking the Tongariro Alpine Crossing is one of our greatest memories from our time in New Zealand. Tongariro National Park has an environment unlike anywhere else in New Zealand, it is other-worldly, awe inspiring and straight out fascinating. In this article we'll explain everything you need to know to visit Tongariro National Park, complete the unforgettable Tongariro Crossing and spend a few days exploring this insane region of New Zealand's North Island.
This article contains affiliate/compensated links. For more information please see our affiliate disclaimer here.
About Tongariro National Park
Tongariro is the oldest national park in New Zealand. Located between Rotorua and Wellington, in the center of the North Island, this unique region is home to three active volcano's. It has been awarded UNESCO World Heritage status twice, for both its cultural and spiritual significance to the Maori people, and for its unique volcanic features.
At over 79000 hectares, it encompasses multiple towns, including National Park Town, Whakapapa and Ohakune, and is visited by over one million people each year.
There are three main active volcanic mountains in Tongariro National Park, all less than 500,000 years old. Mount Tongariro is the northernmost volcano, followed by Mount Ngauruhoe and Mount Ruapehu further south.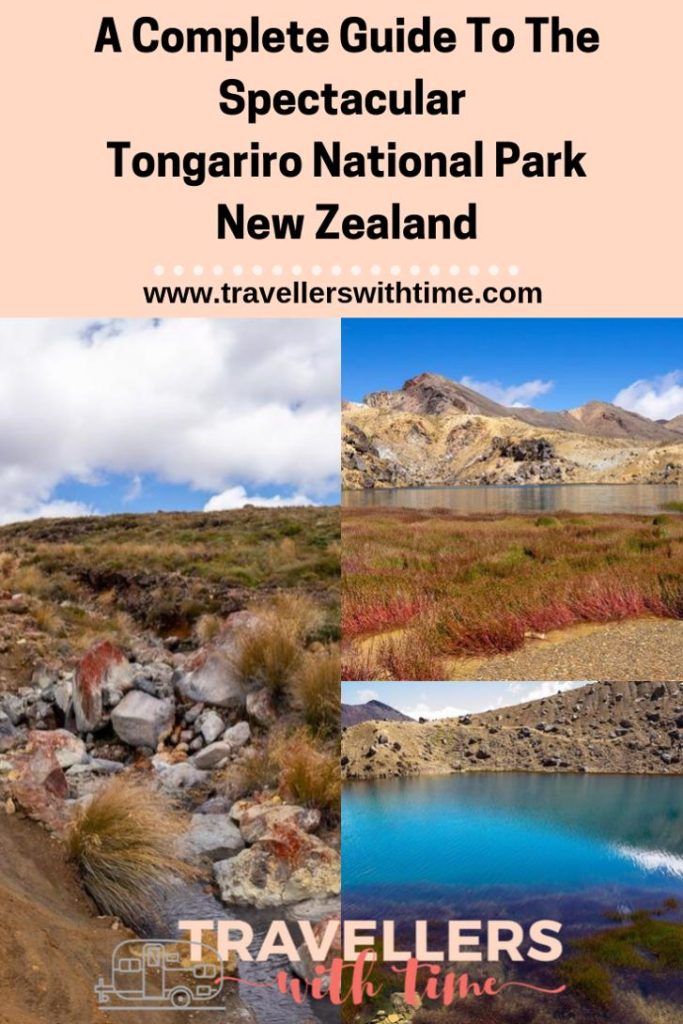 Tongariro's Volcanic Mountains
Mount Tongariro is home to one of the most popular walks in New Zealand the Tongariro Alpine Crossing. With a summit of around 1970 meters, it is one of the lower peaks in the area, however the beautiful landscape makes it well worth a visit.
Mount Ngauruhoe is the second active volcano in Tongariro National Park with a summit of 2287 meters. You'll walk past the base of Mount Ngauruhoe if you do the Tongariro Crossing.
Mount Ruapehu is the easiest of the three volcano's to visit with the towns of Whakapapa and National Park being located near its base.
The summit of Mount Ruapehu is 2797 meters high and is the highest point on New Zealand's North Island. Mount Ruapehu is also home to 8 named glaciers which are the only ones on the North Island.
Near the summit of Ruapehu is Crater Lake, a hot and highly acid lake found inside a deep crater. Crater Lake is over 100 meters deep and 600 meters wide, and it changes colour through a variety of greens and blues, to a deep grey.
Mount Ruapehu is where you'll find New Zealand North Islands ski fields.
Read: The Ultimate bucket list for New Zealand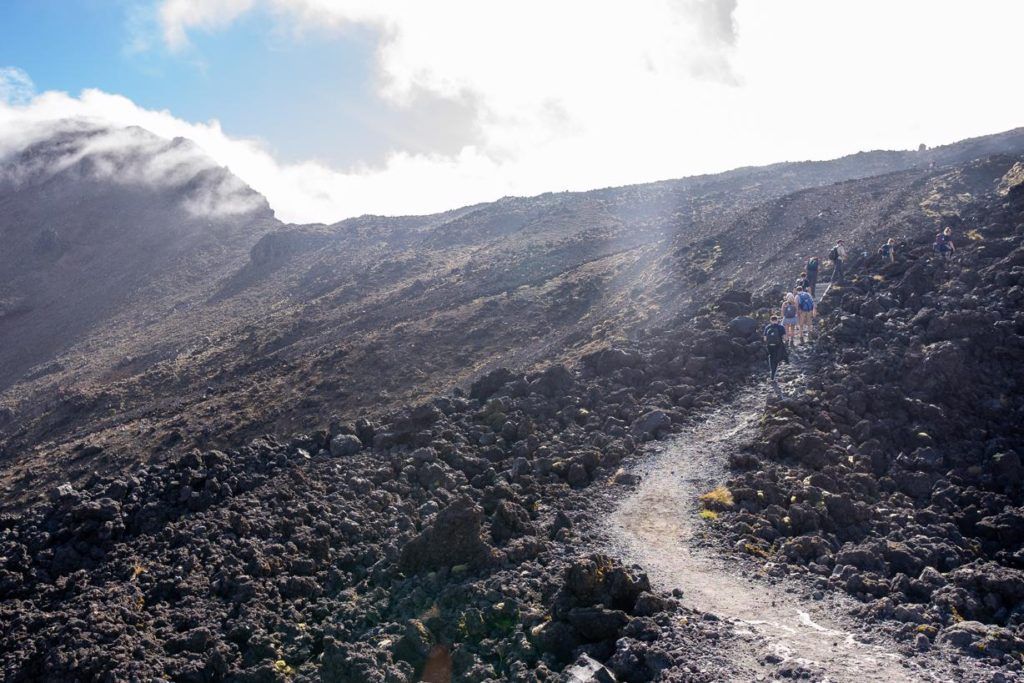 Things to do in Tongariro National Park
While hiking is definitely the main draw card in Tongariro, there are some other cool things to do.
Cycle the old coach trail
This 15km old coach road was originally used between 1906 and 1908 to move passengers in horse and cart between two points of the railway, before they were officially linked. Complete with old cobbled roads, a tunnel and remnants of old camp sites, cycling this track will take you about 2.5 hours.
Take a scenic flight
Take a small plane flight over the three volcano's and experience them from an entirely different vantage point. See the colourful lakes, craters and summits while you sit back and relax.
Explore the local waterfalls
There are some beautiful waterfalls in Tongariro National Park and the great news is that you don't have to walk very far to see some of them. Tawai falls for example is only a 20 minute walk off state highway 48, the road that leads to Whakapapa Village. The Mangawhero falls will take about an hour and a half to reach. The Taranaki waterfalls near Whakapapa Village will take you around 2 hours return.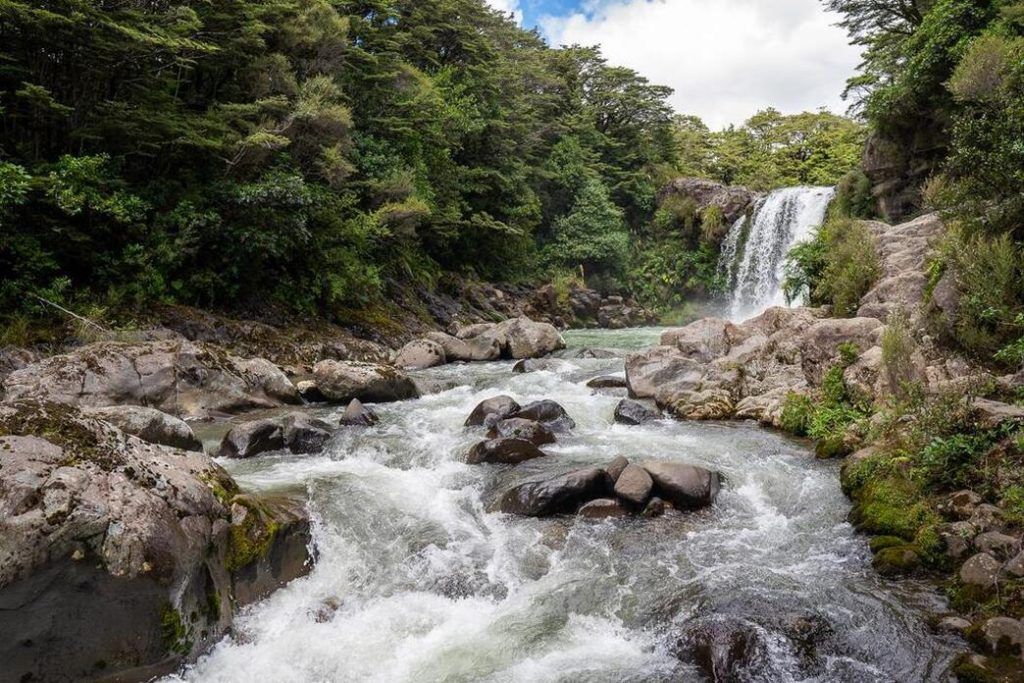 Hiking in Tongariro National Park
Complete a short walk in Tongariro
To be honest, unless visiting Tongariro during winter for the skiing, you'll probably want to do some sort of hike or short walk in the National Park. If walking is definitely not your thing, you may want to skip Tongariro, however I can't stress enough what a mistake it would be to not at least do one walk while you're here.
There are all kinds of walks throughout Tongariro, varying in duration and difficulty. The easiest way to find the right walk for you is to head to the Visitor Center in Whakapapa Village where you'll find all the information you need on available options.
We did this and found the Ridge Track Walk, a beautiful 40 minute or 1.2 km track that moves through beech forest before emerging into an open alpine area. This walk involved a decent climb up the side of a mountain which we weren't expecting, but the views were just stunning.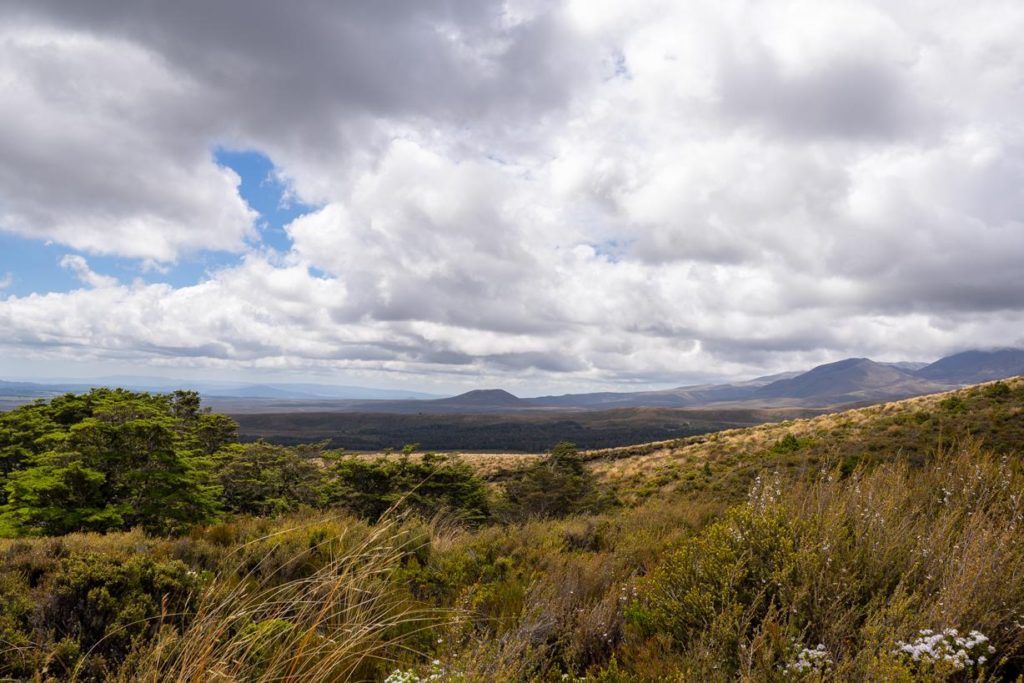 Multi day hikes in Tongariro National Park
There are two main multi day hikes that you can do in Tongariro. The first is the Tongariro Northern Circuit hike, which at which takes you past both Mount Ngauruhoe and Mount Tongariro over 43km and 2-3 days. This is one of New Zealands great walks.
The second of Tongariro National Parks multi day hikes is the Round the Mountain Track. This hike is over 66km, and will take 4-6 days, taking you around Mount Ruapehu.
There are serviced back-country huts where you can sleep during these huge treks. If these sounds like something you'd enjoy, visit the Department of Conservation (DoC) website for more information.
The Tongariro Crossing
It is crazy to think that we almost missed doing the Tongariro Crossing. As I was planning the trip we had so many things that we wanted to do in New Zealand, I was having to be very strict about what we did and didn't do, otherwise we'd still be there!
I had read somewhere that we had to 'book' for the Alpine Crossing and mistakingly thought that it must have been a guided tour or some sort of multi day thing. Well, thankfully we met some locals who corrected me and insisted that we shouldn't miss it, so I worked it in. Phew.
Walking the Tongariro Alpine Crossing is one of the greatest things I've ever done.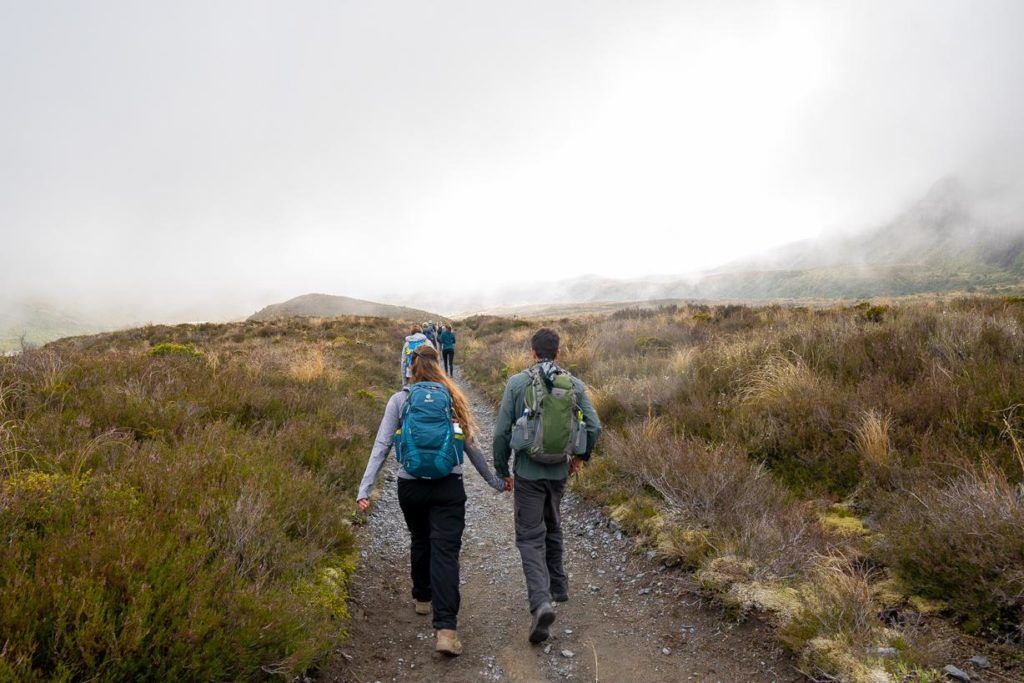 First off, you do have to book, but not a guide. You must book a Tongariro crossing shuttle to pick you up and take you back from the start and finish of the crossing. The crossing is about 19km one way. Generally speaking, people start at the Mangatepopo Car park, near Whakapapa Village and ends near Lake Rotoaira road.
While there are car parks at either end, they are reserved for short walks and have parking restrictions for people doing the full Tongariro Crossing as it will take upward of around 6 hours to reach the other end.
There are some things to consider when organising a Tongariro Alpine Crossing Shuttle.
You will want to arrive at the start of the Tongariro Crossing early, so that you have the whole day to walk it. The further you are staying from the start of the track, the earlier you will need to be picked up
Some companies have set pick up times and very set 'last pick up' times at the end of the track. So if you just miss one bus, you may have to wait in the car park for an hour for the next bus. If you miss the final bus you'll need to organise alternative arrangements back to your accommodation
The Tongariro Crossing shuttle companies have the final say as to whether they take you to the start of the Crossing or not. The weather at the top of Mount Tongariro can be wild and unpredictable. You are required to call most companies the day beforehand to confirm that the weather is fine and your hike can go ahead.
We booked our shuttle through Tongariro Expeditions, which are located between the start and finish of the Crossing. As they wanted to pick us up before 7am (and Ben is not a morning person), we chose to stay at the Tongariro Holiday Park, which is next to the Tongariro Expeditions office. This worked perfectly for us as we were travelling in our camper van. It mean't we didn't have to wake up earlier than necessary and we only had a two minute walk to the pick up place. At the end of the day we were dropped back at the main office, walked our two minutes to the camper and were able to have a much needed hot shower.
Walking the Tongariro Crossing
I'm a little lost for ways to describe the incredible atmosphere and environment of the Crossing.
The first portion takes you past the base of Mount Ngauruhoe through vast flat planes of nothing but rocks. We genuinely felt as though we were on a different planet. There are a few features and small waterfall throughout the first part of the trail, but you're largely following a wooden boardwalk and admiring the vast open plain.
The intensity kicks in when you get to the base of Mount Tongariro and begin the ascent. It's essentially 45 minutes of uphill climbing, both on the slope and stairs before you reach the south crater.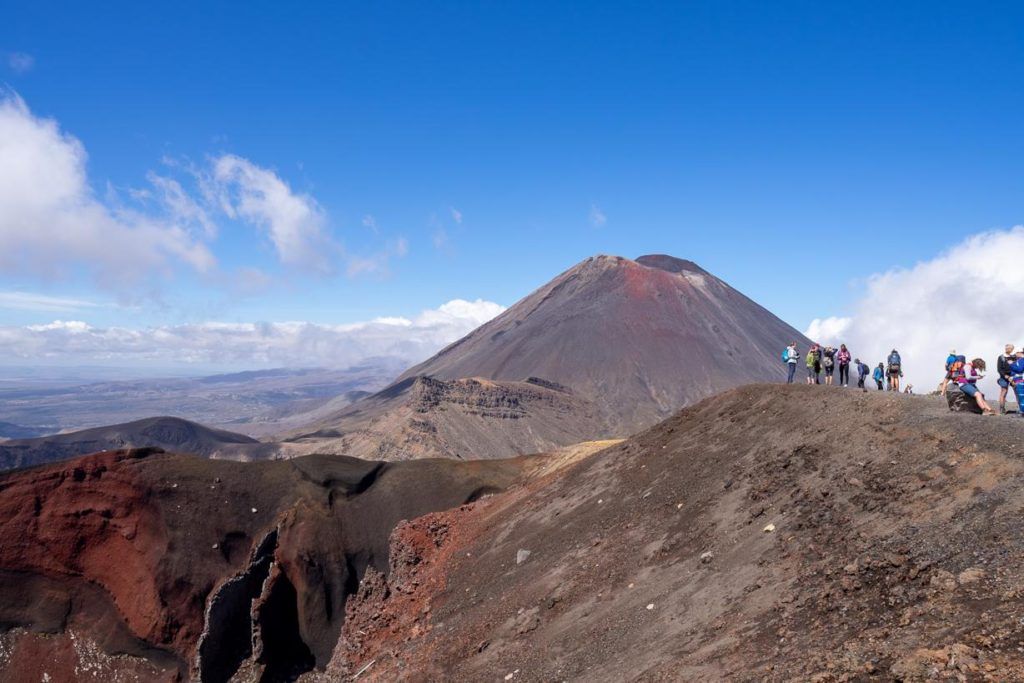 From the South Crater to the Red Crater takes around an hour, and while there are some flat portions, again, there is climbing. The Red Crater is beautiful and the highest point of the hike.
From the Red Crater you make the tricky descent over volcanic scree (tiny little lightweight rocks that move under foot and end up in your shoes) to the green and blue pools.
Despite the challenge of the earlier up hill, we personally found the down hill at the end quite challenging as your legs, and the rest of you, are already tired.
Despite finishing the Crossing very tired, very sweaty and quite achy, it was a fabulous experience with sights that you just won't see any where else. It was genuinely an amazing day.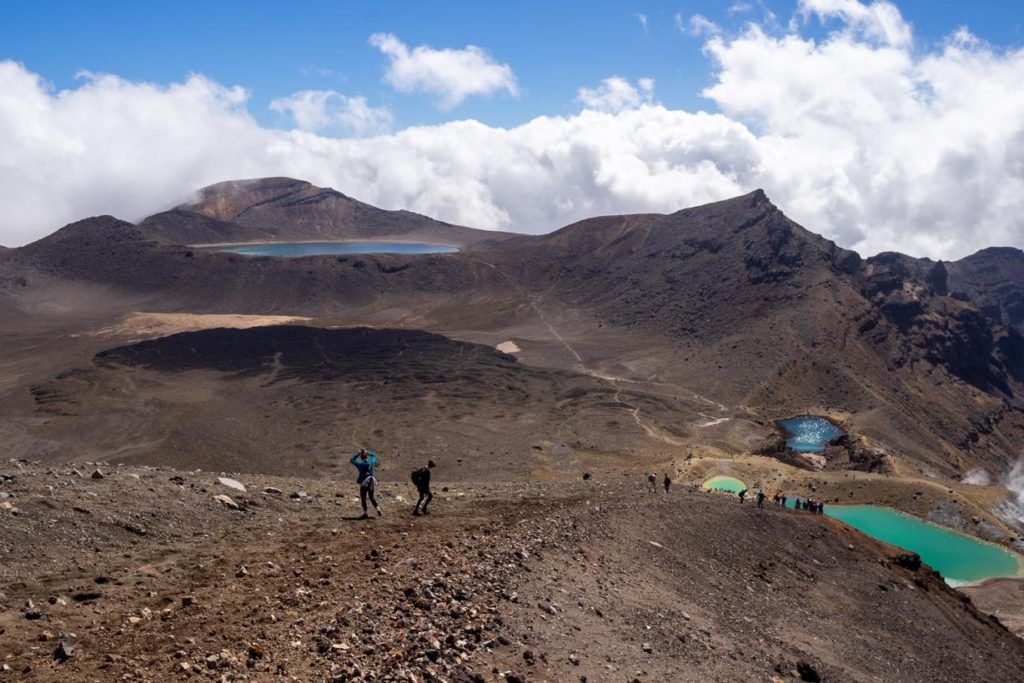 Tongariro Alpine Crossing Time
The Tongariro Crossing should take between 5 and 8 hours however this really depends on you. We did it in a bit over 6 hours and that includes stopping for quite a few photos. There were plenty of people who powered past us and we never saw them again, and others that we left behind.
Remember that I mentioned the shuttle timetables above? One of the reasons we were so quick was that we pushed pretty hard for the last 45 minutes or so in order to make 'the next shuttle'. I personally had no interest in sitting in a car park when I could be in a hot shower!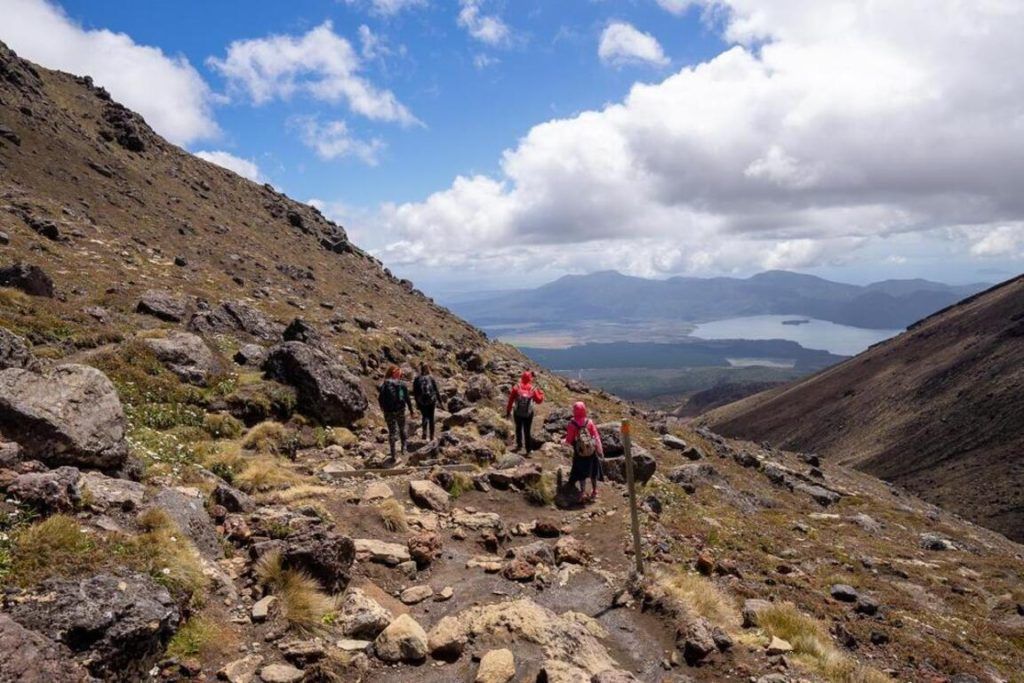 Difficulty of Tongariro Crossing
We really didn't know what to expect with the Crossing. Some people said it was easy, others said it was really difficult and six plus hours seems like a long time to tough it out.
In truth, I would say you need a moderate degree of fitness but that is so subjective, I don't know if it's helpful! I think most people could do the Tongariro Crossing if they are prepared to go slow, take their time and catch their breath when necessary.
We saw children and elderly on the trail so it is suitable for everyone.
My knees were aching by the time we reached the end, I personally found the downhill a lot more demanding on my joints.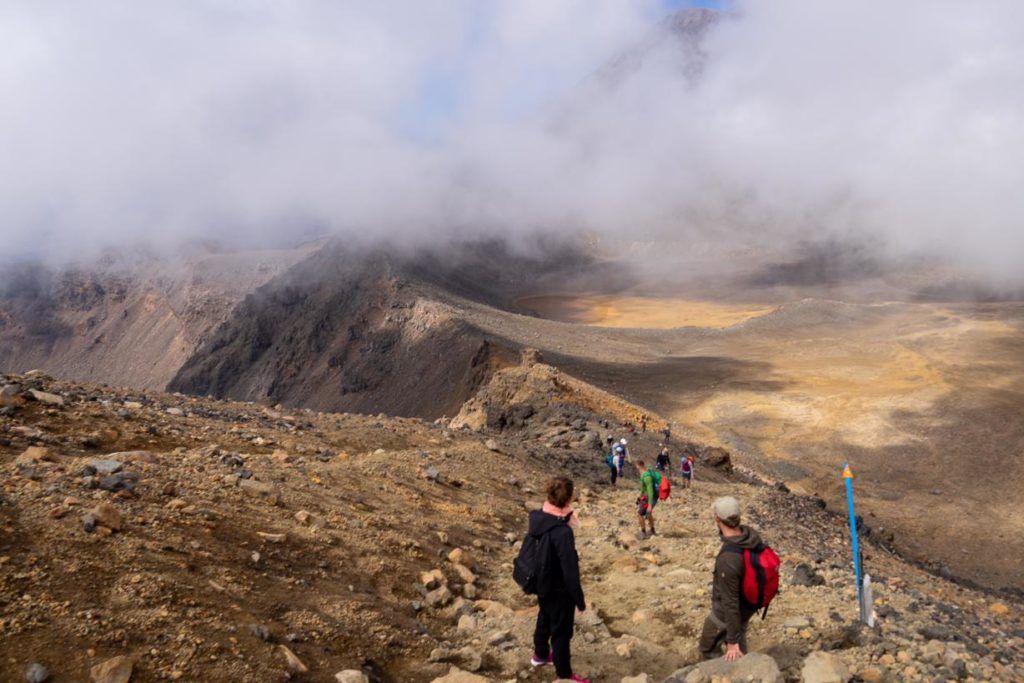 The other thing to remember about the Alpine Crossing is to be prepared. It is an 'alpine' crossing. The climate is constantly changing. It may be dry one minute and wet the next. There were times where I felt i didn't need many layers, and then I would find myself in the wind and it was freezing.
Make sure you're prepared with good shoes and warm wet weather gear. A waterproof jacket would be the minimum requirement. We wore long pants, and a few layers under our waterproof jacket. I also had gloves as I get very cold hands. I did use them in the really windy areas. A hat is also helpful as the sun is surprisingly strong.
You will also need to take all the water and food that you will need in those 6+ hours. We carried light weight, high energy foods like some nut butters and dried fruit with us. We also took about 3 liters of water each.
As the Tongariro Crossing is generally safe and easy enough there is no need for dire warnings for those wanting to walk the Tongariro Alpine Crossing, unless of course the volcano is active or severe weather warrants warnings, then we suggest being concerned! The environment however does need to be respected and you do need to be prepared for extreme conditions. You are walking up an active alpine volcano after all. We always recommend you have travel insurance and now is no exception. Expect the unexpected. We personally use and recommend World Nomads.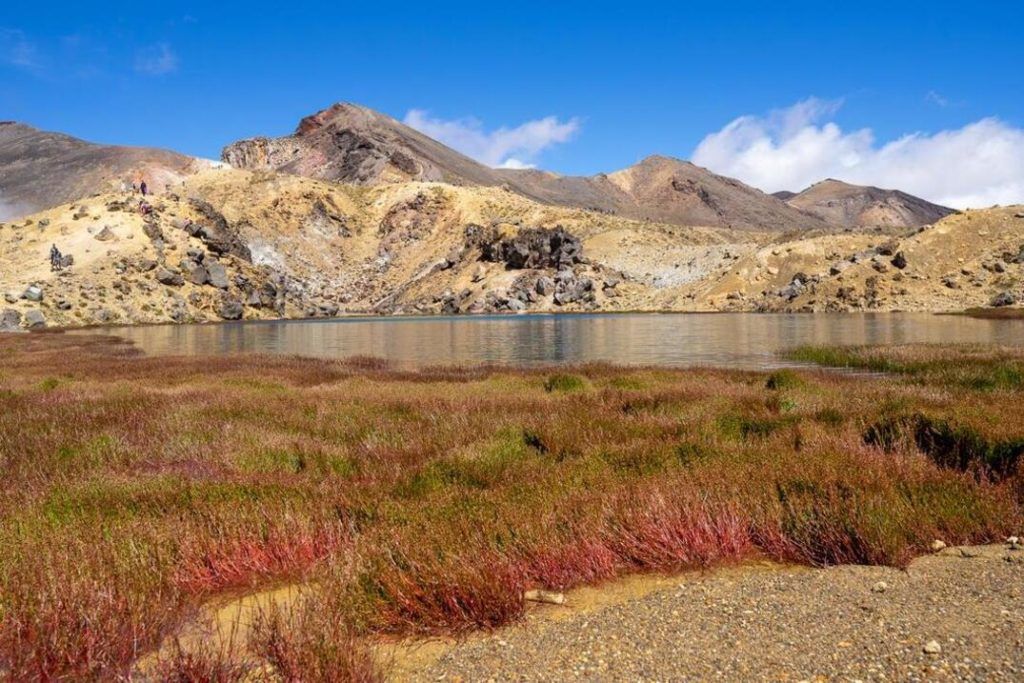 Tongariro National Park during the winter
During the winter months, Mount Ruapehu turns in to the North Islands only commercial ski fields. Whakapapa Ski field lies on the north western slopes and Turoa on the south western side.
There are plenty of accommodation option around Whakapapa that allow you to stay close to the ski fields.
Hiking the Tongariro Alpine Crossing during winter
It is possible to hike the Tongoriro Crossing in winter, however it is advisable to do so with experienced guides. The weather can be quite difficult with snow and ice and unexpected changes in conditions can make climbing dangerous.
Towns and Villages of Tongariro National Park
Whakapapa Village
Whakapapa Village is located at the base of Mount Ruapehu and if you spend any time at all in Tongariro National Park you will probably visit Whakapapa at some point.
A sweet and pretty little town, Whakapapa is where you'll find most of the necessities and ammenities you'll need while visiting and exploring Tongariro. You'll find the Tongariro National Park Visitor Centre and the Deparment of Conservation (DoC) office here. These two sites will give you all the information you need on hiking trails, many of which will start from somewhere in Whakapapa.
There is also shelter, toilets and parking in Whakapapa. There are shuttle buses that run to the walking tracks and also to the Ski fields.
Whakapapa Village is around 25 minutes from the Mangatepopo Car Park, the start of the Tongoriro Crossing.
A great base for all activities in Tongariro National Park, Whakapapa also has a variety of accommodation options.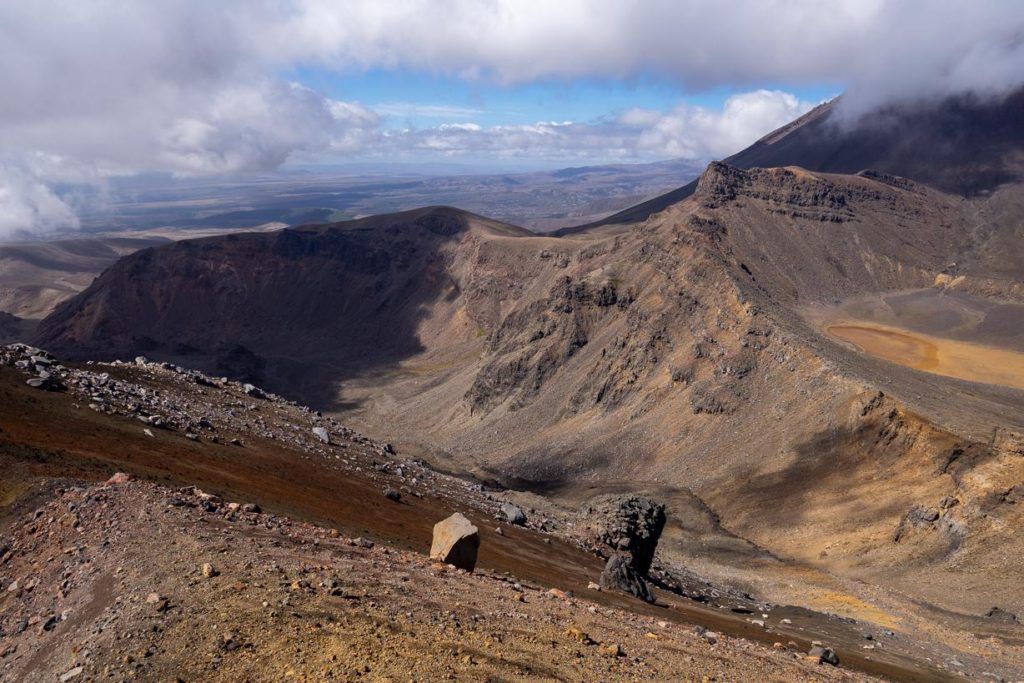 The town of National Park
Located between the Tongariro and Whanganui National Parks, National Park Village is only a short drive from the base of Mount Ruapehu. With spectacular views of all three of the volcano's in Tongariro, it's a scenic little village.
You'll find plenty and varied accommodation and restaurants and cafes to sample in National Park Village. It is a little further from Mount Ruapehu and the Tongariro Crossing, however they are still within reasonable distance.
A positive is that the Village also provides access points to Whanganui National Park if you're also interested in exploring there.
Ohakune Village
The town of Ohakune is located at the southern end of the Tongariro Park. A great starting off point for adventure activities, it is located close to the Turoa Ski area, and is the start of the Ohakune Old Coach Railway which can be cycled or walked.
Ohakune is about a 45 minute drive from Mangatepopo Car Park, the start of the Tongariro Crossing.
Turangi – The largest town near Tongariro National Park
Found between Mount Ruapehu and Lake Taupo, Turangi is a large town where you'll find plenty of restaurants, cafes and accommodation. You'll also find supermarkets, auto repairs and anything else that you may need.
It's a great base if you're only wanting to enter Tongoriro National Park for a day trip, or if you're also exploring Lake Taupo.
It'll take you about 40 minutes to get from Turangi to the start of the Alpine Crossing at Mangatepopo car park.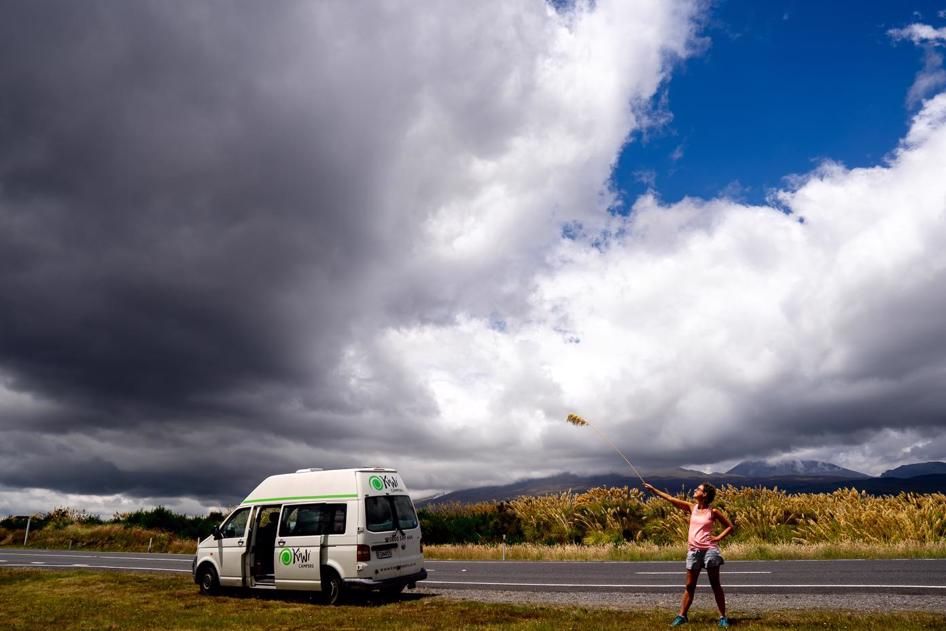 Tongariro National Park accommodation
Tongariro Crossing Accommodation
We stayed at the Tongariro Holiday Park which is in between the start and finish of the Tongariro Crossing. Suitable for camper van's they also have rooms available. Many of the rooms come with a balcony and there is a hot tub and barbecue facilities. There aren't many other shops or services near by so bring everything you need or be prepared to travel into Whakapapa.
Accommodation in Whakapapa Village
For something a bit more luxuries, the Chateau Tongariro Hotel is a beautiful Hotel in Whakapapa, at the base of Ruapehu. Like a mini resort, this old hotel has grand architecture and interiors, a small golf course and cinema. In the heart of Whakapapa it is close to the start of walking tracks and a great starting out point for Tongariro and Skiing Ruapehu.
Accommodation near Whakapapa Ski fields
The Skotel Alpine Resort is the highest accommodation in Tongariro National Park, and only 10 minutes from the Whakapapa Ski Fields. It offers everything you could want from an Alpine hotel including hot tub, restaurant and a bar with a balcony and fire place.
National Park Village Accommodation
Only a couple of hundred meters from the centre of National Park Village, Pipers Lodge offers fantastic accommodation options at a really good price. With a hot tub, shared lounge with fire place and in house bar and restaurant, you get all the trappings of luxury without the price.
Tongariro National Park weather
There are no specific wet or dry seasons in Tongariro National Park. The weather is unpredictable and the months themselves vary greatly with rain and snow falling at any time. The park, and certainly the mountains and summits are windy, and each month generally has a high level of rainfall.
The warmer temperatures range from around 13 degrees Celsius to 25 degrees Celsius. While cooler temperatures can reach around -10 degrees.
Snow fall can start as early as March and continue until as late as November, and sometimes, it will snow in the summer months. If you're heading to Tongariro for snow season, your best bet is from late June to early November.
Getting to Tongariro National Park
State highways surround Tongariro National Park so if you're driving yourself it's easy to access the park no matter which direction you're coming from.
There is also a train that runs between Auckland and Wellington. The train stops at National Park Village and Ohakune Village.
You can find more information about getting to Tongariro here.
Well, that should be enough information for you to plan your trip to Tongariro National Park and to trek the Tongariro Alpine Crossing. Let me know in the comments below if you have anything to add.
Must haves for the Tongariro Crossing
A good quality reusable water bottle
Sunglasses, gloves and a hat
A waterproof or water resistant windbreaker
A small, lightweight day bag
Snacks to keep your energy up
You may also find these articles helpful
Planning a trip to New Zealand? Start here
Find flights through Skyscanner
Book the first few nights accommodation
Hire a car or camper van
Get travel insurance
This article contains affiliate/compensated links. For more information please see our affiliate disclaimer here.
Like it? Pin it for later