Located in the heart of New Zealand's North Island, Rotorua is a thriving city. An amazing hive of geothermal activity, Maori culture, and natural wonders there is no shortage of things to do in Rotorua New Zealand. No matter whether it's raining, winter or evening, keep reading to learn more about your options in Rotorua.
This article may contain affiliate/compensated links. For more information, please see our disclaimer here.
Things to do in and around Rotorua during the day
One of the North Islands' most active towns, there is plenty of exciting things to do in Rotorua during the day. You name it, you'll find it. Here are some of the activities Rotorua is most known for.
Visit any one of Rotorua's geothermal attractions
Te Puia
Located just outside the city centre, near the Redwoods forest, Te Puia is home to Pohutu, the largest active geyser in the southern hemisphere. Pohutu erupts once or twice an hour and reaches up to 30 meters. Eruptions last at least a few minutes, however, the longest was over 250 days! A great place to spend a few others, there are also other geysers at Te Puia, as well as bubbling mud pools, thermal springs and the Maori Arts and Crafts Institute if you're up for a bit of culture.
Te Puia is open 8-5 pm from April – September and 8-6 pm from September-April and is located at Hemo Rd, Tihiotonga, Rotorua, 3040.
Wai-o-tapu or Waimangu Volcanic Valley
Both are located outside Rotorua and visiting either the Wai-o-tapu Thermal Wonderland or Waimangu Volcanic Valley is a must when you visit Rotorua.
Read: Which is the best geothermal park in Rotorua?
The Waimangu Volcanic Valley was created in 1886 by the eruption of Mount Tarawera. It involves a beautiful walk along bubbling creek beds and colorful rock banks to Frying Pan Lake, a beautiful steaming lake and the worlds largest hot spring.
Find Waimangu Volcanic Valley at 587 Waimangu Rd, Rotorua, 3043.
Exploring the Wai-o-tapu Thermal Wonderland is a spectacular way to spend a few hours wondering between pools of spectacular colours, bubbling mud pools and the Lady Knox geyser. Don't miss the champagne pool.
Not far from Waimangu, the address for Wai-o-tapu Thermal Wonderland is 201 Waiotapu Loop Road, Rotorua, 3073.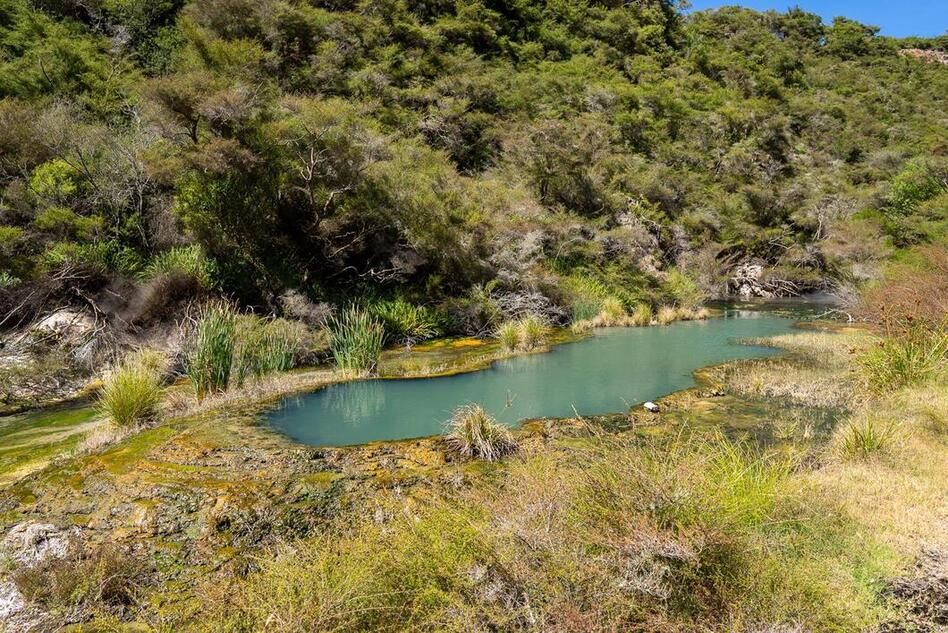 Skyline Rotorua
Skyline Rotorua is an adventure park with everything from Luge to ziplines, a sky swing and gondola. Get your heart racing as you zip high above Rotorua.
Rainbow Springs Nature Park
A beautiful little nature park located near Skyline Rotorua, Rainbow Springs has a enough native fauna and flora to keep you occupied for hours. One of our favourite things at Rainbow Springs was the Kiwi tour, where you learn about the elusive and endangered Kiwi, native to New Zealand. You'll also see plenty of trout, lizards and birds.
Click here for more information about the Rainbow Springs Nature Park.
Take a walk in nature
With such beautiful lakes and mountainous surrounds there is no shortage of enjoyable walks to do in and around Rotorua. Visit the Blue and Green Lakes, stroll through the Redwoods, Whakarewarewa forest or visit Crater Lake.
Soak in Kerosene Creek
The beautiful hidden hot springs and waterfall of Kerosene creek is located just outside Rotorua. If you can make the drive down the dirt road, park the car and walk a short way through the forest to reach the creek. You'll be suprised how warm it is!
Things to do in Rotorua at night
There are plenty of bars and restaurants in Rotorua to keep you busy, but if you're after some different things to do in Rotorua at night, try these options.
Rotorua Night Market
The lively Thursday night Rotorua Night Market offers a fantastic atmosphere with local bands offering fantastic live music and a vast array of international cuisine. Wander past market stalls selling arts, crafts and fresh produce and try delicious food and drinks from around the world.
Tamaki Maori Villiage
If you're looking for a traditional Maori experience in Rotorua, a Hangi dinner is perfect.
The Tamaki Maori Villiage is one of the must do cultural tours of New Zealand. Learn about Maori arts, crafts and culture and then relax and enjoy a delicious, traditional Maori Hangi dinner. Hangi is a traditional way of cooking where food is buried in pit ovens. We booked this tour so Ben could have a few drinks and relax, and everything from out pickup in the bus to the moment we were dropped off at the campground, was absolutely amazing.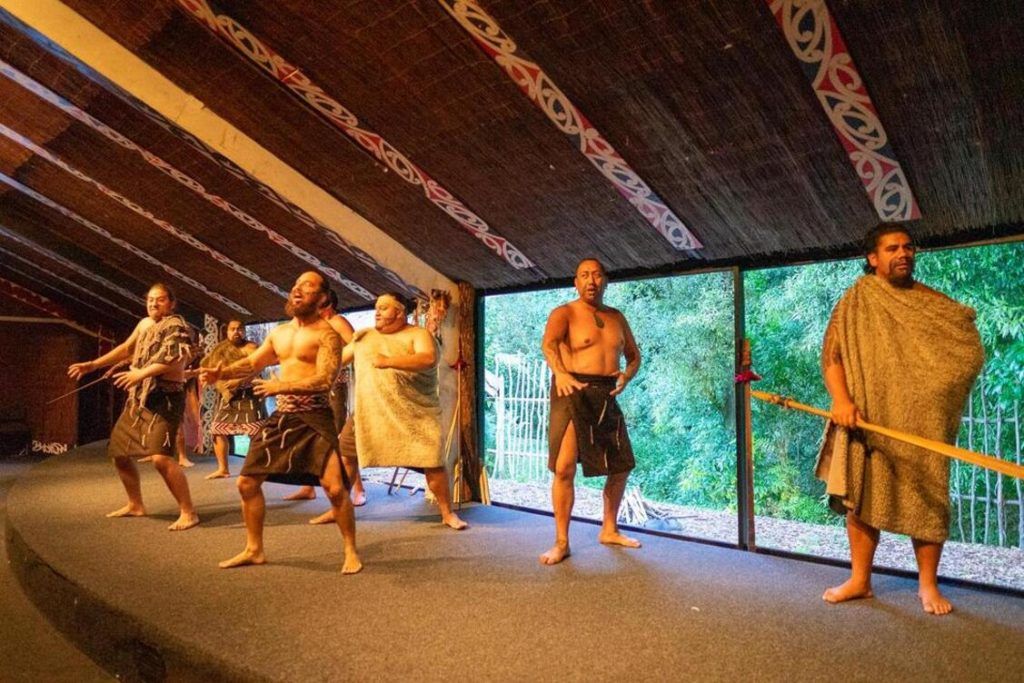 Visit a thermal pool
Rotorua has no shortage of geothermal activity and thermal pools! After a long day doing one of the Rotorua walks, relax in a pool filled with deliciously warm water and let the muscle tension melt away.
The Waikite Valley Thermal pools have untreated water that comes straight from the Te Manaroa natural boiling spring (although it is cooled first!). The water sits about 35-38 degrees Celcius year-round, although they do have warmer pools too. Make sure you keep your head out of the water though. Waikite Valley is open until 9 pm.
The Polynesian Spa is the original 'hot springs experience and offers both acidic and alkaline mineral springs, feeding into 28 pools. You can join the larger pools or private pools, and you have the choice of city views or lake views. Could it be better? The Polynesian Spa is open daily until 11 pm.
Things to do in Rotorua when raining
3D Trick Art Gallery
A beautiful display of 3D artwork that you can interact with. Get caught in the tentacles of an octopus or cross a fallen tree bridge at great heights. Let the kid in you go crazy for a few hours. Get your tickets here.
White water rafting
Seeing as it's wet anyway, why not take the opportunity to go white water rafting through the Okere Falls Reserve. What could be a better way to spend a dreary rainy day than to raft down class 5 white water rapids and a 7 meter waterfall. Afterwards, head to a hot spring to warm up and lower that adrenaline!
Check out a movie at the Wall and Basement Cinema
A cosy small cinema offering a great selection of art-house movies. You can snuggle up on a rainy day in a comfy chair and relax. For the more adventurous, there's also a climbing wall. Something for everyone!
The Wall and Basement Cinema is located at 1140 Hinemoa Street, Rotorua, 3010, New Zealand
Things to do in Rotorua in winter
Aside from the already listed thermal hot springs, which let's face it, are made for winter soaking, there are plenty of other things to do in Rotorua in winter.
Do a Duck Tour of the city and local lakes
Travel with Rotorua Duck tours in a world war 2 amphibious vehicle through the city and around the beautiful lakes of Rotorua. Suitable for all weather conditions, it's a great activity for the whole family.
Get mountain biking!
The cooler weather of winter makes for an ideal time to spend a few hours mountain biking some of the designated tracks in the Whakarewarewa forest. You'll find more information about the forest and its mountain bike tracks here.
Day trips from Rotorua
Sitting smack in the heart of the North Island, Rotorua is only a short distance from other notable cities, such as Tauranga and Taupo. A hub for travellers, there are a large number of day trips that leave from Rotorua to some of the country's top attractions.
Visit the Hobbiton Movie Set
So, I have to confess… we went to Hobbiton, and I had never seen the movies! I have since watched two of them and may even watch the third! Ben was really keen to go and I wasn't disappointed. There was one other lady on our tour who apparently wasn't really interested at the start. It was quite clear she was dragged along by her friends. She also ended up having a great time.
The guides are wonderful and you'll be led through The Shire, learn all about the Hobbit Holes and how the movies were filmed. Even if you're like me and aren't that interested in the films, you'll find it fascinating!
You can't just explore Hobbiton on your own, you need to join a guided group. If you have a car or camper you can get to Shires Rest on your own, otherwise you'll need a tour bus. This is a great tour of Hobbiton that leaves from Rotorua.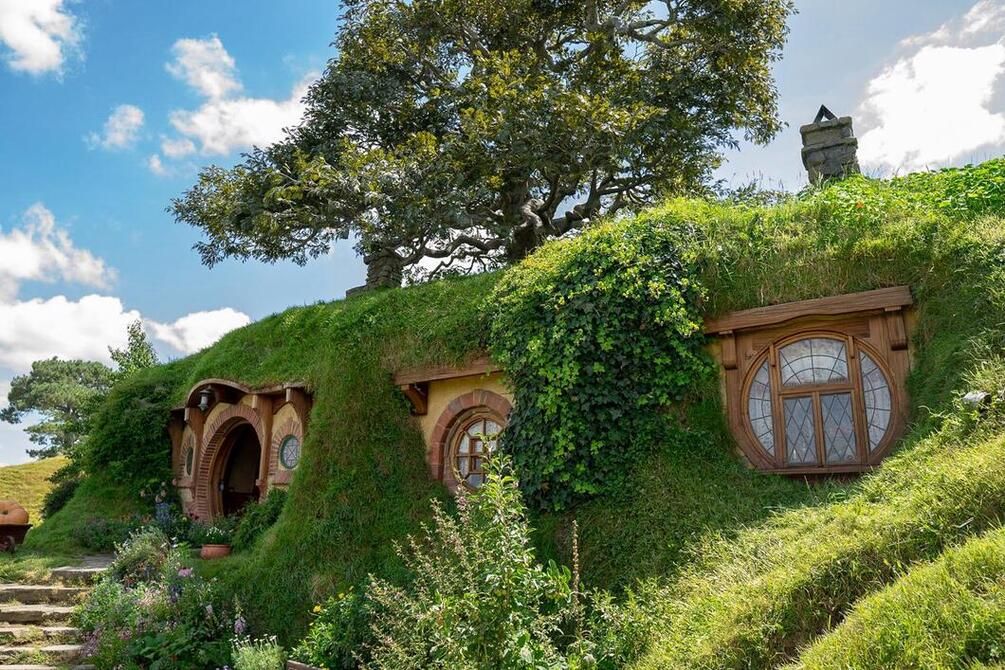 Be amazed by glow worms
If you won't have a chance to go to the Waitomo Glow worm caves, you can do it as a day trip from Rotorua. Explore the caves and see the very cool glow worms before heading back to Rotorua. Alternatively, if you're heading towards Auckland, take a bus via the Waitomo glow worm caves.
Where to eat in Rotorua
Breakfast and cafe
For a delicious breakfast or lunch, the Ciabatta Cafe and Bakery offers delicious sandwhichs, breads and pastries, not to mention some of of the best coffee in Rotorua.
Dinner options
The Factory Smokehouse and Grill offers American styled huge burgers and smoked meats in a relaxed and comfortable setting. The bar offers a variety of craft beer as well.
Atticus Finch offers contemporary food, amazing sharing plates and tapas. It also caters to vegans and vegetarians. Incredibly popular, it's recommended that you book in advance
If you're craving sushi, the And Rice Japanese Restaurant has the best Sushi in Rotorua with a great variety of fresh food to choose from at a fabulous price.
Where to stay in Rotorua
Rotorua New Zealand camping
Freedom camping in Rotorua
There are three designated freedom camping places in Rotorua
Lakeside Rotorua
Hineoma Street carpark
Trout Pool Road – Outside Rotorua at Okere Falls Reserve
Check the Camper Mate app for the latest information.
Campgrounds and Holiday Parks in Rotorua
Hotels in Rotorua
If you're looking for a great price in the heart of Rotorua, the Rotorua Central Backpackers offers both dorm rooms and private rooms. It's only 700 meters from the city centre and is close to the Polynesian Spa (one of the must do things in Rotorua New Zealand) and a tonne of restaurants.
The Lakeside City Lodge is located near Lake Rotorua and has beautiful views of the water. The Lodge is only 950 meters from the city centre, near Kuirau Park and Rotorua Eat Street, a street full of restaurants.
A few kilometers outside the city is Karanda BnB. With spectacular views, a garden, terrace, shared lounge and WiFi, this beautiful BnB is a great place to unwind after exploring Rotorua.
Where to go after Rotorua?
Rotorua is located in the center of the North Island. The closest tourist towns to visit are Tauranga to the north east where you'll find Mount Maunganui, and Taupo to the south where you can explore Lake Taupo and Haka Falls.
You may find these articles useful too!
Planning a trip to New Zealand? Here is what we do
This article may contain affiliate/compensated links. For more information, please see our disclaimer here.