If you're like us and love getting out in nature, you won't want to miss these fantastic Rotorua walks. Whether you're looking for a quickie, a decent pulse racing trek or some spectacular natural sights, you'll find it here.
This article may contain affiliate/compensated links. For more information, please see our disclaimer here.
Rotorua Walks
Kuirau Park
Kuirau Park in the heart of Rotorua is the only free geothermal park and offers 10-20 minute free walks in Rotorua. Visit any time of day and wander around any of the accessible pathways leading past bubbling mud pools and hissing hot springs.
Still a geothermically active area, there is the occasional small eruption. There are safety fences in some areas, so simply stay behind those and enjoy. Don't forget to dangle your feet in the feet baths!
Blue Lake – Lake Tikitapu
A beautiful and easy 1.5-hour round trip around the Blue Lake past beaches and through native bush. Lake Tikitapu is a collapsed volcanic crater. Relatively shallow, it measures only 27 meters at its deepest point—a popular lake for water sports, families and those looking for a picnic spot.
The walking track begins in the large car park at the far end of the lake, beside the boat ramp and grassy area, or in the smaller car park further down the road—your choice.
From the main car park, if you walk to the right, in an anticlockwise direction around the Blue Lake, you'll weave around a relatively flat forested area. Then, finally, you'll reach the smaller car park about halfway around the lake.
Going into the car park, you'll see a small grassy hill and a lookout. From here, you have beautiful views over Green Lake or Lake Rotokakahi. Lake Rotokakahi is sacred to the local people, and swimming, fishing or interfering with the Green Lake in any way is prohibited. It is beautiful to look at, though.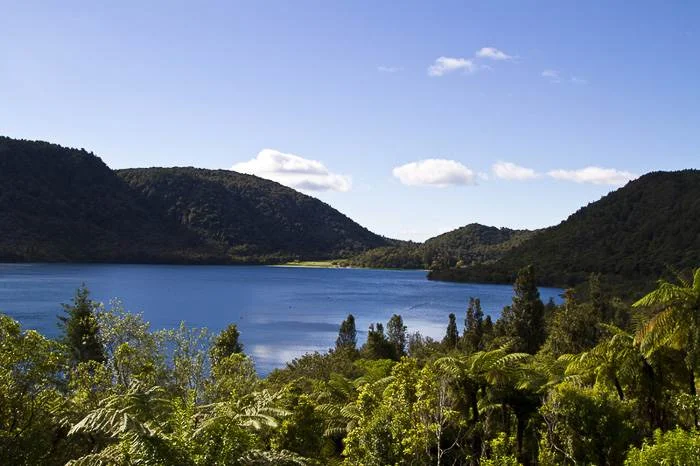 If you head back to the spot where you exited the Blue Lake Walk and entered the car park, you'll see some stairs. This is where you'll rejoin the walk. It will take you past some secluded beaches before spitting you out on the main road. You may feel like you've lost the path, but you'll find it again soon and re-enter the lakeside forest.
This was one of the more leisurely, more relaxing Rotorua walks that we did in the area. The walk is around 5km and should only take about 1.5 hours.
Redwoods and Whakarewarewa forests
With an endless number of walking tracks and over 5600 hectares of forest, the Redwoods and Whakarewarewa forests are must-do Rotorua walks.
One of the most popular short walks is the Redwood Memorial Grove Track. A 2 km walking track that takes you through the heart of the magnificent redwood forest. The redwoods are over 100 years old, planted in the early 1900s and a magnificent 67 plus meters tall.
There are numerous tracks through the Redwoods and Whakarewarewa forests. For a more challenging walk, try the Tokorangi Pa track. At around three and a half hours, and 11 km through beautiful forest, with views of Mt Ngongotaha, Rotorua City, the lake and the countryside, we found this to be a great walk.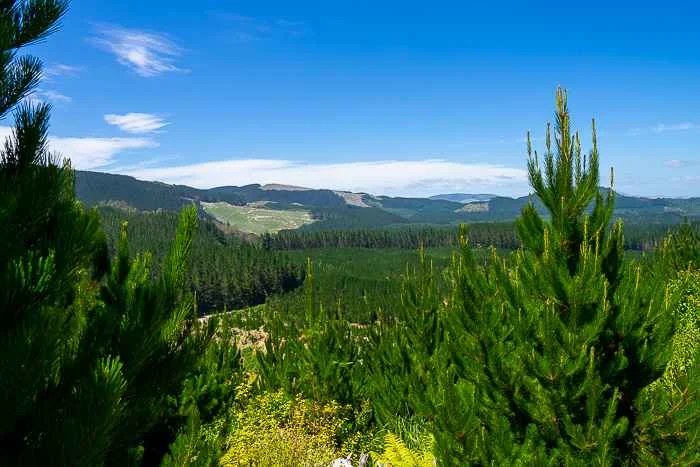 You'll find more information about the Redwoods Whakarewarewa forest here.
Walks around Rotorua
Waiotapu Thermal Wonderland boardwalk
Located around 30km outside Rotorua, this spectacular walk takes you to a maze of colourful hot springs, levelled terraces, bubbling hot mud pools and waterfalls.
While the walk itself is easy, you'll constantly stop to absorb the unimaginable natural features.
There are three connected trails on this Rotorua walk. The first is around 1.35 km long and takes about half an hour. If you do the three adjoining trails, it's just over 3 km. Expect the full Waiotapu walk to take around 2 hours.
NOTE: As of June 2022 Waiotapu is still closed for renovations. We'll update as soon as it reopens. Waiotapu is a cashless site so you'll need to pay by card, or book your tickets in advance here.
Waimangu Volcanic Valley walk.
This stunning walk through a largely untouched natural environment takes you past one of the world's largest natural hot springs, volcanic craters and beautiful lakes.
Mainly downhill, this easy walk is set up in stages, so choose your sights and time frame. There are three bus stops along the track. When you're done, simply wait for the next bus to take you back up the hill.
The easiest of the walks is the Highlights walk; it's about 1.5km and will take around an hour by the time you stop to admire the sights along the way. The shuttle bus can collect you from bus stop number one, or you can walk back the way you came.
The second walk at Waimangu Volcanic valley covers all the hot springs; it's around 3km one way and finishes with pick up at bus stop number 2.
The entire walk is a 4 km walk to the lake. Expect this to take around 1 hour and 45 minutes, at least. If you're looking for a longer walk, simply walk back the way you came. Otherwise, catch the bus at bus stop 3.
You can check here for more information about Waimangu Volcanic Valley.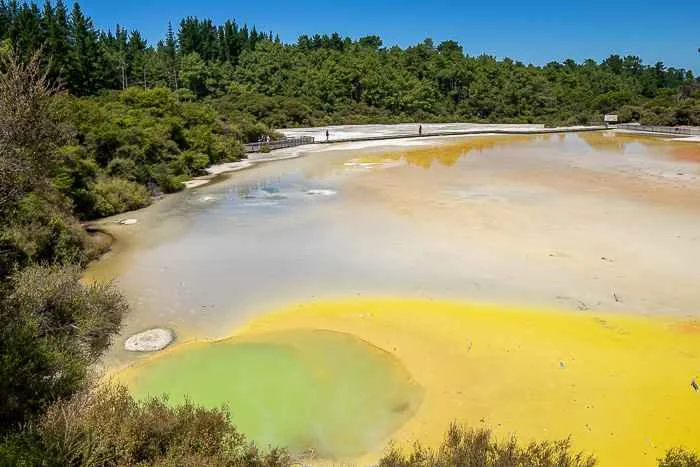 Mount Tarawera Crater Walk
One of the North Islands' greatest walks, the Mt Tarawera Crater walk is a half-day guided tour. Erupting last in 1886 and creating many of the geothermal attractions in the area, the Mount Tarawera walk is becoming one of New Zealand's most popular tracks.
Make your way up the side of a volcano and then run through volcanic scree, or loose volcanic rock, to the inside of the crater. You'll feel like you're on another planet as you admire the awe-inspiring landscape.
Crater lake walk
Located 26 km south of Rotorua, The Crater Lakes Walk is an easy 1 km or 15-minute return walk (30-minute return) from the car park. The simple but satisfying Crater Lake walk gives spectacular views of two turquoise lakes against colourful red and white cliffs and steaming geothermal features.
If you're fit or an experienced hiker, continue on the Rainbow Mountain Summit.
Rainbow Mountain Summit
If you're looking for a workout with a magnificent reward, climbing to the top of the Rainbow Mountain Summit will pay off. However, as mentioned, you'll need a degree of fitness and experience for this one as it can be pretty steep, particularly near the top.
Continuing on from Crater Lakes, it will take around 1.5 hours to reach the summit, making it a 3.5-hour return to the car park (including the 30 minutes for the Crater Lakes return walk).
Be rewarded at the top with a spectacular 360-degree view over the region. You'll be looking out over Mount Tarawera, the Paeroa ranges, Lake Taupo and Tongariro National Park.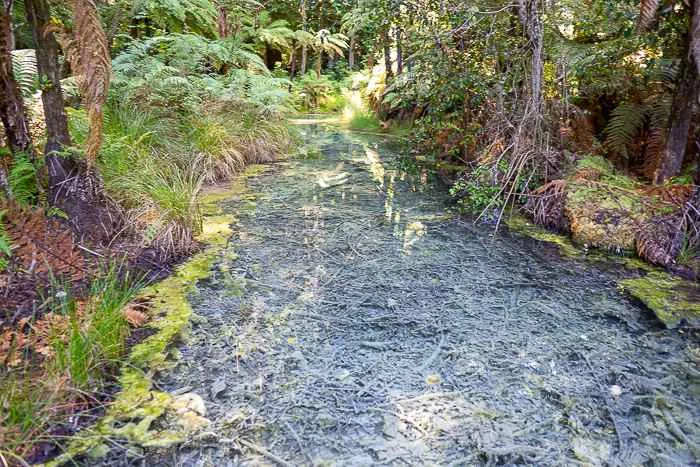 Okere falls walk
The beautiful leisurely 1-hour round trip, this free walk through the Okere Falls reserve is worth the drive. Located about 20 minutes outside Rotorua, you can stroll through the native forest along the Kaituna River. The track is around 1.2 km one way and will lead you past multiple waterfalls, often used for white water rafting, the highest being 11 meters.
Halfway along, you can descend the sometimes very slippery Hinemoas Steps, a series of steps carved into the rock around 1907, allowing access to Tuteas cave. While the cave is blocked off these days, it's worth carefully making the trip down.
The path along the Okere Falls walk is well formed and will eventually end up at the Trout pool, a great fishing spot. If you happen to be there at night, you may even see glow worms.
What else can you do around Rotorua? You may like these articles
Planning your trip to New Zealand's North Island? Here is where we start
This article may contain affiliate/compensated links. For more information, please see our disclaimer here.
Like it? Pin it!