Rotorua is a city alive with geothermal activity. From bubbling mud pools to steaming hot springs and brightly coloured bacteria and mineral deposits, its a nature lovers dream. With three main options to choose from, Waimangu, Wai-O-Tapu and Te Puia, but which is the best geothermal park in Rotorua to visit? This article will explain the differences and highlights of each so you can choose the park that best suits your interests.
This article contains affiliate/compensated links. For more information please see our affiliate disclaimer here.
Comparison of Rotorua's geothermal parks
| | Waimangu | Wai-O-Tapu | Te Puia |
| --- | --- | --- | --- |
| Highlights | Frying Pan Lake, Crater Lake, Lake Rotomahana | Champagne Pool, mud pools, panoramic views | Pohutu Geyser |
| Time required | minimum 45 mins - 2 hours for walks | 3 hours | 2 + hours |
| Distance from Rotorua | 25km | 31km | 3.5 km |
| Starting Price | Self guided walking admission starts at $22 USD | Admission starts at $22 USD | Admission starts at $56 |
Important note: Wai-O-Tapu Volcanic Park is closed for renovations as of May 2021. Please keep an eye out here, or on their website for the reopening dates.
Waimangu Volcanic Valley
Home to the worlds youngest geothermal system, Waimangu offers a beautiful nature walk through an untouched volcanic valley.
Created by the eruption of Mt Tarawera in 1886, this beautiful valley offers a vast array of geothermal highlights. You'll see enormous volcanic craters hot water springs, bubbling, steaming lakes and a number of brightly coloured bacterial areas.
One of the highlights is the Frying Pan lake, the worlds largest hot spring. At an average temperature of 50-60 degrees, Frying Pan Lake is a spectacular sight with steam wafting up from it's surface.
There is also the very active Inferno Crater which rises and falls as it heats and cools.
There are options for walking Waimangu Volcanic Valley as the walks are grouped into 3 sections. At the end of each section there is a shuttle bus stop and you can either catch the next shuttle bus back or walk back the way you came.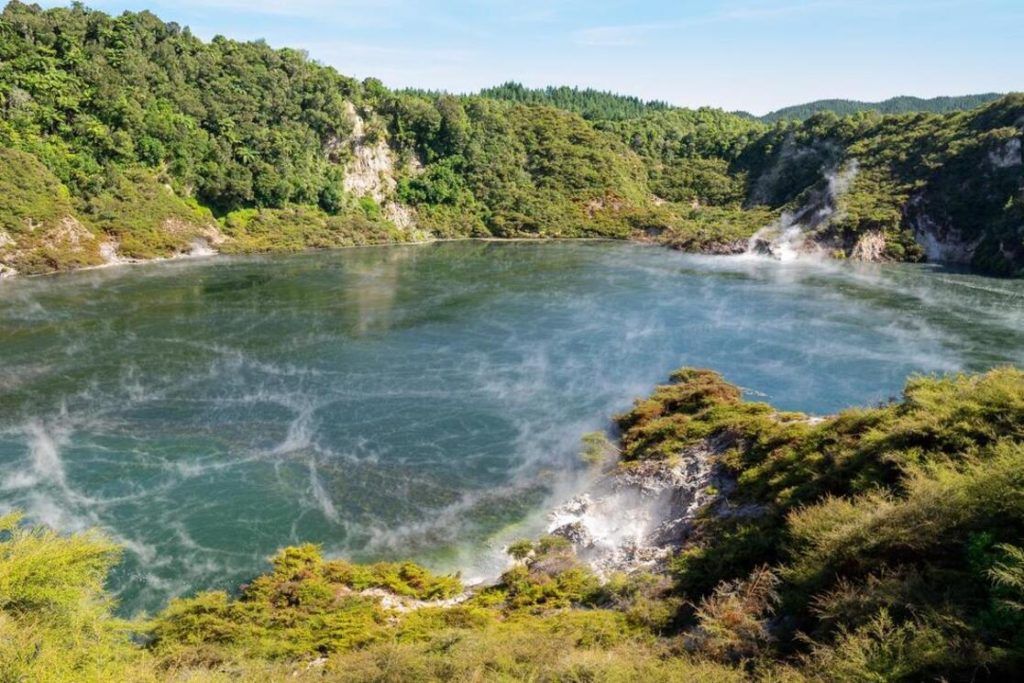 The highlights walk is the shortest of the walks and gives you spectacular views over the valley as well as incorporating Frying Pan Lake and Inferno Crater. This walk will take around 1 hour and is about 1.5 km's. Most of the valley is down hill so it's an easy walk, and if you catch the Bus from stop number 1, you won't have to walk uphill at all.
The second walk is the "All the Hot Springs" walk, and, as the name implies, it covers all the hot springs. It's a continuation of the highlights walk, so you'll see all the same things plus the remainder of the hot springs, the reforested area, silica terraces and stalactites. This walk is pretty easy and flat. We really enjoyed this part of the walk, you really feel like you're strolling through an untouched valley.
This walk takes about an hour and a half and is just over 3 km.
The full walk to the lake leads you to Lake Rotomahana, a beautiful lake where you'll see plenty of birds. You can also take a boat tour out onto the lake where you'll see the valley from a different perspective and a guide will show you some of the natural sights you can't see from inside the valley itself.
The full walk of Waimangu takes around 1 hour and 45 minutes. It's around 4 km. To get back to the beginning simply catch the shuttle bus from bus stop 3 near the lake.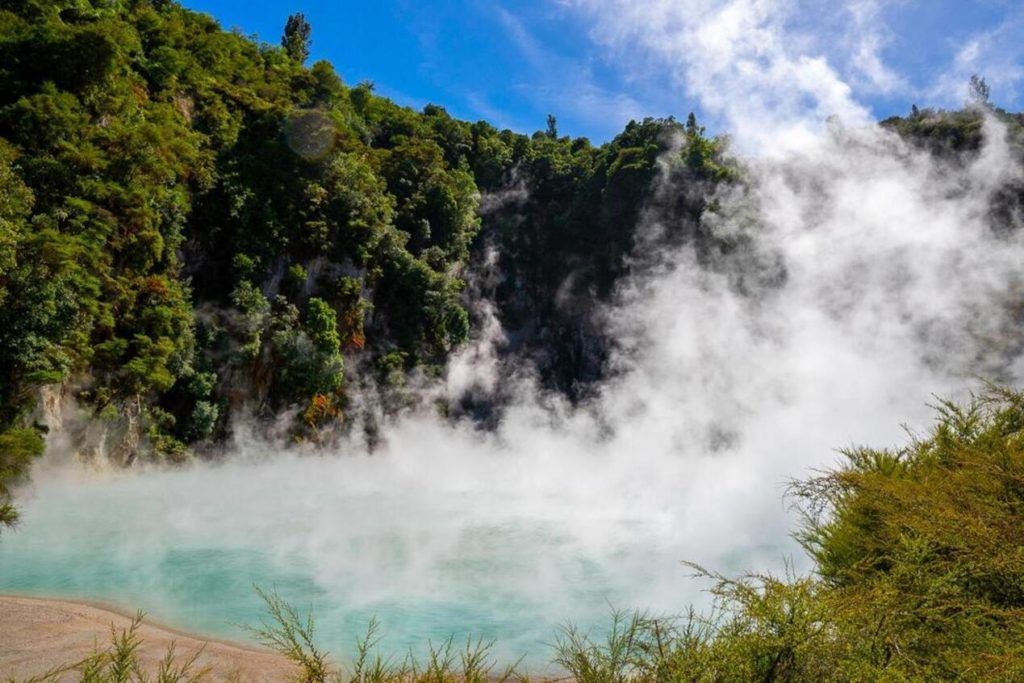 There is a Cafe at the entrance of the Volcanic Valley so you can enjoy a meal, however you can also take your own food and drink for a picnic in the valley if you choose.
The highlights
We really enjoyed our time at Waimangu. The entire valley feels very natural and un-contrived. There are areas where you feel like you're in another world. Our favourite things were the panoramic views, the steam coming off Frying Pan Lake and Lake Rotomahana at the end.
The negatives
I wouldn't say there was anything we really didn't like. The only issue we had was that the shuttle buses run on an hourly schedule. We had a busy day planned as we also wanted to see Wai-o-Tapu as well. It meant that we literally only had 1 hour and 45 minutes to explore the valley to Lake Rotomahana, otherwise we'd have to wait another hour. This really isn't an issue if you factor that into your plan!
How long to spent at Waimangu Volcanic Valley
You'll need at least two hours at Waimangu if you're intending on doing the full walk to Lake Rotomahana. If you do the boat trip you'll need an additional two hours.
Waimangu entrance fee
Entry to the Volcanic Valley starts at around $22 USD and covers your self guided walking tour to Lake Rotomahana. You can book your entrance tickets in advance here. Simply turn up, check in and off you go.
Waimangu Volcanic Valley Address
587 Waimangu Road Rotorua New Zealand. Waimangu Volcanic Valley is about 25 km or 24 minutes from the centre of Rotorua city.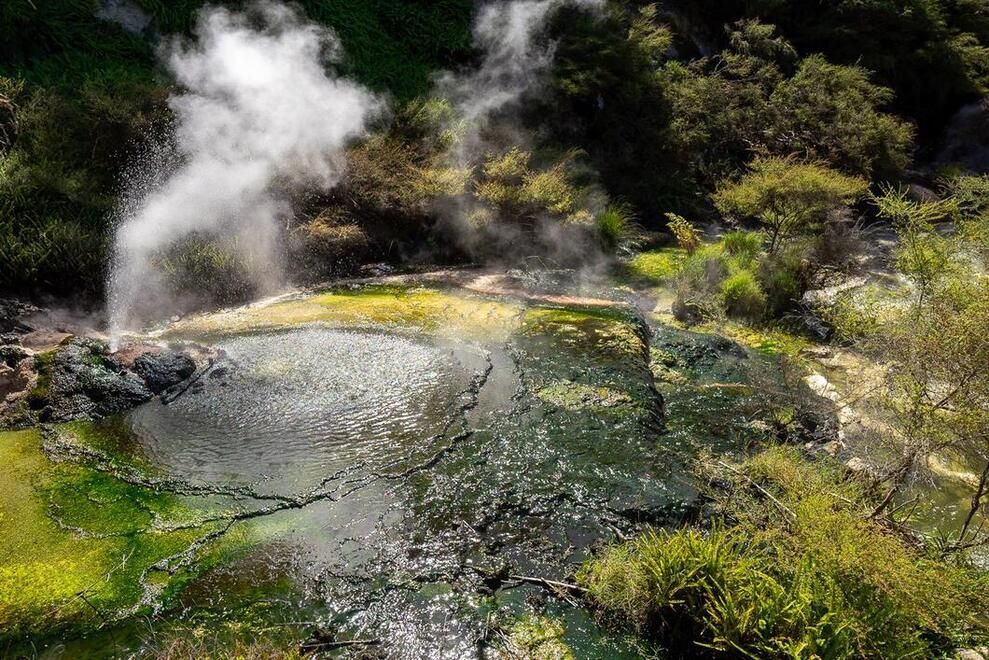 Opening hours
Waimangu is open from 8.30-5pm year round, except for January when it is open until 6pm. They do have strict entry times for last admmission however, so make sure you're there in time
Last admission schedule
Highlights walk is 3.30 pm (4.30 in January)
walk and cruise combination is 2 pm (3 pm in Janurary)
Cruise on Lake Rotomahana only is 2 pm (3 pm in January)
Parking for camper van travellers
There is a large parking area where you should be able to park a camper or motorhome. In the height of peak season however we'd always recommend getting there early to be sure there is room.
Wai O Tapu Thermal Wonderland
Wai o Tapu is an incredible mix of geysers, giant bubbling mud pools, brightly coloured thermal ponds, waterfalls and forest. While I don't know that we could call it the best geothermal park in Rotorua, it is definitely the most popular.
Unlike Waimangu, Wai-o-tapu has an enormous active geyser, the Lady Knox Geyser. If you're thinking of arriving in the morning, you'll want to make it before 10 am so that you can see the Lady Knox Geyser show in the natural amphitheatre and learn a little history of the geysers and the areas history.
As you enter Wai-o-tapu, you'll essentially follow a board walk through your choice of 3 consecutive circuits. We'd highly recommend not selling yourself short and doing all of them if possible. The total distance is 3 km. The circuits are clearly marked out and easy to follow.
The first circuit is the red circuit and you'll wander past a number of different bubbling mud pools followed by the artists palette, a multicoloured pool. The red circuit is an easy walk of roughly 1.35 km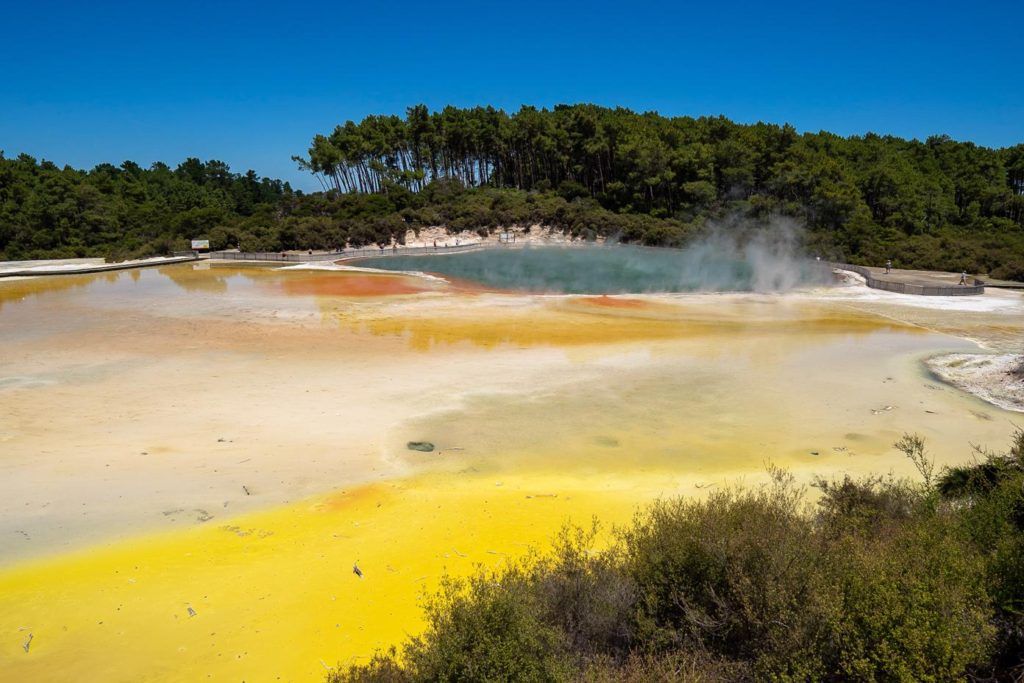 As you move along, each of the attractions is numbered and sign posted so you know what you are looking at.
One of the most popular attractions of Wai O Tapu is the Champagne Pool, it's the one with blue water and an orange rim that you see in all the photo's. You'll have a chance to see that a couple of times as it's passed by both the orange and the red circuit.
The Champagne Pool is around 700 years old and at 65 meters in diamter, is absolutely worth spending some time near.
The Orange circuit heads up above the Champagne Pool into the forest where you'll have a panaoramic view of the area and the Primrose Terrace.
The Yellow circuit then takes you past the Bridal Veil waterfalls and the Wai-O-Tapu Geyser.
As you head back you'll see plenty of sulphur mounds, rock formations and natural forest before passing the Champagne Pool again, as well as the fluro yellow Devil's Bath.
About 4 minutes from Wai-O-Tapu there is a free mud pool, in fact it's the largest mud pool in New Zealand so don't miss it. It's only a short walk from the road.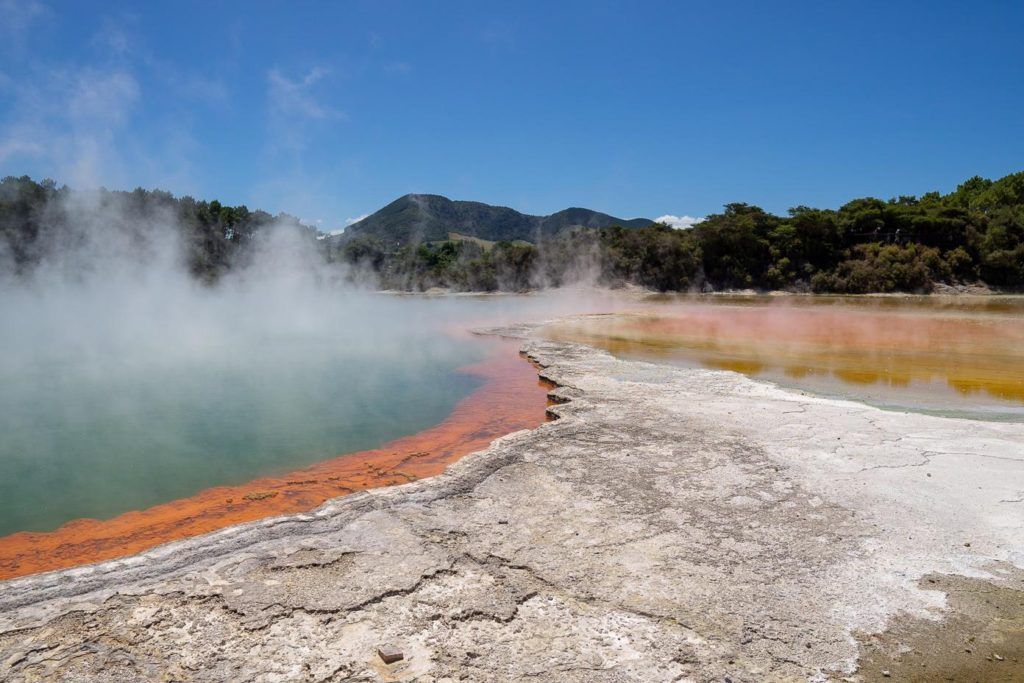 Highlights of Wai O Tapu
Wai O Tapu is open and vast. As you walk along the board walk you are constantly bombarded with insanely coloured pools, bubbling mud and natural beauty like you don't really get to see anywhere else.
Negatives
Wai O Tapu is far busier than Waimangu so certain view points can be pretty crowded.
How long to spend at Wai-O-Tapu?
Ideally you'll want to take at least 3 hours, assuming of course that you want to see the Geyser and do the entire 3 circuits. You could do it in as little as an hour if you just did the red circuit.
Wai-o-tapu thermal wonderland entrance fee
The Wai-O-Tapu Thermal Wonderland entrance fee is around $22 USD.
Wai-O-Tapu is a cashless site so you can pay by card when you arrive, or avoid the ques by booking your tickets in advance
here
.
Address of Wai-O-Tapu
Wai-O-Tapu is located at 201 Wai-O-Tapu Loop Road, RD 3, Rotorua, 3073, NZ.
Opening ours for Wai -O-Tapu
Like Waimangu, the Opening hours change depending on the season.
April – October 8.30-5 pm (last admission 3.45 pm)
November – March 8.30-6 pm (last admission 4.45 pm)
Christmas day 8.30-5.30 pm (last admssion 3.45 pm)
Wai O Tapu is open 365 days a year so you won't miss it.
Wai O Tapu thermal wonderland map
For a great map of Wai O Tapu click here. It will show you where the Lady Knox Geyser and the free mud pools are located.
Parking for Campers and Motorhomes at Wai O Tapu
There is plenty of parking available for larger vehicles however during peak season we'd recommend getting there early.
Waimangu or Wai O Tapu? Which is the best geothermal park in Rotorua?
After all of that, which would we recommend? To be honest that is a very hard questions! I think I preferred Wai-O-Tapu while Ben preferred Waimangu. They are two quite different experiences.
Waimangu is a little more 'gentle', it feels smaller, more welcoming. There are also less people. The features themselves are not as dramatic as those at Wai-O-Tapu, but no less impressive. It lends itself to nature lovers who will enjoy a gentle walk through a unique environment. Bird lovers will enjoy the lake.
Wai-O-Tapu on the other hand is bold and brashy. Everything is large and brightly coloured and there are people everywhere. It is certainly impressive but has quite a different feel to Waimangu. It's a great option for those looking for something more intense, a little physical activity and some shock and awe.
Waimangu and Wai-o-tapu tour from Rotorua
If you're still unable to decide which is the best geothermal park in Rotorua to see, there are tours such as this guided tour of Wai-O-Tapu and Waimangu Volcanic Valley. You won't reget doing both if it's possible as they both offer unique experiences.
And finally, that brings us to a slightly different geothermal experience – Te Puia.
Te Puia
Te Puia is a slightly different experience to either Waimangu or Wai-O-Tapu. Known for it's bubbling mud pools, geysers and boiling water pools that are used in traditional cooking, it also offers a fantastic cultural experience and the chance to see Kiwi birds. This makes it the best geothermal park in Rotorua for those who are short on time and want to combine geothermal experiences with traditional Maori culture and wildlife.
You can buy a pass and enjoy Te Puia at your own leisure or do guided tour where you're taken past all the highlights mentioned below.
As you enter the gates you'll see traditional carvings, Te Heketanga A Rangi, and here you can listen to stories about the arrival of the Maori in the region and traditional Maori culture.
There is also a model of a pre European settlement village, live performances and the chance to see traditional Maori carving and weaving.
One of our personal favourite things to do in New Zealand was to see Kiwi birds, the quirky and endangered land dwelling bird that is native to New Zealand. Te Puia has a Kiwi house with viewing area so you'll be able to get a good look.
Te Puia Geysers
Te Puia's main geothermal attractions are its geysers. Though it has 7 in total, only three are active including the Pohutu geyser, the largest active geyser in the southern hemisphere. Pohutu errupts once or twice an hour and can reach heights of 30 meters.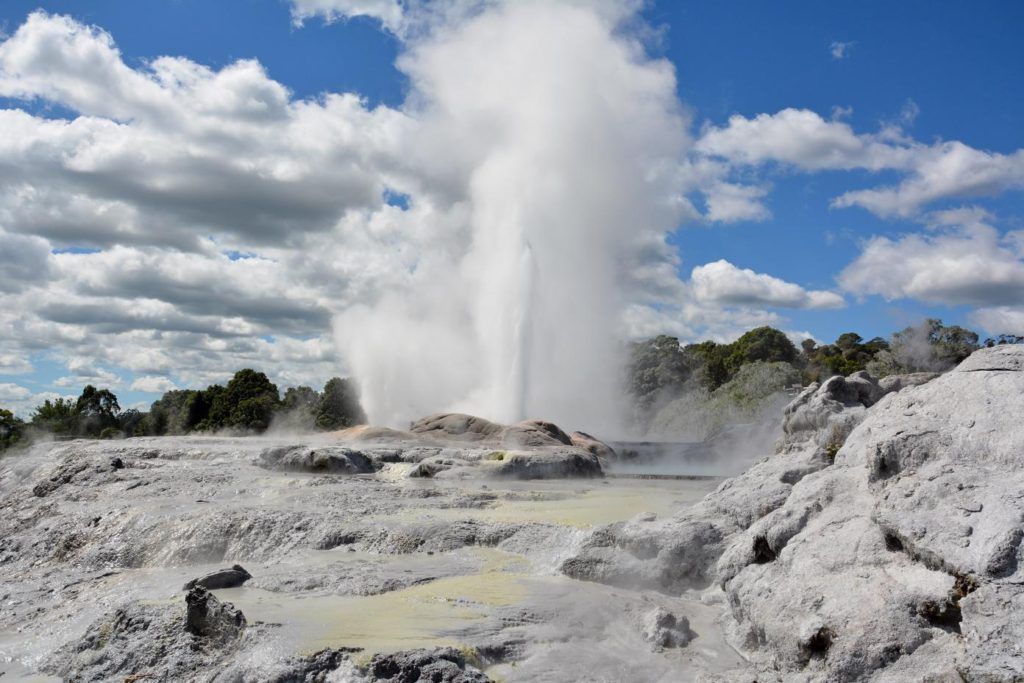 Te Puia is located in the Te Whakarewarewa Valley. As you explore the valley you'll have the chance to discover over 500 geothermal wonders.
The highlights
The main highlights are being able to incorporate the geothermal attractions with traditional arts, culture and Maori food. The boiling hot springs of Te Puia are used to prepare dishes by lowering food wrapped in leaves into the water.
The negatives
Te Puia's most exciting attractions are the geysers. If you love geysers then you'll be happy, but they don't quite stack up to the magnificence of Waimangu or Wai-O-Tapu. The area lacks the size, colour and variation.
How long to spend at Te Puia
Te Puia can be adequately explored within a couple of hours however if you're taking in a show or doing an evening tour including dinner you'll need a few extra hours.
Te Puia Price
Te Puia offers different experiences depending on what you're looking for. The basic day time entry pass starts at $86 USD. You'll get access to all of the above and a guided tour, which leave on the hour every hour.
Unlike Waimangu and Wai O Tapu, Te Puia is open in the evening. A traditional Hangi dinner and Maori show followed by evening viewing of the geysers is a great way to experience the area.
The address
Hemo Road, Tihiotonga, Rotorua, New Zealand. Te Puia is located only 5 minutes or 3.5 km's south of central Rotorua.
Waimangu, Wai O Tapu or Te Puia?
Based purely on the question "What is the best geothermal park in Rotorua?" I'd have to say head to Waimangu or Wai-O-Tapu over Te Puia. But if you're short on time and you really want to take in some of Rotorua's cultural heritage, Te Puia won't disappoint.
Opening hours for Te Puia
Late September to April – it's open 8-6 pm (last tour leaves at 5 pm)
Late April until September – Te Puia is open 8-5 pm (last tour leaves at 4).
Parking for a camper van
There should be adequate parking for campers and motorhomes. Make sure you arrive early enough during peak season.
Which is the best geothermal park in Rotorua?
Unfortunately they're so different it's quite hard to narrow down! I hope we've given you enough information to decide which one is the best geothermal park for YOU to visit based on your own interests, time constraints and budget.
You may also find these articles Useful
Planning a trip to New Zealand? This is how we did it
This article contains affiliate/compensated links. For more information please see our affiliate disclaimer here.