The Imperial City of Hue is one of the biggest draw cards for travellers visiting Vietnam. Construction of the Imperial City began in 1804 under Emperor Gia Long, the first emperor of the Nguyen Dynasty. Surviving 143 years and 14 emperors the Nguyen dynasty came to an end when Emperor Bao Dai abdicated the throne and transferred power to the Democratic Republic of Vietnam. The tombs of the Emperors are in various places around Hue and are equally as impressive as the Imperial City itself. If you're wondering which tombs to visit in Hue, here is a run down on the best tombs in Hue.
This article may contain affiliate/compensated links. For more information, please see our disclaimer here.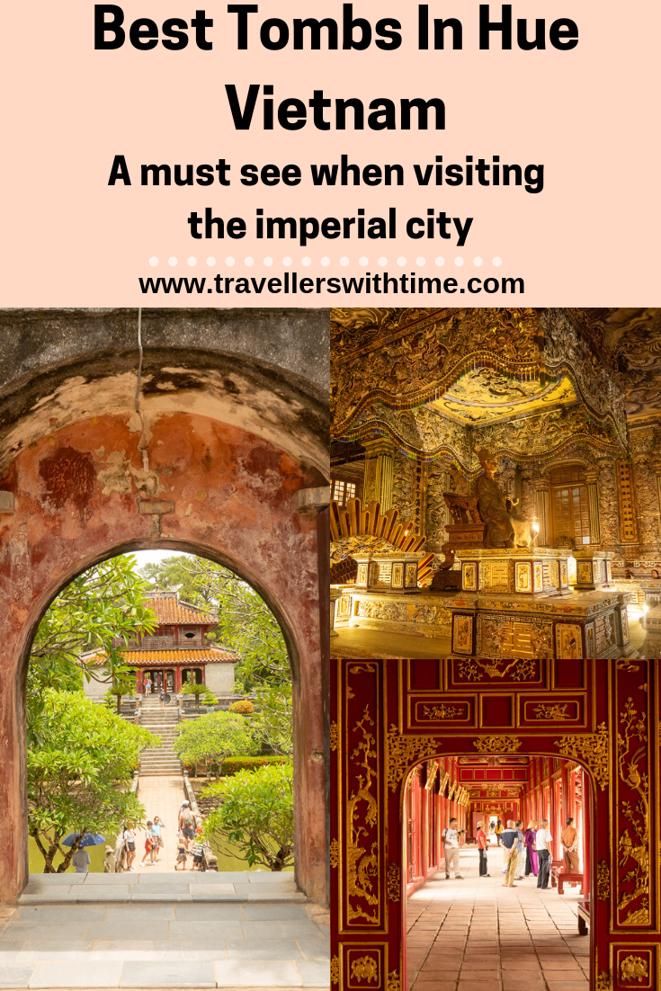 Minh Mang tomb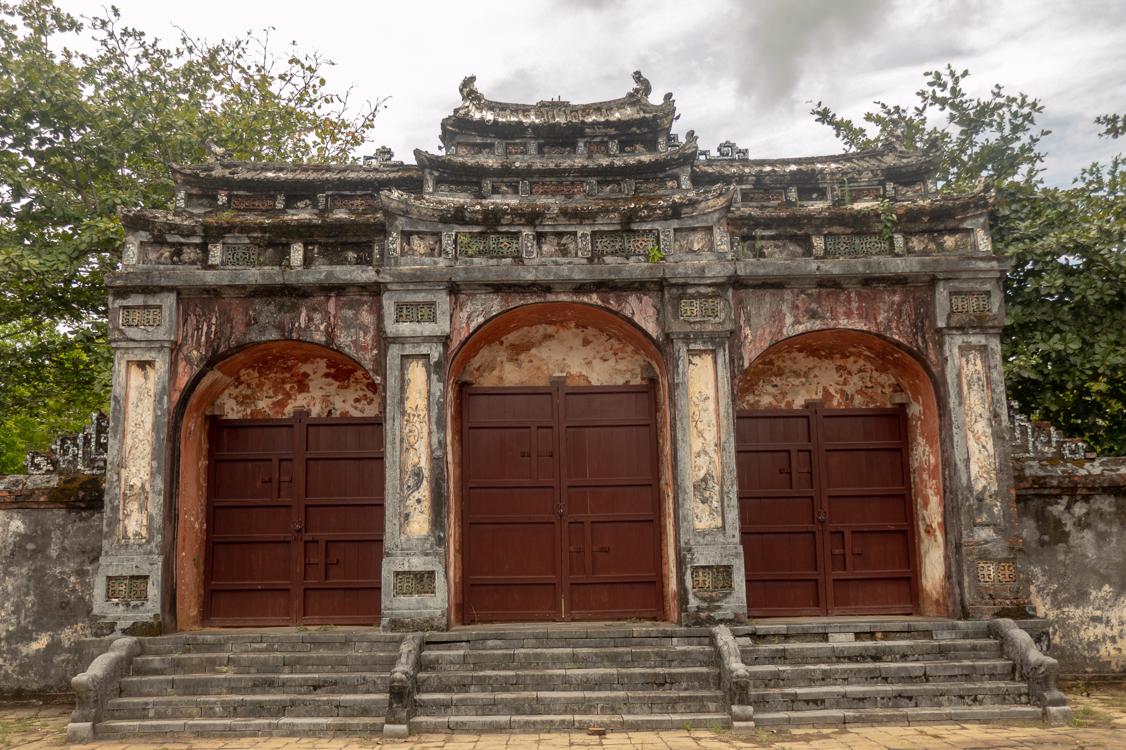 Minh Mang was the second Nguyen Emperor and reigned from 1820 to 1841. Known for his strict Confucian Orthodoxy and complete opposition to French involvement in Vietnam, Minh Mang was a popular Emperor.
Located in the An Bang Village, around 12km from Hue city centre, the Minh Mang tomb lays on 44 acres of landed, enclosed by a large wall. While construction of the tomb began during Minh Mang's reign, it was inevitably finished by his successor. Construction required around 10000 workers and artisans to finish the 40 different monuments, which consist of palaces, temples and pavilions.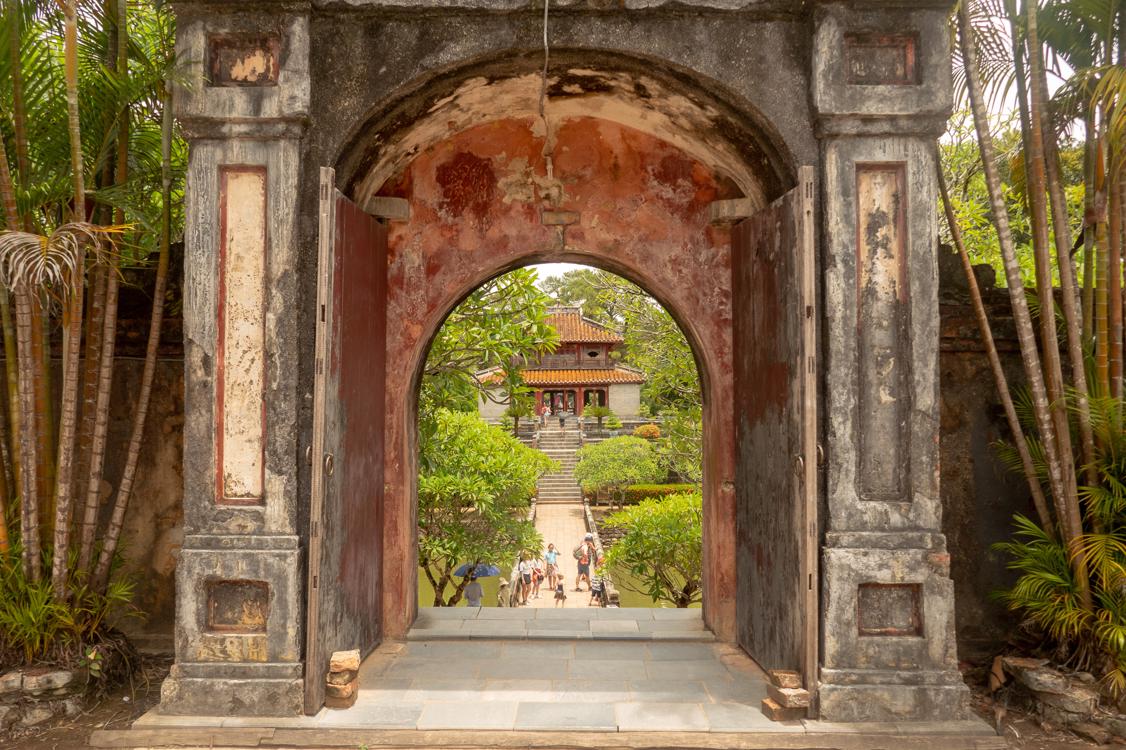 The area is laid out symmetrically along a long centre path, surrounded by ponds and trees.
As with all the royal tombs, you'll see the traditional row of mandarins, elephants and horses and a large stone, known as a stele which is inscribed with the biography of the Emperor, as written by his successor.
Reflecting Chinese architectural design, the Minh Mang tomb is known for its symmetry, austerity and beautiful landscaping.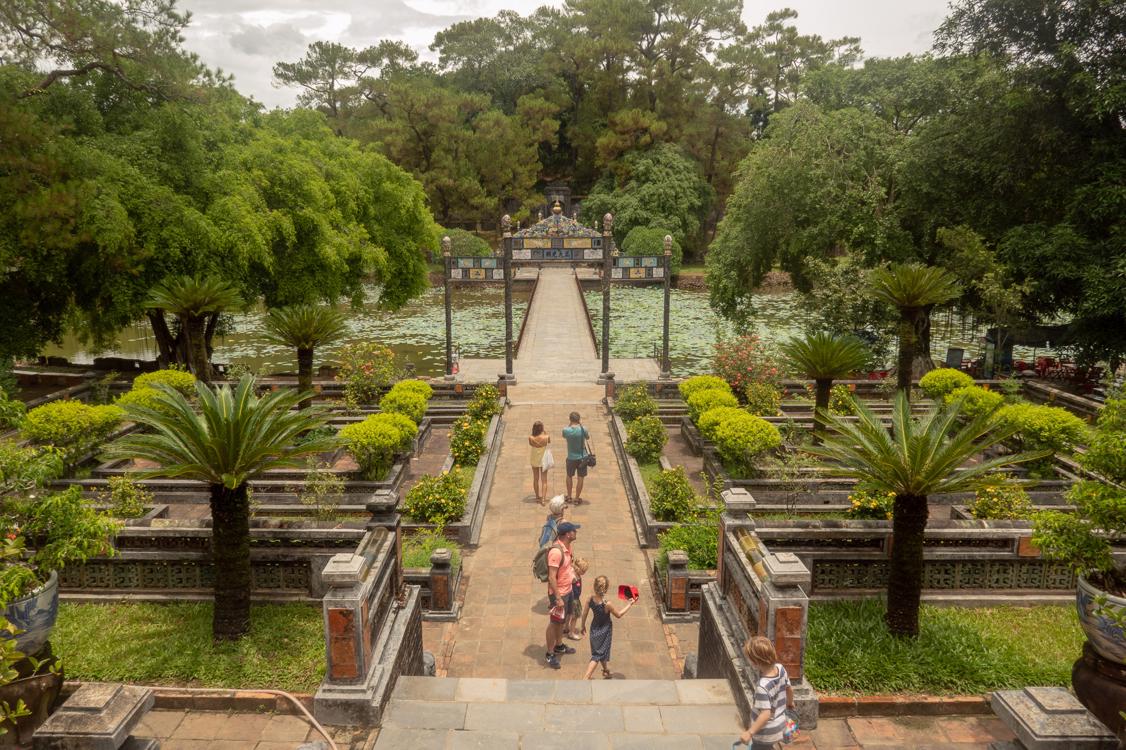 For us personally, the Minh Mang tomb was the least impressive of the best tombs in Hue. Part of the reason for this is that we were there in low season, a time tourist attractions often use to renovation and repair, so there were many parts of the complex that were under reconstruction.
The other reason was that we felt a little disappointed to have followed the centre path all the way to the end, only to come across a large enclosed area with a sign saying that the actual tomb of Minh Mang was inside, behind a giant wall, but we couldn't go any further. It was rather anticlimactic.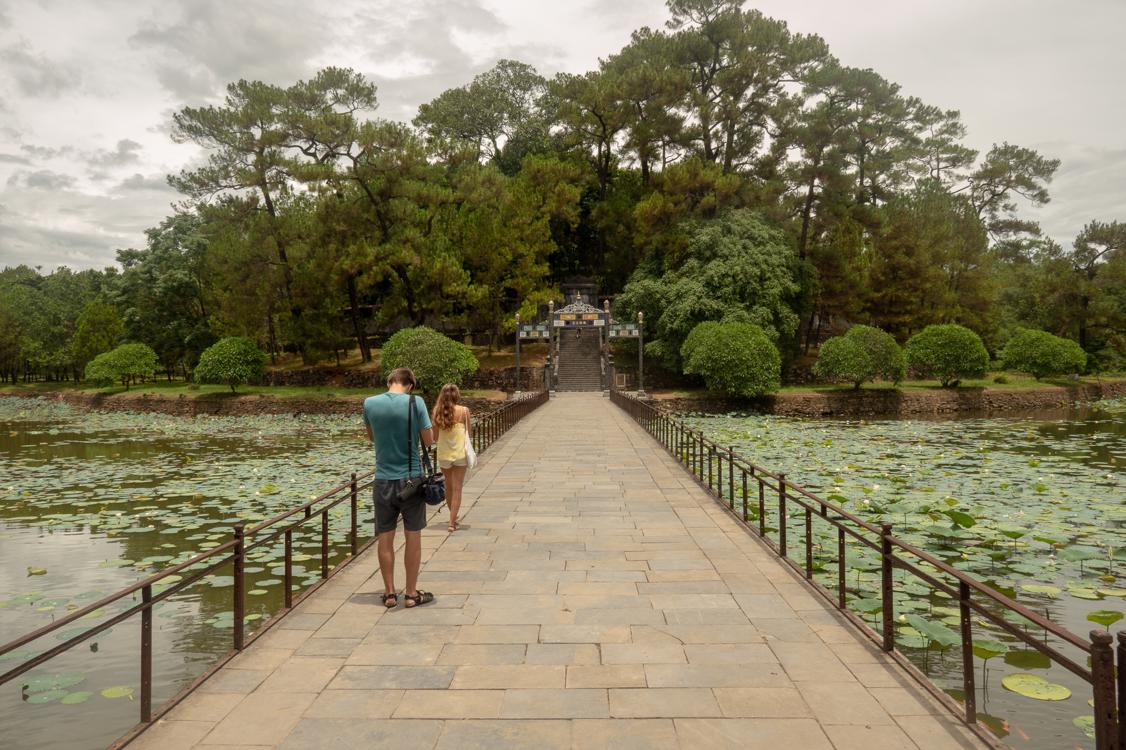 As it turns out, the entrance to the tomb is only opened once a year, on the anniversary of Minh Mang's death.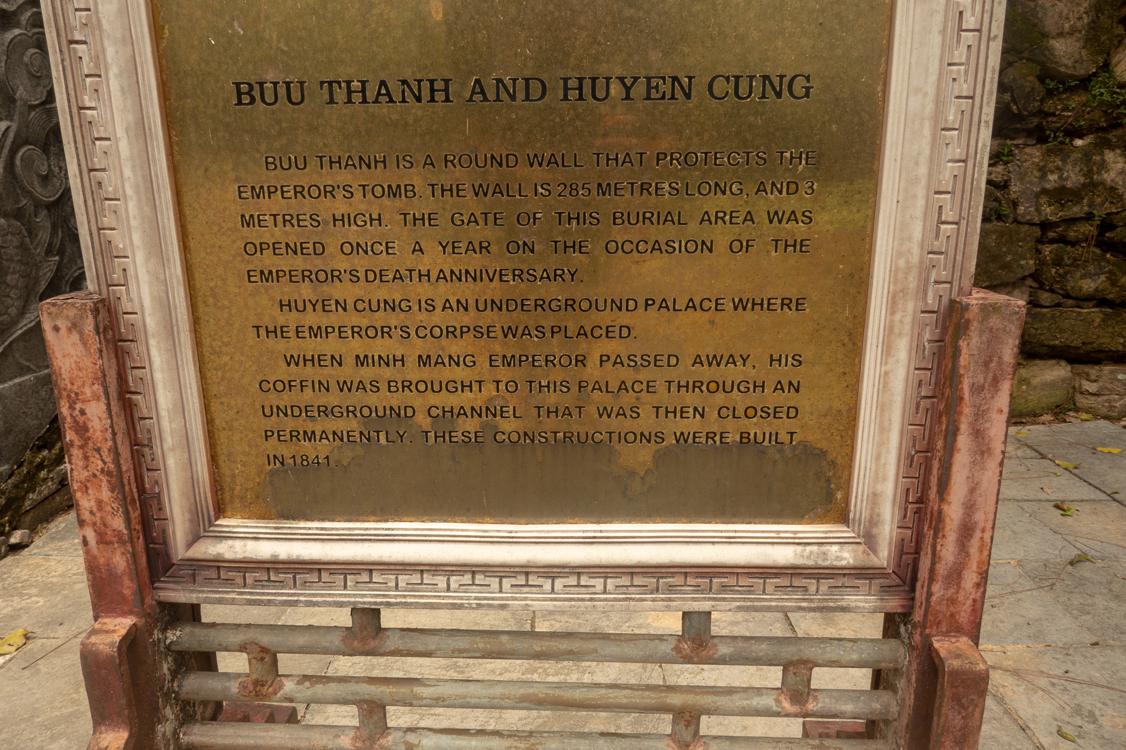 We did however enjoy walking through the area and sitting by the lake of water lilies, watching the pond fish as we had a cold drink.
Minh Mang Tomb entrance fee
Tickets can be purchased at the gate for the Minh Mang tomb and it is 100000 VDN, however you can also buy combination tickets which include access to the Imperial City, the prices for these are listed further down.
Minh Mang Tomb opening hours
The Tomb of Minh Mang is open from 7am until 5.30pm daily.
Location of Minh Mang tomb on Google Maps
The tomb of Tu Duc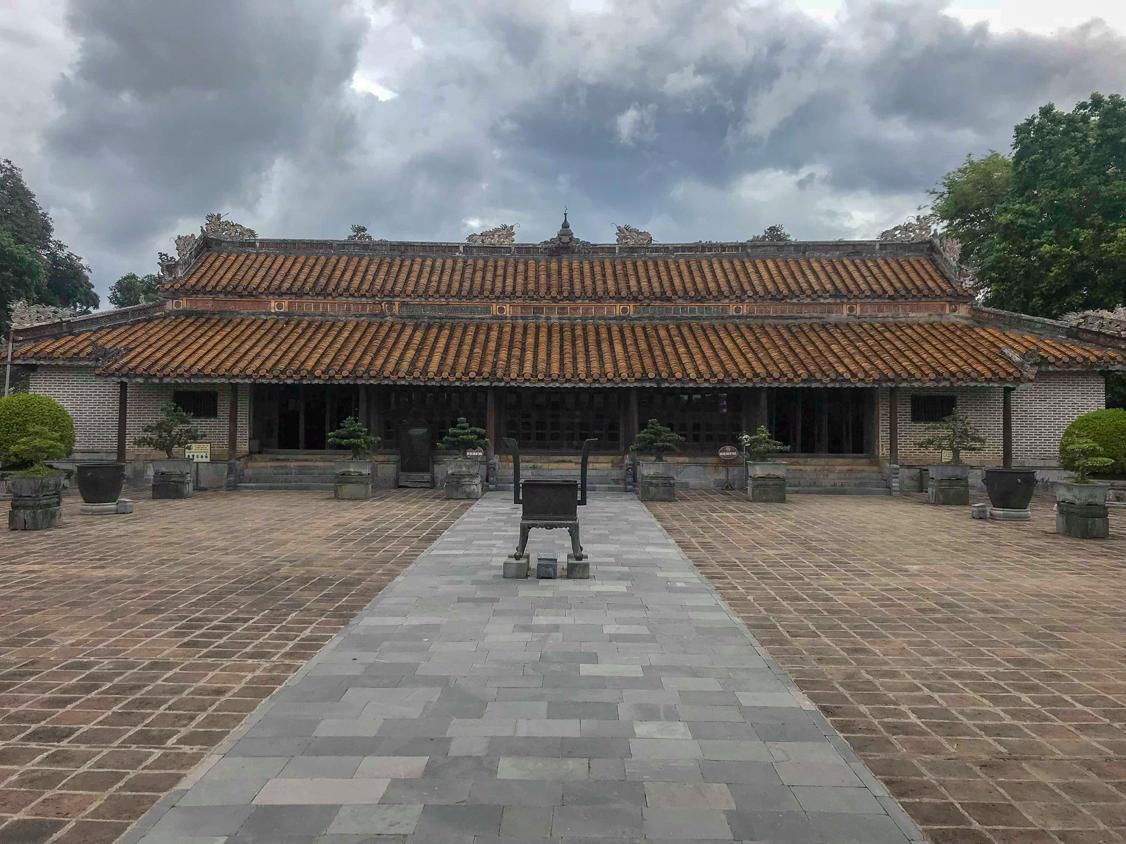 Tu Duc was the fourth and longest running Emperor of the Nguyen Dynasty, reigning from 1848-1883. Known for his life of luxury and excess, his tomb complex reflects this greatly.
Built from 1864-1867, the complex is divided into a temple area and a tomb area, which are arranged on 2 parallel axes', unlike Minh Mang's which is arranged down a centre line and set over 30 acres of manicured gardens and pine forest. The expense and forced labour that was used to construct the complex caused an unsuccessful coup against the Emperor.
The stele, or stone on which a biography or epitaph of the Emperor is inscribed, is the largest of its type in Vietnam, weight 20-tonne.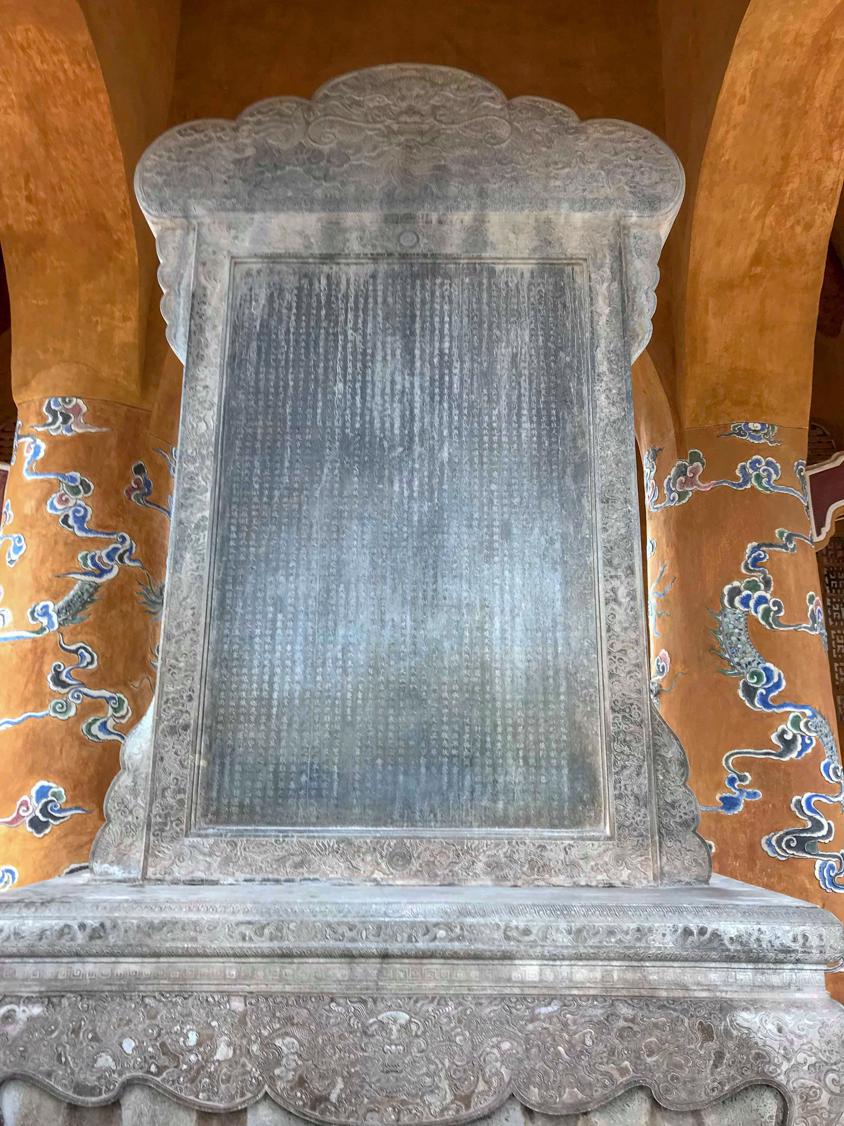 While Tu Duc spent a large amount of time in the tomb complex prior to his death, he interestingly is not buried there. His body was buried in a secret location somewhere in Hue with some of his wealth. To prevent grave robbers unearthing his grave, the 200 labourers who were involved in his burial were beheaded.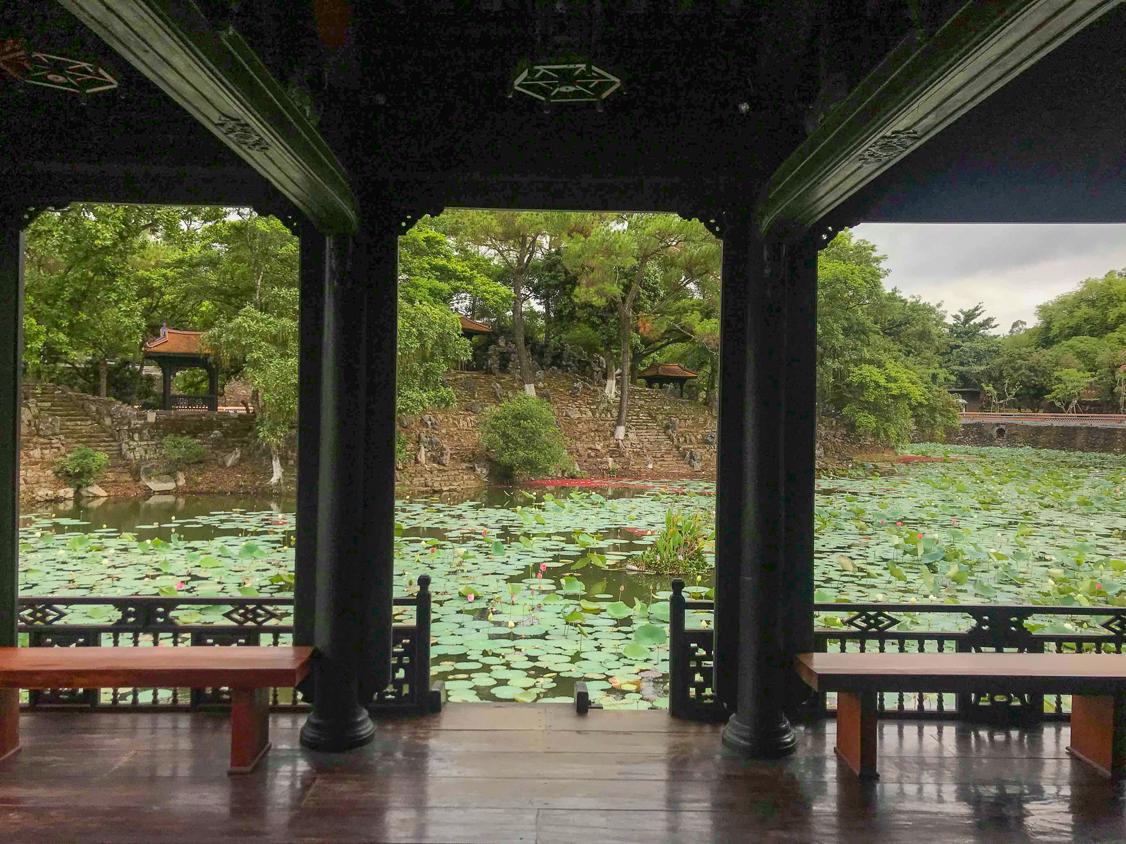 The tomb of Tu Duc is probably the most popular of all the Nguyen Dynasty tombs in Hue. It is located about 5km the city centre.
Tomb of Tu Duc entrance fee
You can purchase a single ticket to enter the Tu Duc Tomb complex for 100000 VDN. Tickets are purchased at the entrance. It is also included in the ticket for the Imperial City and 3 tombs, prices are listed below.
Tu Duc Tomb opening hours
The Tomb of Tu Duc is open from 7am to 5.30pm daily.
Location of the Tu Duc Tomb on Google Maps
Tomb of Khai Dinh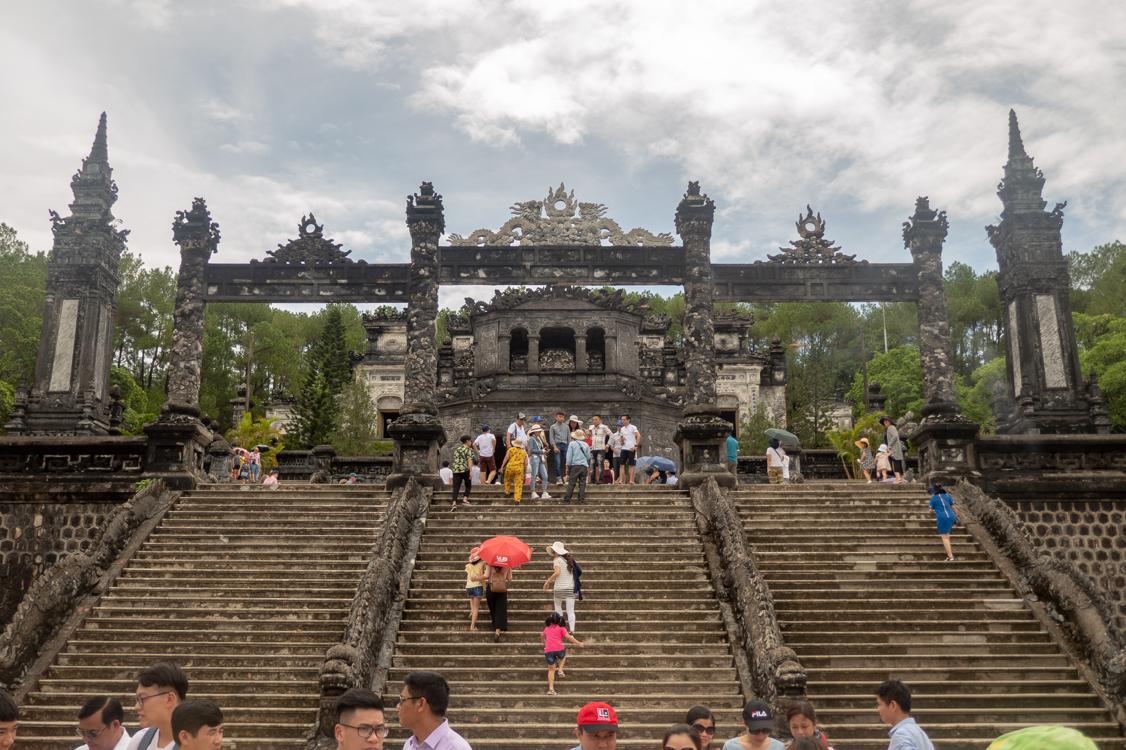 Located about 10km from Hue city centre in Chua Chu Village, the tomb of Khai Dinh is our personal favourite.
Khai Dinh was the 12th Emperor of the Nguyen dynasty, and was rather disliked for his close association with the French. His tomb, which was constructed between 1920 and 1931 demonstrates both his foreign association and his extravagance.
A mix of Vietnamese, European, Roman and Gothic architecture with influences from both Hindu and Buddhism, Khai Dinh raised taxes by 30% to pay for the elaborate construction.
Although the complex is much smaller than that of his predecessors it is far more excessive. There are 127 stairs up to the palace and tomb, and the side walls of the area are constructed from the biggest sculptures of Dragons in all of Vietnam.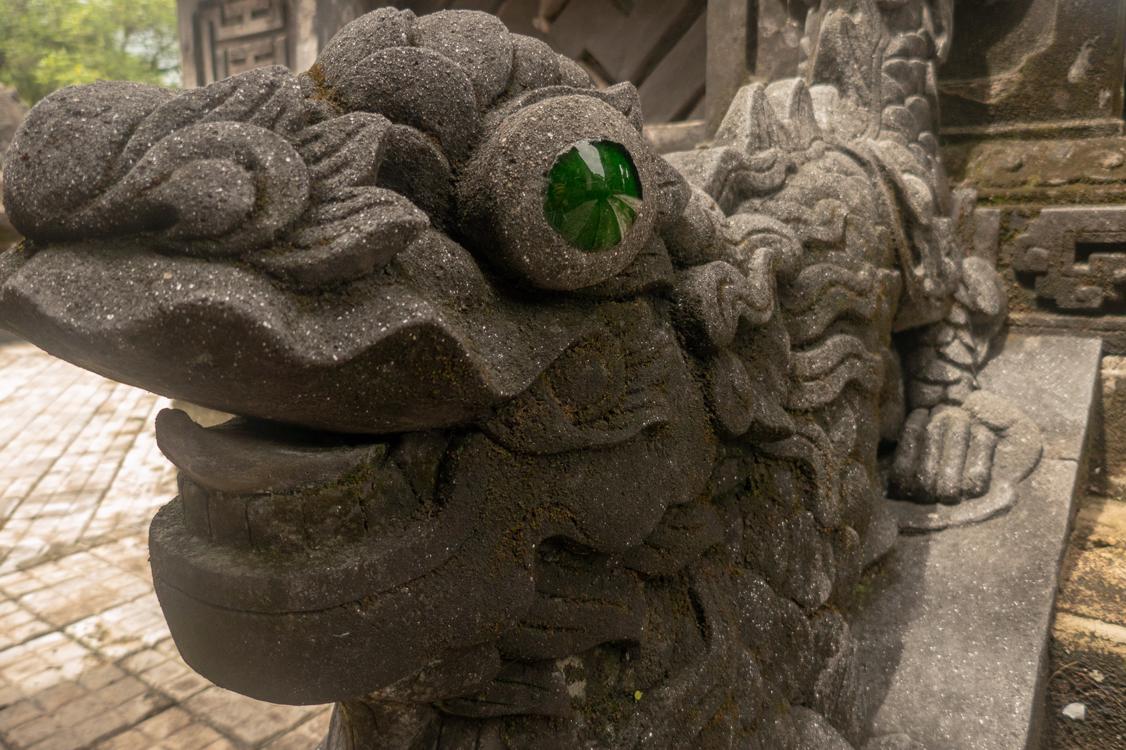 The ceiling of the palace is decorated with 9 intricate dragons, whith glass and porcelain decorations line the walls. In the rear room of the palace, the tomb of Khai Dinh is buried 18m under a statue of his likeness.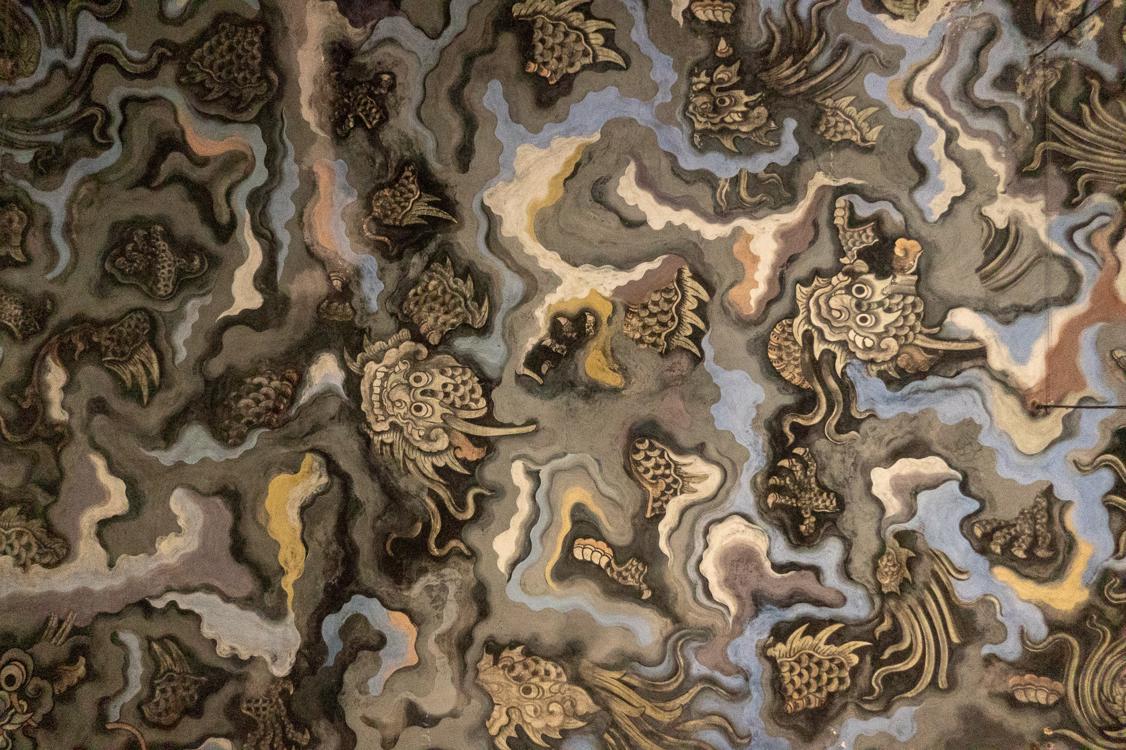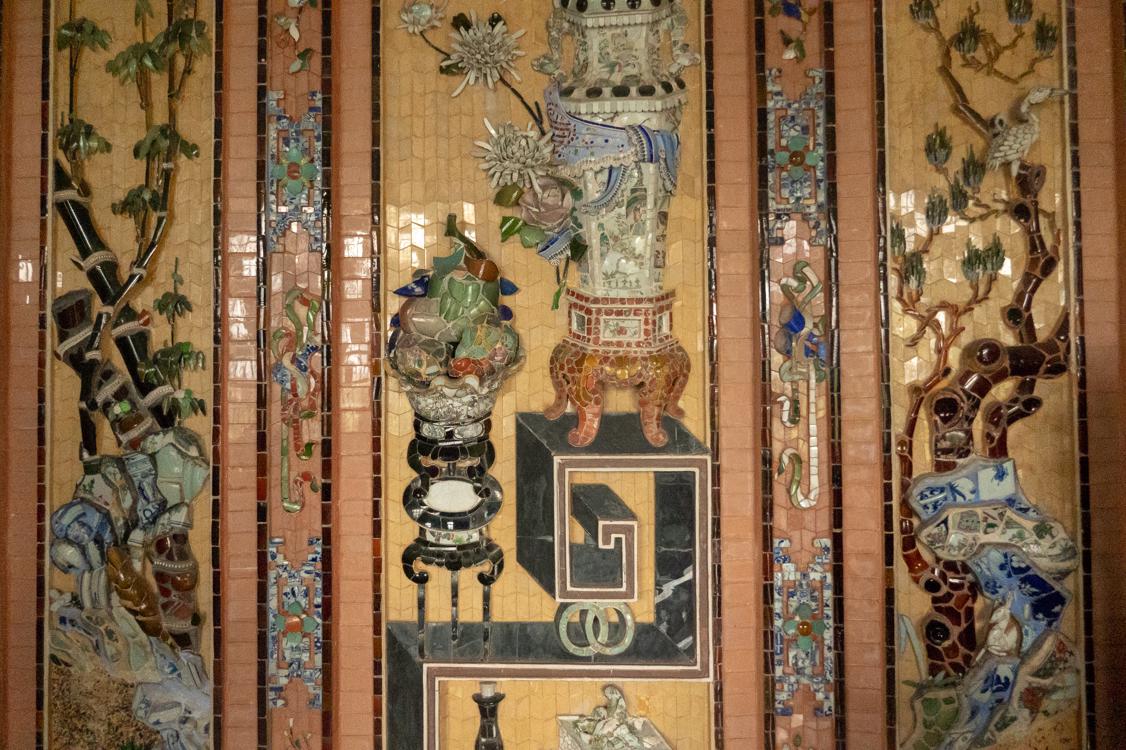 The blackened concrete of the entire area gives it an eerie gothic feeling, and that contrasted against the lush green forests surrounding the complex is nothing like we've seen in Vietnam.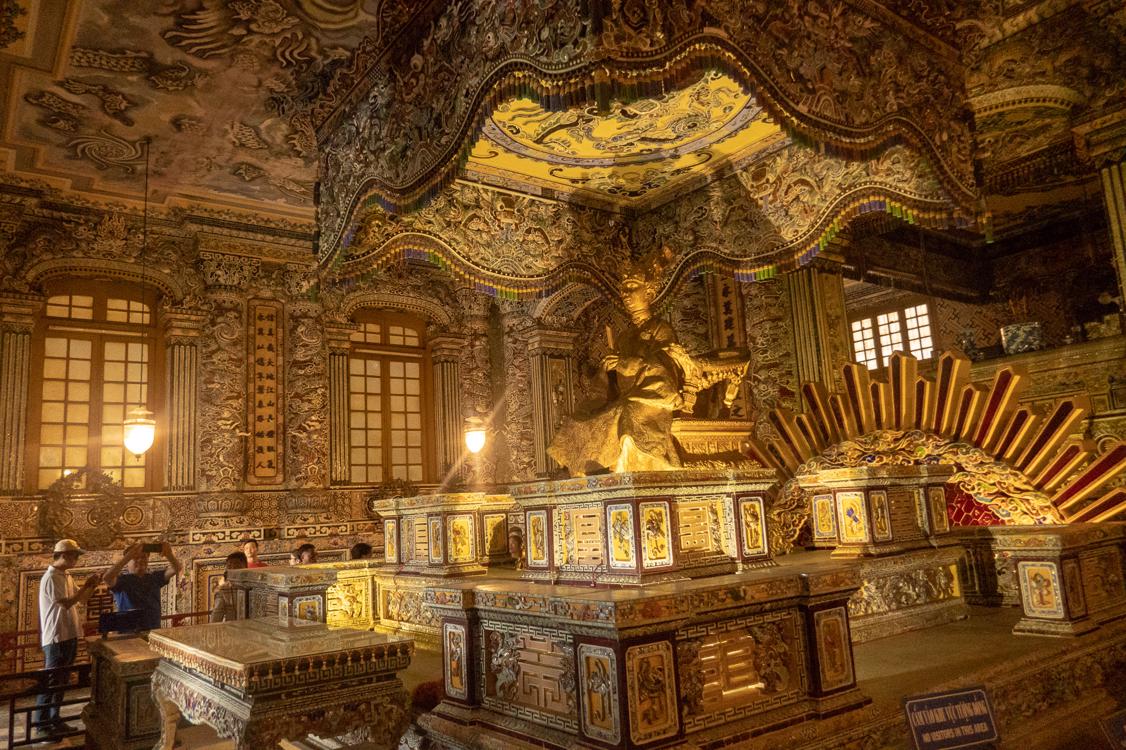 If you have seen quite a few temples and ancient buildings in Vietnam, the tomb of Khai Dinh will be a welcome change. Flamboyant, extravagant and stunningly beautiful.
Khai Dinh Tomb entrance fee
The entrance fee for the Khai Dinh Tomb is 100000VDN. You can purchase a ticket at the gate. It is included in both the combination tickets for the Imperial City, prices below.
Khai Dinh Tomb opening hours
The Tomb of Khai Dinh is open from 7am to 5.30pm daily.
Location of the Tomb of Khai Dinh on Google Maps
Getting to the best tombs in Hue
Each of the tombs are easily accessible by tour, taxi or motorbike. The Minh Mang tomb can also be accessed by boat, from the Perfume river.
You can also book a tour of the Hue tombs which will take you by car, motorbike or bus.
Tours of the Royal tombs Hue
An easy way to see all three tombs is to do a tour like this one by private car. You'll be able to see the Tomb of Khai Dinh, Ming Mang and Tu Duc in comfort.
Hue tomb combined ticket entrance fees
The alternative to buying individual tickets is buying a group ticket when you purchase tickets for the Imperial City. You can purchase these at the entrance of the Imperial City itself.
A ticket for the Imperial City plus two tombs (Minh Mang and tomb of Khai Dinh ) is 280000 VDN.
A ticket for the Imperial City plus three tombs (Minh Mang, Khai Dinh and Tu Duc) is 360000 VDN.
Hue Tombs dress code
As of last year, there is a dress code for the UNESCO world heritage complex of Hue Monuments, including the Hue Imperial Tombs and the Imperial City.
Short shorts and singlets or tank tops are no longer acceptable as shoulders and knees should be covered to show due respect to the historical, cultural and spiritual significance of the monuments within the complex.
General tips for enjoying the Hue tombs
Make sure you take sunscreen and a hat, you'll be out in the open blazing sun if you go in summer. We would also suggest heading out early in the day to avoid the heat as much as possible.
The best places to stay in Hue
The Tung Homestay is in a great location and offers a garden and terraced area. Offering a buffet breakfast and tour desk, this is a great find at such a good price!
For a little Hue luxury, the Hotel La Perle is only 1km from the city center. While we didn't stay there, this hotel has phenomenal reviews. It is eco friendly and people just rave about it.
Where are you heading next?
Hue is located around 4 hours from Hoi An. You can easily book a bus from Hoi An to Hue, or Hue to Hoi An through 12Go which is a fantastic booking company and allows you to book with good companies, quickly and easily online.
If you're heading to Hoi An next, don't miss these 4 Hoi An highlights.
You can also make a day trip of heading to Hoi An by hiring a motoribke. We've put together a one day itinerary that includes Elephant Springs, riding over the famous Hai Van Pass and going to Marble Mountains.
From Hue you can also head to Phong Nha. Find bus tables for buses from Hue to Phong Nha here. Here is out guide on Phong Nha Ke Bang National Park and things you can do without a tour
Planning a trip to Vietnam? Here's how we get started
This article may contain affiliate/compensated links. For more information, please see our disclaimer here.
Like it? Pin It?