Travelling Europe in a campervan, motorhome or RV is really one of the best ways to see a country and get a good feel for the landscape. Driving along with your windows down and music blaring. Pulling up to a spectacular view and just sitting a while, maybe having lunch. No rush, no pressure, no annoying tour guide.
Our planning Guide to travelling Europe in a campervan will give you all the information you need to prepare for the trip of a lifetime. Whether you're planning a two week vacation or a year long extravaganza, here you'll find all the information you need in order to prepare for your trip.
Please note: This article is written with a focus on 'normal times' ie, pre COVID-19. Some of this information may not be particularly relevant today (during the pandemic), however it is our hope that things will return to normal and we will all enjoy travel again. Therefore I have written this article for you anyway. If things change and need to be updated, I will do that as needed.
Passports and visa's to campervan around Europe
Passport requirements
For most countries you will need to have a valid passport, with at least 6 months validity, and 'enough' free pages to have stamped. Make sure that you check the specific requirements for the country you're flying into, specifically, as that's where it counts.
Visa requirements
One of the most important things to understand are the visa requirements based on your personal country of citizenship. The duration of your intended stay in Europe will also play a role in visa selection.
Every country has arrangements with other countries that determine how easy, or difficult, it is for you to enter. Make sure you understand what is required of you.
When you know what the requirements for your country of citizenship are the first step is to work out how long you want to travel. From there you can work out the best way to approach it. If you intend to travel for an extended period of time, you'll need to set an itinerary where you enter and exit the Schengen area.
I'll explain this more below as it requires an understanding of the continent.
A quick break down of Europe's structure
Europe is a vast and varied content. Home to 44 countries, all with land borders, you can easily move across from country to country. There are however some differences in areas, or regions and the ease of travel through some countries.
The Schengen Area
There are 26 countries in the Schengen area. Once you enter any of the countries in the Schengen area you'll be able to move freely between all of them. The countries included in the Schengen zone are
Austria – Belgium – Czech Republic – Denmark – Estonia – Finland – France – German – Greece – Hungary – Iceland – Italy – Latvia – Liechtenstien – Lithuania – Luxembourg – Malta – Netherlands – Norway – Poland – Portugal – Slovakia – Slovenia – Spain – Sweden – Switzerland
Visa free entry into the Schengen Zone
There are approximately 62 countries whose citizens are eligable for visa free entry into the Schengen Zone. This means that you simply fly into your Schengen country of choice and you'll be stamped in at immigration. You do not need to apply for a visa in advance.
Citizens that require a visa for the Schengen Area
For the countries that are not visa exempt you'll need to apply in advance.
For a quick guide as to whether you're eligable for visa free entry or need a visa, check here. We always recommend double and triple checking things like visa's so don't just take one site's word for it!
Movement throughout the Schengen Zone
For non EU citizens, the Schengen Area is fantastic. Once inside the Schengen Zone you can move freely across 'borders'. Citizens of most countries are allowed to stay within the Schengen Area for 90 in every 180 days. Different rules may apply if you need a visa. Please check your visa requirements carefully.
When your 90 days are up, you simply move into a non Schengen, European country or head home.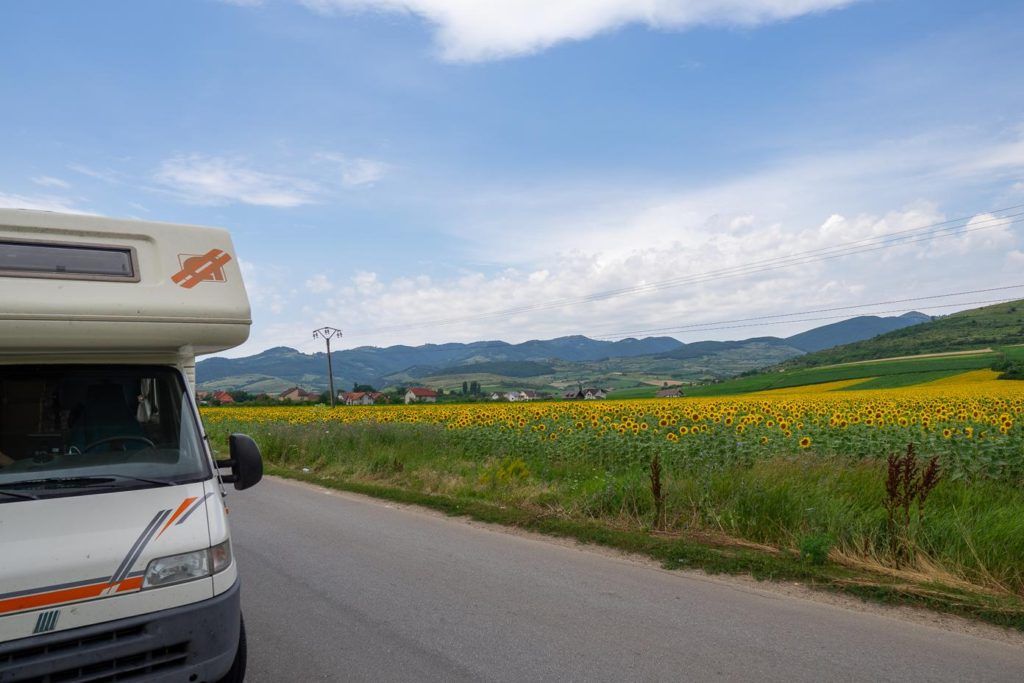 Non Schengen European Countries
For countries outside the Schengen Area, you'll generally fall into one of two categories
Either you won't need a visa, you can just turn up and be stamped in or
You need to get a visa, either at border, or in advance, depending on your citizeship.
Bilateral agreements
A Bilateral Agreement is an agreement between two countries. It allows citizens of each country to spend additional time in the other country. For example, Australia has a Bilateral Agreement with the Netherlands. As an Australian, I can stay 90 days in the Netherlands under the Bilateral agreement. This 90 days, is in addition to the 90 days that I get as part of my Schengen entry. This means that I have 90 days where I can move freely in the Schengen area, followed by an additional 90 days where I can stay in the Netherlands.
Contact your consulate or embassy if you are planning a longer trip or wish to spend more time in a particular country. If may be that your country has a Bilateral Agreements with another.
Make sure you understand the requirements of use and meet the necessary criteria for the Bilateral Agreement that you use. Some countries for example require that you fly out when you leave. Meaning you would then be required to fly out of the Schengen. In that case, you would need to use the agreement at the very end of your trip.
You will often also need to prove that you stayed within that country for the duration of time that you used the Bilateral Agreement. You'll want to keep receipts and other proof ready.
I have used all the techniques above. For example, I went from Romania, which is a non Schengen country, into the Schengen area. I then had 90 days where I could move freely through the Schengen zone.
After using my Schengen days, I stayed in the Netherlands with Ben's family for an additional 90 days using the Bilateral agreement. Near the end of that 90 day period, I had to leave the Schengen area all together.
I couldn't go back out through any Schengen countries (having been in the area 180 days already). I flew from Amsterdam to Croatia, a non Schengen country.
Make sure that you investigate all your options. Consider how long you want to travel in Europe. Decide where you want to go and make sure you're prepared with a suitable travel itinerary and necessary visas.
Travel Insurance for travelling Europe in a campervan
Travel insurance is one of the things that we never, ever leave home without. It's really easy to have the 'It won't happen to me' attitude, but the reality is that 'it' can happen to anyone.
Make sure that you book good travel insurance before you leave. We always use World Nomads. We've dealt with them personally, when I fell sick in Vietnam and needed treatment in Cambodia and then also in Thailand (very long story there!).
World Nomads were fabulous and we were really impressed with their service and speed. They called a couple of times just to check up on me and make sure we were ok. They also paid out almost all of my medical expenses, despite the fact that we were really delayed in sending them all the information. I mean, we literally sent the bills months after the event.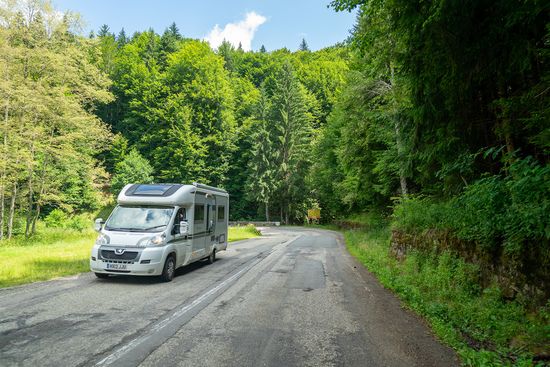 Europe by campervan: Things to consider when planning
Where to begin your trip, or hire your campervan, motorhome or RV
Where you begin your trip and collect your camper is up to you. It makes sense to fly in to Europe and collect your camper from the same place. The exciting thing is that the best place to begin depends on your itinerary.
Campervan route and itinerary planning
Before you leave home you'll probably want to have at least a general route or itinerary planned. There are some important things to consider when you sit down to work this out.
European seasons
Europe is huge and the climate varies greatly across the continent, but also across the seasons. You'll definitely want to factor this in during the preparation phase.
Cooler seasons
Generally speaking, most people will campervan Europe during the warmer months. May to October are great months, with June, July and August being peak season. November to August are the winter months. These can be difficult for campervanning due to snow and ice on the roads. Not to mention that the temperature can get well into the minuses.
If you want to travel in the winter, there are a few countries more suitable. For example, the south of Spain and parts of Croatia, Montenegro and Albania have a milder winter. Whereas central Europe, the Scandenavian Countries and those to the far west have bitterly cold winters. Not ideal for a campervan.
Warmer seasons
From mid spring to mid autumn, the weather vary's from balmy to hot, making the summer peak seasons for travellers. The coastline along the bottom of the European continent is buzzing as thousands flock to coastal towns.
Although it's a great time of year to travel, summer in Europe poses it's own challenges. The coastal areas of all countries are incredibly busy with both overseas and European travellers alike. Prices are also their highest at this time.
For motorhome or RV travellers, you'll need to consider whether you get air conditioning. Our first campervan in Europe did not have air conditioning. At the height of summer, on the Croatian coast, Ben, Whiskey and I all slept outside on the ground. It was just too hot to bare. Two days later we left Croatia for Romania which is a few degree's cooler over night.
Europe has some world class events
Europe is home to some of the worlds largest events, think Tour De France, the Dutch Keukenhof, or Germany's Oktoberfest. Thousands of travellers flock to these area's in the lead up to these events. You'll need to be prepared if you want to join them. Otherwise you're probably best to stay away,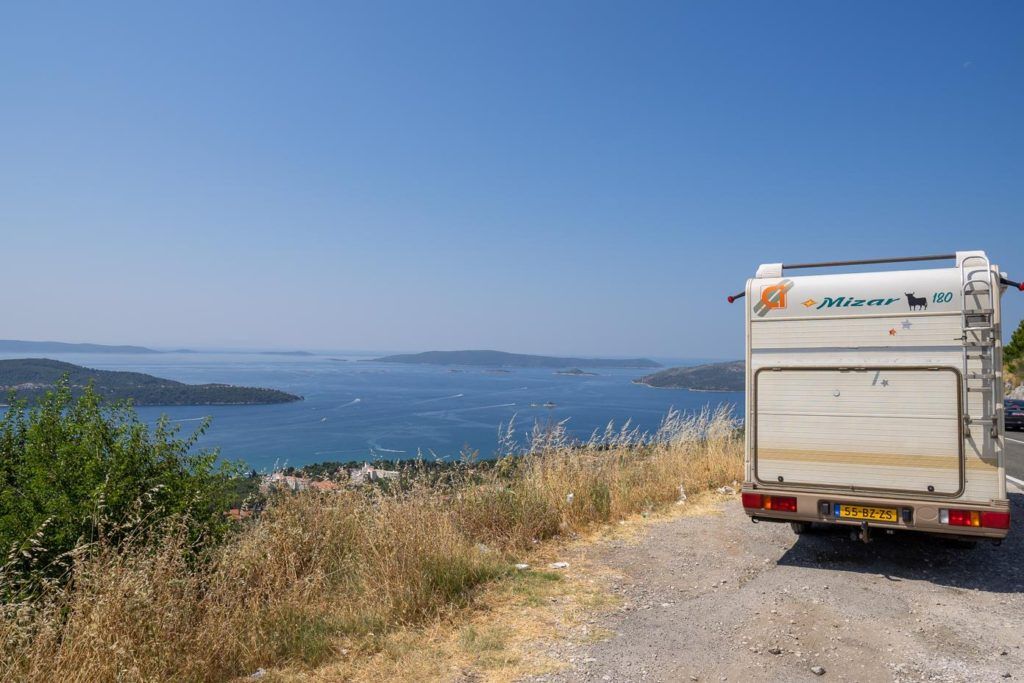 Buying or renting a campervan (motorhome or RV)
The decision as to whether you buy or rent a campervan or motorhome in Europe is a complicated one.
Hiring a campervan is a lot easier and more time efficient in the short term. If, however, you're planning a long trip, it is quite a bit more expensive than buying.
Some of the other benefits of hiring a campervan are that it is quick and efficient. Everything is taken care of for you. If there are any problems, the hire company will usually sort them out. Let me be clear, the more you drive, the more likely that you will have a problem!
We always use Motorhome Republic to hire our campervans. It's a great platform listing all the companies and their availabile vehicles so you can compare and find the perfect motorhome for you.
For non EU Citizens, owning a campervan or RV can be quite difficult. The purchase is not actually the difficult part, it is the registration and insurance thats problematic. You'll usually need to be a European Citizen with a residential address.
There are a few options of buy back schemes, or long term leasing, however we've met a few people who did this and they could never really explain how insurance and things work and it never really felt right to us. That's not to say that you can't look into it though.. just be cautious.
Insurance is necessary to travel Europe in a campervan
Insurance is mandatory in all European countries, and it's the best thing you can pay for and not need. When you hire you campervan you can be assured that the company will offer you proper insurance for the vehicle.
One thing to take note of are the countries that are covered under your insurance as not all countries will be. You're best to confirm this when you get insurance otherwise your insurance card will tell you. Most western European countries use insurance cards that look like a credit card with your details on it and these will be valid in all countries except the ones that have a little x through them on the card.
If a particular country is crossed out, you might either not be insured for that country or you'll need the original paper insurance document also called Green Card to show at the border crossing.
If you want to cross into a country where you are uninsured, according to your insurance card, and you're not carrying the Green Card, then you will need to purchase insurance at the border crossing before you can enter.
We had this problem when we crossed from Croatia into Bosnia and Herzegovina, and then from Bosnia into Montenegro. Neither Bosnia or Montenegro were covered on our insurance cards so we had to purchase insurance. This cost us $20 for 7 days in Bosnia & Herzegovina and $15 for 15 days in Montenegro.
It is not the end of the world and is not going to bankrupt you but it is definitely a unnecessary expense and delay at the border.
The last thing to be aware of when you hire a campervan is the possible excess the hire company has on the vehicle in case of any damages. They often offer you the option to "buy off" the excess, which simply means you pay an additional amount at the beginning.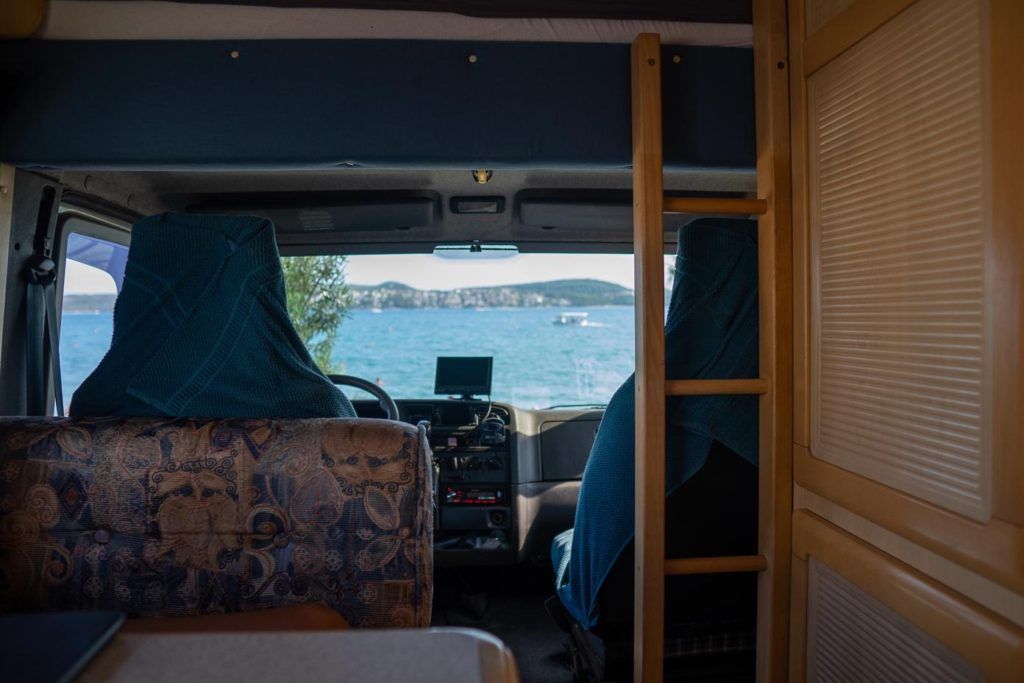 Another option is that the company will take and hold a bond. In some cases this can be quite expensive and tie up a large portion of your travel funds.
Finally, check your travel insurance policy to see whether it will cover the excess on vehicle hire. You will have to check you policy for this as this will be different per company and policy and even per country of residence.
Be mindful that a little dent in a campervan, however unlikely, can quickly result in a very high repair bill. Be sure that you either buy the insurance excess, pay the excess upfront or you have coverage through your travel insurance to avoid huge issues in case of an accident.
Other factors to consider when travelling Europe by campervan
Road and safety equipment
Most European countries have mandatory safety equipment that you'll need to carry on you at all times. If you hire a vehicle, make sure that they supply you with everything you need such as fleurescent orange vest and safety triangles. Winter tires are a must in most countries during the cold season.
If you buy a campervan you may need to source the safety equipment for yourself if you didn't receive it.
Vignettes and road taxes
Vignettes are stickers that you add to your windscreen in certain countries to show that you have paid for the privelege of using their roads, mainly highways.
You can usually buy a vignette at border crossings or at petrol stations close to the borders. You must have one, you can be fined.
Blood Alcohol Concentration
It's important that you know the legal Blood Alcohol Concentration (BAC) for each country that you go through as it varies between them. While some countries have 0.05, others have a legal BAC of 0, meaning you can't drink at all before driving.
In conclusion
These are really the main things that you'll need to consider when planning to travel Europe in a campervan. You'll need to consider the countries that you want to travel and make sure you understand the implications of each of the above factors for each country visited.
If you feel like we've missed anything or want to know more, comment below!