Travelling Europe in a campervan, motorhome, RV or caravan is really one of the best ways to see and experience the continent, but the idea can be daunting at first! If you're feeling overwhelmed and unsure where to start, don't panic. This article contains everything you need to know to set you in the right direction. We cover everything from organizing your campervan or caravan and finding places to stay, to the practical things like wifi and finding LPG gas. Keep reading and you'll set out on your trip of Europe in a campervan or caravan with confidence.!
This article contains affiliate links. For more information, please see our affiliate disclaimer here.
Our story of travelling Europe in a campervan AND caravan
I remember flying to Europe in 2019 to begin our campervanning journey through Europe. We had just had an incredible 5 weeks campervanning around New Zealand and had fallen in love with the freedom and practicality of having our own little home on wheels! I loved the fact that we could pick up and drive off to where ever we wanted, whenever we wanted. We could visit cities, and head to tourist attractions without tours or public transport. We could cook our own meals when we wanted and we didn't have to lug all our belongings around every where. It was liberating for a long term traveller.
We spent some time with Bens family in the Netherlands while we organised a campervan. He was an old Italian model and we named him Luigi. Luigi was fabulous as we crossed Europe and explored Croatia, Romania and Southern Hungary for the summer with our dog, Whiskey. He felt like home. For us however, there were a couple of key things that Luigi couldn't offer us, and after a lot of investigation, we decided to try a caravan. This decision was purely based on our circumstances at the time. I'll explain more in the section on campervans below because don't worry, your circumstances I'm sure, are quite different.
With our new caravan we headed back to Croatia for the winter, and saw some of Bosnia Herzegovina and Montenegro before Covid hit and we had to return to the Netherlands. The end of 2020 and 2021 has sure put a damper on our plans but we've managed to (safely) take the caravan around the Netherland. You can't keep a good couple, their dog and a caravan tied down!
How to travel Europe in a campervan, motorhome or caravan
Well, lets begin at the beginning, with the campervan or caravan. This is an exciting stage that requires a little forethought. You'll need to decide
Campervan, motorhome or caravan? Which should you choose?
Buy or rent: Do you want to buy or hire your campervan, motorhome or caravan?
Motorhome, campervan or caravan – What's the differences?
What is the difference between a motorhome or a camper van in Europe, I hear you ask? Truth be told, they are different, but you'll often hear the words used interchangeably. I wouldn't get too caught up in the wording, except that you'll need to be quite clear about whether you want a motorhome or camper van when you begin looking to buy or rent yours.
General features of motorhomes, campervans and caravans
Sleeping area – this will either be a permanent bed, or it will be a seating area that converts to a bed at night. Sometimes your vehicle will have both depending on the size.
Kitchen facilities – The kitchen can be anything from a small sink and single burner cook top to a larger area with an oven, bench space and a decent sized fridge
A dining area – A table and some seating
Toilet – Unless you have a particularly small campervan, it will usually have a portable toilet as a minimum. Larger campervans, motorhomes and caravans will have a properly fitted toilet
Shower – Large models will have space for a shower
Storage areas – Excess space will be used to house storage areas in which to store your belongings.
Let's quickly break down the differences between motorhomes campers and caravans and how they relate to the features you'll have.
Motorhomes
By definition, a motorhome is a larger vehicle that contains a sleeping area and storage space, built into larger van style bodies, trucks or buses. They look quite a bit bigger than say, the easily recognizable VW camper. There are positives and negatives to having such a larger vehicle.
Advantages to a motorhome are related to the size and comfort level of having so much space. The bed is a permanent fixture so you don't have to put it together every night like you would a convertible seating area. Kitchens in motorhomes are often larger, containing an oven and fridge and adequate bench space for cooking.
There will be a larger, and probably more comfortable lounge and dining area with a fixed table and most likely a bathroom with a fixed toilet and shower facilities. It is also more common for motorhomes to have heating and air conditioning. Newer models may also have floor heating, which is useful if you're travelling in winter. Nothing is worse than cold feet!
Disadvantages to campervanning Europe in a motorhome funnily enough are also related to the size. The larger your motorhome the more difficult it can be to maneuver through small streets. This can be avoided by sticking to main roads. You may still, however have some issues with parking at camping spots as some do not have spaces large enough for very big motorhomes. Standard sized motorhomes shouldn't have a problem though.
The other issue with motorhomes comes if you want to visit cities. Especially some of the old cities of Europe. You'll have a hard time parking anywhere. This can be negated by taking bicycles with you, or towing motorbikes on a trailer behind you. Of course, if you're staying out of the cities then that solves that problem all together.
If you're thinking a motorhome sounds like something you're interested in, don't be discouraged by the issues, there are thousands of people who get by just fine. Just know that you'll need to do a little extra planning.
Campervans
As mentioned, many people these days use the terms motorhome and campervan interchangeably, however by definition, a campervan, also known as a camper van, or camper, is essentially a van that has been fitted out in a more conventional van size.
Advantages of travelling Europe in a campervan include the fact that it is smaller, so it is easier to drive. They handle and move more like a big car. Of course there are variations in the size of campers. The smaller they are, the more true the above is. Parking is also much easier in a smaller campervan, both in cities, at tourist sites and at camping places in most countries.
Disadvantages depend on the overall size, they may have a permanent bed, or seating that needs to be converted. The kitchen is often smaller, with a smaller fridge and limited bench space. Seating and table space will also shrink as the size of the campervan gets smaller.
These are not necessarily all bad things, just make sure you choose an option that suits your needs. If you cook for example, a kitchen with a larger kitchen but smaller seating area may be preferred to a larger seating area with a smaller kitchen. The campervan layout is the most important thing.
Caravans
I don't think it needs to be explained that a caravan doesn't have an engine. It needs to be pulled by another vehicle. The advantages and disadvantages of a caravan are the same as those for motorhomes and camper vans in relation to size. The bigger the caravan the more space and the larger the facilities and storage. The smaller the caravan, the easier it is to tow and the less space you'll find inside.
The main advantage to a caravan over a campervan or motorhome is that you now also have a separate vehicle. You don't have to pack everything up every time you want to go somewhere, you just lock up the caravan and drive away. You'll also never have a problem with parking, unless of course you're dealing with normal city traffic.
If you're trying to decide between buying a motorhome or a caravan, we've had both and have written a complete comparison article to help you choose what's right for you.
Which is better – campervan, motorhome or caravan for travelling Europe?
This is quite a personal question and I would encourage you to think about the following things
How long do you intend to travel?
How confident are you driving a large vehicle or towing?
What is your daily/weekly/monthly budget?
Do you want to stay at caravan parks or in the middle of the forest?
How much space do you need?
Are you able to buy a caravan and a car in Europe?
What kind of places do you plan on spending most of your time? For example old European cities, or out in nature?
The reason we swapped our campervan for a caravan
Our campervan to caravan journey was actually a three step process. In New Zealand we had a small camper. We then upgraded to a larger campervan for Europe. Then we decided on a caravan. Our reasons were the answers to the above questions.
We intend to travel long term. For us that means that we want to be comfortable as it is an ongoing situation. We personally had two problems with Luigi, our large campervan. The first, was that we love old cities, and we sometimes had a hard time driving around and parking him. Others get around this issue by taking bicycles or motorcycles. They leave the campervan somewhere and they bicycle to the attraction, or to the supermarket even. This wasn't an option for us as our dog Whiskey was old at the time when we switched to the caravan. He has since passed.
Based on our needs we felt a car would be useful for us.
We also needed more space and obviously getting an even larger motorhome wasn't on the cards for the reasons above. If however, you're travelling for a month or two, or without a dog, then less space is perfectly manageable. We had no issue in New Zealand with our smaller camper for 5 weeks.
Many, many people travel Europe in a campervan with no issues at all and we were very sad to see Luigi go. Just know, however, that a caravan is a genuine option.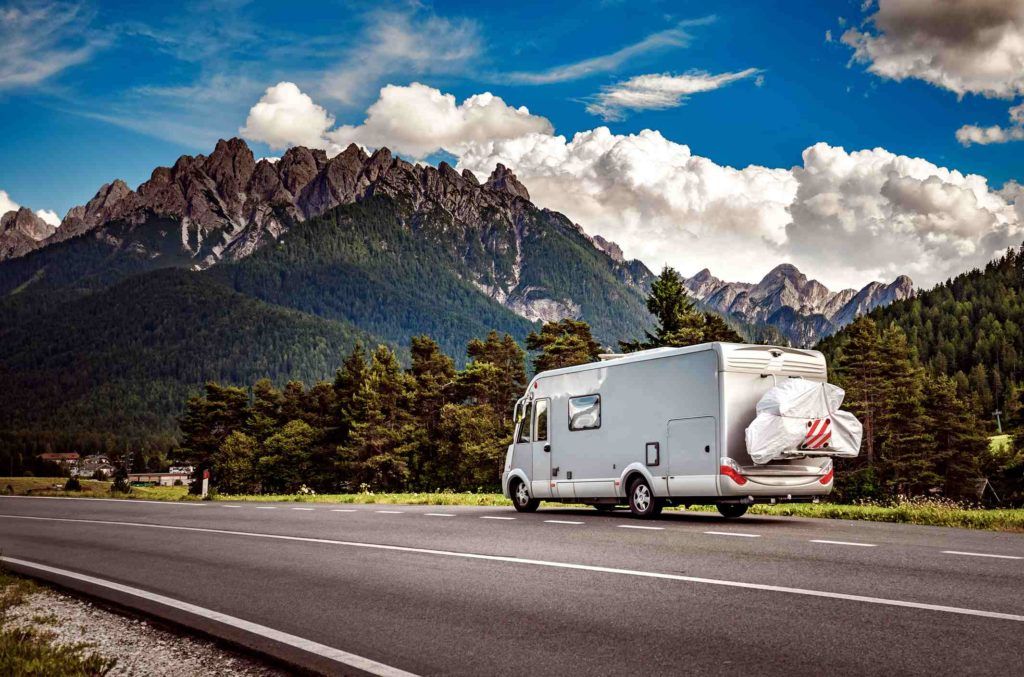 Campervan layouts – some things to consider
Before you begin looking at campers or motorhomes to hire or purchase, it helps to have a bit of an idea about the layouts and what is best for you.
The sleeping situation
Campervan beds can either be fixed beds, or seating that can be made into beds in the evening. Not only that, they can also be high with a ladder, like a bunk bed. For example the bed may be on top of the drivers compartment, as in the photo below. That window is where the bed is.
If you're young and agile then climbing the ladder into bed is not so difficult. However if you're not…
The size of the beds is also important. Ben is a big guy. Not only that, he overheats at night. Our beds in Luigi were too narrow for us both to comfortably sleep. Our campervan had a second 'bunk style' bed at the back and I slept in that one. When we decided to sell Luigi, we knew that we wanted a bigger bed that we could share.
Cooking in a campervan
So, I cook. I like cooking, we eat pretty healthily, it's important to me. When we campervanned around New Zealand, our campervan fridge was so small we had to shop every second day. Luigi had a bigger fridge but it still wasn't ideal. When we upgraded to the caravan, a big fridge was a must.
Cooking in a big campervan or motorhome is much easier than cooking in a small one. That doesn't mean though, that cooking in a small campervan is impossible. You find your own tips and tricks and ways of making it work. You will however have to get used to going back to basics, as in a smaller campervan there is not a lot of room for a variety of pots and pans and certainly none for different kitchen equipment and things like blenders or slow cookers. Even if you had the bench space, you won't have anywhere to store them.
Privacy.. what's privacy?
The smaller your campervan the less privacy you'll have. Conversely, the larger your campervan or motorhome, the more privacy you'll be able to niche out. If you're travelling with friends, go bigger.
In a very small campervan you won't have any room division. If you have a toilet, it will most likely be a cassette toilet, which is like a small box that has a hole with a seat around it. With no division of the room, peeing becomes a pretty public act.
The larger you go in size, the more likely it is that you'll have a separate 'toilet' room. So that's something. You may also have a door or divider that breaks the camper into smaller sections. Our caravan now, for example, has the main living space, then a sliding door that closes off the bedroom and bathroom together.
Heating and air conditioning – yes!
If you're travelling Europe in the shoulder seasons than maybe you can get away without heating or air conditioning, but in the height of either winter or summer, you're going to want them, trust me.
We were in Croatia in the height of summer with our air conditioning free campervan. There was literally a night that all 3 of us (including our dog Whiskey) slept outside because it was so, so hot. 2 days later we left Croatia for Romania which is a few degree's cooler during the day, but much cooler overnight.
Our caravan now has both good heading and good electricity. Having done two winters in the caravan I'm confident saying that you won't survive a European winter without heating.
After campervanning around New Zealand we wrote an article on things to consider when choosing a campervan, have a read and it'll help you to think about layouts and facilities that are important to you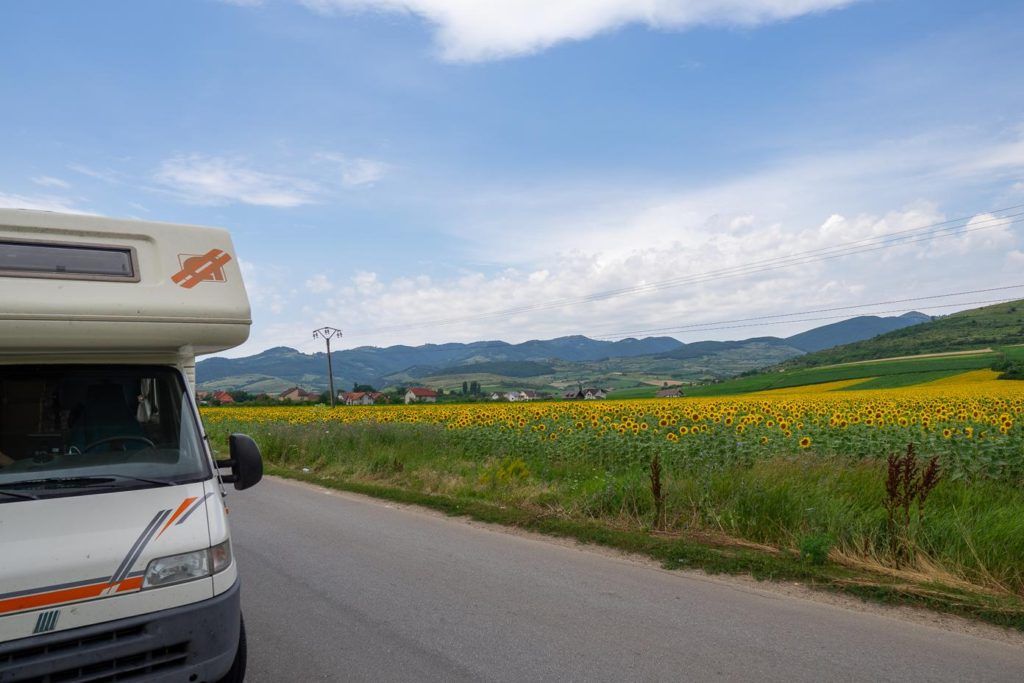 Buying or renting a campervan, motorhome or caravan in Europe
Hiring a campervan in Europe
Advantages of hiring or renting a campervan to travel Europe
Quick and efficient, faster and easier than buying
Everything is taken care of for you
Easily available to non EU citizens
Comes (almost) fully stocked
A great way to try different models 'before you buy'
If you breakdown or have an accident the company will help you
More convenient for a short trip
Renting a more luxury model for a shorter time is cheaper than buying a brand new luxury motorhome
Disadvantages of hiring or renting a camper or motorhome
The primary disadvantage is the price as it will be more expensive in the long term.
Expert tip: We always use Motorhome Republic to hire our campervans. It's a great platform listing all the companies and their available vehicles so you can compare and find the perfect motorhome for you.
Buying a campervan in Europe
If you're a European citizen you should have no problem buying a campervan or caravan in Europe. We'd recommend doing your research and possibly hiring a campervan for a smaller trip before you commit to purchasing one, just so you can really test it out. You may find something is important to you, when you hadn't thought about it previously.
If you're not an EU or UK citizen, it can be more difficult to buy a camper van as you'll need a fixed address somewhere in the EU or UK in order to have the vehicle registered and insured. The good news is that there are ways to do it and we've met people on the road who successfully managed it.
I have to confess we've never had a problem buying our campervan or caravan in Europe as Ben is from the Netherlands. Obviously then, I haven't had to use any of these services. I've done my best to research this section for you and point you in the right direction but I can't make any personal recommendations as we haven't done it or dealt with any companies relating to this.
For a complete guide to buying a motorhome in Europe as a non resident, you can check out our complete guide.
3 ways to buy a campervan in Europe for non-EU or UK residents
Purchase your campervan in the UK using a relative or friends address.
Apparently the UK is the most relaxed country in Europe when it comes to registering vehicles for non-UK residents. You will need a UK address, however this can be a friend or family member. If you buy a camper direct from a dealer, you may be able to use their address for the registration of the vehicle.
Be aware that if you buy a vehicle in the UK it will be a right hand drive. This is different to the rest of Europe who drive on the left hand side. It's not only the steering wheel that is different. The door to the campervan or motorhome will also be 'on the wrong side'. If you stop your right-hand drive car on the side of the road in mainland Europe, you'll likely be stepping straight out into traffic.
2. Buy your camper in the Netherlands or Germany
Campervanning and motorhoming are HUGE in the Netherlands and Germany, as it is in most of Europe. Both countries have businesses that will act as 'middle people' in the sale process. Some of the businesses will sell their own campers. Other businesses operate a sort of 'fixer' type situation. If you find a campervan online that you like, for a fee, they'll go and inspect it for you. They'll help to handle the sale transaction, the registration and insurance. Of course you pay for all of their services.
3. Buying a campervan in France.
Euro Camping Cars in France have established a unique and perfectly legal system for helping non-Europe residents buy a campervan or motorhome in France. Again, I haven't done it, but it is legal, and many people have had great success. Their website explains everything you need to know about their services.
Consider looking for companies with buy back schemes
You've found a way to legally buy your campervan or motorhome in Europe as a non-resident. You've travelled around and loved every minute of your road trip. Now what? What do you do with your camper when it's time to go home?
Firstly, you will need to sell your camper in the same country from which you purchased it. This will save you a lot of hassle. Secondly, how do you sell it quickly and easily so that you're not sitting for another few months waiting to get your money back?
A buy back scheme is a great option. It simply guarantees that the place where you purchased your campervan, will buy it back from you at the end. They will obviously pay a reduced price. The longer you drove it, the more kilometers you did, the less money you will likely get back.
In which country should you hire or buy your campervan?
If you intend on buying, then obviously you'll be restricted to the options and countries in the section above.
When you hire a campervan you'll have plenty of options and can essentially hire a campervan to be picked up in any country. Consider your road trip itinerary before you make any decisions. You'll want to know where you intent to start your trip. Also be aware that in most instances, you'll need to return your camper van to the place where you picked it up. This means your trip will need to be a loop, or a general shape with a last minute dash for the starting place.
Insurance is necessary to travel Europe in a campervan
Insurance is mandatory in all European countries, and it's the best thing you can pay for and not need. When you hire you campervan you can be assured that the company will offer you proper insurance for the vehicle.
One thing to take note of are the countries that are covered under your insurance. If you get your insurance in a Schengen country, the Schengen area is covered. However not all non-Schengen countries are covered under every policy. You're best to confirm this when you get insurance otherwise your insurance card will tell you. Most western European countries use insurance cards that look like a credit card with your details on it and these will be valid in all countries except the ones that have a little x through them on the card.
If you try to enter a country outside of the Schengen area that is not covered by your insurance, you'll simply need to 'buy' insurance at the border.
Be mindful that a little dent in a campervan, however unlikely, can quickly result in a very high repair bill. Be sure that you either buy the insurance excess, pay the excess upfront or you have coverage through your travel insurance to avoid huge issues in case of an accident.
Road side assistance
If you're hiring your campervan, your hire company will usually assist you with any issues such as breakdown or accidents. If however, you have purchased your campervan and it's insurance, you'll usually deal with the insurer for damage and road side assistance if you break down. And trust me, road side assistance is helpful.
When we hit an enormous pothole in Romania and Luigi (our campervan) totally shut down on the side of the road, we were grateful for the road side assistance who found the nearest garage for us and organised someone to come and help. When they couldn't fix him, they loaded Luigi onto the back of a flat bed truck, with us and our dog Whiskey still sitting inside! It was a slightly nerve wracking drive as we swayed and bounced our way into the nearest city on the back of the flatbed truck. An hour after that we were on our way again. Everything was handled by road side assistance.
Gas or LPG
Make sure you have refillable gas bottles, and enough of them, to get you through a decent period of time. Gas can be difficult to find, especially in some countries, so don't let your bottles get completely empty before refilling them. If you have a lot of your items running on gas it'll obviously go faster.
In the summer months, we only use gas for cooking and for our fridge while driving. A bottle can easily last us a few months. However our heating in the caravan runs on gas. Last winter, we sat for a week in -14 degrees. We obviously had the heating on the whole time and a gas bottle would last us 3-4 days! We would change it every 3 and run a full one overnight so we knew that it wouldn't run out while we were sleeping. In the morning we'd reconnect the almost empty one to use the last of the gas when we were awake and could notice the heating was off.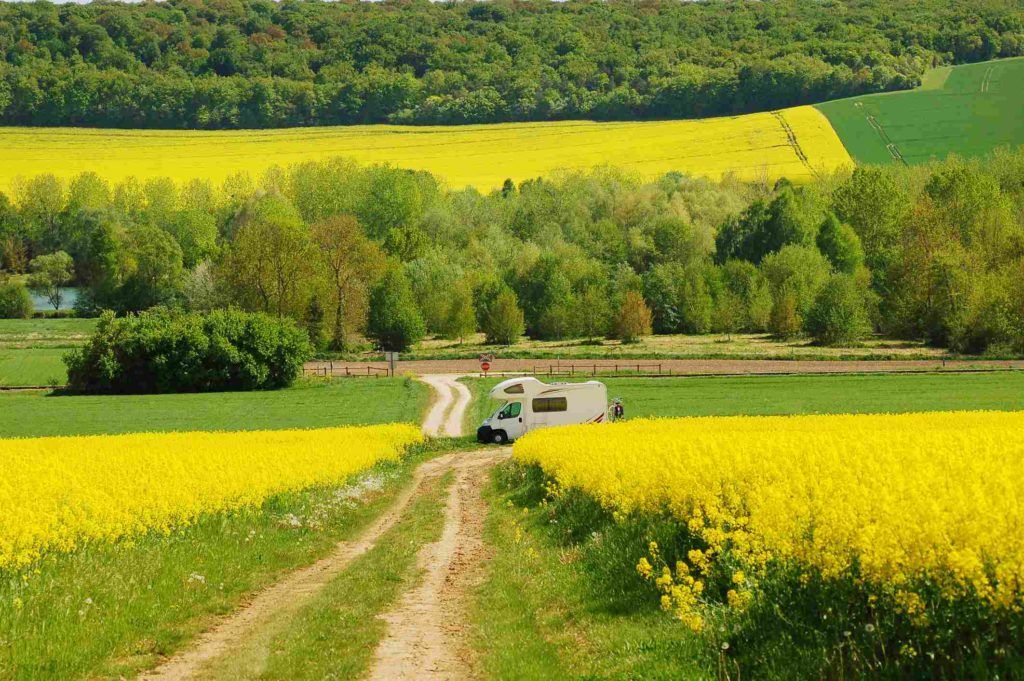 Gadgets and helpful items for Campervanning in Europe
Navigation
Having a good navigation system is really helpful in getting around. It'll save you a lot of time and effort in doubling back and getting lost. Not only that, the larger your campervan or motorhome, the more helpful a sat-nav can be. Get one where you can enter the dimensions of your campervan and it will (for the most part) avoid sending you down narrow one way streets.
Of course you'll still need to use your own judgement and common sense. Look out for sign posts and information and change your direction early if you think you're heading somewhere where you're not going to fit!
12V USB Port Adapter
You'll need to be able to charge your phone and/or sat-nav while driving. This adapter goes in the old cigarette lighter hole and will keep everything charged while you're navigating. There's nothing worse than running out of battery half an hour before you're supposed to arrive at a new destination.
An inverter
If you have electronic devices such as laptops and camera's you're going to want an inverter. An inverter takes the energy from the campervans engine and converts it to electricity you can use to power your devices. You'll especially need this if you want to stay off the grid and wild camp.
Motorhome, campervan or caravan awning
An awning is really useful on a nice day to protect you from the hot sun. Many campervans will come with a built in awning that you roll out. If you hire a campervan it may come as an add on that you'll need to rent separately. When we bought our caravan there was no awning, so we simply purchased one that slides onto the caravan and can stay there permanently.
A water filter
We had travelled for quite a while without a water filter and it didn't seem to bother us until we spent a few weeks in Istria, Croatia, and the water tasted horrendous. We have refillable water bottles we take everywhere, rather than buying plastic, and we were really having a hard time drinking the water there. At the time, as a quick solution we bought a cheap small filter which helped… enough.
Bicycles
Bicycles come in handy when you're campervanning in Europe. It's much easier to jump on a bicycle and cycle to the shops than it is to pack up the whole camper or motorhome and go. Bicycles are also a great way to get into a city or a green zone. You can park the campervan somewhere safe and easy and ride the bike in. It's really common to see motorhomes with bicycles on the back for this reason.
The Gross Vehicle Weight of your motorhome or campervan
Aside from the dimensions of your camper, you'll want to take note of the gross weight of the campervan or motorhome. It will have a maximum weight that you're allowed to carry. The more 'stuff' you load in, the heavier you'll be. When you're working out what to pack, try to remember that just because you have some space doesn't mean you should fill it. Leave some space so you can collect things as you go.
Essential Apps to download to your phone
Apps to find camping places
Park4Night (park4night.com) an app that is fantastic for helping you find free overnight parking near you.
Apps to make life more enjoyable on a road trip
The Kindle App will allow you to download books so that you're not having to try and buy them as you travel
Borrowbox is an app that is used by some libraries, it allows you to borrow E-books for free
Audible – You pay for books you download on audible but you own them
Spotify – It's worth the small monthly investment to have some good road trip music
Connectivity and WIFI throughout Europe
Let's face it, life is a lot easier if you have internet. Especially when you're heading into new countries and unknown territory. It's also helpful if you want to keep in touch with loved ones. I remember solo backpacking in Cambodia and my dad freaking out because I wasn't replying to his text messages. I was at Angkor Wat at the time and 1000 year old temples don't often have WIFI. Needless to say, I bought a sim card the next day.
If you stay at camp grounds they will often have internet although how good it is will vary considerably. If you need good internet, I'd recommend getting a dongle and using pay as you go rechargeable data like this. Three is a fantastic company with good reception throughout a lot of Europe.
Campervan and motorhome security – How to keep your belongings safe
Generally speaking, I would say that when you're travelling in Europe, your at no greater risk for theft or a break in than you are in your home country. That being said, we've never had any problems and maybe someone who has experienced a break in might disagree. As everything you presumably want and need is inside the campervan, it's understandable to be worried.
I was never really worried in camping places, but I was more concerned when we had to park the campervan in an isolated place. This happens say, when you're going hiking and you drive to a remote car park, or, it happens when you want to see an old city and you can't get parking so you end up parking down some random backstreet. It's the only place you'll fit.
There's different strategies and tips, and everyone's opinion differs. Some say leave all your blinds open so everyone can see if someone is in there. Others say leave them closed so the potential robber can't see whether YOU'RE in there or not.
At the end of the day, I always carry our most valuable items on me. Passports, laptop, camera, phones etc, all go in my day bag if we leave the campervan in a remote place.
The other option is to purchase additional door and window locks.
Driving in Europe
Driving is different in Europe in that you'll be driving on the right hand side of the road. Other than that, it's not that dissimilar to driving in countries like America and Australia.
In western Europe in particular, the roads are pretty good and you shouldn't have any issues, however the further east you move, the worse the roads become, I think I mentioned the pothole in Romania that stopped our camper in it's tracks.
Do you need an international driving permit?
Anyone who's drivers license has been issues outside of Europe should get an international driving permit. Although it's not mandatory in all European countries, some countries do require it, alongside your normal drivers license.
Green Zones
Green zones are environmental zones, usually in cities, that restrict entrance to cars that do not meet emission requirements. Some places ban diesel vehicles all together, others may allow you to drive there provided you have received a green sticker indicating you've past an inspection. The reality is that if you're in a large diesel motorhome, you're probably not allowed in the green zone, and even if you were, you'd never be able to park in there.
As a general rule, avoid green zones, or park the camper somewhere safe and ride a bicycle or take public transport into the city if you want to go.
Petrol/Gas stations
By far the most expensive place to buy fuel is along the highways. If you need to fill up, go a little further in to a town, away from the motorway and you'll find it to be a lot cheaper.
Parking
I've said it a few times already, but trying to park a large motorhome can be stressful. Some tourist sites will have large carparks, catering to the community campervanning Europe, but not all of them will. It is difficult for anyone to park in a city, let along a vehicle that's twice as long as a normal car.
Reverse parking, or even just reversing a large campervan or motorhome can be difficult and many people find a reversing camera to be of great use.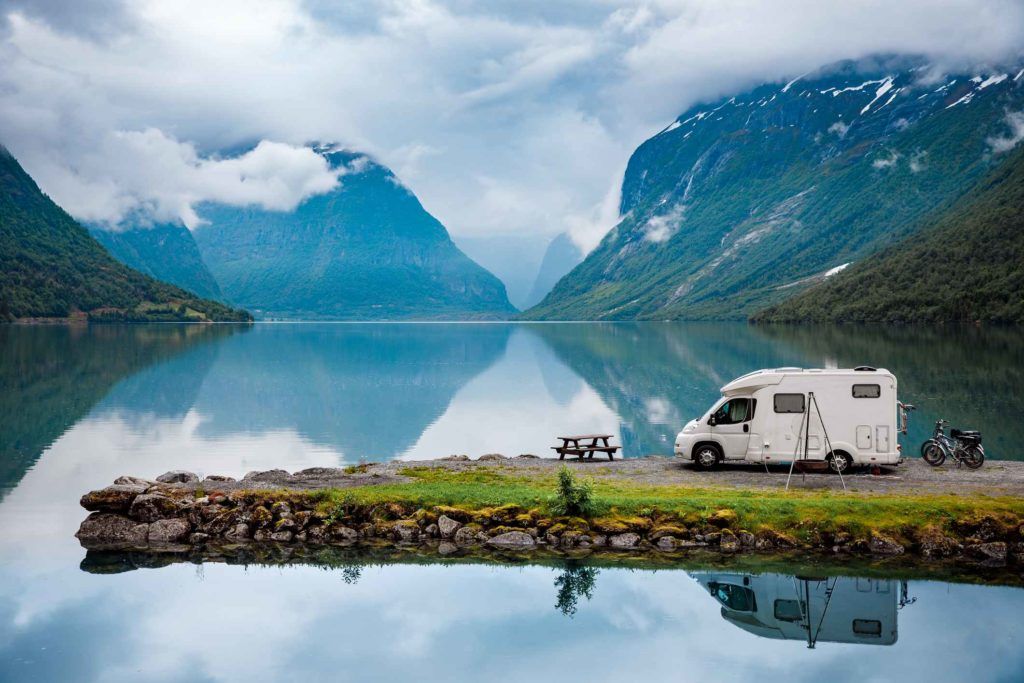 Other factors to consider when travelling Europe by campervan
Road and safety equipment
Most European countries have mandatory safety equipment that you'll need to carry on you at all times. If you hire a vehicle, make sure that they supply you with everything you need such as fleurescent orange vest and safety triangles. Winter tires are a legal requirement in most countries during the cold season. You may also need snow chains if you plan on going into the mountainous areas in winter.
If you buy a campervan you may need to source the safety equipment for yourself if you didn't receive it.
Vignettes and road taxes
Vignettes are stickers that you add to your windscreen in certain countries to show that you have paid for the privilege of using their roads, mainly highways. The countries that use vignettes are
Austria
Bulgaria
Czech Republic
Hungary
Moldova
Romania
Slovakia
Slovenia
Switzerland
You can usually buy a vignette at border crossings or at petrol stations close to the borders. You must have one or you can be fined.
Road tolls and a toll pass
Many countries have tolls their motorways. If you're spending a decent amount of time in a country that has tolls, and offers a toll pass, it can be an easy way to avoid the long lines that sometimes occur at the toll way.
Security, Safety and emergencies
To be perfectly honest, we've never felt anything other than safe and secure in Europe. The only concern we ever really had was when we couldn't find anywhere decent to park the campervan. It was sometimes necessary to park in places that we were unsure about. Other than that, most countries in Europe are safe and other people at the campervan sites are just doing what you're doing and trying to enjoy life.
If however you have an emergency, the emergency number in Europe is 112.
Winter in mountainous regions of Europe
If you plan on driving in the mountains in winter, you'll probably require snow chains. Make sure you know how to fit them properly. If you're hiring a campervan, the hire company should show you how to do this.
Blood Alcohol Concentration
It's important that you know the legal Blood Alcohol Concentration (BAC) for each country that you go through as it varies between them. While some countries have 0.05, others have a legal BAC of 0, meaning you can't drink at all before driving.
These are really the main things that you'll need to consider when planning to travel Europe in a campervan but don't let it stress you out. Make sure you cover the basics and the rest you can deal with as you go. You'll love the freedom, I promise.
Where to stay with your caravan or campervan in Europe?
Campervan parks
There are quite a few options for places to stay overnight with your campervan. We stay at campervan parks, also known is holiday or vacation parks. Here you have access to facilities such as showers and toilets, and washing up and laundry rooms. It is possible to find some incredible campervan parks throughout Europe.
Overnight parking places
Many countries have over night parking places where you can stop if you're just driving through. While some are nicer and designed for tourists, others are essentially truck stops, but will do the job. They're free if you don't want to pay. You can find these on the park4night app that I mentioned above.
In France you'll find Aires de Service, or aire de camping car, which are places that you can stop for the night. They cost anywhere from free to €15. For an extra fee you may be able to dump your grey water and fill up your fresh.
Wild camping
Wild camping, known as freedom camping or free camping in other places, is not so common, but fairly easy to do in Europe. This is where you stop somewhere that is not a designated camp site, for example, in the forest. To do this you'll need your campervan to be fairly self sufficient. You'll also need to check the laws of the country you're in as it is illegal to wild camp in certain countries.
ACSI card for discounted camp grounds
If you're travelling in Europe in the off season, this card gives motorhomers, campervanners and caravaners great discounts on campsites and is well worth getting. As mentioned, only if you're travelling in the off season.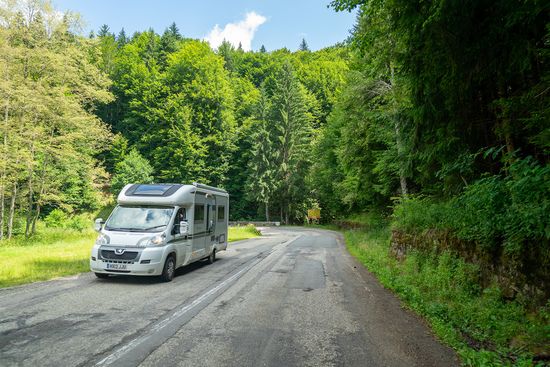 Where can I travel with a campervan in Europe?
Everywhere! In reality, you can travel across most of the continent in a campervan, motorhome or caravan. Europe has open borders so you can freely move throughout the region. Once you've crossed the border into one country, you'll need to abide that it's rules and regulations. I'll cover that more below.
Europe by campervan: Travel Routes and Itineraries
Where to begin your road trip, or hire your campervan or motorhome
Where you begin your trip and collect your camper is up to you. It makes sense to fly in to Europe and collect your camper from the same place. The exciting thing is that the best place to begin depends on your itinerary. Where do YOU want to begin your European adventure?
How to plan a European Campervan Route or Itinerary
Planning a route or itinerary for Europe, or for any road trip is quite a personal experience. You can either plan everything out, from where you plan to stop, what you plan to see and how many days you intend to stay. Or, you can leave it fairly open. I prefer to leave it open and really just plan the main stops. With plenty of space to move in between.
Before you leave home you'll probably want to have at least a general route or itinerary planned.
European seasons
Europe is huge and the climate varies greatly across the continent, but also across the seasons. You'll definitely want to factor this in during the preparation phase.
Cooler seasons
November to April are the winter months. These can be difficult for campervanning due to snow and ice on the roads. Not to mention that the temperature can get well into the minuses. It is possible, however you'll need to be prepared.
If you want to travel in the winter, there are a few countries more suitable. For example, the south of Spain and parts of Croatia, Montenegro and Albania have a milder winter. Whereas central Europe, the Scandenavian Countries and those to the far west have bitterly cold winters. Not ideal for a campervan.
When campervanning in Europe in the winter, you won't have as many accommodation options as many camp grounds close for the season. Those that remain open will usually have less facilities available.
Warmer seasons
Generally speaking, most people will campervan Europe during the warmer months. May to October are great months, with June, July and August being peak season.
From mid spring to mid autumn, the weather vary's from balmy to hot, making the summer peak seasons for travellers. The coastline along the bottom of the European continent is buzzing as thousands flock to coastal towns.
Although it's a great time of year to travel, summer in Europe poses it's own challenges. The coastal areas of all countries are incredibly busy with both overseas and European travellers alike. Prices are also their highest at this time.
For motorhome or campervan travellers, you'll need to consider whether you get air conditioning. Our first campervan in Europe did not have air conditioning. At the height of summer, on the Croatian coast, Ben, Whiskey and I all slept outside on the ground. It was just too hot to bare. Two days later we left Croatia for Romania which is a few degree's cooler over night.
Peak periods
Europe is home to some of the worlds largest events, think Tour De France, the Dutch Keukenhof, or Germany's Oktoberfest. Thousands of travellers flock to these area's in the lead up to these events. You'll need to be prepared if you want to join them. Otherwise you're probably best to stay away from those areas at those times.
Another issue can be the 'school holiday' period, during summer in Europe. Popular campervan parks can book out months in advance.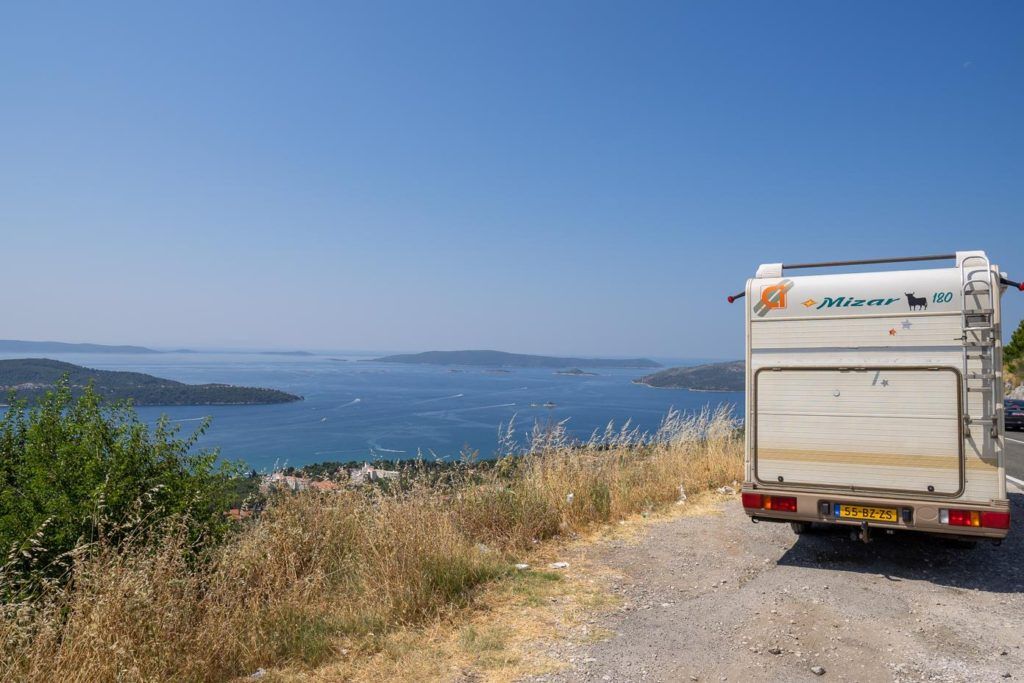 Using ferries on your European road trip
A great way to get from A to B without driving the long way, or simply to get on and off an island, like England, Ferries are part of most peoples campervanning experience in Europe. Connecting countries like the UK with France, Spain and the Netherlands, and Italy with Greece, Turkey or Croatia, it's a fast and efficient way to travel.
Depending on the size of your motorhome or campervan and the distance you need to travel, you can pay anywhere from a €200 to €1000 euro per trip.
Using google maps to plan your European Campervan adventure
Get comfortable using google maps route planner when you're planning your trip. I really like it because it gives me distances and times for travel. For example, I might decide to leave one place and drive to the next, The distance always looks so small on the map but google maps says it's a 9 hour drive! Then I can try to find a place to stop in between for the night or find something that we might want to see or do for the day.
You can also download offline maps which helps if you think you might be going somewhere with no internet access.
It's a really useful tool.
Costs and budget for travelling Europe in a campervan
Ultimately your budget will reflect your personal travelling style. It is heavily influenced by how many attractions you visit or how often you eat out compared to cooking in the campervan. Accommodation costs will vary from person to person, for example staying in high end campsites every night will be more expensive than wild camping, which is free. Your campervan hire or purchase price will be your most expensive initial outlay.
Some necessary and regular expenses are
petrol or diesel for the campervan
campervan site fee's
Admission fee's to tourist attractions
Food
Gas for gas operated cook top or heating in the campervan
Laundry facilities (sometimes you have to pay at the camp sites)
European road tolls
European Vignettes (see below)
Public transport if you leave the campervan at the campsite
Apps for tracking your spending
It's really helpful to keep track of how much money your spending. It disappears so quickly when you're paying little bits out here and there. Petrol, gas, the camp ground for the night. Keeping track as you go means you'll make it comfortably to the end of your trip rather than running out half way through.
Two great apps you can download to your iPhone are Trabee Pocket and Trail Wallet. They are both pretty similar and will help you keep track of your spending in each country. You can also track in that countries currency AND your home currency. This is really useful if your mental conversion is not so good, like mine!
Transferring Money
If you're needing to transfer money around, make sure that you either have your own wifi device, like a dongle, or you use a VPN to protect your banking data.
What do you mean some countries don't take Euro's?
Yep, just to confuse things, some countries in Europe don't take Euro's. This is easy enough to deal with as simply going to an ATM or taking a small amount of the other currency with you, will solve the problem.
Countries that don't accept euros are
Bulgaria
Croatia
Czech Republic
Denmark
Hungary
Poland
Romania
Sweden
You'll need to organise these things before you leave for Europe
Your passport and any necessary visa's
Your passport itself is fairly easy. You just need to have one, and it needs to have more than 6 months validity, and enough pages to be stamped.
Visa's can be a little bit more tricky depending on what citizenship you have, and how long you intend to travel. Make sure you check your visa requirements and organise your visa in advance.
Read: Passports and Visa requirements for campervan travel in Europe
Drivers licence
It seems only logical that you'd take your drivers to Europe if you intend to drive a campervan, doesn't it? Make sure to check that your license is sufficient though. You may find that you need to obtain an International Drivers License before you go. And if so, you'll need to have that on you too.
Travel Insurance for travelling Europe in a campervan
Travel insurance is one of the things that we never, ever leave home without. It's really easy to have the 'It won't happen to me' attitude, but the reality is that 'it' can happen to anyone.
Make sure that you book good travel insurance before you leave. We always use World Nomads. We've dealt with them personally, when I fell sick in Vietnam and needed treatment in Cambodia and then also in Thailand (very long story there!).
World Nomads were fabulous and we were really impressed with their service and speed. They called a couple of times just to check up on me and make sure we were ok. They also paid out almost all of my medical expenses, despite the fact that we were really delayed in sending them all the information. I mean, we literally sent the bills months after the event. I was convinced at that point that they wouldn't pay, but voila. We're very happy with them.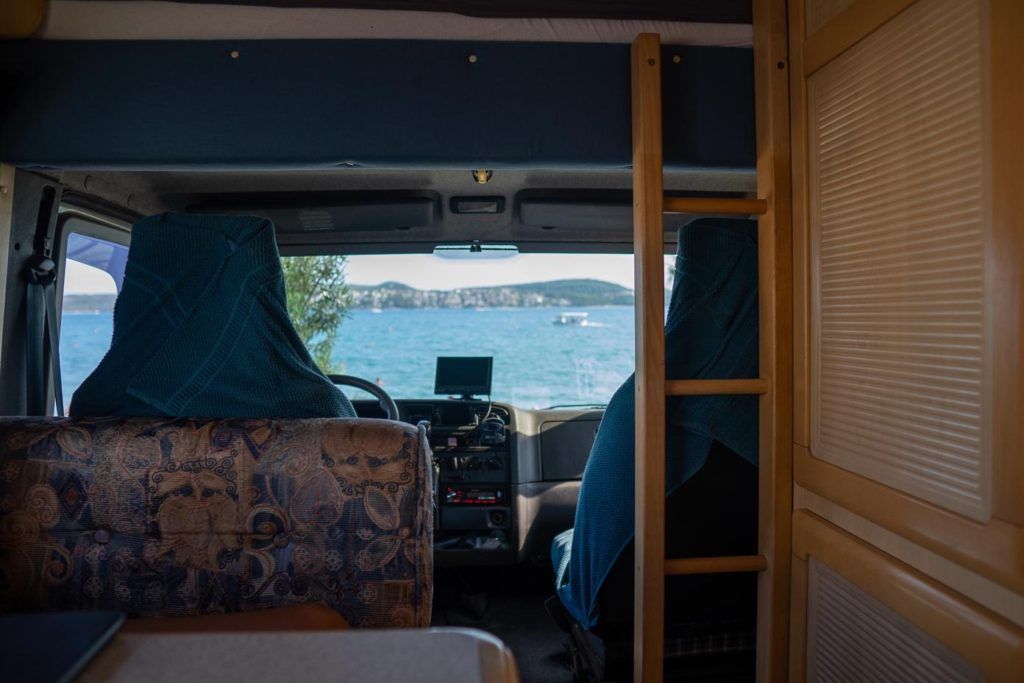 Paperwork that you'll need to carry with you
Before you set out, you'll want to make sure you have copies of all necessary paperwork. This includes
Campervan or caravan and car insurance paperwork. Make sure you have the original, some countries won't accept copies or photos from your phone.
A rental contract or purchase contract proving your right to the vehicle
Your travel or health insurance information
your original birth certificates and marriage certificate. These are not so easy to get on the fly if you need them
your drivers licence
Your pets health check certificates and proof of rabies vaccination. You'll need this even if you're from a country that doesn't have rabies. If you enter a rabies risk zone your pet won't be allowed back into the rabies free area without one.
Details of anything you've booked in advance including campervan parks, tours, tourist sites or public transport.
Van life – What's it really like?
We absolutely love the freedom and sense of adventure that comes from living life in a camper. The idea that you can pick up and go anywhere. That you can see something new and different. We've been able to see some incredible places and have wonderful experiences. Not to mention adopting our dogs from Croatia. We wouldn't have been able to do that if we didn't have our own home on wheels.
The challenges of van life
That being said it's not always sunshine and rainbows. There are challenges to van life as much as there are to any other lifestyle. Adjustments need to be made to how you life. The smaller the camper, the more adjustments are required to make van life enjoyable.
It involves some downsizing
You need to get used to public toilets, the occasional cold shower and cooking with minimal equipment. Packing everything away every time you move can be a bit annoying but you do get in a good rhythm with it. Forgetting to lock a cupboard door is fun when stuff flies out while you're driving. Generally, if you're a minimalist or can get buy without 'all the stuff' then you'll have no problem.
I love our life in our little home and I have absolutely no problem what so every with living in a smaller space. I have everything that I need and the space doesn't bother me at all.
It can be tiring constantly moving
We sometimes struggle between moving and staying still. If you find a really good camping place it's really easy to settle down for a while as opposed to keeping moving.
When things go wrong there's no escape, your camper is your home AND vehicle
There are times when things go wrong with the camper. Like the time our wheel bent, yes, our wheel bent. We were about to leave Romania and head back to the Netherlands. We decided to make a push for it but the vibration got worse and worse. The first night we stopped in Hungary for the first night, then in Germany, and then made it home, but oh wow did we have headaches.
You may have the odd sleepless night
And, as much as we like to think they are, motorhomes and campervans are not sound proof boxes. There'll be the occasional night you don't sleep because the people next to you have music playing, or are sitting at their table outside your window talking. We were at a campground just outside Bucharest. Which, unbeknownst to us, was right beside a large venue which was holding a wedding reception. Hardcore dance music blared inside the campervan, it was so loud we couldn't have heard our own music if we'd put it on and turned it right up. Everyone was in the same boat because we were packing up our campervan at 6 am, and so were all the others. No one had had a wink of sleep.
The other side to this is thunderstorms. Heavy rain or wind on a campervan or caravan roof can sound thunderous. Sleeping during really big storms can be difficult. And if a huge storm hits during the night and your awning is out, watch out!
How do relationships survive van life?
To be honest I think that depends on what the relationship is like to begin with. Ben and I have travelled together for years so we're used to always being together. We don't really have any issues with being together all the time. That being said, sometimes it's nice to have some privacy, or a moment to yourself.
Our main arguments these days are about the toilet. After all this time he still argues every time I tell him that the toilet needs to be emptied. E-V-E-R-Y time. You know in relationships you have your roles. There are certain things one person always does and certain things the other always does. He always does the toilet, its just the way it is. The thing is, I always have to tell him it's full. He never just notices and empties it. I notice it and I tell him. This is what we argue about!
Other ways van life can affect relationships
As a little side note, it's important that you factor your relationship in when you choose a campervan. With our first campervan we had to sleep in separate beds because the beds were too narrow for us. We also had a fairly small table that had two bench style seats opposite each other. The seats were not wide enough for us to sit comfortably side by side. I mean, we could, but we were bumping elbows a lot.
Not only were we sleeping separately, we were always sitting opposite each other. It didn't really do a lot for the romance.
When we bought our caravan we knew we wanted one with a big bed, as well as a larger seating area where we could sit side by side.
In conclusion
So, that's a lot, right? While there's a lot to know and certainly to do before you leave on you camper van or motorhome road trip around Europe, once you set off, it gets a lot easier. After a week or so the day to day basics become routine and you'll find your rhythm.
I want to hear from you
Don't be shy. If you've made it to the end of this guide on campervanning Europe then you're ready to go. Drop a comment and tell me your plans. Also feel free to ask any questions you might have. You never know, maybe they'll help someone else too.
Pin me!