Confused about the difference between a campervan and a motorhome? If you're starting to plan your road trip you'll need to decide whether to buy or hire a motorhome or campervan. In this article we're going to compare and contrast campervans and motorhomes. We'll look at the pro's and con's of both options. We'll also compare facilities and amenities and discuss the less tangible things, like how they feel to drive and challenges you might have with each. Hopefully by the end you'll have a better idea about what sort of vehicle is best for your and your travel plans. Bring on the competition, campervan vs motorhome!
This article contains affiliate links. For more information, please see our affiliate disclaimer here.
So many names for the same things
Before we go any further, I wanted to take a second to clarify some of the names you'll hear when you're talking about (or reading about) campervans and motorhomes. Although their are technical classifications, which we'll go into below, the names are actually used quite interchangeably in practice.
So, a quick run down
An RV or recreational vehicle is really used to refer to any vehicle, motorhome or campervan. It can be self drive, like a motorhome or campervan, or it can be a camper trailer that is pulled behind a car. It's a general term that embodies the concept of a 'home on wheels', so to speak.
A camper, camper van, or campervan are all, you guessed it, campervans!
Motorhomes are only really called motorhomes, although you could obviously call it an RV too.
I think quite a bit of the confusion comes from the regional usage of the names. RV, for example, is very American, while camper and campervan are used a lot more in Australia and New Zealand.
Either way, now that you know the that all the different names refer to the same things, we can discuss the differences between campervan and motorhomes.
Different classes of RV (recreational vehicles)
Campervans and motorhomes are divided into three classes. Each class has a set of parameters that it needs to fall into in order to meet the class requirements. That being said, for our purposes, it's easiest to think about it as the three classes as essentially dividing recreational vehicles down into the size categories of small, medium and large. Recreational vehicles, that is motorhomes and camper vans are divided into classes A, B or C.
What is a motorhome?
By definition, a motorhome is an RV that is built onto the chassis of a truck or bus. Inside they contain a living area, sleeping area, a kitchen and bathroom facilities. Motorhomes are divided into two classes, class A and class C.
Class A motorhomes
Class A motorhomes are the top of the line more luxury style motorhomes. They are the largest of the recreational vehicles. In Europe, Class A motorhomes are generally around 7.6 m long, or 25ft for our American friends. They can however be longer. In America they can be up to 12.2m or 40ft. That's a lot less common in Europe due to the narrow, windy roads.
In a Class A motorhome you'll usually have a decent sized fridge. A self contained bathroom may or may not have a separate shower. There'll be a decent sized area for the living quarters. It will have all the modern comforts that you'd expect with a luxury vehicle, such as air conditioning and good heating.
A class A motorhome is designed for comfort and to house families and groups. In Europe, you'd expect a 7.5-9 meter motorhome to sleep 5-8 comfortably, depending on the layout.
These stylish and comfortable Class A motorhomes don't come cheap. If you want to buy a Class A motorhome, you're look at around $60000 USD for a second hand or bottom of the range motorhome. A top of the line, spanking new Class A motorhome in Europe can set you back anywhere from $90000 to almost $150000 USD. Whereas a high end, enormous motorhome in the USA can cost anywhere up to $300.000 USD.
Being the largest and heaviest of the recreational vehicles, European Class A motorhomes often weigh anything from 9000lbs to 11000lbs. For those of us using the metric system, that's 4000 to 6000 kilograms, of about 6-13 ton. This is important to know because you may need to take a new driving test to get the necessary driving license to drive such a heavy vehicle.
You'll need a C1 license to drive a motorhome with a maximum authorized mass of 3.5-7.5 ton. For a motorhome with a maximum authorized mass of more than 7 ton, you'll need to get a C class license.
Class C motorhomes
The C Class of motorhomes is like the little cousin of the Class A. They are generally smaller and more compact. As a result they have less space and a little less luxury as there isn't as much room to store things. That being said, some of them are still especially grand. It really depends on the design, the layout of the motorhome and the ingenuity of the designer.
A C Class motorhome is often between 6.5m (22ft) and 7.5m (24ft). Again, depending on the layout and build of the motorhome, a Class C motorhome can comfortably fit between 4 and 6 people.
Class C motorhomes make a great entry point for first time motorhome buyers as they're a lot cheaper than the Class A option. A second hand Class C motorhome can start around $13000 USD and you can expect to pay anywhere up to $50000 USD for a bottom of the range new model.
C Class motorhomes come in anywhere from 7700lb to 11000lb (3.5ton – 5ton). The same drivers license requirements apply as for the Class A motorhome. You'll need a C1 license for anything between 3.5 and 7.5 ton and a C license for anything heavier than 7 ton.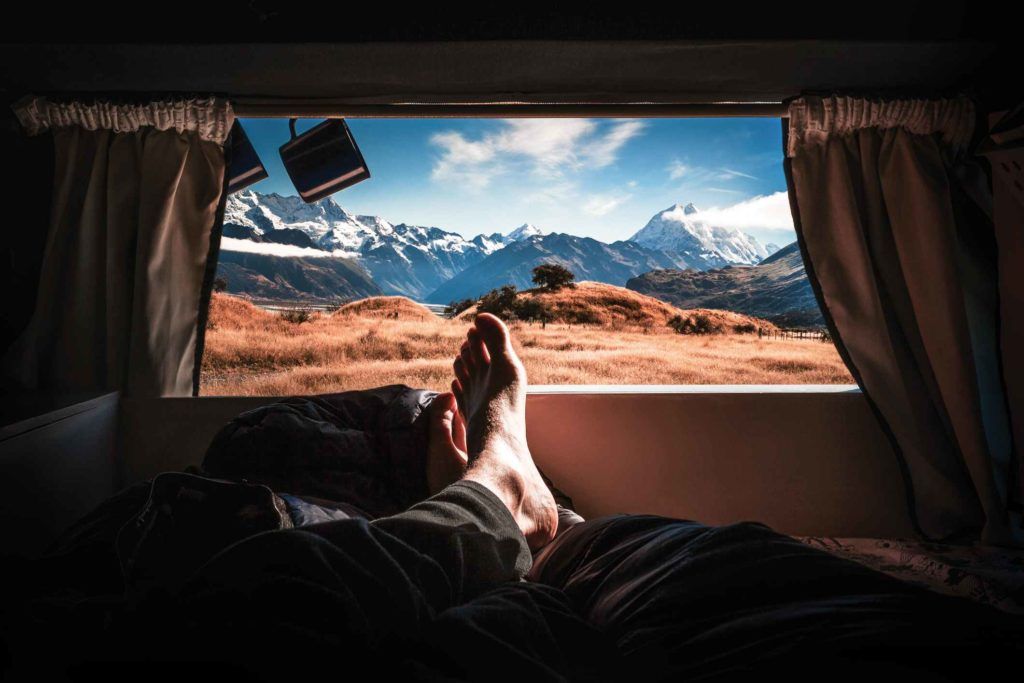 What is a campervan?
A campervan is a purpose built sleeping or living area that is built onto the chassis of a van, or converted from a van. They also vary in size. Larger models which contain a kitchenette, double or two single beds, a dining and small seating area. Smaller models are essentially a van that converts into a bed at night.
Class B Campervans
Anyone else wondering why the Class B campervans are between the Class A and Class C motorhomes? My OCD finds that oddly unsettling.
Anyway, my issues aside, Class B campervans are the smallest and lightest of the recreational vehicle options. Although they vary considerably in size, they are undoubtedly smaller having 30-40% the square footage of a large motorhome.
Everything in a campervan will be reduced in size, or non existent. For example, it may have a small fridge, or no fridge. It may have a small toilet, or no toilet. So, here's the thing. If you choose the smallest option, or the bottom of the line cheapest option, you'll have less and less of the features mentioned throughout this article. If however, you choose a larger model of campervan, or get a quality higher end camper, you can have options.
When we campervanned around New Zealand we had a small to mid sized campervan. It still managed to fit a small kitchenette, seating area, fold out bed, room to stand, and a spot to place a portable cassette toilet at night.
Campervans are great if you don't want to spend enormous amounts of time in the camper. They're also a great option for younger people. Whenever you see someone talking about 'van life', there's a good chance they're using a Class B campervan. They're an incredibly popular option for travelling most countries.
A campervan is usually 18-24ft (5.5-7.5meters) and will fit 2 comfortably, or 3 at a stretch if designed for it.
Buying a campervan can cost anywhere from $6000 USD for a second hand one, to $40000 USD for a larger model. Many people buy the van and do their own van life conversion. I haven't done it so I'm not sure whether that is cheaper.
General differences between European campervans and motorhomes and those in America
If you've driven a motorhome or campervan in North America, you'll find some specific differences between campervans and motorhomes for your European road trip.
European campervans and motorhomes are usually smaller and more narrow. They are designed specifically for the narrow and winding roads of Europe
American motorhomes have a lot more slide outs. These are built in portions of the motorhome that mechanically pull out to create more space when you're stopped. You generally won't see this in Europe
While European motorhomes and campervans are certainly smaller, they make exceptional use of space. You'll find storage in every available spot such as under the bed and lounge areas. Stove top and sink covers can be shut to create extra chopping space if needed. There is also usually a 'garage' underneath the camper van or motorhome for extra storage.
Difference between campervan and motorhome classes
Below is a table that compares the differences of a campervan vs motorhome in relation to the classes. I wouldn't get too caught up in the classes themselves. Just understand the size and price differences for both buying a new motorhome or campervan, or hiring one.
Class A motorhome
Larger motorhome
Class C motorhome
Smaller Motorhome
Class B Campervan
Mid sized campervan
Argos A747 2G Motorhome
Carado T448
VW Transporter Campervan
Length
8.86 m
29ft
7.35 m
25 ft
6.4 m
21 ft
Width
2.3 m
7.5 ft
2.32 m
7.5 ft
2 m
6.5 ft
Height
3.25 m
11 ft
2..9 m
9.5 ft
2.6 m
8.5 ft
Maximum allowable mass
5500 kg
12125 lb
3500 kg
7700 lb
3500 kg
7700 ft
Cost - New
€ 117,000
$136,000 USD
€69,000
$80,000 USD
-
Cost - Used (less than 6 years old and in good condition)
€ 86,000
$100,000 USD
€57,000
$66,000 USD
€39,000
$46,000 USD
Hire cost - per day (From Germany)
€180.00
$209.00 USD
€131.00
$151.00 USD
€85.00
$98 USD
Berths
6
4
2
Fuel Type
Diesel
Diesel
Diesel
*prices are a guide. They are real prices, correct at the time of publishing but are subject to change and variability
** hire prices are based on hiring in Germany in the European summer, which is high season
I used Motorhome Republic to compare the differences in camper van and motorhome prices. In fact, we always use them to make our bookings. It's a great way to view a large number of vehicles easily.
I've used mid range examples that are newer models. Used vehicle prices refer to vehicles that are in good condition. It would absolutely be possible to find each of these models cheaper if you were to choose older vehicles or vehicles with higher mileage.
By now you should have a pretty good idea of what constitutes a campervan or a motorhome. But what does that really mean? How does the choice of campervan vs motorhome affect your trip? And which is better, campervan or motorhome? Lets look at the advantages and disadvantages of campervans and motorhomes.
Comparison of the pro's and con's of campervan vs motorhome classes
Pro's
Con's
Larger Motorhomes
(class A)
- comfort and space
- fully self contained with bathroom and toilet
- Suitable for groups and families
- Great for slow travel and long stays in one place
- Good storage space for long term living, cooking etc
- Very well insulated
- Integrated cab so you can move easily from front to back
- Great for wild camping because you're fully self contained (assuming you have solar)
- Larger motorhomes usually also have large fresh and grey water tanks

- Lower fuel efficiency
- Higher running costs
- Larger to park and drive limits options for stopping and overnight stays
- May not be accepted at all camp sites
- Increased costs for tolls and ferries
- Higher maintenance costs
- Can limit access to cities and rural "off the beaten path' areas
- You'll most likely need a secondary mode of transport like bicycle or motorbike
- May require a C or C1 driving license depending on weight
- Insurance for high end motorhomes can be very expensive
Smaller Motorhomes
(class C)
- Smaller and more compact than larger motorhomes
- More affordable
variety of layouts and sizes which emphasis different aspects of living
- More fuel efficient than larger models
- Good insulation
- Generally has most of the modern luxuries of a class A motorhome

- Less fuel efficient than a campervan
- May require larger camp sites which will increase the cost
- Higher toll and ferry fees
- Higher repair and maintenance costs than a campervan
- May require a C1 license
Campervans - All sizes
(class B)
- Fuel efficient
- Easy to park and drive
- No restricted access to cities and rural areas
- Low up front costs
- Usually no additional driving tests required

- Limited space and features
- may not have a toilet or shower
- limited storage
- Cooking and kitchen space can be an issue
- Often have a very low payload. *See below for details
What are some reasons people would choose a motorhome over a campervan?
The reasons people would specifically want a motorhome are usually related to the size and space they provide. The question then becomes a matter of how much space they want. Motorhomes cater for more people, therefore there are more beds, but also usually more seat belts. We haven't mentioned those until now, but if you have 6 people travelling, you'll also have to have 6 people buckled in to seat belts while you're on the move.
The idea of having a separate toilet and shower or bathroom is useful when more people will be using them. It would be near impossible to cook for a family from a small campervan kitchen. There wouldn't be enough burners or fridge space, so a decent kitchen in a motorhome is very useful.
If you're living in a motorhome for an extended period of time, never underestimate the value of space. Space between people, personal space, privacy and also just headroom. How many weeks or months do you want to duck down so you don't bang your head constantly? You won't have that in a motorhome, unless you're seriously, seriously tall.
One of the other reasons someone may want a motorhome over a campervan is the larger payload they usually have. A payload is the weight that you're allowed to pack into the motorhome or campervan, that will take it up to it's maximum allowable mass. A motorhome that has a maximum allowable mass (MAM) of 5500 kg for example, won't weight 5500 kg. It will weight less, and the amount of weight you're allowed to add will take you towards the MAM.
If you think about all the things you want to take, there's clothes, cooking pots, pans and plates, a coffie machine, bicycles, kids toys and necessary equipment, it can add up really quickly. The payload is often higher in motorhomes AND they also have more storage space where you can put all these things.
Why would some choose a campervan vs a motorhome?
The main reason people choose a campervan vs motorhome is the affordability and the smaller size. They are undoubtedly cheaper, and much more compact.
If you were planning on spending a decent amount of time in cities, on back roads or in countries where the roads are not so great (think eastern Europe), a campervan is a more reasonable option. They are easier to drive, more agile and easy to park. They generally have a higher axel clearance, a much lighter load and may even have 4×4 capabilities. This means you can drive pretty much anywhere.
Some people like smaller inconspicuous campervans because they're quite stealthy, making wild camping in Europe a lot easier. Remember, in a lot of Europe wild camping is technically not allowed. No one would usually think twice however, of a VW sprinter van parked on the side of the road for the night. They would probably question a giant motorhome though.
Which is better: campervan or motorhome?
When you compare the differences between campervan and motorhome travel, it becomes quite obvious that the best option is actually the one that suits YOU and your needs most. I strongly believe there is no 'one best option' for everybody. It really depends on your personal preferences with regards to both lifestyle and travel.
If you are still undecided, here are some questions to think about before you jump in and purchase a campervan or motorhome.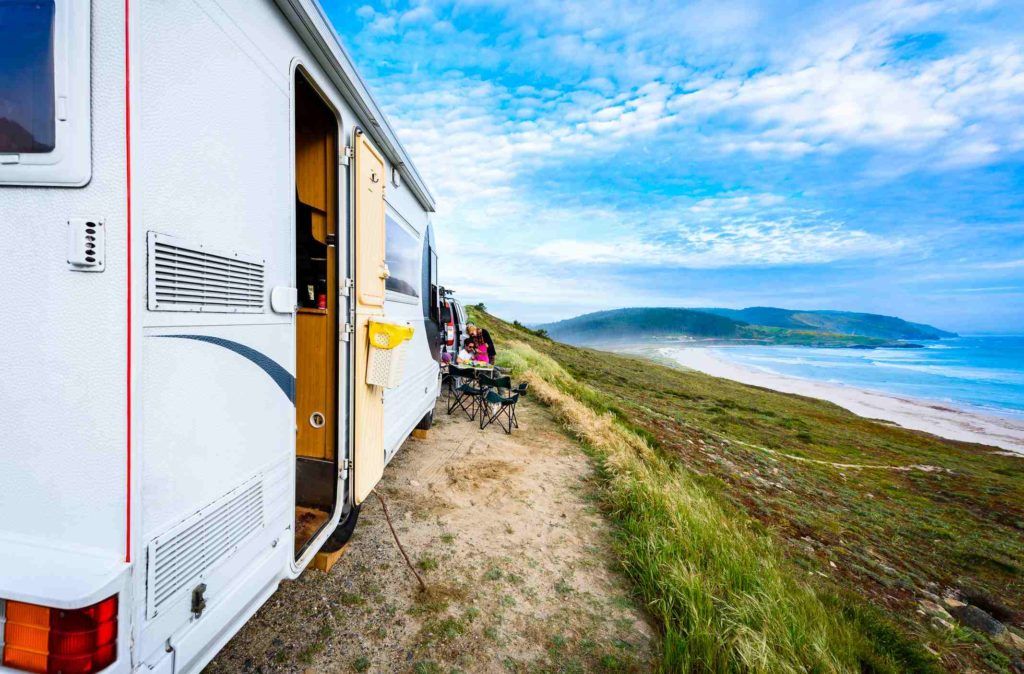 Things to consider to help you choose a motorhome or camper van
Your budget – don't forget, if you're buying it's not just the original purchase price you'll have to pay. You'll also have insurance, maintenance costs and potentially higher campground costs.
Your driving capabilities – Are you comfortable driving a large motorhome? Would you need to do an additional driving test?
Where do you intend to take your recreational vehicle? If you're wanting to travel in European cities, smaller is better. If you have a large motorhome, you'll need another means of transport like a bicycle. Is that an option?
How long are you intending to travel? Can you be comfortable in a small campervan for the duration of your trip or will you need more space? Be realistic. If you suffer from claustrophobia then a tiny camper is off the table.
How many people are you travelling with? While it might be tempting to save money and get a smaller option when travelling in a group, remember that you'll have very little personal space. Also, if your campervan doesn't have a toilet, you'll need to stay at campgrounds and that is more expensive.
What features do you really need? Maybe you don't need a separate bathroom with shower. If you plan on eating out for every meal then decent kitchen facilities may not matter at all.
Storage when not in use – If you're wanting to buy a motorhome or campervan, where are you going to put it when you're not travelling? Do you have somewhere you can safely store it?
In conclusion
Well, that's it, the difference between campervan and motorhome types, a comparison of the pro's and con's of each and why someone would choose one over the other. I wish I could tell you what's best: campervan or motorhome, but I can't, and to be honest, you probably don't want me to. You'd be pretty annoyed if you hired one based on what I said and it turned out not to suit you!
The reality is that if you're hiring a campervan or motorhome for a European road trip, you'll make do with whatever you have. You'll still have an amazing time. It's unlikely that having too little storage space will totally wreck your trip, although it may be a little annoying. What's more likely is that you'll find ways to work around any issues or challenges that you come across. You'll get into a routine and it won't be so bad.
If you're buying a campervan or motorhome it's obviously a little different because of the up front costs. A good way to negate this is to hire a motorhome or camper van for a trip before you buy one. Think things through, get a model that you think meets your requirements and see. Does it? What would you like different?
I'd love to hear from you
Anyway, that's all! Let me know if you have any other questions below or tell me about your experiences with a motorhome or campervan in Europe, or anywhere else for that matter.
Other articles you might find useful
Don't forget to pin this article and save it for later