Hiring a campervan to travel Europe can be a daunting experience. The reality is that it is your home and transport for the duration of your road trip and getting it wrong can really cause a lot of problems. That being said, hiring a campervan doesn't have to be this nightmarish, nail biting decision. In this guide I'll explain everything (in what might feel like excruciating detail) so that you can confidently choose the best campervan. I'll show you what to look for, what questions to ask and how to book your campervan. I'll also discuss what paperwork and information you need to take with you and how to make your campervan pick up a smooth and simple transaction that sets up the beginning of a brilliant holiday.
This article contains affiliate links. For more information, please see our affiliate disclaimer here.
First things first, let's clarify a few terms.
What are campervans and motorhomes?
A campervan is a living space built onto the chassis of a van. A campervan is usually smaller, about 6.5 meters (21 ft.) or less, and narrower than a motorhome. Other names for campervans include camper or camper van, but they're all the same thing.
A motorhome then, is larger than a campervan. They are longer, usually up to around 9 meters or 30 ft. They are also wider and can be higher than a campervan.
Technically speaking, there are 3 different categories that motorhomes and camper vans fall into. You really don't need to know the detail, I just think it helps give you a better idea of your options.
Class A motorhomes are the largest motorhomes. They are longer (your 9 meter type mentioned above).
Class C motorhomes are a smaller motorhome. They usually start at about 6.5 meters in length. They are built onto the chassis of a small truck.
Class B campervans are the smallest of these three classes and are built onto the van chassis.
What is a recreational vehicle (RV)
The term 'recreational vehicle' or RV is a general term that is used to describe any sort of living quarters that is designed to be moved by an engine or as a trailer. This term encompasses campervans, motorhomes, caravans, camper trailers and any other livable space you can take with you on your travels.
If I use the terms 'recreational vehicle' or 'RV' in this article, I'm referring to both campervans and motorhomes.
The main difference between campervans and motorhomes
There are quite a few differences and if you really want to go into detail I have an in depth article that compares campervans and motorhomes from top to bottom.
The main difference however, can be summed up quite simply as this: space. Room. Square footage. Whatever you want to call it, it makes sense that the larger your vehicle, the more spacious it is. This translates directly to more comfort, more people who will fit and more 'things' that will fit.
There are positives and negatives to travelling Europe in both motorhomes and camper vans. While you gain a certain level of space and comfort with a motorhome, you lose a lot of 'ease' that you'll get with a campervan. I couldn't really think of a better word there, but 'ease' sums it up.
With a campervan you have more agility, it's easier to maneuver around the small roads of Europe and easier to drive in general. The smaller the RV to park wherever you go including cities, tourist sites and camp grounds. The 'ease' you get from zipping around is the trade off for having less living space inside.
Bicycles
I thought I'd put a quick note here about bicycles because you'll usually see them attached to the back of motorhomes. The reason people do this is because it is not always easy to move a motorhome or park it in certain places. The way they get around this is by taking bicycles and riding them from the parked motorhome to wherever they want to go. This may be the supermarket, a city or a tourist attraction.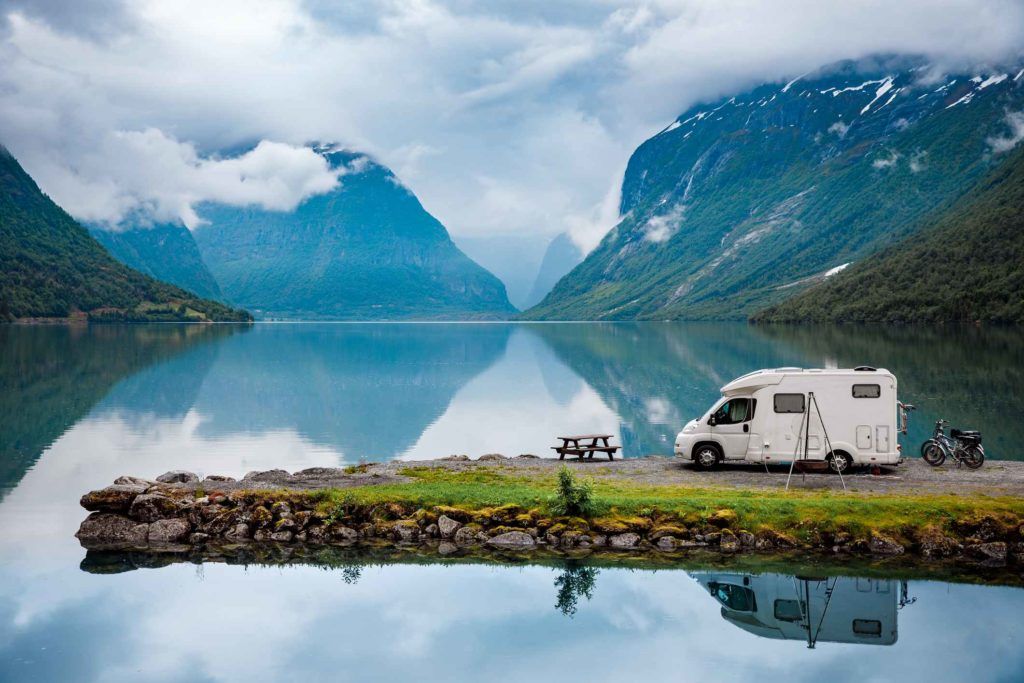 Hiring a campervan to travel Europe is different than hiring one in America
Our American friends will find campervan and motorhome travel in Europe quite different to that in America. RV's are generally much smaller in Europe as the roads are narrower, more mountainous (in places) and quite winding. There are also many old villages. A super sized American RV would simply not be able to leave the European highways.
Steps to hiring a campervan to travel Europe
I'm going to walk you through everything from where ever you are currently, through until the moment you pick your camper up. You can jump forward through this article using either the table of contents at the top or these headings here. This is a long article so I thought I'd make it easy for you!
The most important step of all is taking a minute to decide what YOU want and need in a campervan. You're the one that's going to be living in it, and you're the one who may be unhappy if it doesn't suit you. Thinking about the list below will put you in good stead when you begin to compare campervans.
The size of the vehicle
As mentioned above, when you are hiring a campervan to travel Europe, there are a wide range of sizes available. The size you choose will depend largely on your answers to these questions
How many people are travelling with me? This will determine the number of 'berths' you need. ie a 2 berth camper for 2 people.
How much space do I personally need? Do I want to be able to stand up in the campervan?
How confident am I driving a large motorhome?
What sort of amenities do I want or need?
Amenities
Toilets and showers
Do you want to have a toilet and shower in the campervan? If you choose the smallest of camper options, you won't have either of these. As you begin to move up in size, you may get a portable cassette toilet. This is a toilet that sits on the floor of the campervan. A large campervan will usually have a built in toilet, but may or may not have a shower.
A motorhome will usually have a built in toilet and shower. Large Class A motorhomes will likely have their own separate bathroom area.
What do you do if you don't have a toilet or shower in your rented campervan? You'll need to use public restrooms and stay at camp grounds. It's not the end of the world. It will become a little difficult however, if you want to wild camp because there are no available facilities.
Kitchen facilities
Do you cook often or do you plan on eating out all the time? A mid sized campervan will have a small kitchenette. This usually consists of a small refrigerator and 2 stove burners. This would be a minimum for someone who cooks often. If you cook a lot or you're travelling as a family, look for good kitchen facilities.
What facilities do I need?
My recommendation would be that if you want to wild camp and make use of things like French Aires, you'll want as many amenities as possible. That means kitchen, toilet and shower. You essentially want to be self-sustaining and self-efficient so you stay 'off the grid' for as long as possible.
If however you're going to stay at camp grounds the whole time, it's really up to you.
How long do you plan on travelling?
How long you intend to travel Europe should impact a lot of your decisions. If you're travelling for two weeks then you can probably tolerate conditions that are not 100% ideal, without them wrecking your trip. If however you're travelling for 6 months or more, eventually you're going to get annoyed and frustrated at something that isn't right.
Generally speaking, I would suggest the longer you're travelling the more you try to match your campervan to your personal lifestyle preferences.
Lifestyle and personal preferences
I look at your personal preferences as a mixture of your travel style and your every day life choices. If you're someone who likes a little comfort, look for that in a campervan. If you cook a lot at home, look for a campervan with good kitchen space.
If the thought of riding a bicycle terrifies you, as it does me (don't ask!), you know that you won't be taking bicycles with you and a smaller campervan may be easier to get around in.
I would also recommend that you factor in your personal characteristics and physical limitations. For example, if you're over 6 ft (1.9 m) tall, you may not be able to stand upright in a small camper van. Is that a problem for you? Some motorhomes have beds over the drivers cabin that are accessible by ladder. Are you able to climb up and down a ladder twice a day? Just something to think about.
Your budget
Unfortunately none of us can get around this one, sometimes it's simply a matter of getting the best you can afford. Hiring a camper van to travel Europe will likely be the biggest single expense of your trip. Be realistic about what you can afford to pay for the campervan rental itself. Don't forget you'll also have other expenses such as fuel, gas and camp grounds.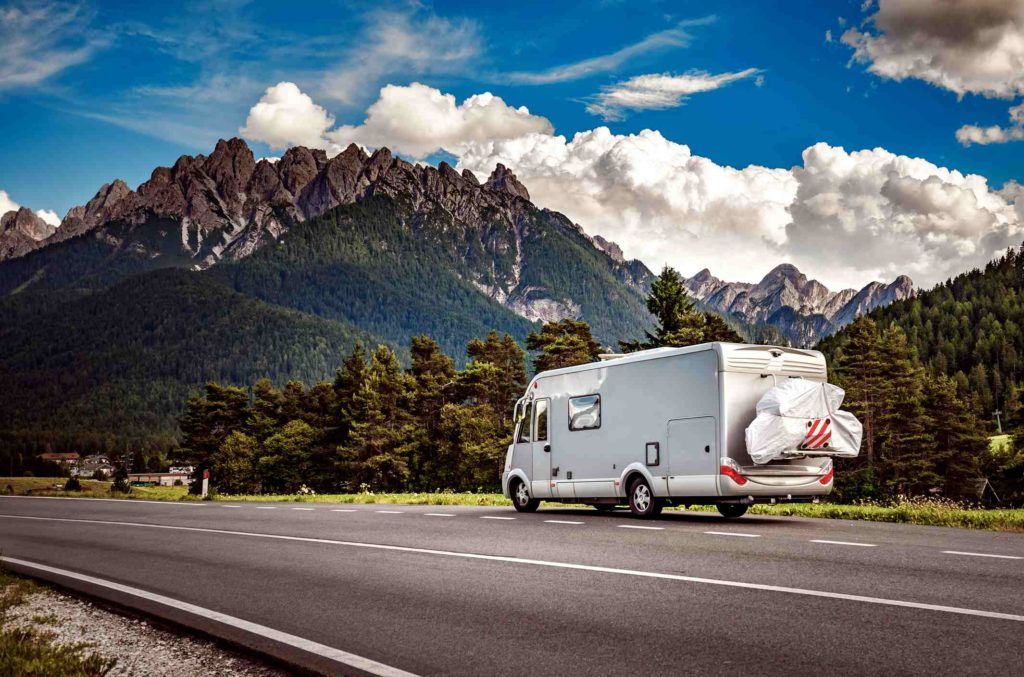 Auto or manual transmission
Many campervans and motorhomes for hire in Europe are manual transmission. You'll need to make sure that you have the right license to drive a manual.
Left or right hand drive
Whether you get a left or right hand drive campervan will depend on where you hire it. If you hire a campervan in the UK you will be hiring a right hand drive vehicle. This works brilliantly for the UK but can be difficult when you cross over to mainland Europe where all motor vehicles are left hand drive.
Australians, Americans and British Citizens are used to right hand drive so it's an adjustment when you swap sides but you get used to it. The biggest problem with a right hand drive on continental Europe is that the door to the rear of your campervan or motorhome will be on the wrong side so it will face out to the road.
Storage space
The larger the RV the more storage space it will have. Consider this is you have kids, or a baby and you're taking everything but the kitchen sink.
This extra storage is not only true in terms of cupboards and draws, but also in terms of the payload and maximum allowable mass.
A campervan or motorhome has an 'empty' weight, the total weight BEFORE you load it up with your personal items. All RV's also have maximum allowable mass. This is the maximum weight of the vehicle AFTER you've put all your things inside. The payload is maximum allowable mass (MAM) minus the 'empty weight'. It is the weight of how much 'stuff' you can take with you.
The bigger the RV the more payload you have and the more space you'll have to store it. The smaller the camper, the less payload and storage space available.
Summing up
The main thing to understand is what things are important to you as well as what things are practical for you. Once you know this you can start comparing campervans with your preferences in mind.
Comparing vehicles, companies and inclusions when hiring a campervan to travel Europe
Now that you know what you're looking for, comparing campervan rentals is the easy part. Comparing the campervan rental companies and their inclusions (and exclusions) gets a little more complex but I'm going to tell you what to look for. Let's start with where you can hire your campervan.
Where can I hire a campervan or motorhome?
I have personally found that the best way to hire a campervan for travel anywhere is through Motorhome Republic. They're the largest motorhome and campervan rental agency around and have an amazing score on Trust Pilot. The website acts as an intermediary between you and all of the campervan hire companies, so you can easily compare different options. I've not only booked through Motorhome Republic but I also did a lot of my research on campervan prices and inclusions etc for this article using their website.
You're able to filter the options based on size, berths, your budget and whether you want a toilet or not. You can also see information such as the kitchen facilities and some basic inclusions.
Comparing hire companies
One way to ensure that your trip is trouble free is to choose a hire company that has a good reputation. Ideally you want to know that their campervans are quality, newer and in good working order. You also want to know that if something goes wrong, the hire company has your back and will help you. Look at the review scores on Motorhome Republic and get a feel for the reliability of the company.
Popular campervan hire companies in Europe
Avis
Bunk Campers
Compass Campers
McRent
Indie Campers
Pure Motorhomes
Just Go
Spaceships Campervan Rentals
What is and is not included in a campervan rental
The joy of inclusions
One of the hardest things to work out when hiring a campervan to travel Europe is what is and is not included in the daily rate or final price for the campervan hire. Some companies are quite up front about what is included and what you will need to pay for separately. With other companies however, you need to dig a little deeper to find the same information. Of course, just to make it more fun, they're all different. What one company includes in the final price, another company won't include.
Add-on's when hiring a campervan to travel Europe
Add-on's are basically extra's that are not included in your base hire price. You will need to ask for them and pay for them separately. As with inclusions, the prices of these vary company to company. What one company charges €10 for, another company will charge €20.
Things to look out for when comparing campervan hire companies
What equipment is included
Does the daily rate include
bedding, linen and towels
kitchenware, cutlery, pots and pans and kitchen utensils
Full gas bottles
toilet chemicals
necessary items like level blocks
These are the things that you'll be using every day. If they're not included you can usually buy them as add-on's.
What add-ons are offered if they're not included?
There are often a lot of options when it comes to add-ons. These are things the company owns that you will pay to hire for the duration of your trip. Add-on's include
Things on the list above
outdoor foldable table and chairs
bicycles and bike racks
snow chains (possibly)
Some companies offer 'winter packs' with things like hot water bottles
Look for a company that includes as many of these things as possible
unlimited mileage
comprehensive insurance
24 hour road side assistance
bicycles and bicycle rack (if needed)
bedding, linen and towels
outdoor foldable table and chairs
kitchenware, pots and pans, cutlery and utensils
toilet chemicals
Full gas bottle/s
Necessary vehicle implements such as leveling blocks, water hoses and electrical cables
Other things to consider
Limited or Unlimited mileage
An important thing to look for when hiring a campervan to travel Europe is unlimited mileage, or unlimited kilometers, depending on where you're from.
Limited mileage
Limited mileage basically means that you agree to only drive a certain distance with the campervan. When you book your campervan you'll agree to a certain number of miles (or kilometers) and the price of those miles will be included in the final hire price. If you go over those miles, that is to say that you drive further than you agreed, you'll be charged extra. Usually, you're charged a certain amount per additional mile that you drive which is payable at the end of your road trip.
Limited mileage is fine if you're doing a shorter trip or you plan on sticking to a predetermined route. You'll need to calculate the driving distance and stay within it on your trip. This gets more complicated if you're 'winging it' and have a lot of flexibility in your plans.
An example of limited mileage
While most hire companies in Europe offer unlimited mileage, some only offer up to 250 kilometers (155 miles) per day.
Example company A
Company A (a real company) offers 250km day free mileage. Those 250 daily kilometers are totaled for the duration of your trip, giving you a maximum distance that you can travel. Every mile after that is charged at €.30 that is payable when you return the camper or motorhome.
| | Calculation | Total |
| --- | --- | --- |
| Allowable distance | 10 days x 250 km/day | 2500 km maximum |
| Actual distance travelled | Berlin, Germany to Rome, Italy, return | 3000 km |
| Difference | | 500 km over mileage maximum |
| Additional cost | €0.30 x 500 km | €150 to be paid at the end |
In reality this is a huge drive to undertake in 10 days and I wouldn't recommend it, but it worked for the example!
Purchasing additional mileage
Company A mentioned above has the option of purchasing a 500 kilometer package. This costs €126.50 that you'll need to pay at the start of your trip. It is non refundable however so if you don't use it, you won't get the cash back.
Unlimited mileage
Unlimited mileage is just that, unlimited. You can drive as far as you like. In reality, you're probably paying for the mileage in your daily hire rate, so its likely not free, but you won't be hit with any additional expenses at the end.
If you're travelling Europe for a long time, if you are very unstructured and flexible with your travel route or you plan on seeing 'everything', unlimited mileage is what you want.
Road side assistance
Does your standard hire fee include 24 hours road side assistance? What happens if you break down? We used our road side assistance in Romania after we hit the worlds largest and most well hidden pot hole and our motorhome completely shut down. We wouldn't have had a clue who to call or where to go had we not had help.
Insurance
Insurance is compulsory and is generally included in the final cost of hiring a campervan to travel Europe. The insurance that is offered is usually the minimum requirement, so the main differences between companies is usually the excess, or the contribution that you're required to make in case of an accident.
The bond
The excess is held as a bond. If the excess on the camper van is €3000 for example, that amount will be frozen on your credit card. This means that you won't be able to access that amount for the duration of your trip.
Better insurance equates to paying less bond
Most campervan hire companies will have multiple insurance packages available. You can choose to pay for a higher level of insurance which will reduce the amount of the excess, or bond, that they withhold.
Travel insurance may cover the excess
Finally, check your travel insurance to see whether that will cover the excess if you have an accident. Some travel insurance policies will not cover anything to do with campervan hire, while others will. If your travel insurance pays the excess, and your campervan insurance has paid the damage, you don't have to pay anything.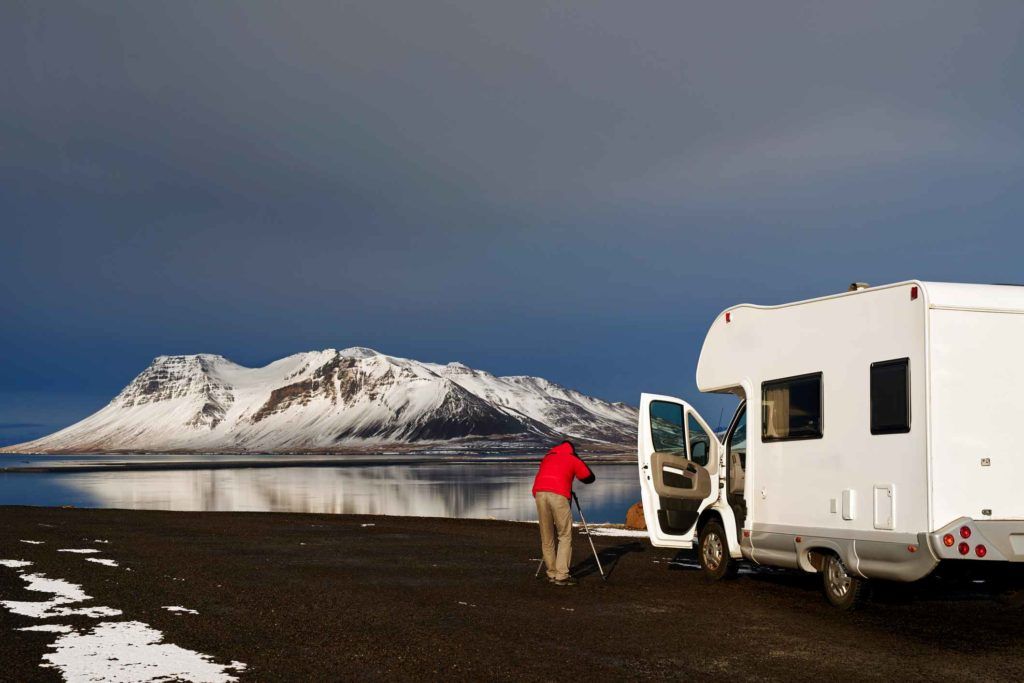 Memberships for accommodation
Some hire companies have arrangements with specific groups of holiday parks or motorhome and camper van associations. You may be able to access discounted camp grounds.
GPS or navigation
Having a good navigation system is really helpful when travelling in Europe. Especially if you have a large motorhome because not all roads are suitable for you. Some companies won't offer GPS at all, while others will charge a one off fee for a device.
Questions that may apply to you
Country and road exclusions – where in Europe can't I go?
It's important to know where you can and can't go when you're hiring a campervan to travel Europe.
Some general guide lines
If you're hiring the campervan in the UK make sure that you can travel with it to mainland Europe. Some companies only allow you to stay within the UK.
If you're hiring on the European mainland, make sure that you check which countries you can and cannot travel.

Some countries have restrictions on travelling outside western Europe. These restrictions may also apply to countries like Czech Republic and Hungary and Slovakia.
If your hire company restricts travel to western Europe you may be able to apply for authorization to travel to restricted countries. The best way to find out is to speak directly to the hire company.
Most companies will restrict travel to countries in civil unrest or war which includes (but is not limited to) Russia, Belarus, Ukraine and Turkey. Some countries are more restrictive so check individually.

Some campervan rental companies will have exclusions based on the type of road. You'll find this in Iceland where you're often not allowed on particular types of road such as mountain roads. It may however, also include things like gravel roads.
Can I bring my pet in a hire campervan?
Quite a few camper and motorhome hire companies do allow pets. Some will charge an additional fee. Company A that I have mentioned throughout this article charge a €150 one off pet fee.
Important note on travelling with pets in Europe
Don't forget if you're travelling from outside the EU into EU countries, you'll need to meet EU pet health requirements. You will need a health certificate and proof of vaccination against rabies. You can find information about the requirements on this website.
If you plan on going into areas that are deemed high risk for rabies, such as Montenegro or Bosnia Herzegovina, you will also need a copy of a Rabies titre test to show your dog has rabies antibodies, or you won't get back into the EU. This test is showing not only that your pet has had the rabies vaccine, but that it actually has immunity against rabies. You can get this from your vet before you leave for Europe.
We travel with our dog Alisa and I can't imagine anything worse than being stuck at a border that won't let her pass! Make sure you have everything you need for your pet.
What is the minimum and maximum rental period?
Some companies have a minimum or maximum rental period. If a minimum period applies, it will be shorter in the the off season, and longer in peak season, which is the summer. By that I mean that if the minimum hire period is 5 days in the winter, in summer it will most likely be 10 days. Some companies will not do long term rentals.
The good thing about using Motorhome Republic to hire a campervan is that you need to enter your desired travel dates into the search field. Doing this rules out companies and campervans that do not meet your required number of days or weeks. If you need a long term rental, companies that do not allow that simply won't show up in your search.
What do I need to hire a campervan for travel in Europe?
To hire a campervan to travel Europe, most companies require that you are 21 years old and have held the required drivers license for at least 1 year. For most campervans and smaller motorhomes you will need a drivers license that allows you to drive a vehicle up to 3500 kg (7700 lbs).
If you're hiring a larger motorhome you may need a drivers license that allows you to drive a vehicle over 3500kg. These vehicles can easily range from 4000-6000kg (8800-13000 lbs) so make sure your license is suitable.
There can also be other requirements set by the camper hire company. For example if you are hiring a luxury model, they may require that you're 25 or older, or have held your license for x amount of years.
A drivers license and cash to pay is all you really need to book your campervan. When you want to pick it up you'll also need to have a credit card as they will want to freeze the bond on it.
Campervan hire in Europe – one way?
One of the good things about Europe, that is different to some other places, is the opportunity to do one way rentals. A one way rental is where you hire the campervan in one country, or city, and drop it off in another country or city. It is the opposite of what normally happens, where you pick up and drop off at the same place, having made a round trip.
Whether or not you can do a one way rental depends on the company itself and whether they have offices in other cities or countries throughout Europe. Luckily many companies do. All you need to do is choose a hire company that has offices in the country that you'd like to start, and finish.
Check whether or not they will charge you an additional one way fee.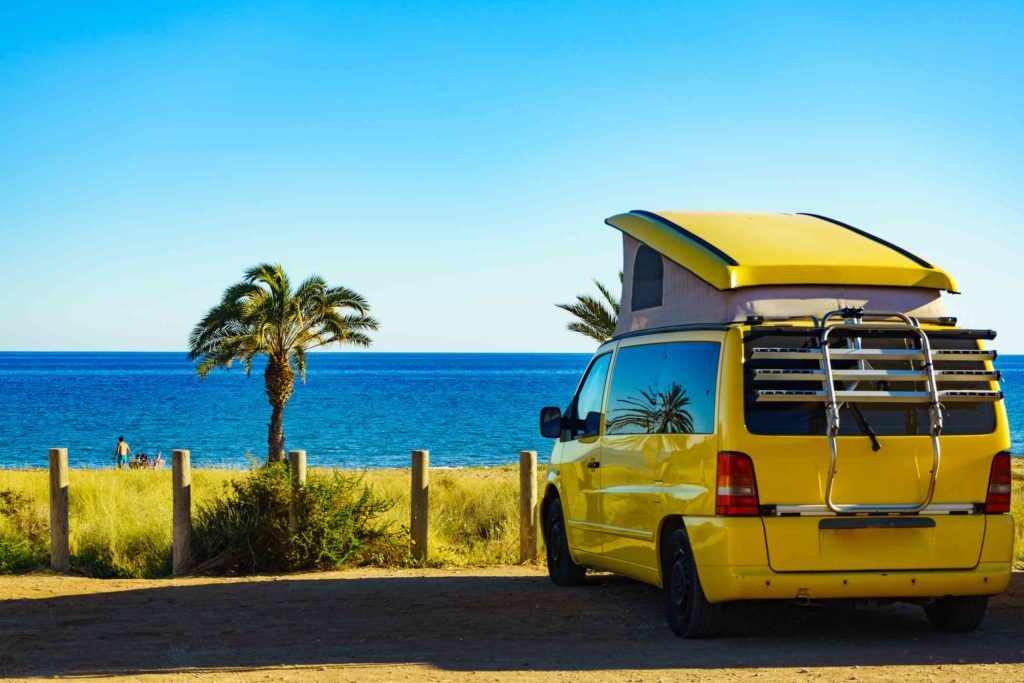 Pick up and drop off locations and transfers
Whether you're doing a round trip or going one way, make sure you consider your pick up and drop off locations. If you're flying in to the country, make sure you fly into the same city that you intend to collect your vehicle, or organize a transfer to that city.
The same applies to the return. Make sure you're returning your campervan in or close to the city that you're 'leaving' from.
Airport transfers
Unlike with car rentals, most motorhome and campervan hire companies in Europe are not located next to the airport. It's a good idea to organize airport transfers so you don't have to worry about getting from the airport to the hire companies office. Some companies will also collect from from hotels near the airport if you would arrive late and would prefer to collect your camper the following morning.
Again, in reverse, look for a company that will drop you at the airport, or hotel near it, once you've returned your campervan. If airport transfers are not included in the price, most companies will offer this service for an additional fee.
Special considerations
Long term RV rental Europe
If you're planning a long term trip there are benefits and some things that you'll need to consider when hiring a campervan to travel Europe.
Not all companies will do long term rentals
Of the companies that do offer long term rentals, many will offer discounts for long term hire so it often gets 'cheaper' the longer you go
Make sure you think about what you want and need from a campervan as your lifestyle becomes more important the longer you travel
If you're intending to travel further a field make sure that you're allowed to travel to all the countries you want to visit
For long term RV rental in Europe, you'll need to make sure that you have an appropriate visa and/or understand the Schengen area requirements. If you're unsure what this means I have a whole post on the Schengen visa and how to stay in Europe longer than 90 days.
Motorhome hire UK to Europe
Since Brexit, the UK is no longer part of the EU, and although still part of Europe, this complicates things for both UK residents and anyone else who wants to hire their campervan in the UK and cross over to continental Europe.
UK residents are bound by the same rules and regulations regarding Schengen visas as other non EU member countries. This means you're bound by the Schengen visa, or other visa you may be eligible for.
If you're hiring a campervan in the UK for travel in Europe, make sure that you you're allowed to cross out of the UK and onto mainland Europe. Some companies only allow UK travel.
Campervan hire UK to Europe means that you'll need to use the Eurotunnel or a ferry to cross to the mainland. These crossings can be expensive, adding to your overall cost. The Eurotunnel costs between €55 and €240 depending on the ticket type you choose and whether you go one way or return.
Hiring a campervan to travel Europe: Getting quotes and comparing costs
How much does it cost to rent a campervan in Europe?
To give you an idea about costs and also show you the different between what companies include and exclude, I've made a table comparing two similar models from different hire companies. All the information is taken using Motorhome Republic to compare.
Assumptions I've made to compare hire companies in Europe
The comparison is for campervan hire for 31 days.
It includes a drop off on a Saturday which incurs an additional fee.
Dates for the booking are in the middle of the summer, which is peak season, and therefore more expensive.
As that is more than 6 months in advance, it incurs an early bird discount with some companies.
I've assumed 2 people travelling. All prices are in Euros for easy comparison.
Aside from trying to find a similar size/model vehicle, the choices are random to give you a genuine idea of the differences between companies, inclusions and final price
| | Company A out of Berlin, Germany | Company B out of Berlin, Germany | Company C out of Paris, France | Company D out of Edinburgh, UK | Comments |
| --- | --- | --- | --- | --- | --- |
| Daily rate for 31 days (incl. Saturday drop off) | 31 x 96.29 = €2984.90 | 31 x 104.29 = €3232.85 | 31 X 98.71 = €3060 | 31 x 148 = €4609.61 | |
| Long hire discount | - 59.70 (2%) | -62.72 (2%) | -61.20 (2%) | -87.55 (2%) | |
| Early bird discount | NO | -96.99 (3%) | NO | -228 (5%) | |
| Service fee | 139 | 145 | NO | NO | |
| Saturday surcharge | 68 | 75 | NO | 50 | |
| booking fee (from Motorhome Republic) | 8.95 | 8.95 | 8.95 | 8.95 | |
| Base total | €3141.15 | €3302 | €3007.75 | €4360 | |
| Insurance | YES | YES | YES | YES | |
| Bond held for Insurance | €1200 | €1500 | €1500 | €1500 | This is also called 'own contribution'. It is frozen on your credit card and returned when the vehicle is returned |
| Free airport transfers | NO | 35 (1-6 people, one way) | NO | NO | I've assumed two way transfers for company B |
| Mileage | unlimited | 250km per day | unlimited | unlimited | |
| Gas | 2 x 11kg bottles - 1 full, 1 empty | 2 x 11kg bottles - 1 full, 1 empty | 2 x 11kg bottles - 1 full, 1 empty | 2 x 11kg bottles - 1 full, 1 empty | |
| Toilet Chemicals | YES | YES | NO | YES | |
| Bedding/Linens | 54 per person | 49 per person | NO | 49 per person | Hiring in France you'd need to supply your own bedding |
| Towels | 22 per person | 15 per person | NO | 23 per person | Hiring in France you'd need to supply your own towels |
| Kitchen equipment and cutlery | YES | 65 one off fee | 100 one off fee | YES | |
| camping set - chairs and table | 42 one time fee | 50 one off fee | 40 one off fee | 41 one off fee | |
| bicycle rack | NO | NO | NO | NO | |
| GPS | 49 one time fee | NO | 10 per day = 310 | 41 one off fee | |
| Europe cover if you want to travel continental Europe | N/A | N/A | N/A | 23.35 x 15 = 350.25 | Assuming you spend half the time in the UK and half in the rest of Europe |
| Total | €3384.15 | €3615 | €3457.85 | €4959.60 | |
The point here was to give you an idea as to what it will cost for to hire a campervan to travel Europe, but also so you can see the differences in what is included and not included. The way prices are calculated varies greatly.
Extra fees for additional drivers or young drivers
Additional drivers
Generally speaking the insurance policies only cover one person driving the vehicle. If two or more people intend to drive then expect to pay a extra for the additional drivers.
Drivers younger than 21
A few campervan hire companies will hire to young drivers for an additional fee.
How much does it cost to hire a campervan in France?
As you can see from the table, hiring a campervan to travel Europe in France doesn't appear to be much more expensive than hiring a campervan in Germany. That being said, you'll notice with my example above that there are a lot of things that are 'not included' in the price. You'll need to supply your own bedding for example.
If you don't want to (or it's too difficult) to bring your own bedding from home, you'd need to buy it on arrival, adding to the price.
Note: If you had your heart set on hiring a campervan and starting your road trip in France, you could probably find a better deal, company or campervan that meets your needs. This one was just the one that worked for the example.
Which is the cheapest country to hire a motorhome?
It's generally said that Germany is the cheapest country to hire a motorhome or campervan in Europe. In our example above this certain appears to be true. Campervan A is the cheapest of the options. While campervan B is about €150 more expensive than campervan C, from France, it has a lot more inclusions that make it better value.
Germans are crazy about campervan and motorhoming and it makes sense that they have a wide variety of options at affordable prices in order to meet the demand.
How much does it cost to rent a campervan UK
In our example you can see that motorhome hire UK to Europe is more expensive due to the additional 'Europe cover fee'. As with the French campervan hire, you may be able to find a better deal on a UK hire camper. So do a little extra research to compare.
Just remember if you're hiring a campervan in the UK and wish to take it to continental Europe, you'll need to pay for the crossing.
Get quotes from different rental companies
The easiest way to find the best deal is to use Motorhome Republic to compare the different companies and prices. Alternatively you can look at the individual company websites and compare different models from the same company.
Focus on the things that are important to you and you know you will need and get quotes from companies that you think meet your requirements. Sometimes one will really stand out, other times they're all much of a muchness and you'll just need to decide.
Payment when you hire a camper van in Europe
You can easily book you campervan online. Most companies will take credit card or direct deposit.
Deposits and paying the final balance
In order to secure you campervan you'll need to pay an upfront deposit. This varies between companies but it will be very clear at the time of booking.
Your final balance can be paid before you arrive to collect the campervan, or sometimes on arrival. The company will usually outline their preferred options.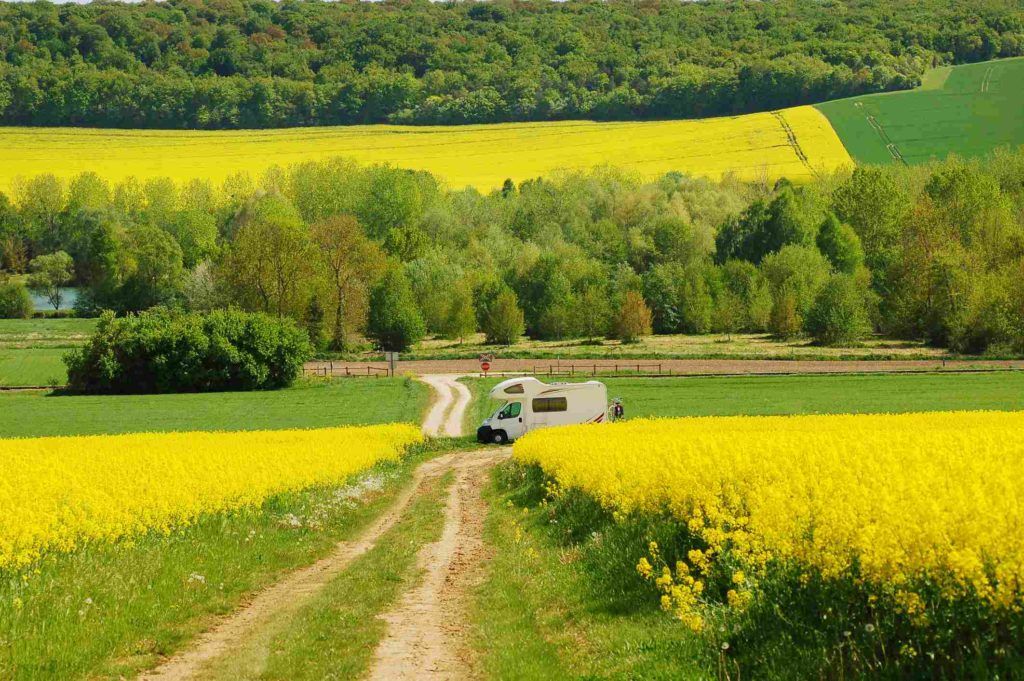 Paying a bond
I've covered this a little already, but paying a bond is to help cover the cost of repairs or replacement of the campervan in the event of an accident. The basic insurance policy is often just that, fairly basic. In order to be sure that the company are reimbursed for any problems, they hold a bold, or a fee they call your 'own contribution'.
If there is an accident, or damage, the insurance policy will cover a certain amount, and anything above that amount will come out of your bond.
Generally speaking, the bond is 'frozen' on a credit card. You will need to have a credit card with you, with the bond amount on it. Most companies will not take the bond in cash. Obviously the card will need to be in your name.
Travel Insurance may cover your bond
Your travel insurance (and you will have travel insurance, right?) may cover the bond on a camper van rental. You'll need to check your personal policy. This means that if you have an accident and your bond kept by the company, your travel insurer may cover that cost.
There's a lot of 'might's' and 'may's' in there because there are a lot of factors that contribute to that decision and every travel insurance policy is different. It's worth looking into.
What is the refund or cancellation policy?
Most companies will offer a scaled refund policy. For example if you cancel more than 60 days before your trip you get x amount of money back. If you can cancel 30-60 days you get y amount back. If you've already paid, they'll keep their portion and refund the rest. If you haven't paid then they'll try to get you to pay what you owe according to the contract.
You would have agreed to this at the time you booked the campervan and paid a deposit however in some instances that can be many months in advance. Make sure you understand the refund or cancellation policy and take it into account if you have to cancel.
What to do after you've booked a campervan
Hiring a campervan to travel Europe is just the first step! From here you'll need to make sure that you're ready to travel and you can begin to plan the perfect route.
Get travel insurance
Travel Insurance is just one of those things that you hope you never need but you pay for anyway. Trust me, when you do need it, you're really happy that it's there. We always use World Nomads Travel Insurance.
Travel Insurance covers you for if you get sick or injured while travelling. You'll have your campervan insurance policy which may (or may not) cover injuries sustained during an accident, but I look at travel insurance like a backup that also offers cover for a lot of other things.
We have had to use our travel insurance previously and we were so happy with World Nomads, they were amazing.
Organize your passport and visa
The requirements for entry into most parts of Europe are
A passport with at least 6 months validity
'Enough pages' to be stamped – this is kind of vague, but just make sure you have at least 3-4 pages left
Depending on your citizenship you may need to organize a visa. Americans, Canadians, Australians, New Zealanders and UK passport holders can utilize visa free entry.
If you're planning a big trip through a number of European countries you'll want to familiarize yourself with the Schengen Zone. This is especially important if you intend to travel in Europe for more than 3 months.
If you're confused about visas and the Schengen area, or you have no idea what it is, this article on visas and the Schengen Zone explains everything.
Check drivers license requirements
Hopefully you checked out the drivers license requirements for your campervan or motorhome prior to hiring it. If you haven't, your campervan hire company will be able to tell whether you need
an international drivers permit
a different category of license – for example if you've hired a large Class A motorhome
If you need a special license, now is the time to begin organizing it.
Book your flights
Make sure that you fly in to, and out of the cities in which you pick up/drop off your campervan. If no, make sure that you've organized accommodation or transport from where you are, to the campervan hire companies office for pickup or drop off.
Expert tip: We highly recommend flying in a day before your campervan pick up and staying in a hotel for the night. Having a good sleep and adjusting (at least a little) to the time differences is really helpful before you set off driving in a strange country. If you stay close to the airport, many companies still offer transfers from your hotel to the pick up office.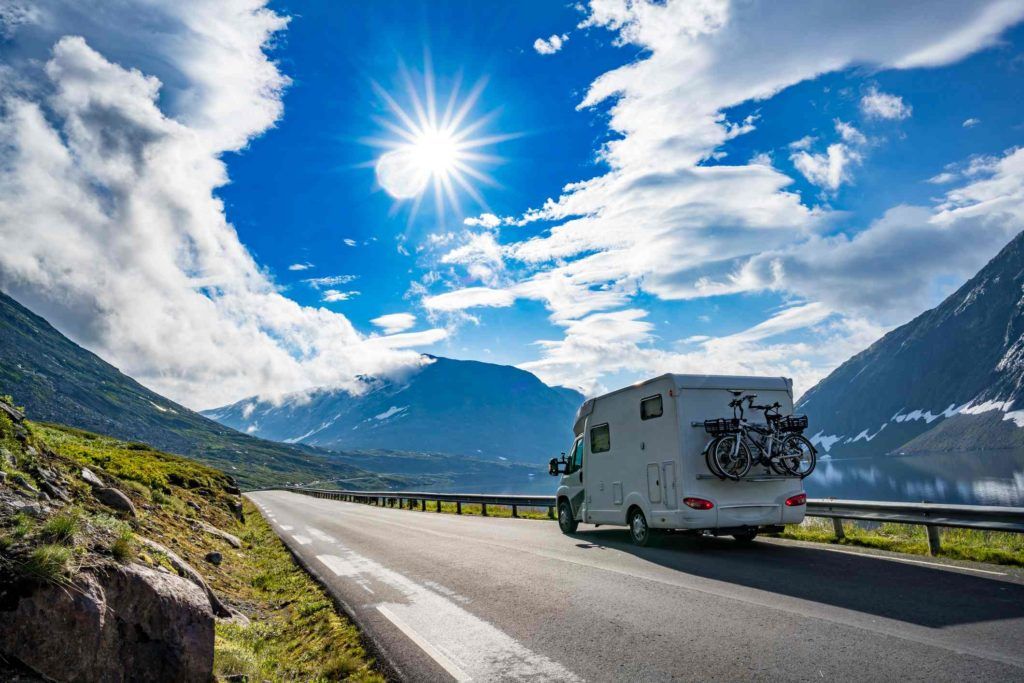 Make plans for your campervan pick up and drop off
Once you've locked in your flights you can organize airport transfers with your hire company. This is provided that they are included or you have paid extra for them, of course.
If you're staying in a hotel, just make sure it's close to the airport and the rental company will usually still pick you up. Just check with them first.
Gather important paperwork and documents
As a good rule of thumb you'll need these documents
passport with any applicable visas
drivers license and/or international permit
credit card for the campervan security bond
copy of campervan hire booking receipt or pick up number
flight information
hotel booking information
booking confirmation of any activities you've pre booked
travel insurance documents and contact details
Our top tips for planning a European road trip
The best time of year
Europe is such a big continent and the climate and temperatures vary greatly.
Summer – June, July, August
Autumn (Fall) – September, October, November
Winter – December, January, February
Spring – March, April, May
Peak season in Europe
The most popular time in Europe, without a doubt is the summer. The weather is good no matter where you go. Coastal countries are popular because of the beaches and beautiful warm seas. Scandinavian or Nordic countries are warmer and have long days. Europe is easy to drive around and explore on foot during the summer.
Summer is also by far the busiest and most expensive time in Europe. Not only do travelers arrive, but Europeans also travel a lot in Europe. Pre booking camp sites and tourist attractions is often a requirement due to the sheer number of people. This is especially true during the school holidays around July and August.
The Shoulder seasons are our preferred time
Travelling in the spring or autumn is a fantastic option. The prices are usually lower and there are less people. The weather is also still good. The closer to the Mediterranean you are, the warmer the shoulder seasons will be.
Campervanning around Europe in winter
If you're intending to stay around the Mediterranean, in countries like France, Spain, Italy or Croatia for example, the winter is a fine time to travel. In fact, many Europeans flock to these countries in the Winter. Of course, if you want to go skiing or spend time in the snow, there are many countries and regions in Europe that can offer you that too.
If you're planning on hiring a campervan to travel Europe in winter, there are some additional things to think about, especially if you want to travel in a campervan around central, eastern or northern Europe. Aside from being freezing cold, the driving may not be easy. Snow chains may be a legal requirement if you head into mountainous areas. Ice and snow can pose a problem.
Another challenge in winter is that many of the camp grounds close down so finding accommodation is not as easy as during the rest of the year.
Your budget
Make sure you have a good idea of your budget and what you can afford to spend weekly and monthly. Travelling in the shoulder season is cheaper and your money will go further.
Drive less enjoy more
It may be tempting to want to see everything but as a general rule, drive less and spend more time seeing places and doing activities. You don't want to go all the way to Europe only to spend most of the time in the campervan.
When we travelled New Zealand in a campervan, we had a particularly rushed trip. We drove a maximum of about 3 hours per day but we moved every day. We saw so much and it was incredible but we were tired by the end. If you have a long trip, take it slowly and your energy will last a lot longer.
If you're a planner and plan down to the last minute, make sure you add in some non driving days, or days you stay in one area.
One of the easiest ways to plan a road trip is to use Google maps. If you don't know how to do that, here is a tutorial on planning a road trip with Google Maps.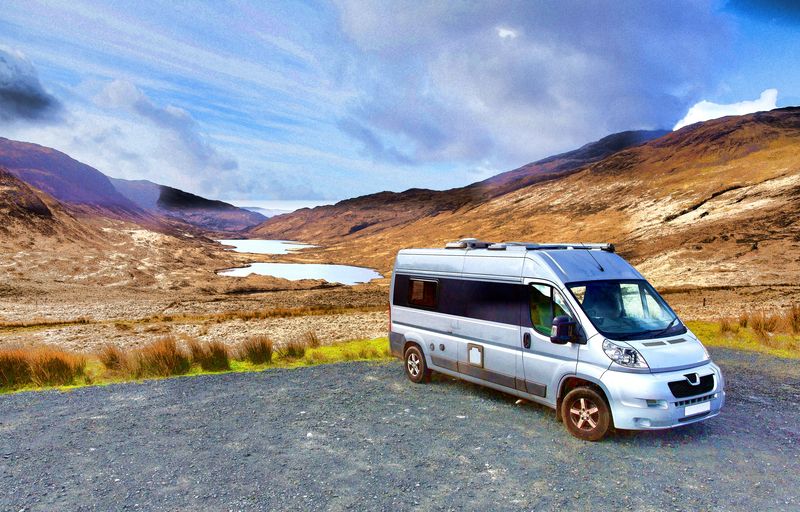 Beginning your road trip campervanning around Europe
Flying in and collecting your campervan
As mentioned, a good rule of thumb is to arrive a day or so before you need to collect your campervan and having a bit of a rest, starting to get over any jet lag before you collect your campervan. If you've organized transfers from the airport of hotel to the hire company office, they can come and get you on the day.
Picking up your campervan
Expect to spend at least an hour at the campervan rental companies office. You'll have to fill out any remaining paperwork and they'll put a hold on your credit card for the value of the bond.
How does the campervan work?
A good amount of time should be spent showing you how the campervan works. As a minimumm, you'll wan to know
How does the air conditioning or heating work
How so I empty the toilet and grey water
How do I refill the fresh water.
How to use the gas bottles.
How to turn on the stove
Where all the storage spaces are
What security options the campervan has and how to use them
How to use any reversing cameras or other gadgets
Make sure you know how to use the GPS
Get the measurements of the campervan – this is important
A campervan, and certain a motorhome, is larger than what you're used to driving. If you're American, European roads are smaller than what you're used to driving on.
Make sure you know and understand the vehicle dimensions before you set out. Write them down and have them available. There are often height and width restrictions on roads, especially in old cities and villages.
Insurance often won't cover damage to a campervan because you've tried to go fit underneath a bridge that was too low for you.
Is there a toll pass or vignette if you're in a country that needs one
Toll passes
A toll pass is an electronic pass that allows you to travel on toll roads without having to stop and pay cash at a booth. Just for fun, not all countries have toll passes and toll passes only apply to one country. Generally, campervan hire companies don't have them for that reason.
If however, you're hiring a campervan in France, and you intend to stay within France for the duration of your trip, the hire company may have one available for you.
Vignettes
Vignettes are stickers that you need to put on your windscreen to show that you have paid road taxes for travelling on certain roads, usually highways.
If you don't plan on travelling on any highways or taxed roads then you don't have to worry. Otherwise, you'll need to buy a vignette. They're usually found close to border crossings at petrol stations.
If you're hiring a campervan in a country that requires a vignette, ask if it's included or whether you need to buy one when you leave the campervan depot.
Crit-air vignette, green zone stickers and others
Some countries have introduced environmental zones where the aim is to reduce emissions by restricting access by heavily polluting vehicles. In France you have the Crit-air vignette, and in Germany you have the green sticker for access into the green zones.
Your options are to make sure you have the necessary stickers, ask about them or avoid the environmental zones.
Driving in Europe
Do I need an International Drivers Permit?
If you are from America, Canada, Australia, New Zealand or the UK (post Brexit) it is best to get an International Drivers Permit before arriving in Europe. For the most part, your normal licenses are excepted, however there are a few countries who require the International Permit. This includes Austria, Spain, Italy and France and countries like Croatia, Romania and Montenegro.
International Drivers Permits are not a replacement for your drivers license, you'll need to carry both. It is simply a document stating that your drivers license is a real, legal document issues by your country.
They are fairly cheap and inexpensive to get so it's worth having, just incase.
Which side of the road do Europeans drive?
Unlike the UK which drives on the left hand side, continental Europeans drive on the right hand side, and their vehicles are right hand drive.
Where can I stay in a campervan?
There are plenty of places where you can park your campervan over night and they vary in comfort and in price.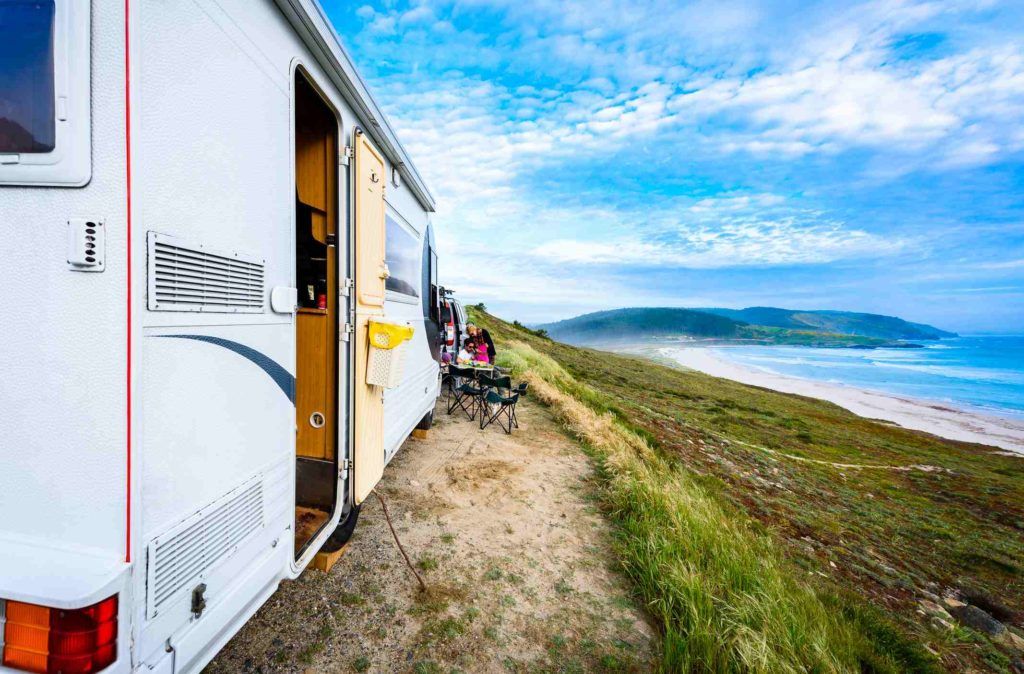 Camp grounds and holiday parks
There are hundreds of thousands of camp grounds and holiday parks scattered throughout Europe and you won't have any problem finding them. Unless of course you try to go to popular areas during the height of summer, in which case you'll need to book in advance.
You'll have access to toilets, showers, washing up facilities and sometimes things like pools and tennis courts. Paid camp grounds are the more expensive option for campervan accommodation.
French and Spanish Aires
Aires are basically cheap spots where you can stop for the night. You'll need to be self contained as they don't offer many, if any, facilities. For a small fee you can usually dump waste water and refill your water tank. They only charge a few euro's.
Wild camping
Wild camping is off the grid camping where you pull up and spend the night somewhere away from everything. Wild camping is illegal in many countries and frowned upon in others, however many people do it. You need to be self contained and make sure that you take everything with you when you leave.
FAQ's
Are non EU citizens allowed to travel around Europe with a campervan?
Yes, absolutely. You'll need passport with a minimum 6 months validity and an international drivers permit. If you plan on campervanning around Europe for more than 3 months you will also need to be aware of the Schengen area and the 90 days rule.
How old do you have to be to hire a campervan in Europe
To hire a campervan in Europe you'll need to be at least 21. Some companies will rent campervans to younger persons but you will need to pay an additional 'young driver' surcharge. There are some hire companies of luxury models that will only hire to drivers over 25.
Do I need an international drivers license?
If you're not from a continental European country, you should really get an international drivers permit. This includes UK citizens. Some countries require one and some don't. They're very easy and fairy cheap to get so you might as well just do it. It may save you hassle later.
Do I need a special license for a large motorhome?
It depends on the size and weight of the motorhome. If the motorhome is over 3500kg (7700 lb) you will need a license that allows you to drive vehicles over that weight
Do I need insurance?
When hiring a campervan to travel Europe you will get insurance as part of your hire price as it is compulsory. It is not mandatory to get travel insurance although I would highly recommend doing so!
Is it hard to drive a motorhome?
Driving a larger campervan or a motorhome is quite different than driving a car. They are a lot less agile, and take up much more space on the road. The bigger the campervan or motorhome the more difficult it is to drive. Over time you will get used to it.
How do you empty the dirty water?
Emptying grey water, or dirty water is easy. There are a couple of different methods. You can park your campervan or motorhome over a grey water drain at a camp site. Simply open the tap and let the grey water flow into the drain. Alternatively if you have a hose, you can connect the grey water hose and run it to the drain.
How do you empty a campervan toilet?
To empty the toilet you simply open the door to remove the cassette from under the toilet. This usually just slides out. Camp grounds will usually have a special dump toilet or dump drain where you pour the toilet contents. Do not empty toilet waste into the grey water drain. When the toilet is empty you can rinse it out, add a small amount of water and some toilet chemicals and it's ready for use again.
Can you travel to the UK in a campervan?
Yes, you can use ferries or the Eurotunnel to move between the UK and continental Europe, so long as your campervan hire company allows this.