Famously called the 8th wonder of the world by Rudyard Kipling, Milford Sound is New Zealand's premier tourist attraction welcoming up to a million visitors every year. If you're thinking of experiencing this incredible natural wonder, our New Zealand travel guide will explain how. I'll explain your options for getting there, what you can do when you arrive, where you can stay and much more.
This article contains affiliate links. For more information, please see our affiliate disclaimer here.
What is Milford Sound New Zealand?
Milford Sound facts at a glance
Area of Milford Sound: 25 square kilometers
Length of Milford Sound: 16km
Depth: Milford Sound is 291 meters deep at its deepest point
Height: Mitre Peak is the tallest point at 1692m above sea level
Famous waterfalls include Sterling Falls and Lady Bowen Falls
which is 162m high
Home to endangered birds and marine life including penguin's, seals
and dolphins
Milford Sound can be seen by boat or scenic flight
The unique underwater environment can be experienced via the
Underwater Observatory where you can see millions of coral colonies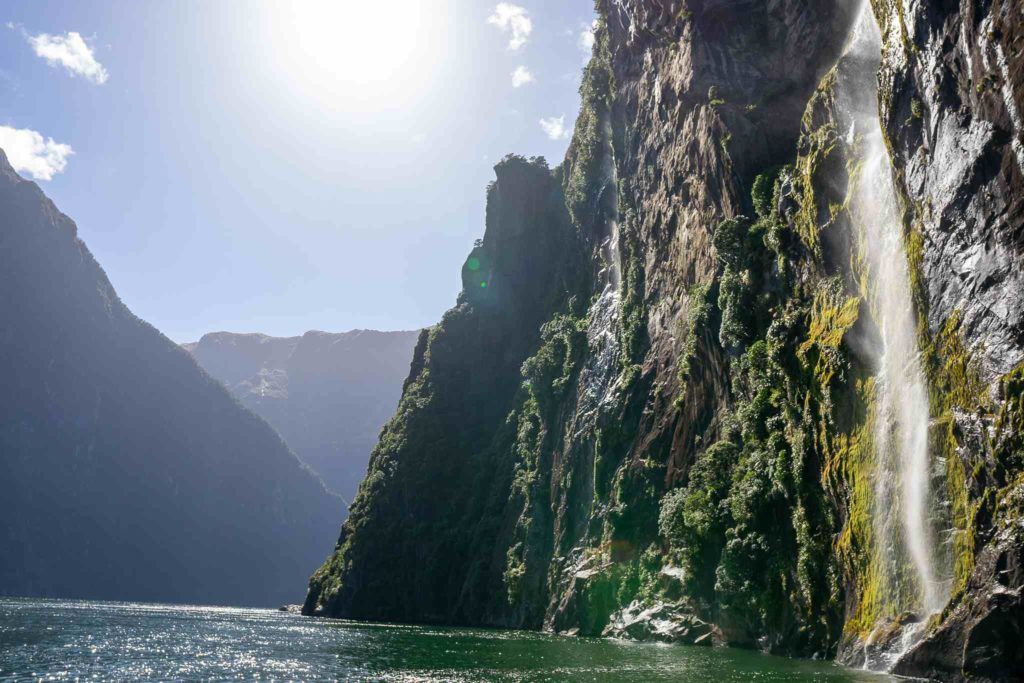 While named as a 'sound' by the first European to discover it in the early 1800's, Milford Sound is actually a fiord. During the ice age the movement and flow of glaciers out towards the sea carved deep grooves into the mountainous coast line. When the ice began to retreat, sea water rushed in and created Milford Sound. At 291 meters deep at it's deepest point, and with the highest mountain peak above being almost 1700m above sea level, you can only image the magnitude and scale of the glacial movement.
Read: A complete guide to 62 of the best things to do in New Zealand
Piopiotahi and Maori legend
The Maori have a beautiful legend about the creation of Milford Sound, they believe a godly figure named Tu-Te-Raki-Whanoa moved along the coastline, shaping the coast with his adze as he chanted powerful prayers, creating the fiords. The Maori name for Milford Sound is Piopiotahi. Although the first European arrived in Milford Sound in the 1820's, the indigenous Maori population were aware of the area over 1000 years ago.
Drastic and awe inspiring landscape
Milford Sound is a popular attraction because quite honestly, it's absolutely stunning. With it's near vertical towering cliff faces, covered in rainforest and gushing waterfalls, it's easy to feel so tiny. Two of the most famous permanent waterfalls are Lady Elizabeth Bowen Falls, which is 162 meters high and Sterling Falls. There are also many, many temporary falls that come and go.
Milford Sound is the wettest inhabited part of New Zealand. Raining on average 182 days every year. This water lands high above the mountain peaks and as it cascades down into the Sound below, it collects dirt and tannins from the soil, staining it brown. This does two incredible things that make Milford Sound so unique.
There's nothing normal about the water in Milford Sound
The first, is the sheer amount of water entering the sound from above creates a situation where there is both fresh and salt water in Milford Sound. The top 10 centimeters or so of fresh water sits above the salt water below.
The second thing, which is really cool, is that it creates the dark inky coloured water that Milford Sound is known for. This not only looks unusual, but it causes a darkness that goes deep into the depths of Milford Sound. In Milford Sound, 10 meters below sea level has the same amount of light at 70 meters below out in the open sea.
Abundance both above and below
This darkness means that the marine life only 10 meters under the surface is as vibrant as it is above. While Milford Sound is home to colonies of seals, dolphins and penguins, and visited by the occasional whale, under the water is a fascinating world of rare and unusual corals, including black coral. There is an underwater observatory at Milford Sound if the underwater world excited you.
The best and most common way to see Milford Sound is by a boat cruise and you can do that in a variety of ways within a day. However to really experience the beauty of Milford Sound and experience all it has to offer I'd really recommend spending a couple of days and taking it all in.
Where is Milford Sound?
Milford Sound is located in the south west of the South Island. It is inside the enormous Fiordland National Park, which is also home to Doubtful Sound. Milford Sound and Fiordland National Park that contain it, are part of the Te Wahipounamu UNESCO World Heritage Site. The UNESCO area basically covers the whole coastal corner of the South Island and also encapsulates Mt Cook/Aoraki and Mount Aspiring. The whole region is so unique harboring native fauna and flora and beautiful mountains terrain.
While most people know Milford Sound as the physical fiord, or waterway running between the mountains, the whole area of Milford Sound is actually 25 square kilometers and contains an enormous number of fascinating sites and activities that go beyond taking a boat trip.
Distance wise, Milford Sound is about 3.5 hours from Queenstown and about 1.5 hours from Te Anau. Be warned, however, it will take you longer because you'll stop. A lot. The Milford Road is a wonderful drive. Don't worry, we'll tell you all the best places below in our Milford Sound travel guide.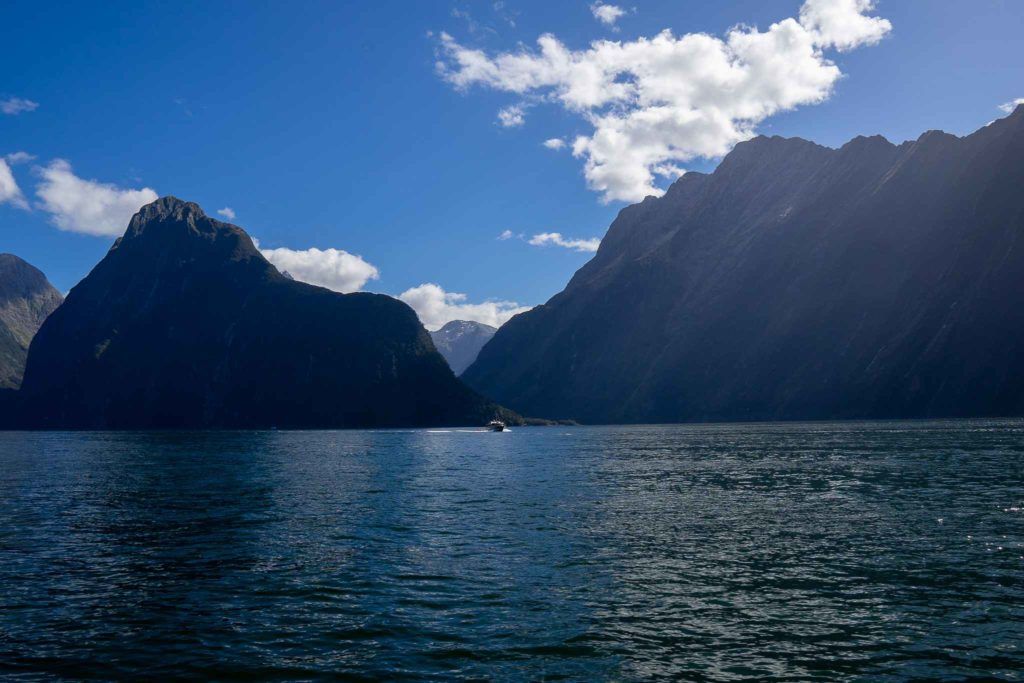 Milford Sound Travel Guide: How to get to Milford Sound
Milford Sound is the only Sound in New Zealand that is accessible by road making it very accessible. There's a car park at the bottom and a short walk until the offices and the dock. All you need to know is whether you want to drive yourself or take a tour bus.
Guided coach tour from Queenstown or Te Anau
One of the most popular options for visiting Milford Sound is via a guided coach tour, either from Queenstown or Te Anau. Coach tours are so common that they run regularly, and like well oiled machines.
The great thing about a guided coach tour is that everything is taken care of for you. You'll either be picked up from your accommodation, or meet your bus and guide at the tour companies head office. From there, you can sit and relax. The bus driver knows all the best places to stop along Milford Road so you won't miss any photo opportunities. Once you're at Milford Sound you can simply board your boat and enjoy the experience.
Guided coach tour from Queenstown
If you're taking a tour from Queenstown, it will be as a full day trip. Queenstown is at least 3.5 hours from Milford Sound. Add in stopping for photos, getting on and off the boat and driving back and it'll take a good 12 hours.
The most popular Milford Sound coach tour from Queensland is this one.
A guided coach tour from Te Anau
If you're staying in Te Anau, this Milford Sound coach tour from Te Anau is highly recommended. Again, you can organize for them to pick you up and take you to the office for the bus to Milford Sound.
Small group private tours
If you'd prefer to go in a smaller group and not on a large coach, a small group private tour such as this one from Queenstown is a good solution. You'll get all the benefits of a guided tour in a more personal atmosphere. An alternative if you're staying in Te Anau is this small group tour to Milford Sound.
Self drive road trip to Milford Sound
There is no better way to see New Zealand than by car or campervan and roads like Milford Road are the reason why. If you have your own vehicle you can absolutely drive yourself to Milford Sound. The huge benefit of doing so is that you're in control of your own time. You can stop as often as you want and spend as long as you want once you're at Milford Sound.
If you drive yourself, all you need to do is pre-book your Milford Sound Boat Cruise ticket before you go. That way you don't miss out.
Milford Sound travel guide: Take a scenic flight
For a different view point and an entrance with style, you have the option of taking a scenic flight from Queenstown to Milford Sound. If you're short on time, a half day tour including a scenic flight and boat cruise to Milford Sound is ideal.
Milford Road – one of New Zealand's most scenic drives
New Zealand is known for it's scenic-ness, is that a word? You know what I mean. Almost no drive is just a normal drive. There are endless mountains and lakes and forests to admire. The road to Milford Sound is no exception. An absolutely beautiful drive, you'll be delighted as you pass by beautiful mountains and valleys.
If you're taking a bus tour, you won't be able to stop and get out as much, otherwise your 12 hour tour might never end. Don't worry though, there's some beautiful views to be had from right inside the bus. Of course if you're driving yourself, stop as often as you want. We'd highly recommend stopping on the way home, rather than on the way there. Otherwise you might be late for the boat like we almost were. Whoops.
Milford Sound travel guide: Sights to see on Milford Road
Eglinton Valley
One of the only valleys in Fiordland National Park accessible by road, the Eglinton Valley is one of the first spectacular sights you'll see on your way to Milford Sound. It's large native beech covered mountains and tussock grass valley floor are unmistakable. If you're a Lord Of The Rings fan, several areas of the Eglinton Valley were used to film to the movie, including the Misty Mountains in the Fellowship Of The Ring.
Mirror Lakes
The Mirror Lakes are located within the Eglinton Valley. A short 400m walk off the road you'll find perfectly still, calm water perfectly reflecting the mountains above. Mirror Lakes is a popular spot for photo opportunities, but it's also home to a vast array of native and endangered animals and birds.
The Homer tunnel
Not quite a natural beauty like the other sites on this list but the Homer tunnel is due some admiration. It took 19 years to complete the tunnel which provides road access to Milford Sound. The 1.2km Homer Tunnel was dug by hand, at 945 meters above sea level, straight through the Darren Mountain range.
There are no lights in the tunnel and although wide enough for two way traffic, traffic only flows one way during peak season. Traffic lights control the flow in and out of the tunnel.
There is a steep descent as you exit the tunnel into the Cleddau Valley.
The Cleddau Valley
An incredible site as you exit the Homer Tunnel, the Cleddau Valley has some of the best views on the Milford Road. The winding hairpin turns flanked by granite walls and mountains are spectacular. The descent towards Milford Sound is steep here.
The portion of the Milford Road that runs through the Cleddau Valley is prone to landslides and avalanches in winter. It can also be quite snowy and miserable. If you're not used to driving in that sort of winter weather, consider a tour. Coach drivers drive in and out of Milford throughout all seasons and they're skilled at handling it during difficult times.
Milford Sound travel guide tip: There are no shops or gas stations along Milford Road so you're going to want to fill your petrol tank in Te Anau. If you're campervanning, make sure you have enough food and water if you're intending to stay around Milford Sound for a few days.
Milford Sound Travel Guide: Things to do in Milford Sound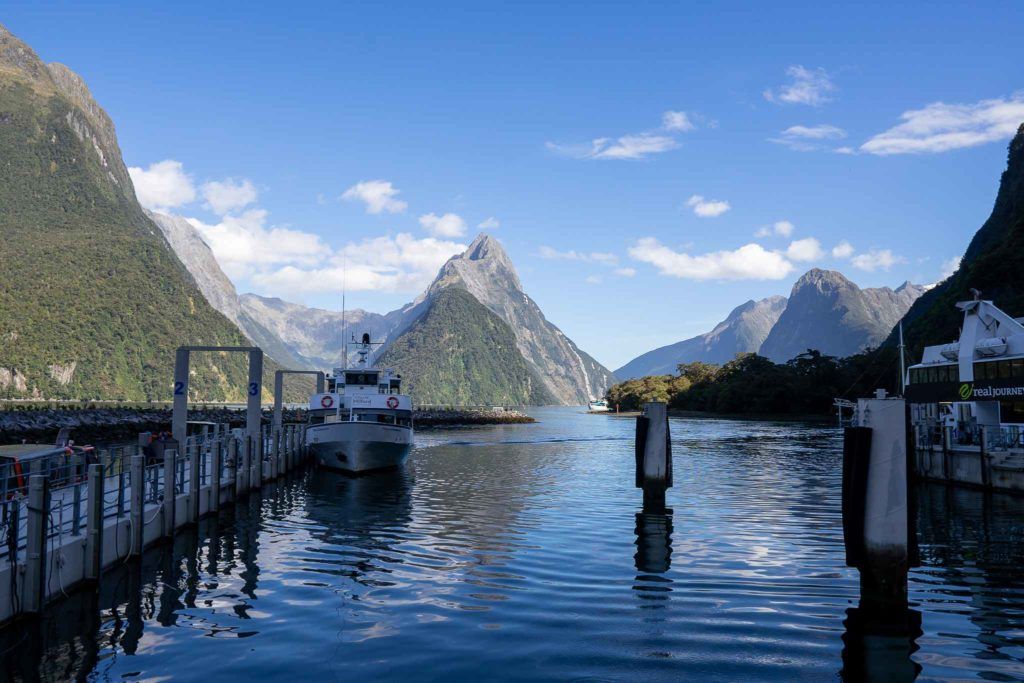 Take an extraordinary Milford Sound boat tour
Really, you can't go to Milford Sound and NOT take a boat tour. It would be such a shame. The view of Milford Sound from the boat is spectacular. As you move along Milford Sound, you'll pass the Lady Bowen and Sterling Falls. You'll also get a clear view of the tallest peak, the Mitre Peak, which reaches 1692m above sea level.
There's a high chance you'll see some sea life. The local colony of Fur Seals can be seen regularly at Seal rock but there are plenty of other animals that call Milford Sound home including dolphins and penguins.
A boat cruise runs the full length of Milford Sound and turns around at the point where Milford Sound meets the Tasman Sea.
A cruise of Milford Sound is usually around 2 hours during which time the boat driver will provide you with interesting facts and information about the geology, fauna and flora of the area.
You can book your Milford Sound boat tickets before you go to make sure you don't miss out.
Book an overnight cruise on Milford Sound
If you want to spend more time on Milford Sound you can book an overnight cruise. You'll get dinner and breakfast but most importantly, you'll get to watch the sunrise and sunset over Milford Sound. Stargazing is also spectacular here and you'll see the area from a whole new perspective at night time.
Take a tour including the underwater Observatory
Located on Milford Sound, the floating underwater observatory is a great way to see what lies beneath. Head down into the glass viewing room, 10 meters below sea level to experience Milford Sound like you would an aquarium. It's better here though because this is a natural habit and the sea life are free. You can get tickets that combine a boat cruise with a stop at the Observatory so you can see both.
Kayak Milford Sound
Get a bit more adventurous and take a kayak tour of Milford Sound. This is a great way to really get close to the inky black water and bases of the plunging cliff faces. You can book a boat and kayak tour so that you can see Milford Sound from both angles as your guide explains everything in detail.
Scuba diving in Milford Sound
If you really want to get a good view of what lurks under the inky black water of Milford Sound, a Scuba diving tour is ideal. You'll get to see the incredible array of coral growing freely throughout Milford Sound. You may also see a few sea animals on your tour.
Fly over Milford Sound in a helicopter or small plane
Take in the highlights of Milford Sound from the air with a small plane scenic tour from Queenstown. If you'd prefer, there area also helicopter tours of Milford Sound for that incredible areal view.
An areal tour is a fantastic option if you don't have the time to do a full day bus tour from Queenstown. It reduces the travel time from Queenstown to Milford Sound by about 3 hours, freeing up at least 6 hours of your day. You also get to experience Milford Sound in a way that not everyone gets to experience.
Free things to do in Milford Sound
The Foreshore walk and look out tracks
Along the edge of Milford Sound are the Foreshore Walk and Lookout Track. These are short walks, about half an hour and they'll take you to different vantage points along the waters edge. If you have a little bit of time they're well worth doing.
Stop for photo's along Milford Road
As mentioned above the Milford Road has some spectacular views. There are quite a few walks of varying lengths that begin on Milford Road. Click here to skip back up to the section on sights along Milford Road.
When is the best time to visit Milford Sound?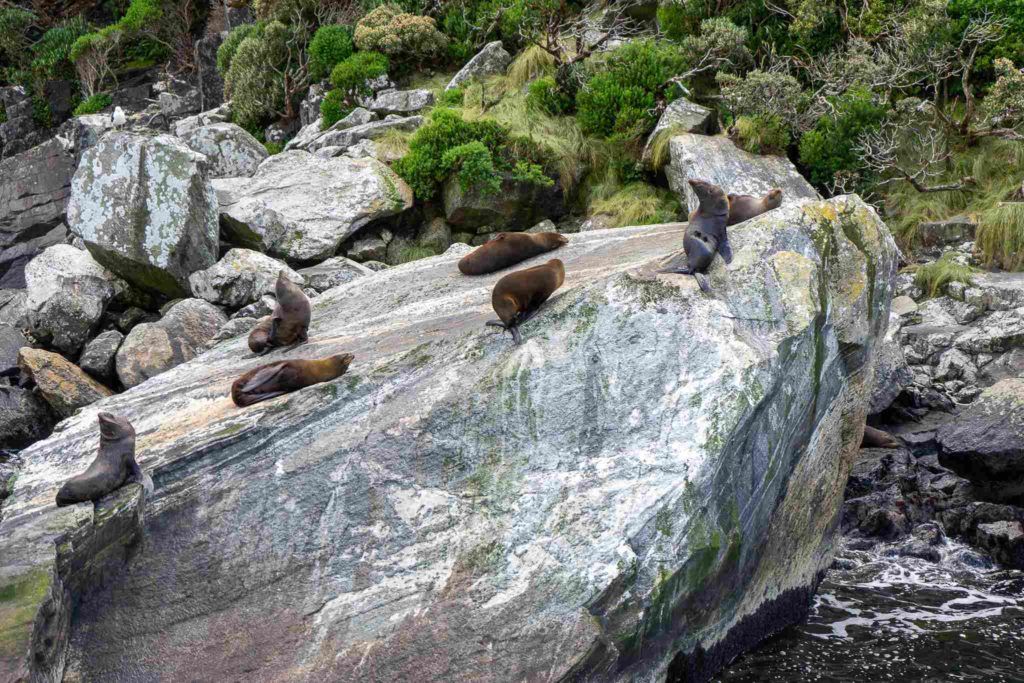 Milford Sound is actually great to visit all year round. As the wettest inhabited part of New Zealand, and with an average of 182 days of rainfall, you may think that winter would be wet and miserable. In fact, it's summer that is the wettest. That's not a problem though as the spectacular waterfalls running down the sides of the mountains are at their finest when it's been raining.
You have a good chance of seeing a variety of different sea animals in the spring and autumn as they are most active during these months.
Winter is also a perfectly good time to visit Milford Sound. If not a little colder, so rug up.
No matter which season you visit, you'll want to wear multiple layers and take a rainproof jacket to protect against the wet and spray from the boat if you're outside.
Milford Sound Travel Guide: Where to stay when visiting Milford Sound
Queenstown or Te Anau
If you're taking a tour, you'll want to stay in either Queenstown or Te Anau. Te Anau is really the gateway to Fiordland National Park. From Te Anau you'll also be able to visit Doubtful Sound easily. Queenstown however is obviously a bigger city. Either are perfectly suitable for visiting Milford Sound, so long as you have the time for a full day from Queenstown.
The Milford Sound Lodge
If you want to stay close to Milford Sound, the Milford Sound Lodge is located about 2km back up Milford Sound Road. With chalets looking over either the Cleddau River or the mountains it's a beautiful place to stay. The Milford Sound Lodge has it's own restaurant so you won't need to leave at all during your stay.
The Rainforest Campervan Park
Owned by the Milford Sound Lodge, The Rainforest Campervan Park has spaces for campervans only. It does not offer tent camp sites. The sites are powered and you'll have access to kitchen and laundry facilities. You'll need to take everything you need with you as there are no shops anywhere near Milford Sound.
If you're going in the summer make sure you book well in advance as they often book out.
Department of Conservation Camp Grounds
While there are no DoC camp grounds at Milford Sound itself, there are quite a few along the length of Milford Road. You can do a search on the Department of Conservation website.
What to wear to Milford Sound?
The key to dressing for anywhere in New Zealand is layers. You're on a boat and it can be windy, especially as you approach the Tasman Sea. Have a few layers you can put on and take off to suit the temperature. A good layer to have would be a waterproof one incase it rains.
If you're planning on spending a bit of time around Milford Sound and Fiordland National Park, layers, as well as some good walking shoes are useful. As is insect repellent.
Is Milford Sound Worth it?
Without a doubt the answer is yes. To be honest, I would love to go back and spend more time. Even I didn't realise all the options available and things to do while we were there. The sheer magnitude and size of the mountains and the close. intimate feeling of the narrow fiord make it an unusual and exciting experience. I can't image there is anyone who would say that they weren't happy that they'd seen Milford Sound.
Which is better: Doubtful or Milford Sound?
So, we saw both and I've written a whole article comparing the two here. Both are beautiful although they are different. If you only have time for one, I would suggest Milford Sound but really, you wouldn't be disappointed with either.
Milford Sound Travel Guide Frequently Asked Questions
Is Milford Sound in Lord Of The Rings?
The areas of Fiordland National Park, Manapouri, Te Anau and were in a number of places in Lord Of The Rings. For example, the Waiau River between Manapouri and Te Anau was used for parts of Anduin and Manapouri was used for the area south of Rivendell. As far as the area of Milford Sound itself, the best place to see LOTR scenery is in the Eglinton Valley, along the Milford Road. These are where scenes of the Misty Mountains were filmed.
Can you visit Milford Sound in the winter?
Absolutely, it may be drier in the winter than in the summer. Just make sure you wear a lot of layers and have a waterproof layer with you as it'll be pretty cold if you get wet.
Can you kayak Milford Sound?
Definitely! And it's a great way to see the area. See the section of Kayaking Milford Sound above for more information
How long is a Milford Sound Cruise?
A cruise on Milford Sound is about 2 hours. You'll head to the end of Milford Sound, where it joins the Tasman Sea before turning around to head back to the dock
Don't forget to pin me for later!