You're all excited, reading up on New Zealand, looking at campervans to rent, finding incredible tours to do… and you suddenly ask yourself 'Where can I park my campervan in New Zealand?'. Where can I park overnight? How much is it going to cost? Sound familiar? If you're anything like me, the thought of 'where to park my campervan' came a little later in the process. Don't worry though. In this article I'll outline all your options for where to stay in a camper or motorhome. I'll also give you the costs to help with budget planning and show you some fantastic tools that'll help you find places to stay overnight with ease. So lets get to it.
This article contains affiliate links. For more information, please see our affiliate disclaimer here.
Can you sleep anywhere in a campervan in New Zealand?
In short, no. You can't just sleep anywhere in a campervan in New Zealand. There are quite specific regulations regarding where it is considered acceptable to stay overnight in any vehicle, car, campervan or motorhome. There are broad regulations by the government, and then there are individual regulations by the local and regional councils. As New Zealand has millions of tourists and campervan travellers every year, these rules and regulations are strictly enforced. You can expect a $200 NZD fine if you're in the wrong spot.
Where can I park my campervan in New Zealand?
Where can I park my campervan during the day?
So, to get semantics out of the way, if you just want to park, as in get out of the car and leave it in that spot for a few hours, then you can 'park' anywhere where you can legally park a car. So long as your campervan will fit in an allotted parking space or isn't hindering traffic and is parked legally, you're good.
Where can I park my campervan overnight?
If you want to 'park' your campervan overnight, there are plenty of options including freedom camping places, DoC camp sites, Holiday parks and sometimes, on private property (with the owners permission). That's the purpose of this article and I'll go through them all in detail below.
Where can you stay overnight in a campervan?
Freedom camping sites
As mentioned above, you can't just sleep in your campervan anywhere, but you can park your campervan overnight at designated freedom camping sites. These sites are designated by each local council and are scattered all over the country and are free to use. In order to be able to use the freedom camping sites, you'll need a self contained campervan.
A self contained campervan means that you have a toilet on board, as well as a grey water tank. Why? Because freedom camping sites have very little in the way of facilities, therefore, you'll need to come with your own. A self contained van has a sticker that says it's self contained. This is quite strictly regulated and at popular spots you may see inspectors wondering around.
Freedom camping sites are a mixed bag. There are some incredibly beautiful ones by the water, while other times you might be besides a sports oval, or simply in a car park.
I won't go too much into freedom camping in this article as I cover it in detail here. I also have an article explaining self containment. If you think you want to make use of the freedom camping sites, I'd highly recommend that you read both of them and understand the ins and outs of how freedom camping works.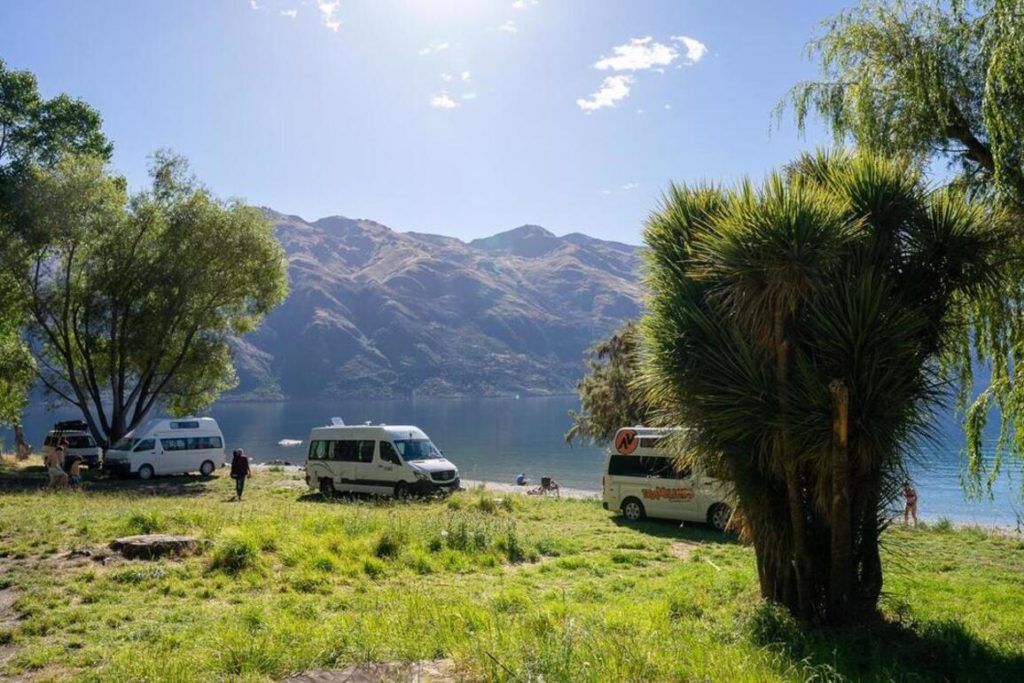 Department of Conservation (D0C) camp grounds
If you're asking yourself 'where can I park my campervan in New Zealand that has some facilities but is not too expensive'? DoC camp sites might be the answer. The DoC has more than 200 campsites located throughout spectacular bushland and national parks. These are some of the most beautiful sites you'll find for camping in New Zealand. While these sites are managed, there are different levels. This means that some will have more facilities than others. Obviously, the more facilities available, the higher the cost per person per night.
Basic DoC campsites
Basic campsites operated by the DoC are essentially freedom camping sites. They are free to use however they have almost no facilities available. They will usually have a drop toilet. They may also have water available however they recommend boiling the water first as it is often untreated.
Parking overnight at a DoC Standard campsite
If you want to stay the night at a DoC standard campsite, then this is the point that you'll begin to start paying. The Standard campsites are $8 NZD per night per adult. For this you'll have toilets, and water. Again, the water may or may not need to be boiled. Depending on the site there may (or may not) also be other facilities such as BBQ's, cold showers, tables and rubbish bins.
You don't think about them until you need them, but when you're living in a campervan, access to rubbish bins becomes quite important.
Staying overnight at a Scenic DoC campground
Spending the night in a campervan at a scenic DoC campsite is quite a treat. These sites are usually located in the most beautiful places, hence the name. In terms of the general facilities, they're the same as the standard campsite. A drop toilet, water and potentially showers, rubbish bins, BBQ's and tables.
There is one key difference here however, aside from the 'scenic-ness' and that is electricity. At a scenic campsite, you have the option of connecting to electricity which allows you to recharge any electronics. The cost for a powered site is about $18NZD. The cost for an unpowered site however is $15NZD per night. Given the amenities are the same for the Standard campsite and the Scenic campsite, you're paying $8NZD extra for the view.
Parking overnight at DoC Serviced Campsites
Serviced campsites have the widest range of, you guessed it, services. They have flushing toilets, hot showers, laundry facilities, rubbish bins, tables and BBQ's. As with the Scenic sites, you have the option of connecting to electricity by choosing a powered site. An unpowered site is $20NZD a night, A powered site will cost you $23NZD per person per night.
Booking and paying for DoC Campsites
Each campsite has it's own way that you'll need to pay. Some cannot be booked in advance. It's a little confusing. I'd recommend reading this information from the DoC which will give you instructions based on a campsite you choose. It also talks about the DoC Campsite Pass which you can purchase and use for a selected time frame.
Where can I park my campervan in New Zealand for some luxury?
Holiday parks!
There may be times when you want to wash clean the smell of campervan living. Maybe you want to swim in a pool, or use a really nice bathroom. You might even want to sleep in a normal bed for a night. In the New Zealand campervanning world, a holiday park is the equivalent of a nice hotel. Now, I don't want to talk them up too much, because some aren't that great, as with anything I guess. If, however, you land in a nice one, they can be just the refresher you need.
Facilities in holiday parks
Holiday parks will (usually) have a lot of facilities. They'll have a laundry, an area to wash your dishes. They'll have bigger bathrooms and shower areas. Sometimes they'll have things like swimming pools and saunas or spas. They might have some sort of games room or television room.
Wifi
Holiday parks will often say that they have wifi. WiFi and good reception are really difficult to get in New Zealand and so it can be tempting to get sucked in to this 'holiday park wifi' myth. It is a myth. While you may get 500mb daily, for free, many holiday parks will 'sell' a certain amount of gigs. Which would be great, but the wifi almost never works. We'd highly recommend avoiding buying wifi at a campsite, even if you're desperate for it.
You could take a break in a cabin
Many holiday parks also have small cabins that you can rent, so if you have 'campervan fever', you can find a bed for the night.
Reception offices for assistance
Holiday parks also have a reception area with a staff, they can help you with booking tours and with recommendations for things to do which can be helpful.
Top 10 Holiday Parks
The Top 10 Holiday Parks are the largest and most well known chain of holiday parks in New Zealand. We stayed at quite a few of them and they were pretty good.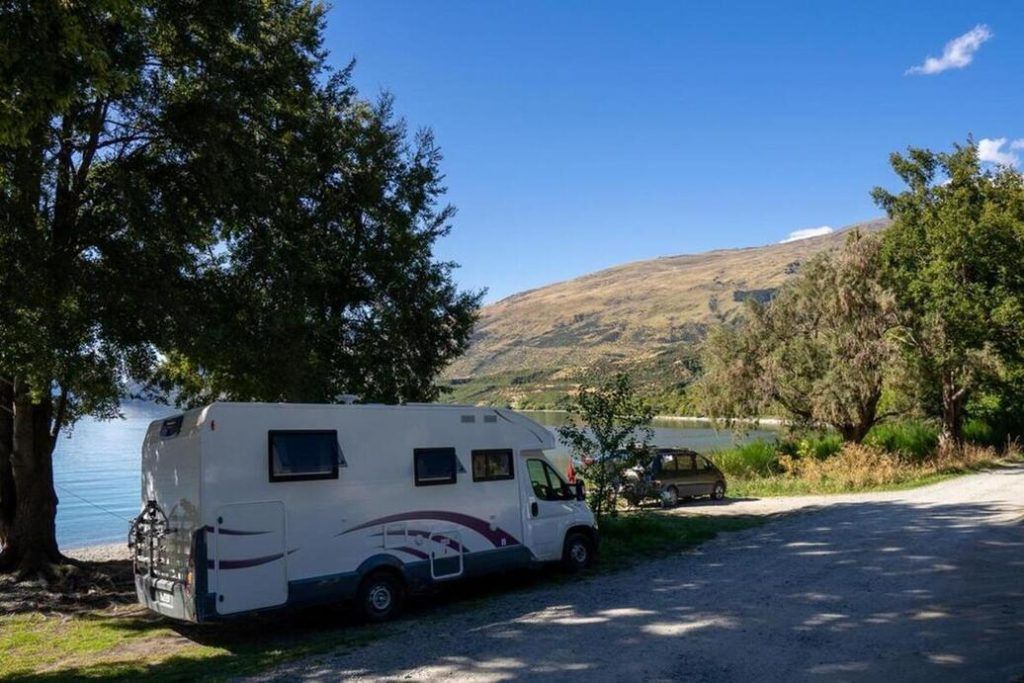 Where else can I park my campervan in New Zealand?
Park Over Property
Now I have to say we haven't used this option but I wanted to include it so you know it exists and it's available should you want to use it. Park Over Property is a collection of over 2000 private home and land owners who will let you park your campervan on their property for a small fee. It is run by the New Zealand Motor Caravan Association. You can check the website here for more information.
Useful apps for finding places to park your campervan overnight
There are a few really useful apps that you'll want to download. These will help you find places to park for the night. Not only that, they can also help you to find things like petrol stations, public toilets and dump stations.
Campermate
For us, Campermate was a life saver. We used it to find everything. It's really easy to use. You can use the menu to filter for the things that you do or don't want. For example you can choose to only see campsites for self contained vehicles. You'll be able to search for dump stations, supermarkets, wifi places. It's really handy to have.
You can also download the maps for use offline. This is incredibly helpful because as I've mentioned, Wifi is not great in a lot of places, but especially if you're outside the cities.
Rankers Camping NZ
Rankers is similar to Campermate. Some people have a preference of one over the other. I personally preferred Campermate, but I would download both and have them ready just incase you're having trouble finding what you want with the other one.
Where can I park my campervan in New Zealand? Our tips
If you're travelling in peak season, during summer, arrive at freedom camping sites as early as possible. They get really busy and if you arrive too late you'll miss out on a spot and you'll have to keep driving
Don't think that you can freedom camp the entire time. There will be some occasions where you miss out on freedom camping places and need to pay for overnight parking
Having offline maps and a New Zealand sim card will save you a lot of time and stress when you're trying to find somewhere to stay for the night
Make sure that you take all of your rubbish with you or put it in the bins provided when you sleep at freedom camping or DoC camp sites.
You might also find these articles useful
Don't forget to pin me for later!