There is no better way to see New Zealand (NZ) than by taking the time to drive a campervan around it. Our campervan around New Zealand blog gives you all the information you need to plan your ideal New Zealand adventure. We spent 5 weeks travelling around New Zealand by campervan We'll show you how we did it and help you plan and create your own unforgettable experience. We think campervanning is a great way to see the country, but this travel guide is applicable to everyone, whether you campervan or not.
This article may contain affiliate/compensated links. For more information, please see our disclaimer here.
Quick Facts
Languages of New Zealand
The Main languages you'll hear in New Zealand are English and Maori, the language of the Indigenous people of New New Zealand.
Internet and WiFi
The WiFi in New Zealand is not great to be honest. With the population spread out across such a large area, there are huge spaces in between with no reception. Camp ground will often say they have wifi but you'll usually get up to 1GB free and then you'll pay… ALOT for more. Even when you pay there is a fair chance that it won't be any good. Forget streaming anything or uploading images.
Electricity and recharging
New Zealand have 230/240 volt 50 hertz electrical sockets. The plugs have 3 angled pins, the same as in Australia.
New Zealand currency and money
The currency of New Zealand is the New Zealand Dollar, NZD. One NZD buys between 0.66 USD and 0.70 USD at the time of writing.
All prices quotes are in New Zealand dollars.
Almost all businesses will accept major credit cards as payment. ATM's are available in all towns and cities. Paying and accessing money is not an issue in New Zealand.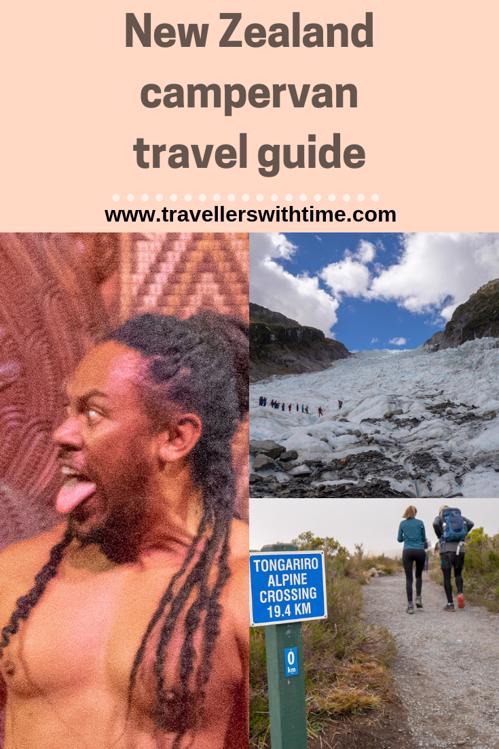 Sample costs
New Zealand is not a cheap destination at any time, however it is important to know that during the summer, the prices are often substantially higher than they are during the rest of the year.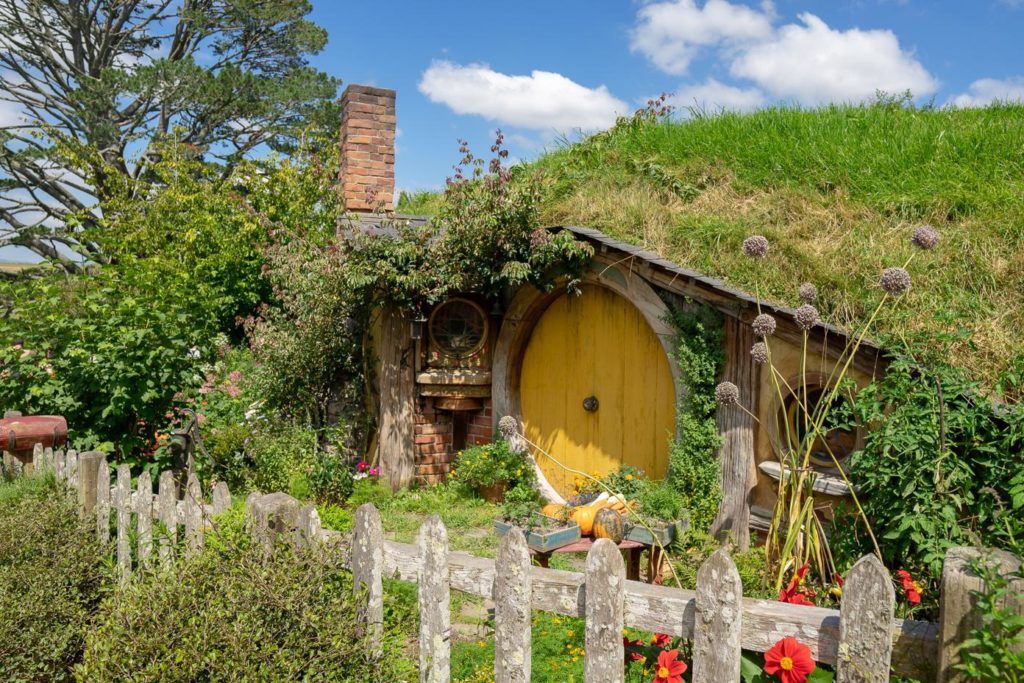 Camper prices – Campervan around New Zealand Blog
The cost of a campervan
If you're planning to either buy or hire a campervan to campervan around NZ, visit our article on choosing a campervan. The type and size of your camper will dramatically affect your costs, as will the season. You can expect to pay almost half the cost in the low season, compared to high season.
Campervan around New Zealand blog tip: We booked our camper through Motorhome Republic and we can't recommend them enough.
Where can I stay and how much does it cost?
Hotel Accomodation
If you're travelling around New Zealand in a camper van it is unlikely you'll spend much time in hotels, however you may need accommodation before you pick up your camper van and after you return it before you leave New Zealand.
Budget – $25-40 NZD will get you a camping pitch or dorm bed.
mid range – $100-$150 NZD will buy you a mid range double room in a hotel.
high end – expect to pay well over $200 for a nicer hotel room.
Type of camp grounds in New Zealand
Freedom Campgrounds
There are a variety of camp ground types in New Zealand. See our article on freedom camping for more information on free camping around the country.
Department of Conservation camp sites
Department of conservation camp sites – These vary in price from $6 NZD up to about $23 NZD for fully serviced sites. For more information check the Department of Conservation Website
Paid campgrounds and Holiday Parks
Paid camp grounds will cost anywhere from $18NZD per person for unpowered site to around $25 per person for a powered spot. So for a couple and a camper you're looking at around $50 NZD in peak season, less in winter.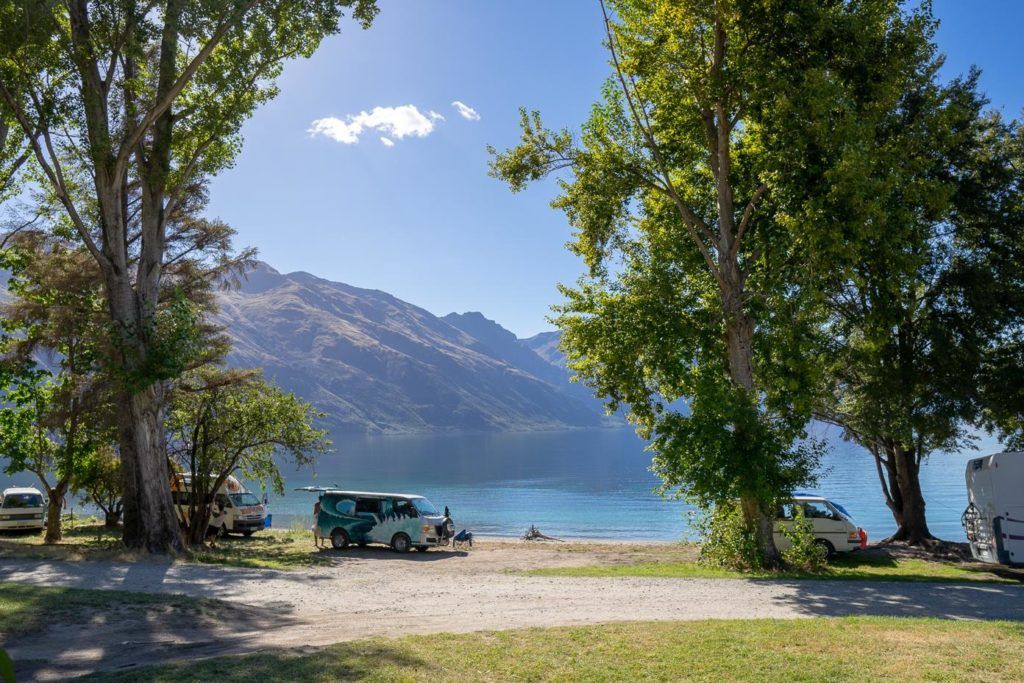 Food and drink
Meals at a restaurant
Budget – a cheap meal out should cost you under $12 NSD
mid range – a main meal and a drink at a restaurant will set you back up to $30 NSD
high end – $80 NZD and upwards will get you a nice meal, dessert and drinks.
General daily budget
Low – you could travel New Zealand on under $100 NZD a day per person. If you were trying to campervan around New Zealand with this budget, you'd be best to travel in shoulder season or low season when campsites and attraction costs will be cheaper. You'll be able to cheaply hire a decent campervan too.
Mid range – a mid range budget is between $100 and $200 NZD per person, depending on the activities you choose and your method of travel. This amount will give you a comfortable campervan, even in the NZ peak season. It will also allow you afford some adventure activities. You will probably want to prepare some of your own meals.
High end – there really is no limit here but expect to pay over $250 per person to travel in style. A lush camper will cost you over $250NZD per day alone if you travel in peak season.
Getting to New Zealand
New Zealand has 5 international airports that you can fly into. Auckland is the main international airport of the North Island, while Christchurch is the main international airport on the south Island. Wellington (North Island), Queenstown and Dunedin (South Island) accept international flights arriving from Australia and Fiji.
Make sure you fly into the airport, and Island, that is closest to where you want to start your trip to avoid having to transfer onto a domestic flight.
If you do need a domestic flight however there are many smaller regional airports to choose from. Air New Zealand and Jet Star are the primary domestic airlines however there are a few other smaller ones that can take you to more remote destinations.
Do I need a visa for New Zealand?
Always check your own visa requirements prior to travel. Currently however
citizens and permanent residents of New Zealand and Australia
citizens of the UK
and citizens of countries that have visa waiver agreements with New Zealand
do not require visa's to travel to New Zealand. However you will need to apply for an Electronic Travel Authority of ETA prior to arriving in New Zealand. You can find all the information you need at the New Zealand Immigration website.
The length of time citizens from different countries can stay in NZ does vary however so make sure you check before you book your trip.
Citizens from other countries are required to pre-organise a visa for New Zealand.
Campervan Around New Zealand Blog
For more posts of the art of campervanning around New Zealand, why not check out these articles
Planning your travel itinerary
New Zealand is a fairly small, as far as countries go, but being spread over two islands and with a population of only 5 million people, towns and cities are quite spread out.
When is the best time to travel New Zealand?
Ideally, you should plan your campervan trip around the type of activities you want to do.
Summer
Summer is great for spending time on the beach or enjoying one of New Zealand's great hikes. The New Zealand summer is from December until the end of February. The North Island is warmer than the South, with the overall temperature being between 20 and 30 degrees Celsius on average.
Thousands of travellers flood into New Zealand during summer, which is peak season. With the warmer weather come much higher prices and much busier attractions, accommodation and roads. Expect to pay almost double for anything aimed at travellers.
Winter
If you're after snow, glaciers and cooler temperatures then winter in NZ is ideal. It's a great time to go whale watching and then soak in a geothermal hot pool, or witness the southern lights. The winter months in New Zealand are June, July and August.
The benefits of winter, which is definitively low season, is that you will have most places to yourself and you will pay a lot less for the pleasure than you will during high season.
Freedom camping and Department of Conservation camping sites will be almost empty, you won't come across anyone for hours on hiking trails and your dollar will go a lot further!
Autumn and Spring
For the best of both worlds, Autumn and Spring, the shoulder seasons, are a great time to visit New Zealand.
Autumn, from March through until the end of May is a mix of cooler temperatures and changing colours. Trees will begin to turn auburn and whole areas look spectacular. The weather can be quite good and if you travel in the early months many summer activities such as swimming are still possible. Rainfall increases however so be prepared for wetter weather.
The whole country comes alive with colour in the spring as the plants and flowers flourish. Waterfalls are at their peak after the winter rains and temperatures begin to increase to around 15 to 25 degrees Celsius.
You'll find shoulder season a great time to travel, there are generally less people and prices will slowly start coming down so you can get some great deals.
How long should you spend travelling around New Zealand?
How long is a piece of string? Is that an Australian saying or a world wide one? Either way, the choice is really yours and depends on how much you want to see, whether you're going for one particular thing and whether you intend on seeing both the North and South Islands.
If you're going for a few days, or a week, with the intention of doing a few particular activities, we'd recommend flying, rather than road tripping NZ. Unless, of course, those few things you want to do are in a fairly small area.
You could always make a short campervan road trip a part of a larger travel holiday.
If you're intending to see only a small region in depth, or to travel one island at a brisk pace, then at least 2 weeks would be recommended.
For both Islands, or slow travel ideally you would want more than 4 weeks. We saw a huge amount, across both islands in 5 weeks, but we barely stopped moving. We are usually slow travellers so this was unusual for us, but we were driven by the desire to cover as much as possible.
I did my best to structure our itinerary to a manageable pace, taking certain places and activities out, making sure we didn't drive too far each day, but that we drove far enough. And still, there was so much we missed!
Campervan around New Zealand blog: Itinerary planning tips
Balance driving time and distance with fun and relaxation
As tempting as it is, don't plan to see or do TOO much while you campervan around New Zealand. Unless you want to feel like you're constantly on the run give yourself plenty of time to enjoy what you do experience.
Allow more time than you think you'll need for driving between areas, particularly if you're in a larger camper as New Zealand is very hilly! It will often take you longer than you expect to get from point A to point B
Campervan around New Zealand Blog Pro tip: Driving from point A to point B is often as spectacular as arriving, so allow time to stop and take photos, safely and when appropriate, of course.
Plan to only spend a few hours per day driving so that you can enjoy experiences and sights without stressing about the time.
Most camp sites have offices that close by around 7pm, although this is extended in summer. Plan to be at your designated camp ground before this time so you can check in.
Consider whether you will drive around one island, or both
Not all campervan hire companies have multiple offices around the country. This means that you'll have to do a round trip to return the camper, or stay within the region where the office is located. For example, if the company you choose is only located on the North Island of New Zealand, then you may not be able to do a one way trip south.
If you are travelling between the two islands you will need to take the inter-island ferry which will add at least $260 NZD (each way) onto your expenses, so keep that in mind when planning your route.
Some companies offer campervan relocation deals. This means that they need a car returned from one office to another. You will usually pay much less for these deals. However you usually have a set time frame to return the vehicle. It obviously also limits where you can go and what you can see.
Factor the seasons into your plans
You can really campervan around NZ at any time of year, but you need to be realistic about your interests, the type of activities you want to do and your personal tolerance to temperatures.
For example if you intend on doing lots of hiking, but you hate cold wet weather, then planning hikes in the coldest and wettest areas of the country makes no sense.
If you intend to travel during winter you will need to be extra prepared and make sure you pack additional warm clothing to bring with you.
What can I do on my campervan trip in New Zealand?
Incredible experiences to have in NZ
Sail the Bay of Islands
Over 144 islands make up the Bay of Islands of the coast of the Northland region. Known for its spectacular landscape and marine life, relax and enjoy a few hours of coastal sight seeing. You can see the famous Hole in the Rock, hidden coves and beaches and spy marine life and native birds. This tour offers you the opportunity to see one of New Zealand's most beautiful, and popular, sights.
Take a guided tour of Hobbiton
New Zealand's most popular tourist attraction, Hobbiton is worth a visit, even if, like me, you've never seen the movies! We did this Hobbiton tour and learnt a lot about how they made the movies. And yes, I have since watched two Hobbit movies! We had the campervan so we drove to Shires Rest and took the tour from there.
Go whale watching off Kaikoura
New Zealand is known for it's abundant marine life and there is no better place than Kaikoura when it comes to whales. Join a whale watching tour and see Whales, seals and Albatross as they fly through the sky.
Campervan around New Zealand blog: The best places to go on the North Island
With spectacular beaches and coastline, rolling mountains, volcanco's and the largest inland lake the North Island of New Zealand is spectacular.
We started our road trip in Auckland and headed up, through Northland, to Cape Reinga, before exploring the Coromandel, the center of the North Island and then heading south towards the ferry. We came up the west coast on our return to Auckland. There were so many highlights of the North Island, it was truly beautiful.
Northland – the Far North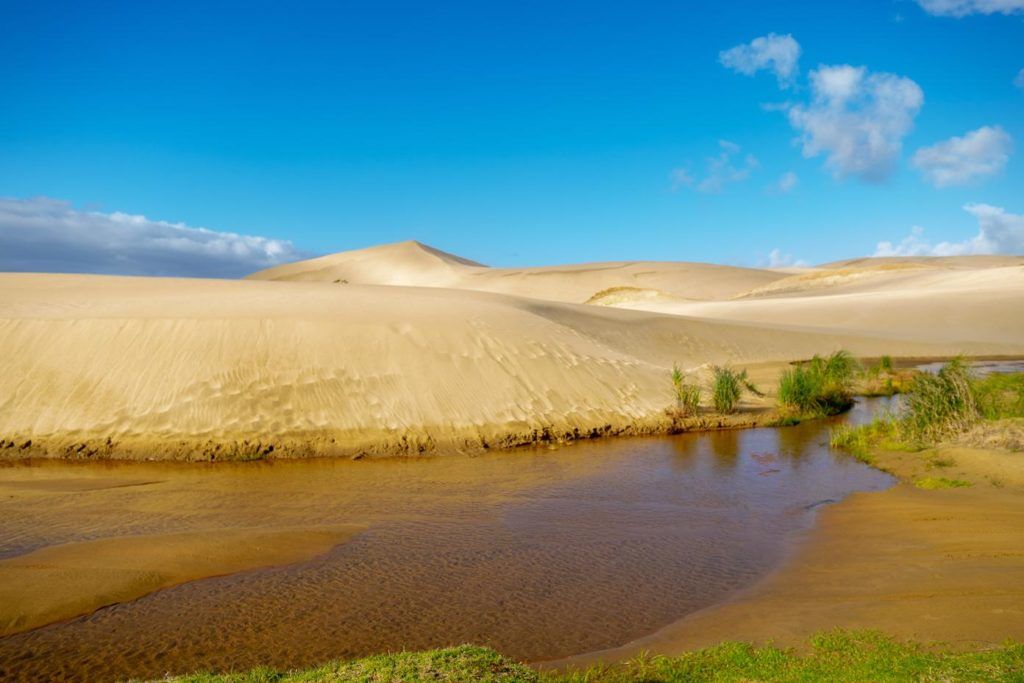 Don't miss the unforgettable views of Cape Reinga, 90 Mile beach and Te Paki Sand Dunes or the spectacular waters of the Bay of Islands. For some cultural history, the Waitangi Treaty Grounds are a must.
In the Northland region you'll see rolling hills and farmland that are greener than any pastures you've ever seen. Take some time to head through the centre before moving towards the coast for some of the most jaw dropping coast line you'll ever see.
If you only have time for Northland, we've put together a great Auckland to Cape Reinga Itinerary
Auckland
As New Zealand's most populous city has plenty to offer, no matter how much time you have to spend there. Surrounding two harbours, you can wander between sky scrapers such as the Sky Tower, eat delicious seafood by the harbour and stroll along black sand beaches. All within a few hours.
If you're flying in our out of Auckland don't miss our guide to spending 24 hours in Auckland.
The Coromandal Peninsula
Known for it's beautiful beaches, Cathedral Cove and volcanic hot springs the Coromandel Peninsula is the perfect spot to relax or take a walk along stunning coast lines.
A large region south east of Auckland the Coromandel Peninsula has plenty to offer besides the afforementiond attractions. There are some beautiful forests and hiking tracks, rugged mountain ranges and lovely towns to explore.
Rotorua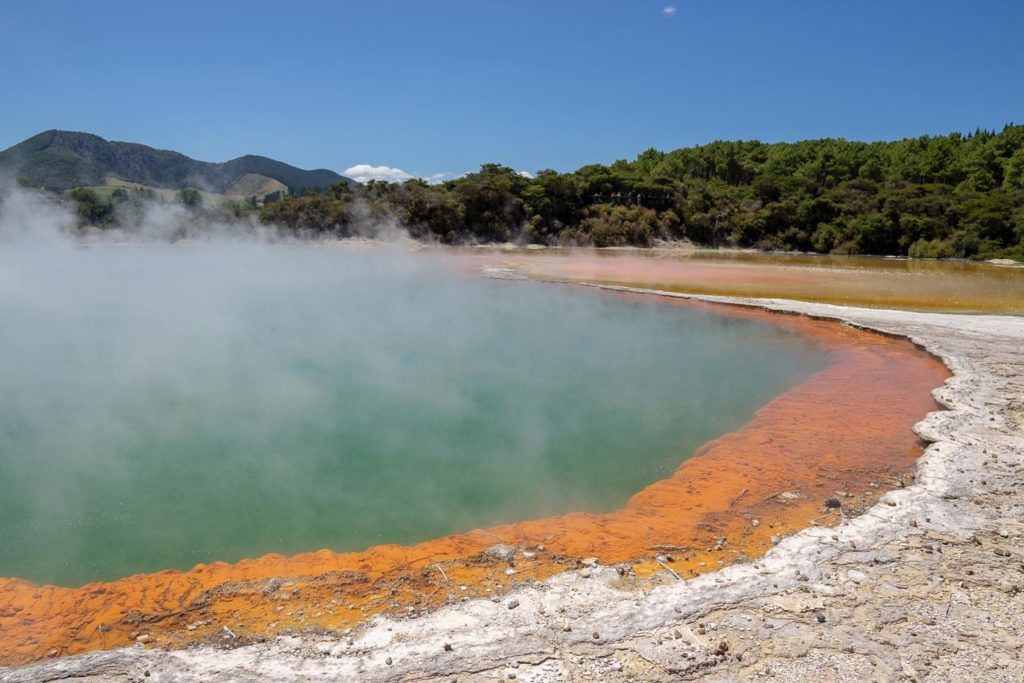 Rotorua is said to be the cultural hub of New Zealand. Learn about Maori culture by night and explore beautiful forests and waterfalls while hiking around Rotorua day. Rotorua makes a great base to explore nearby attractions such as Waiotapu or Waimangu Valley and of course, don't forget to visit Hobbiton!
If you're going to Rotorua with the family, check out this article on things to do in Rotorua with kids.
Mount Tongarirro
In our opinion no trip to the North Island is complete without walking the Tongariro Crossing. This 6 plus hour hike through volcanic remains is challenging, but unforgettable.
If you're into hiking, New Zealand has hundreds of tracks to keep you busy, some small tracks that will take you a few hours to longer, multi day tracks that will take you to the middle of nowhere.
Lake Taupo
The largest lake in New Zealand and the second largest in Oceana, Lake Taupo is a huge and spectacular area. The lake itself is in a volcanic cauldera, or empy lava reservoir! The Taupo region has plenty of adventure and outdoor activities both on and off the water. Haka Falls is a beautiful waterfall about 15 minutes drive from the north of the lake.
There are also some great freedom camping sites by Lake Taupo that you won't want to miss.
Wellington – the capital of New Zealand
Surrounded by coast line and beaches, this beautiful city is worth spending a few days around. Known for its artsy and foodie culture, this urban city is surrounded by rolling mountains, making it simply breathtaking.
Campervanning around New Zealand blog: The best places to see on New Zealand's South Island
Kaikoura
The rolling brown mountains and cliffs that form the north east coast of New Zealand's North Island are worth the drive alone. Kaikoura then, is the icing on the cake. A lovely little seaside town its the perfect place to stop for a while and take it all in. If you're hoping to see marine life such as whales, seals and dolphins in New Zealand, Kaikoura is one of the best places to do it.
Christchurch
Known for it's English heritage, Christchurch unfortunately lost many of it's heritage buildings to earthquakes, but that hasn't stopped it being one of the top destinations for travellers. It's the perfect place to base yourself while you explore the surrounding areas such as Kaikoura, the Banks Peninsula, or Lake Tekapo You'll also find plenty to keep you occupied in the city itself. A road trip from Christchurch to Queenstown is a great way to see the interior.
Akaroa and the Banks Peninsula
Don't miss the beautiful views of Akaroa town as you drive the windy mountainous roads of the Banks peninsula. Located south east of Christchurch, the Summit Road makes for one of the best drives in the New Zealand.
Lake Tekapo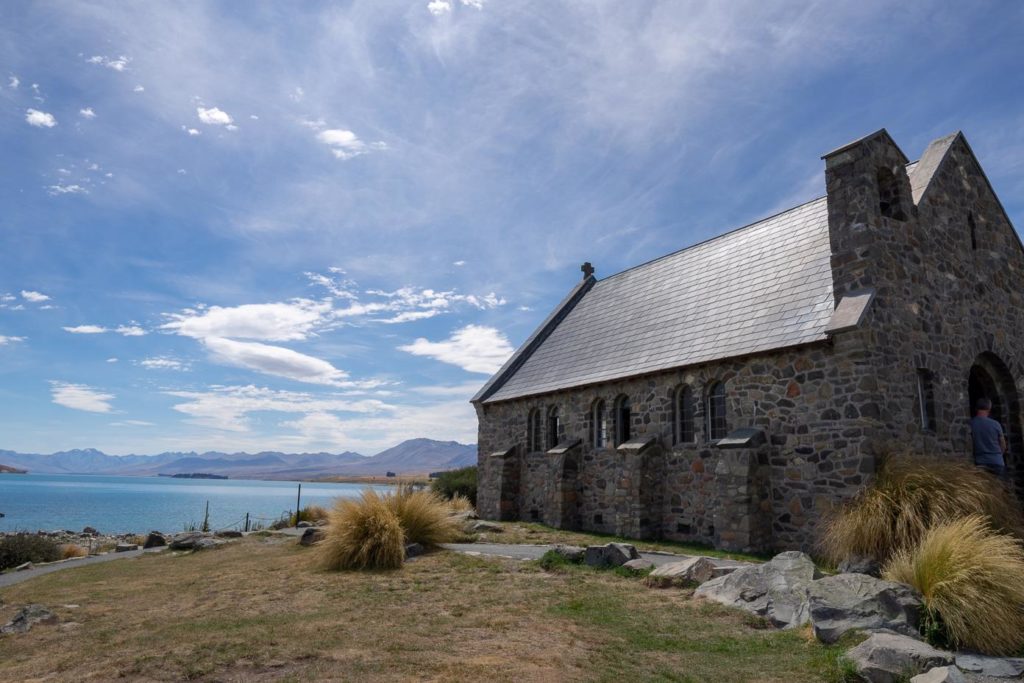 Incredibly beautiful and serene, Lake Tekapo is a must do on the South Island. Take one of the many hikes in the region, look for flowering Lupins or visit the beautiful old Church of the Good Shephard.
We missed the lupins but it didn't matter, the area around Lake Tekapo is picturesque at any time. We were pretty proud of the photo above, it was the only photo we took of the Church of the Good Shephard that didn't have a tonne of people in it!
Aoraki/Mount Cook National Park
The Mount Cook National Park is home to the tallest mountain in New Zealand, reaching over 3700 meters. The Mount Cook National Park is part of the Mackenzie Dark Sky Reserve, and home to the Hooker trail, one of New Zealand's most famous walks.
The Catlins
Located way down in the South of the country, the Catlins is a gorgeous region, full of wonders to discover. From Cathedral cave to waterfalls and a southern light house, it is one of the most beautiful regions in the country.
Personally if I had known how beautiful the Catlins would have been, we would have stayed longer.
Fiordland National Park and Milford or Doubtful Sound
The rugged Fiordland National Park is a huge region in the south west corner of the south island, and home to New Zealand's top tourist attraction, Milford Sound. The town of Te Anau is also worth visiting however don't expect to freedom camp nearby, freedom camping is prohibited in most of the region.
Campervan New Zealand blog suggestion: As for Milford Sound, New Zealand's prime tourist attraction doesn't disappoint. While Milford Sound is the more popular option, we found Doubtful sound to be equally as beautiful. This is the Milford Sound Cruise that we did and we loved it!
If you're having trouble deciding whether to visit Doubtful Sound or Milford Sound, I've written an article comparing the two.
Glaciers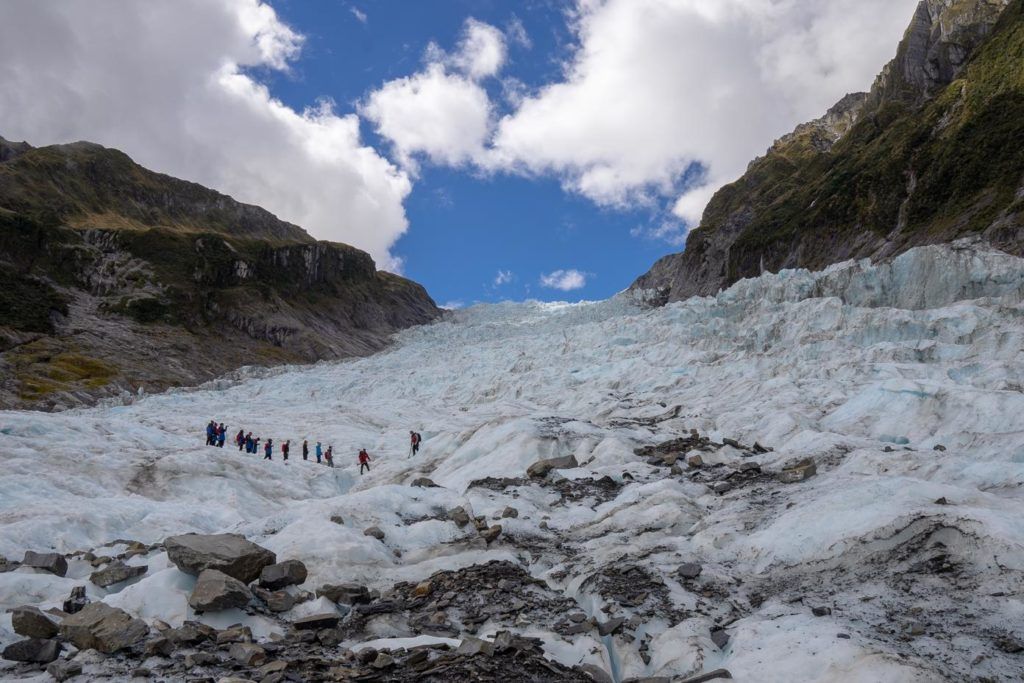 The south island is home to many glaciers including the Fox Glacier and Franz Josef glaciers. If you've ever wanted fly in a helicopter and walk on a glacier, here's your chance!
We've written a review on the incredible Fox Glacier Heli Hike that we did if you want more information.
Walking on glaciers is one of the must do adventure activities in New Zealand.
Queenstown
If you're looking for adventure sports then Queenstown is the place to be and it certainly is one of the most visited places in New Zealand. While there is plenty to do in Queenstown, it's a great base to explore local areas and enjoy the views of the southern mountain ranges.
Wanaka
Seemingly famous for a tree (google Wanaka tree if you've somehow missed it), there is so much more to this beautiful area. Surrounded by mountains and lakes and a lovely little town, you could get lost here for weeks and never run out of new things to see.
Able Tasman National Park
With so many phenomenal National Parks to choose from, nature lovers can't go wrong in NZ. Located in the far north west of the South Island, the Able Tasman National Park is beautiful and well worth a visit.
Campervan around New Zealand blog: General Travel Tips
Staying safe in New Zealand
New Zealand overall if a very safe country and I have to say we felt absolutely comfortable at all times. That being said, we always recommend taking responsibility for yourself and your possessions to reduce the risk of having any problems.
Theft of property
This, unfortunately, is the most likely risk in New Zealand, and it is often from other travellers rather than locals. We recommend the following precautions
Never leave your items, particularly valuables, unattended.
When you leave your campervan, make sure nothing of value is visible.
We were told to shut the curtains when we left the camper unattended. That way, no one knows whether we are inside it or not.
Many of the hiking tracks in New Zealand have remote, vacant car parks, and these are prime target for thieves. If possible, use a busier car park, or, if you'll be gone a while, take another form of transport to the track.
What do I do in an emergency?
Calling 111 in an emergency will get you access to the police and ambulance. Fingers crossed you don't need that!
Always, always take out travel insurance
We personally never leave on a trip without travel insurance and World Nomads is our go to. Always. We actually had to use the travel insurance once, and they were great.
Internet and phone services
When we first arrived we were genuinely surprised about the lack of WiFi and phone reception, but having seen the size and sparseness of New Zealand we understand why.
There is very little free WiFi in NZ. That is problem number one for travellers. The second problem is that even if there is WiFi, it usually doesn't work.
We recommend getting a local sim card or taking a portable wireless router that can pick up any signal, giving you internet. We have used this one for the last 12 months and it's been a life saver. It is a little more expensive when compared to some others on the market, but we have never had a single problem with it and we swear by it.
Useful Maori words and phrases
Assuming you're English speaking, and if you've reached this part of the article, I'd say you are, there is really only one Maori word that you need to know.
Kia ora.
Kia ora means hello, thank you and is a wish of good health. You will hear it constantly and it's often used by all New Zealanders, not just the Maori population.
The rest of the time, though you may be rattled (confused) by New Zealand sayings, as people often are by my Australian ones, but you'll have no problem communicating.
Planning a trip to New Zealand soon? Here is where we begin
This article contains affiliate/compensated links. For more information please see our affiliate disclaimer here