If you're starting to plan your dream trip, you'll want to compare campervan hire New Zealand options to ensure you have an amazing, comfortable and stress-free holiday. Nothing is worse than being unhappy with your campervan or having your holiday wrecked by endless problems. We'll show you what comparisons you need to make between campervan options and hire companies. We'll also show you the easiest way to compare campervan hire options! Following our recommendations, you'll have a campervan that meets all your needs.
This post contains affiliate links. We earn a small commission from items you purchase through these links at no additional cost. For more information, see our Affiliate Disclaimer.
For most people, a campervan holiday around New Zealand is the trip of a lifetime. Your campervan will be your home for the duration of your trip. It will be where you sleep, prepare meals, shelter from the rain, wind and sand flies, and yes, there are sandflies! So, understandably, you'd want to make a good choice that's comfortable and meets your needs.
One of the potential risks when choosing a campervan is ending up with a dud. One that is mechanically unsound or has electrical or other items that don't work correctly. It's a sure-fire way to reduce your enjoyment.
Of course, when you have problems, you would hope that the hiring company would help you, but that can also be a bit tricky, with some being relatively difficult to deal with. Imagine you're on your dream holiday, stuck in the middle of nowhere with a broken-down camper van and a rude, unhelpful person on the phone! Yikes.
You can significantly reduce the chance of having an easy, stress-free, incredible adventure by taking the time to compare your options and choosing a good camper that meets your needs. This is one of those times a little preparation goes a long way!
In this article, we'll outline.
What you need to think about before you choose a campervan or motorhome
How to compare campervan hire companies in New Zealand
What to look for when comparing campervans and motorhomes in New Zealand
How to use tools like Motorhome Republic to find all the information you need
Definitions and explanations of campervans in New Zealand
Every country has their terminology regarding campervans, and the difference between a campervan, motorhome and RV can be confusing.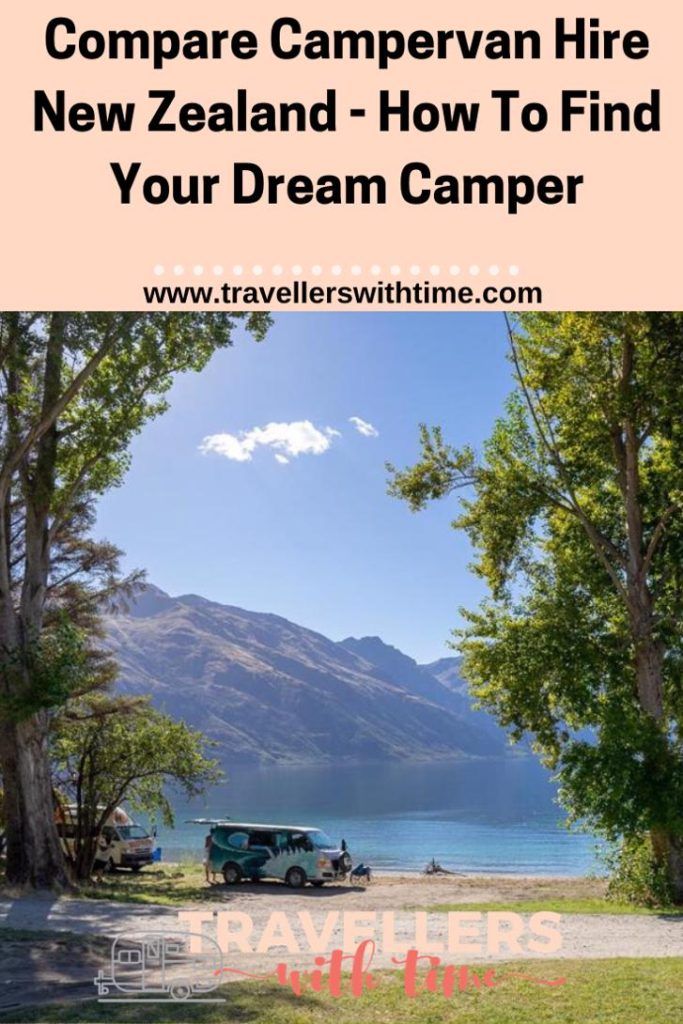 Types of campervans in New Zealand
In New Zealand, there are four main types of vehicles that you can hire for a self-drive holiday. These include
Car
Your standard two-wheel drive car is an inexpensive, fuel-efficient way to travel around New Zealand. However, it is NOT a campervan. Unless you intend to sleep in the driver's seat, you'll have to stay at hotels. While this is an acceptable way to travel around New Zealand, it's not what we're talking about here.
Camper car
This is a decent-sized car with the back area converted into a bed. Depending on your preferences, it may be self-contained, which means it may have a small toilet. You will usually also have some small cooking facilities. This type of camper is ideal for one to two people.
Campervan
A campervan is a larger car or a van that has been converted to include a bed, which you'll often have to pull out at night and pack away again in the morning. In addition, a campervan usually has more 'homely' kitchen facilities. Campervans will generally fit two people quite comfortably. Furthermore, you have the option of whether to choose a self-contained or non-self-contained campervan in New Zealand.
Motorhome
A motorhome, or RV, is a larger 'home on wheels' that comfortably fits two to six people. There will generally be a toilet and shower, more spacious cooking facilities and a greater amount of room overall. All information below applies to campervans as well as motorhomes.
If you can't wait to start comparing, skip ahead to the section where we compare campervan hire in New Zealand.
Things to consider before you compare options for campervan hire in New Zealand
Your personal comfort and preferences
The campervan will be your home for the duration of your trip in New Zealand, so make sure you take the time to think about what you would prefer.
Do you mind living in close quarters with your travel buddy, or do you want more space? Do you want to eat out a lot, or do you intend to make your food, needing a decent kitchen?
The first campervan we ever hired was a camper car, and we soon realised that Ben was too tall for the bed! Then, when we hired our small, two-berth campervan for our New Zealand holiday, we realised that next time, we would prefer a bed that doesn't need to be pulled out and put back every day.
It pays to put some thought into your preferences in advance.
How many people are you travelling with?
Your answer to this question will determine which type of campervan you begin to compare. Don't be tempted to squash into a smaller camper than you need. Instead, make sure you look at options with adequate space.
What is your budget?
It would be best if you were realistic about how much you have to spend hiring a campervan in New Zealand. Additional expenses come with a campervan, such as fuel, road tax and the cost of campervan sites if you aren't freedom camping. So be honest about how much you can afford to spend on the actual hire price of the campervan.
Important note: If you're not sure where to even begin with your preferences, We have an article on how to choose a campervan for New Zealand that goes through everything you need to think about before committing to a particular type of vehicle. You can also use the Motorhome Republic website to filter through some of the campervans available and see what kind of things are on offer.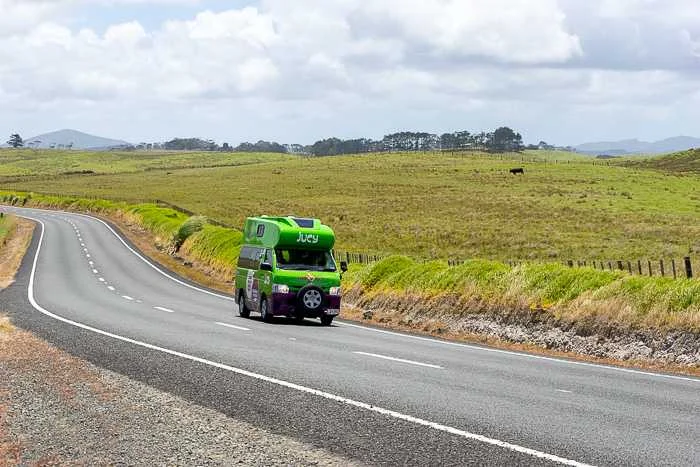 How far in advance should you book?
Campervanning around New Zealand is incredibly popular, with the perfect and busiest time being the summer months, or November through February. It's incredible how many other campervans you'll see on the roads and at freedom camping sites during this time.
It is important to book your campervan as far in advance as possible. Many popular, reputable companies will sell out of their campervans in the months before peak season. This does not mean you won't find one; it just means your options are more limited. You wouldn't want to spend all the time comparing campervan hires New Zealand only not to have your choice available.
If you're booking last minute, don't panic. If you book an unavailable campervan, the company will usually work with you to find an alternative.
On a personal note, we booked our campervan about 6 weeks before our trip and had no problem at all but we were lucky. We'd recommend booking in advance to be on the safe side.
Another thing to consider is that it is usually cheaper if you book your campervan well in advance.
How to compare campervan hire companies in New Zealand
When you first start looking at hiring a campervan, you'll notice that there are hundreds of companies to choose from. Unfortunately, they are not all created equally, and it can be challenging to filter out the good from the bad. But, lucky for you, that's where we come in! Below are the things you'll want to compare across the campervan hire companies you find.
Compare the base price of the campervans.
The base price is the minimum price before you begin to add on additional items. But to be honest, it isn't the only thing you need to consider as it can change substantially.
Do a comparison of Campervan hire inclusions and exclusions
An inclusion is an item included in your campervan's base price. An exclusion is something you will need to purchase additionally should you decide you want it.
There are often quite a few fees attached to hiring a campervan in New Zealand. These include
administration and hiring fees
fees added for additional or young drivers
cleaning fees.
When comparing hire companies, check whether these fees are included in the price.
Other expenses will include things like
one way fee
insurance
road tax
roadside assistance
While the occasional campervan hire company will include them, generally, they're excluded, and you'll need to pay them separately.
Most of the items you need will be included in the campervan, for example, bedding and essential kitchen items. However, we had to buy a few kitchen items that we regularly use.
Expert tip: Make sure that when you compare campervan hire New Zealand, you check the included bedding and kitchen equipment as some budget campervan hire companies exclude these items, and they become necessary additional purchases
You may want to purchase some extra items such as a solar shower or table and chairs. We found the table and chairs to be worthwhile.
Compare the quality of the hire vehicles from each company
This is kind of a big one. While it may be tempting to find the cheapest campervan you can. It may not be worthwhile if it spends your entire holiday breaking down. Ensure the company has a reputation for good maintenance and customer service. If you happen to have a problem, you want someone helpful to sort it out.
Check reviews of the hire companies.
It goes without saying that you should always check the companies' reviews in various places to see how others have found their services. You can also use reviews to gauge the quality of the campervans for rent.
If a company has many negative reviews relating to mechanical issues, bad customer service, or horrible support, then you don't want to use their services.
Reviews about customer service are critical. In a perfect world, you would have limited interaction with your hire company; you'd simply pick up the campervan and return it at the end. However, if you have a problem, you want good customer service. You need them to be helpful, and on their game so you can continue to enjoy your holiday.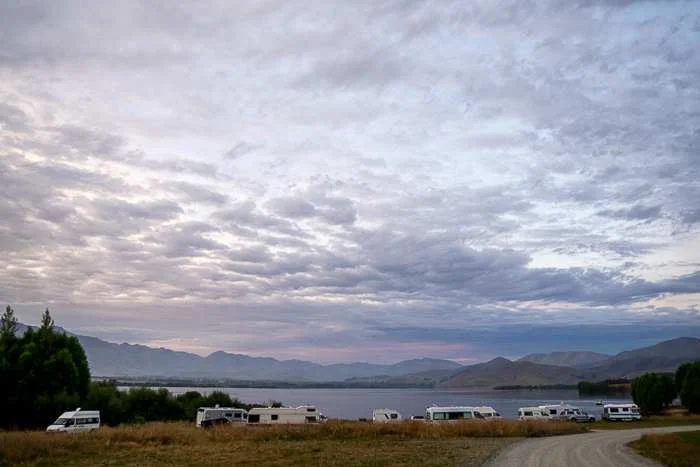 How to compare hire vehicles
If you're unfamiliar with car makes and models, many of the types of camper/car and campervans will look pretty similar to you (and me!), but here are slight differences you will want to consider.
The age of the vehicle: If you've compared hire companies with a good track record of repair and maintenance, then the car's age may not be an issue. If however, you're looking at a 20-year-old rental vehicle with many complaints about mechanical issues… move on.
Fuel efficiency is an important factor as fuel is expensive in New Zealand. Compare how many litres of gas it uses per 100km
self-contained or not self-contained? Do you want a self-contained or non-self-contained campervan? This is a personal preference and is usually a more important decision if you intend to freedom camp.
Check the living and other vehicle inclusions for things such as kitchen and bedding equipment, whether it has air conditioning or heating etc.
How to use Motorhome Republic to compare and contrast hire campervans
As mentioned, we use Motorhome Republic for our campervan hires. We've found it to be straightforward to navigate, providing all the information we need to make good comparisons.
Steps to comparing suitable hire campervans
Go to the Motorhome Republic website and enter the dates you wish to travel and the city you want to collect your campervan
Use the filters on the left to filter down your options

automatic or manual
do you need a toilet (i.e. self-contained?)
Do you have a preference for vehicle age?
Set your budget
set a filter for quality companies based on the reviews

Across the top, you'll see a display allowing you to choose how many people you'll need to sleep inside your camper, the 'berth.'
Once you've set your filters, you'll have a complete list of the available campervans for hire during the time of your holiday.
All the information you need is divided into subheadings as you click on them.
You'll find the vehicle specifications box will include the fuel consumption values.
The section called 'Inclusions in the standard rate" will allow you to work out the base price and make comparisons with other hire vehicles that fit your needs.
The "Living features," "beds", and "entertainment" sections will tell you whether those comfort and preference features we discussed earlier will be met with this camper and whether or not you'll need to purchase additional items.
It's really that simple.
Start your campervan comparison search here.
We've researched some excellent options if you're unsure where to begin. These will give you a great place to start your search, or they may just be the campervan for you!
Camper Car – Small campervan hire in New Zealand
A camper car is a small, compact, fuel-efficient way to explore New Zealand. While they are usually inexpensive compared to larger options, you do lose some of the comforts you get from having more space.
Budget Camper car hire
Spaceships – Rocket 2 Berth
This Spaceships Rentals Rocket 2-Berth is a fantastic, award winning option. From a reputable company, and at great value it really can't be beaten in the budget category. One good thing about this camper car is that it includes all bedding and kitchen items, which are not necessarily included in the base price with other budget models.
Is it for me?
This Rocket 2- Berth is a great small and budget camper car. You'll be able to get around quickly within the cities and cruise along on the open road. Great for a single person or a couple. When you compare campervan hire New Zealand, it's worth noting that Spaceship rentals have a fantastic reputation.
Pros and cons
A pro is all the inclusions that you get making the Rocket 2-Berth great value.
A con is that the cooking facilities are minimal, which you have to expect in a small, budget camper, You can only carry 5L of fresh water, and there is only a cooler to keep your food in.
Average price per day
Expect to pay between $16NZD and $70 NZD depending on the time of year, with peak season, November-February being the most expensive!
Mid-range Camper Car – Compare campervan hire New Zealand
Spaceship Rentals Beta 2-Berth
When looking at small camper cars, Spaceships have a reputation as second to none, and in the mid-range price bracket, the Beta 2-Berth offers a very comfortable option.
Is it for me?
The Spaceships Beta 2-Berth is for those looking for all the benefits of a budget camper with a little extra comfort.
Pros and cons
There are better cooking facilities with the Beta than with the rocket. For example, there is a 20 L fridge/freezer, which makes it easier to cook your own meals. There is also better fuel efficiency, getting 10L/100km, making long road trips cheaper than with the Spaceships Rocket.
A negative is that no-fly screens keep bugs and sand flies out.
Average cost per day
The average cost of the Spaceships Beta 2-Berth is between $46 and $97 NZD per day, depending on the time of year you visit! Again, super cheap in winter, not so much in summer.
High-end Camper Cars
Spaceships Rentals Dream Sleeper
Once again, Spaceships take out the top camper car in this category. Their outstanding reputation and excellent value for money make them pretty unbeatable regarding small camper rental in New Zealand. The Spaceships Dream Sleeper is the top of the line for camper cars.
Is it for me?
Building on the mid-range and budget offerings, the Spaceship dream sleeper offers liveable comfort. With the most cooking facilities, it's suited to a single or couple who want easy access to cities, fast and straightforward parking in National Parks, and the ability to cook their own meals easily.
Pros and cons
The Dream Sleeper has a sink, unlike the cheaper models, making meal prep and hygiene much easier. It also has a larger 40L fridge/freezer and a larger fresh water tank. It is also the most fuel-efficient at 9L/100km.
The Dream Sleeper is missing fly screens on the windows, just like the Beta.
Average cost per day
The Dream Sleeper will cost anywhere from $30 NZD to $116 NZD. But, of course, you can save some money by booking your camper car well in advance.
Comparing standard campervan companies and models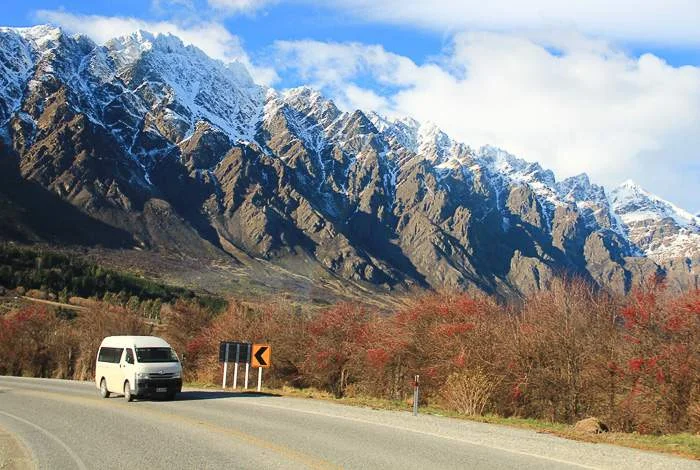 A campervan gives you more space than a camper car and usually includes more items that increase 'liveability', such as a larger fridge freezer and more cooking space. However, most will still be compact, allowing you to move freely through the cities.
Budget campervan hire
Comparing campervan hire New Zealand, the Jucy Condo is hard to leave out. A very reputable brand, this model is self-contained and offers a little more room to move about.
Is it for me?
If you are intent on cooking your meals, you'll be happy with this camper with two gas hobs and an 80L fridge. It has an interior height of 1.9m, meaning you can stand inside.
Pros and cons
Pros are the good cooking options and two beds. The cons are that you need to pay an additional one-way fare,
Average daily price
$50-120 NZD
Comparison of mid-range campervans in New Zealand
Sleepavanz 2 Berth Hiace
A step up from the basic economy package of the Comet Hitop, the Sleepavans 2 Berth Hiace gives you a compact vehicle with a spacious interior and a good amount of inclusions.
Is it for me?
If you're looking for a quality, self-contained campervan with plenty of room but will still fit in and around the cities and parking spaces easily, then this is for you.
Pros and cons
The Sleepavanz Hiace comes with all the bedding and kitchen equipment that you need. It also has an interior height of 2 meters, giving it more of a spacious feel.
Average daily price
The Hiace ranges anywhere from $55 NZD up to about $183 NZD in the height of peak season.
High-end standard campervan comparison
Britz Campervan Rentals – Venturer
With an excellent reputation for quality, the Britz Campervan Rentals Venturer offers a more luxurious option with many inclusions and bigger, better options, despite its relatively compact size.
Is it for me?
If you intend to use the kitchen quite often, then the Britz Venturer has one of the best-equipped kitchens. As a result, you can cook a nice dinner and relax in a slightly larger space than with other campers.
Pros and cons
The kitchen is equipped with an 80L fridge freezer. While the cooktop has three cooking plates as opposed to the two you usually find in campervans. This camper also has hot water and is reasonably fuel-efficient for its size at only 12L/100Km
A downside is that all this luxury takes some space, which is slightly longer than the previous campers, at 7.2 meters, making it a little more of a challenge in city areas.
Average cost per day
The average cost of the Britz Venturer is between $100 NZD and $244 NZD per day.
Compare motorhome hire in New Zealand.
Motorhomes provide the ultimate luxury; with plenty of space and cooking equipment, they give that comfortable, homely feel.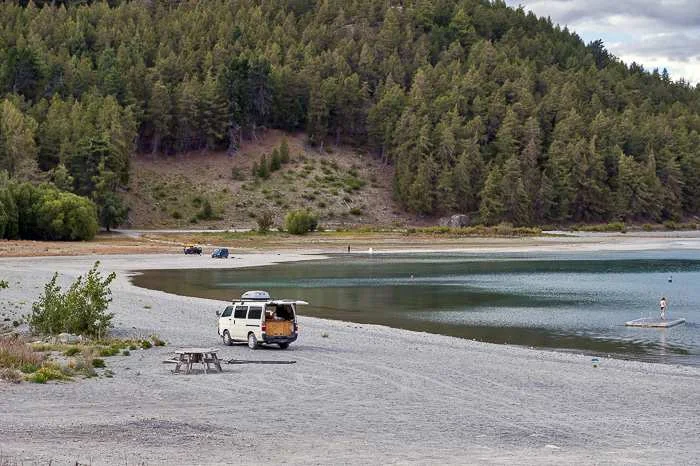 Budget motorhomes options
Concord 4 Berth from Kiwi Autohomes Motorhome Rental
The Concord 4 Berth is a fantastic budget option. With almost everything included, this spacious camper sleeps four very comfortably.
Is it for me?
If you're a couple looking for extra space or four people wanting to have a comfortable trip, then the Concord 4 Berth is definitely for you.
Pros and cons
This self-contained camper comes with many inclusions, making it very budget-friendly for a motorhome. It is also very compact at only 6.2 meters, making it smaller than some large vehicles without losing any space.
One negative, I think, is that the fridge is only 70L which is relatively small for four people.
Average cost per day
The average cost of the Concord 4 Berth is between $103 NZD and $342 NZD.
Mid-range motorhome hire
Maui Cascade Elite Motorhome
A bigger, grander motorhome than the Concord, the Maui Cascade Elite Motorhome comes with an enormous number of inclusions and everything you could want to be comfortable and self-contained throughout your trip. A well-known, reputable name in motorhomes, you can't go wrong with Maui.
Is it for me?
If you're really looking for something that feels like home and allows you to freedom camp for extended periods, staying off the grid, the Maui Cascade Elite Motorhome will give you just that.
Pros and cons
This motorhome has functional cooking utilities such as a four-burner cooktop and a 130L fridge. There is also heating and air conditioning throughout the cabin and living area, meaning you'll be comfortable no matter what the New Zealand weather is doing.
This motorhome is 6.8m long, requiring some driving skill and making manoeuvring and parking within the cities a little more complicated.
Average cost per day
The Maui Cascade Elite Motorhome ranges from as low as $158 NZD to $465 NZD per day.
High-end motorhome hire in New Zealand.
When hiring luxury motorhomes in New Zealand, you're only really limited by the size of the motorhome. I haven't included any options here, although Maui and Pacific Horizon Travel Homes are great brands with a few options in this category.
Once you get to this category, you don't get anything extra compared to the Maui Cascade, which has everything you need. What you get, however, is the space, and how much space you need is really up to you.
FAQs
How old do you have to be to rent a campervan in New Zealand?
Different companies have different age requirements so make sure you check before you commit. While some companies allow you to hire from 18 years old, others have an age requirement of 21 or 25. Other companies will charge a 'young driver' fee.
Do you need a special license to drive a campervan in New Zealand?
No. You can use your normal vehicle license unless you're hiring a large motorhome. If your license is not in English you'll need to have it translated before you arrive in New Zealand.
Can I pick a campervan up in the North and drop it on the South Island?
The general answer to this is no. Generally, it's preferred that you return the campervan to the same location from where you collected it. Some companies offer a one-way hire for an additional fee.
What to do after you've hired your campervan
Book any accomodation you need for the time between your arrival in New Zealand and your campervan pick up
Find travel insurance for your trip
You'll find these articles helpful after you've hired your campervan
This post contains affiliate links. We earn a small commission from items you purchase through these links at no additional cost. For more information, see our Affiliate disclaimer.
Pin me!