Do you need a self-contained van NZ to travel New Zealand? What about to freedom camp? Can you hire a non self-contained van, and if so, which camper is cheaper? If you're overwhelmed trying to understand New Zealand's campervan 'self-containment' and freedom camping regulations, you're not the only one! In this article, we'll outline everything you need to know regarding self-containment NZ and freedom camping so you can get on with planning your campervan trip.
This article may contain affiliate/compensated links. For more information, please see our disclaimer here.
FAQs
What is a self-contained campervan in NZ?
In New Zealand, a self-contained campervan is a vehicle that can remain 'off the grid' for three days. Self-contained campervans in NZ need to be certified and receive a blue certification sticker shown on the front windscreen. A certification sticker means the camper can hold enough fresh water and wastewater and that you have a toilet on board.
Why would I need a self-contained camper in New Zealand?
There are thousands of free and paid campgrounds throughout New Zealand. Many free campgrounds require that you have a self-contained campervan to use them. These regulations are designed to protect the local environment.
Can you stay anywhere with a self-contained van NZ?
No, you cannot. Even with a self-contained van, there are restrictions on where you can spend the night.
What are the new self-containment rules for a campervan in NZ?
The rules on self-containment are changing; however, hiring a campervan in the summer season 2022/23 or 2023/24 generally won't affect you. So if you hire a self-contained campervan, you're fine. However, if you are buying a campervan in New Zealand after the 2023/24 summer season, you'll need to follow the new rules. The main difference with the new regulations is that you will need a fixed toilet rather than a portable toilet. We discuss the details further below.
Does self-containment affect all types of vehicles?
Self-containment in NZ is only an issue for smaller camper cars and campervans. It's not easy to fit all the requirements into a small space, so it's not a given that a small vehicle will have them. Larger campervans and motorhomes have plenty of room, and part of hiring them is that they naturally have more extensive facilities. You'd have difficulty finding a large campervan or motorhome that is not considered self-contained.
Self-contained or non self-contained campervans?
What is a self-contained van NZ?
A self-contained campervan is a campervan that has been inspected and certified. The certification means you can stay 'off the grid' for up to three days. The general idea is that you are self-sufficient and can camp responsibly, taking your waste with you and disposing of it responsibly. The whole point of self-containment is to help protect the incredible environment in New Zealand.
To be certified, you need the following
A freshwater tank
A self-contained campervan in NZ needs a freshwater tank that can hold at least 12L (3.2 gallons) of fresh water per person. The tanks are made from non-toxic 'food grade' materials.
A sink
Water coming out of the tap will need to go into a sink. The sink needs to be connected to a trap or drain. The trap is then connected to a waste or grey water tank.
A grey water tank
Wastewater, your washing up water or water that's gone down the drain, is called grey water. Your self-contained campervan needs to have a tank that holds at least 12L (3.2 gallons) of fresh water per person.
A rubbish bin with a lid
You need to be able to store your rubbish and take it with you as there are not always rubbish bins at camping sites. Your campervan should have space for a rubbish bin.
A toilet
Most self-contained campervans will have a portable toilet or cassette toilet. These are small, moveable toilets that you can empty into black water drains or proper toilets. However, if you hire a large campervan or a motorhome, it will likely have a fixed toilet.
The self-containment sticker
A campervan with all the things listed above will have a 'certified self-contained' sticker on the vehicle.
According to these guidelines, a camper car or van that does not have a toilet, potable water and a lidded bin is not self-contained.
New self-containment rules NZ
New rules will be gradually introduced over the next couple of years. The rules won't affect you if you're hiring a campervan in the 2022/23 and 2023/34 summer seasons (or any other season in those years). Campervans that are already certified self-contained are allowed to continue as they are for a couple of years. In the beginning, the changes will only affect 'new' certifications. Make sure you hire a campervan with a self-containment sticker, and you're fine.
The new regulations regarding toilets
The main changes with the new regulations regard toilets. For a campervan to be considered self-contained, it will need to have a fixed toilet. This means you won't be able to stay on Council freedom camping council land without a fixed toilet. You can, however, stay at Department of Conservation (DoC) campgrounds or any designated campground.
Again, don't stress too much about the changes to the regulations if you're hiring a campervan.
Why would you need a self-contained camper van?
The reason that many people choose a self-contained campervan is for freedom camping. Freedom camping is a term specific to New Zealand, I believe. Americans are probably familiar with the word 'boondocking', and Europeans may use the term 'wild camping'. These are all essentially the same thing. You are staying somewhere, usually off the grid, without power or water connections.
There are designated campgrounds for self-contained and non self-contained campers all over the country.
Freedom camping in New Zealand
New Zealand is a country that allows freedom camping; however, it isn't what you think or what some websites make it out to be. For example, there is no pulling your camper up beside a famous tourist area and spending the night. Instead, there are rules to follow and hefty fines if you don't.
Designated freedom camping areas in New Zealand
Freedom camping in New Zealand is tightly regulated and somewhat confusing for the average person. Regional councils can have freedom camping regulations that are overridden by local councils. Essentially it means that you can't just camp wherever you feel like it, and you'll face a $200 fine if you get it wrong. The good thing is that the local councils offer designated freedom camping spaces, which means with a bit of planning, forethought and useful apps, you can indeed freedom camp your way around the country.
If you intend to use the designated freedom camping places, having your water supply, a grey water tank, and a toilet means that the government doesn't need to supply these amenities. In return, you can camp for free, wherever freedom camping is allowed.
Is it even possible to freedom camp in New Zealand?
Some websites will tell you freedom camping is entirely possible; simply get a self-contained camper, and off you go. Equally as many websites will say to you, however, that it's near impossible. If you're like us, you'll find all the websites that say it's possible to freedom camp and hire a (more expensive) self-contained camper, only to find all the websites telling you you've wasted your money because freedom camping is dead in NZ. Argh.
After five weeks in New Zealand during the peak season, I can tell you that freedom camping is both entirely possible and absolutely amazing.
We have written a whole article on freedom camping if you want more information.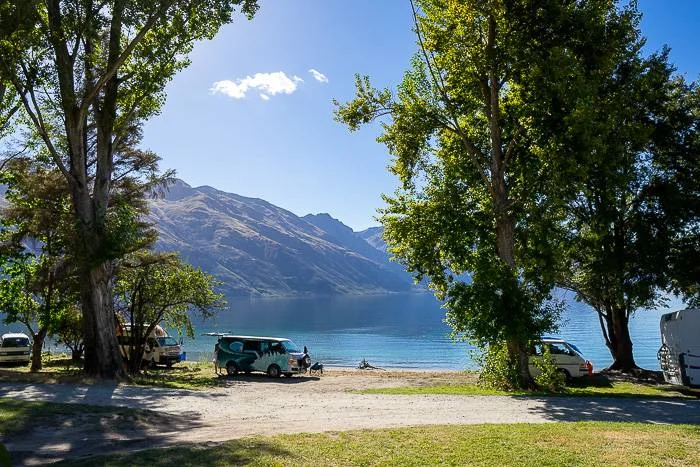 Do I need a self-contained van to freedom camp?
There are many more Council-operated freedom camping sites than those for non-self-contained campervans. This is because the concept behind a freedom camping site is that you do not require toilet and drinking water facilities. After all, you've come on your own. Interestingly, however, toilets are usually available anyway.
If you have a non self-contained campervan NZ, fewer sites are available; however, there are plenty of very cheap sites, such as DoC campgrounds.
Without a valid self-containment sticker, you're not allowed to camp at self-contained only sites. Inspectors will often patrol the busier and more popular freedom camping sites to check for valid self-containment stickers.
You will also have the problem of not having water or a toilet should you need one. Personally, this is a comfort I don't want to go without, but that's a personal preference.
Weighing the cost of self-containment
The main benefit of being able to freedom camp in New Zealand is that it is free. However, as a self-contained van NZ costs more than a non-self-contained camper van, you'll need to consider your budget and decide whether the additional van cost negates paying for nightly camping. I'm going to suggest that it does. In the long run, it will be cheaper to get a self-contained camper than to pay for campgrounds.
If you have a self-contained van NZ, you can choose where you stay based on your budget. For example, you can stay at freedom camping sites, Department of Conservation sites and paid campgrounds.
However, if you have a non self-contained camper, the chances are you will want to stay at some paid site on the odd occasion to shower etc. The Department of Conservation offers relatively low-cost campgrounds with facilities.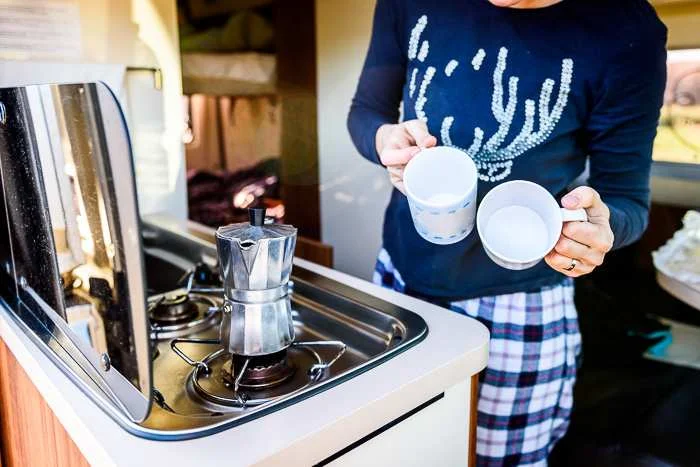 Other factors to consider
Cassette toilet in a self-contained camper vs public toilets
The self-contained campervan toilet
A little note on the 'toilets' in smaller self-contained campers; they are small. You open a little trap door, sit on the top, waste collects in the bottom, close the trap door and shut the lid. They're maybe 45 cm square at best and always inside your camper. We saved this special little loo for number 1 and used the fantastic public and campground toilets for number 2!
You will have a larger 'built-in' toilet in larger campervans or motorhomes. These look like a regular toilet with the cassette underneath. You need to remove that when it's full and empty it.
Public toilets in New Zealand
You may be wondering how you'll survive if you don't have your toilet. Surprisingly, the public toilet situation in New Zealand is phenomenal.
I have bodily systems that refuse to cooperate unless they're happy with the facilities. Imagine me in the Indonesian Jungle a few years back! Ha! I was pleasantly surprised in NZ. I never met a public toilet I didn't like. They're clean, airy, light, and always have toilet paper and usually some soap or hand sanitiser. The worst of them was the long drop toilets at some free campsites, but even those were in good shape.
Public toilets are everywhere and can easily be found using the CamperMate app, so provided you can hold until you reach the nearest loo, you won't be left desperately hanging for a bathroom.
Sink and grey, or waste water tanks
A sink and grey water tank in a self-contained camper is helpful, especially if you cook. The water tank and sink allow you access to fresh, clean water to wash your hands, prepare food and wash dishes. The grey waste water tank collects the dirty water from the sink and stores it until you can empty it using an evacuation hose.
The grey water tank is essential to stop wastewater containing oil and soap from getting into the local waterways.
Having your rubbish bin
This seems like such a small thing until you try to travel for a few days and you can't get rid of your rubbish. Having a bin with a lid is necessary. Freedom camping sites do not always have bins available, and you'll need to ensure that you take your rubbish with you at all times, leaving nothing behind.
Where do I dump all the waste?
You may be wondering where you're supposed to put your rubbish, empty your toilet or dump your grey water when you're full? That is a valid concern and one you'll deal with a lot as you campervan around New Zealand.
You'll find dump sites at various places throughout the country. You'll need an app link, Rankers or our preferred option, Campermate, to find them. Otherwise, you'll find them at paid campgrounds.
You can simply put your rubbish in the bins provided. Then, empty your toilet and connect your evacuation hose to the grey water tank to drain it. You can also refill your water tank. Most dump stations will have a potable water tap available.
Electricity for a self-contained van NZ
One mistake we made was not being able to recharge all our electronics. Freedom camping sites are un-powered, as are the cheaper Department of Conservation sites (although the more expensive DoC sites have power).
In hindsight, we probably could have chosen a camper that was not self-contained because we used paid campsites quite a bit anyway.
You'll want to make sure that you take a power bank with you to recharge your phone and camera batteries.
Getting a campervan with a transformer
Our self-contained camper van didn't come with a transformer, which transforms the 12v from your battery to 230v of your power sockets. This gives you the power to recharge everything from your laptop to your power bank. So whenever we wanted to charge something, we would have to go to a powered campsite and plug our van in.
We would recommend getting a camper van with a transformer installed. You can also bring your own. Transformers come in all shapes and sizes, and I installed one into our European camper van for under $50. Look at what you want to charge/use it for and see how much power it uses.
Our laptop, for instance, only required 50 watts to charge, and that was all we wanted to use it for, so we managed to get a cheap 150-watt power converter. However, be mindful that hairdryers/kitchen equipment use a lot of power, sometimes as high as 3000 watts.
Lucky for you, there is a power converter to suit every need and budget. Just be mindful that using it for something it was not designed for could damage your transformer or appliance.
This lack of power meant we had to book into a paid campground every few days to recharge and reconnect. If you can sustain your own power and electronic devices, you may want to free camp or continuously enjoy Department of Conservation campsites. If not, then you'll need a way to recharge, or you'll have to disconnect! Gasp!
Consider your travelling and lifestyle.
I say this because there were quite a few times when we desperately needed a paid campground for a deliciously hot shower. We did some pretty tough walks, and after getting all hot, sweaty and exhausted, we just knew we would end up booking something. Towelling off or jumping in and out of freezing Department of Conservation cold showers did NOT appeal to us after spending 6 hours hiking Tongorriro, for example.
The verdict?
So, after all that – self-contained van NZ or non self-contained? I think the key message is that you decide.
If you choose a self-contained campervan, you will pay more; however, you have greater freedom regarding where you stay. Of course, you will need to ensure that you can keep your electronics charged, and you may want the occasional shower, but you're otherwise reasonably free to choose where you spend the night (within the Council's constraints, of course!).
If you decide to go with a non-self-contained campervan, you will have less access to free campsites, meaning you may have to pay more frequently. Of course, the other alternative is to drive until you find a non self-contained campsite.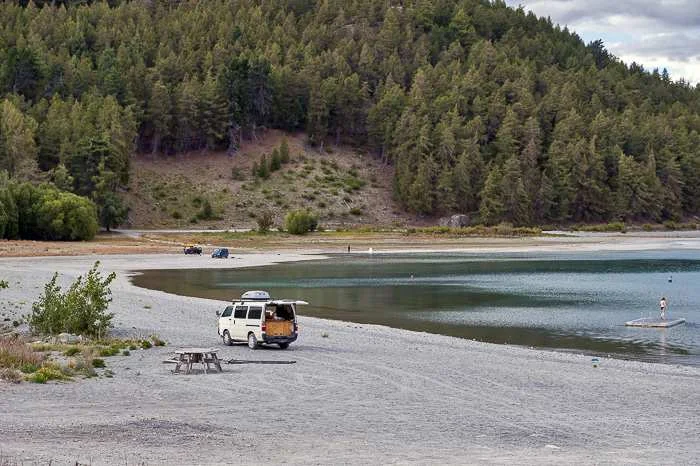 If you need access to power, or you like hot showers often, you'll probably end up paying for campgrounds regularly anyway, in which case it doesn't matter whether your camper is self-contained or not.
So, the choice is yours. Personally, we found it quite worthwhile having a self-contained van NZ, despite paying for campgrounds and having access to toilets everywhere. We could stay in some incredible places without any concerns or risk of fines.
Being a little more prepared to handle our electronics would have made it easier for us to camp more often.
You may also find these articles helpful.
Planning a camper trip around New Zealand? Here is what we did
This article may contain affiliate/compensated links. For more information, please see our disclaimer here.
Don't forget to pin it for later!