With the South Island having so much to offer, it's not easy to choose the best small towns in New Zealand South Island, however, we've done our best and decided on 8 of the best small towns that are really worth seeing. These towns are a great place to base yourself while you explore the incredible local surroundings and learn a little about the South Islands' history. Read further to discover the best small towns in New Zealand's South Island for your next road trip.
This article contains affiliate links. For more information, please see our affiliate disclaimer here.
Wanaka, Otago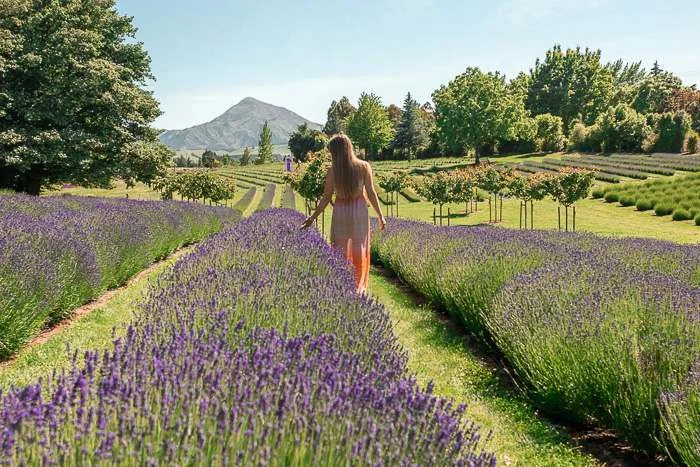 Wanaka is one of the best small towns in New Zealand for outdoor activities, hikes, and the famous Wanaka Tree
Wanaka is without a doubt one of the best small towns in New Zealand. It is a stunning town located right on the edge of Lake Wanaka with Mount Aspiring National Park on its doorstep. Mountains tower in every direction – it's picture-perfect!
There are a ton of fun things to do in Wanaka and it is an outdoor lovers' paradise. There are countless hikes around Wanaka including the famous Roy's Peak. You can also go paddle boarding, kayaking, or even skiing at nearby Cardrona or Treble Cone in the winter. If you want something a little more relaxing, jump on a scenic lake cruise or visit the Wanaka Lavender Farm. Then for sunset, walk the waterfront to the Instagram-famous Wanaka Tree before having dinner and drinks along the lakefront. There are some really great places to eat in Wanaka and you'll be spoiled for choice.
One of the things I enjoy about visiting Wanaka is all the attractions nearby too. I often stay in Wanaka and use the town as my base to explore other areas on day trips. Head towards Queenstown on the Crown Range and you'll be blown away with panoramic views as you drive New Zealand's highest main road. In the other direction, make your way into Mount Aspiring National Park and the West Coast. Go for a swim in the Blue Pools, walk to the towering Thunder Creek Falls, or challenge yourself with an overnight hike to the Brewster Hut.
Wanaka is most easily reached from Queenstown about an hour's drive away. Although Queenstown is also a smaller town, it is much larger than Wanaka and even boasts its own International Airport. Many people looking for a quieter escape prefer Wanaka over Queenstown. Alternatively, you can reach Wanaka from the South Island's largest city of Christchurch in about 5 hours on the road – it makes for an epic road trip!
Recommended by Bailey from My Queenstown Diary 
Mt Cook Village, Canterbury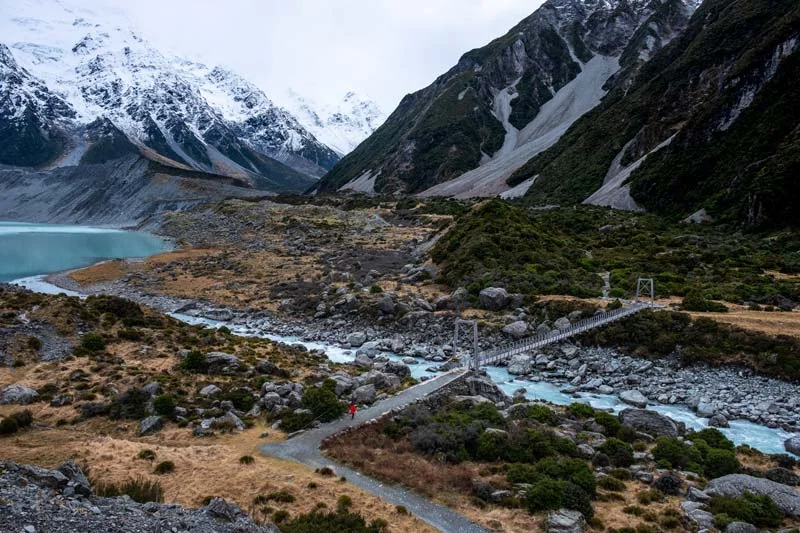 The best small town in the South Island for access to Aoraki Mt Cook National Park
Mt Cook Village is perhaps the best small town in New Zealand. Tiny in population, with only 250 permanent residents, but home to the most stunning natural wonders and the country's most beautiful National Park. Mt Cook Village has only a few accommodation options and cafes/restaurants and does not even have a supermarket. But it has incredible hikes and walks and New Zealand's most famous natural landmark; Aoraki Mt Cook.
Aoraki Mt Cook is New Zealand's highest mountain and as such, is popular with experienced climbers looking to conquer her. But there are many Mt Cook walks that do not require any mountaineering experience. If you're looking for an easy walk, then the Tasman Glacier Viewpoint and Kea Point track are under an hour. The most popular day hike is the Hooker Valley Track, a 10km return flat walk that will take around 3 hours. It's full of incredible swing bridges and perhaps the most beautiful views of Mt Cook itself.
For more of a workout, head up more than 2000 stairs to the Sealy Tarns or to the famous red hut, Mueller Hut.  But if you aren't after a leg burner, the best way to explore this mountainous region is by getting in the air.  Take a scenic flight by ski plane or helicopter and see the Southern Alps at their best up in the peaks.  You can even land on a glacier for a picnic or take a heli-hike through an ice cave.  Whatever you choose to do in Mt Cook, you won't be lacking options
To get to Mt Cook and really explore, it's best to take your own vehicle.  It is a 3-hour drive from Queenstown and 4 hours south of Christchurch.  You can pick up a rental car from either of these locations or make it a stop on your big South Island road trip.
Recommended by Jennifer Parkes from Backyard Travel Family: Active Family Travel Specialists in New Zealand
Arrowtown, Otago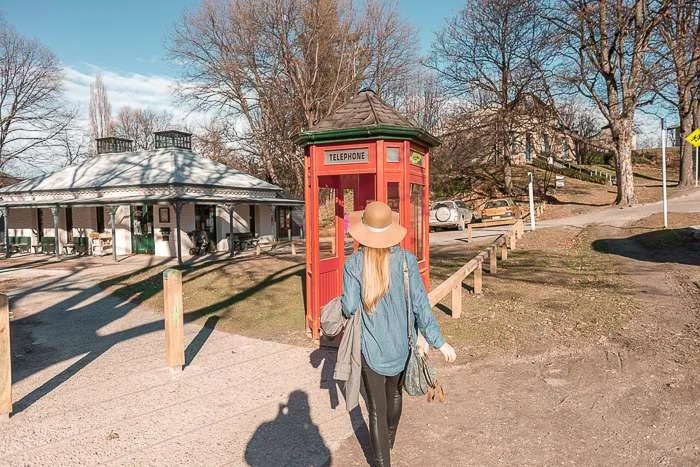 Arrowtown is an old town with a gold mining history
The quaint gold mining town of Arrowtown is one of the most beautiful places to visit on the South Island of New Zealand. Although Arrowtown isn't often seen as a destination on its own (visiting is considered one of the best things to do in Queenstown), those who do venture here are rewarded, and if you have time , spend a few nights, you will fall in love with its charm!
Unlike most towns in New Zealand, Arrowtown has managed to preserve its old architecture leaving behind its history for everyone who visits to see. You can wander the main street and stop at the old post office for a photo or visit the trading post and seemingly step back in time.
But that's not all that makes Arrowtown one of the best towns in New Zealand's South Island. In fact, there are a ton of awesome things to do in Arrowtown, and first and foremost are the hikes in its backyard. Big Hill is one of the most famous and with epic mountain views it's an easy choice. For a shorter trail, head up Tobin's Track for epic views of the Wakatipu Basin and town.
In town, you can visit the Old Chinese Settlement and see just how these migrant workers lived back when Arrowtown was all about gold. Or, if you're visiting in the fall be sure to walk around and enjoy this magical time of year. Arrowtown is arguably the most famous town for fall colours in all of New Zealand.
All that exploring got you hungry? Then you're in luck in Arrowtown. Slow Cuts serves amazing pub food and also local craft beer from Lake and Wood Brew Co. Sit outside and enjoy the sun with a beer in hand. Or, for something a little fancier find The Blue Door in the back alley of town for a more intimate experience by the fire. They also have live music most nights so it's the place to be once the sun goes down. 
Recommended by Daniel from Destinationless Travel
Akaroa, Canterbury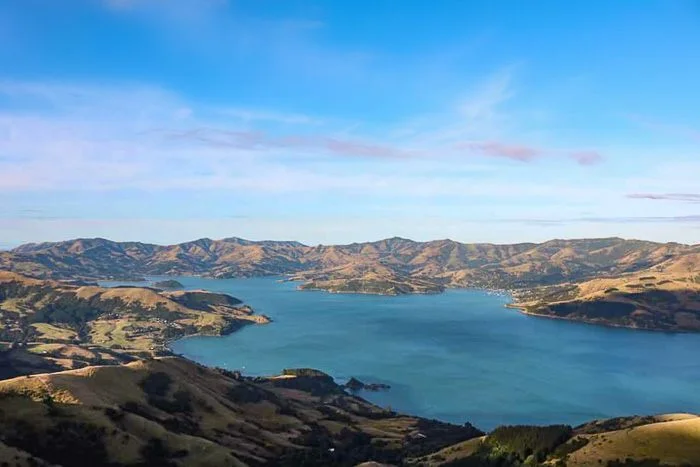 One of the best small towns on the South Islands' east coast
Akaroa is a small town on the shores of Banks Peninsula, Canterbury, and is an approximate 1 and a half-hour drive from Christchurch along State Highway 75, and is also accessible by a 2-hour coach journey – departing daily at 9 am from the Central Bus Station in Christchurch.
The town is famous for its 19th-century British and French architecture, making it a unique town to visit in New Zealand. Akaroa, meaning 'Long Harbour' in Maori, is a traditional stop-off point for ocean-line cruisers and for good reason. 
With endless hills and rocky coves, the Banks Peninsula is one of New Zealand's most unique landforms and Akaroa is right at the very heart of that. 
Akaroa harbour sits on top of an ancient volcano and is home to some extraordinary wildlife – Little Blue Penguins, Marine Birds and the World's largest population of Hector's Dolphins can be viewed from the shores of the little French settlement.
To truly appreciate the wildlife the Harbour has to offer though, you must take to the water on one of the many boat cruises available from Akaroa.
The Black Cat Wildlife Cruises of Akaroa Harbour was the first cruise to run from Akaroa and is still operational to this day. Jump onboard one of their catamaran fleets and go in search of fur seals and Pohatu Penguins – you may even be fortunate enough to spot an Orca drifting into the harbour. Best of all, take the chance to swim with Hector's Dolphins. Akaroa is the only place in the world where this is possible.
For an alternative experience on the water, rent a kayak or paddleboard from Akaroa and explore the many bays and coves of Akaroa Harbour. Paddle across to the neighbouring Tikao Bay to discover an armament depot originally built in World War II.
When back on dry land, be sure to check out the town's most famous landmark, the Akaroa Lighthouse. Originally standing at the head of Akaroa harbour, it was moved to its present location in the 1980s and now sits proudly on the shores of Akaroa town itself.
Akaroa is also home to a modest farmer's market on Sunday mornings where local artisans sell the area's finest products. A range of cheeses, honey, and wines can be enjoyed while looking out onto the harbour.
For something completely different, perhaps you should try the infamous 'Akaroa Mail Run'. Operating for over 30 years, Jeff and Suzi, the local postmen, take you along on their rugged and rural delivery run while you get to sit back and experience the Banks Peninsula in all of its glory. It certainly makes for a unique way to explore this beautiful part of the South Island.
Home to French bakeries, creperies, cafes, and restaurants, as well as boasting the 'Best Fish & Chips in the world', Akaroa is a town that has to be explored.
Recommended by Ben Lloyd from Ticket4TwoPlease
Te Anau, Southland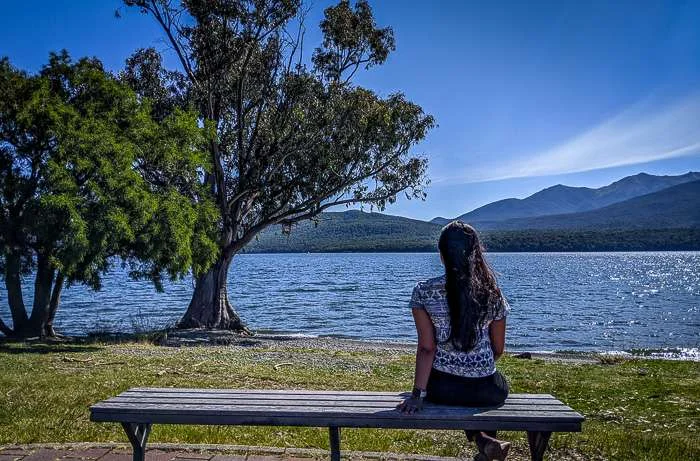 The best small town in New Zealand for access to Milford Sound and Doubtful Sound
Te Anau is a beautiful small town located on the shore of the South Island's largest lake, Lake Te Anau, in the Southland region between Queenstown and Milford South. It is often overlooked and only thought of as a stepping point into the Fiordland National Park. However, that makes Te Anau even more amazing as it isn't filled with hordes of people bustling around but has a calm and relaxed pace.
Te Anau should definitely feature in your South Island itinerary. The town is inviting on a sunny days and super mysterious on misty ones. The moody morning view of the lake with low-hanging clouds and the spectacular scenery around the town is enough to spend a few days here. That said, it is pleasurable just to walk by this beautiful lakeside and relish scrumptious food in town.
There is so much to do Te Anau despite the general perception that there isn't. Firstly, you should enjoy the lake – fish, boat, kayak or cruise its waters. Walk by the tree-shaded lakeside or simply laze by the shore. You can also do the Glowworm tour to catch sight of tiny bioluminescent worms that light up dark caves in a magical way. See some of the rarest endangered birds at the Te Anau Bird Sanctuary, especially the Takehe, a flightless bird that can only be found in New Zealand and of which only 400 exist.
The area around Te Anau is magical. It is close to three of New Zealand's great walks – Milford Track, Routeburn Track, and Kepler Track. If you'd like shorter hikes, try Key Summit, Lake Mistletoe, Lake Marian, and many others.
As mentioned earlier, the main reason people ever see Te Anau is to see Milford Sound. Instead of rushing your Milford Sound trip as a day tour from Queenstown (10 hr day), stay at least a night or two at Te Anau to not only enjoy this town but also truly enjoy your Milford Sound visit. This will give you time to make plenty of stops en route Milford Sound which is an experience in itself.
Te Anau is at a distance of 171 km from Queenstown. The easiest way to reach here is by a 2.5-hour drive in a self-drive car/campervan or rental. Alternately, you can opt to board an intercity bus from Queenstown or fly to the small airport at Te Anau.
Recommended by Trish from Try Wandering More
Glenorchy, Otago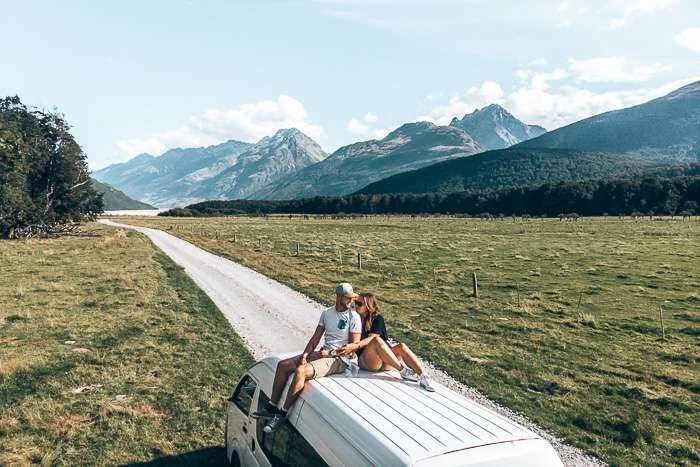 Glenorchy is a small town at the end of one of New Zealand's most spectacular drives
Apart from the iconic red boatshed, the town of Glenorchy itself really isn't much. A few streets, a general store, and a coffee shop (albeit a really cool one) pretty much sum it up. Its surroundings, however, that is a whole other story, and exactly the reason why it is a must-visit.
Glenorchy is located on the northern end of the shimmering Lake Wakatipu, 46 kilometres from Queenstown. The insanely scenic drive from Queenstown to Glenorchy already offers enough incredible views to talk about for days, but Glenorchy and its surroundings take the crown. 
Glenorchy is surrounded by the snow-covered peaks of the Southern Alps, making the area home to many hikes including the famous Routeburn Track; one of the nine Great Walks. Another thing that makes Glenorchy great is its location next to the mouth of the Dart River. This very shallow river that is fed by the surrounding alps and glaciers runs a bit different every year so normal boats can't navigate it, but jetboats can. And sitting in a jetboat that spins around and speeds over the river while you admire the mountains rising straight up from the riverbanks is an unforgettable experience!
The slogan of Glenorchy is "a true slice of New Zealand paradise" which you can take quite literally because ten minutes north of town lies a place that is actually called Paradise, and if you like natural splendour then paradise is exactly what it is. The area around Glenorchy and Paradise is also where loads of scenes for the Lord of the Rings movies were filmed, so if you're a fan of the movies that is another big reason to visit this slice of New Zealand paradise. 
As you can imagine Glenorchy is a popular tourist hotspot, especially in summer. If you plan to visit in summer and want to take any good pictures of the jetty or boatshed, make sure to get there early in the morning. If you arrive later you could be waiting for an hour to get a decent shot without countless other people in it.
Recommended by Tom and Zi from We Are Craving Adventure
Tekapo, Canterbury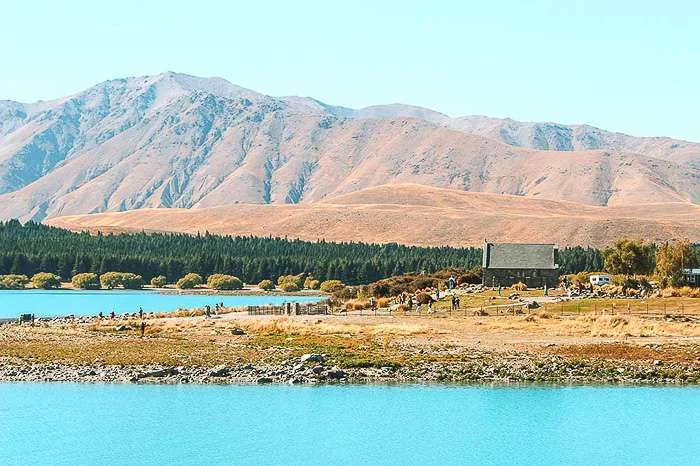 A beautiful town located in the South Islands Dark Sky Reserve
Lake Tekapo is one of the south island's most famous and beautiful small towns. Located in the southern Alps, it's the dazzling turquoise-coloured lake is one of the prettiest in New Zealand, and its remote setting makes it perfect for nighttime stargazing.
Hikers will love visiting the region as there are many excellent walking trails of varying lengths. Check out the Cowans Hill Walkway, which is a 1-2 hour walk that takes you to the top of Cowans Hill where you can enjoy a 360-degree, panoramic view of Lake Tekapo and the surrounding mountains and valleys.
If relaxing is more your style then Tekapo Hot Springs is a really enjoyable way to spend an afternoon unwinding in soothing geothermal waters. There are three hot pools filled from an underground source near Tekapo – all with slightly varying temperatures and with beautiful views of the lake's bright blue waters. You can also visit the Springs at night as part of a stargazing tour. Lake Tekapo is a UNESCO Dark Sky Reserve, one of only two in the southern hemisphere, making it one of the best spots in the world for stargazing, due to very limited light pollution. Part of the tour involves relaxing on a floating hammock in the hot pools, whilst watching the thousands of bright stars above you. Alternatively, you can take a trip to the University of Canterbury Mount John Observatory which is New Zealand's premier astronomical research centre. Here you can use some of the country's most powerful telescopes to spot up to 50 million stars.
The months of November and December are possibly the best time of year to visit Lake Tekapo as it is the beginning of summer, plus you will get to see hundreds of beautiful pink, purple and violet-coloured lupins in full bloom all along the coast of the lake.
The closest main city to Tekapo is Christchurch which is a 2-hour 40-minute drive. Another big town with an airport that is nearby is Queenstown – just under 3 hours away.
Recommended by Caroline from CK Travels
Cromwell, Otago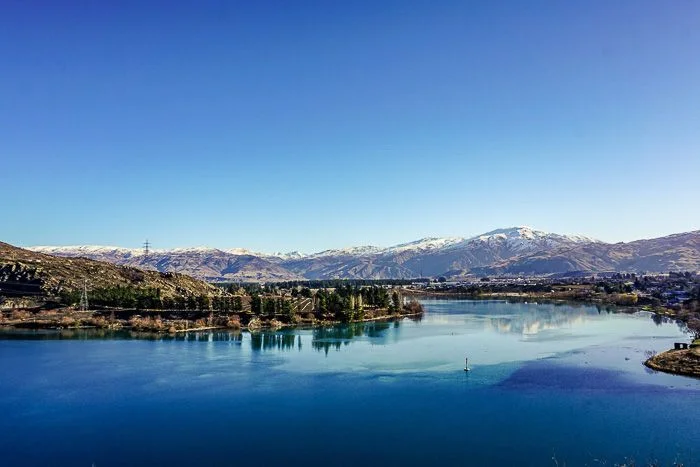 A historic gold mining town with spectacular lake views
Situated between Queenstown and Wanaka, Cromwell is a beautiful, historic town on the shores of Lake Dunstan. It's in an idyllic spot with the Southern Alps in the background and wineries on its doorstep. While it looks like a modern town, Cromwell's history stretches back to the gold rush in the 1800s.
In the early 1990s, a dam power station was constructed and the valley behind it was flooded, creating Lake Dunstan. The old town centre now lies at the bottom of the lake. Before the lake of created, many of the historic buildings were moved to higher ground, so they would be preserved. This created the historic precinct, essentially an open-air museum. Walk through the old streets and buildings from Cromwell's gold mining past. You can also visit the old gold mining sites in the nearby settlements of Bannockburn and Bendigo, where you can see the ruins of miners' cottages.
Cromwell's major industry is fruit growing, so if you visit over summer, buy some of the local produce from the roadside stalls. In the summer months, there's also a farmer's market in the historic precinct on Sundays. Central Otago is known for its pinot noir and there are a number of internationally acclaimed vineyards around Cromwell including Mt Difficulty and Wild Earth wines. Many of the wineries have excellent restaurants and beautiful grounds. Other activities in the area include water sports, walks, and the nearby Otago Rail Trail cycling route. There are also four ski fields within an hour's drive from the town.
If you're looking for something a bit quieter and less touristy than Wanaka and Queenstown, Cromwell makes a wonderful base for exploring Central Otago. Situated at the crossroads of Otago, Cromwell is well located for day trips, letting you explore the bigger towns, nearby wineries, and the Clyde River. And, you can still be in Wanaka or Queenstown within an hour. With its delicious food and beautiful views, Cromwell is also a great place to stop on a road trip from Christchurch to Queenstown.
Recommended by Roxanne de Bruyn from Faraway Worlds
You won't want to miss these small towns on New Zealand South Island
Whether you have a few weeks or a few days, exploring New Zealand's incredible South Island by car or campervan is a great way to see the very best of the Island. It gives you the freedom to stop and explore these small New Zealand towns for as long as you wish while also venturing further abroad and taking advantage of the spectacular surroundings.
What are your favourite small towns in New Zealand? Let us know!
You may also find these articles useful
We use these resources to book our trips