We've compiled a list of 4 must-see small towns on New Zealand's North Island that are perfect for that weekend getaway or as stop-offs on your road trip. These beautiful small coastal towns offer incredible beaches, spectacular hikes, and plenty of other interesting sites and attractions that will leave you feeling relaxed and refreshed.
This article contains affiliate links. For more information, please see our affiliate disclaimer here.
Matakana, Auckland Region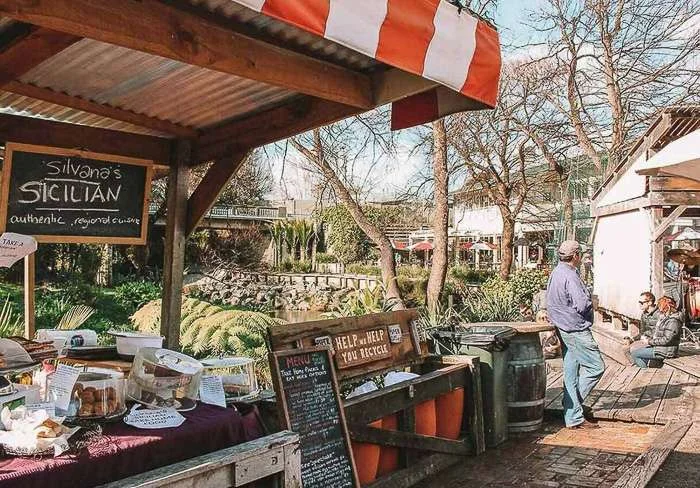 Not far from Auckland, Matakana is a town famous for its wineries
Picturesque Matakana Village is a lovely small town to visit on the north island and is famous for its stylish galleries, wineries, and beaches.
It is an easy day trip from Auckland (which is the nearest city) and is located just 40 minutes away by car. Most people head here on a Saturday morning to visit the amazing weekend Matakana Village Farmers Market. The market is a foodies paradise and sells a wide array of delicious local organic produce and street food including oyster platters and fresh paua fritters. There is also live local music you can enjoy whilst you eat your food in the sunshine next to the river.
Check prices on car rental from Auckland
Matakana Village itself is quite small and has a handful of cafes, restaurants, art and craft galleries, hotels, and an arthouse cinema. On the outskirts of the town are many award-winning vineyards and there is a Matakana Wine Trail where you can visit 15 different boutique wineries set amongst the rolling hills (you can also join a small group tour to take you to some of these wineries). Many of them have cellar doors where you can enjoy a spot of wine tasting, and some have stylish restaurants where you eat a gourmet lunch with a beautiful view of the vines (Plume Winery has a lovely outdoor dining area).
If you are into art then Bricks Bay Wines has an outdoor sculpture trail that exhibits approximately 45 sculptures by Kiwi artists. Also check out Sculptureum – an attraction that has sculpture-filled gardens, six art galleries, a vineyard, an events space, a restaurant, and a bar.
The nearby coast is very popular with locals and visitors and has some pretty white sandy beaches where you can surf, swim, kayak, or paddleboard. The Goat Island Marine Reserve has more than 100 species of fish and is a great spot for snorkelling or taking a trip in a glass-bottom boat!
Search accommodation in Matakana
Contributed by Caroline Keyzor from cktravels.com
Raglan, Waikato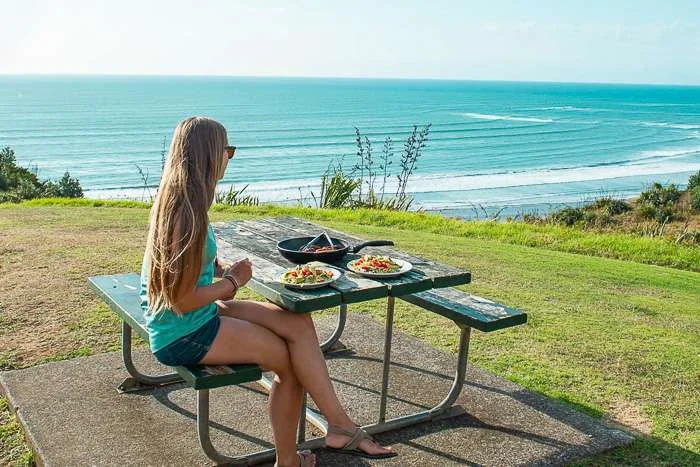 A beautiful town on the North Island with a relaxed coastal feel
Raglan is a quaint beach town located only about a 40-minute from the city of Hamilton. With various beaches surrounding Raglan, the town is the perfect place for those wanting to relax on the sand or test their skills on a surfboard. In fact, surfing is one of the best activities to do in all of New Zealand – and Raglan is the perfect spot to do it with waves for many different levels. Even if you're a beginner you can take lessons and learn to surf in Raglan.
But there is more to Raglan than surfing. This town is surrounded by beautiful outdoors including a river that is a popular spot for swimming and picnics. The nearby campground is also the perfect place to stay during the summer months to make the most of this coastal paradise.  
There are a few amazing hikes in the area including the challenging Mount Karioi Track. This steep hike is 8 kilometres long, but the views are totally worth it. If you want an easier trail then be sure to tackle the short walk to Bridal Veil Falls. This huge waterfall is stunning and for that reason, it's one of the most famous waterfalls in the country. The walk is just over a kilometre long but does include going up and down some stairs to reach the different viewpoints.
Raglan town itself is also very charming and many say it has a "hippie" vibe. The main streets in town are lined with cute cafes, yoga studios, boutique shops, craft stalls, vegetarian restaurants, and of course, plenty of bars. If you visit on a weekend, chances are you'll find a pop-up market to browse handmade items and even fresh produce. One of my absolute favourite places to visit in Raglan town is an ice cream shop called "Roll Up." They specialize in fresh fruit ice cream – it's delicious. Don't take my word for it though, the long queue out the front door and down the street should be enough to sell you on how tasty it really is. 
Contributed by Bailey from My Queenstown Dairy
Click for accommodation prices in Raglan
Paekakariki, Wellington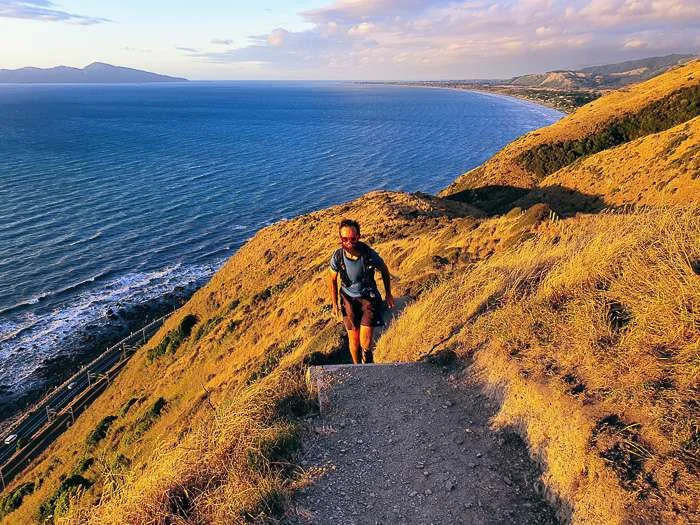 A beautiful small town that can be visited from Wellington
Paekakariki is a great small town on New Zealand's North Island and is less than an hour from Wellington on State Highway 1. Despite being such a small town, there is something to do for everyone. Whether you're young or old, an adrenaline junkie, or simply want to relax. Paekakariki can also be visited on a day trip from Wellington.

To get Paekakariki from Wellington you can drive, but many will take the 46-minute train ride (Kapiti Line) as it's easy to walk to the nearby attractions. Speaking of attractions, it's the starting point for one of the best end-to-end walks in the region, the Paekakariki Escarpment Track. At 10km long, the walk takes you on the hillside along the highway with amazing views.
If you're an adrenaline junkie, you've got to try the Fly-by-Wire. Check out the company's website to see what it is exactly, but I describe it as a self-driving plane attached to a wire. You're in control of your arc, but good luck keeping your heart rate in check as you swoop in close to the valley,
After all the high-energy activities, it's time to slow down with a visit to the art studio. This is not a regular art gallery, as you'll get to see some of the artists working on their art. The artists will be more than happy to chat with you and it's a great way to meet some of the locals.
There is an abundance of activities in Queen Elizabeth Park. You can ride your bike along the trails, go horseriding, visit the museum, or ride the tram. You could spend the whole day here alone. If you've got any time left in the day, finish off with a trip to the beach. The surf lifeguards will give you peace of mind when they're patrolling the surf if you fancy a swim.
Paekakariki is surrounded by awesome people and activities. It has to be one of the best small towns on New Zealand's North Island.
Contributed by Jub Bryant from churnewzealand.com
Compare accommodation options in Paekakariki
Mount Maunganui, Bay of Plenty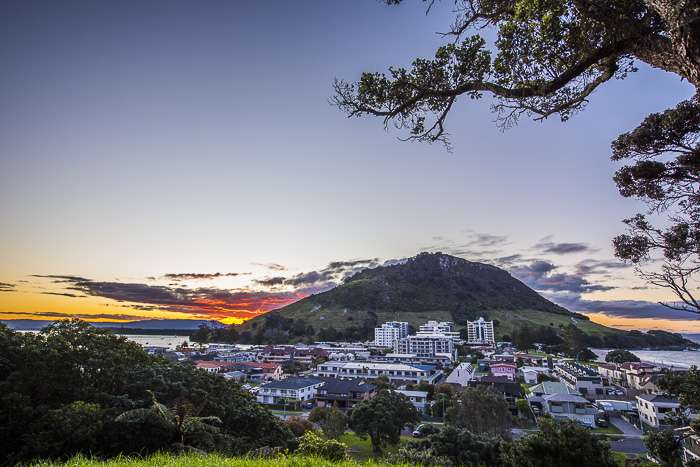 Mount Maunganui is one of the most popular small towns on New Zealand's North Island for locals
When people think of the North Island, they think of laid-back coastal towns, stunning beaches, and great activities to do. Mount Maunganui is no exception.
Although Mount Maunganui is technically a suburb of Tauranga, it is pretty much a small town of its own. Most people tend to skip Tauranga and head to the Mount (as it's known by locals), which is located on the peninsula northeast of Tauranga's city centre.
It's easy to get to the Mount from Tauranga as a bridge joins the two. However, if you're coming from Auckland it is a three-hour drive, and if you're coming up from Wellington it is a seven-hour drive.
A must-see place on the North Island, Mount Maunganui is a typical small coastal town. During the summer, people from all over the North Island flock there to spend their time on the beautiful beaches, exploring surrounding areas and climbing the impressive Mt Maunganui.
Located at the northern end of Mount Maunganui Main Beach, you can't miss Mt Maunganui, officially Mauao, as it stands 232m above sea level. Climbing Mt Maunganui is one of the best things you can do while in the area as it isn't too hard a climb and the views at the top are absolutely breathtaking.
However, if you aren't a fan of climbing mountains, there are so many other things you can do to spend your time in this popular little town, such as
Beach hop along the coast
Go surfing
Swim in the calm waters at Pilot Bay
Soak in the saltwater hot pools
Hire a kayak
Grab a meal and drink at one of the restaurants along the Marine Parade
No matter what you like to do, there is something for everyone, which makes Mount Maunganui a small North Island town worth visiting!
Contributed by Jasmine Gruber from kiwitalkstravel.com
Check prices for accommodation in Mount Maunganui
These four towns offer beautiful, relaxing coastal experiences across the North Island of New Zealand. Whether you're looking for markets and wineries or beautiful beaches and hikes, these four towns on New Zealand's North Island are worth a visit.
You may also like these articles
Useful resources