While summer is considered the peak season in New Zealand, there are many reasons why campervanning New Zealand in the winter is a fantastic idea. You may wonder if you're going to freeze your butt off or spend days soaking wet and miserable. The short answer to these questions is no; you won't. Not with a bit of preparation anyway. After travelling New Zealand and spending two whole winters in a camper in the Netherlands, I'm pretty comfortable with this topic. No one dislikes being cold and wet more than I do. The great thing is that there are plenty of ways to negate this and be perfectly comfortable, and you're in luck because I'm going to share them with you below!
This article contains affiliate links. For more information, please see our affiliate disclaimer here.
What are the advantages of campervanning in New Zealand in the winter?
Coming from Sydney, Australia, I'm used to a certain temperature. A warm temperature, really. I thought our winters were cold until I started travelling. Our winters are very mild, and the rest of the world freezes during those months. Who knew? Honestly, I'm not too fond of the cold. Seriously. I hate being cold. You get the idea. I have learned, however, that just because it's cold outside doesn't mean 'I' have to be cold. There is also natural beauty in the cold. The changing landscape. Snow. That feeling you get when you're rugged up and snuggled under a blanket.
As a traveller, winter travel has some fantastic practical benefits. However, the two most significant benefits to campervanning New Zealand in winter are the prices and the solitude.
Editors tip: Check out our complete guide to campervanning New Zealand
New Zealand is substantially cheaper in the winter
New Zealand is a tourism hotspot, and why shouldn't it be? It's spectacular. The thousands of tourists that flock there during the summer contribute massively to the economy and the inflated costs of services, such as campervan rental. With such high demand, many companies sell out campervans months in advance. This high level of interest means they can charge whatever prices they want, and they do. As a result, you will usually pay twice the cost for a campervan in the summer than in the winter. Yes, twice the price.
If you decide to travel in the winter, you'll pay substantially less money for the same quality campervan. This is amazing because you get more value for the same amount. I'll explain more below, but I highly recommend using this huge price difference to get a larger camper. One that you can stand and move around in. It'll make everything easier, especially on those cold and wet days.
There are not as many people during the winter months.
Another benefit to fewer people campervanning New Zealand in winter is, well, fewer people. I'm not anti-people; I like them, honestly. I didn't love going to a freedom camping site only to find it packed. In summer, there are many more campervans than freedom camping spots. You'll need to arrive early to see if there's space; if there isn't, you need to keep driving. This means you could miss out on staying in some incredible locations. You also may end up needing to pay for accommodation. In the winter, you'll have almost free reign on the land.
Of course, the same applies to tourist sites and attractions. It's not such an issue with the sites themselves, but for the parking areas. It can be challenging to find parking, especially if you have a larger camper. However, in the winter, you'll have no issues finding parking, and when you get into 'the attraction', you'll have the whole place almost to yourself.
If you actually want to see other people, don't worry, that's also possible, they are there. You won't be able to throw a stone and hit them like you would in the summer.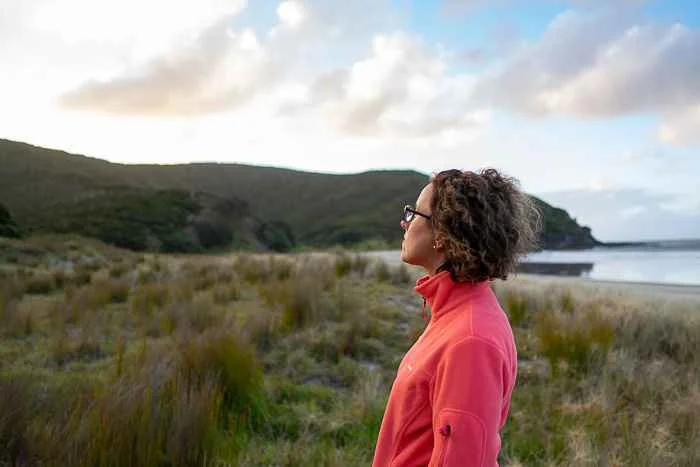 The scenery and nature are incredible during the winter season.
New Zealand is known for its incredible scenery. Those beautiful snow-topped mountains take on a whole different look in the winter. The sea becomes wilder. The Sounds become mistier. A wildness descends across the islands, and it is beautiful. Winter in New Zealand is also a time when wildlife experiences are at their peak. Whale Watching off the coast of Kaikoura, for example, is at its best in winter.
Snow activities such as skiing
If you love winter and snow, New Zealand is the perfect place. The mountain snow makes them ideal places to ski and snowboard. This is something that New Zealand is quite well known for. So make the most of it and go heli-skiing, snowmobiling, dog sledding or alpine snowshoeing. The adventure in New Zealand only gets better when the winter rolls around.
There are some disadvantages to campervanning New Zealand in winter too
The weather – obviously
I'll discuss the weather in more detail below. However, I would be remiss if I didn't say that while it is probably not going to be as cold and horrible as you might first think, you will most likely hit the occasional day of crap weather. There may be an odd day you don't want to go outside. Maybe you get a little wetter and colder than you'd like on another day. You may end up eating dinner inside the camper instead of at a table.
There are just some times you can't negate the weather. I've had days at snow fields where I sat inside by the fire. It happens, and it's ok.
There is less availability and limited opening times at tourist attractions.
With fewer people, companies do not need to run endless tours and buses to attractions. In summer, you may have 20 different start times, but in the winter, you may only have a choice from 5 or 10. All this means is that you want to be a little more organized. Don't expect to turn up somewhere and jump on a tour right away. You may have to wait a few hours for the next one.
Driving a campervan during the winter
Campervanning New Zealand in winter means you could drive on roads that are iced over or covered in snow. It takes a little more effort and concentration, so it's tiring. It also slows you down a little. Well, I hope it slows you down, be safe, please.
What's the weather like in New Zealand during the winter
While the winter weather of New Zealand is not particularly harsh, one thing to keep in mind is the variability and sudden weather changes. This is also true in the New Zealand summer. You can easily experience all seasons in an hour.
Winter on the North Island of New Zealand
The North Island of New Zealand has a sub-tropical climate and is warmer than the South Island. During winter, temperatures on the North Island range from around 16 degrees Celsius to 2 degrees Celsius overnight. There is also quite a bit of rain on the North Island during winter. Auckland is considered the warmest big city in New Zealand, with an average winter temperature of between 8 and 15 degrees Celsius.
Winter on the South Island of New Zealand
You may be surprised that rainfall on the South Island is lowest during the winter. Temperatures on the South Island vary from around 10 degrees Celsius during the day to -10 or -15 at night. This, of course, depends on where you are on the Island. This combination of low temperature and dryness makes it a perfect time to explore some mountainous areas.
Average temperatures and rainfall of cities during winter
| Place | Avg Min (C) | Avg Max (C) | Avg Rainfall (mm) | Avg days rain (per month) |
| --- | --- | --- | --- | --- |
| Auckland | 8 | 15 | 125-145 | 14-16 |
| Rotorua | 5 | 14 | 77-126 | 8-10 |
| Wellington | 7 | 13 | 115-135 | 12-13 |
| Christchurch | 1 | 12 | 50-70 | 8-9 |
| Invercargill | 1 | 11 | 89-90 | 11-12 |
| Queenstown | -1 | 10 | 97-105 | 9 -12 |
Hiring a campervan in New Zealand during winter
Things to consider before you hire your camper
When hiring a campervan for the winter, there are a few extra things that you'll want to consider.
The size of the campervan: You want to ensure that you have a little space inside to move around and hang things up if they need to dry. I would recommend taking advantage of the lower prices to upgrade a little.
A self-contained van will make things a lot more comfortable. A self-contained van comes with its little cassette toilet. This means that you can pee at night without having to go outside. There are other benefits to having a self-contained van; I've outlined them in this article.
Heating is not a 100% requirement; you can do other things to be warm, but it's worthwhile. Not all campervans come with heating. Some may have heating in the driver's cabin but not the main cabin at the back.
Don't hire a campervan until you've read our article on how to choose the best campervan for your needs!
What to look for in a hire company when hiring a winter campervan
What types of extras are included when hiring a winter campervan?
You're going to be travelling in the winter. So it would be great to get some freebies included to help you survive the cold. Travellers Autobarn, for example, offers free additional heaters, hot water bottles, and sleeping bags with all winter hires.
Spaceship Campervan Rentals offer an add-on 'Winter Warmer Pack'. They occasionally provide it for free, although if you have to pay, it is about $50NZD (at the time of writing)
Snow chains and winter tires
If you plan on driving in the mountain regions of the South Island, you will need snow chains. First, you'll want to ask how much these are to hire. If you're not experienced with snow chains, you'll also want to ask for a demonstration. No point having them if you can't put them on! Next, check if you have winter tires on the car.
Is the campervan insulated?
Ideally, you want a campervan that is designed and insulated for winter weather. If you don't get one, it's not the end of the world, but you'll need to get creative with covering your walls and floor. You may end up doing this anyway. We usually purchase a few cheap small rugs and cut them to fit the floor space. It helps if you're not standing on cold floors.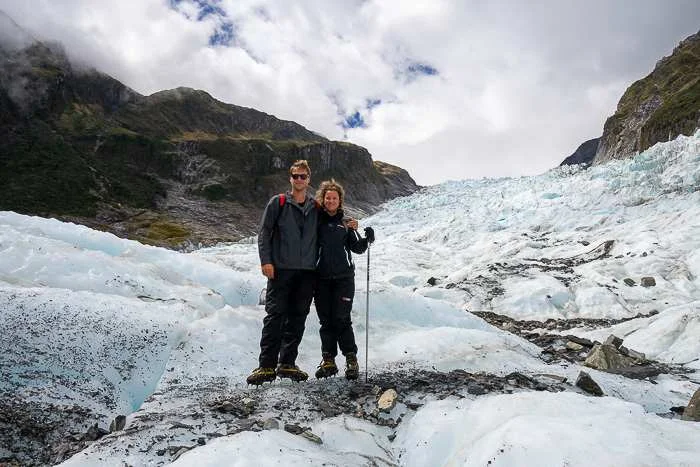 Driving a campervan in New Zealand in winter
Snow Chains
Campervanning New Zealand in winter can be treacherous due to snow and ice. In general, road conditions in New Zealand are excellent, so as long as you take it slowly, you should be fine. Make sure you have snow chains (and you know how to fit them) if you plan on going to the more mountainous areas of the South Island.
Slippery, boggy, muddy tracks
Unsealed roads leading to off-the-beaten-track areas, freedom camping places and DoC campsites can sometimes get a bit muddy when wet.
Plan to drive short distances only
Try not to cover significant distances during really horrible weather and snow. It will take you a lot longer than you think during lousy weather. The amount of energy and focus required can be draining. Also, if it looks like you're not going to get where you want in time, it's tempting to speed up and push the limits. Instead, set smaller, manageable targets and stay safe.
General driving tips for campervanning New Zealand in winter
Drive slowly
Avoid hard braking
Do not change directions too quickly
Make sure you have a decent gap between you and the car in front
Always drive with your headlights on
Check the weather regularly and consider changing your plans if you know that it's horrible outside.
Buy a sim card, so you always have a connection, and download offline maps, so you're never lost in lousy weather.
Our advice on staying warm when campervanning New Zealand in winter
If it's freezing, stay at a holiday park. You'll have electricity to power your heating and hot showers to warm you up. A good water source is also helpful for making tea or coffee and refilling hot water bottles. If you've been out hiking, you'll enjoy the hot shower.
Having electricity or a spare battery is excellent for recharging electronics. There may be an odd day where you can't or don't want to go outside. You'll enjoy being able to use your electronics.
Take or buy some extra towels and blankets that you can use to cover the door, bare walls and windows. In our caravan in the Netherlands, we made a curtain to cover the door frame as cold air was coming through the seals. Anything you can do to stop the cold coming in helps.
Standing on a cold floor is horrible. So we buy cheap mats or carpets and cut them to fit.
You'll need to put a little effort into keeping the floor clean. Dirt, mud, snow etc., will follow you in. Putting a folded-up towel at the entrance offers a fast solution. You can shake it out when it's dirty and put it in the washing machine.
Take lots of layers and thermal clothing that you can put on and take off to adjust your temperature.
Best places in New Zealand to visit during the winter
Queenstown – An adventure seekers' haven, Queenstown offers incredible adventures whether you're there in the summer or winter. If you're into snow sports, however, the winter is the time for you.
Rotorua – A beautiful city with so much to do; there are some lovely walks around Rotorua. Not to mention an endless number of opportunities to warm up while you float around in a Geothermal pool
Kaikoura – Visit this lovely little town on the South Island's east coast for whale watching. The height of winter is the perfect time to see the Giant Sperm whale migration.
Lord of the Rings locations – such as Glenorchy and Mt Cook, come alive with winter snow. It's hard to imagine these mountainous areas get more beautiful, but somehow winter manages it.
Milford or Doubtful Sound – New Zealand's prime tourist attractions are unmissable anytime. Winter, however, is a lot less busy!
What to pack for campervanning New Zealand in winter
Thermals – Thermals are long base layers that help to trap body heat while wicking away moisture. They are a must if you want to stay warm.
Socks – I'd recommend a mixture of thicker and thinner socks. You may need to double-layer.
Beanie and scarf – help keep your body heat in. In addition, a scarf can make an excellent wind break for the face.
Gloves – Try to find both a thin and a thick pair of gloves. Thick ones are great when cold but can be hard when using your hands. Light gloves are better for dexterity.
Down winter jacket – you know, the big puffy ones. Perfect for keeping you toasty warm.
Gortex outerwear jacket – You wear this over your down winter jacket. It will stop the wind from getting through but also protects your down jacket from the rain. 2 for one benefits!
Sleeping bag – a good winter sleeping bag is perfect for sleeping in the cold. It will trap your body heat close and keep you warm.
Sleeping bag liner – to improve the heat retention of your sleeping bag, a sleeping bag liner is a must.
USB Flash drive – You can load this with television shows and movies to watch when bad weather strikes. Not having to rely on the internet means you can watch them anywhere at any time.
UE Boom for sound – Trust me on this one. After years of living in campervans and caravans, the UE Boom is one device we love. When it rains hard, your tin can campervan becomes a rain echo chamber, and you won't be able to hear your tv show or music. The UE boom gives you extra volume.
Small waterproof backpack – It's always a good idea to carry a small waterproof backpack when you go on hikes or at any time you might get wet. It'll keep your valuables and camera safe and dry.
thermoses – We love thermoses. We take them with hot or cold drinks depending on the day. They're also great to fill up on a cold morning before you drive off and have a hot coffee that'll last you the morning.
You may also find these articles helpful.
This article contains affiliate links. For more information, please see our affiliate disclaimer here.