A trip's planning and organizing stage can be exciting but also overwhelming. So if you're looking for cheap campervan hire New Zealand, don't panic; I've got you covered. New Zealand is not a cheap country to travel, but thankfully there are some great budget options for campervans and motorhomes. In this article, I've done all the leg work for you. I've compared a variety of affordable rental campers from reputable companies because 'budget' doesn't have to mean crappy. Less cost and less drama equal more time and money for you to spend on the things that matter, having an incredible time in one of my favourite countries in the world. So buckle in, and let's get comparing.
This article contains affiliate links. For more information, please see our affiliate disclaimer here.
First, if you already know what you're looking for, use the search box below to find it.
If you've researched what you need and how to make your campervan rental cheaper, jump straight to comparing cheap campervan and motorhome rental in New Zealand.
Do you want more information? That's ok, keep reading; hopefully, it'll become much clearer.
Before we compare cheap campervan hire New Zealand, there are a couple of things you need to decide.
What do you need and want from a campervan?
Where do you want to begin and end your road trip?
And finally,
3. How cheap is cheap, and are you prepared to risk sacrificing quality and comfort to save a few extra dollars.
What do you want and need from a rental campervan in New Zealand?
This is an essential thing to understand before you hire a campervan. What do you want and need? What do you want to do with and in it? Where do you want to go with it?
Do you need a self-contained camper?
One of the main things you need to decide is whether you want to go with a self-contained campervan or not. Being self-contained means that the campervan comes with a toilet. This toilet is a cassette, and it's just a tiny thing you need to empty daily. That small toilet, however, is the difference between whether you can go to a freedom camp or not. Using almost all freedom camping sites is illegal if you are not self-contained because the sites do not have their own toilets.
You can read our article here to find more information if you're still unsure whether you need a self-contained camper.
Does size matter to you?
The smaller the campervan, the more affordable it will be, but the less likely it is to have room for a toilet and be self-contained.
Another thing to consider is your comfort. For example, my partner Ben runs hot. He is always hot. Always. At night he needs space, or he's so hot he can't sleep. A small bed is difficult for us because he would lie awake every night overheating. He is a big guy and takes up a lot of room (he's 6ft 2″). If I tried to keep away from him in a small campervan, I'd be bundled up in the corner. I wouldn't sleep either.
Consider your lifestyle and personal preferences.
What kind of things are necessary for you? For example, do you want to cook your meals? If you intend to do a lot of cooking, you'll probably want at least two cooktops and a fridge. On the other hand, a kitchenette is not essential if you plan on eating out every night.
Think about your lifestyle and preferences and look for a campervan or motorhome that aligns with your plans.
How long do you want to travel?
It's also important to consider the length of time you have for your trip. Maybe you could sacrifice space and comfort for a week, but not for a month.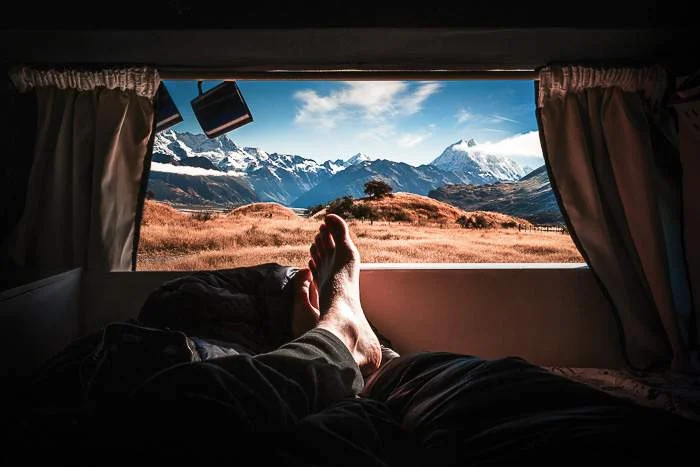 Where do you want to begin and end your road trip?
If you start and end your road trip in Auckland or Christchurch, you'll have access to a wider variety of companies that offer cheap campervan hire New Zealand.
Cheap campervan hire Auckland.
Most people will fly into either Auckland or Christchurch and pick up their rental campervan in either city. The great thing about Auckland is that it has many campervan rental companies. Most of these rental companies are close to the airport, and some will offer a free shuttle to and from the airport.
If you're flying a long distance, take the first night to sleep and pick up your campervan the following morning so that you're fresh and ready to go.
Choosing cheap campervan hire from Auckland also means you may have the option of a one-way trip. Many of the larger companies have offices in Christchurch as well. So you may be able to drop your campervan off in Christchurch rather than having to drive it back to Auckland.
If you only intend to travel the South Island, it makes more sense to fly into Christchurch and pick up your cheap campervan rental there.
How cheap is cheap? What are you prepared to sacrifice?
This final question is as important as any other. In researching this article, I have taken the liberty to assume that while you're looking for affordable options, you're also not wanting a sh*t bomb. Excuse the language. The reality is that, like with most things in life, you get what you pay for. Do you want a camper in perfect working order that has no issues and runs smoothly the entire trip? Or, do you want one that has nothing but problems?
It's important to remember that with a campervan, it's not necessarily just the engine and getting from A to B. I mean, yes, obviously, a campervan that breaks down is terrible. But what happens if the fridge doesn't work? Or do the gas burners keep going out? If you hire an awning that has holes in it and rain gets through? If the fold-out camping chair you paid extra for collapse as soon as you sit on it?
Look, stuff happens. Your well-maintained car at home may randomly break down too. But with campervans that do thousands of kilometres, there are ways you can reduce the chance that this will happen to you while you're on your dream trip.
We've recommended quality budget campervans from affordable, reputable hire companies.
I've recommended cheap campervans and motorhomes from companies that have great reputations. They are known for quality and service and offer such things as 24/7 roadside assistance. You're less likely to have a problem, but if you do, they'll provide a solution and help you out. Don't take my word for it. You'll see the review scores of each campervan and motorhome hire companies in NZ when you click the links to see the vehicle details.
How to save money and get a cheap campervan rental New Zealand
If you're ready to see affordable campervan and motorhome options, jump straight down and start comparing cheap campervan and motorhome hire in NZ. Otherwise, here are some ways to save money on campervan and motorhome rental in New Zealand.
Campervan around New Zealand in the winter
New Zealand is not a cheap country to travel and the summer, which is peak season, is the most expensive time. Everyone wants to campervan around New Zealand in the summer, so the campervans often book out. Yep, that's right; they book out. If you leave it too late to book, you may not find a suitable option. As a result, the companies are happy to increase prices.
As fewer people travel in the winter, the prices miraculously come down quite a bit. Travelling in the winter is perfectly acceptable in New Zealand, although it is obviously colder. You'll need to pack many more layers and prepare for rain. The great news is that because it's cheaper, you may be able to afford to upgrade to a better model or motorhome with more space.
Many companies add extra blankets and things like hot water bottles for winter campervan and motorhome hire. I would suggest you want a self-contained campervan or motorhome during the winter. Who wants to go out at night in the freezing cold to pee?
Choose value over dirt cheap.
I mentioned this above, and to be honest, I'm working on the assumption that you're like me, and this makes sense to you. Many companies have different offers and add-ons that they'll throw in to make the camper more enticing. Choose the best value for your purpose if you know what you need and want. It will inevitably work out cheaper. Take the cooking situation, for example. Don't get a camper with a 10L cooler if you know you want to cook meat 3 x a day. It's not practical, and your meat will spoil, costing you money. You'll eventually get sick of it and end up eating out.
Hire a small campervan in NZ
There's no way around it; smaller equals cheaper. So if you're after the most affordable campervan hire New Zealand, you'll be looking at a car with a bed in the back. These are super popular, and I would say that if you're going for a short trip, or you've travelled like this before and are happy with less space, then go for it!
Book a location transfer
When someone hires, say, a cheap campervan hire Auckland and drives it down to Christchurch, then leaves it there, the company may need to return the car to Auckland. Companies will often be happy for you to hire the car from Queenstown and return it to the Auckland office for them. It's a win-win. You get a cheaper deal, and they have the vehicle returned to its original location with minimal effort.
Do a round trip: Have the same pick-up and drop-off location
Because of the hoo-ha involved in relocating campervans and motorhomes from one location office to another, rental companies generally prefer if you drop them off from where you picked them up. Because of this, they will usually charge you a fee if you want to drop it off elsewhere. You can avoid this by making a round trip.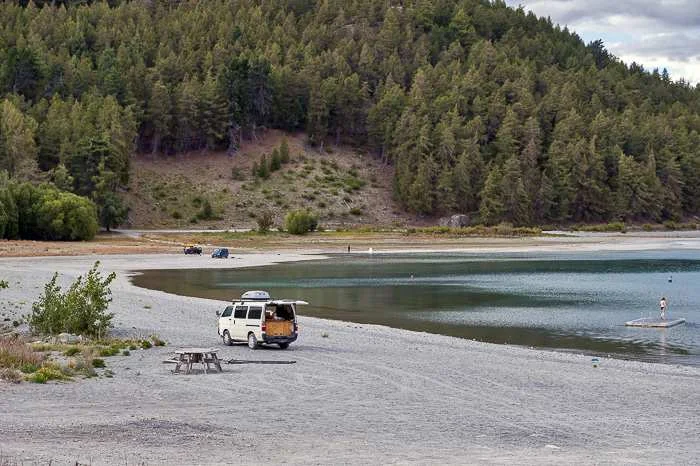 FAQ: Your questions about cheap campervan hire in New Zealand answered
How much is it to rent a campervan in New Zealand?
As discussed above, this can vary considerably. If you travel in the winter and hire a small camper car, you can expect to pay around $30 NZD a day (at the time of writing). If, however, you're travelling in the summer, the same vehicle could cost around $100 NZD. Bear in mind that these are the cheaper options. The prices will go up for full campervans.
How much does it cost to park a campervan in New Zealand?
There are a variety of options for overnight parking. If you find a freedom camping location, parking is free for the night, but there are usually no facilities. The Department of Conservation or DoC offers a variety of different campsite options. The cheapest (with the least facilities begins at about $6 per night for adults. The more expensive, serviced options are $15 a night for adults. These sites have toilets and showers and usually things like picnic tables and rubbish bins. Holiday parks, like little resorts for campervans, start at $30 and go up to around $50 per night. You'll have full facilities here, plus electricity.
Can you sleep anywhere in a campervan in New Zealand?
No. There are specifically designated freedom camping areas. It is illegal to stay outside of these areas in your campervan. You will need a self-contained campervan if you wish to freedom camp. This will usually add to the price of your camper as you'll need additional space for a toilet. Be aware that freedom camping sites often fill up in the summer. It would help if you arrived early to claim your place. Expect you to pay for accommodation for at least part of your trip.
Compare cheap campervan hire New Zealand: What are the best options?
Budget companies with good reputations
There are two main 'budget' companies with great reviews. You'll find they have some of the cheapest campervans; however, you'll also have peace of mind when dealing with them and trust that your campervan is in good condition. I've assumed you're travelling as a couple, or maybe as two friends, so all recommended campers sleep two.
These companies are
Mad Campers
Spaceship Rentals
Mad Campers
Nominated as a Finalist in the Tourism Industry Aotearoa's Visitor Experience Awards, Mad Campers offer budget but innovative campervans. They pride themselves on pushing the boundaries to create unique and practical space-saving designs, such as their pullout kitchen. This moveable kitchen gives you more space to cook and room to relax inside.
The cheapest campervan that Mad Campers offer is the Mad 2, 2 Berth Campervan.
Cheap campervan rental - Mad Campers 2 Berth Mad 2 Campervan
Pro's
Con's
Price
Certified self contained
Kitchenette with 1 gas cooker and 15L fridge
USB power points for easy recharging
Food Grade plumbing so your water never tastes like plastic pipes (trust me, this is a benefit)
Alarm, immobiliser and lockbox so you don't have to worry when you leave it in a remote hiking car park
Interior height of 1.5 which although not high, is higher than most of the cheaper options
It has access from both sides and the rear for convenience
You can pay for an additional canopy for extra space
One way fee is $150
If you cook alot, a 15L fridge and 1 gas burner may be insufficient
Although the interior height is higher than other models, you can't stand up
There is not a lot of storage space
Click to check prices
Why rent a camper from Mad Campers?
Mad Campers are a fun company with excellent service and all the necessary basics. They're a great option for cheap campervan hire in Auckland as they have offices near the airport and in Christchurch. Mad campers customers are overwhelmingly satisfied and have one of the best review scores of all hire companies, a whopping 95%! Their name is synonymous with quality, and cheap campervan hire New Zealand.
Spaceship Rentals
A 2021 New Zealand Tourism Award winner, Spaceship rentals are a popular option for smaller campervan rentals out of Auckland and Christchurch.
The cheapest campervan option from Spaceship Rentals NZ is the Spaceships Rocket, 2 Berth campervan.
Spaceship Rentals Spaceship Rocket 2 Berth Campervan
Pro's
Con's
Price
2 gas hobs
20L cooler
Spaceships offer after hours pick up and drop op
No additional cost for extra drivers so more than one person can drive the vehicle
One way fee included
Free airport return transfer for bookings over 14 days
Free Ultimate Travel Guide

Not self contained, no toilet
No sink
With no toilet and no water onboard you'll need to stay at camp grounds
Click to check prices
Why hire a campervan from Spaceship Rentals?
Spaceship Rentals are a popular choice when hiring small campervans in New Zealand. The cars are good quality and well maintained, and they have a review score of 87% from hundreds of reviews. Their vehicles are ideal if you're looking for somewhere to sleep and intend to eat your main meals elsewhere.
With collection offices in Auckland and Christchurch, you'll get cheap campervan hire no matter which city you fly into.
The next step up is Affordable campervan and motorhome hire from great companies.
Moving up a little in price can mean a significant increase in size and comfort. While these companies are not the cheapest, they are great value for money. You may consider the trade-off worthwhile if you want to cook all your meals or have more space to move around.
The most reputable brand and best hire option in this category are Jucy campervans.
Going with one of these two companies means you get great peace of mind and a slightly more lux camper experience.
Jucy Campervan Rentals
If you've spent time in New Zealand or Australia, you'd be familiar with the green and purple campers. Their unique designs are custom-made by their team and are created to meet the needs of New Zealand's particular landscape.
The most economical Jucy van is the two-berth Jucy Cabana
Jucy Campervan Rentals Jucy Cabana
Pro's
Con's
Price
1 x gas cooker
Sink
20L fridge
Slightly better cooking capacity than earlier recommendations
Double battery system so you can recharge electronic devices
After hours pick up and drop off on request
Great fuel consumption 12L/100km
Heating in the main cabin
Not self contained = no freedom camping
$2 extra per day per additional driver
One way hire fee between $100 and $250 depending on season
Queens size bed is narrower than other options at 1.2mx1.9m

Click to check prices
Jucy affordable larger campervan rental
Aside from affordable campervan hire, Jucy also offers excellent value with a model up from the Cabana, the Jucy Chaser. This is a larger four-berth campervan for those looking for something larger that won't break the bank.
The four-berth Jucy Chaser
Jucy Campervan Rentals 3 berth Jucy Chaser
Pro's
Con's
Price
Completely self contained with toilet
Shower
50L fridge
2 gas cookers
Sink
Hot water
Great for cooking a lot
Sleeps 3
1.9m interior height so I can stand up, can you?
Large water tanks so you can freedom camp for a few days comfortably


Slightly longer and wider to drive
Additional one way fee payable

Click to check prices
Why hire a van from Jucy?
With over 700 reviews, they have a satisfaction score of 80%, which is an excellent rating. The company is well known, and you'll see them everywhere. As with most large hire companies, Jucy has offices in Auckland and Christchurch.
In conclusion
I hope that's given you all the information you need to find the right campervan rental for you at the lowest price. It's essential to make sure you choose a van that will meet your needs. Remember that cheap cheap isn't always the best option. Sometimes cheap, cheap also works out to be more expensive in the long run.
You'll also find these articles helpful.
Pin me for later!