New Zealands North Island has so much to offer that it could keep you entertained for months! If you have the time, or are campervanning around New Zealand, make sure you cover the whole Island to get the full experience. Here are our North Island New Zealand Highlights – You definitely want to make sure you see these!
This article may contain affiliate/compensated links. For more information, please see our disclaimer here.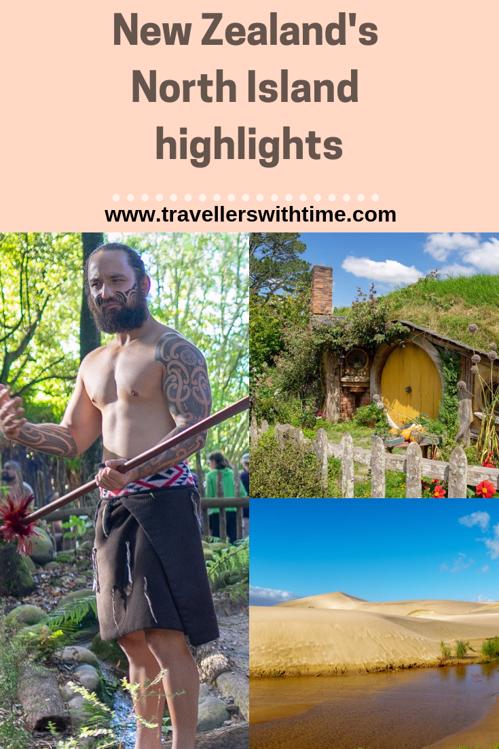 The Far North – Northland
A little off the standard tourist route, the Northland district, or far north of the North Island is spectacular with unforgettable coastline, magnificent Islands and historical significance. Our top picks for things to see when you visit the far north?
Cape Reinga
Located at the Northern most tip of the country lies Cape Reinga, boasting incredible views and a beautiful old light house, it is worth the drive up the windy road to the cape. The views along the way are beautiful, and in fact, the drive ranks as one of the best drives in New Zealand.
Incidentally, if you're looking for a camp site near Cape Reinga, the Department of Conservation has a beautiful site called Tapotupotu which is spectacular.
Drive 90 Mile beach
While not quite 90 miles, the 90 mile beach is actually a road that you can drive on if you have a 4WD. If you're not able to drive along it, you can always park and admire this lovely stretch of coastline. Another option is to take a tour.
Admire the size of the Te Paki Sand dunes
The Te Paki sand dunes are enormous. You can hire a sleigh and slide down them or wander around and have a look.
Waitangi Treaty Grounds
Located in the Bay of Islands, the Waitangi Treaty Grounds is one of New Zealands cultural highlights. The sight of the signing of the Treaty between the Indigenous Maori and the British, you can learn a little about how New Zealand came to be what it is today. Included in the entrance fee is a guided tour and Maori performance.
The Coromandel Peninsula
Known for it's nature, beaches and forests the Coromandel Peninsula is a must if you're visiting the North Island of New Zealand. Nature buffs and beach lovers could spend weeks here, there is so many beautiful things to see.
The beautiful Cathedral Cove
A lovely 1.5 hour return walk along an undulating path, past hidden beaches and through beautiful forest leads you to a gorgeous rocky cove. Take your swimmers and cool off in the ocean. We found a couple of the smaller beaches, such as Stingray beach, along the walk were even more beautiful than Cathedral Cove and no where near as busy!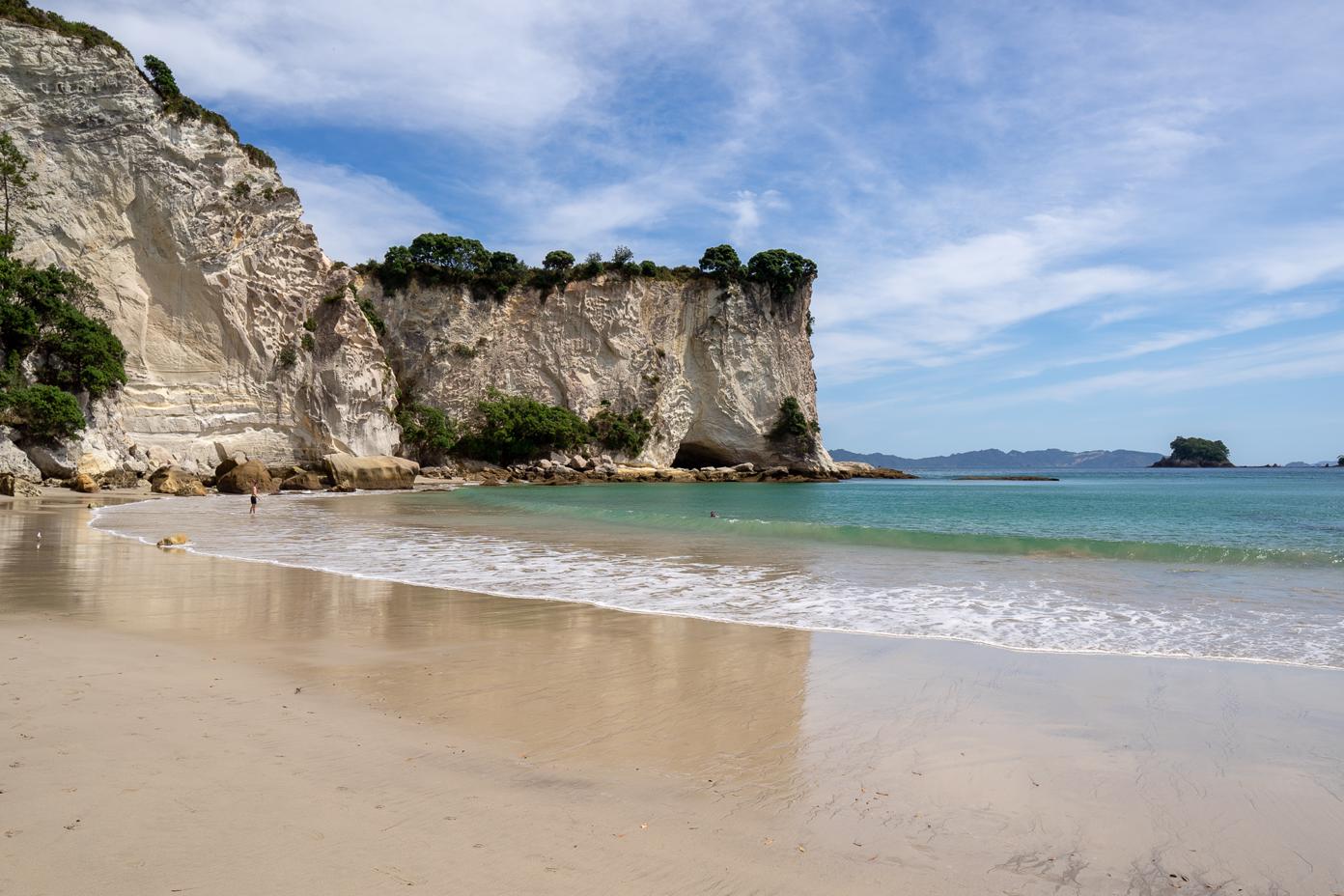 Soak at Hot Water beach
You'll need to be at Hot Water beach at or around low tide to dig yourself a hole and sit in the warm water coming from hot springs. It's incredible how hot the water can be so make sure you have a cool source entering your hole too!
Rotorua and surrounds
As far as North Island of New Zealand highlights go, Rotorua and it's surrounds pack a punch.
Visit the regions volcanic and geothermal pools
Both Waimangu Volcanic Valley and Waiotapu Volcanic Wonderland are located a short drive from Rotorua's center. See spectacular coloured pools, bubbling mud and erupting gysers. You can spend a good couple of hours at each, or just visit one if you're short on time.
Take a tour of Hobbiton
So, I confess, I have never seen the Lord of the Rings or the Hobbit movies. Ever. I know, shocking. I did however find the Hobbiton film set fascinating. You can only visit Hobbiton as part of a guided tour and is definitely worth doing. As you wonder around the set located in the middle of a working farm, your guide will give you lots of information about how the movies were filmed and you can finish up with a drink in the Green Dragon inn.
Get lost in Nature
Rotorua has plenty of beautiful lakes to hike around, such as Lake Tikitapu, known as the Blue Lake. If hiking is for you, there is also Whakarewarewa or the Redwoods Forest. A beautiful peaceful forest with enormous Californian Redwoods and a plethora of walking tracks to keep you busy.
Enjoy a traditional show and Maori Hangi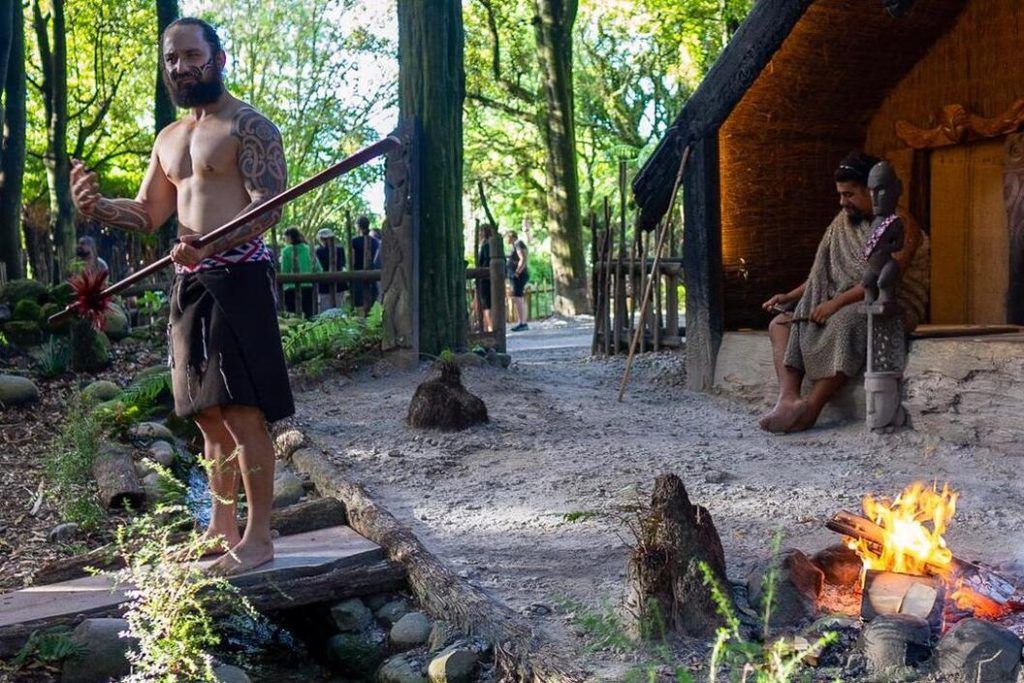 The Tamaki Maori Village is a fantastic way to experience and learn about Maori culture and food, with a tour and traditional Hangi Dinner. The demonstrations on various Maori dancing and crafts are fun and the meal is absolutely delicious.
Lake Taupo
Laying in a Caldera (or huge crater created by the empyting of a magma chamber during a volcanic eruption) it is the largest lake in New Zealand and second largest fresh water lake in Oceania. There is plenty to do and see around Lake Taupo such as visit Mine Bay and see Maori rock carvings. The magnificent Huka Falls feed into the lake and are a sight to see if you're in the area.
Complete the Tongorriro Crossing
We nearly skipped this 6 hour hike but were so glad that we met some locals who insisted that we do it. At times it feels like you're on a different planet as you hike through and around volcanic craters and see stunningly coloured volcanic lakes. It's not the easiest hike, with a good 2 hours or so uphill climb required, some of it quite steep, but well worth it if you're able. You'll need to book your transport to the start of the hike in advance. The Tongorriro Crossing is absolutely one of our North Island New Zealand Highlights.
See the Glow Worms at Waitomo Caves
The Glow Worms are beautiful, but the Waitomo caves are more than just Glow Worms, these beautiful caves are worth a tour. All three caves are slightly different, the Ruakuri cave was our favourite.
You might find these articles useful
Heading to New Zealand soon? Here's how we organise ourselves
This article may contain affiliate/compensated links. For more information, please see our disclaimer here.
Pin me for later!