Planning a campervan trip around New Zealand and have no idea where to start? Don't panic! This article on campervanning New Zealand tips is all you'll need to plan and execute your dream holiday. Before arriving in New Zealand, I had no idea what an incredible country it is. Now, we often joke that after our time there, New Zealand has "spoilt the rest of the world" for us! Travelling New Zealand in a camper is the ideal way to see the country with incredible scenery and plenty of available campervan accommodation options, you'll absolutely love the freedom of getting off the beaten track. Whether you're just starting to plan your trip or you've just landed in New Zealand, our campervanning New Zealand tips will ensure you get the most out of your New Zealand adventure.
This article contains affiliate links. For more information please see our affiliate disclaimer here.
Editors note: We've broken the advice down into 3 sections, before you go, on the road and budgeting and finances. Just click through to the section that most applies right now but make sure you bookmark or save it for later. That way you can come back to it when a question pops up.
Before you go: Campervan New Zealand tips and planning
Benefits of campervanning around New Zealand
Campervanning around New Zealand is absolutely the best way to see the country. The roads and the scenery throughout New Zealand are perfectly suited to a road trip. You can take your time, be awestruck by the view and stop whenever you're able (ie when it's safe) to take photos. And you will stop. A lot.
Some of the benefits of travelling New Zealand in a campervan are
More freedom – We've found that simply being able to get in the camper van and drive to the next destination, or sight that we wanted to see is much more liberating than having to spend time organising transport, pre-booking everything, etc. It feels a lot more whimsical and free
It's no more expensive than travelling by other means – While campervanning New Zealand is not cheap, there are things you can do to reduce the expense, like freedom or DOC camping and cooking you own meals. This is obviously cheaper than staying in hotels and eating at restaurants. The final cost will depend on your campervan cost and fuel.
You will see more of the country and get off the beaten track. I think this is one of the biggest benefits. Plan your own route, see exactly what you want to see.
Freedom camping! If you've ever dreamed up pulling up by a beautiful lake, grabbing a fold out chair and relaxing with a drink, campervanning around New Zealand allows you to do just that. You'll need to follow the rules and find the appropriate places however, and we have this post to explain that.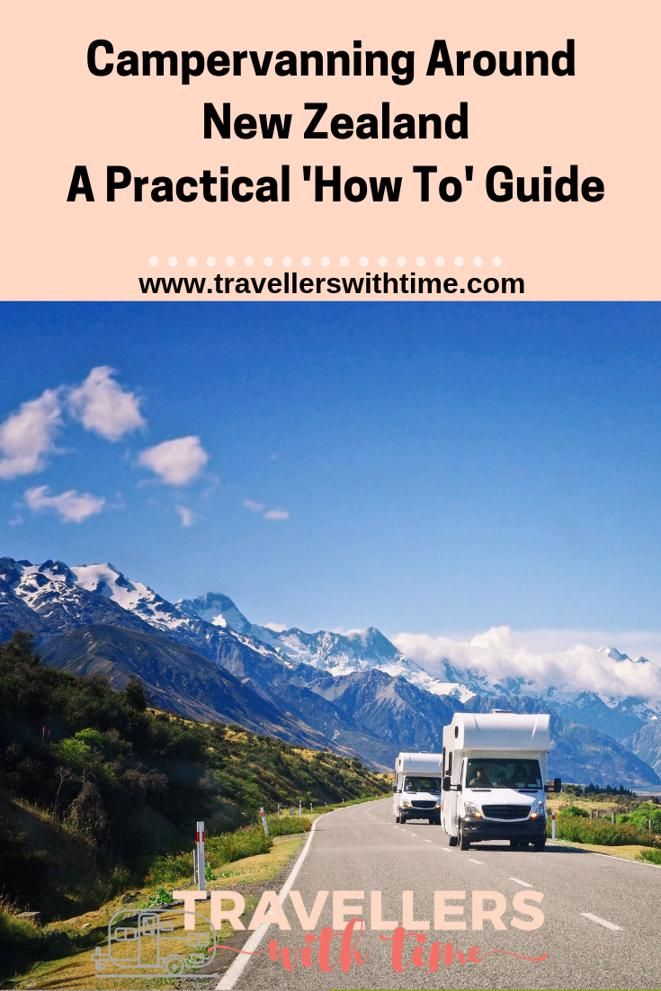 New Zealand in a campervan – choosing the van that's right for you
There are a few things that you want to consider when choosing the vehicle that you're going to drive around New Zealand.
Our top advice for choosing your campervan
Choose a campervan that is slightly bigger than what you think you'll need. You want to be comfortable, right? I'd recommend going one size up. Our New Zealand campervan was the first of a few, and we went bigger for the next one. Ben is 6'2″ and spent the whole time bent over, even when sitting in bed.
Establish whether you need a self contained or non self contained vehicle. We've written a whole article on the self contained vs non-self contained decision. This will affect whether you can use certain freedom camping sites, and also whether you have to duck out in the cold to pee!
Think about your interests and where you'll take the camper. Do you plan on spending a lot of time in cities, where a small Volkswagen transporter would be easier to park then a large full sized Mercedes Sprinter. Do you intend to spend time off-roading, where a 4WD vehicle is important?
Buying or renting a campervan?
Whether you should buy or rent a campervan in New Zealand depends on how long you intend to stay in the country.
Benefits of hiring a campervan
Campervanning New Zealand Tips: Hiring a campervan in New Zealand is quick and easy. You simply book your camper, turn up to collect it and when you're done, return it. The pick up and drop off take a few hours, combined.
A hire van will come with (almost) everything you need for your trip so you need to buy very little to 'kit it out'
Negatives of hiring a camper van in New Zealand
Depending on the length of your stay it may be more expensive to hire a camper van over the long term, than it is to buy one.
Benefits of buying a camper van
If you're travelling for more than a couple of months it may be cheaper to buy your camper than to hire one. You can also make any necessary changes to keep you comfortable.
Negatives of buying a campervan
It can take quite a while to both find a camper you like, and then to sell it at the end of your trip. It really isn't worth investing that time if you're staying less than a couple of months. You'll spend a lot of your trip buying and selling a camper rather than travelling.
A lot of people will sell their camper vans with most of the equipment and items inside, however you will probably need to buy some extra things such as new pillows.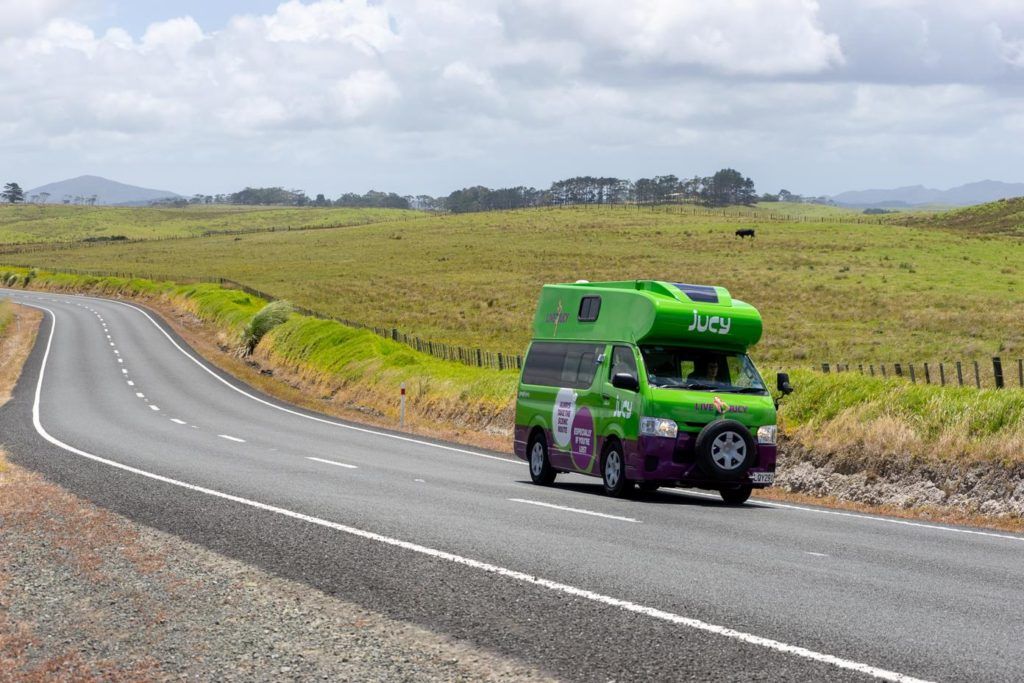 Hiring a campervan in New Zealand advice
Our best tips for campervanning New Zealand and hiring a campervan is to know what you need first and foremost and then look around for the best prices.
The best campervan rental companies
We used Motorhome Republic to find our camper, they offer campers from all the best companies and you can easily compare prices, types and models. Make sure you read plenty of reviews of the hire company before committing.
Drivers licences for hiring a campervan in New Zealand
In order to hire a car or motor home in New Zealand you'll need a drivers licence that is in written in English.
If you have a drivers licence in another language you will need to either have it translated by a New Zealand approved translation service, or apply for an International Drivers Permit.
Campervanning New Zealand tips: Make sure you have the required documentation before you arrive in New Zealand to avoid problems when you arrive to collect your campervan.
There is an age restriction on being able to hire a campervan in New Zealand. Make sure you check that you meet the age requirements with your potential rental company.
What is and isn't included in the price of hiring a camper
When you're booking your campervan, it's super important that you check what comes with the campervan, and what does not. Do you get bedding? pillows? towels? Sometimes you don't. The catch is always fold up chairs. You'll have to add them separately to your campervan hire (in most cases) and you'll pay extra. You kind of need them though, if you want to sit outside.
When you're looking at hiring a campervan, there are some 'additional costs' that you'll need to consider. They can really blow your budget if you're not prepared.
Petrol and diesel additional costs
When considering your options it is wise to take into consideration the type of fuel you are going to use. Petrol is more expensive and has the " road tax" included in the price. Diesel car however, charge you an additional tax, based on distance driven. As at 1st July 2020, this is $76 NZD per 1000 km driven.
This is something to keep in mind when hiring something that runs on diesel. We did just over 8000 km on our last trip, so when we returned our camper van we had to pay just under $600 to our camper van hire company.
Editors tip: Fill up with petrol in the more regional areas, away from the cities. It is so much cheaper!
One way fee
If you're not returning the camper van to the exact same place you collected it, you may need to pay a 'one way' fee. This fee can be as much as a few hundred New Zealand Dollars.
Inter Island Ferry
If you're exploring both Islands, you'll need to take the ferry which will cost an additional few hundred dollars.
The minimum cost for two people and a 5 meter camper going one way for example is around $260 NZD. If you're intending to come back you'll pay double that. I made this mistake in my planning!
Campervan Insurance New Zealand
Excess
No body is interested in talking about Insurance but it's vital and it'll be a big expense, When you hire a camper van in New Zealand it will probably come with a basic insurance and a rather sizeable insurance excess. With the company and camper van we hired the excess was $4000 NZD. Which means that if we had an accident, we would have to pay up to that amount. The company want to know that you have that amount available, and they may freeze that amount on your credit card. If they do this, you won't be able to use that money on your travels.
All companies will try to sell you their premium insurance, which means that you pay a set extra amount for the insurance up front. You will then not have to pay the excess.
You can definitely do this, many people do, however it is usually more expensive than using third party insurers.
Third party insurers
Instead of paying the hire company's excess, you also have the option of finding insurance through a third party issuer. This will usually be a lot cheaper. Thankfully, our travel insurance offered good excess coverage within our policy!
Travel insurance
We are firm believers in travel insurance and always take out the maximum coverage. World Nomads is our go to insurer. We had a situation last year where I needed to use my travel insurance and they were phenomenal, so when it came to us booking our New Zealand travel insurance it was a no brainer.
For us, travel insurance for 2 people was quite a bit cheaper then buying the extra camper insurance directly with the hire company. World nomads which has an amazing coverage and covers up to $3000 AUD of excess per incident. This would leave us with only $1000 excess that we would need to pay if something happened. If we had an accident and it cost less than $3000 to repair, our travel insurance would cover it in full.
This was much cheaper for us in terms of up front costs and it included our travel insurance expense. As always though, make sure you do your own research and decide which option is right for you.
Seasons in New Zealand
Now that you know all about your campervan and home for your trip, when are you going to go?
New Zealand has four distinct seasons and there is a running joke that you may experience them all in one day! The weather can change quite quickly so it helps to be prepared.
Is there a different in the weather between the North Island and the South Island?
Overall, the North Island is warmer than the South, with the top of the North Island, around Cape Reinga, having a subtropical climate.
New Zealand has plenty of sunshine but also a moderately high rainfall, which is the reason the country is so exquisitely beautiful. The green rolling hills and lush rainforest are a direct result of the unique climate. There is more rainfall in the South.
While some parts of the North Island experience snow, the South is where you'll find the biggest ski fields and glaciers.
What are the seasons in New Zealand and what can I expect from the weather?
Spring
Spring is from September through November. The temperatures average between 4.5 and 18 degrees Celsius (40-65 F). Spring is a great time of year to visit as the flowers are blooming and baby animals are being born.
Summer
Summer temperatures range from 21-23 degrees Celsius (70-90 F) between December and the end of February. In summer you'll have the longest day light hours and plenty of time to enjoy the great outdoors, maybe lay on the beach somewhere.
Autumn, or fall
March, April and May make up Autumn, with an average temperature of 7-21 degrees celcius (45-70 F). Autumn is a great time of year for hiking and outdoor activities as parts of the country take on the beautiful auburn hue of leaves changing colour.
Winter
If you're in to cold weather activities such as skiing and snowboarding then Winter, June, July and August is your time. Temperatures range from around 1.5 degrees to 15.5 during the day, of 35-60 F. Campervanning New Zealand in winter is a lot easier and more comfortable than you're probably thinking.
As you'd expect, summer is the most popular (and busiest) time for tourism in New Zealand. It is peak season and during this time you'll see thousands of other campervans on the roads.
Editors recommendation: Shoulder season, so spring or autumn, is a fabulous time to travel around New Zealand in a campervan. There are a lot less people, freedom camping spots are easier to find and a lot of things will be cheaper.
Best time to campervan around New Zealand
The best time to camper van around New Zealand really depends on what it is that you want to do while you're there. If you're intending to go for winter adventure activities then it makes no sense to arrive during summer. But unless you're really set on snow activities, any time of year is perfect.
Most attractions in New Zealand are open year round, for example we walked on a glacier in the middle of summer. So there is no need to freeze your backside off unless that's actually your purpose of travel!
Personally, we would recommend Autumn or Spring. Although its a little cooler than summer, you'll avoid the crowd, and the excessive price tags.
It's important to know that the prices of everything increase during peak season, or summer, and you'll be paying substantially more, mainly for your campervan than you will for the remainder of the year, so if your budget is important to you, your money will go a lot further at other times of year.
The busyness of peak season also means there is more competition for the somewhat limited number of freedom camping sites. As we mentioned here, this means that you need to be a little organized and arrive at freedom camping spots early to ensure you get a spot
Campervan tips for when you're "on the road" in New Zealand
Where do you stay? Campervan New Zealand Tips
There are plenty of fantastic options to meet every budget and level of comfort. From freedom camping sites to the more luxurious Holiday parks, you'll be spoilt for choice.
Types of camp grounds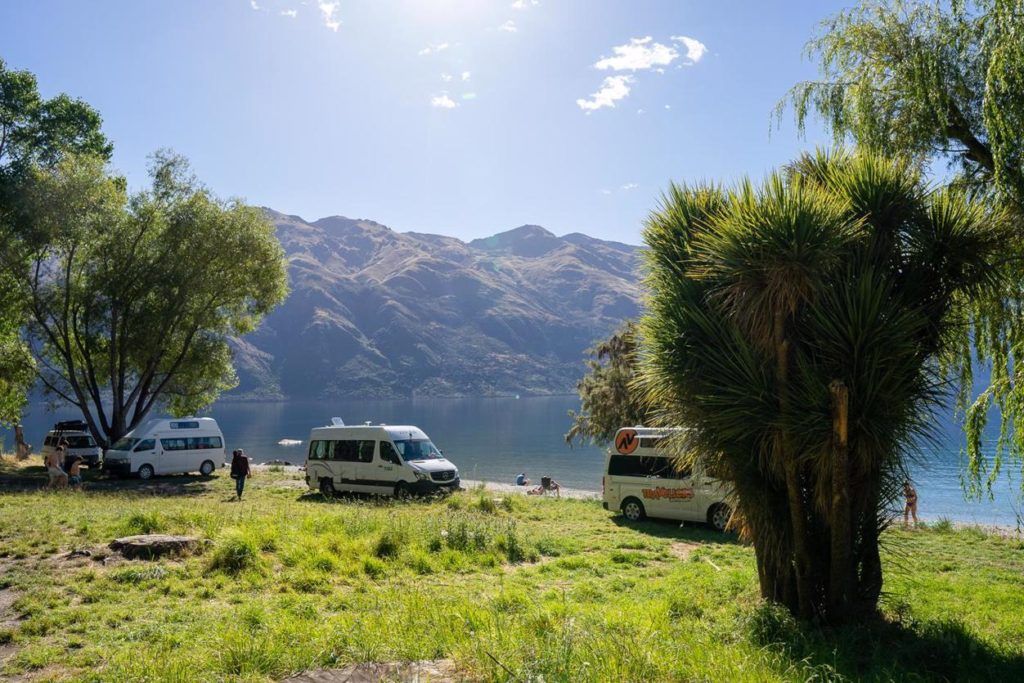 Freedom camping sites
The idea of freedom camping in New Zealand is a draw card for many, and having done it, I can tell you it is fabulous. That being said there are many rules and regulations regarding freedom camping in New Zealand and you'll want to make sure you follow them. The fine for freedom camping in an area where it is prohibited is $200 NZD.
We have a whole article on freedom camping in New Zealand so I wont cover it too much here. Just know that unless you want to spend A LOT of time reading council guidelines or pre-planning, you will, at some point, need to pay for camping, so budget that in.
Department of Conservation Camp sites
The Department of Conservation manage a range of camp sites across New Zealand. They start at the cheaper, more basic camp sites with few amenities and go up from there.
For full information about the types, locations and availability of Department of Conservation camp sites, read this.
Camp Grounds
There are plenty of camp grounds throughout the country. A camp ground is usually a designated area for campervans, motor homes and tent campers. They will have amenities such as toilets and showers and will also usually have some sort of kitchen facilities. These usually include BBQ or cooking facilities and sinks for washing up.
Holiday Parks
Holiday Parks are the more luxurious of your accommodation options. They have plenty of facilities which are usually quite nice. They're often located on fairly lush grounds and may have other facilities for guests such as a pool. Of course, you'll also pay more for the comfort. Top 10 Holidays parks are great and they're all over New Zealand.
Hotels
Now you obviously don't need to stay in a hotel when you have the camper, but you may need to pre-book one near the airport for your first or last night in New Zealand so don't forget!
Our flight into Auckland landed in the late afternoon. As the camper rental company closed around 5 pm, we didn't want to be rushed so we organised our campervan pick up for the following morning.
Many hotels around the airport include a free airport shuttle so you'll have no problem getting too and from the airport.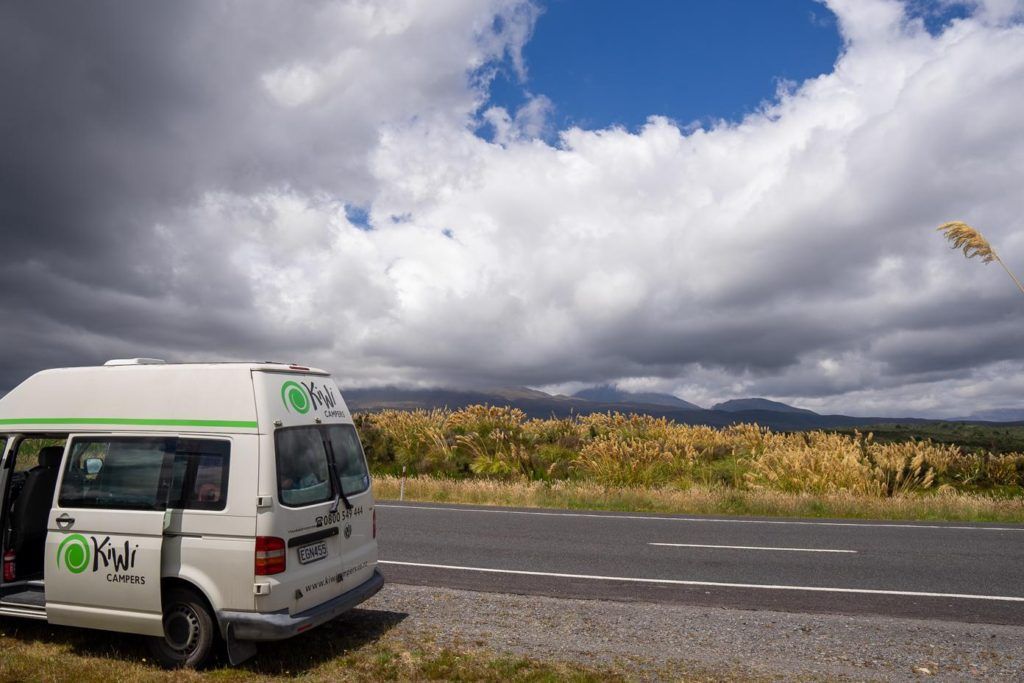 New Zealand campervan routes
There are a couple of well worn routes around the country but the main decision to be made here is whether you explore one island, or both. This will really come down to how much time you have.
One of the most important things to remember is that if you are driving a larger camper around New Zealand your travel times will be slower than those listed on google maps or your GPS.
Exploring one Island of New Zealand
People will often take the time to delve deeply into one Island at a time, and there are a few good reasons for this.
There is an endless number of things to see on each Island so you won't run out of things to see or do
you don't want to spend your whole holiday in the car driving, no matter how beautiful the journey is.
You won't need to pay for the ferry between the two Islands
If you're planning on exploring the South Island don't miss our self drive itinerary that covers the very best of the Island.
Travelling the entire country
To travel around both the North and South Island of New Zealand, you'll need a decent amount of time if you don't want to feel rushed. You will also need to take the ferry between the Islands.
Campervanning New Zealand tips for your New Zealand campervan routes
Make sure to think about where you will pick up and drop off your camper. Will you take a return route, or will you drive one way?
Remember that larger camper vans travel more slowly so you'll want to factor that in when you're looking at travel time
You may want to consider the cost of petrol (gas) when driving long distances as the cost will add up quickly
allow yourself plenty of time to see the sights, rather than spending all your time in the car
How much time is needed to campervan around New Zealand?
It really depends on how much and what you want to see, but we would suggest at least two weeks per Island. That gives you plenty of time to drive around, see the sights and relax have some time to relax in between.
If you only have two weeks of holidays, we would suggest choosing one island. If you have more than 4 weeks, you could do both.
In reality, take as long as possible. You won't run out of things to do or see!
Driving tips for campervanning around New Zealand
Here are some helpful tips for driving in New Zealand
Make sure you stay to the left. New Zealanders drive on the left hand side of the road.
If you're driving slowly, allow traffic to pass. It's the law, not just common courtesy
Be sure to obey the speed limits. New Zealand are pretty strict about it, and given the mountainous, winding roads, it's much safer
There are quite a few one lane bridges and passes so keep an eye out for the signs and oncoming traffic. Make sure you have priority before you push on.
Where can I park my campervan in New Zealand?
Depending on the size of your campervan you may have issues with parking in some city areas. For the most part smaller campers, under 6 meters should have no issues parking in normal car spaces.
Most tourist sights have fairly large carparks and larger campers shouldn't have any issue parking there. If you're there in peak season with a large camper, I would plan on arriving at tourist attractions fairly early to guarantee a parking space. If you arrive at the busiest time of day you may have an issue.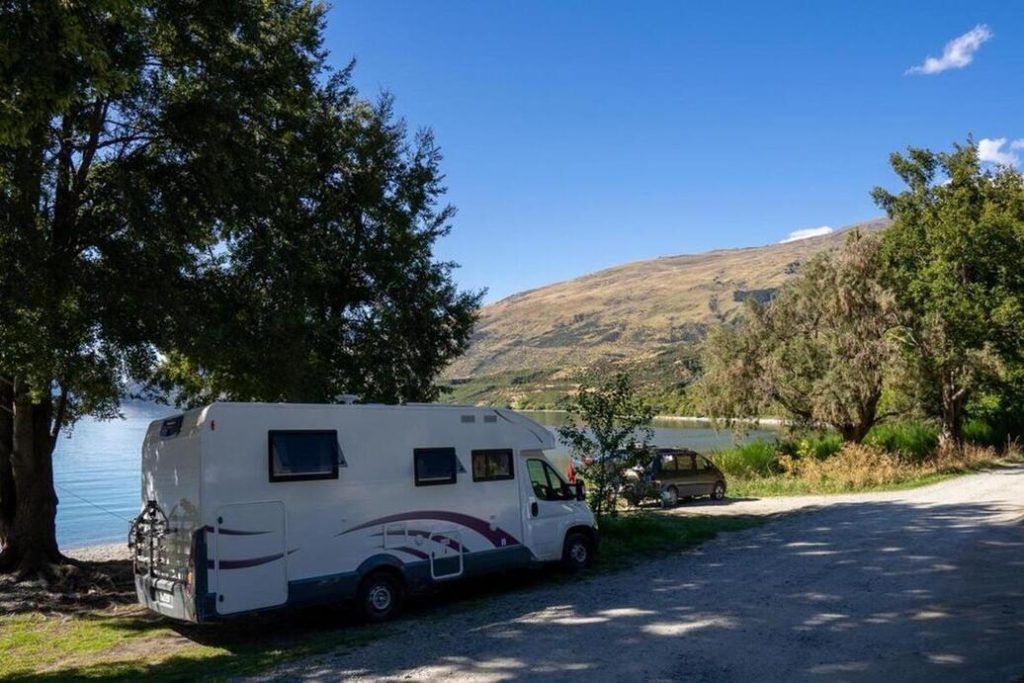 Download the campermate app
If there is one app that is really useful for New Zealand it is the campermate app. You can find the location of all sorts of things from accommodation options to public toilets and gas stations near your location. We used it almost every day.
Campervanning New Zealand tips – Practicalities of travelling New Zealand in a camper van.
After arriving in New Zealand there are certain things that you'll need to know to make your trip more comfortable.
How to find dump and refill stations
Depending on the size and type of camper you choose you may have water and a toilet. This would make you a self contained camper and in need of dump stations where you can dump waste water and also empty your toilet.
The easiest way to find dump stations and places to refill your water is by using the Camper Mate app. We really found this app invaluable and I would highly recommend it.
How to use dump stations
Dump stations are designated areas where you can legally empty your waste water and refill your water tank with 'potable' or drinkable water. Most, but not all, dump stations have a place where you can empty your toilet. You'll find dump stations at campgrounds and at specific places throughout the country.
Your camper should come with a grey water hose which you attach to your grey (waste) water tank. The other end goes in the clearly marked grey water drain.
To refill your tank with potable water, you'll have a separate 'refill' hose, which you simply connect to the tap. You'll need to make sure that the water is indeed potable. This means that it is safe to drink.
To empty your toilet, you simply remove the cassette from your toilet and empty it into the designated drain. You can then rinse out the cassette, add new toilet chemicals and reattach it.
The whole process is quite simple. The most important thing to rememer is to make sure that you keep the area clean and only dump in the designated area.
Toilets
If you have a self contained campervan you'll have your own toilet, but trust me, you'll still use public toilets a lot. There are public toilets located in most areas of the country, often by parks and recreational areas, visitor I-sites etc. I was really surprised at how clean and well maintained the public toilets in New Zealand are. There's always toilet paper and more often than not, there's soap too. If you have the Camper Mate app then you'll be able to find toilets that are closest to you.
Showering in a camper
The reality is that unless you have a larger motorhome you won't have a shower inside the camper. If you're spending most of your time at freedom and DoC camping sites, you probably won't be showering every day. Baby wipes are a great option for general 'maintenance' however you will at some stage want to shower properly.
Campervanning New Zealand tips: We found that we definitely wanted to shower after any sort of hike and we would always plan our accommodation based on that. If we knew we were doing something where we would be wet, hot, sweaty or sandy, we booked a holiday park for that night.
How to do laundry
If you're staying at camp grounds they will usually have washing machines available to use for a small fee. You will however, need to take your own washing powder.
Although some places will sell you suspicious looking single serve bags! I wouldn't count on them supplying it so make sure you have your own.
Outside of camp grounds there are laundromats for public use everywhere throughout the country.
The Camper Mate app will help you locate the nearest laundromat to you.
Keeping in contact while campervanning New Zealand
With a population of only around 4 million people, New Zealand is actually quite sparsely populated, with long distances between it's main cities and even country towns. As a result, phone and internet reception can be quite sketchy. While you're in and around the cities you'll probably have good reception, but its all the in between areas where you'll have zero reception. This is challenging for a few reasons, namely if you need to use maps on your phone or you need to try and find a place to stay for the night while driving. Hopefully someone else is driving and not you.
We recommend getting a SIM card for your phone
For telephone reception, you can pick up a local sim card at the airport on arrival.
There are 3 networks, Vodafone, Spark and the smaller 2degrees.
We'd recommend Vodaphone. That being said, don't expect to always have reception or coverage. There are a lot of areas where you just won't get any bars on your phone.
The other aspect is the cost. There is very little competition so phone and internet are actually quite expensive.
Wifi and Internet
We were shocked at how bad the internet was in New Zealand. As mentioned, you'll have very little reception in a lot of places.
Most camp grounds and holiday parks will say they have free wifi. To be honest, that means nothing. I can say I'm a pink unicorn. It really doesn't mean that I can fly.
Most camp sites have limits on the amount of free data they give you and it's usually as little as 250MB. Even then, it probably won't work.
We wanted to edit some photo's our first week in New Zealand and needed quite a bit of internet. We went to reception and actually purchased a few gig at one of the holiday parks. They happily sold it to us, but when we tried to use it there was no reception ANYWHERE. We ended up giving the data to our neighbouring camper when we left, having hardly used any of it.
Take a wireless wifi router with you
For day to day WiFi we use a portable wireless router called Tepy. It uses mobile phone signal to give us 1G of internet per day. To be honest, there are some cheaper options out there, for example, the Skyroam Solis, however we haven't used it, and based on the reviews I don't know that I would.
We have found that Tepy works perfectly and their service is good. Ben and I can both use the signal at the same time without any problems. In New Zealand this was great at helping us research places and use Maps etc.
Items you'll want to pack for your campervan
As mentioned, if you intend on freedom camping regularly you'll need to make sure you can recharge your electronics. These are the portable charger and transformer. These are the ones we'd recommend
A good power bank
The Power Bank RAVPower 26800mAh Portable Charger 26800 Total 5.5A Output 3-Ports External Battery Pack Portable Phone Charger Compatible with iPhone 11/Pro/Max/8/X/XS, iPad, Samsung, Other Smart Devices
will charge your phone and quite a few other devices up to 7 times, or over an average of 9 days. You can also charge 3 items at a time so there won't be any arguments over whose phone has less battery. Admit it, you've had them!
A portable wireless router
We've already mentioned Tepy, but we can't stress enough how much you"ll wish you had this in New Zealand. Another option that a lot of people recommend is the Skyroam Solis below. We haven't personally used it but you can compare it with the Tepy and see which you prefer.
A portable speaker
This one is just for fun so you can enjoy your own music while watching the sunset over the water. The Oontz Angel 3 gives you a great sound with a blue tooth range of over 30 meters!
New Zealand is a fantastic country to campervan around. With our campervanning around New Zealand tips it can be really easy and cheap to see some spectacular parts of the country.
What can I do in New Zealand? You may find this article useful
Starting to plan your New Zealand campervan trip? Begin here
Pin me!